The motel room seemed decent enough. It was clean, although the air had a dank, stale quality about it. There were no lingering cigarette fumes, despite the fact that it had once been a smoking room. The curtains were drawn and the early evening sunlight filtered in, reflecting off flecks of dust in the air to a hazy yellow fog. Lucille plopped her weary self on the bed, clutching her purse, and gazed out the window. The sun had just begun to set and a sinister shadow started to creep over the town.
"This is ridiculous," she said, trying to calm her racing heart. Trying not to think about the vacant eyed mechanic or the large, graying woman at the front desk. "You're just seeing things. You need a bite to eat."
The sun had begun to sink further behind the horizon when Lucille closed the curtains, flicked on the lamp, and left the motel room. She locked it and briefly contemplated going into town for supper. But it was still too creepy, especially with the first hint of night's shadows lingering over the derelict town like dark, outstretched fingers. And she didn't recall passing anyplace that looked like it would have anything to eat. She wasn't sure she wanted to walk that far in the dark just to find out, and she certainly didn't want to call for a ride. She wandered around to the back of the office, to a small open room labeled VENDING between the office and Room 1.
The room was bathed in sickly green light as a fluorescent hummed above. The vending machine sat with its back towards the curtainless window facing the decrepit town. Lucille stared into the depths of the metal springs, contemplating whether to get a probably stale pack of five powdered donuts or a bag of Cheez-Ums. A flash of movement caught her peripheral vision as she dug around in the depths of her handbag. She glanced out the window.
A number of ghostly looking figures passed in the dusk, all with the same dark, empty pools for eyes that seemed to absorb light and hope like black holes into some alien abyss. She recognized two of them: Tom Jones, still wearing his oil-stained powder blue uniform, and the large heavily made-up desk clerk who had checked her in. There was also a thick bearded man whose graying black beard seemed to both accentuate and hide his unusually thick and angled jawline, a taller older man whose easygoing agility surprised her due to his frail-looking countenance, and a balding diminutive hunchback.
The setting sun accentuated their disheveled facades as Lucille hid behind the snack machine, fixated on them. The others were even more distant than Tom and the woman she had already encountered, their hollow stares focused dead ahead as they wove through one another in an odd dance, like they were swimming through the air. Even though Lucille was certain that they hadn't seen her, they passed the vending room slowly and rhythmically, as if cued in to her presence. And then, all at once, they wandered away disinterested. Lucille dashed to her room without anything to eat or drink and bolted the door from within.
Suddenly the most terrifying scream sounded from the outdoors. Lucille slid to the window and peeked around the drab curtain to see the mob of ghostly figures had grown tighter and was thrashing and flailing about. They were just at the periphery, at the edge of the parking area. She hadn't realized that they had come so close to her room after she had lost track of them. There was something in their midst, brown and cumbersome. The shape was hard to make out, maybe a deer, or a donkey, or a small horse or cow. They circled it in unison, as if sizing it up and preparing their next move.
In a flash, the older man rushed forward, head butting the creature. It struck back with a blow to his head, a jagged hoof springing out of nowhere. Blood pooled all too briefly at the site where hoof had met flesh before fading and being reabsorbed into the man's forehead. His ashen flesh seemed to close over the spot, refocusing the blood to a throbbing, pulsing vein that protruded from its midst. How was he not taken down? A blow like that should have felled him, especially at his age… Lucille fixated on him as he stood staring ahead, motionless, as if an hourglass spinning through its recalculating sequence begged for more time to process what had just happened. All at once, his eyes grew wide and pooled black again as he lurched his head to the side. He leapt in a coolly calculated strike and struck the creature again, this time in the ribs. It fell to its side as he bowled it over.
Lucille watched in horror, mouth agape, as she saw Tom Jones' black eyes grow wide and bright as he descended upon the fallen brown form amidst the mob. His jaw seemed to unhinge itself as he leapt into the fray. The others followed suit until soon there was a writhing mass of pallid grey flesh and tattered old clothes engulfing whatever was in their midst. Lucille's heart sank in her chest like a dead weight, filled with dread and racing with fear. She watched Tom emerge from the writhing mass of bodies with what appeared to be blood dripping down his mouth and onto his shirt. He pushed his hand to the back of his neck and cracked his jaw back into place before he looked up, his eyes returning to the hollow and distant black they had been when he first laid eyes on her. She shrank back into the room as his gaze turned to meet hers before he brushed himself off and sauntered away.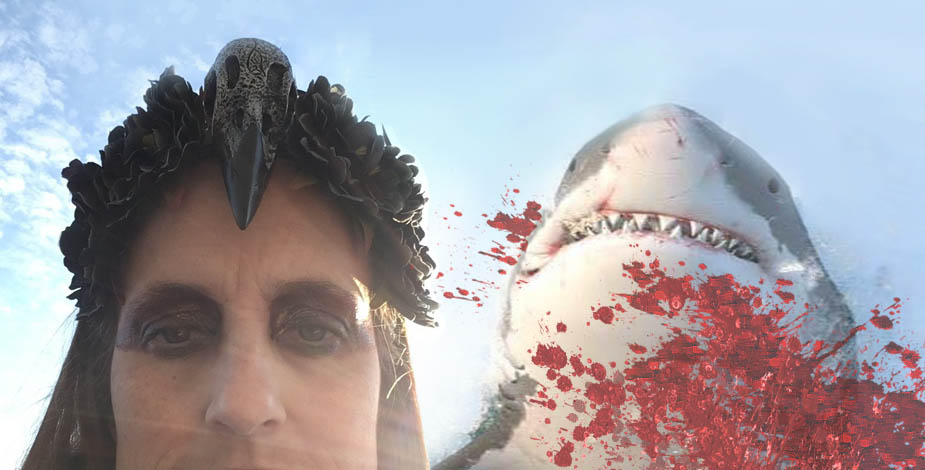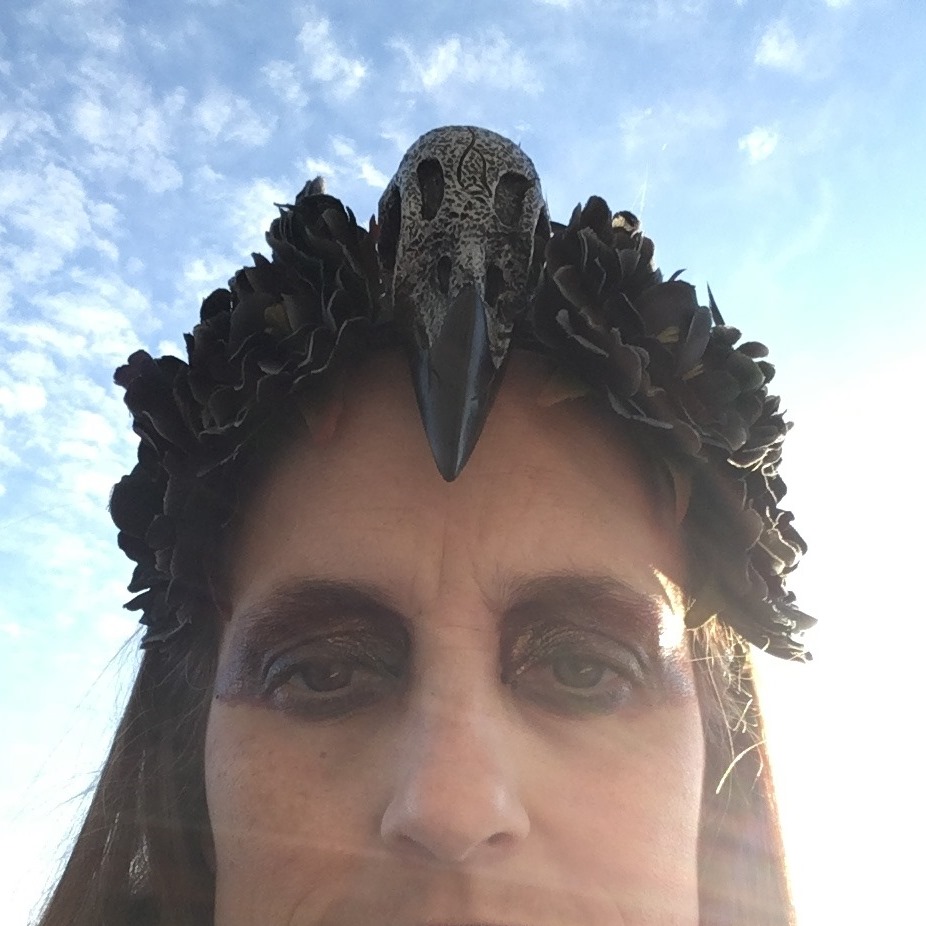 Nightmarish Nature: Vampires Among Us
This is the kickoff to a new series exploring nature that is kind of horrifying, at least in ways. Our first subject is Vampires Among Us. There are lots of animals named for vampires, sometimes due to folklore and sometimes for their appearance (like the Vampire Squid), but most of these animals don't have blood sucking tendencies.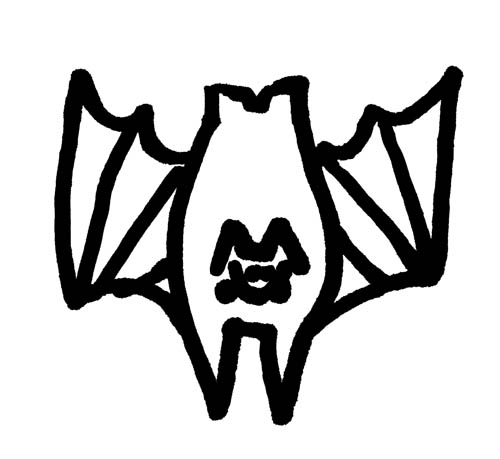 Bats & Birds
There are legit vampire leaf-nosed bats in Central and South America that drink blood. They feed on mammals and are often shown to feed on livestock. They'd be kinda cute if they weren't so creepy. There are also vampiric birds: some finches in the Galapagos have developed the taste for blood of other birds, mainly seabirds that flock to the islands to raise their young.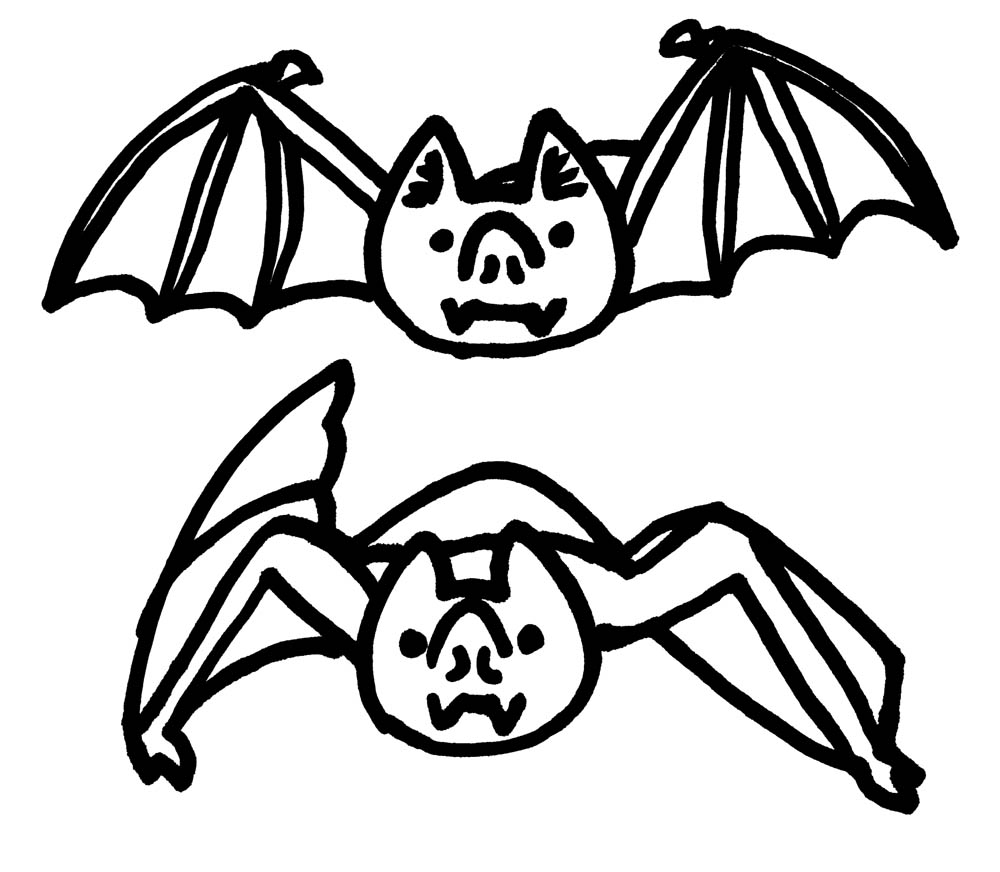 Leeches & Lampreys & More
And then you get into leeches and lampreys and other denizens of the water that are known to attach themselves to larger creatures and drink their blood. Leeches were even believed to have medicinal value (and still are in certain circumstances). And there are also numerous plants that are known to be parasitic and feed on other plants, wrapping their roots or vines around others to steal nutrients.

Spiders
Now I'm going to drift off into the realm where this becomes truly horrific. Spiders. Now, spiders aren't vampires per se, seeing as how they actually kill their prey – they don't just feed off of it while it remains living and wanders about its business. But because of their structure, they cannot eat solid foods, so they have to inject their prey with enzymes to liquefy it so they can slurp it out like a protein shake. That's sort of vampirism on steroids if you ask me, just the kind that no one is coming back from.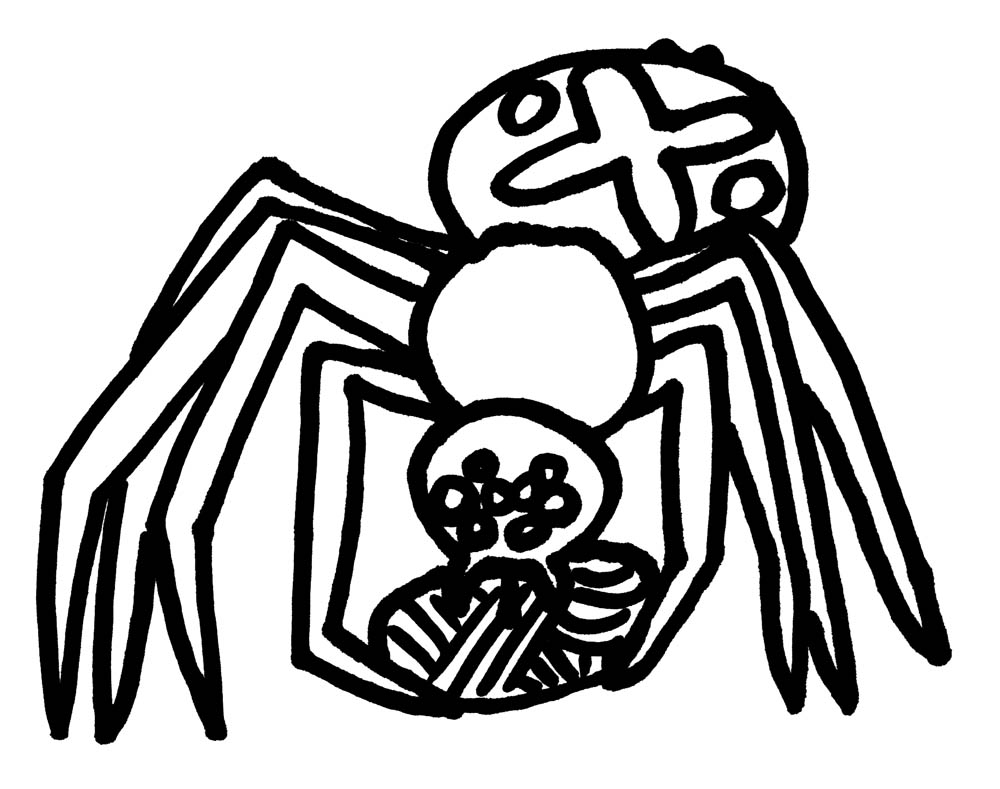 Bloodsucking Bugs
But let's get back on topic. Now let's consider mites and ticks and fleas and mosquitoes and the like. Some drink blood for their survival; others do so as part of their reproductive cycle (like mosquitoes which otherwise eat fruit and nectar but need the extra protein from blood to grow their eggs).
Ticks need to feed on blood once at every stage of their life cycle and can pick up diseases along the way (like Lyme Disease) but don't always do so. Different ticks are more likely to come in contact with different things and often humans are not their preferred meal but they are opportunistic and will feed on whatever is available when necessary. Symptoms of illness from tick bites may take years to develop and can have really weird side effects (like the allergy associated with Lone Star Ticks which makes a person unable to consume mammalian flesh).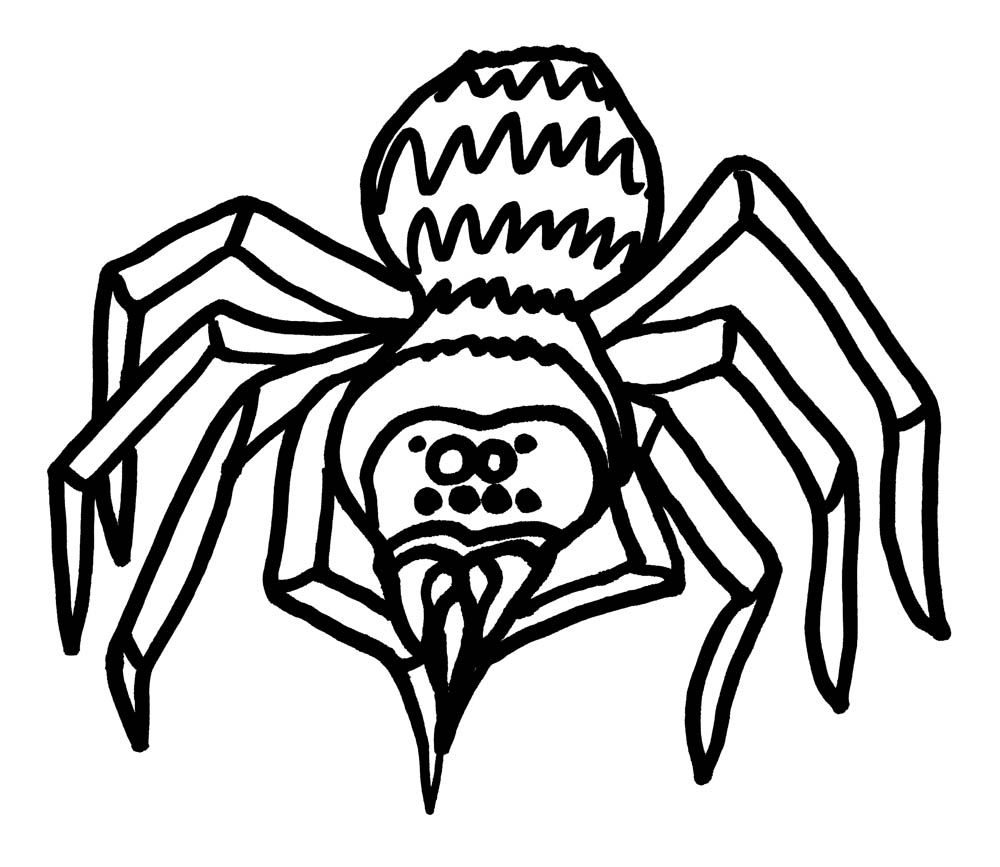 Anyway, here are some brief glimpses of vampirism in nature. Thank you for joining us for Nightmarish Nature and may you avoid getting bitten by any true vampires among us… And I still think spiders take first place in the creepy eating category here, even if they aren't technically vampiric.
Creepy Comics Collages by Jennifer Weigel, Part 5
Well, you won't get rid of me that easily… Ha ha, I lied about coming to the end and the afterlife in the Creepy Comics Collages segment, it was just an opportunity for rebirth. Besides, it's World Collage Day! So having come into another comic book to rework, here we go again…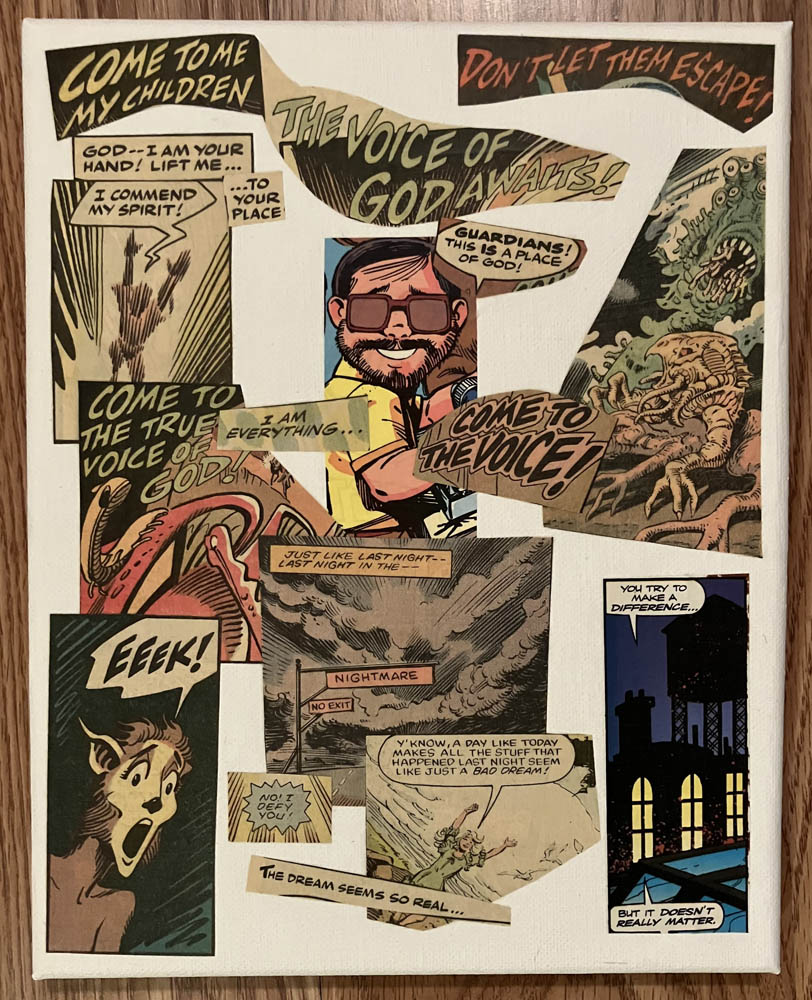 Creepy Comics Story 9: The Voice (of God or Reason or perhaps an homage to my ex)
"Come to me my children, the voice of God awaits!… Don't let them escape!" Please beam me up out of this weird comic collage alternate reality. "God I am your hand! Lift me… to your place. I commend my spirit!" I want to go back to dreaming about starfish.
The computer programmer behind the scenes turns to face us and smiles. "Guardians! This is a place of God!… Come to the true voice of God!" "I am everything." "Come to the voice!" And the horrific AI generated creatures abide by his every coded word.
Just like last night in the — signs posted for Nightmare, No Exit. The deer spirit faun screams in surprise, "Eeek!" "No! I defy you!" She returns to the form of a little girl with arms outspread to the open sky. "Y'know, a day like today makes all the stuff that happened last night seem just like a bad dream!" The dream seems so real…
Somewhere in the city, the computer programmer sits up at night in pensive monologue, "You try to make a difference… But it doesn't really matter."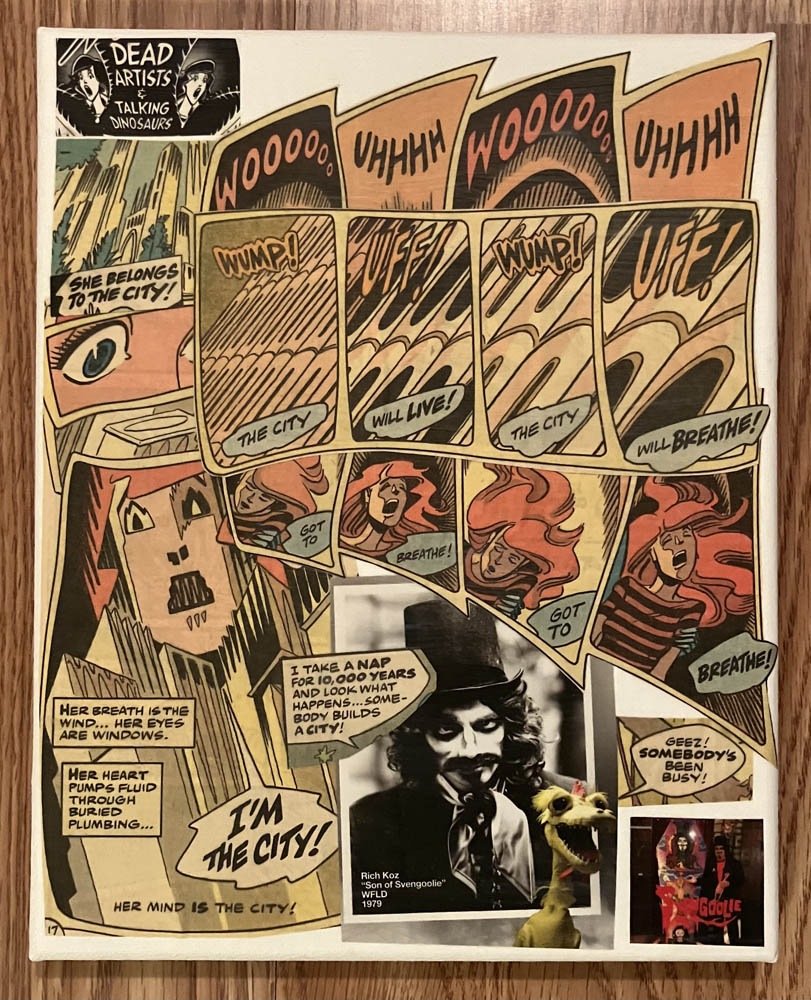 Creepy Comics Story 10: The City (Metropolis becomes self-aware)
This segment is brought to you by Dead Artists and Talking Dinosaurs. No really, wait for it…
Woooooo Uhhhh Wooooooo Uhhhh… Wump! Uff! Wump! Uff! "She belongs to The City!" The Glenn Fry 1985 hit single looms ominously overhead as Metropolis becomes self-aware. "The City… will live!… The City… will breathe!" The City gasps for air, "Got to… breathe!… Got to… Breathe!"
Her breath is the wind… Her eyes are windows. Her heart pumps fluid through buried plumbing… "I'm The City!" Her mind is The City!
And we have a celebrity appearance by Rich Koz "Son of Svengoolie" WFLD 1973: "I take a nap for 10,000 years and look what happens… some-body builds a city!" Kerwyn chimes in, "Geez! Somebody's been busy!" And we cut out to a scene of Svengoolie standing alongside his coffin.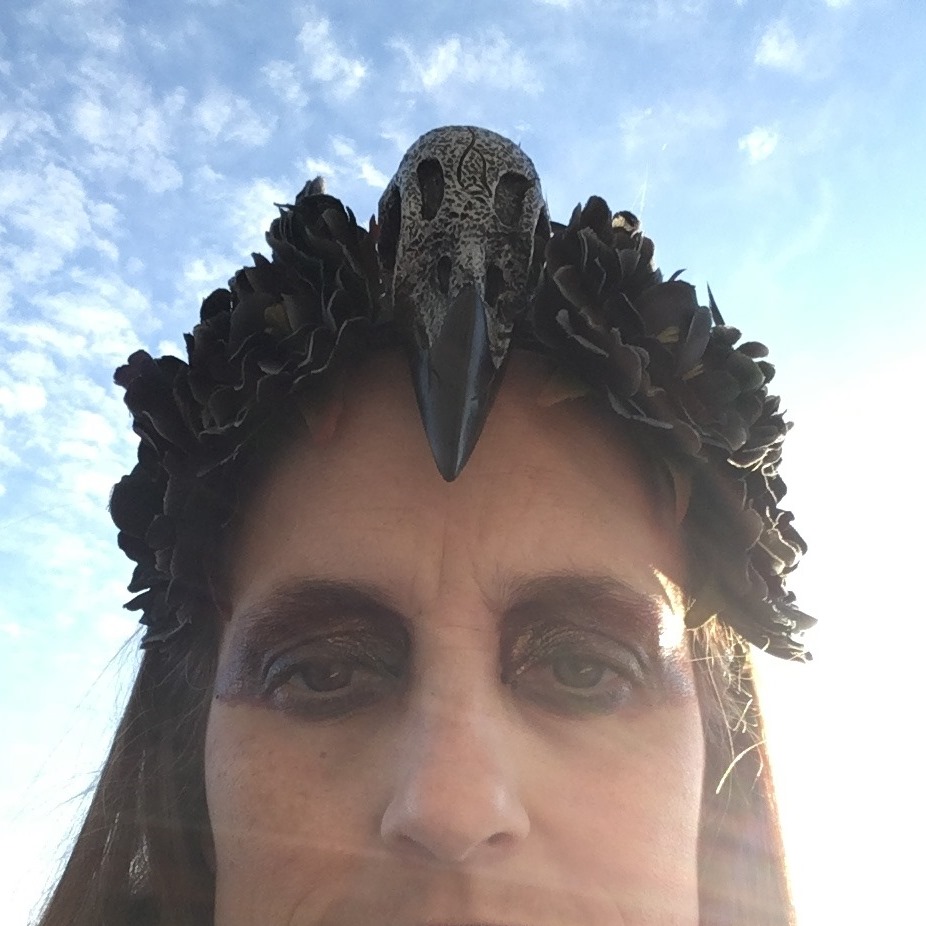 Well, that's all folks. Or is it? For now, any way… until I get more comic books… Duh duh DUHHHH…
If you want to see more art, check out more of Jennifer Weigel's work here on Haunted MTL or on her writing, fine art, and conceptual projects websites.
Creepy Comics Collages by Jennifer Weigel, Part 4
Wow, I can't believe you've stayed the course through four whole strange story posts of these creepy comics collages. But this is the final frontier, the last segment, the standing ovation as it were. So here goes…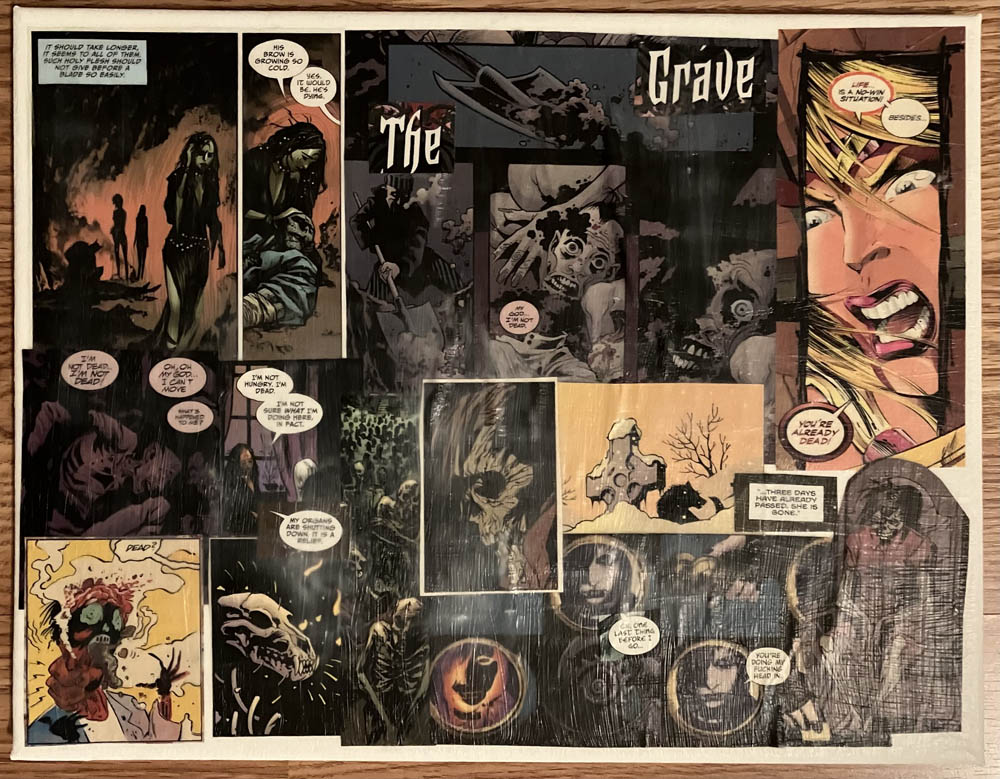 Creepy Comics Story 7: The Grave (shallow enough for ya?)
"It should take longer, it seems to all of them. Such holy flesh should not give before a blade so easily." "His brow is growing so cold." "Yes it would be. He's dying."
"My god… I'm not dead." Put the shovel down. "Life is a no-win situation. Besides… You're already dead!"
"I'm not dead. I'm not dead!… Oh, Oh my god… I can't move… What's happened to me?" Buried alive. Or maybe not.
"Dead?" Perhaps I am actually dead. I was expecting something… I dunno… different.
"I'm not hungry, I'm dead. I'm not sure what I'm doing here, in fact." At least I'm not a zombie. That seems a small consolation right now though. "My organs are shutting down. It is a relief."
"Three days have already passed." We're just sitting here, rotting. Like Norman Bates' Mother. At least someone was kind enough to supply a rocking chair. "Oh, one last thing before I go… You're doing my fucking head in."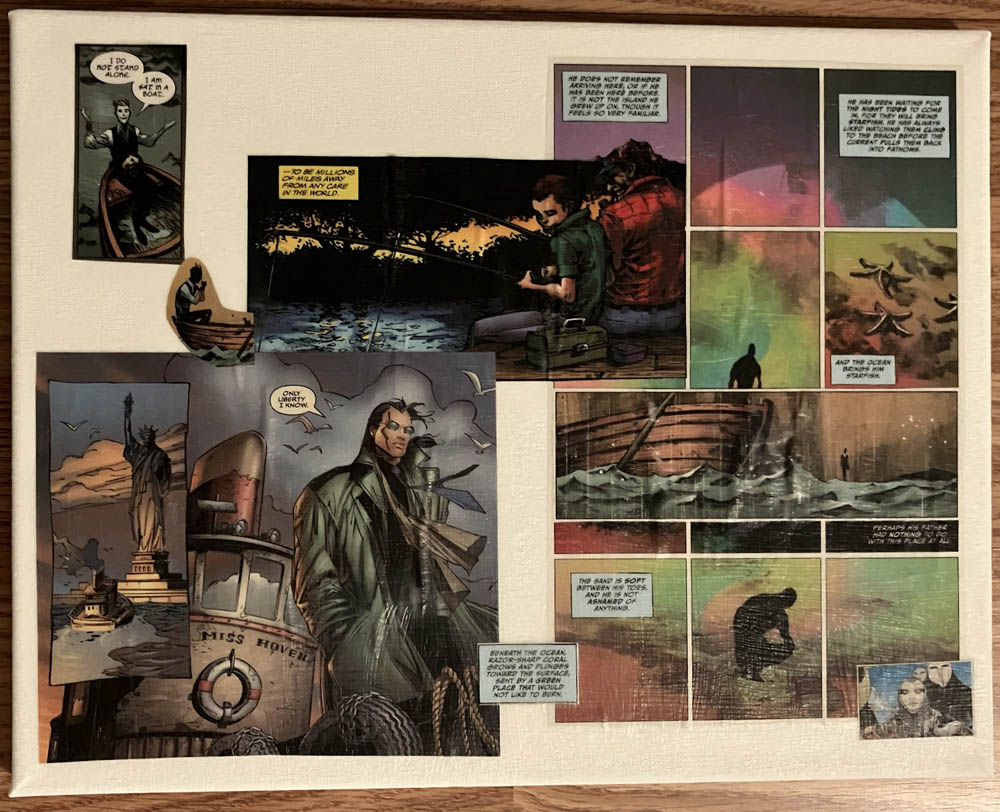 Creepy Comics Story 8: Adrift Afterlife (why you save the best gold coins for the ferryman)
How'd we get here? "I do not stand alone. I am sat in a boat." ".. to be millions of miles away from any care in the world." Was that the Ferryman? "Only liberty I know."
"He does not remember arriving here, or if he has been here before. It is not the island he grew up on, though it feels so very familiar… He has been waiting for the night tides to come in, for they will bring starfish. He has always liked watching them cling to the beach before the current pulls them back into fathoms."
"And the ocean brings him starfish… Perhaps his father had nothing to do with this place at all." The ferryman stands on the far shore. It makes no difference now.
"Beneath the ocean, razor-sharp coral grows and plunges towards the surface, sent by a green place that would not like to burn." "The sand is soft between his toes and he is not ashamed of anything." The ghosts are here, contentedly it seems.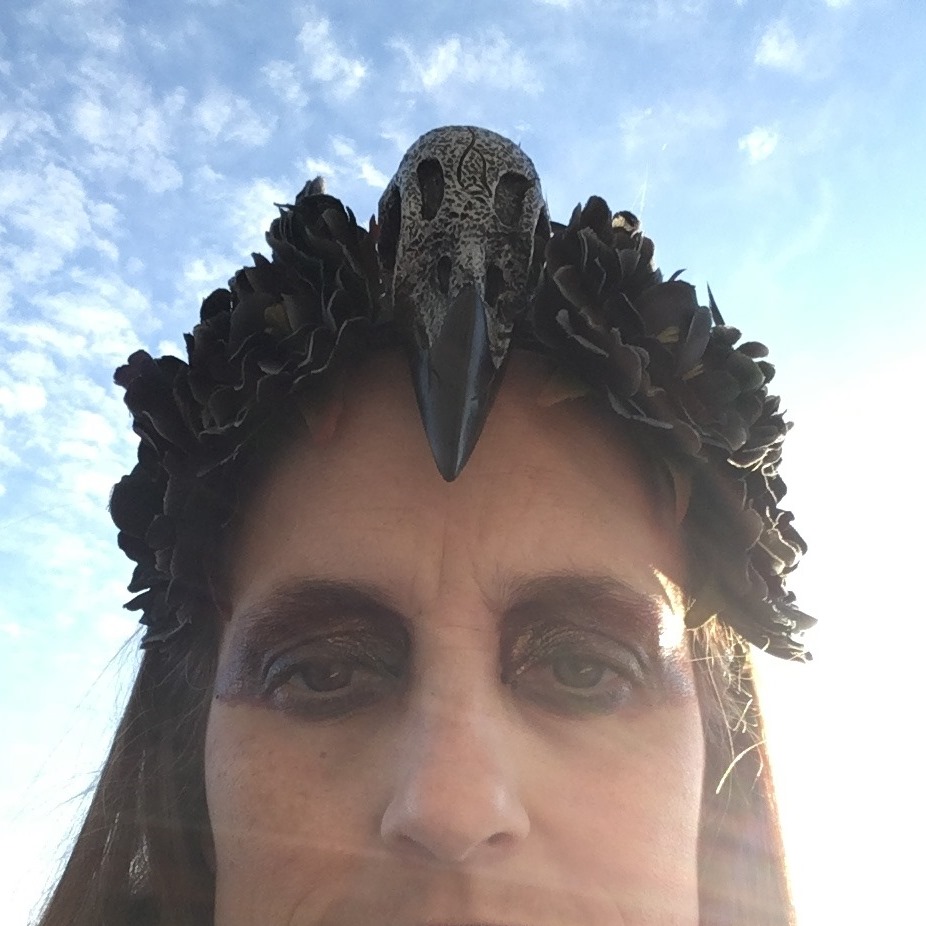 Thank you for joining us for these creepy comics collage art stories. But here's where we have to leave it off. Trust me, it's best that way. Besides I'm out of creepy comics to collage with.
If you want to see more art, check out more of Jennifer Weigel's work here on Haunted MTL or on her writing, fine art, and conceptual projects websites.