Author and voice actor Andy Thierfelder sat down with me to answer some questions about his audio drama, Tapes From Beyond.
To read my review of Tapes From Beyond, click here.
So, where did the name, tapes from beyond come from?
It's kind of funny, I don't love the name for the show, but in the storyline Lena would be the one coming up with the name and she would have wanted something recognizable, spooky sounding, and with the word Tapes in it so people kind of knew what they were getting into.
How did you cast Jac and Lena?
The actress who plays Lena is my wife, and the actress who plays Jac is a friend of mine. I am pretty lucky that I have a large group of talented and nerdy friends who are into theater and LARPing (myself included), so I have never been short on actors for my various projects.
The story of poor Jac and her family was tragic. How do you think they're doing after all of this?
Yeah there have been some rough times in the Fedik household, but I think by the end of the series they're in a better place than they have been in a very long time. Nothing can erase the tragedies they've experienced but their constant source of misery (The Tapes) has finally been resolved, allowing them to start the healing process in earnest.
What made you decide to make this story into a podcast, instead of a book or other medium?

Funny enough this story was inspired by the Silent Hill video game series. I never thought of it as a game, but as a lover of the series I always wondered what story I would tell in that universe. The story grew into its own thing from there but the idea of someone getting spooky tapes in the mail was always part of it. With the tapes being such an integral part of it, it naturally led me to a podcast/audio drama.
I loved that the tapes were out of order. It made me feel a bit like a conspiracy theorist. What inspired that?
Thanks! There were a couple things that went into that decision. Firstly I thought thematically it made sense, there is a great deal of mystery behind the tapes and their arrival and this just added another layer to that. Secondly I always wanted the story to be interactive with the audience to a degree. The Trapped Man's story was set in stone, but how much Jac and Lena discovered was very much left up in the air. It was important to me that there was a mystery for the audience to solve and finding the order of the tapes seemed like a fun one for them to do!
Tapes brings up an issue that I've struggled with, both as a true crime fan and podcaster myself. True crime and supernatural stories are often the stories of real people. What do you think of the morality of this? Do you think that it's an invasion of privacy against people who have already suffered? Or do you think it's part of our sympathetic nature as humans and shows our level of compassion for our fellow man?
That's a hard question indeed. As with all things in life I think there are a lot of shades of gray to the issue and it's mostly on a case by case basis. There's something to be said about how their stories can act as a cautionary tale, but on the other hand I think if I knew the subject or the subjects next of kin were uncomfortable with the story being out there I would have a hard time watching/listening to it. I think it puts a lot more pressure on the content creators to make sure they are handling the subject matter delicately and with the proper care and respect it deserves.
As a follow to that, was this a question that we as readers were supposed to be asking ourselves?
In a roundabout way yes. I wanted people to think about how trauma permeates beyond the survivor who experienced it. I wanted to show how these tapes affected far more than just Jac, and how even though she hadn't gotten one in a while, they were still opening new wounds for her and her family. I didn't set out to specifically commentate on the morality of true crime storytelling, but I did want people to think about how a single traumatic experience often causes a butterfly effect throughout a person's entire life as well as the lives of their friends and families.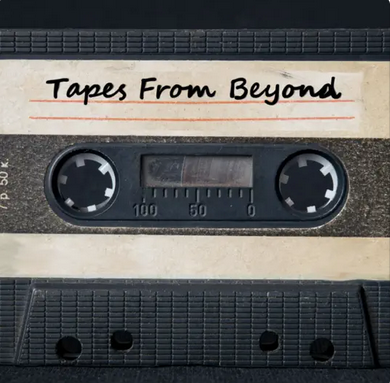 Did you get a lot of real fan feedback with theories? Was any of the fan feedback in the show real?
All of the fan feedback was real. Some of it came from friends of mine who would ask me legitimate questions about the show but most of it was from strangers and none of it was planted. I was prepared to end the series with Tape J, but thankfully people solved enough of the mysteries in the show to trigger the final few episodes! There was a while there after Tape J when I was nervous that people weren't going to solve the mystery of the order of the tapes, or the mystery about the movie the Trapped Man mentioned and I almost had a friend of mine make a fake review video of the series to drum up interest, but then I discovered fans had created a discord channel to try and solve the show and I figured at that point it was only a matter of time. In general I was floored by the fan response to the show, someone in a Russian speaking country actually did make an hour and thirty nine minute review video of it…although they hated the ending.
What do you think the town is? Is it sentient, or do you think it's a Bermuda Triangle sort of situation?
I think it's best left for the listener to decide, but of the different theories discussed in the show Jac's Mom's theory in Tape K is my favorite.
While listening to this show, it occurred to me that we don't know for sure that Jac ever came back from the town. All of her interactions with the fans afterward were second-hand, either from her father or her co-host, Lena. Are we to suspect that maybe Jac isn't as okay as we might like to believe?
No, Jac made it back safe and sound. That was an unfortunate happenstance of the actress who plays her not being available to record that final episode. I went back and forth for a while about the best way to end it without her involvement. I don't mind entirely that it leaves people with a little bit of a lingering question but that was not my intention. There is enough ambiguity throughout the whole series that I wanted this question to be firmly answered haha.
What have you been working on since the release of Tapes? Can we expect a follow-up?
I've been working on my next feature length screenplay and I've been hard at work on my next audio drama! It will not be related to Tapes From Beyond but it is also a found footage horror story. In the way that Tapes From Beyond is a love song to Silent Hill, my next project is a love song to one of my other favorite horror settings, the TTRPG universe of Vampire: The Masquerade. I have lofty ambitions of releasing the first episode by Halloween but it might end up being a little later than that.