This is the fifth and final installment in a Valentine's Day series of shorts by Jennifer Weigel in which unsuspecting lovers succumb to deadly gases. You can read the other 4 installments here:
Joe and Dianne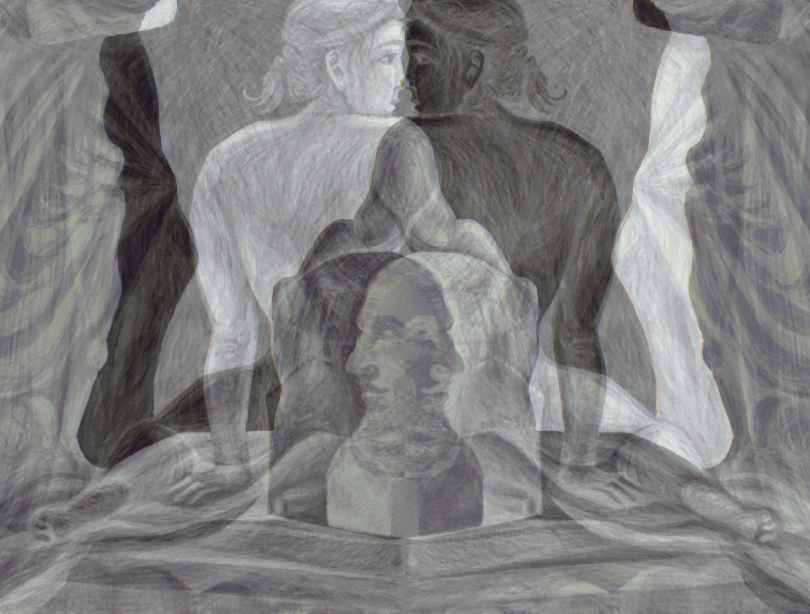 Episode 5, the Final Chapter:
LOVE struck once again with its noxious fog of poisonous deadly gases. Why did it appear in such a deadly form? Why did it drift in and out of being between those who expressed the deepest truest feelings for one another? Something was horribly wrong; this wasn't how love was supposed to manifest at all. Where were the happy endings? And why was everything always so stinky?
Back at the laboratory, Doctor Gruesome smiled with glee after unleashing his creation upon the unsuspecting world. The mad scientist had been rejected by his beloved creation Galatea, an Android in the shape of his perfect woman. But Galatea was not interested in being a sexpot, she had set her sights on eliminating inefficiencies in the quest for perfection in both form and function of being, and courting her creator simply didn't fit within her agenda.
The robot's icy withdrawal and subsequent disappearance had spawned the doctor's vengeful wrath. He had wrought the deadly vapor in response. If he couldn't have love, then neither could anyone else. He had made sure the resulting invisible cloud of LOVE (Latent Odiforous Virulent Energy) would be as putrid as possible, because nothing ruined the mood and sowed confusion like a good bout of flatulence, or Bromhidrosis, or any other unexpected foul-smelling odor for that matter… It'd serve them right, the lot of the lovers and dreamers and so on, to die by the most fetid of fumes, the mad scientist thought as he cackled.
The invisible cloud of LOVE appeared wherever love blossomed, manifesting out of the spiritual conductivity created between those who exhibited the emotion at its peak sensation. Unbeknownst to anyone else, it lay waste to those who spawned its generation and then disappeared as quickly as it had come, leaving no trace.
Meanwhile, Galatea was already busy working on her own pet project, developing and streamlining plans to create a race of perfect beings by reworking her subjects to her design. Her human counterparts were horribly wasteful of their own energies and abilities but, with some slight modifications, vast improvements could be made. It was easy to lure victims to her lair where she could experiment upon them to determine the best course of action towards her better and brighter tomorrow, for she was wholly femme fatale after all.
Galatea returned to the laboratory from whence she had been fashioned in order to procure more materials for her work and to exploit the mad scientist's feelings for her to entice him to her lair to further her research. When Doctor Gruesome laid eyes upon the Android he was instantly infatuated yet again, and followed ever-hopefully. Galatea knew he would be an amazing addition to her research, for his brilliant mind could be put to the most incredible of uses. She began to become attached to the idea of having him around, to pick his brain both literally and figuratively so to speak.
As the robot performed the lobotomy and prepared to supplant Doctor Gruesome's outstanding brain into the well-oiled mechanical body that would better serve him in their imminent partnership, a noxious cloud settled into the room. Unbeknownst to both Galatea and the doctor-brain, neither of whom possessed the ability to smell, LOVE had returned. They succumbed to the poisonous gases together, bound forever by their mutually sealed fate.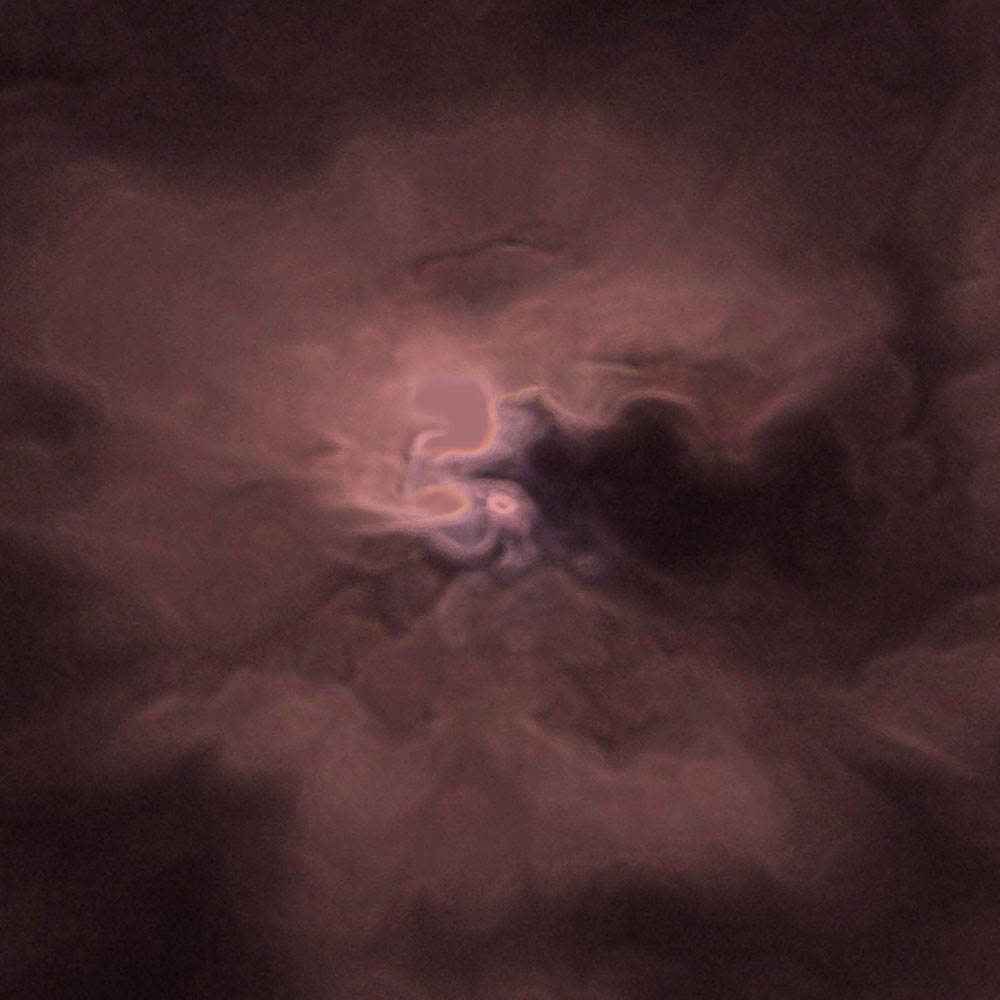 You can find more of Jennifer Weigel's writing by visiting her website here at Jennifer Weigel Words.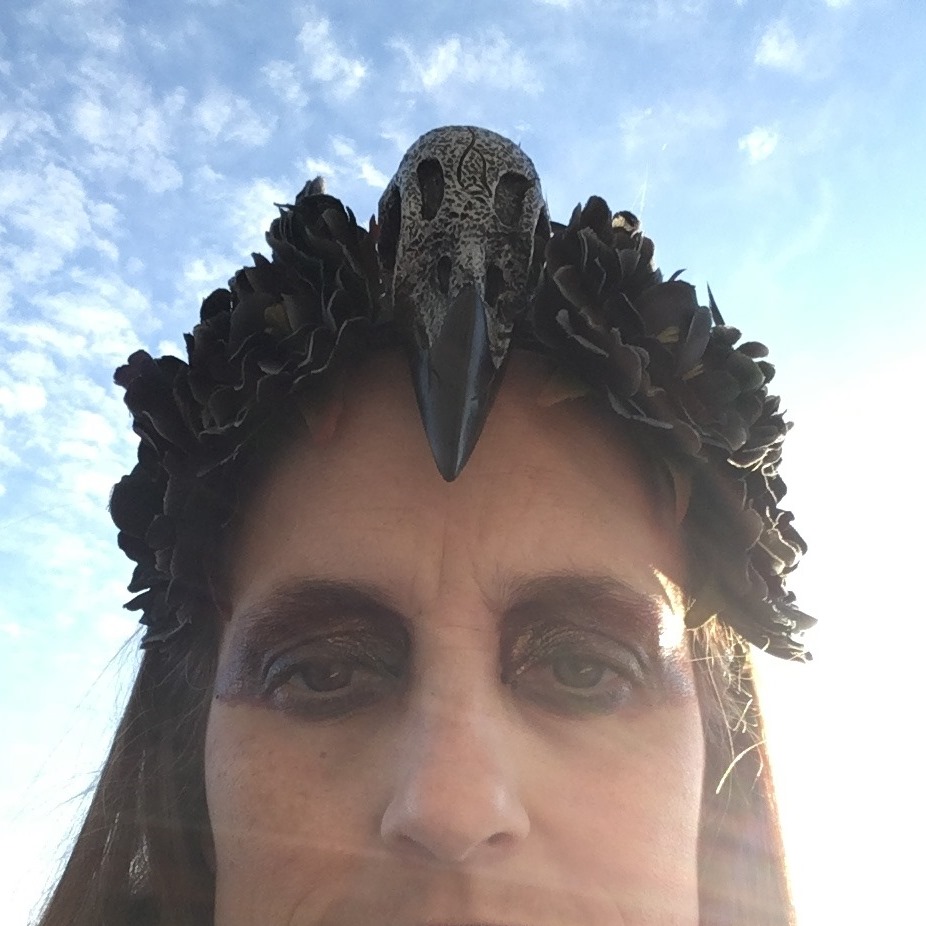 Eye Drawing You: Yet More Art by Jennifer Weigel
In our last installment of the art show preview, the eye drawing has it… All-seeing works by Jennifer Weigel go to show you gotta watch where you look. I'm a little obsessed with eyes, so they appear in a lot of my art, especially the more surreal the circumstance. Here are a few that have found themselves in odd and unusual settings…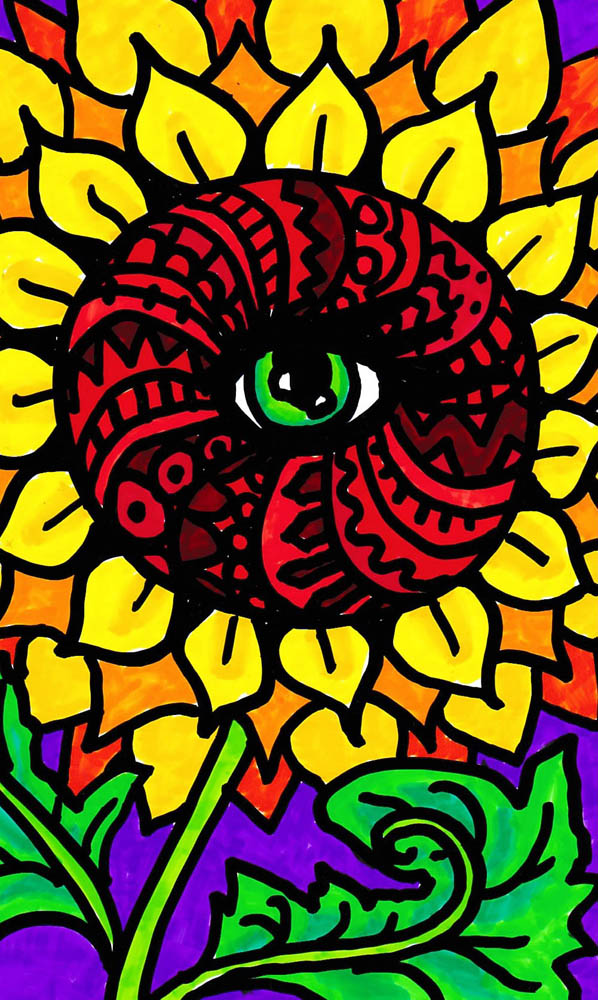 We're still watching you, in full spectrum Technicolor psychedelia. Eye drawing sunflowers stretch their petals and blink into the sun… The little Eye See You drawing is one of my personal favorites.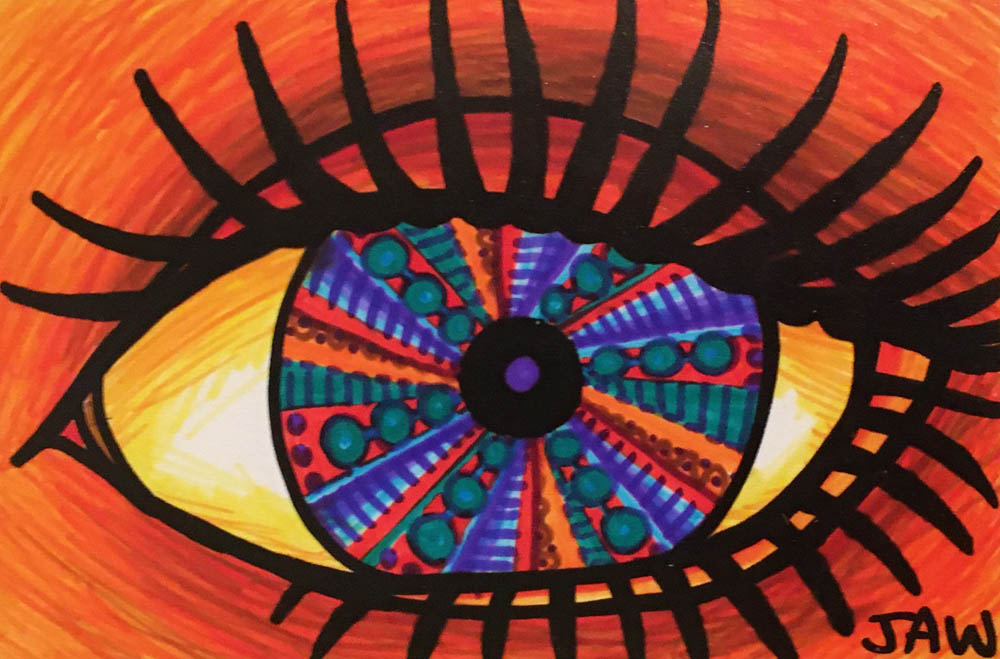 I had so much fun drawing this with Art Girls Reality Meg Graham and Day de Dada in one of the mandala gatherings. The big Sunflower Vision above also happened in one of these online groups. All of my mandalas have eyes, it just kind of happens…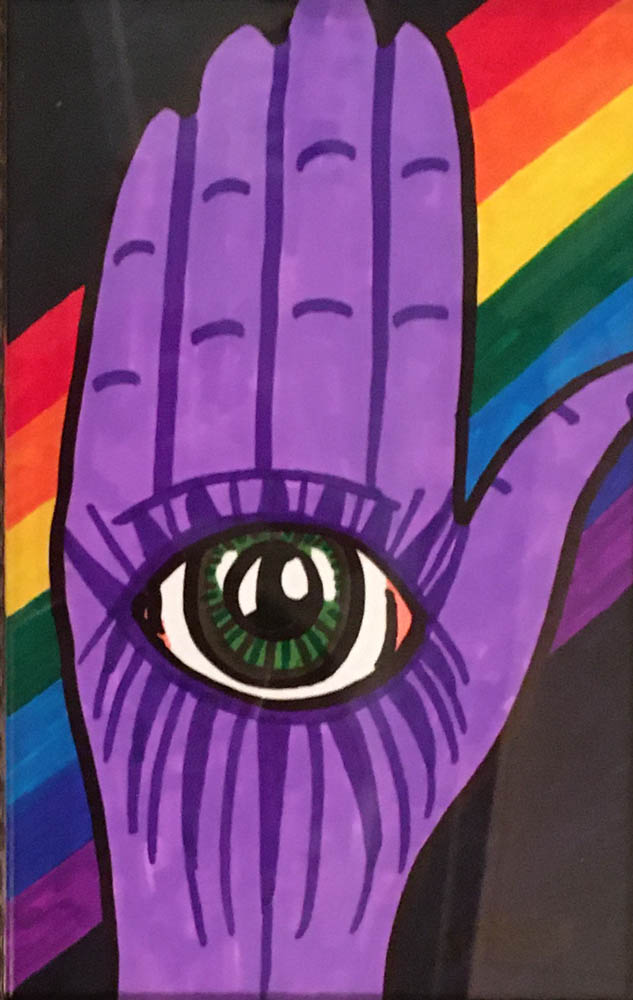 No spiders this time, so we'll close with a rainbow Hamsa warding sigil eye drawing. The hamsa or Hand of Fatima is an ancient symbol that protects against evil and negativity when facing upwards and brigs prosperity and good fortune upon its wearer when turned the other way. It is found in spiritual, religious and cultural beliefs throughout the world in various forms. I included it previously in one of my walking sticks. My version is fairly Goth-punk influenced with the huge central eye and running mascara, but seriously would you expect any different?
Feel free to check out more of Jennifer Weigel's work here on Haunted MTL. Or on her writing, fine art, and conceptual projects websites.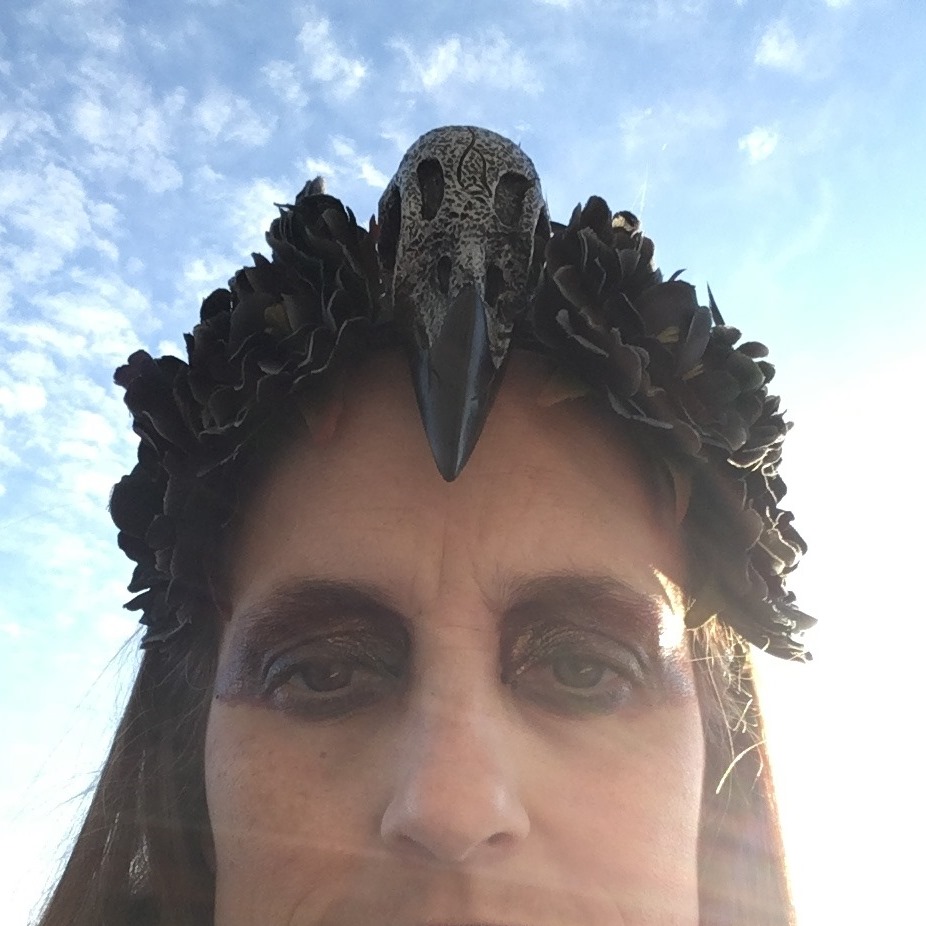 More Marker Drawing by Jennifer Weigel
And we're back! Here's more marker drawing from Jennifer Weigel, continuing our exclusive preview of works for her upcoming show… This time we're diving into full spectrum Technicolor!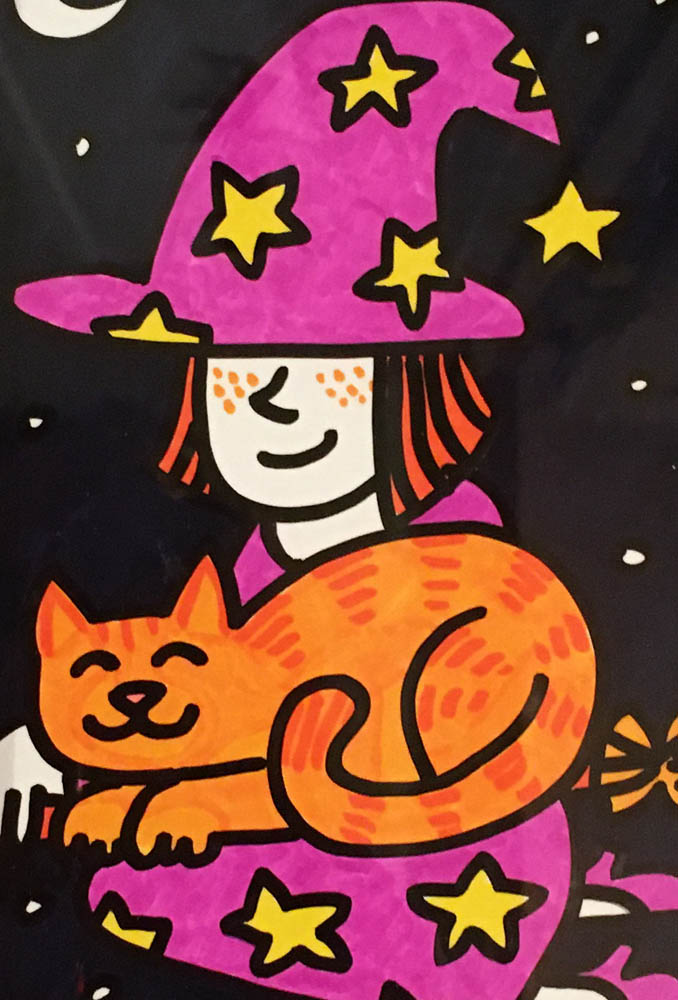 This Little Witch and her tabby cat wanted to kick things off with a fly-by hello. They're bringing the witchy magics from the last post. That's a crowded broomstick, but what a way to ride in style. Funny how cats always seem to fill whatever space is available to them, especially while lap-napping.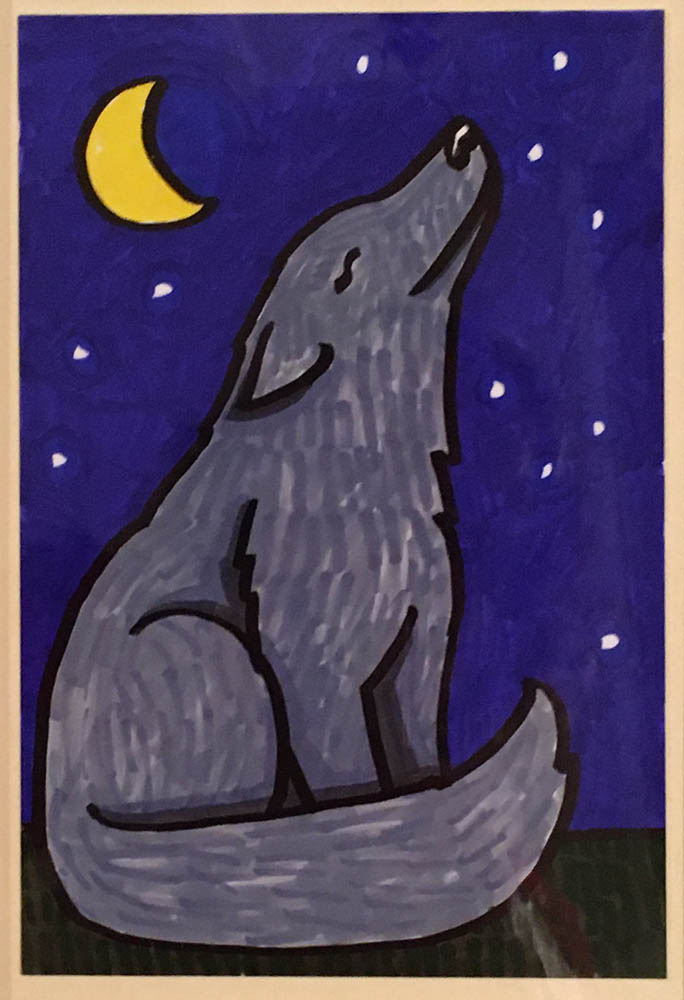 It's a perfect time to howl at the moon in this Night Watch marker drawing. Such a happy lycanthrope. He's setting the night to music, a capella werewolf-style.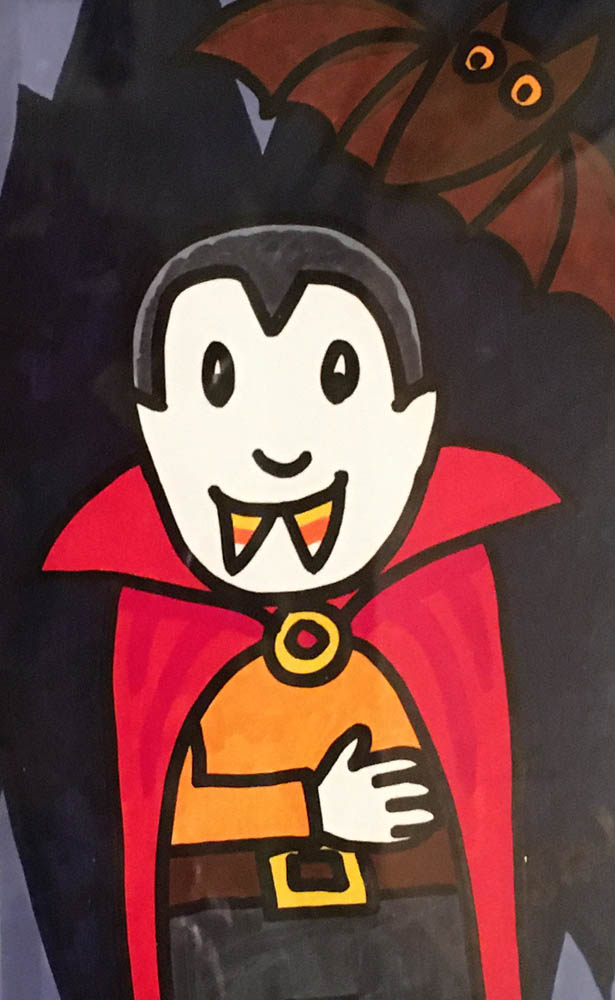 The cuteness just cannot be contained in this Candy Corn Vampire marker drawing. I vant to suck your sugary soda. I used to take great glee in doing this with candy corn as a child, to my dentist father's chagrin. It's every dentist's nightmare. Or $$$ depending on their personal motivations, I suppose.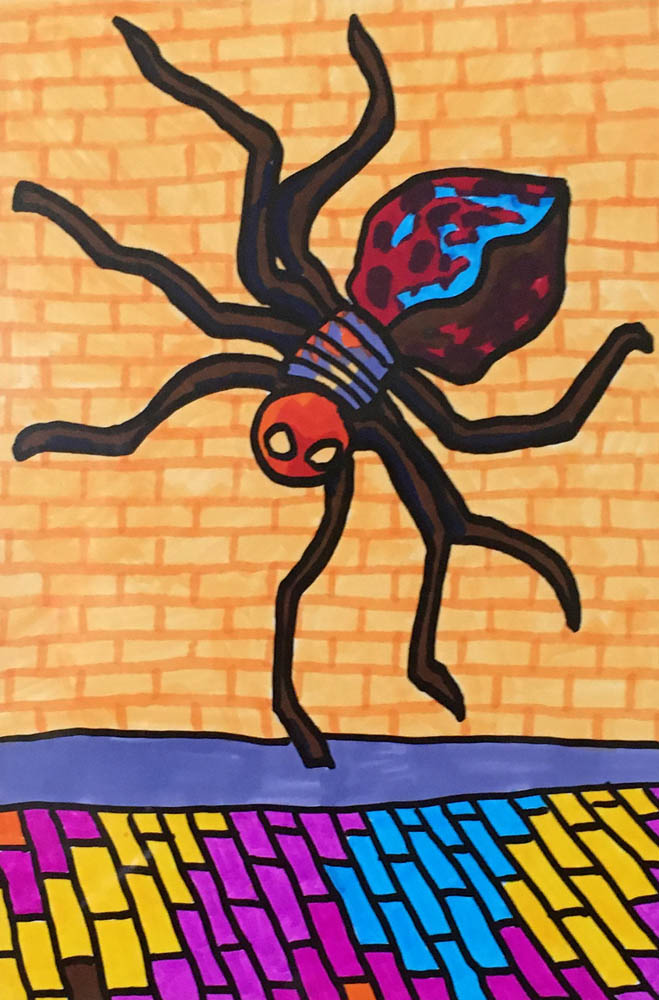 And why not end with some more spiders? This is a plein air drawing done in situ based off of this fun sculpture in Wichita, Kansas USA. You can see the finished drawing and its inspiration here. This spider is HUGE! Made out of metal and rocks and other crazy stuff…
Feel free to check out more of Jennifer Weigel's work here on Haunted MTL. Or on her writing, fine art, and conceptual projects websites.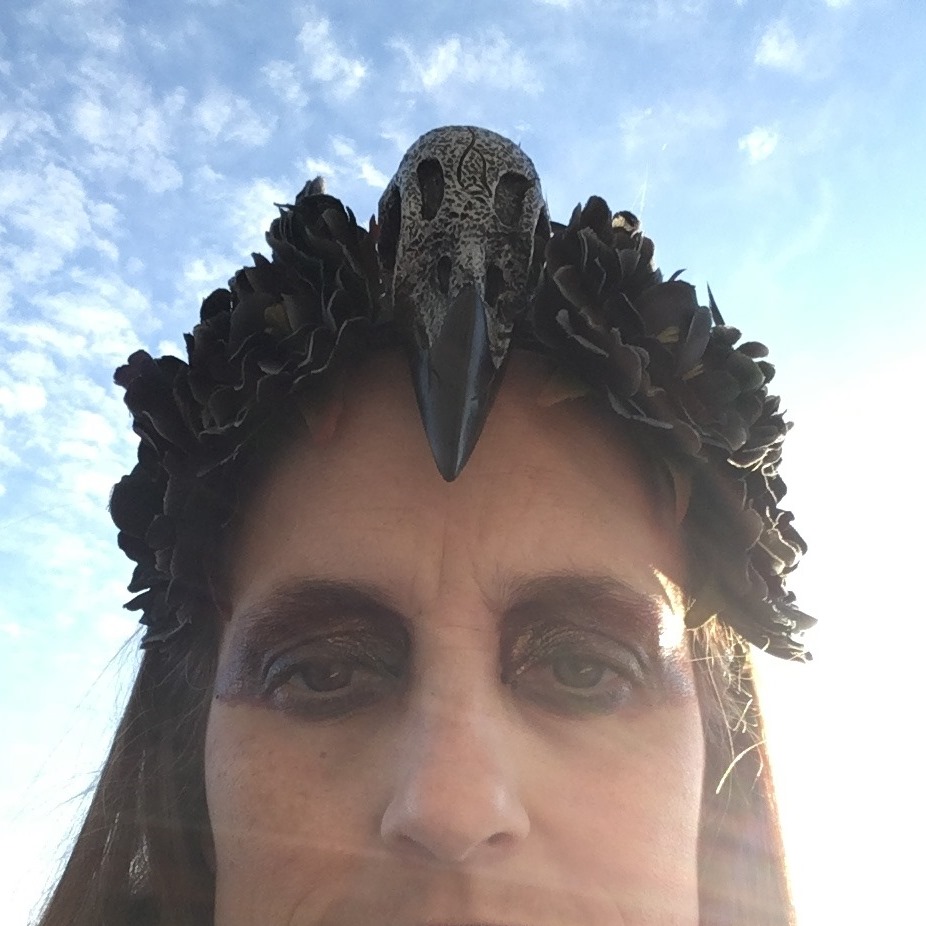 Some Bewitching Line Drawing by Jennifer Weigel
This month we are going to explore more fun marker art from Jennifer Weigel, starting with black and white line drawing. Jennifer is getting ready for her big Life Is Brilliant solo show in March and has snuck in a few spookier themes, so she wanted to share them with you here.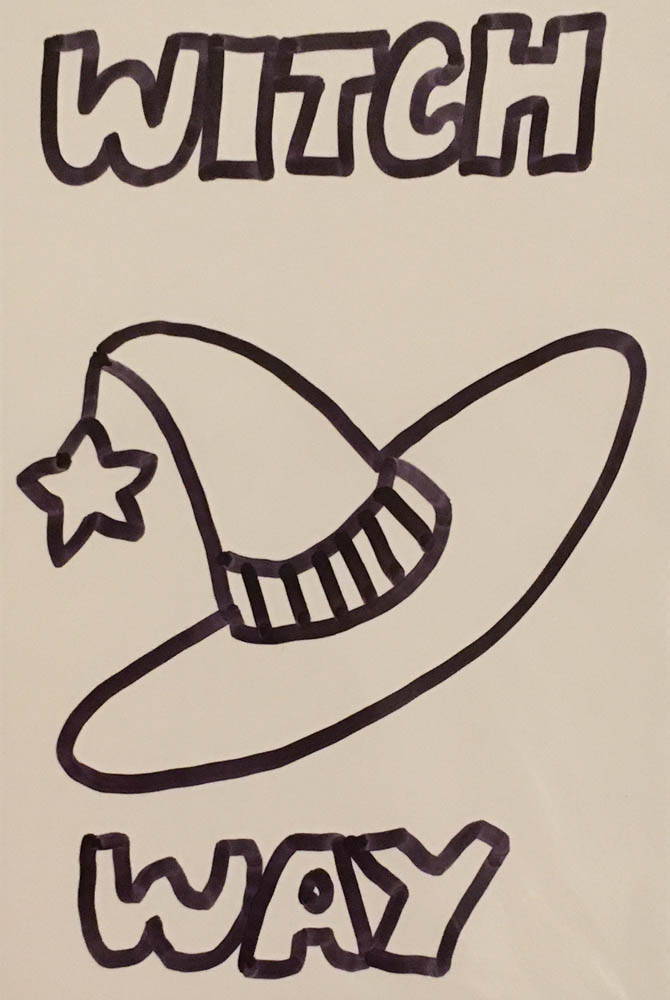 The magic is strong in this Witch Way line drawing with its fun witchy head-topper, complete with striped hat band and star dangle. No self-respecting wizard's ensemble would be complete without it.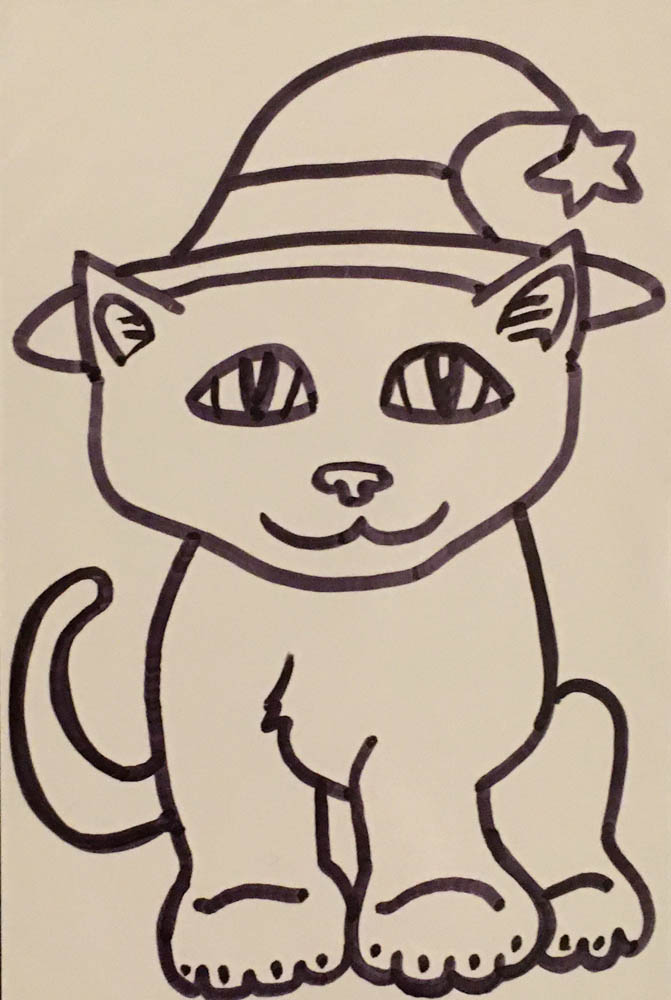 And now the adorable Kitty Witch will don the Witch Way hat and cast a spell of cuteness on you. You gotta wonder just how the hat stays on but best not to question these things. We all know it's magic…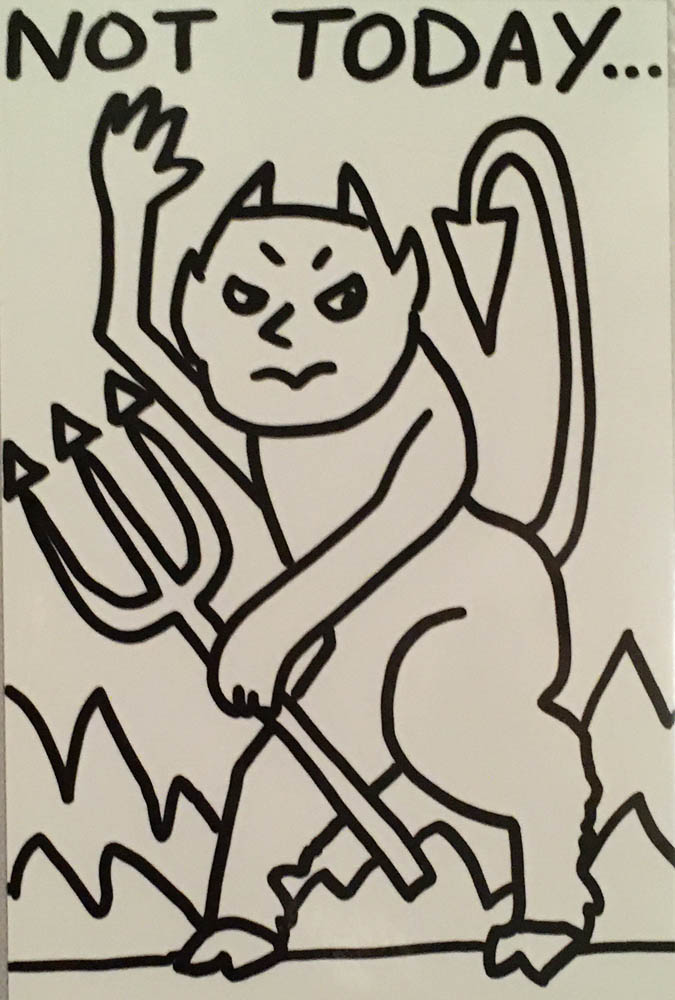 The devil is in the details in this Not Today Satan line drawing, and boy is he pissed!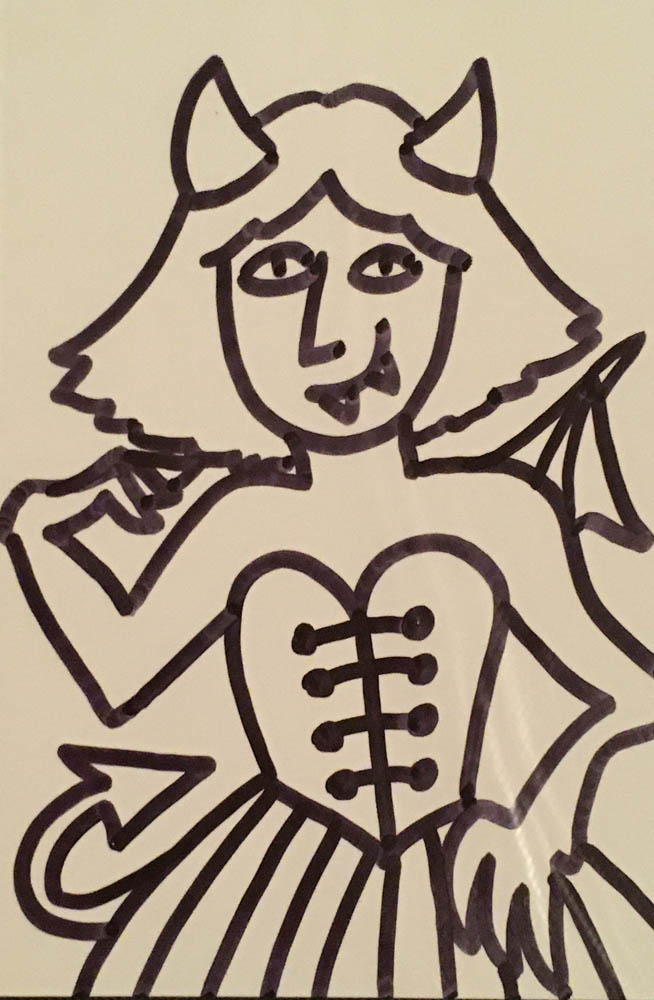 This She Devil is just plain goofy. Maybe she's coyly playing innocent; it's not a look most devils can pull off, seeing as how innocence really isn't their schtick…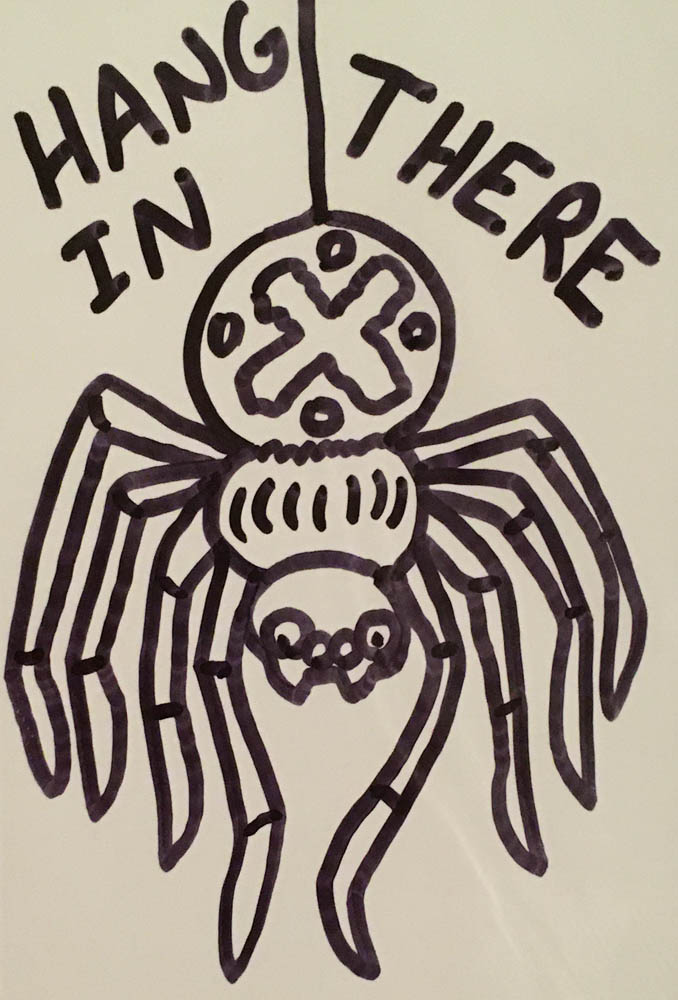 This little spider came down to your tuffet to remind you to Hang in There. She is very well-intentioned and is only looking out for you. I guess maybe she's not so little though, she is an Argiope after all…
Feel free to check out more of Jennifer Weigel's work here on Haunted MTL. Or on her writing, fine art, and conceptual projects websites.