Welcome to our exclusive interview with acclaimed horror author, Isaac Thorne. Known for his spine-chilling narratives and masterful suspense (check out Hell Spring now!!), Thorne has carved a niche in the literary world that leaves readers clinging to every word. Today, we delve into the depths of his horrifying imagination, exploring the forces that inspire him, his unique writing process, and the stories that have left countless readers sleeping with the lights on. Prepare yourself as we step into the darkness of Thorne's world, a realm where fear is the only certainty.
Sorta Legit Transcript
00:00.00
jim_phoenix
Hey, everyone Jim Phoenix here and boy am I excited for this new. What's crack and this one I've been waiting for for our author series for a while it is probably the person I thought of first when I said we're gonna do author series. It's none other than Isaac Thorne if you've done anything at all in horror. You should know his name. He's got housepring already out. It's almost legal to drink in some areas or legal to date freak out, you're old I don't know one of that too but isaac. Thank you so much for coming over I bet you're regretting it already like my. Looks legal to drink now. What? No how are you doing sir.
00:38.80
Isaac Thorne
Ah I'm doing Well thanks for ah for having me here. It's ah it was ah quite a job to get us on the the same schedule but we did it and and we're here now.
00:47.76
jim_phoenix
Yes, yes, it was it was for for those that don't follow social media that much we we kind of tag team covered and not in the cool way in a very weird awkward way like I got call I can't do it like oh that's 5 will will schedule and then a day that day. The day of same thing like oh I just came down with it. How how it's like a little virus I guess that goes around through the computer waves now. But I'm so glad it worked out both of our voices willing will kind of hold up now I have to o admit I do remember I do remember you? Ah, ah. A young strapping author who is already well established by the way. But my mind a young strapping author submitting to I think was was it ricky's backyard or was that or was it haunted Mtl then.
01:37.12
Isaac Thorne
Now it was it I so it it wasn't haunted Mtl but it was haunted mtl by the time. Yeah, ah but by the time it got into the publication. It was haunted mtl. Yeah.
01:43.75
jim_phoenix
That was Rookie's backyard. It got into the publication.
01:54.24
Isaac Thorne
Yeah, that was ah a little ah short story called Dead rights that ah has never been published anywhere else since as a matter of fact, it'll probably end up in a collection someday. But but yeah, ah.
01:58.56
jim_phoenix
That writes.
02:04.16
jim_phoenix
Wow, that's.
02:10.87
Isaac Thorne
I was happy to have it in in haunted Mtl I Love that that story I thought it was funny and and you guys apparently did too.
02:16.53
jim_phoenix
It was It was brilliant. No it was. It was absolutely amazing because if you ever have to get the other end of this tick with being a publisher you get a lot of stuff going. Oh the slush piles get like really slushy sometimes I saw this like oh my God This is like really good.
02:34.22
Isaac Thorne
Yep.
02:36.42
jim_phoenix
This is amazing me not googling. Anyone's name at all I like boy he's got a career going for me if he he can take this far and then later on I I see the name pop up on Twitter im like oh okay, okay, right, right? right? right? ah.
02:53.96
Isaac Thorne
Ah I appreciate that? yeah.
02:56.25
jim_phoenix
Yeah, yeah, it's a brilliant I felt like I just discovered Michael Jordan this is awesome like oh no, he plays for the bulls already really the five five championships are ready really, but who knew so you have the talent. Yeah.
03:07.80
Isaac Thorne
And dead rights was ah oh thank you. Thank you very much dead Rights was one of those that that actually it it was kind of a rarity in in Idea. You know it was one of those things that just basically comes to you fully formed and um and you write it down and and usually my stuff doesn't work that way I'll start with a yeah you know a scene um an idea for a scene and then work around.
03:27.73
jim_phoenix
Um, yeah.
03:40.00
Isaac Thorne
That for the short stories at least. But yeah dead rights.
03:41.76
jim_phoenix
Okay, that's interesting. You're saying that. So this came forbably formed dead rice just popping your head.
03:50.48
Isaac Thorne
Yeah, yeah, and it ah I don't know why I usually my stuff is is somewhat influenced by the news current events you know, ah politics ah culture things like that.
04:05.21
jim_phoenix
Right.
04:06.49
Isaac Thorne
And um I don't remember what was going on. Um, when I wrote it but but there there was some I remember there being some kind of news influence there and I'm like oh it wouldn't it be funny. You know if if ah if this ah. This guy working in a University Morgue studying anatomy ah fell in lust with the corpse on his table and then she sat up and called him out on it. You know.
04:39.33
jim_phoenix
See That's okay, that's what brought me to it because maybe it's my generation but was very aware of this one of my friends. Their father owned him ah are mortuary and this is when the.
04:52.81
Isaac Thorne
Oh.
04:56.72
jim_phoenix
The mortuary people were sleeping with the the dead and getting caught apparently like I don't know who's catching them but they're in getting caught with it like the Snl Ski like we absolutely do not have sex with our cadavers that was the whole Snl skit for a bit so I read that like oh my god it's like that ski it's like that's good for like.
04:58.80
Isaac Thorne
O god.
05:13.58
Isaac Thorne
Right.
05:16.67
jim_phoenix
You know the the 90 s I love it and you're like that's what I think to dereha I yes, the the news this must have been oh man well pre covered so it go back to about 5 years and then probably what between. 2015 to 19 to 18 ish. Maybe so it's probably a lot of scandals. Yeah, so a lot of the the sexual. Ah this the scandals kept breaking you know, breaking wide open. Ah.
05:34.88
Isaac Thorne
Yeah, 18 probably yeah.
05:46.50
Isaac Thorne
The Weinstein thing and all that. Yeah.
05:48.66
jim_phoenix
Me too might have been Weinstein. Yeah was starting to crack open so there we there we have it is the I see you see something on the news or is is it earworm and its thing it's like wouldn't it be funny if this happens like wouldn't that like little twist a little twist of the the truth of the truth of the story and.
06:01.10
Isaac Thorne
Right.
06:07.76
jim_phoenix
That's an amazing way of of doing it I've I have heard from other authors who said they have the entire story I'm usually one of my other entire story in my head like even even unfortunately in the novels and screenplay in which gets really heavy and it's it's insane. Ah, but that and the the this.
06:17.64
Isaac Thorne
Ah.
06:26.27
jim_phoenix
Scene stars like he had a scene then he's write the story around the scene or you see what the scene takes you do you ever try to force a character in and see with like what would happen if I do this hat You know this guy gets in there.
06:29.77
Isaac Thorne
Right.
06:35.72
Isaac Thorne
Yeah I've learned I've kind of learned that I can't force a character to into any situation. The character doesn't want to be as soon as I start trying to to force it it. It starts to read that way.
06:43.77
jim_phoenix
Right? yes.
06:53.17
jim_phoenix
Um, yes, absolutely and you did you learn it. How'd you learn it? How did you learn it. You try it. You try it The pick of we Alpad before? yeah.
06:54.47
Isaac Thorne
You know what? I mean Um, if you read that right? Yeah, actually yeah I mean I've I've gone back? Yeah, you know you go back to well especially in my first drafts. Um.
07:10.25
jim_phoenix
Yes.
07:12.10
Isaac Thorne
Because even the short stories I I you know rewrite and and rewrite several times but but you can when you read it especially in the first draft you can tell oh I was trying to make this something that the character obviously didn't want it to be so cut.
07:26.80
jim_phoenix
Right.
07:31.42
Isaac Thorne
You know and or replace with ah with something else.
07:34.50
jim_phoenix
That's that's pretty good advice I think it's things that we think intrinsically we can do and then we find out. No no, no, you can't like we think like oh this is possible like I can make my characters do what I want.
07:44.53
Isaac Thorne
You can't right? yeah.
07:50.81
jim_phoenix
And the character fights back like oh yeah I Guess you're right? It's it's plot driven not care, got it plot driving. So we we find this out. There's anything else you did in your past as a writer that you discovered a better way of doing.
08:07.23
Isaac Thorne
Um, not necessarily a better way. There are things I've stopped doing or stops trying to do like yeah when I um when I write my novels I I tried originally to do outlines. Um.
08:13.14
jim_phoenix
Right? really.
08:24.84
Isaac Thorne
Because a lot of people. Yeah, a lot of people I admire were were like outlines outlines you gotta outline it and once you outline it once you have all your ideas and and scenes and characters and everything in that outline The writing is easy. Well, the problem is I don't have.
08:25.53
jim_phoenix
Aha.
08:44.15
Isaac Thorne
The story fully formed enough to create an outline from it. Um, like ah especially I mean you wouldn't I wouldn't outline a short story anyway. But but with the novels once I have the idea and and I know I have kind of a sketch in my head of.
08:49.99
jim_phoenix
Oh.
09:02.32
jim_phoenix
Um, right.
09:03.56
Isaac Thorne
Of what I think is going to happen. Well, as soon as I try to outline that and think I have a good solid outline when I start writing it. It goes somewhere else. So I ended up being what they they call a seat of the pants. Um, writer you know more? so. when I when I do the long fiction I do instead of trying to outline from the beginning. Um, before the first draft I take the first draft and I create an outline from that when it's done. Yeah, and that way.
09:34.99
jim_phoenix
Oh really, this is pretty interesting.
09:41.24
Isaac Thorne
That way when I do the rewrites I can see the holes I can see the places where the the dots don't connect I can see things that that you know started to go somewhere and never did um and that way I in right? in other words I use an outline to fix.
09:45.85
jim_phoenix
Right.
09:55.20
jim_phoenix
Yes.
10:01.80
Isaac Thorne
More than I use it to create.
10:05.64
jim_phoenix
I I laugh because I find I've given my own novel coming out. Ah shortly and I I found the same things where you write it and like this is great in your head they start outlining like oh this character appears like once for a.
10:21.25
Isaac Thorne
Right? exactly.
10:21.72
jim_phoenix
3 pages like why is this person even here story what? why is this even a thing. What what am I doing so the it's that the it like the ah you doing like a post on on the postmortem on the outline on the first draft and trying to outline that way.
10:38.54
Isaac Thorne
Ah, yeah, yeah, absolutely.
10:40.80
jim_phoenix
But that's and then do you then? ah pin them to scenes or how do you move things around.
10:46.85
Isaac Thorne
Um, what I usually do. Um once I have that that outline is I might move um, a chapter here there you know I might see something that that I think well this.
10:58.40
jim_phoenix
I.
11:02.90
Isaac Thorne
Really should have happened earlier for this character to be in this place. You know later on or or maybe you know this character wouldn't be having these revelations yet because not enough you know has has occurred to guide them to to.
11:07.67
jim_phoenix
Um, right.
11:21.74
Isaac Thorne
Whatever conclusion it is. They're coming to so I might move chapters around and and if you do that Then you you do have to do some some rewriting in the chapters as well to make sure you don't have any you know leftovers there where somebody's somebody's reading.
11:32.45
jim_phoenix
Um, yeah.
11:40.70
Isaac Thorne
Um, and they it it sounds like something just happened when it actually happened days ago now you know, um.
11:46.79
jim_phoenix
Right? And that and that's the thing. Especially we start moving around so tell me this is not in freshen your mind anymore. So you really have to be careful with that. Yeah.
11:55.40
Isaac Thorne
Right? Yeah, exactly and that's why it pays to um to not only do that outline for me but also to reread and and review multiple times and put some space in the days. Ah, between those like I finish a first draft I I won't look at it for a week or 2 um, and then when I go back to it to do that right? when I go back to it to do that outline. It's all fresh. You know, um.
12:20.46
jim_phoenix
Right? Put it in the freezer was that now.
12:32.13
Isaac Thorne
And then ah same thing after rewrites you know I'll I'll go through it again and I actually I have a um application on my laptop that I used to to have it read the manuscript aloud. To me while I wear headphones because I've also discovered that I can catch a lot of crap that way that I don't catch by reading it writes.
12:51.82
jim_phoenix
Um, really.
12:57.68
jim_phoenix
Because you're not gap filling. Yeah, whenre when when you're especially when you're reading your own work your mind Gap fills it just skips over stuff and because you you wrote it's like you know what you mean, but it satsate's silent in the paper though.
13:06.81
Isaac Thorne
Yes, exactly yep, right? Yeah I mean you mean the reader can't see what I'm thinking you know.
13:15.79
jim_phoenix
What's on papers different from what's in your headd. That's the that's the issue. Yeah so I love it right? Yeah, if only if only next year the next new food and that'll be horrific for me for technology now. So.
13:28.15
Isaac Thorne
Ah, yeah.
13:33.44
jim_phoenix
When you're doing something like housering and I know housepring is the one that's your almost one year old. Oh look at that almost one year old I Remember that first came out I remember like I saw that the the the cover like oh that's a cool that's cover man actually probably text is like like that's a cool.
13:39.30
Isaac Thorne
Um, yep, yeah.
13:49.69
Isaac Thorne
That cover. Yeah, that cover has has generated a lot of eyeballs and a lot of comments and and hopefully a lot of the sales I've gotten of that that novel. It's ah.
13:51.56
jim_phoenix
Cover.
14:06.36
Isaac Thorne
It's actually my I have 1 cover designer who's done most of the covers for my my books and that includes the the short stories that I put out as singles. Um and she and I actually usually table together at at local cons.
14:11.60
jim_phoenix
Wow.
14:24.77
Isaac Thorne
Um, because she has her own you know, art and coloring books horror and fantasy themed that she sells um and ah yeah, she Ah, she just knocked it out of the park with hell spring it. It is my favorite of.
14:32.99
jim_phoenix
Um, oh that's amazing.
14:41.98
Isaac Thorne
Of the cover. She's done for me I actually have a ah print of that hanging on my wall. You know, framed print because I yeah I Absolutely love that cover.
14:48.77
jim_phoenix
Really that's but that's awesome. I'm so glad you brought up your wall because one of the things I've seen and I'm on your website right now which is isaacthorn.com isaacthor and e.com which if you are an author I I'm not guilty I'm not doing this but mine's coming if you're an author I strongly suggest getting your own website because it gives you that 1 big step towards your readers that you won't get just from doing ah Amazon's
15:24.35
Isaac Thorne
Right.
15:26.60
jim_phoenix
And this is something I saw on your Instagram it was the the mailing room I believe you're you're doing like the whole mail. Yeah, and I'm looking at sign paperbacks if you go to isaacthorn.com sign paperback and please correct me if I'm wrong is 1999 right now.
15:29.61
Isaac Thorne
Um, yes, yeah.
15:42.86
Isaac Thorne
That's correct. Yeah.
15:45.12
jim_phoenix
And if you go to Amazon the paperback file a signature 1999 so what you know it's like it's no brainer. What would rather do like get it from the author of a signature on it or you know Amazon you you this is a brilliant move.
15:58.30
Isaac Thorne
Yeah, it.
16:02.41
jim_phoenix
So what? what led you? What led you to this.
16:05.15
Isaac Thorne
I pricing a book when you're an indie author and it's always been kind of a hand-wringing thing for me because I I you know I want some profit from it. But when you're an indie. Um, especially if you're.
16:09.84
jim_phoenix
Oh yeah, yeah.
16:21.77
Isaac Thorne
The print stuff if you're doing print on demand. It is more expensive short term to print on demand the per copy um, ah Print cost is higher than if you you know went to your local offset printer and had them print a thousand of course.
16:31.34
jim_phoenix
Yes.
16:41.57
Isaac Thorne
Then you have a thousand sitting in your basement you know, um.
16:42.17
jim_phoenix
That was what I got to got thousand copies. Yeah you you have a castle you you build cardboard box castles out of um, that's what we used to do my castle.
16:49.92
Isaac Thorne
Ah, right? So so the pricing is is always you know a little bit of ah of a hand-wringing thing for me but I figured if I at least if I price it the same as I sell it for retail.
17:07.83
Isaac Thorne
I can include stickers I can include Bookmarks I can include a signature and these little things that also have cost to them but not so much cost that that it's you know, completely taking away the the profit.
17:12.20
jim_phoenix
Um, right.
17:25.75
Isaac Thorne
And right and the ah the customer um gets more for their money as a result and I I enjoy doing that I like being able to to provide them with something that they're not going to get buying it through Amazon or.
17:26.13
jim_phoenix
You're not getting your Hopa margin. Yeah.
17:33.23
jim_phoenix
Yes.
17:45.20
Isaac Thorne
Or Barnes and I will and that's not that I'm not happy when someone buys it through you know another channel um bookshop dot org you know, indie bookshops. Ah I'm a big fan of but but if I can give them a little something extra. Um. Even I have custom packaging that I send the the physical books in that has my little evil bunny character on it. So yeah, yeah, so right? exactly.
18:06.65
jim_phoenix
Really oh man so we see like that includes 2 free evil bunny stickers like on you one these now I got ah I'd buy for me is like the book probably already have but the bunny stickers I do not.
18:22.12
Isaac Thorne
Um, yeah.
18:23.98
jim_phoenix
It's like a $20 bunny sticker like ah, it's $10 each I'll do it I'm crazy that way give me those buddies look I'll think buy stickers all days. Sir. So I like how you're packing this up, you're you're making you're making it both a business but not so much. Is that like like an Mba kicking in. It's it's a business because you want to give the reader something more and and I making sense. Okay, yeah, and I know.
18:42.89
Isaac Thorne
Right.
18:48.55
Isaac Thorne
Yeah, exactly exactly?? Yeah absolutely and I mean if if I wanted and the thing about being an indie as well is is if I was doing this because I wanted to. Retire from it then that's a fool's Errand you know there's There's no way that I as an indie author without the the vast. Um, you know pocketbook of of a traditional publisher I'm gonna. Make enough doing this in the way that I do it to you know quit my day job. Um, so that's not the reason I'm doing now that's not saying an indie author can't there are indie authors who have but that's not me. Um I think.
19:29.26
jim_phoenix
Right.
19:42.69
Isaac Thorne
You know number one. My audience is too niche and I'm just I'm not I'm afraid if I try to make it my entire work life that the fun will leave. You know.
19:56.68
jim_phoenix
It's the old Hunter Thompson thing when a young writer's like I want to write for a living. It's really fun like I give him the quote from Thompson's like writing is a lot like sex. It's only fun for amateurs. You don't hear any old horrors giggling and and that's like.
20:12.19
Isaac Thorne
Absolutely.
20:13.83
jim_phoenix
Like when you when you make it your fulltime Gig is like the the joy starts straining you know, but okay so I I see I see I see where you at I mean this is one of the things I was like Wow you're and by the way for those who don't know and it's shame I You don't know not knowing but you.
20:17.84
Isaac Thorne
Um, yeah, yeah, absolutely.
20:33.77
jim_phoenix
Isaac Thorne could go full time. My opinion. You could go full time and this is your old gig and that's it because you're writing spectacular. Your imagery is outstanding. The pacing is wonderful. Everything you want to. Not only teach in a writing class but things that you can't quite teach unless you know it's repetition. You just kind of like have to learn it. You just have to learn it by master crafting it. You're there. You're already there and well I appreciate you putting out good works.
20:58.15
Isaac Thorne
Um, well I appreciate that I appreciate that.
21:07.89
jim_phoenix
Like it's mutual appreciation that way absolutely and then not only are you there but you understand the indie game. You understand what is what it's like to apps I will say okay I'll ask I'm only gonna say so. Have you thought about going to a I don't I use a traditional publishing of vernacular like ah the external indie meaning a small publisher.
21:41.69
Isaac Thorne
A small press. Um I have considered it I have considered it occasionally but there's also a part of me that actually yeah.
21:43.94
jim_phoenix
Um, yeah.
21:49.74
jim_phoenix
Just offload it.
21:54.28
Isaac Thorne
And and there are times when I desperately want to do that, Especially if they're willing to take over stuff like social media. Um, you know which I'm ah I'm all over. But oh my god.
22:07.13
jim_phoenix
I don't know how you do it I have no idea you're my inspiration for social media like like you got like 5 points 2000000000 followers what like what.
22:18.73
Isaac Thorne
That well Twitter twitter I was able to build pretty quickly over a couple of years years ago I well x now whatever um but I don't think I could do it now and and my other social media. Um.
22:24.37
jim_phoenix
Um, yeah.
22:36.18
Isaac Thorne
You know they're not not paltry but they're nowhere near um the number of of Twitter followers I managed to to build over that time. That's 1 reason I'm sad to see what's happening to it because I have a feeling I'm eventually gonna have to leave. Um.
22:49.44
jim_phoenix
To yeah I know that was the I evolve them I like Twitter the most as well used to and it's just it's more and more painful every time I look at it.
22:56.60
Isaac Thorne
But yeah, yeah, yeah.
23:05.95
jim_phoenix
And I'll I'll have to ask because I see it on your profile is is your Tiktok feed as painful as mine trying.
23:14.65
Isaac Thorne
I I have attempted to curate my I I have attempted to curate my my Tiktok feed so that it is mostly ah like cats you know? um.
23:15.55
jim_phoenix
Like you must't use tik to like I used to pick Tikt Tock I did do want know.
23:30.81
jim_phoenix
There you go there, you go? Yeah smart Oh man I wish I was that smart I wish I was that smart I was like I was doing old man playing basketball again that was me I was like yeah.
23:34.12
Isaac Thorne
Yeah, cats and dogs and and particularly talking cats you know? ah.
23:49.39
jim_phoenix
Welcome to gens I'm out of shape. Oh boy that was a horrible. What what thing you used to be good at you're really horrible now mind's breathing like fuck like like that that's like I 2 videos I think that but so we are both in the i.
23:53.20
Isaac Thorne
Um, yeah.
24:08.34
jim_phoenix
Yeah I I am there with you. It's the you have to live social media and God I know some people who are marvelous at social media and they love social media and they eat it up I ain't one of them and I always thought you might be because how hard you see you look like you're working very hard I mean just.
24:27.52
Isaac Thorne
I am Yeah yeah I am yep yeah and I I don't think I don't think my work would have gotten um as out there as it is without.
24:27.97
jim_phoenix
You know the the retweets and the yeah so you're doing that because you have to oh wow.
24:41.61
jim_phoenix
Um, right.
24:44.14
Isaac Thorne
Ah, Twitter in particular in the beginning if that Facebook I'm bad at um I I've never really um, never really become enamored of Facebook the way some folks have I'm I'm on it rarely? um.
24:57.84
jim_phoenix
9
25:02.80
Isaac Thorne
And a lot of that is just you know things I'm copying from from Twitter and and just reposting there. Um, but I I never really never really found my my legs there you know, um.
25:07.56
jim_phoenix
Um, yeah.
25:20.22
Isaac Thorne
Instagram I'm slightly better at um, but ah yeah I mean yeah yeah, that's where I that's where I post my ah my shipping station and my pops and.
25:22.85
jim_phoenix
I like your Instagram because I get to see your world. You know I get to see the picture is like oh this is very visual pops. You know that shipping honestly I saw that shipping saving like.
25:42.27
Isaac Thorne
Yeah, if.
25:42.29
jim_phoenix
Oh that is it. That's what I have to do I to get off my butt and it' it's very inspiring so for your house spring. Yeah how a spring you say you may be doing another convention about house spring or we kind of kind of toy coming from Hell spring.
25:50.37
Isaac Thorne
Yes.
25:59.91
Isaac Thorne
Yeah, is there's a a book. There's a book blog tour coming up in October for health spring and um, the the tour manager that I've I've been working with for a year over a year now
26:00.74
jim_phoenix
I know I did the course.
26:08.52
jim_phoenix
Nice.
26:17.24
Isaac Thorne
On this book is just amazing in connecting ah with people and getting people to read it and and review it and and buy it. Um, so we're we're doing another one on this october. So so you'll probably hopefully. Bc in hell spring on some book blogs and and much more on your social media feeds that not that I don't post enough about it already. But.
26:43.41
jim_phoenix
Well heck if you don't you always post more and that's the thing you are a so kind and generous to us haunted empty L is like it blows me away every time like like is he just like really just. Spoke of my ass right now is that like no, it's like oh Wow, this is very kind of you. Oh Wow and I see retreating stuff and listening and just blows me away man.
27:06.94
Isaac Thorne
now I yeah now I love you guys I love you guys I know and I listen to a lot of podcasts but and and they've come and gone over the years um you know and I don't stick with. With all of them. But but you guys I've I've stuck with there are some core you know other podcasts that I've I've stuck with and I love your microfiction that you post on. Yes.
27:28.13
jim_phoenix
Well.
27:34.78
jim_phoenix
The microfictions but the the insitwes you know what helps ah especially for longevity of both podcasts and microfiction liquid I v so if you go liquid I and I'm kidding I'm not going to drop a plug inmi interview. But like what I be like the 1 times the legit thing you're not talking about ewwas right now. It's like now you're pulling away? Yeah, but this is my point when you were you're using social media even though you see it as part of a job for an author when I I agree it it is. You're not just pushing book book book book book. You're also pushing other people you're talking, you're engaging. You're watching the last drivein you're you're tweeting at this, you're you're doing the cat video. You're doing this you're doing this photo it's it's it's engaging you're not just doing It's not the echo chambers like to here it is you know press play and let it recycle through.
28:13.81
Isaac Thorne
Right.
28:23.75
Isaac Thorne
Um, yeah.
28:29.46
Isaac Thorne
Yeah, yeah, and I well I think that's important. Yeah I think it's important to do that and I well and I'll tell you I'll tell you when I first landed on on Twitter back. It's probably 2015
28:31.25
jim_phoenix
You are absolutely engaging with people which I think is a missing step. Yeah, it bus to.
28:47.48
jim_phoenix
Wow.
28:48.45
Isaac Thorne
I think was when I started my account on there of 1 of the first people who followed me and I followed back is is ah a guy called the bleeding critic. Um. He wears a ah clown mask and he does you know reviews of of movies video reviews of movies and books and one of the things that he always said um at the end of his videos was you know, make sure you. Ah, follow and like and engage you know with and he would promote other accounts. You know, saying like follow engage with this this account. It's a cool account. So so he kind of started me down this road of of keeping up.
29:23.63
jim_phoenix
Um, yeah.
29:36.21
Isaac Thorne
Engagement and and actually you know talking to people and and responding to to other people and and helping them. You know, become more visible as Well. Um, and I do think it's it's important to do that. Otherwise you're all, you're doing is. Promoting and and people are going to ignore that after a time you know? yeah.
29:58.60
jim_phoenix
Yeah, they suss set up pretty quickly, especially nowadays it's it's why influencers only go so far once the Botox wears off, it's over you know because they they didn't build. They didn't it sounds mean but they don't didn't build an honest.
30:06.47
Isaac Thorne
Right.
30:17.93
jim_phoenix
Like relationship with her followers is is a 1 way you know and this way you build it and I think we both watched the last drive and I'm pretty sure we've we've seen shoulder tweets on that I think that's what they do really? well like people like that.
30:19.58
Isaac Thorne
Right? Yeah, exactly.
30:29.60
Isaac Thorne
Yeah, yeah, thank you.
30:35.46
jim_phoenix
Do it really? Well, you do it amazingly well and I think it goes off into why people should buy housepring First of all, if you want an autograph copy. There's still some stuff right? There's there's a autograph. Okay, if you want an autograph copy of hell spring I'm feeling cocky ah hard back.
30:44.92
Isaac Thorne
Yes, absolutely.
30:55.31
jim_phoenix
Why not? why not get the heart back out. So I want I want to see this suck anyway, if you want to autograph copy ah of how was bringing the hard back hard back. You can kill someone with this probably don't please don't see your lawyer first I actually don't see it lawyer. It's illegal to kill anyone you want period haunted empty yale it's on us, you go tweet at us you dm us you x thread us Tick I don't even know what Facebook messaging I don't know whatever is you make it known with your address and we will send out one the paid to you that that's how it is how spring the very first 4 people I like number 4 kind of weird that way.
31:31.80
Isaac Thorne
Awesome.
31:33.56
jim_phoenix
Get a copy of hellring and everybody else by yourself by yourself. Go to isaacthorn.com ISAACTHORNEDotCom get yourself some house spring. It is awesome sauce and there's even a I'm ultra jealous. There's an audible book I'm so jealous.
31:50.48
Isaac Thorne
Um, um of not of hellspring yet. Um my my yet. Yeah yeah, the other books.
31:53.50
jim_phoenix
Have no idea not if yet. Okay so I'm not jealous of you yet? Okay think yet is it coming out. How's that how's that working for you.
32:05.94
Isaac Thorne
Um, the the other books are all in audio format. The narrator of the Gordon place is is actually hopefully going to be able to do the the audiobook edition of of hell spring I wanted. I had hoped to be able to get him on it. Um, in time to to have them both. You know, sort of released around the same time. Unfortunately, he was already overwhelmed with projects. So it's it's in his queue.
32:32.19
jim_phoenix
Um, right.
32:39.86
Isaac Thorne
And hopefully hopefully will be coming soon.
32:42.63
jim_phoenix
Did you ever think about doing yourself doing the reading years.
32:45.83
Isaac Thorne
I I have my I actually have my short stories in audio format. Or yeah, they're mostly narrated by me. Yeah, yeah.
32:51.99
jim_phoenix
I was say for the shorts. Yeah right? Yeah yeah, that that's it's always the thing because authors usually can do the best of inflections at the same time if for a novel that that's a lot but that's gonna take some time.
33:05.16
Isaac Thorne
Um, yeah, yeah, um.
33:11.65
jim_phoenix
But that's like I can hear you glen fondinele. Ah, you just Hire Matt Barry there you go I hear you can do some stuff when he's not being a vampire so you know what this has been a wonderful chat I thank you so much for a time we actually went over a little bit.
33:13.36
Isaac Thorne
Bad. Yeah.
33:27.88
jim_phoenix
I think for time and again if you want Hellring first 4 on us autograph hard copies. Why not you do some have our copy autographer. Okay yes, first 4 ah graph our copies. Why not.
33:35.80
Isaac Thorne
Yes.
33:44.43
jim_phoenix
Ah, give us Dm slide us in no bra blemo. We'll get them out to quannie's last but check out the site isaacthorn.com check them out on all the socials. It's actually pretty cool. We follow them. Ah sir I'm gonna find your Tiktok now and your pinterest. Go hunt your pinterest take ax down. That's woman do after this but thank you very much for everything sir isaac r thorne everywhere. That's a very long name isaac r thorne everywhere. Oh but no, that everywhere was that part of it. Space. Okay.
34:03.42
Isaac Thorne
Ah, eyes it's isaac R Thorne everywhere. Absolutely Yes, it's isaac R Thorne space everywhere.
34:20.66
jim_phoenix
Like that's a off play law name. Go follow them. It's it's entertainment is what well worth it and you're going to learn something if if you are a horror fan. You had to follow if you're a writer who wants to learn a trade follow them. Do just this follow you go learn Iler I Still learn a lot Honestly God I learned lot from you. So I Want to say thank you for that and thanks for coming and as it bye. Everyone.

Joe Bob Briggs Creepy Christmas spooktacular: The Last Drive-In Special Charity phenomena
Famed horror host, Pulitzer Prize nominated, and Cracker Barrel aficionado Joe Bob Briggs is back in action, ready to bring some macabre merriment to your holiday season with Joe Bob's Creepy Christmas. It also gives us horror fans something to take into the new year, be that something Darcy's panties (sorry, box, I tried) or just the intangible good feels of hanging with friends and supporting a lot of good causes.
The Return of Joe Bob Briggs's Christmas Special
The Joe Bob Briggs's Christmas event is akin to a Jerry Lewis telethon for Gen X, with a twist of 'the last drive-in with Joe Bob Briggs'. This 'Briggs' auction of sorts is a nostalgic nod to the past, especially for those who remember the telethons. The dread, however, has shifted from the … well… whatever Jerry was supposed to do (see Sam Kinison's bit on this for more info) to that of evil goodies.
Without a doubt, this Joe Bob Briggs special is the event we eagerly anticipate each year. It's a tradition, and a worthy one at that. We hope to see everyone on the interwebs, joining the 'creepy links' and engaging in the conversation (We'll be on Threads and Twitter….tag us as you wish!) 'live' the only way anyone should ever watch a tv show (oh, and I guess on demand, but ya weirdos will never know the sting of the Iron Mutant Award!). 'Live' is the only way anyone should ever watch a TV show, especially 'the last drive-in with Joe Bob Briggs' (as it's far too hard to watch tv whilst dead).
Joe Bob's Creepy Christmas The 'Last Drive-In with Joe Bob Briggs and Darcy the Mail Girl' special will hit the airwaves live on Shudder TV and AMC+ TV on Friday, December 15th at 9 p.m. ET. Fans of 'the last drive-in with Joe Bob Briggs' can also catch the special on-demand starting Sunday, December 17th.
A Creepy Christmas with a Cause
In its fourth year, the holiday tradition of The Last Drive-In goes beyond mere entertainment. It aims to use the platform to raise funds for four vital causes. The charity auction will feature unique props and exclusive merchandise from The Last Drive-In and memorabilia from Briggs' illustrious 35-year career…including some of his unspoken work as John Bloom. I say Unspoken, because if anyone remembers the first Christmas Special, the autographed copy of Eccentric Orbits was featured (sincerely, a good book–check it out if you haven't. Jim gives it 4.5/5)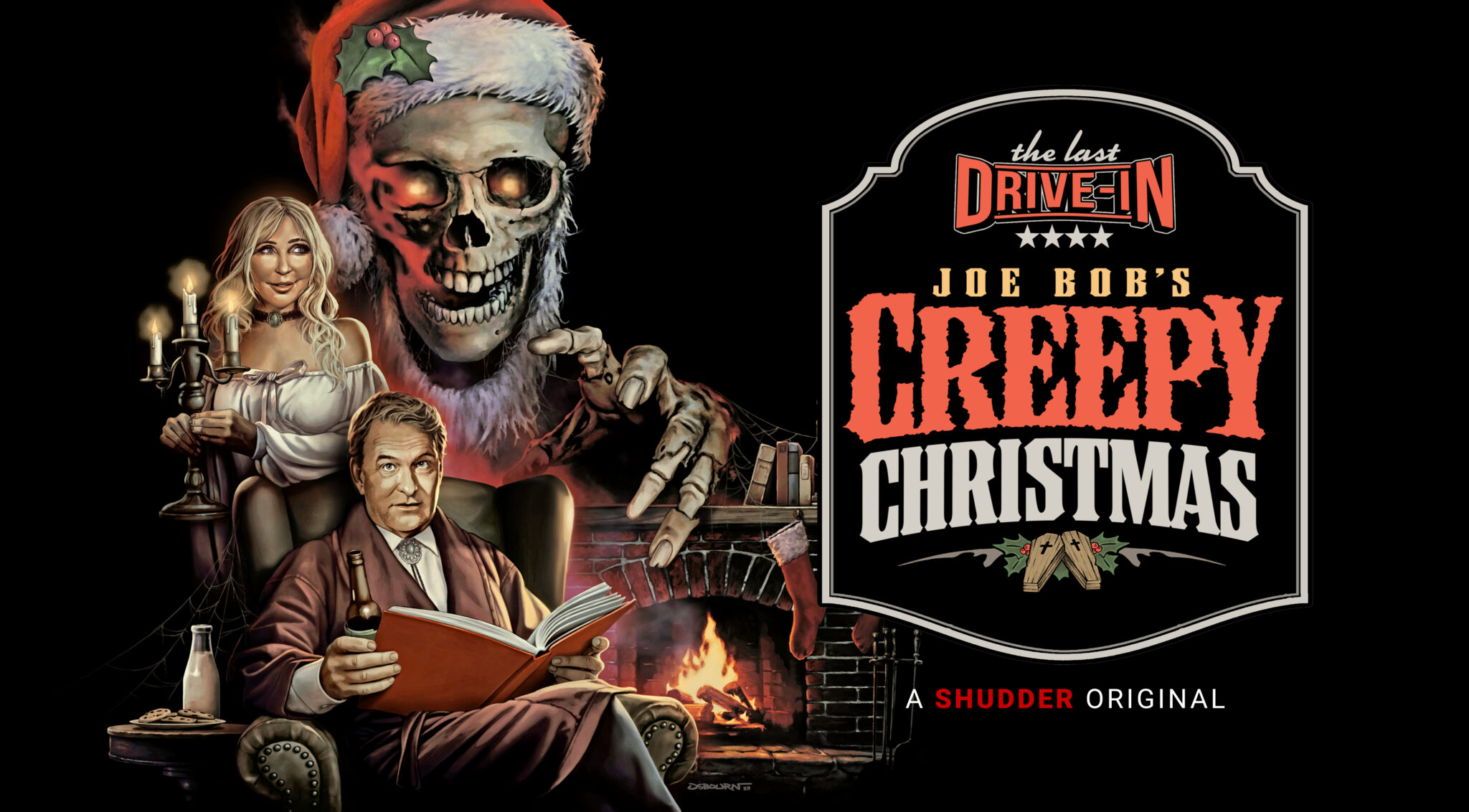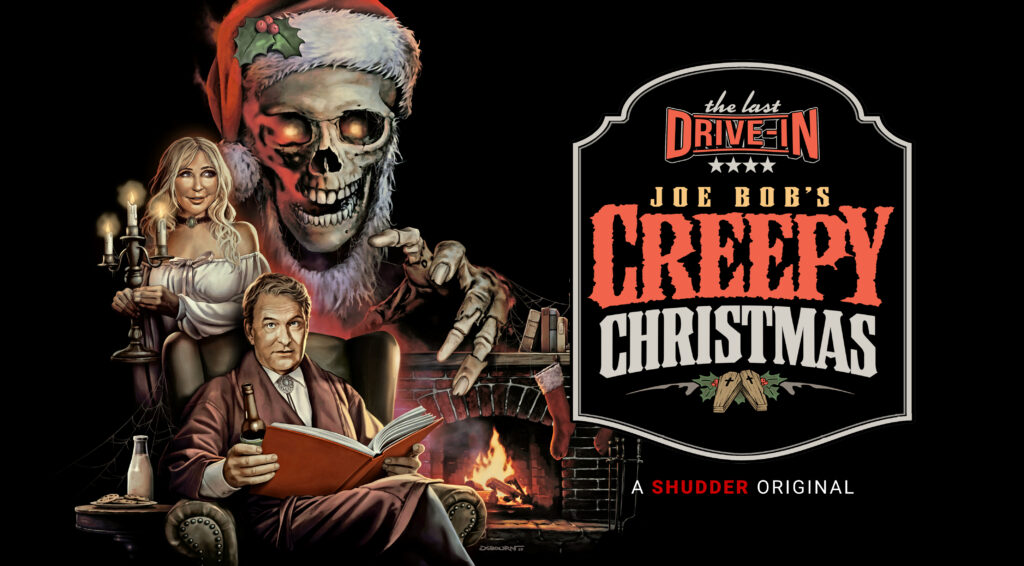 The supported charities for Joe Bob's Creepy Christmas will include:
The Mystery of the Joe Bob Briggs's Creepy Christmas Special
The anticipation for Joe Bob's Creepy Christmas is high, with fans wildly speculating what films will be featured. Personally, nothing can beat the #1 top horror Christmas film of all time, the Easter classic: Passion of the Christ (if a snuff film about a guy who doesn't fit in getting whipped and nailed up doesn't scream horror story, I don't know what does. Also: See Sam Kinison's concept on crosses and resurrection). However, a Christmas movie I really want to see up on this is Hogzilla and Kiss Save Santa Clause! BOOMMM!! Christmas Won!
As we eagerly wait for December 15th, we wonder what surprises our favorite horror host, Joe Bob Briggs, has in store this time. Will there be exclusive 'merch' that Jim will buy and then accidentally put in a Toys for Tots box in the mall?
Join the Fun, Join the Cause, Join the Joe Bob Briggs Christmas event!
Are you ready to dive into the world of Joe Bob's Creepy Christmas? Do you dare to watch along and help raise money for a good cause? If so, join us at HauntedMTL on Threads (_HauntedMTL_) and maybe Twitter (@HauntedMTL) as we experience the thrill and chills that only Joe Bob Briggs and Darcy can deliver.
Remember, this is not just about indulging in some good old horror fun with 'Joe Bob's' double feature. It's about giving back and making a difference. So, let's gear up to have a creepy Christmas with 'Joe Bob Briggs', filled with 'christmas horror films', 'christmas demons', 'christmas slasher films', 'ho-ho-horror', 'yuletide horror' and insightful 'horror commentary'.Joe Bob's Creepy Christmas and make this holiday season memorable for all the right reasons! I'm sure Fright Rags will have another stellar set this year, too. They are perfect for the horror fan in your life (even if that fan is you!). I can't wait to see what they have in store (no pun).
SPECIAL — IF YOU WANT Freeeeeeeee (as supplies last) Fright Rags Joe Bob Briggs merch for this year, just tweet/thread at us during the event and Jim will pick the one that makes him chuckle the most (you will need to give us your address and size in DMs)
No subscription to watch Joe Bob Briggs's Creepy Christmas yet? No problem! Check the link below:
AMC Networks' Shudder is a premium streaming video service, super-serving members with the best selection in genre entertainment, covering horror, thrillers and the supernatural. Shudder's expanding library of film, TV series, and originals is available on most streaming devices in the US, Canada, the UK, Ireland, Australia and New Zealand. For a 7-day, risk-free trial, visit Joe Bob at www.shudder.com.
X-Files, How The Ghosts Stole Christmas
Airing in December of 1998, How the Ghosts Stole Christmas is a classic monster of the week episode of the X-Files. Except, of course, it's ghosts, not monsters. Because it's Christmas, and there's no better time for a little ghost story than that.
The story
Our story begins like any good holiday evening should. Mulder is telling Scully a ghost story. They're sitting together outside a supposedly haunted house on Christmas Eve, waiting for the ghosts of two lovers to appear. The story is that they killed each other eighty-one years ago, that very night. Mulder is very excited to see some ghosts. Scully would rather be at home celebrating the holiday.
One of these people has a family life and a dog. The other only has his partner.
Eventually, the two of them do make it inside, where they find an elderly couple named Maurice and Lydia. They seem like a nice enough couple until things start getting weird. Doors lock and unlock as they please. Lydia and Maurice seem to appear and vanish. And, of course, some dead bodies are found.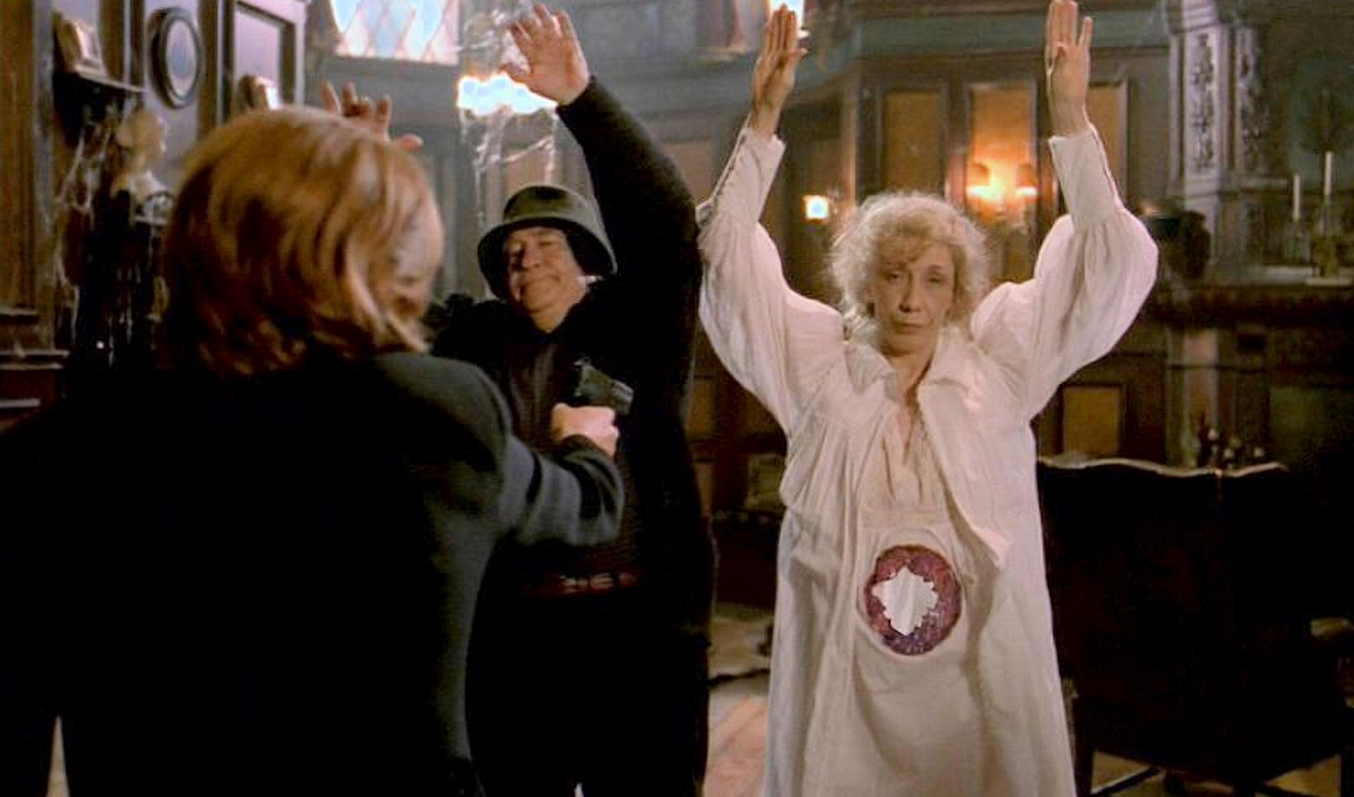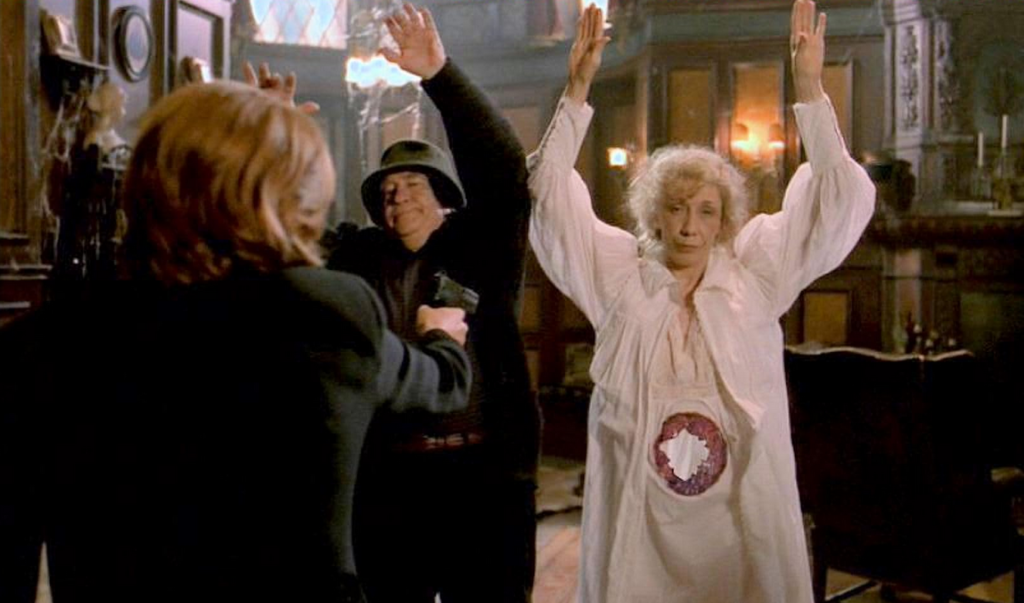 As Scully and Mulder try to find each other in this sprawling maze of a house, the ghosts are after them. They tell them terrible, insightful things about themselves and each other. The scary thing is that some of this is good advice.
The scary thing is how much of this Mulder and Scully needed to hear.
Eventually, our heroes escape, though they sure don't exorcise the ghosts in the house or themselves. Lydia and Maurice are left to enjoy their quiet Christmas Eve in the comfort of their love, no longer a raging fire of passion, but a warm bed of glowing embers.
What worked
First off, let me say that I'm a sucker for a bottle episode. Especially in a show like X-Files. (And it is a true bottle episode, being the cheapest episode of the season.) For the most part, our story takes place in one location, with just four actors. It is tense, it is tight, and it is intimate.
Honestly, this episode has everything going for it. Of course, David Duchovny and Gillian Anderson bring their A Game. And they're joined by two of the funniest comedic actors of all time, Ed Asner and Lily Tomlin. These people could read you the phone book and have you in stitches.
But the writing is also exemplary. Mulder and Scully are forced to take a good look at how they treat each other, for better or worse. They have to consider their relationship, the way they live their lives, and the darker voices in their heads.
In the end, I think they come together beautifully.
Finally, I want to praise the location. The haunted house looks so much like Hill House, it can't be an accident. It's in turn freezing and warm, falling apart and beautifully maintained. The cobwebs and hanging sheets on the unused furniture are just classic. And with the massive fireplaces, bookshelves to the ceiling, and the well-stocked bar, the whole place has an air of old-fashioned comfort, left to rot.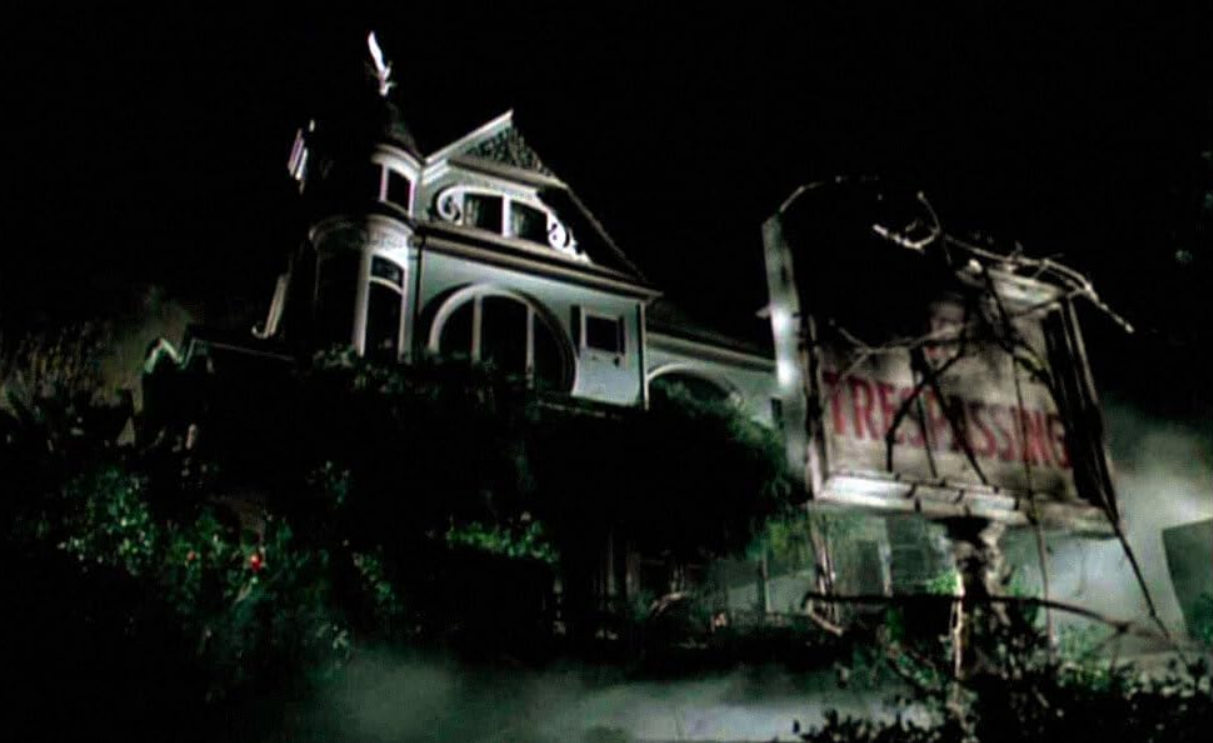 What didn't work
I honestly cannot think of one thing that didn't work in this episode. It's funny, it's touching, it's dark. It's the perfect Christmas episode of television.
In the end, How The Ghosts Stole Christmas is a dark, spooky little tale. It's filled with scares and chills but still manages to warm your heart. And if you want to fit a little more blood and gore into your holiday watch list, this is a great way to do it.

(5 / 5)
Beyond the Witching Hour: a review of J. Pagaduan's Tales from 3 AM
J. Pagaduan's Tales from 3 AM is a collection of wonderfully witchy wisdom and wit that touches on eerie energies, fairy fickleness, and supernatural spirits. Building on very human concerns about life, love, and death, the subjects of these twenty-two haunting tales find themselves in a myriad of mayhems, beffudled by unseen and inscrutible magics all around them. Lured by fae, ghosts, mermaids, and other mysterious presences, we journey with the protagonists as they wade through doubt, grief, and uncertainty. Recurring themes of death and drowning take special roles in this collection, speaking to the overwhelm of longing and love, internal, external, and even otherworldly.
The Humanity
For a book prominently featuring supernatural sentimentality, Tales from 3 AM expresses worldly triumphs and tribulations in very human ways. The mystical meanderings serve to provide a more intimate glimpse into our own nature. The focus is actually on us, not the unknown, which comes and goes to offer glimpses of our true being. The supernatural makes manifest our yearning, to be with our loved ones who have passed, to find peace, to belong… It casts both light and darkness on our utmost desires, good and bad.
The Flip Side
Many of these Tales from 3 AM drift into and out of being, without clear beginning or ending points, as if you've only stepped into the scene long enough for a brief glimpse into a larger situation. The spirit realm can only provide so much insight before releasing you to the world once again. I personally like the fluidity of this writing style, because it doesn't feel so contrived as when a story just falls out in a neat bundled package, but if you are a reader who wants more clearly defined circumstances then you may feel unfulfilled, as many of these musings end rather abruptly.
I give this book 3.75 Cthulhus.

(3.8 / 5)
My biggest takeaway from Tales from 3 AM is that it reflects on life in all of its misshapen muddled messes. Though at times awkward and forthright, the concepts and explorations are genuine and heartfelt. More surreal and magically mysterious than terrifying, the mirror to our human vulnerability is nonetheless haunting, laying bare our fears, hopes, and hurts.
Similar Sentiments
Tales from 3 AM has similar appeal to the Obsolete Oddity, with its nostalgic sentimentalty for days of yore and haunting tales of woe and wonderment. I find this book to be more inclusive as it features less melancholic misanthropy (which can seem misogynous, with so much attention paid to the wanton murders of women). And I think it is a bit more accessible than the YouTube channel which comes across as overly melodramatic at times. Regardless both would be right at home in death-obsessed Victorian life. So if you're into that sort of reminiscent rumination, it's well worth a read.
The book can be found here through books 2 read on various platforms. You can read more about the author on their web page here. jpagaduan.com