Joe Bob Briggs is known for hosting The Last Drive-In on Shudder and AMC+. From October 6th-8th, hundreds of his fans (known as mutants or the mutant family) descended upon the West Wind Drive-In Theater in Las Vegas. They all came together to experience the Third Annual World Drive-In Festival. This is my Jamboree story.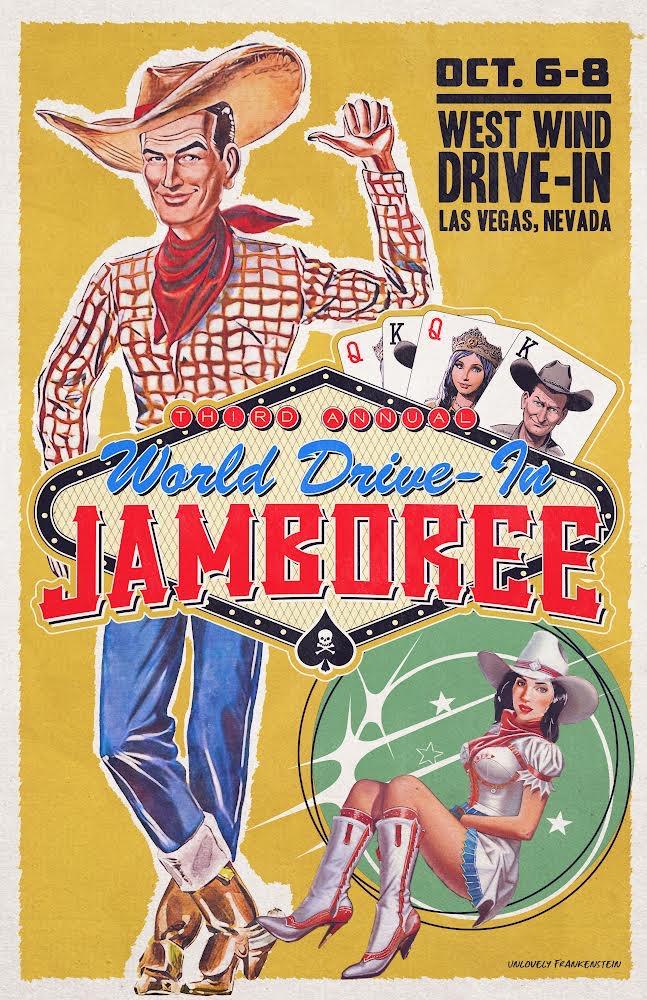 The City of Sin
Flying into Las Vegas from the midwest feels like entering into an entirely different dimension. Flashing lights and chimes from dozens of slot machines greet you as you step off of the plane. I'm not superstitious but I am a little stitious, so I plunk twenty dollars in the first machine I see and win five dollars.
After picking up our rental car and checking into our hotel, all plans of adventuring in the big city went out the window. We order room service and I scroll through the platform formerly known as Twitter. Watching everyone arrive for the Jamboree filled me with a mixture of excitement and dread.
Jamboree Jitters
I didn't know what to wear. What if people didn't like me? Will I overheat and pass out? My husband hands me a drink and tells me to stop spiraling. But according to my therapist, I'm the best at spiraling. After a few sips and even more deep breaths, I veer back towards excitement.
Waking up at 6:30 AM is not ideal while you're in town for a movie festival that runs from 2 PM – 2 AM. Alas, my east coast circadian rhythm doesn't give a shit about what is ideal. Though waking up early on Friday did give us a chance to gather our needed supplies from a local store called Wal-Mart.
Flying in meant we had to bear the additional expense of purchasing a cooler, folding chairs and an FM band radio. We also bought blankets and pillows to create a cozy viewing area in the back of our rental SUV. I knew we would want these items to have the best possible experience, but I also knew we would have no way of bringing most of the items home. For a trip that already cost us thousands in terms of the hotel, festival tickets + add ons, rental car and flights – it stung.
Ticket prices for the Jamboree itself are reasonable, especially if you purchase them early. However, it's hard to ignore that many mutants were priced out of attending this year due to the location. My husband and I combined our birthday, anniversary, and Christmas gifts for our two-day experience. The ability to camp onsite helped to lower costs for many attendees, but camping on a blacktop without shade or showers is not my particular idea of fun.
They Paved Paradise, Put Up a Drive-In Lot
However, pulling into the West Wind Drive-In makes its location choice very apparent. Growing up, the drive-in theater I attended had one screen. The three screens at my college drive-in are dazzling. The West Wind has six screens. And we took over five of them. (The sixth screen was playing Paw Patrol: The Mighty Movie with a double feature I was unable to determine. I can only imagine what those parents were thinking.)
With a combination of Jamboree volunteers and West Wind staff scanning tickets and directing parking, arrival was smooth and easy. We spotted filming for Charles Band's Barbie & Kendra Crash Joe Bob's Drive-In Jamboree immediately, and would continue to see them filming the rest of the weekend. I'm definitely looking forward to watching it when it comes out, and hopefully it has its world premier on The Last Drive-In.
Approaching a gathering of people in the camping area, I was nervous. Meeting people in real life that you've only previously known online is intimidating. For about half a second. When you've bonded with anyone over a love of movies, there's never a shortage of conversation topics. There's also apparently never a shortage of trinkets. I was given pins, stickers, and a friendship bracelet ala Taylor Swift spelling out the word "breasts." I felt somewhat bad only being able to offer name tags in return, but it turns out those are valuable currency.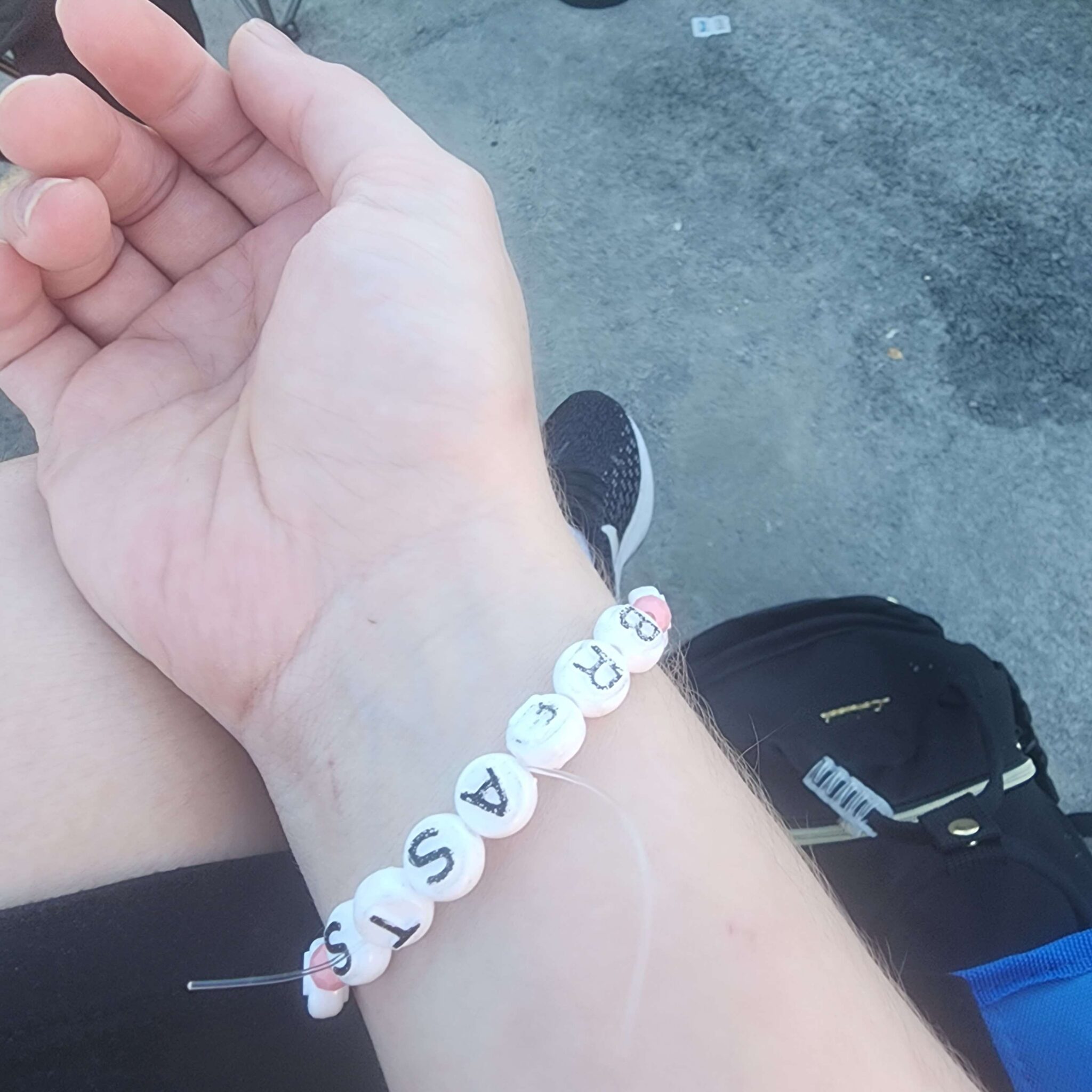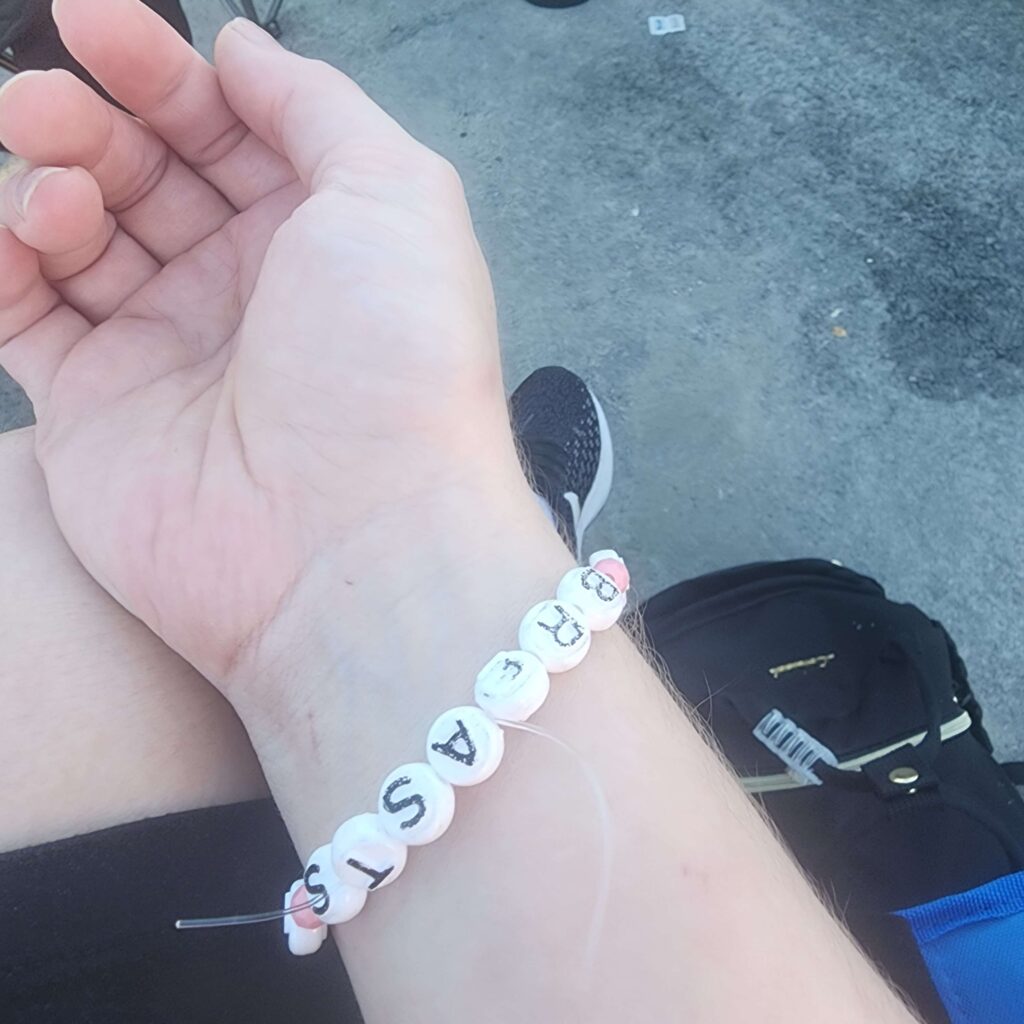 The Jamboree Line Experience
Waiting in line for our photo opportunity, we heard the sweet dulcet sounds of Mutant Karaoke. The entertainment was appreciated as Joe Bob and Darcy were roughly an hour late for photos. Thankfully the line formed under the shade of the concessions building, so the wait was not unbearable. Meeting Joe Bob and Darcy, although very briefly, was incredible. I've already framed the photo.
Our next wait-in-line experience was for the Welcome BBQ dinner. Unfortunately, this line was not shaded and I cursed myself for not buying an umbrella to bring. We went through the line and were given plates of food and sent on our way. The food was good, but I'm pretty confident in saying that it wasn't worth the $50 per person price tag. The concession stand is reasonably priced and fast, so we could have fed ourselves dinner for $30 total without the long wait.
If It's Too Loud, You're Too Old!
As John Brennan and the Bigfeet took the stage, my husband and I made our way back to our vehicle. We were blessed with a good spot that had a great view of the stage and one of the screens. A bad parking spot didn't exclude anyone from a good view, as the first few rows of parking spots in front of the stage were cleared for chairs.
Future attendees should include some hearing protection in their packing lists, as the sound from the stage was very loud. Luckily, I always carry ear plugs with me so the sound was not an issue for me. John Brennan and the Bigfeet put on an energizing and entertaining show as a skunk must have wandered around the parking lot.
Charles Band then took the stage and announced they would be filming the final scene of their aforementioned movie during their allotted time. As someone who has never been a part of a film's production, it was really cool to get such a behind the scenes look at the process. I won't spoil the ending, but this is sure to be a very amusing film.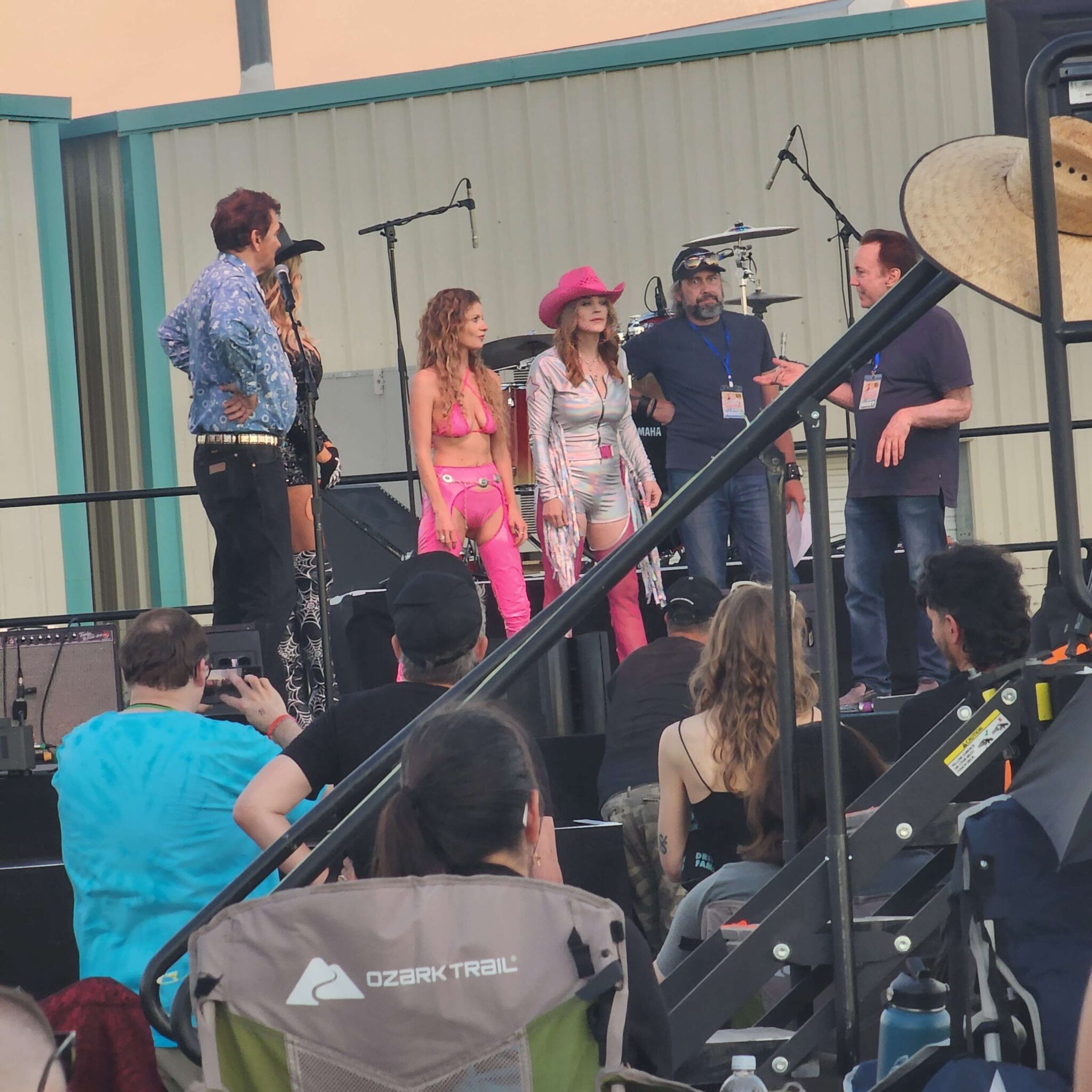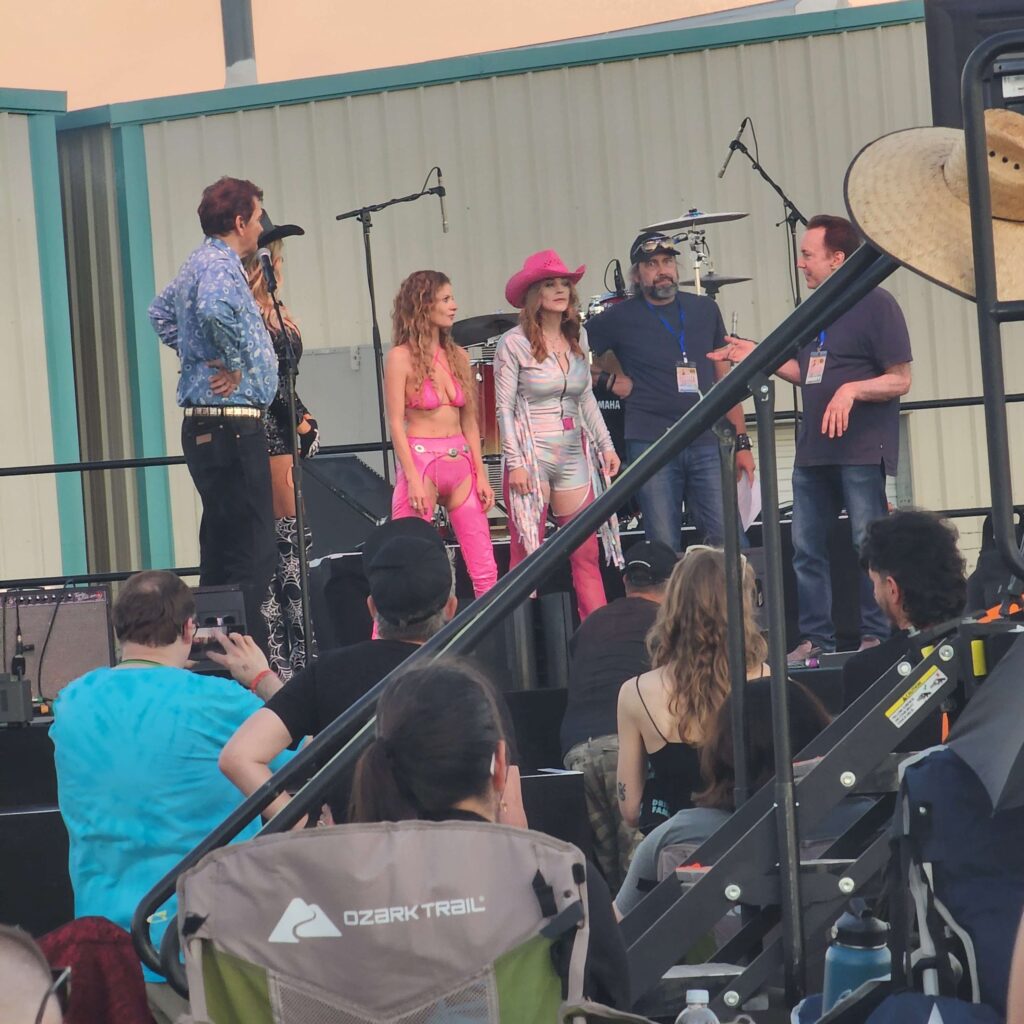 You're Just a Filmmaker
The night truly began as Joe Bob took the stage to wild audience cheers and applause. He discussed the importance of filmmaking before showing his famous speech to "aspiring" filmmakers he made while hosting One Cut of the Dead (2017) in the second season of The Last Drive-In. The speech is incredibly inspiring and I recommend watching it if you haven't already done so. It was the perfect lead-in to a celebration of truly independent filmmakers. 
The film festival then kicked off with David Liban's feature Publish or Perish. The film covers exactly what lengths a professor will go to receive tenure and is more dark comedy than outright horror. It does an excellent job of building tension and leaves the audience asking "Can he really get away with this?" up until the very end.
The second film of the night was Buddy Cooper's Mutilator 2, the long awaited sequel to his 1985 film The Mutilator. Cast and crew were onsite at the Jamboree selling merch and interacting with fans, building the excitement before airing. The movie fully delivers with a bloody and funny meta-horror experience.
Keep Them Coming
Sean Haitz's Cannibal Comedian rounded out the feature length films, with a movie about -you guessed it- a cannibal comedian juggling his roadside human meatball stand and his burgeoning career as a comedian. Two vehicles featured in the film were on location at the Jamboree along with the cast and crew, which I did not realize until they appeared on screen. The movie is laugh out loud funny and delivers when it comes time for the kills.
The night finished with eight short films, several of which are now available on YouTube:
Baby Fever directed by Hannah May Cumming and written by Hannah May Cumming & Alex Hartwig
The Casting Couch directed by Matt Thiesen & Justin Lee and written by Milly Sanders
That Damned Yellow Raincoat written & directed by Jason Huls
Hideous Heart directed by Nicholas Camp & Don Thiel and written by Nicholas Camp
Satanimation directed by Gregory Garrett Boone & Jason Hooper and written by Jason Hooper
The Mages of Rage and the Desecration of the House of Mimicry directed by Jason Sheedy and written by Brett Brooks & Jason Sheedy
We Forgot about the Zombies – written & directed by Chris McInroy
Well-Deserved Awards
All films shown as part of the film festival were introduced by Joe Bob with his signature drive-in totals and awarded a Drive-In Academy Award, also known as a Hubbie. The award is inscribed on a vintage Chevy hubcap and was given in-person on stage to those who were able to attend the Jamboree. I hope those involved in making these films felt the love the audience poured into them as we felt the love they poured into their craft.
After midnight, sound ordinances require a switch from stage sound to radio. My husband and I did our best to stick it out for as long as possible, but the soft droning of the radio and the softer pillows piled in our backseat told us it was time to head back to the hotel.
Deal Me in Again
Despite arriving at roughly the same as we did on Friday, our parking spot on Saturday was unfortunately at one of the screens facing away from the stage. Thankfully, we were able to set our chairs up near friends near the front of the stage. We wanted the best possible view for the live taping of The Last Drive-In and ended up being right in front of the central teleprompter. Someone moving our stuff was a concern, but as we checked in throughout the day it remained in the same spot.
Since we had not purchased add-ons for Saturday, we had more free time to shop at the merch tables. Every vendor was super friendly and there was a good variety of items to choose from at multiple price points. All of the tables were also under shade which was greatly appreciated, despite Saturday being slightly cooler than Friday.
I also conquered a small piece of my nerves to introduce myself to Yuki Nakamura, who is behind production design on The Last Drive-In!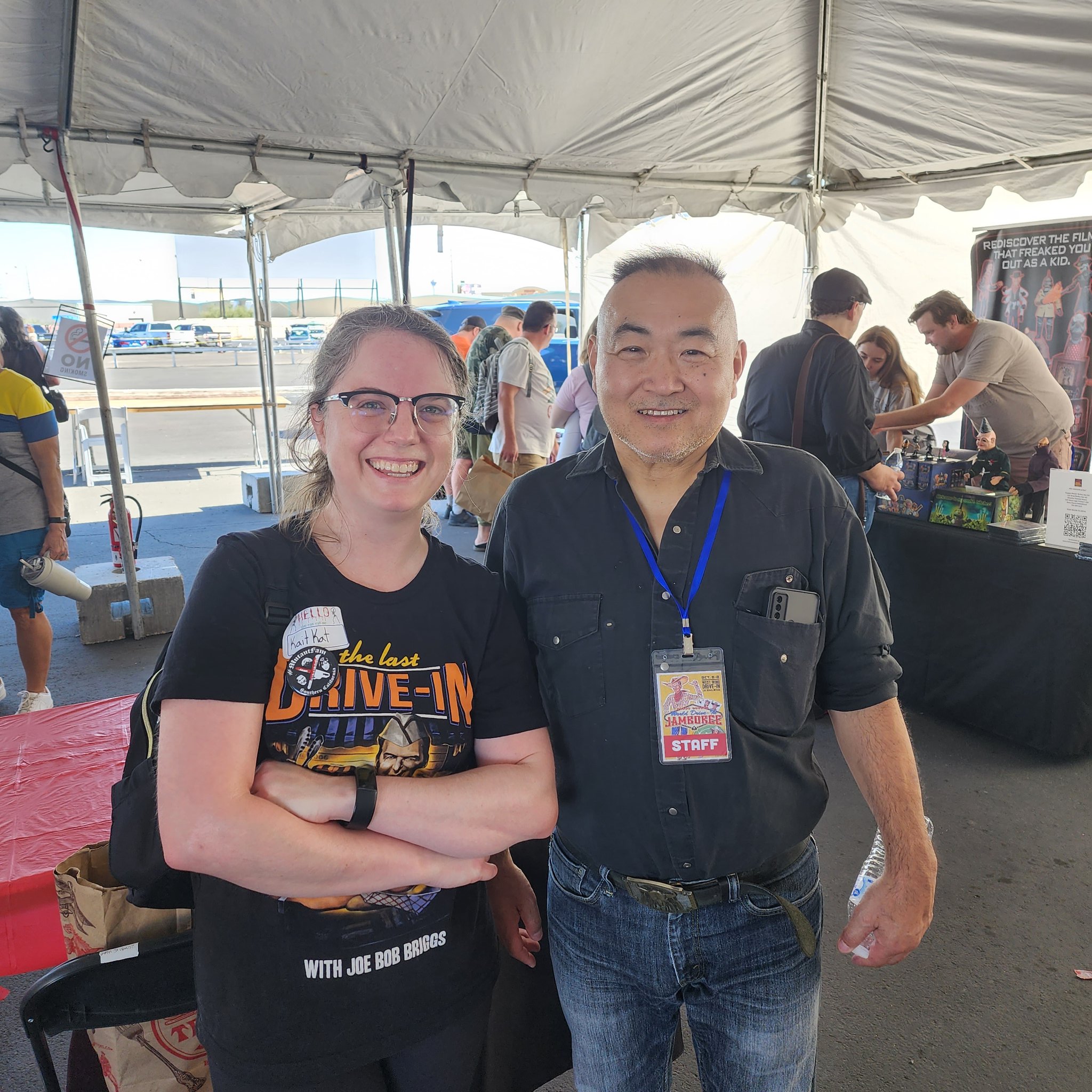 We also had more time to spend with fellow attendees on the second day. The mutant family is a diverse group of people who are all brought together by their love of Joe Bob and horror, but they also have something else in common. They're cool as fuck. We met so many kind and funny and thoughtful people who welcomed us right into their spaces without hesitation. It made all my earlier fears and anxiety seem so silly.
Let's Get it Started
Pre-show entertainment on Saturday included a very entertaining Mutant Rap Battle. The one and only Gringo Fantastico took the stage alongside a handful of other talented mutants as they gave it their all to win copies of Troma films. The contestants are all crowned winners and walk away with movies in hand.
John Brennan and the Bigfeet then took the Jamboree stage again, this time with a special surprise just for The Last Drive-In superfan Eric Butts. The band learned an original song written by Butts and brought him on stage to perform it with them. Dave Sheridan (known for his character Officer Doofy and in character as Blow Job Briggs) joined them and they put on a performance I will never forget. Seriously, who knew a song about Waffle House could be so damn catchy?
Viva Las Vegas
I will also never forget Joe Bob taking the stage to kick off the live-episode filming with a "mutated" rendition of Viva Las Vegas. Hearing his musical stylings is always an unexpected treat. I think he narrowly missed out on a career as a prolific lounge entertainer. With energy levels at all time high – we were officially part of a live studio audience.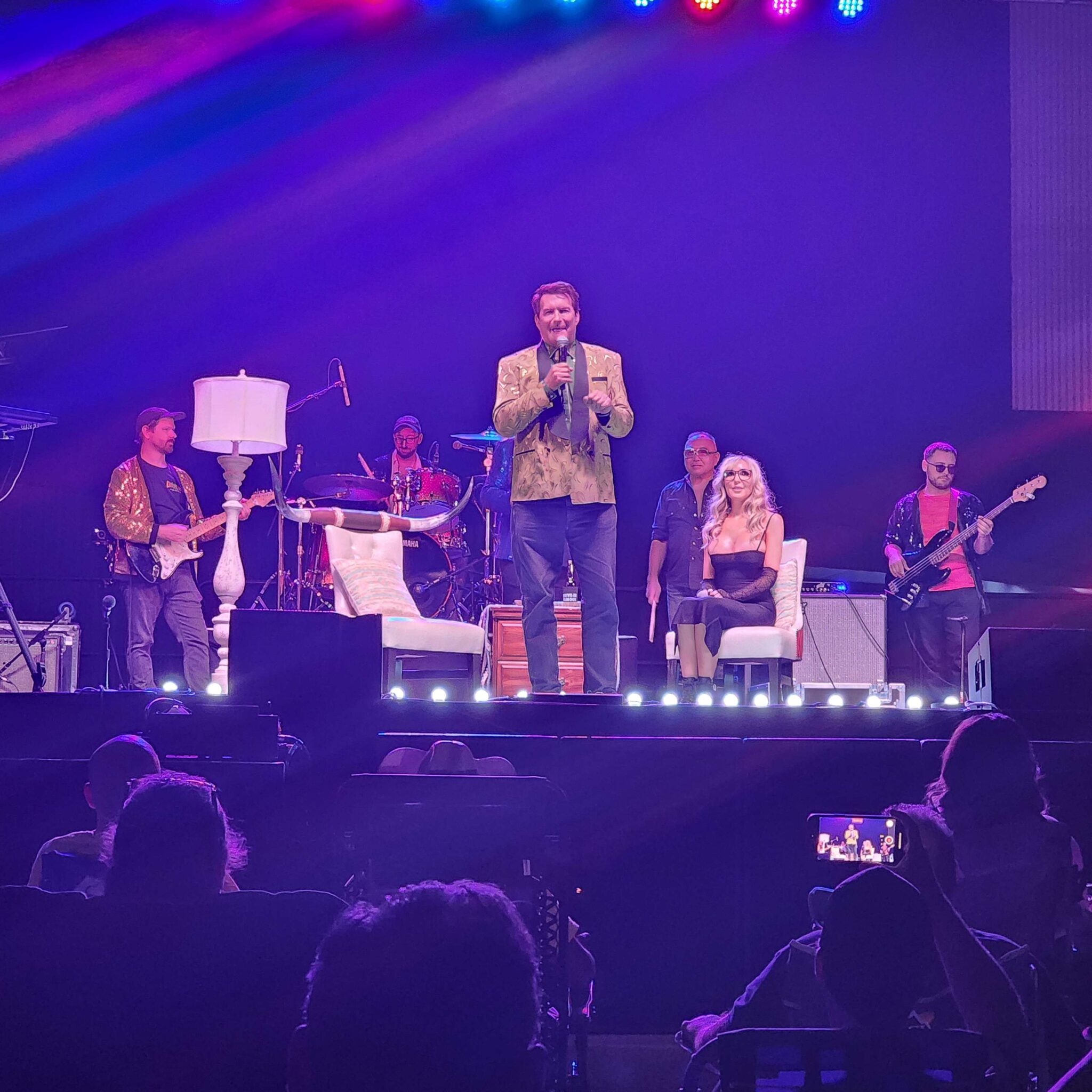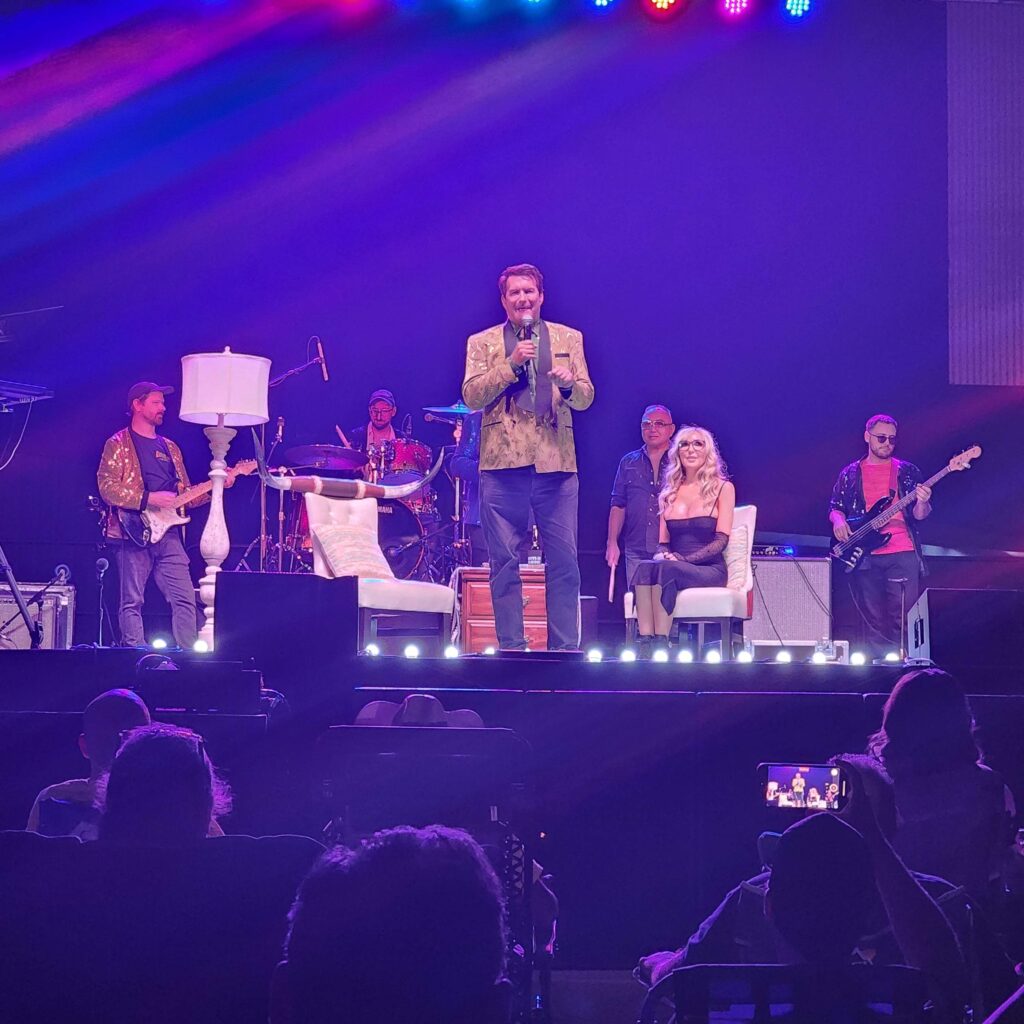 I will be providing an in-depth review of this episode when it airs on Shudder next year, but I can say with absolute certainty that audiences are in for a treat. It is astounding to me how similar watching the taping felt to watching an episode at home. Joe Bob and Darcy are naturals on stage. Darcy has mentioned how anxious events like these make her, but you would never guess from watching her.
Roger and Julie Corman are the featured guests of the Jamboree, with both receiving their own Hubbie awards. Julie receiving separate honors for her contributions to film was a thoughtful gesture by Joe Bob in a night that could have easily been all about her husband.
Can You Say That on TV?
The interview takes place during the first showing of the night, Corman's 1959 film A Bucket of Blood. It is an entertaining take-down of beatnik culture in black and white and felt like a perfect film to experience at a drive-in. The interview is full of fascinating stories, and the story-telling goes to 11 when Bruce Dern appears as a surprise guest.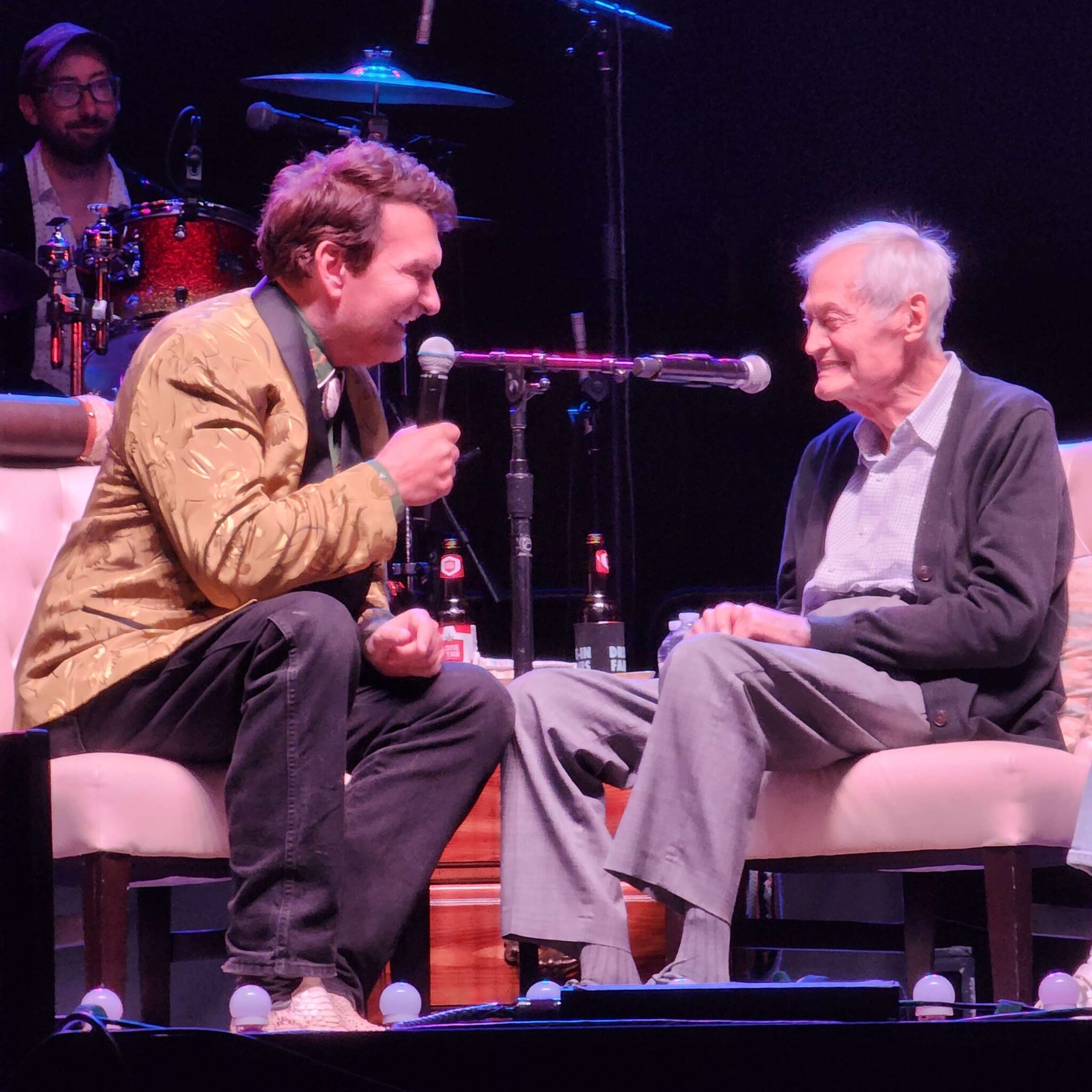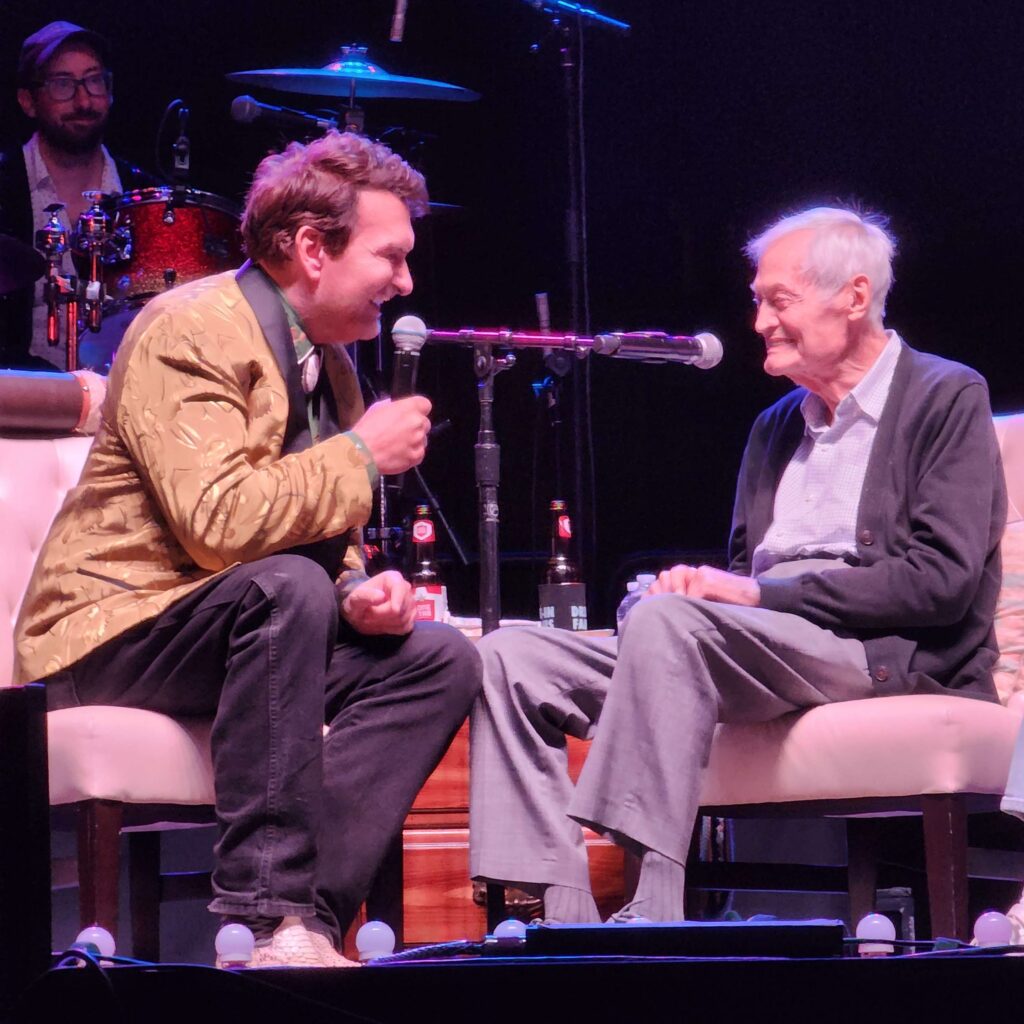 The second film of the night is 1983's Deathstalker. Joe Bob seems delighted to be showing this movie, and I have absolutely no idea why. It's a sword and sorcery movie and whenever I try to describe it all that comes out is "It's a movie about attempted rapes." It was entertaining enough, although I was more entertained by audience reactions.
The night did not end when the live-taping ended, though. Once stage sound was cut and switched to FM, the drive-in played The Wild Angels (1966) about the Hell's Angels. As well as The Trip (1967) about an LSD trip. Surprise guest Dern appears in both of these Corman films, making them a logical choice to finish the night. We seize the opportunity to sneak out during The Wild Angels.
Not My Circus, Not My Monkeys
Unfortunately, or fortunately depending on what accounts you read, we were not present for Sunday shenanigans at the Jamboree. Sleepaway Camp day featured a cast reunion and Chris Jericho alongside an all-night marathon of the full series of movies.
Jamboree Camaraderie
So, what do you call a gathering of hundreds of members of the Mutant Family? A group of crows is a murder. It's tempting to borrow that name for a group of people who relish in watching on-screen death. However, after spending two days baking under the Las Vegas sun at the 3rd Annual World Drive-In Movie Festival (also known as Joe Bob's Jamboree), I'd like to propose something entirely different: a camaraderie. I've seen first hand the solid foundation of trust and friendship, so no other word makes sense to me.
(One experience I did not have, due to sheer nerves, was meeting Joe Bob and Darcy outside of my purchased photo opportunity. This does not mean they were not available, as they spent countless hours meeting mutants and signing autographs free of charge. I know many people were absolutely thrilled at the chance to have a few moments of dedicated time with the hosts of the show that brought us all together.)

Joe Bob Briggs Creepy Christmas spooktacular: The Last Drive-In Special Charity phenomena
Famed horror host, Pulitzer Prize nominated, and Cracker Barrel aficionado Joe Bob Briggs is back in action, ready to bring some macabre merriment to your holiday season with Joe Bob's Creepy Christmas. It also gives us horror fans something to take into the new year, be that something Darcy's panties (sorry, box, I tried) or just the intangible good feels of hanging with friends and supporting a lot of good causes.
The Return of Joe Bob Briggs's Christmas Special
The Joe Bob Briggs's Christmas event is akin to a Jerry Lewis telethon for Gen X, with a twist of 'the last drive-in with Joe Bob Briggs'. This 'Briggs' auction of sorts is a nostalgic nod to the past, especially for those who remember the telethons. The dread, however, has shifted from the … well… whatever Jerry was supposed to do (see Sam Kinison's bit on this for more info) to that of evil goodies.
Without a doubt, this Joe Bob Briggs special is the event we eagerly anticipate each year. It's a tradition, and a worthy one at that. We hope to see everyone on the interwebs, joining the 'creepy links' and engaging in the conversation (We'll be on Threads and Twitter….tag us as you wish!) 'live' the only way anyone should ever watch a tv show (oh, and I guess on demand, but ya weirdos will never know the sting of the Iron Mutant Award!). 'Live' is the only way anyone should ever watch a TV show, especially 'the last drive-in with Joe Bob Briggs' (as it's far too hard to watch tv whilst dead).
Joe Bob's Creepy Christmas The 'Last Drive-In with Joe Bob Briggs and Darcy the Mail Girl' special will hit the airwaves live on Shudder TV and AMC+ TV on Friday, December 15th at 9 p.m. ET. Fans of 'the last drive-in with Joe Bob Briggs' can also catch the special on-demand starting Sunday, December 17th.
A Creepy Christmas with a Cause
In its fourth year, the holiday tradition of The Last Drive-In goes beyond mere entertainment. It aims to use the platform to raise funds for four vital causes. The charity auction will feature unique props and exclusive merchandise from The Last Drive-In and memorabilia from Briggs' illustrious 35-year career…including some of his unspoken work as John Bloom. I say Unspoken, because if anyone remembers the first Christmas Special, the autographed copy of Eccentric Orbits was featured (sincerely, a good book–check it out if you haven't. Jim gives it 4.5/5)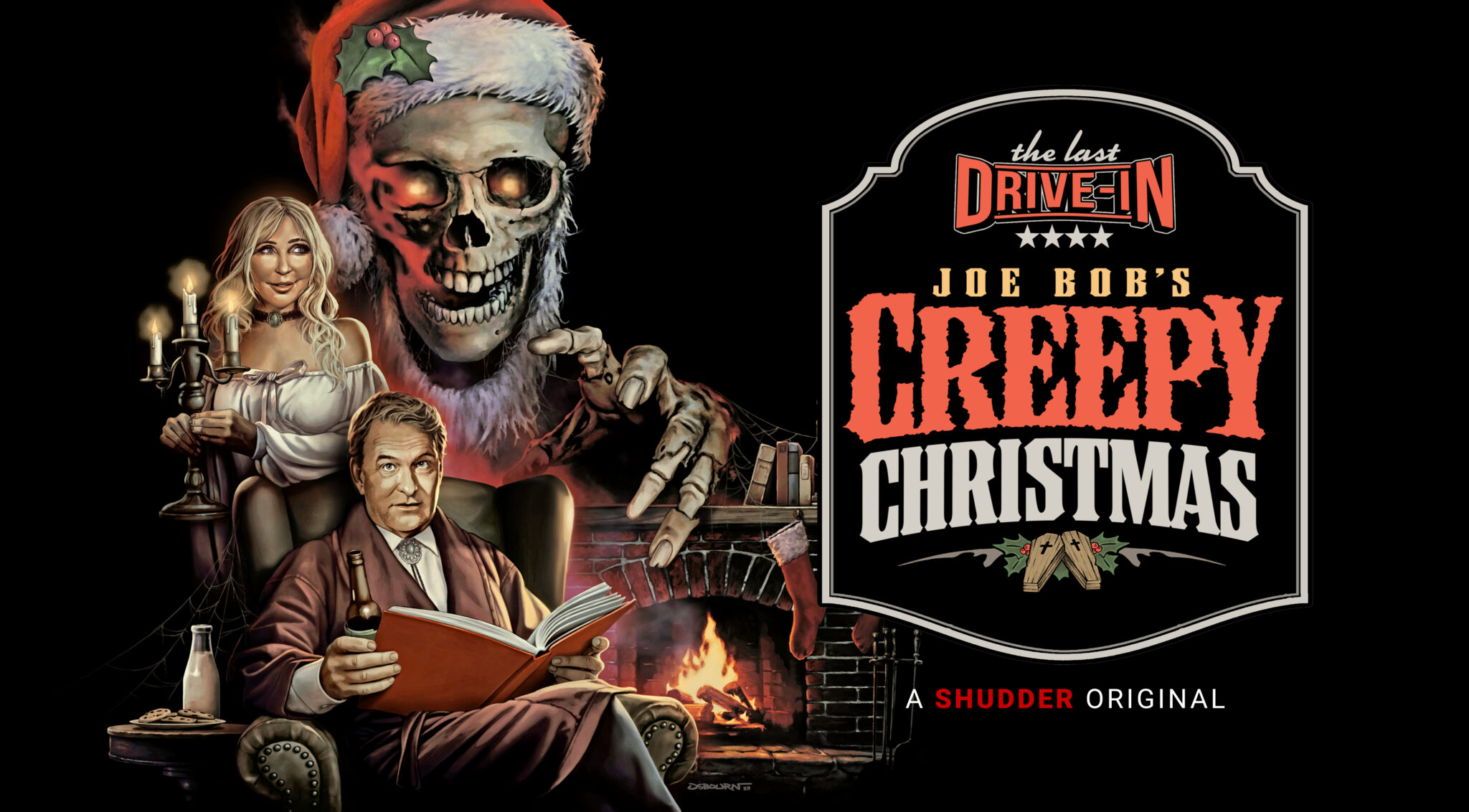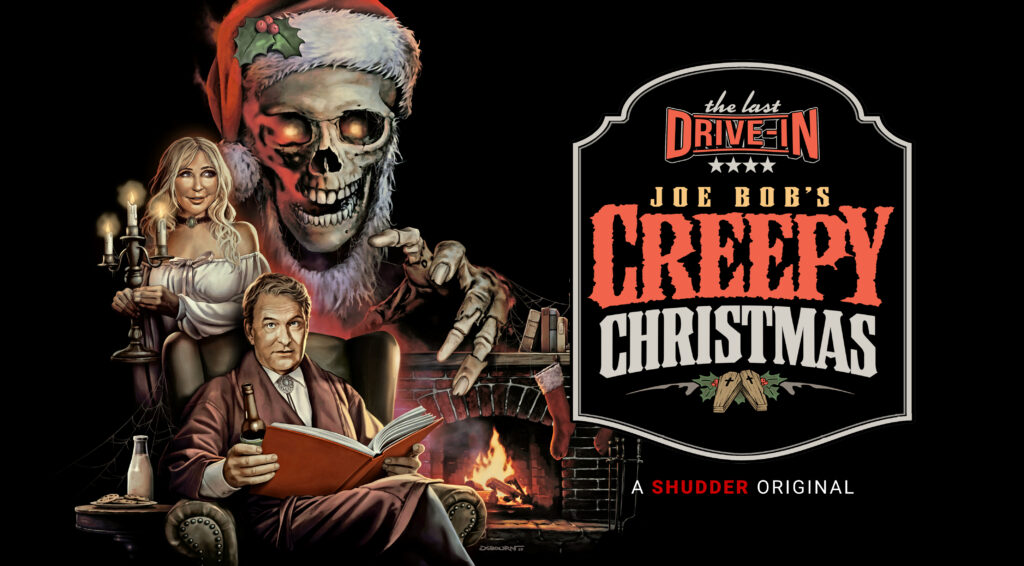 The supported charities for Joe Bob's Creepy Christmas will include:
The Mystery of the Joe Bob Briggs's Creepy Christmas Special
The anticipation for Joe Bob's Creepy Christmas is high, with fans wildly speculating what films will be featured. Personally, nothing can beat the #1 top horror Christmas film of all time, the Easter classic: Passion of the Christ (if a snuff film about a guy who doesn't fit in getting whipped and nailed up doesn't scream horror story, I don't know what does. Also: See Sam Kinison's concept on crosses and resurrection). However, a Christmas movie I really want to see up on this is Hogzilla and Kiss Save Santa Clause! BOOMMM!! Christmas Won!
As we eagerly wait for December 15th, we wonder what surprises our favorite horror host, Joe Bob Briggs, has in store this time. Will there be exclusive 'merch' that Jim will buy and then accidentally put in a Toys for Tots box in the mall?
Join the Fun, Join the Cause, Join the Joe Bob Briggs Christmas event!
Are you ready to dive into the world of Joe Bob's Creepy Christmas? Do you dare to watch along and help raise money for a good cause? If so, join us at HauntedMTL on Threads (_HauntedMTL_) and maybe Twitter (@HauntedMTL) as we experience the thrill and chills that only Joe Bob Briggs and Darcy can deliver.
Remember, this is not just about indulging in some good old horror fun with 'Joe Bob's' double feature. It's about giving back and making a difference. So, let's gear up to have a creepy Christmas with 'Joe Bob Briggs', filled with 'christmas horror films', 'christmas demons', 'christmas slasher films', 'ho-ho-horror', 'yuletide horror' and insightful 'horror commentary'.Joe Bob's Creepy Christmas and make this holiday season memorable for all the right reasons! I'm sure Fright Rags will have another stellar set this year, too. They are perfect for the horror fan in your life (even if that fan is you!). I can't wait to see what they have in store (no pun).
SPECIAL — IF YOU WANT Freeeeeeeee (as supplies last) Fright Rags Joe Bob Briggs merch for this year, just tweet/thread at us during the event and Jim will pick the one that makes him chuckle the most (you will need to give us your address and size in DMs)
No subscription to watch Joe Bob Briggs's Creepy Christmas yet? No problem! Check the link below:
AMC Networks' Shudder is a premium streaming video service, super-serving members with the best selection in genre entertainment, covering horror, thrillers and the supernatural. Shudder's expanding library of film, TV series, and originals is available on most streaming devices in the US, Canada, the UK, Ireland, Australia and New Zealand. For a 7-day, risk-free trial, visit Joe Bob at www.shudder.com.
X-Files, How The Ghosts Stole Christmas
Airing in December of 1998, How the Ghosts Stole Christmas is a classic monster of the week episode of the X-Files. Except, of course, it's ghosts, not monsters. Because it's Christmas, and there's no better time for a little ghost story than that.
The story
Our story begins like any good holiday evening should. Mulder is telling Scully a ghost story. They're sitting together outside a supposedly haunted house on Christmas Eve, waiting for the ghosts of two lovers to appear. The story is that they killed each other eighty-one years ago, that very night. Mulder is very excited to see some ghosts. Scully would rather be at home celebrating the holiday.
One of these people has a family life and a dog. The other only has his partner.
Eventually, the two of them do make it inside, where they find an elderly couple named Maurice and Lydia. They seem like a nice enough couple until things start getting weird. Doors lock and unlock as they please. Lydia and Maurice seem to appear and vanish. And, of course, some dead bodies are found.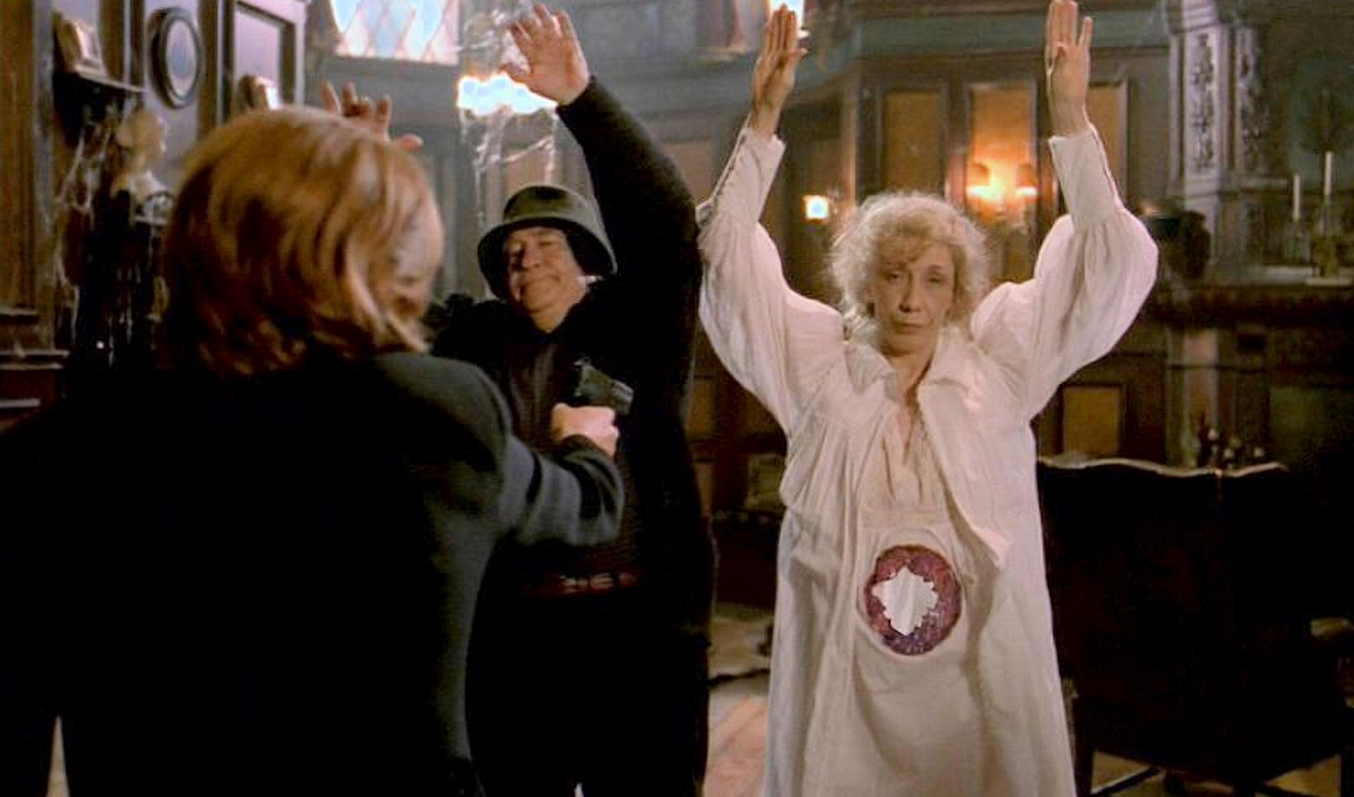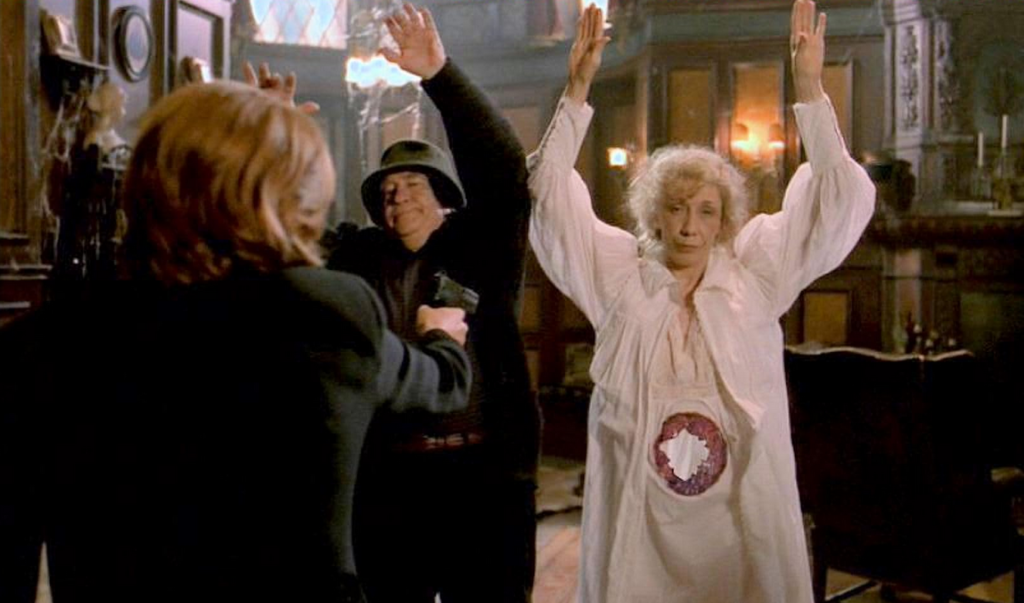 As Scully and Mulder try to find each other in this sprawling maze of a house, the ghosts are after them. They tell them terrible, insightful things about themselves and each other. The scary thing is that some of this is good advice.
The scary thing is how much of this Mulder and Scully needed to hear.
Eventually, our heroes escape, though they sure don't exorcise the ghosts in the house or themselves. Lydia and Maurice are left to enjoy their quiet Christmas Eve in the comfort of their love, no longer a raging fire of passion, but a warm bed of glowing embers.
What worked
First off, let me say that I'm a sucker for a bottle episode. Especially in a show like X-Files. (And it is a true bottle episode, being the cheapest episode of the season.) For the most part, our story takes place in one location, with just four actors. It is tense, it is tight, and it is intimate.
Honestly, this episode has everything going for it. Of course, David Duchovny and Gillian Anderson bring their A Game. And they're joined by two of the funniest comedic actors of all time, Ed Asner and Lily Tomlin. These people could read you the phone book and have you in stitches.
But the writing is also exemplary. Mulder and Scully are forced to take a good look at how they treat each other, for better or worse. They have to consider their relationship, the way they live their lives, and the darker voices in their heads.
In the end, I think they come together beautifully.
Finally, I want to praise the location. The haunted house looks so much like Hill House, it can't be an accident. It's in turn freezing and warm, falling apart and beautifully maintained. The cobwebs and hanging sheets on the unused furniture are just classic. And with the massive fireplaces, bookshelves to the ceiling, and the well-stocked bar, the whole place has an air of old-fashioned comfort, left to rot.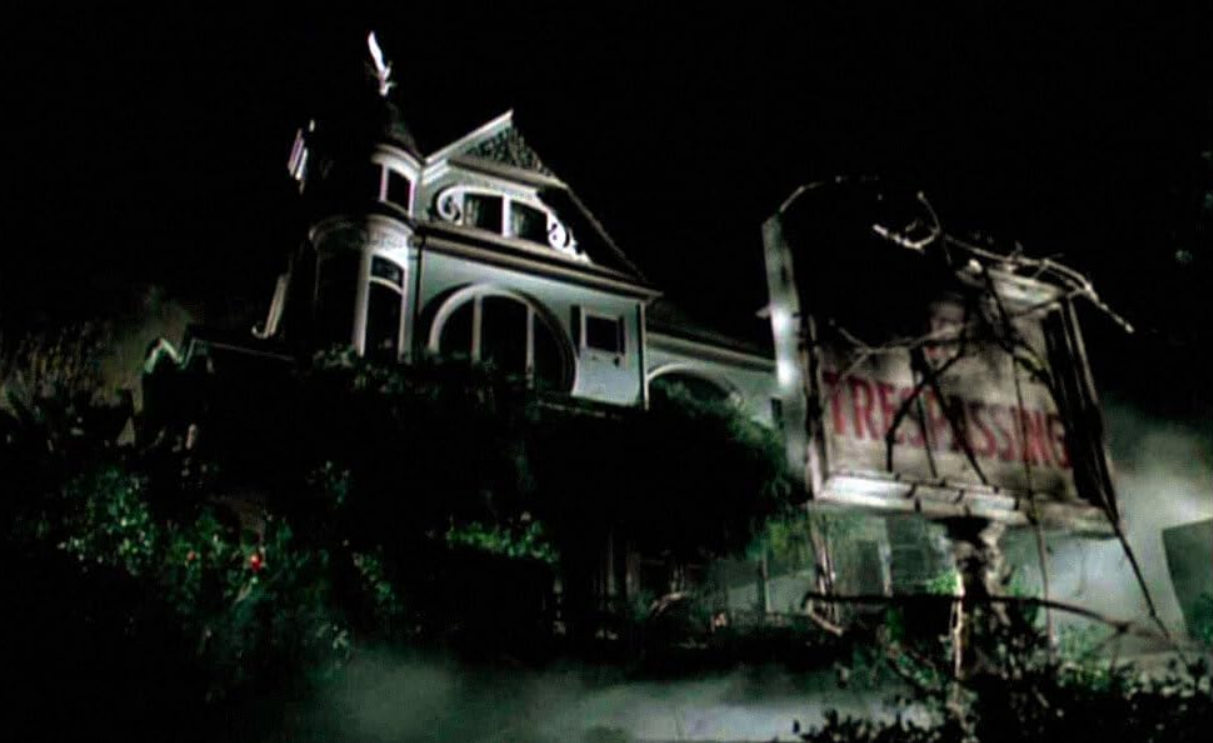 What didn't work
I honestly cannot think of one thing that didn't work in this episode. It's funny, it's touching, it's dark. It's the perfect Christmas episode of television.
In the end, How The Ghosts Stole Christmas is a dark, spooky little tale. It's filled with scares and chills but still manages to warm your heart. And if you want to fit a little more blood and gore into your holiday watch list, this is a great way to do it.

(5 / 5)
Released in 1997, it would be understandable if you confused this Jack Frost with the movie of the same title that was released in 1998 and starred Michael Keaton. We are not talking about the Michael Keaton Jack Frost because it's not horror. It's also not good.
(Look at that, you're getting two reviews in one today. Merry Christmas.)
No, today we are talking about Jack Frost, starring Christopher Allport and Scott MacDonald. And it is possibly the most bonkers Christmas movie I have ever seen.
The story
We begin our tale in a very messed up fashion. A little girl asks her uncle for a bedtime story on Christmas Eve. The uncle tells her about a serial killer named Jack Frost who was caught after leaving bits of his victims inside pies. But there's no need to worry, the uncle explains. Because Jack Frost was caught and is being executed that very night.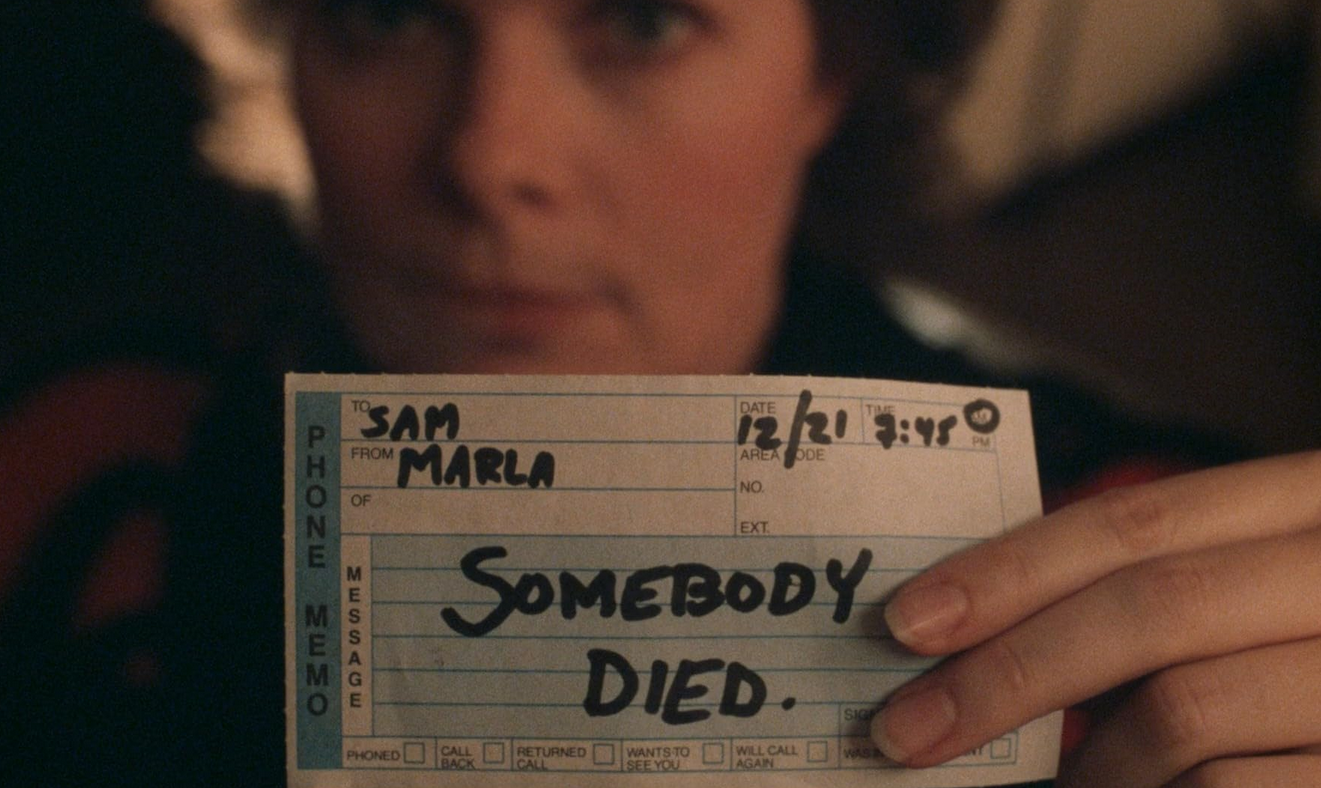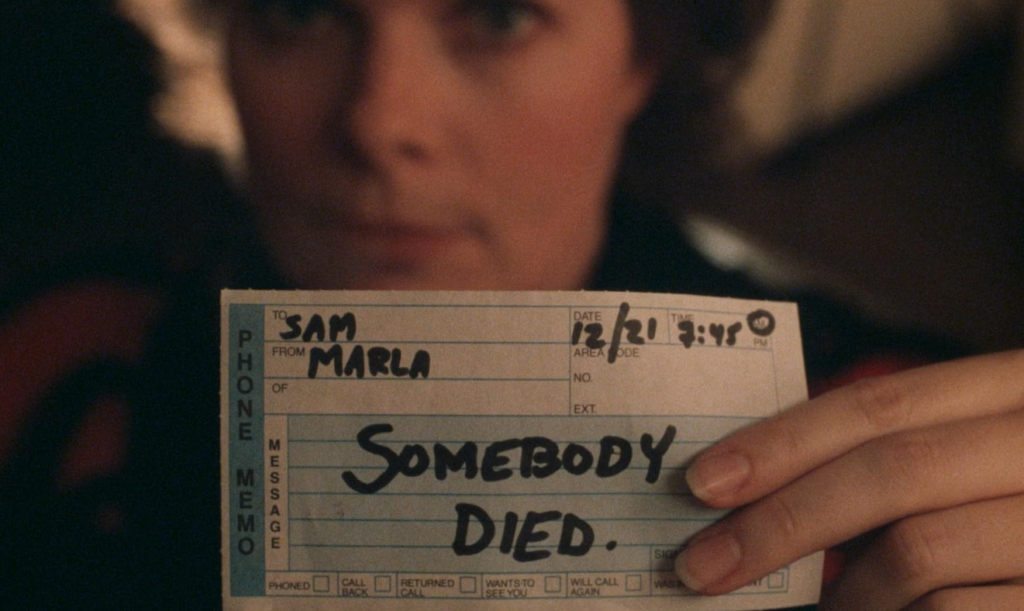 And we won't be hearing from these two characters again for the whole movie.
Instead, we cut to Jack, being transported to his execution. Somehow he manages to escape, only to be doused with some sort of acid and melted into the snow.
Meanwhile, the sheriff who caught Jack Frost, Sam, is trying to come to terms with his death. He's thankful that he's gone, but the nightmare just doesn't feel over yet.
Then, of course, people start turning up dead in his little town. And in spectacular ways.
Slowly, Jack Frost seems to work his way through a family called the Metzners. Even though it appears that this family didn't have a single thing to do with him. First, he murders their son, then proceeds to stalk the entire family.
Sam is joined by an FBI agent named Agent Manners and a scientist named Stone. Together they fumble around the tiny little town, trying to figure out how to kill Jack. Bullets do nothing. He can melt and slip through cracks. But hairdryers seem to do the trick.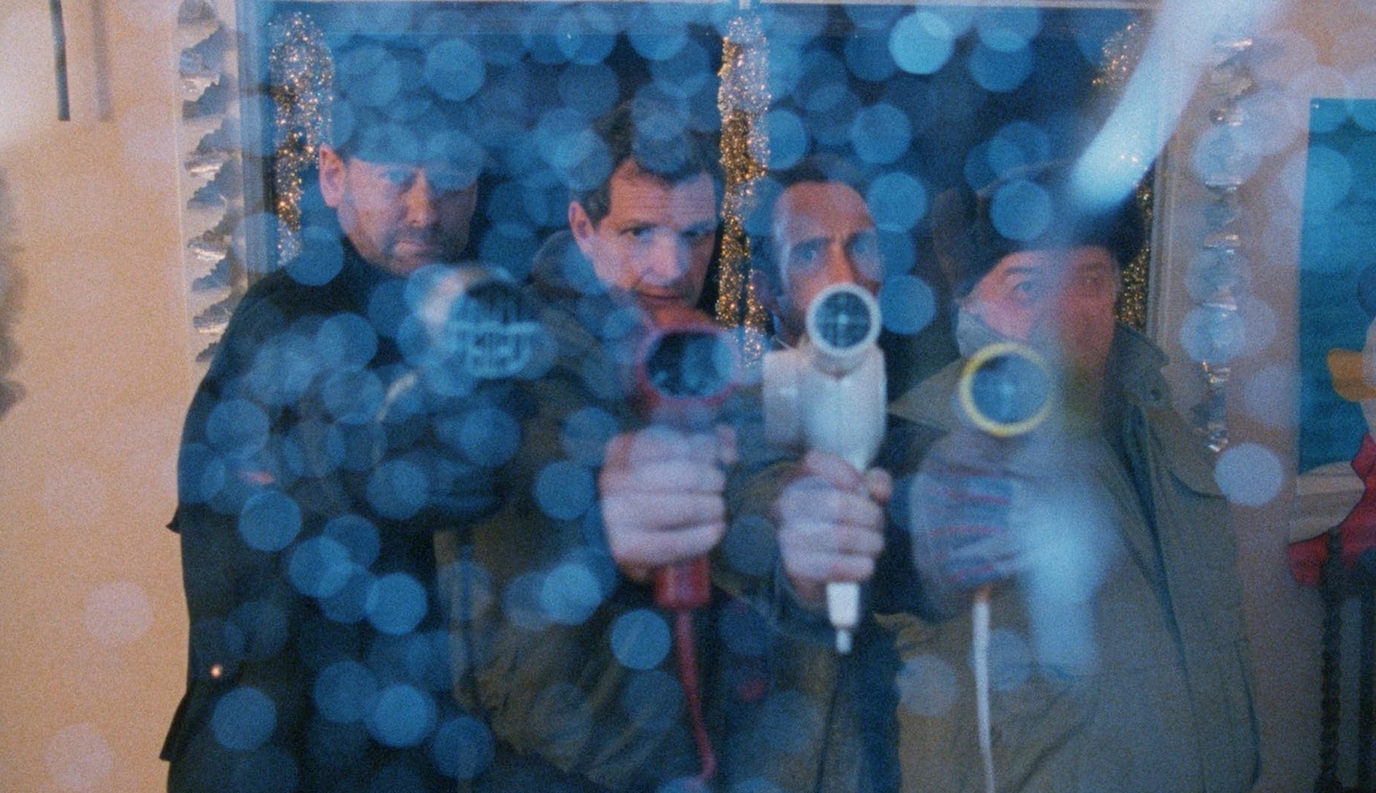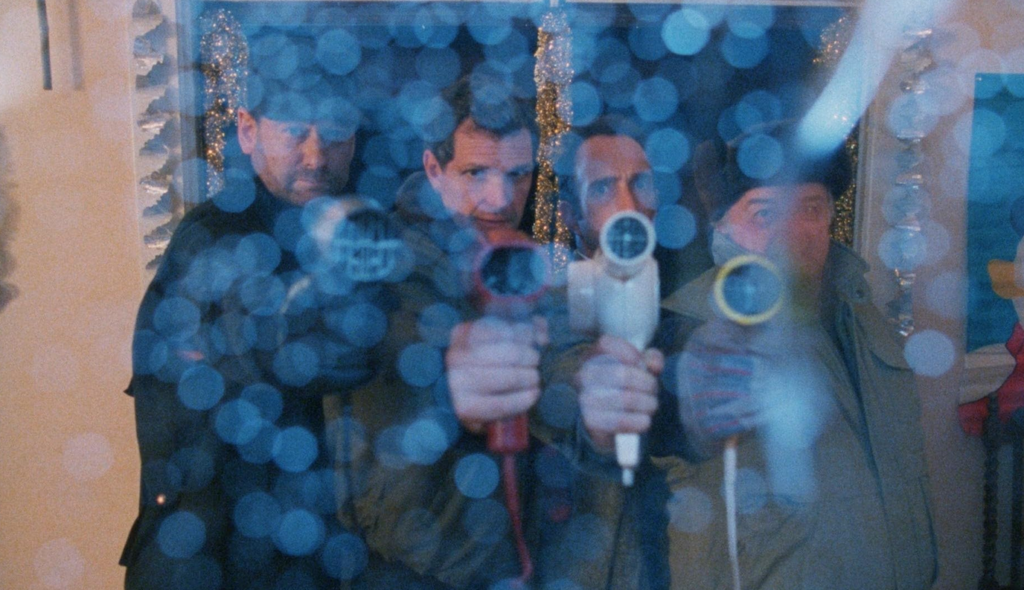 What worked
I'm going to be honest here. Nothing in this movie was good. The effects were bad. The writing is bad. The constant snow puns are bad. The acting is bad.
But it is this exact combination of bad aspects that makes Jack Frost funny. It is so intentionally bad that it is hilarious. None of the characters are likable, so we're not overly upset when they're murdered in horrific ways. None of the effects look real, but they look fun. The writing is awful, but it's hilarious.
And here's the greatest thing about Jack Frost. Everyone working on it is having fun. You can just tell that every single actor is having the time of their lives. Nobody was having a single bad day on stage here. And that alone makes Jack Frost enjoyable to watch.
What didn't work
One thing I have to say here is that the acting was just bad. It was not, I believe, intentionally bad acting. That is to say, it wasn't a talented actor acting badly for comedic effect. This was just bad acting from almost everyone in the cast. The two exceptions are Allport and Marsha Clark, who plays Marla. Everybody else is overacting so hard that they're pulling muscles. They're chewing the scenery so much that they're not going to have room for Christmas cookies.
Or oatmeal.
To enjoy Jack Frost, you need to have a deep appreciation for campy effects, bad snow puns, and really inappropriate humor. It's one of those movies where you turn off your brain, make sure all loose items are secured and your lap bar is completely locked, and enjoy the ride.
If you can do that, then you're going to have a great time with this movie. If not, don't worry. There's lots more holiday horror to come.
(4 / 5)