Get ready to be horrified…
Gather your ghouls for an old school tabletop board game night and take on the Universal Studios Monsters in Horrified. Race against the jump scare to beat the Creature from the Black Lagoon, Dracula, Frankenstein & his Bride, the Invisible Man, the Mummy, and the Wolf Man. See how the Monsters fare as they get it on with each other in new and unique groupings, only to be thwarted by the typically typecast Monster-hunters played by you and your posse.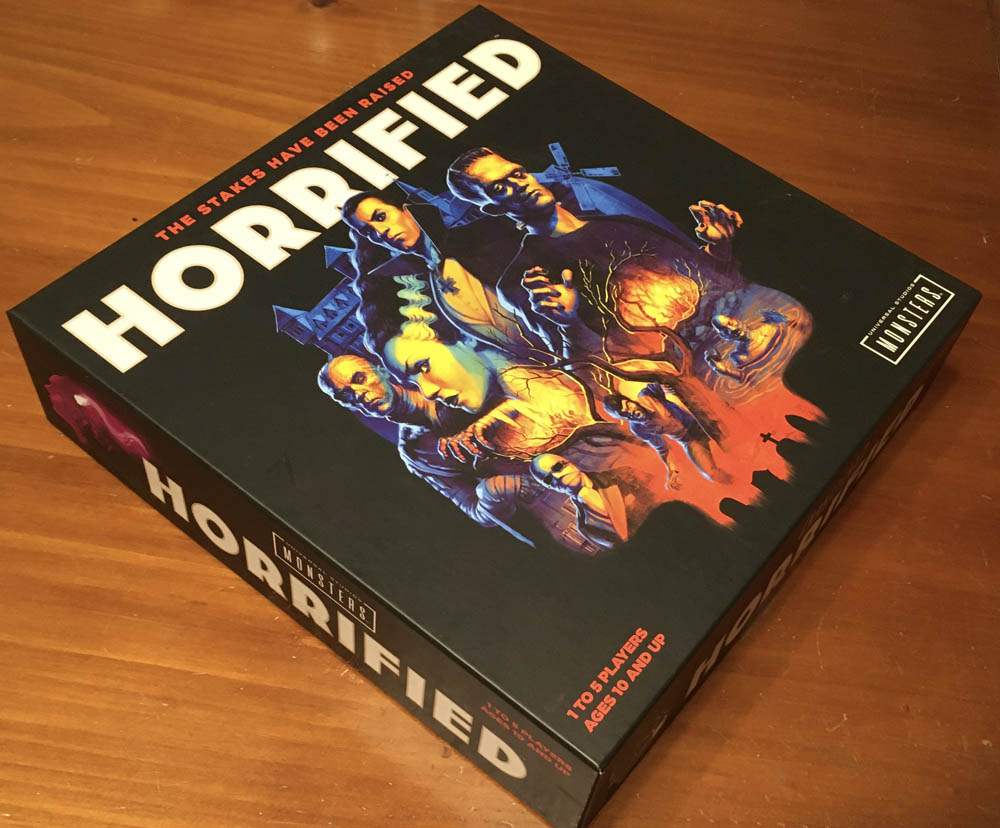 The stakes have been raised.
So how does the game stack up? Like the bodies in a hack n slash. The art is exquisite, the pieces are well made, and the playstyle is fun and catchy. Gameplay is simple to learn and doesn't overstay its runtime of about an hour. Easy Mode is actually just that, easy. Paired off monsters lazily chase through the village, stopping to smell the wildflowers at the docks as they creep up on our intrepid Monster-hunters (PCs) and clueless villagers (oblivious NPCs). You can almost hear the twitterpated melodies of birds wafting through the spring air as you hurriedly gather items from all over the map to defeat the abominations and banish them to their costume trailers.
A city screams in terror!
Once you get the hang of Easy Mode and have a sixth sense for how each of the uniquely-narrated Monsters will behave, it's time to play for real. But don't get too comfortable. Just one more Monster kicks it up to a whole new level. Two more Monsters and you're in DEEP. And, before you know it, the Invisible Man has stolen the last of the things you needed to send him to jail for good and Frankenstein & his Bride have scared the living daylights out of each other, again. Become even more horrified as more and more hapless villagers spill into the streets, sprinting straight into the heart of the peril… out of the frying pan, and into the fire.
We warned you!
This game is not recommended for the feint of fully-endorsed fanfic, or for anyone under 10 years of age, or that does not care to subject their nerves to such a strain as to be… well… horrified. You have to strategize, lest the Monsters will prevail. But, that's kind of the point anyway. Because face it, even though you're in the heroes' shoes, it's ALL about the Monsters.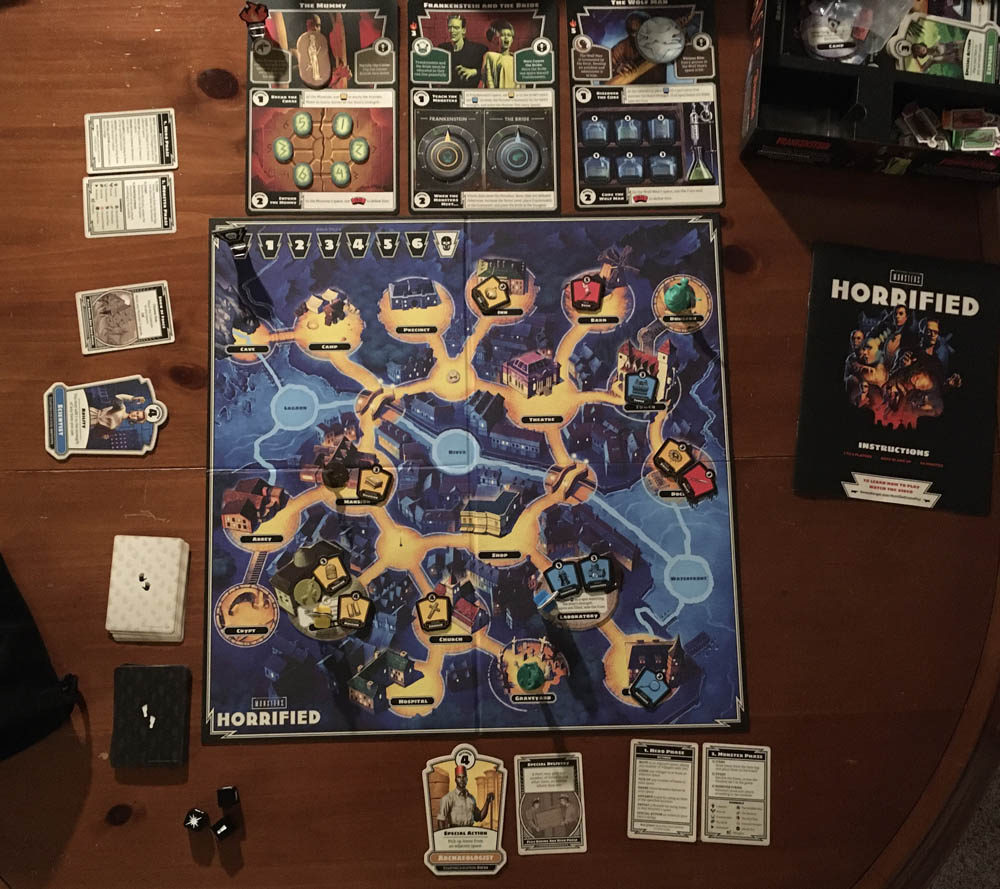 But how horrifying is it, really?
I give Horrified 4.5 out of 5 Cthulhus. I've really enjoyed it and think it has good replayability, just like all of those old cult classic films that keep you coming back for more. And sometimes it's better to team up with your gang for a change, instead of always stabbing each other in the back to see who winds up on top. (Jason, Mike and Freddy, I'm totally calling you out.)

(4.5 / 5)
This unique cooperative adventure game hails from Ravensburger and can be found here on Amazon. Remember, we are an Amazon affiliate and if you buy anything from the links provided, we will get some $ back.