Welcome back to Haunted MTL's Graphic Content, where we will be checking out DC Comics' The Swamp Thing #1. I had promised last time that I would be covering Swamp Thing, but instead of picking up with the previous "Just Swamp Things" installment, I wanted to see what is new with the character in the DC Universe.
So, what is new? How about a new Guardian of the Green who can't seem to control his transformation? That's new enough, but how is the comic? Let's find out.
The Swamp Thing #1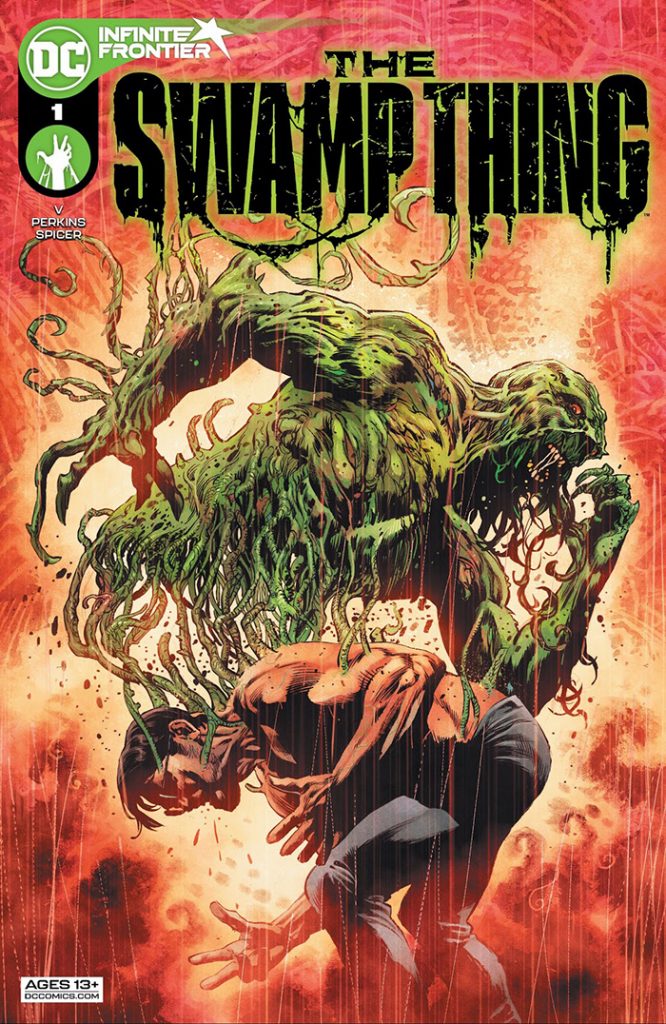 In the American southwest, a series of murders have been committed by a supernatural force. It is a desert legend known as the Pale Wanderer. At the same time, Levi Kamei finds himself unable to control his transformation into the Swamp Thing, the legendary Guardian of the Green. How might these two forces cross paths, and what is it that connects them? The Swamp Thing #1: "Becoming Part 1" written by Ram V, Illustrated by Mike Perkins, with Mike Spicer and Aditya Bidikar on colors and letters, respectively, is the first in a ten-issue series that strives to do something different with Swamp Thing.
Ram V wastes no time developing a credible supernatural threat for the new Swamp Thing. The issue opens with a gruesome scene examining a corpse. The dialogue quickly establishes the being known as the Pale Wanderer. A desert entity born of a Civil War veteran and the later the industrialization brought on by the pursuit of oil. As we learn about this unusual and fierce being, we see Levi Kamei on a flight from Dehli to New York. He is restless and fidgeting anxiously over his inability to control his transformation into an emerald giant. V does well enough to position these two forces and make them interesting. I do admit that I am coming into this story a little blind. I am unsure how much about Levi and his origins I am meant to know. Yet. I do get a sketch of what happened within the issue. Perhaps these two are just another battle in the classic conflict between the Green and the Black. We'll need to see – the hints are there.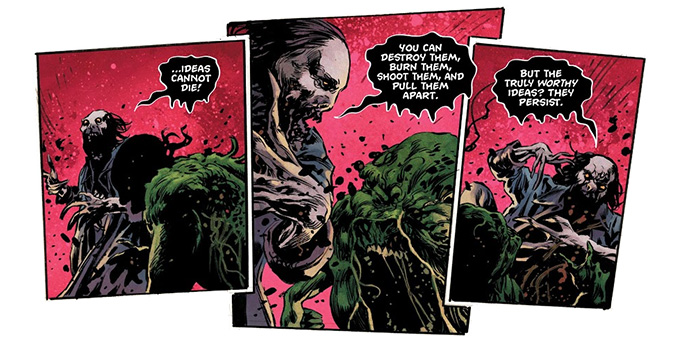 Mike Perkins' art is good, suitable for the grit necessary for Swamp Thing. Not necessarily as trippy as some other takes on the art, but it depends on the tone of the run. Here we have something very much horror-centric, and Perkins delivers on the front, especially with Levi's misshapen and grotesque transformations. Alec Holland's transformation never seemed quite as pained as we see depicted with Levi, but beyond that baring specific circumstances, Alec Holland didn't manage to shift between forms. If we are expecting to see Levi struggle in his shifting, we can look forward to more fun, grotesque panels. As for the colors, we have a definite interplay of wet and dry in greens against yellows and reds, which feels appropriate.
Bottom Line
Without a lot of knowledge of Swamp Thing's interconnectedness with the current state of the DC Comics world, this issue left me feeling a little flat. I have no problem with a new Guardian of the Green, but I also don't know what is going on. I expect I will get my answers, but it feels a bit daunting for someone who hasn't kept up on the modern era of Swamp Thing. With that being said, the setup is interesting. I am eager to learn more about Levi and this new and different spin on the role of the Swamp Thing.
(3.5 / 5)
The Swamp Thing #1 of 10 is written by Ram V and illustrated by Mike Perkins with color contributions by Mike Spicer and letters by Aditya Bidikar. You can find The Swamp Thing #1 via DC Comics or your local comic shop.
---
While I did deliver a new Swamp Thing comic feature this week, it probably was not what you were expecting. Worry not though, "Just Swamp Things" will be our next update. It'll be fun to look at the past and present of the series and see what beats remain. Please pitch comics to review and let us know what you think of the issues we cover.