Here begins the saga of Roland Deschain…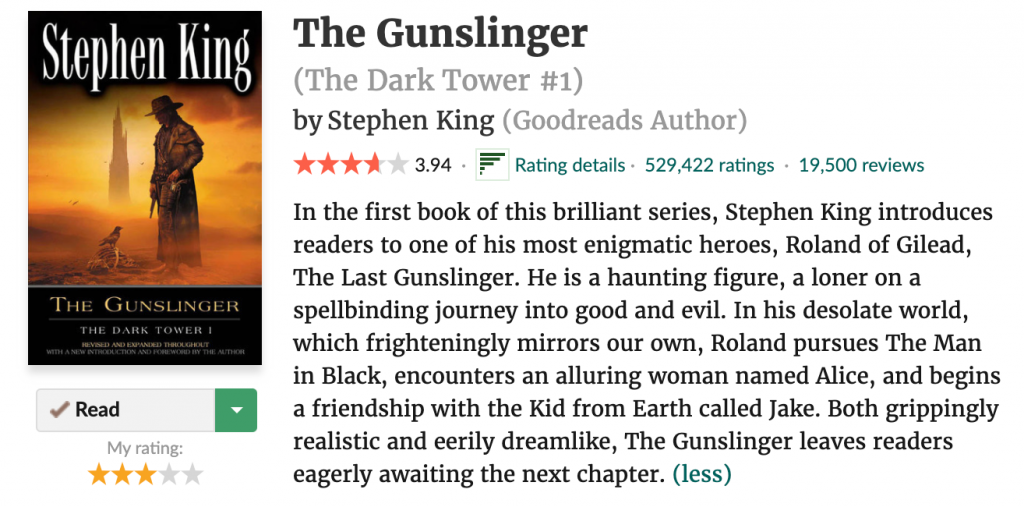 What to Expect
In this first installment in King's The Dark Tower saga, readers are introduced to Roland Deschain, the gunslinger. Roland is looking to reach the Dark Tower and find out its unreachable secrets. The journey he goes on to try and get there is one of King's best stories ever told.
Written in eight installments, the first, The Gunslinger, is the reader's introduction into the world where Roland operates. This first novel is crucial in understanding the Man in Black and the role he plays in Roland's search as well as the world Roland moves through. Jake, a crucial character, is also introduced in this first installment.
The Ruling
While I do believe this novel sets up many characters and ideas that travel throughout all of the Dark Tower novels, it is easily the least exciting and page-turning. This novel is one the reader must push through the get to the good stuff. As you can see from the Goodreads synopsis, I rated this novel 3/5 stars. It is the least riveting of all eight Dark Tower novels. However, it lays a lot of the groundwork for later events.
Pushing through this boring first novel will yield much adventure in the future, dear reader. Push through you must. I am admittedly not a huge fan of King's work — except for the Dark Tower series. The Dark Tower series gives us characters we care about, adventures we feel a part of, and events that spook the heck out of us.
Who Should Read The Dark Tower Series?
The saga and story throughout the series is epic, similar to that of Game of Thrones or Lord of the Rings. Around every corner, the reader is surprised, worried, anxious as to what comes next. This series is King's masterpiece. If you enjoy sprawling stories that traverse thousands of pages, this is definitely the start of a journey for you. The Gunslinger is the shortest novel in the series, coming in at only 224 pages.
Give it a shot, and push through the find the gold on the other side of The Gunslinger.
If you want to check the book out, feel free to click on below via Amazon. Remember, if you buy, we do get $.

(3 / 5)