Patricia Wants to Cuddle by Samantha Allen is a queer summer thriller for the ages. Released by the New York publishing company Zando in June 2022, Allens novel debut is a goofy, sympathetic tale of womanhood and body autonomy. It is guaranteed to make your jaw drop and keep you on your toes until the very last page.
The Final Four: A Synopsis
Our story begins with four contestants on a Bachelor-esqe show called The Catch. Women with varied intentions are competing for the proposal of of sleazy tech tycoon Jeremy. They are filming the latest episode on Otters Island, a once famous tourist attraction in the Pacific Northwest that now rarely receives visitors. The women competing for Jeremy's hand in marriage are Amanda, Renee, Vanessa and Lilah-Mae, and they couldn't be more different from each other or the island's residents.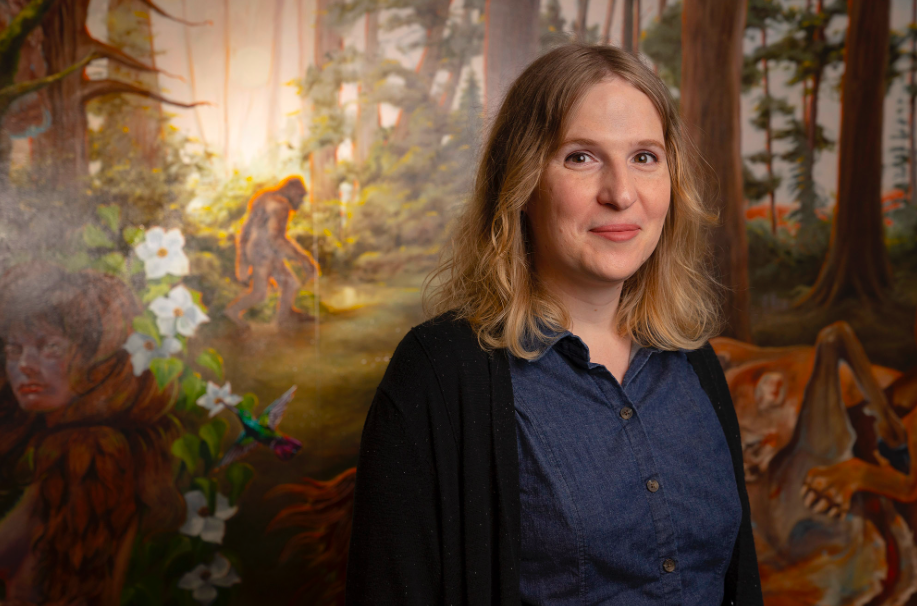 The Catch producers have found a nice bed and breakfast owned by a long-time local named Maggie Davies, but right away things go awry. A hairy giant local named Patricia lurks around the island, taunting the cast and crew. When one of the contestants disappears, shit hits the fan and it is every person for themselves. All is fair in love and bloodshed on The Catch.
It's Patricia's World, We're All Just Living In It: An Overview
Allen's voice shines in this novel. She uses various forms of narration; each chapter is from a different woman's point of view, and there are various side dialogues to fill in the plot from an online chat forum dedicated to The Catch, a blog by a woman whose sister went missing at Otter's Island, and a series of love letters by a singular author. Her vivid imagery transport you to the Pacific Northwest, and it feels like you are on this chaotic adventure on The Catch. Queer representation is also pivotal in the novel, as most of the characters are lesbian or bisexual, and Allen approaches this topic refreshingly. Additionally, her combination of reality TV show and slasher movie tropes is so successful in that it is simultaneously hilarious, cringeworthy and gruesome. It is like an eloquent depiction of a train wreck you can't look away from.
The Verdict
Patricia Wants to Cuddle is a unique and beautifully written queer horror novel that provides a new take on the story of Sasquatch. The characters are very flawed yet lovable, perhaps because they are all well aware of their flaws (well, most of them are, at least). This book was hilarious and delightful as well as creepy and sophisticated; a truly essential read this summer.

(5 / 5)
You know you wanna read Patricia Wants to Cuddle, so grab a copy for yourself and your friends down below!
And don't forget to check out what else we're reading here at Haunted MTL.
A Murder in Reverse: "Wrong Place Wrong Time"
The Plot
"A brilliantly genre-bending, mind-twisting answer to the question How far would you go to save your child?"  — Ruth Ware, #1 New York Times bestselling author
Jen watches her son murder a stranger. Stab him to death. She and her husband, Kelly, watch as their son Todd is taken into custody.
The next morning, Jen wakes up and it's yesterday. Jen knows that at the end of the night, her son kills someone. She is determined to stop it.
Jen goes further and further back in time trying to discover why Todd murdered a stranger and how to stop it.
The Verdict
This book is twisty. Right when you think you know the ending, something else is there to prove that the story is more multifaceted than that. While the premise of the novel is simple, Gillian McAllister elevates a simple concept with deep, dark twists.
It is best that you don't know too much going into this one. For fans of Blake Crouch, this is such a good thriller with time travelling vibes.
(4 / 5)
Woom: An Extreme Horror Novel
"That doesn't invalidate it," Angel said. "There's no statute of limitations on pain."
The Plot
Angel is a man who knows pain: physical, mental, sexual. The story begins with Angel visiting Room 6 at the Lonely Motel and ordering a plus-size sex worker to his room. What comes next is Angel's retellings of painful stories while performing sexual acts on the sex worker, Shyla.
The novel reads as a book of short stories, as Angel relays stories to Shyla and she tells him stories back. This is a novel of pain and disgust. Angel's stories are so dark and traumatic that Shyla can't believe they are true. As Angel bares his soul, we see a side of him that is melancholy and unable to process hurt in a natural way.
The Verdict
This novel is full of disgusting visuals and isn't afraid to get dirty. This truly is an extreme horror novel. As a warning, there is discussion of feces, blood, rape, sex, and body horror. This novel is not for the faint of heart. You'll close this short novel feeling dirty. Angel is a character that begs for sympathy while his stories narrate that he may not be as innocent as he perceives.
When the subtitle says this novel is extreme horror, believe it. Only the strong will survive Duncan Ralston's Woom. It is more splatterpunk than anything, but true literary quality lies beneath the filth.
(4 / 5)
Read it yourself by clicking below!
Did She Do It? Stacy Willingham's "All the Dangerous Things" Asks Us Just This
One year ago, Isabelle's life crumbled when her baby was abducted from her home. Her marriage to her husband, Ben, is destroyed as they try to navigate the fallout.
The Plot
Even one year after the abduction, Isabelle seeks answers. She is still doing appearances at true crime expos to get information on the attendees, thinking the abductor will be there one day. Abductors usually revisit their crime and Isabelle swaps her appearances for the event guest list, never taking any money for her talks.
Some think that Isabelle killed her own baby as evidence from the case says the perpetrator came from inside the house. Isabelle hasn't slept – not fully – since Mason was abducted. Her therapist is worried that she may be having hallucinations. Is Isabelle the killer or is she on a quest for true justice?
The Verdict
I absolutely loved the complication of not knowing whether Isabelle was a reliable or unreliable narrator. This was my favorite aspect of the novel. It made me question everything that Isabelle had to say and the actions she executed.
Isabelle is a character that, as a mother, I really felt for. I wanted to believe that Isabelle was innocent, but I was hanging on the edge of my seat waiting to find out. Stacy Willingham is the master of a story that winds all around, waiting for you to find the truth.
If you are interested in reading Willingham's first novel, A Flicker in the Dark, check out my review here.

(4.5 / 5)