Preacher Book Five diverges from the main story and takes us on a little detour to a small Texan town. It is here that we meet a whole new cast of heroes and villains. Race and gender are prominent themes in this 300 page tale. Jesse Custer reconnects with someone lost from his past in a little town called Salvation. Meanwhile Tulip is living her own personal hell with Cassidy. There's no telling what will happen next.
Once again, spoilers lay ahead. Proceed with caution.
A Preacher Becomes a Sheriff
After seeing Tulip and Cassidy together, a heartbroken Jesse has found himself back in a small town called Salvation, Texas. Being the smooth talker that he is, he quickly becomes sheriff of the small town and comes face-to-face with the self-proclaimed Meat Man, Odin. Odin is a repulsive racist with connections to hate groups, hit men, lawyers, and the biggest meat factory in Salvation. Jesse, always looking for a purpose in life bigger than him, becomes persistent in getting rid of Odin.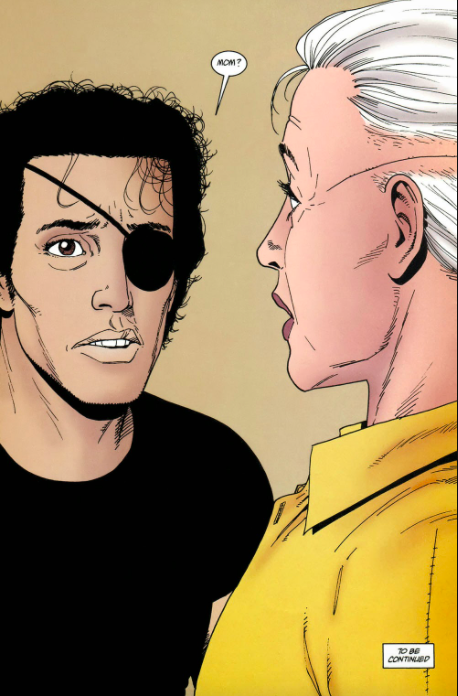 One of the most touching moments in Preacher Book Five is when Jesse realizes a local bar owner named Jodie is actually his mother, Christina. Having thought she was dead for most of his life, this realization is a shock to both of them. Christina recounts her past, which fills all the plot holes that have been plaguing Jesse's life.
Salvation, Texas is an enthralling adventure for both Jesse and us readers. It is a whirlwind of a trip.
Meet Tulip O'Hare
The last hundred pages of Book Five brings us back to Tulip and Cassidy, who have spent the past six months jumping around various hotels in various states. The two still think Jesse is dead from the Arizona bombing, and Tulip has turned to pills and alcohol to cope. She is exceptionally vulnerable and depressed, and Cassidy continues to take advantage of her.
Finally, after six months, Tulip can't take anymore. She doesn't want to keep living in a state of drugged-out consciousness under Cassidy's control. So she packs her bags, shoots Cassidy into the sun, and heads to find Amy in New York.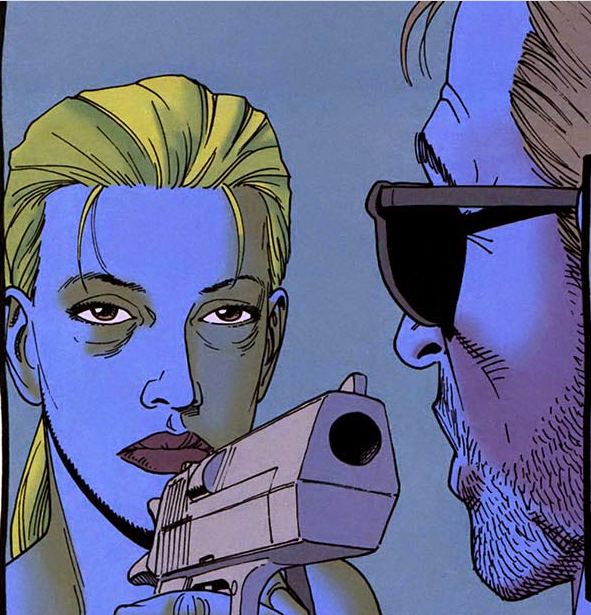 Finally, we get to learn the story of Tulip O'Hare. From the day she was born, her life has been an adventure of grief, joy, and rejection. When her mother died from childbirth, her father wasn't too keen on having a daughter. That luckily changes as soon as he holds baby Tulip and realizes he can love her just as much as he would if she were a boy. (A realization worthy of a big, long eye-roll.) The bond and love they share is illustrated throughout the pages as he gives her all the love and support any parent should give their child.
Like Father Like Daughter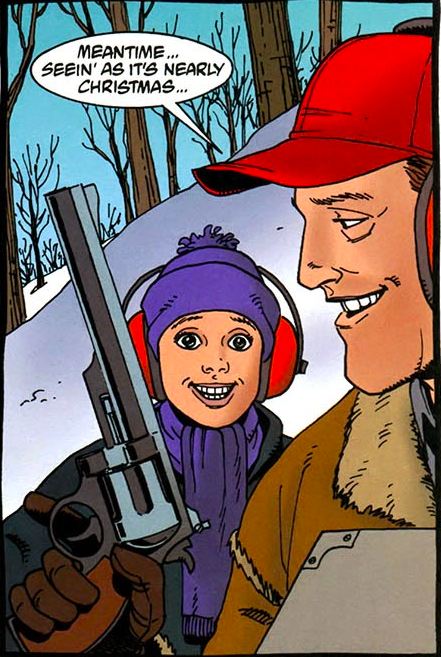 We quickly stroll through Tulip's past, from the day she is born and the day her father dies to when she meets her best friend Amy at boarding school and Jesse Custer in a bar. While I wish some of the backstory was a little longer, Ennis ties Tulip's past in nicely with the present day, where Tulip is now in New York at Amy's apartment. It is there that Tulip and Jesse, after spending half a year in heartbreak and grief, reunite. (And yes, the illustration of their first moment back together makes me smile ear to ear.)
The Verdict
Preacher Book Five is the penultimate book before Book Six, where the beloved Preacher series comes to an incredible end. I loved getting to see Jesse interact with new characters and reunite with loved ones from his past. We see various sides of him; we see him work through grief and heartbreak (sometimes in the unhealthiest of ways), and watch him gradually regain the strength to open his heart again and finish his mission of finding God once and for all.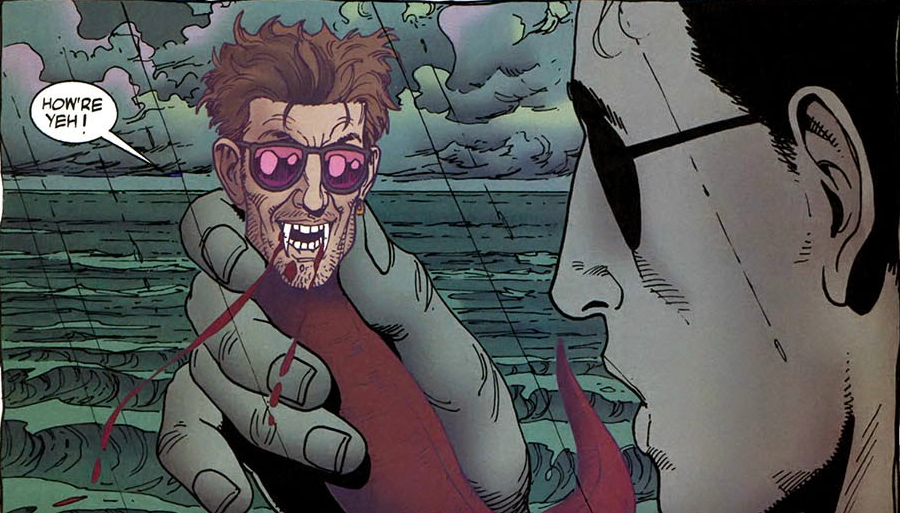 The transitions between present and past also have a smoother flow than in earlier issues. This is particularly the case with Christina's story, where the flashbacks intertwined with her reunion with Jesse feel that much more powerful. Dillon's artwork, as always, completes the story with detailed panels and emotional closeups. The drawings are sexy and disgusting and gruesome, the coloring is vivacious. The story is a page-turner and it hasn't even begun to reach its peak.
(4 / 5)
The more I reread this series, the more difficult it is to pick a favorite book of the six. I can't wait to indulge in the finale with you all. Until then, check out what else we're reading here at Haunted MTL.
And while you're at it, snag a copy of Preacher Book Five by clicking this link below!