Are you in the mood for music that evokes all the great sort of horror that we cover here at Haunted MTL? Well, you're not alone. We decided to contact some experts about just this sort of thing and they've shared with us a number of great tracks to add to your playlist. We're talking horror punk!
For this purpose, our expert opinion this time around comes from the band Cadaver Pudding. Hailing from the Inland Empire of Southern California, the current Cadaver Pudding lineup is comprised of guitarist Tom Kleve, bassist Zack Smith, and drummer Jon Bohn. We've asked each of them to share three favorite songs that evoke that horror feel, and boy did they deliver. Their picks are presented with with their commentary and reasoning.
As a bonus, we're going to share their track "Dottie" from their album Greetings From… as well.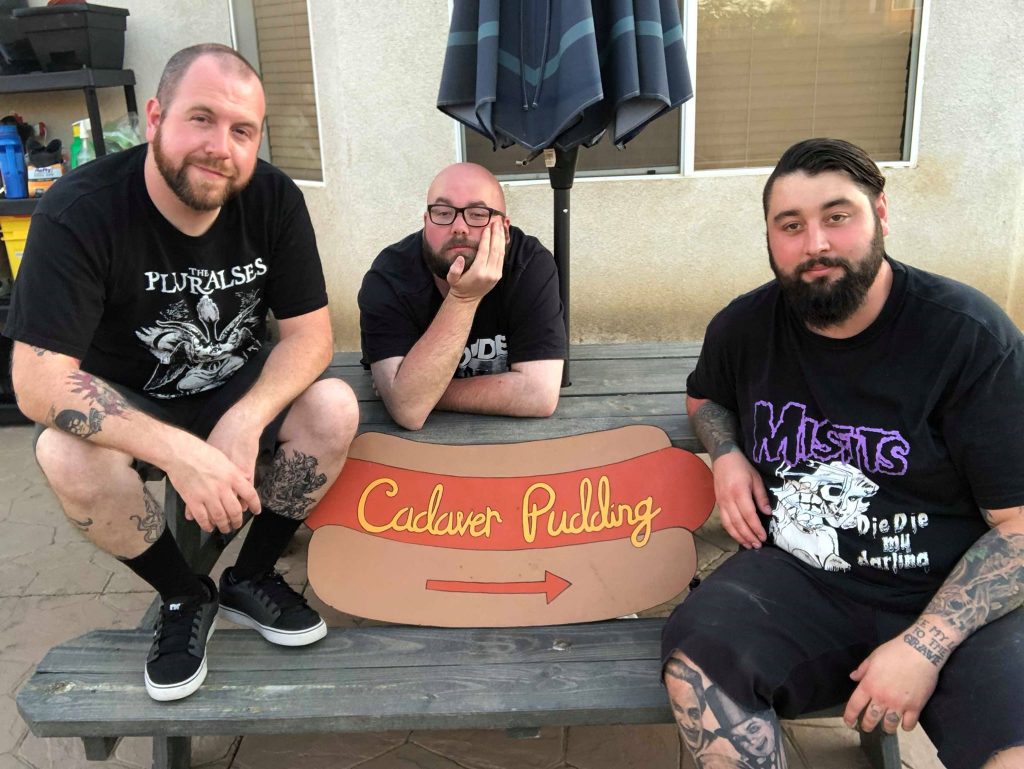 Tom's Picks
The Dickies – "Killer Klowns From Outer Space"
The Dickies have a sound that you can never forget. Leonard's voice is in a league of its own. Their song "Killer Klowns From Outer Space," for the movie of the same name, is perfect. From the guitar riff that brings us all back to the circus, to a simple chorus that stays in your head for hours. The movie itself is in my top 3 movies of all time and this song sets it up perfectly.

Schoolyard Heroes – "Curse of the Werewolf"
Off their debut release, "Curse of the Werewolf" is the first track, and it sets the pace for the whole record. Starting with clean guitars, and going into a drumbeat that makes you want to dance. Midway through, you get some heavy screams with almost operatic vocals from Ryann Donnelly. It definitely shows Ryann's vocal range. They were such a great band that didn't last long enough. They put out three great records, evolving their sound throughout. Sadly, I only found the band right before they broke up. They played just a few towns from me and I decided to skip that one and catch the next. There wasn't a next.
45 Grave – "Party Time"
45 Grave was the first band I was introduced to in the "horror" genre. Their song Party Time was the anthem to my favorite zombie film Return of the Living Dead. Party time was recorded and released a few different times. For the film, the lyrics were changed to relate more to the subject matter. The lyrics for the original release were very dark. The song was inspired by a true story of child abuse. The lyrics weren't about zombies or demons, 45 Grave reminded us that monsters truly exist, all around us. With strong lyrics, very reverb driven guitars and vocals, and a chorus any can yell along to, Party Time is unforgettable.
Zack's Picks
The Cramps – "I Was A Teenage Werewolf"
I remember the first time I heard the Cramps, more so I remember the first time I heard this song. "I Was A Teenage Werewolf" was on their Songs the Lord Taught Us album. It was around Halloween I was 13 years old and it stood out with how eerie and haunting the guitar sounded and with Lux Interior's manic voice singing over it, his deranged yells, moans and screams in between sounding like the inside of a mental asylum. It's still one of my favorite Cramps songs.
The Damned – "Video Nasty"

The Damned is one of, if not my favorite bands. Musically, they have explored a lot of different styles and have always been consistently good. "Video Nasty" was on their Thanks for the Night single. This song is kind of self explanatory, it's about horror movies!! In the UK at the time they had banned a lot of horror movies, Evil Dead, Driller Killer and so on, calling them video nasties. It lead to a surge of bootleg horror movies coming into the UK. Needless to say I'm a horror fiend, haha.

This song is amazing and catchy with a great riff, a driving rhythm section and Dave Vanian's howling booming voice that makes this song get embedded in my head for days.
Rudimentary Peni – "The Evil Clergyman"

This is such a good and weird band. Nick Blinko, their singer/guitar player, was schizophrenic and an obsessive person. They made some weird albums, Cacophony being one of them. This entire album is about the works of H. P. Lovecraft, of which I'm a big fan. The entire album is amazing but this song in particular is just a very creepy instrumental track and it is so good.
Jon's Picks
Balzac – "Sorrow 9"
Balzac's "Sorrow 9", from their album Into the Light of the 13 Dark Night, was probably my first introduction to the horror punk scene. I couldn't understand a word Hirosuke was saying I can tell you that this song and band were the start of me becoming a drummer. It wasn't the typical punk sound; it had a nice clean guitar open with a interesting drum sound which was closed hi-hats and rim clicks on the snare. And it was such a different sound for me that I fell in love with it and at the same time became obsessed with this drummer because he had a different feel for punk music.

This song was probably one of the first covers I learned with my high school band Skarecrow. To this day this song will always pop in my rotation every now and again and it brings me back to my teens and helping me realize my passion in music is in drums and nothing else
Order of the Fly – "Down"
Order of the Fly's "Down", from their album An Exquisite State of Decay, is my favorite song from Order. My first listen to this song gave me goosebumps because it was the most interesting song on the album and seemed very difficult to play. I remember struggling to get the song down, especially because my high school band Skarecrow was going to cover it.

Luckily, I happened to be friends with the guys in the band and was able to talk to the drummer to get some tips on getting the song down. I still use a lot of those techniques today with Cadaver Pudding.
AFI – "Total Immortal"
For most people the Misfits are an introduction to horror punk, but I hadn't heard them prior to hearing AFI's "Total Immortal" from their All Hallow's E.P. album. I wasn't even really into punk in high school, which was ironic because I was in a punk band. That was mostly because we were all not great musicians. We were like 4 chords, simple drums, that sort of thing.

This album, along with the Order of the Fly's An Exquisite State of Decay, shaped my like for the genre. Although to this day I'm not a big punk listener. There are few bands I enjoy, but AFI is one that I always come back to. AFI was another band that was really influential on my drumming as well.
Greetings From…
Cadaver Pudding's first album, Greetings From… is available on Bandcamp. Additionally, you can also find them at their official Facebook page.
Listen to "Dottie" right here, and check out the rest of Greetings From… for more great tracks.
[bandcamp width=350 height=470 album=2966782974 size=large bgcol=ffffff linkcol=0687f5 tracklist=false track=141197521]
Did you enjoy this selection of songs? Do you have a favorite of the bunch? Please let us know in the comments. After that, please poke around to see what else we have for you here at Haunted MTL.