Welcome to Haunted MTL's interview series where this week we talk with Mat Greaves of Gallows Humor, the premiere "undead" Romani band performing out of California. The band says they are "a macabre, comedic, and very energetic Romani style folk/rock band. Sometimes naughty, never nice, but ALWAYS READY TO PARTY!"
From their website, "The current lineup of Gallows Humor includes Mat Greaves ('Marian von Gogu') vocalist, accordion, guitar, bouzouki, toy piano; Bass player Jules Beuck ('Uncle Rasputin Poppopovich'); Don Parrish-Bell ('Gregor Koriatovitch') guitar, backing vocals; percussionist Mathias Hakonan ('Måthías Árnrunrvedr Hákonan') who plays drums, and pounds on anything worth pounding; Patrick Palmer ('Pitor Petrokovich') playing concertina and vocals, as well as Ashley Nicole Biancuzzo ('Callista Valarius') dancing and vocals."
We talk with Mat Greaves, the founder of the band and frontman, also known to fans as "Marian Von Gogu."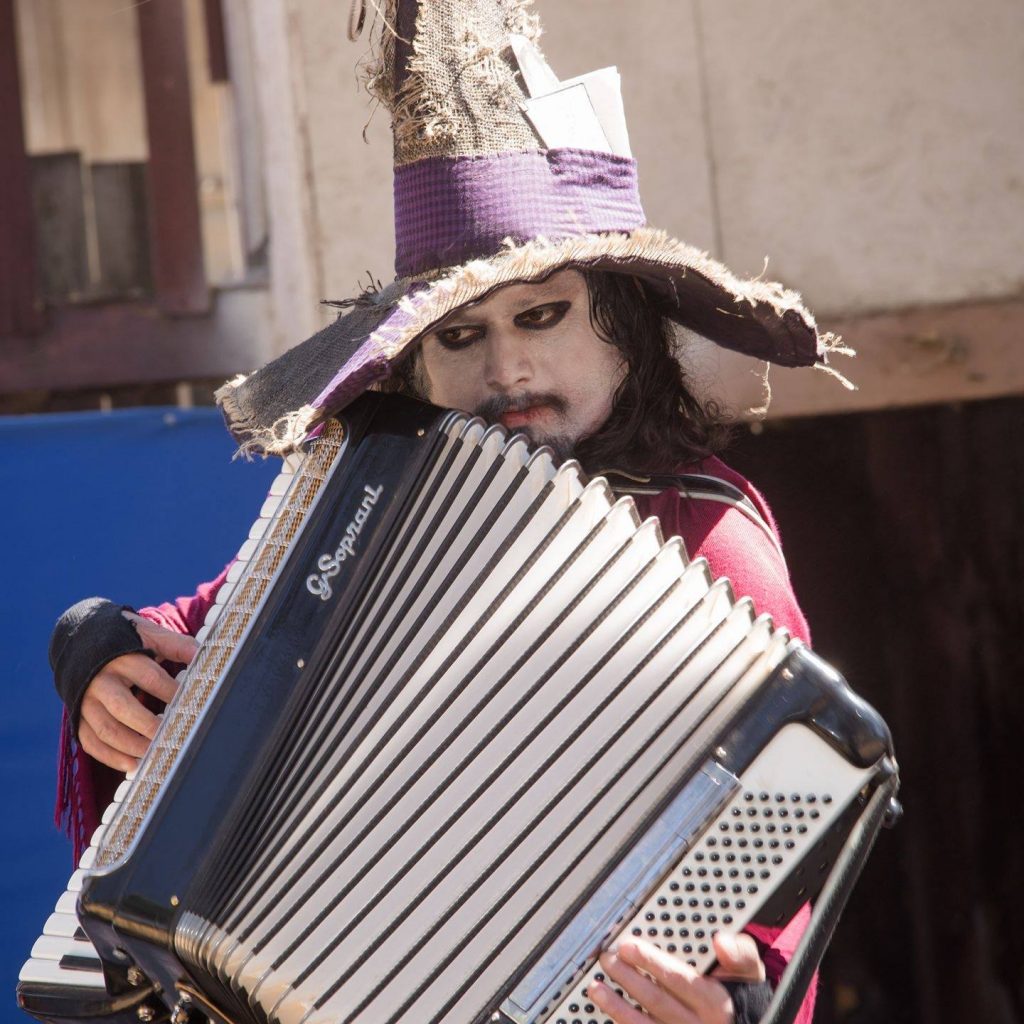 Haunted MTL: You emphasize that Gallows Humor is an "Undead" Romani band. What was the inspiration for this?
Mat Greaves: I've always been a big fan of horror and comedy. Combining those two genres with music had always been a dream of mine. I went with Romani because I love the style. I went with the undead as a theme because, in Eastern Europe, Strigoi was a cryptid that was actually believed to have existed. 
What songs have gotten the biggest reaction at your shows?
MG: Easily, "Coffin," "Vild Rover," and "How I Love You, Blue." They're all pretty bawdy songs, but people love them. At least people with a sense of humor. Haha
What bands have influenced the sound of Gallows Humor?
MG: Gogol Bordello, for sure. They were a huge influence on the sound. As far as content goes, Nekromantix, TSOL, and one of my favorite bands of all time, Oingo Boingo. 
If you had to pitch your band to an audience with a single song, what would that song be?
MG: For a bawdy pitch, I would pick "Coffin." For a family-friendly pitch, "Proverbs of the Dead." They're both upbeat and are a good representation of our sound.
If you could have one of your songs on the soundtrack of a horror franchise film, what song would it be and which franchise?
MG: Hmmm. That's a tough one. Maybe the George Romero Living Dead franchise. Either that or The Exorcist. Even though it's not a franchise, we do have a song on our first album called Llamia, based on the movie Drag Me to Hell.
Of the gigs you've played, which has been your favorite?
MG: Seeing as how we mostly play at Renaissance Faires, that's also a tough question. I think the Escondido Renaissance Faire is probably our favorite gig. As a personal favorite, we sometimes throw a party that we call "Galloween." It's for close friends and fans. 
---
Enjoyed the interview? Find more of Gallows Humor online and on social media. Listen to them on Spotify, follow them on Twitter, Instagram, YouTube, and look for them on their soon-to-be-rebuilt Facebook page because, in Mat's own words, "We got deleted for being too taboo."