If you're on the search for a new author to try in the Fantasy Horror genre, Tim Ahrens may just itch that scratch. His books are available for purchase through Barnes and Noble Booksellers, and he's working on adding more content to his series. Follow along to learn more about the talented writer and his world of creations.
With all the creative outlets available to you, why write?
Writing has always been something I loved to do. I started writing fantasy and horror when I was fourteen. As I wrote about the different worlds and characters I created, they just seemed to come alive in my imagination.
Why Horror?
I grew up watching horror with my father. I can remember sitting in front of the TV when I was ten and watching all the black and white horror monsters with my dad. As I got older, I started to see horror as more of a way to explore the darker side of fantasy and human nature.
Tell us about your writing process.
Most times I start a story with just a feeling. It's like what Steven King said once. I ask myself "What's under the bed?". Then I create a world for that person, or thing to live in. After that, I kinda let the character start to tell me the story. It all seems to come together in my head as I write it.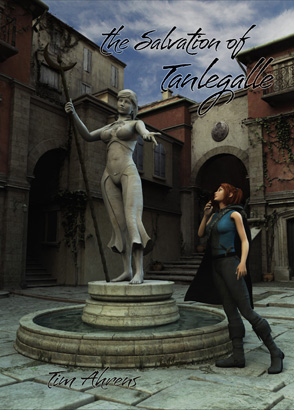 Which story are you most proud of, and why?
I have written two books I am very proud of. The first is called The Salvation of Tanlegalle. That book is the first one I self-published. It contains 13 short stories I have written over many years. I then wrote a central story which ties all 13 together at the end of the book. My second book, Dark Creatures: A Simple Game, is a stand alone novel, yet I put many elements and characters from Tanlegalle into this book to link it to the first. Overall, I am very proud of the way both books weave their stories into one another.
How does a story start? An idea, thought, message, scenario, etc.?
Most times it's more of an atmosphere thing with me. A piece of music might set me off. Or a picture. Or a walk around the block. Once the mood has me, I have to sit down and write. The worlds, people, places, and things almost create themselves as the story goes on. I think the hardest part of writing is starting the story. After that, it runs like a fast moving river.
List some of your favorite writers or pieces and tell how your work has been influenced by them.
Steven King was a big influence when I was younger. His Different Seasons book, as well as Christine and Firestarter had a big influence. Piers Anthony (Dillingham Jacob) is another influential author for me. His Xanth series is extremely fun. His Incarnations of Immortality series is also engaging and wonderful. I love Edgar Allan Poe, Andre Norton, and many others.
Where can we find your work?
You can find my work at any of the following places:
Where all good books are sold.
I have had several other short stories published in various magazines. I have been working on my writing since I was fourteen years old and enjoy all comments and feedback, both good and bad. The Salvation of Tanlegalle and Dark Creatures: A Simple Game are part of a larger series of books I am creating. I am calling the series The Worlds of Dark Creatures. I am currently working on the third book in the series and I hope to have it out by 2021. It will continue with the characters and event created in Dark Creatures: A Simple Game, as well as add new players and tie-ins with Tanlegalle. The book series is Dark Fantasy, which is horror mixed with fantasy. I welcome you to my worlds of darkness. Come on in and play.
What do you think of our interview? Who should we interview next? Check out some of our other interviews with Horror Artist John Clayton, or Horror Comic Author Jesse James Baer. Drop us a hint in the comments below or find us at the following places: