When I saw the picture of the homicidal Easter Bunny, I HAD to know more about the creators of BURLAP. Not only did I learn much about the comic creation process, but I got to see how much creative people have in common.
With the world around us filled with content, both good and not so good, Jesse James Baer and his colleagues are people we must watch out for. I would like to thanks Jesse in advance, for his participation in this interview and for contributing creations to the Horror genre.
With all the creative outlets available to you, why write comics?
So, as a kid I always loved comic books and superheroes. I had them all: Batman, Spider-Man, the X-men, you name it. In elementary school, I'd ask to stay inside during recess to draw and write my own comics instead of going outside to play kickball.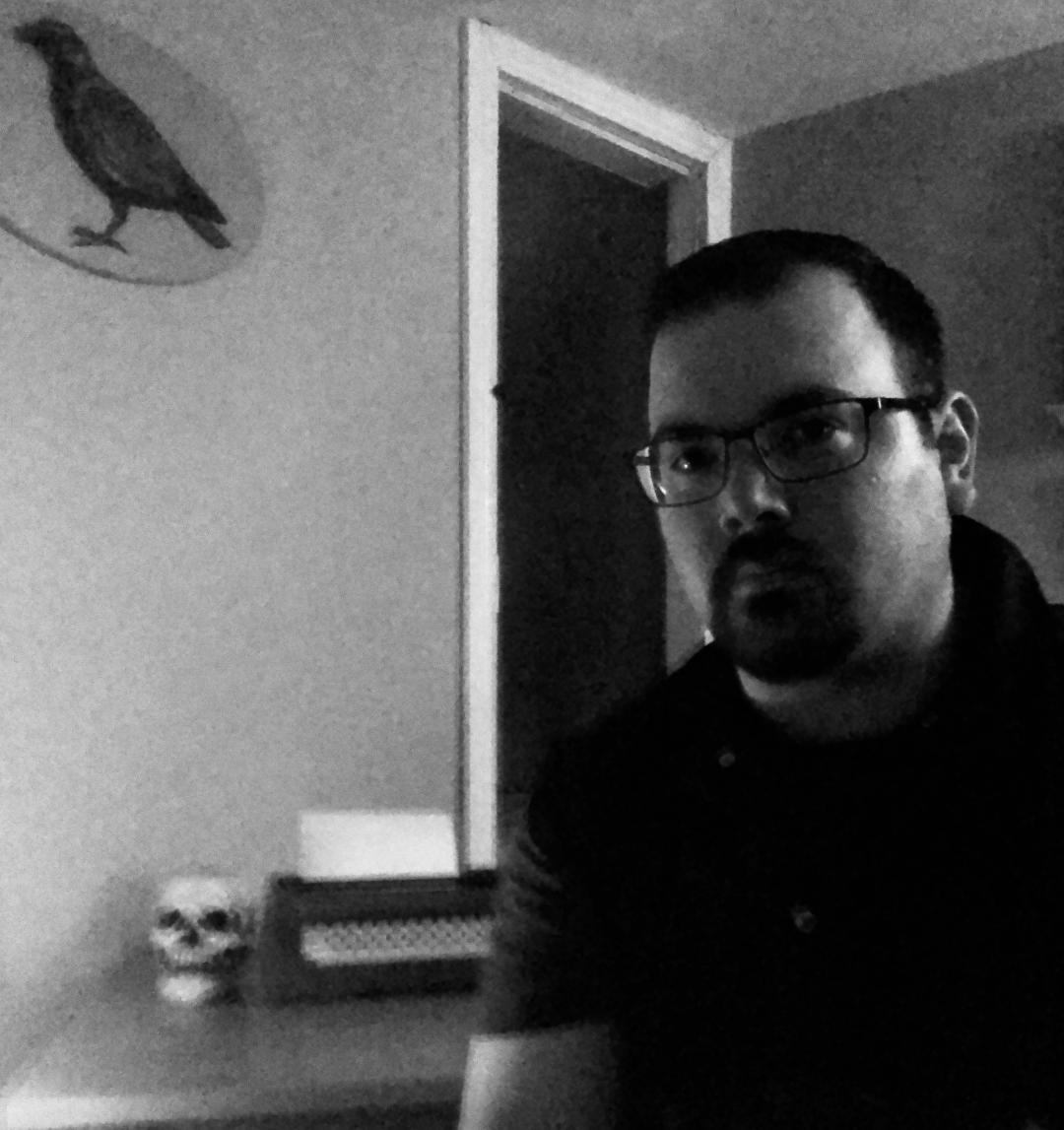 Growing up, I had many creative passions. My main passion was writing. I'd write short stories, plays, novels and film scripts. Eventually, I would make it my goal to become an independent filmmaker, attending Bucks County Community College and Temple University to attain a degree in cinema production. I took part in several indie film productions, but as I got older, filmmaking became more and more difficult.
In March of this past year I met comic creator Buz Hasson (The Living Corpse), at Monster Mania Convention. We got talking, and he offered his talents to draw a concept sketch of my short film's lead character. The whole process of working with him opened my eyes to my old passion of making comics. I saw it as a great way to visually tell the story I wanted to tell and there were no limits! I wasn't constricted by a budget or actors or locations! I could write my story however I wanted with no constraints. So I set to work re-writing my film script as a comic script and have been truly invested in writing comics since.
Why Horror?
My relationship with horror has been quite the roller coaster. I grew up with a mother who loved horror movies, she had every one on VHS. Of course, being one of three boys, my brothers would often "borrow", a horror movie when our parents were away. Safe to say, these movies scared me half out of my wits! I was six, and had been witness to movies like Nightmare on Elm Street, Halloween, Leprechaun and Child's Play. I constantly had nightmares.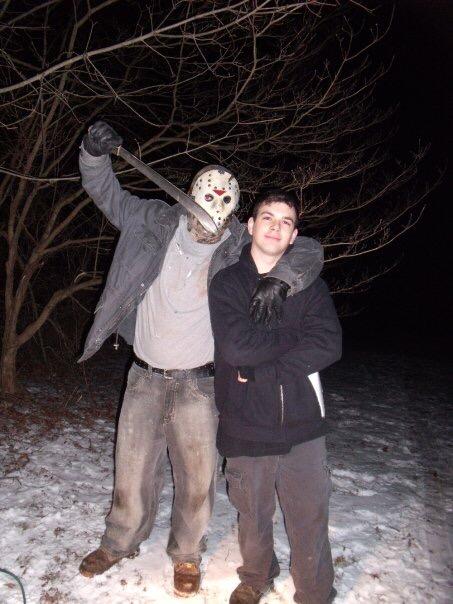 But I also found a love for horror in the form of books and stories. I was obsessed with Mary Shelley, Robert Louis Stevenson, and Edgar Allan Poe. I then discovered the Universal monsters: The Wolf Man, Frankenstein, Dracula.
Growing up, I often felt like an outcast. Horror was filled with relatable characters that I came to love. So when I started writing my own stories, I was drawn directly to horror as a way to express myself and escape the problems of the real world.
List some of your favorite writers or pieces, and tell how your work has been influenced by them.
My biggest influences when it comes to writing are from a couple of different mediums. Comic book-wise, my biggest influence is James O'Barr (The Crow). He, like me, used writing and creating comics to deal with trauma he suffered in his life, and that inspired me to do the same. When it comes to novels and fiction, the writer A. Lee Martinez (Gil's All Fright Diner, The Automatic Detective) is my "go to". I always loved the way he could blend any genre with comedy, which influenced me to add bits of humor to my writing. He creates these amazing characters that you just fall in love with.
Of course, the greats, like Stephen King and Poe were very influential for me growing up and I learned a lot about conveying human emotions from their depictions of humanity and people. Last but certainly not least, are the great Pulp writers like Mickey Spillane, Dashiell Hammet, and Raymond Chandler. Pulp noir is one of my favorite genres and their work really influences the dark and mysterious/gritty tones I use in my writing. 
How does a story start? An idea, thought, message, scenario, etc.?
I always begin with a character. I get an idea for a person, I figure out who they are, what they look like, and what their motivations and background is. From there, I build a story around that character. The story almost writes itself. The characters I create start to breathe life into the stories themselves. 
Tell me about your writing process.
My writing process always starts with a notebook and pen, creating character webs and bullet pointed plot lines. Once I know what I'm getting into by brainstorming and outlining, that's when I sit down at my laptop and start churning out the actual story. My ideas hit me at random. Sometimes, in the middle of the night, I'll suddenly figure out the next plot point or a scenario, and run straight to my notebooks to write it down.
My writing also comes from a very personal and emotional place. Getting lost in my own stories became a sort of therapy for myself. BURLAP was a way for me to release all my anger and sadness after I unexpectedly lost my older brother in 2018. I took all my rage, and aimed it at fictional villains through my lead character. 
Which piece are you most proud of, and why?
That would definitely be the first issue of my new comic series, BURLAP, a twisted tale of murder, revenge ghosts, gypsy curses, forbidden romance… and a homicidal Easter Bunny. It began as the script for a short film. I spent almost two years writing and rewriting the script. In the end, I'd written six drafts, the seventh being the comic book version. I'm most proud of this because I spent so long with it, trying to make it a reality. I had finally done it!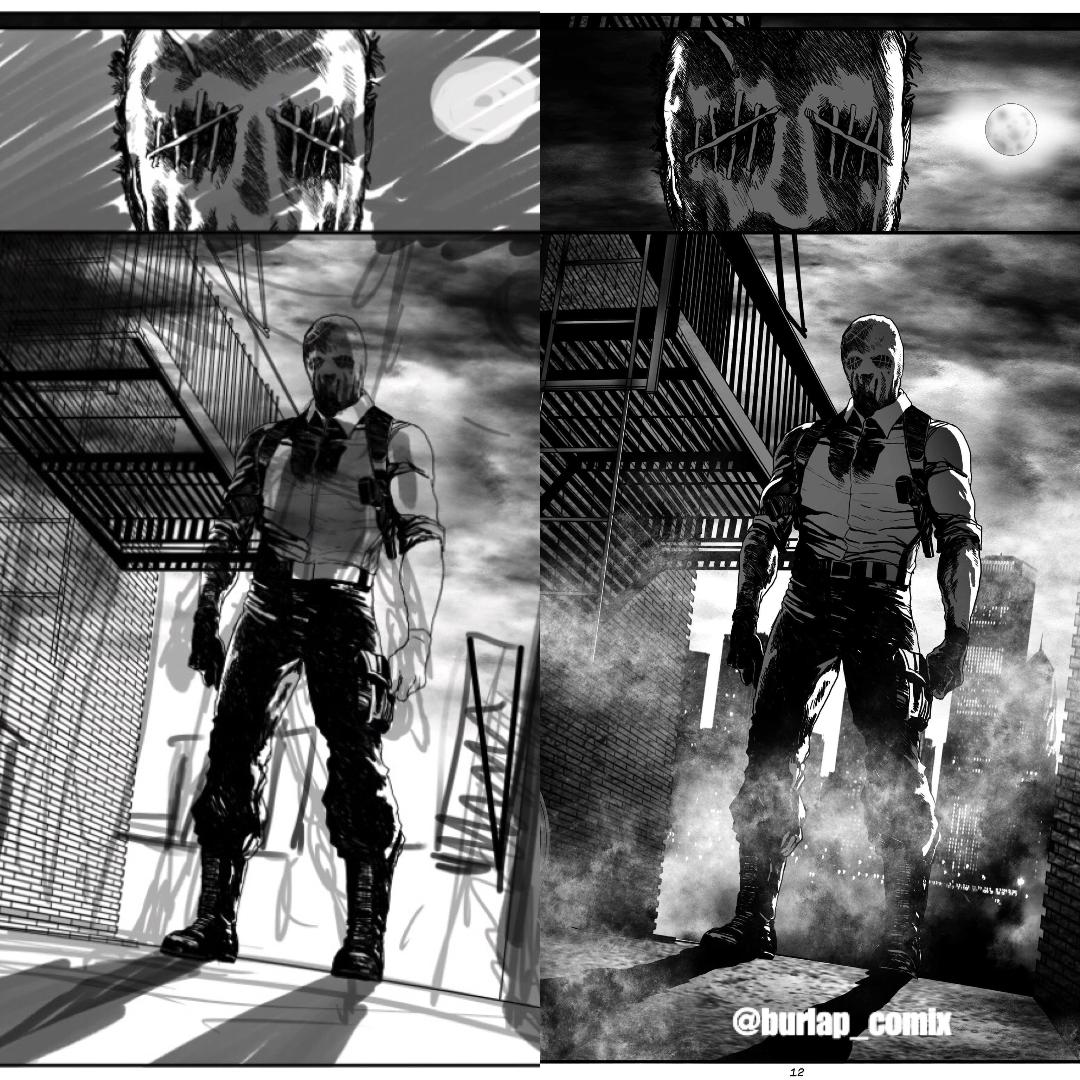 I'll never forget coming home to the package on the front step, opening it to find my first self published printing of the comic. Just holding it in my hands and seeing my words brought to life through the amazing artwork of Zoran Jovicic, was absolutely thrilling. 
BURLAP would not have been possible without the illustrations and lettering by accomplished artist Zoran Jovicic, of Novi Sad, Serbia. Zoran was born in 1984 in Mrkonjic Grad, a city in the Republic of Srpska. In Belgrade, he graduated at the Higher Vocational School, Department of Industrial Design. His first comic was Kosingas-Order of the Dragon, and recently has done the artwork for the comic book Memento Mori.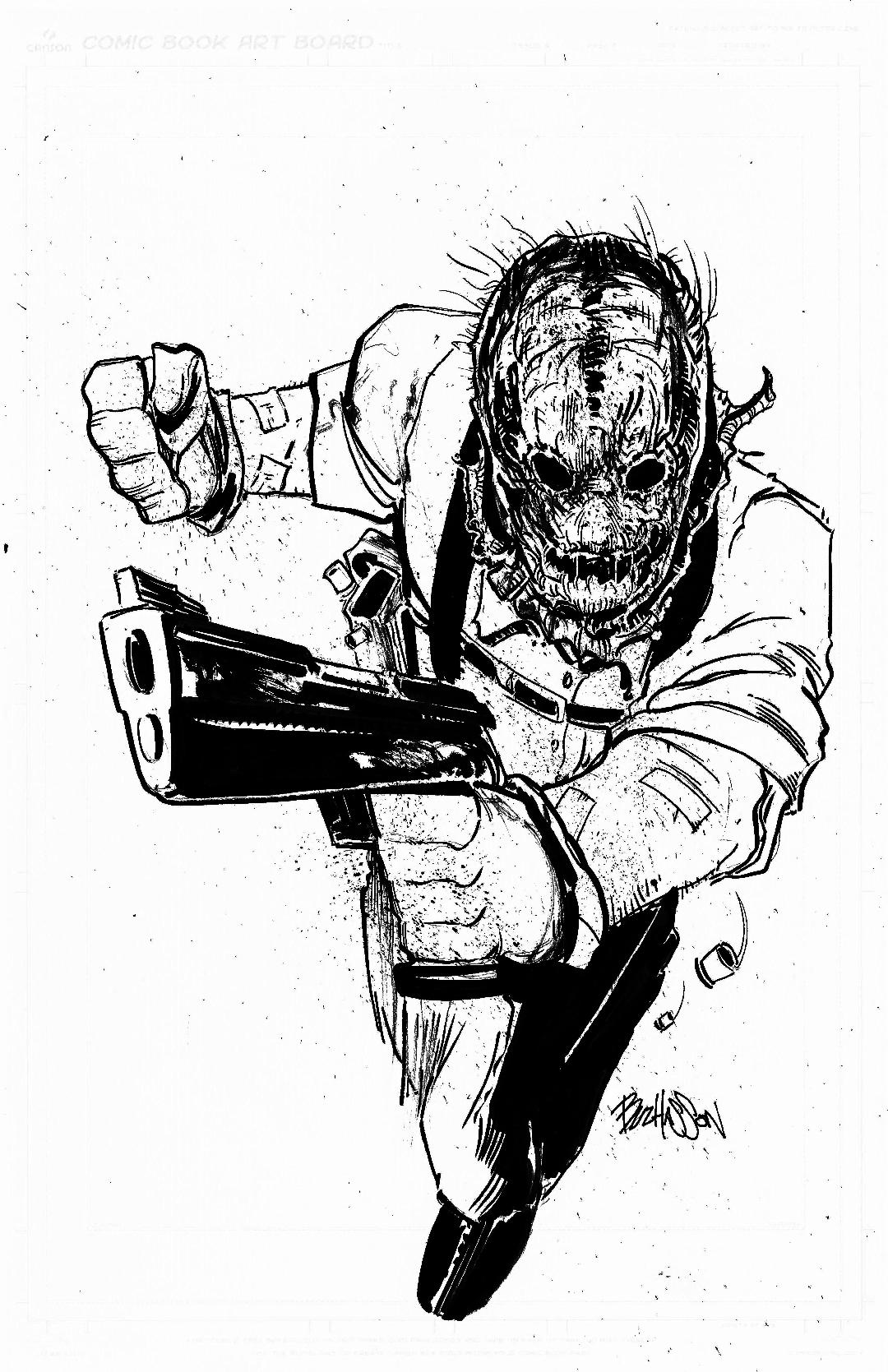 The horror community and comic book communities alike will very much enjoy BURLAP. My goal was to create a character that was part Batman/The Punisher and part slasher-killer like Michael Myers/Jason Voorhees. It takes the slasher formula and flips it, the silent stalker in the mask is actually the hero and his victims are the villains! Instead of focusing on the hero, BURLAP mainly focuses on the rogues as they struggle to survive, much like a slasher film mainly focuses on the slasher killers victims. My artist and I have worked hard on creating a cast of wild villains I believe the readers will love to hate. 
Where can I find your work?
My comic series, BURLAP will be available from Covenant Comics, later this year. Currently, you can find great info including a preview of the book, cover and concept art, and some great background info on myself and the project here.
Covenant Comics and myself will be releasing a Kickstarter campaign in March of 2020, to raise funds to keep the series going! We're really hoping to rally the horror community around BURLAP and acquire the means to share it with the world!
What do you think of this interview? If you know of any talented Horror creators we should interview, have a suggestion, question, or request, either:
Comment Below
Find interviewer on Twitter @Parzz1V
Facebook @Parzz1val
Email @ parzz1val@yahoo.com
What Have We Done: Alex Finlay Produces Another Hit
Jenna: A stay at home mom with a secret assassin past
Donnie: An alcoholic rock star
Nico: An executive producer of a reality television show
They all have a past, but who is out to get them?
The Plot
Jenna, Donnie, and Nico share a troubled past. They were all orphans who lived at Savior House — which is much less savior, much more terror. When their friend Benny, a famous judge, is murdered and the FBI comes looking, Jenna, Donnie, and Nico must race against the clock to figure out who is targeting them.
The Verdict
From the author of The Night Shift, which I reviewed here, I would expect nothing less than what Finlay has delivered. Finlay notoriously creates stories with palpable thrill and spine-tingling revelations.
I particularly enjoyed the character of Jenna. She is a reformed assassin living a normal life as a new stepmom. When she is called in to make a hit and her family is threatened, she goes badass mom on 'em. While I still thought Donnie and Nico as characters were engaging, it was nothing for what I felt for Jenna.
Also, major props to Finlay for creating a character that kills with a very unique weapon. Read it to find out more!

(5 / 5)
"The Writing Retreat" Gone Bad: Julia Bartz's Debut
Keeping it all in the family, Julia Bartz's The Writing Retreat is the debut novel of the sister of Andrea Bartz, author of We Were Never Here, which I reviewed here.
I was much more impressed with The Writing Retreat than I was We Were Never Here.
The Plot
Five up and coming female writers under 30 are invited to a writing retreat hosted by the reclusive and acclaimed horror writer Rosa Vallo. Rosa reveals the details of the retreat: each writer must complete a full length novel from scratch over the next month. The best novel wins a multi-million dollar publishing deal with Rosa.
Suddenly, the retreat turns into a nightmare when one writer goes missing in the snowy terrain outside.
The novel hinges on friendships in turmoil and has a focus on LGBT+ representation as well as interpersonal female relationships. The novel explores the dark publishing world and the search for fame and the Great American Novel.
The Verdict
This novel is atmospheric and intellectual, page turning, and the English major's required reading. I absorbed this novel and found Julia Bartz's writing and conceptual chops to be leagues above her sister's.
Ths novel releases on February 21, 2023 and it should be in your cart right now.

(5 / 5)
Buy it here!
A Murder in Reverse: "Wrong Place Wrong Time"
The Plot
"A brilliantly genre-bending, mind-twisting answer to the question How far would you go to save your child?"  — Ruth Ware, #1 New York Times bestselling author
Jen watches her son murder a stranger. Stab him to death. She and her husband, Kelly, watch as their son Todd is taken into custody.
The next morning, Jen wakes up and it's yesterday. Jen knows that at the end of the night, her son kills someone. She is determined to stop it.
Jen goes further and further back in time trying to discover why Todd murdered a stranger and how to stop it.
The Verdict
This book is twisty. Right when you think you know the ending, something else is there to prove that the story is more multifaceted than that. While the premise of the novel is simple, Gillian McAllister elevates a simple concept with deep, dark twists.
It is best that you don't know too much going into this one. For fans of Blake Crouch, this is such a good thriller with time travelling vibes.
(4 / 5)