"Wherever You Go, There You Are" by Kelli Allen
Wherever you go, there you are
-"Where I lay my head is home." –L. Ulrich and J. Hetfield
He allowed the slick glass bottle to slip inside, felt the gin burn his tongue, and swallowed.
"Such a good boy," she cooed.
C licked an arch blooming sweat under his nose, "What's happening?"
The creature coiled inward against the pillow of her spine. Miss G silently gave the quieting mass within her a small blessing, a meant purr pushing past her lips through the final six syllables.
"Ssshhhh," she exhaled. "Take another pull, C. Just like that."
He tried to memorize the fire blooming his throat raw—keep track of how long it took to lick his lips clean around.
Miss G walked two long fingers from his nipple to the steer-head brass buckle posting guard above a zipper that strained, teeth nearly leaving an imprint in the salty air.
"We don't wait long and this night has been long enough, too long. It's time to begin." She hummed as nail tips skirted cotton.
A third set of eyes began to blink in the wet dark. Their lashes extended outward to tickle Miss G's lungs, retracted again, and the unwinding started slow.
"I have known you through every life I have lived," Miss G said, her mouth moving fast, her hand paused beneath the belt now undone.
C caught her wrist in his own warm palm and felt the room open wide. He watched her tongue dart around her teeth. He heard the other sounds past his breathing, past her words. He heard the first crashing waves against his skimmer when he was a boy. He tasted brine and ash and raw meat.
Miss G focused her expression, twisted the thin wrist free, and spit brackish foam in a thin line into the space between her own open jaw and C's memory-dazed face. The slick formed first a bridge, and then a roping necklace connecting her neck to his.
***
Through any much distance, they looked like drunk lovers, arms guarding the other's waist, heads tilted close with temples touching as they stumbled in an uneven pace from the dune's peak and down toward the darkening water.
From far away, anyone might guess that Miss G was suddenly overcome with lust, with urgent need to be held, pressed rough into the millions of crushed shells under their feet. She slipped C's encircling arm and pulled him with her into the kelp dotting the cool evening sand. From a passing glance, they were locked in a kiss, tongues certainly hard at work in convincing the bodies to go further, take more.
Miss G's skin lay in a deflated mound near the shore's crocked edge.
The creature eases the soft spiral into its new home. First, lowering its tail into C's expanding throat, it unwinds down past the pliable chest to fill C's belly, two pincers extending toward the round ball joints of his shoulder. A nice fit, a comfortable fit.
Soon, the tide will lap its long tongue over this shell, this beast with too many hearts.
Kelli Allen's work has appeared in numerous journals and anthologies in the US and internationally. She has served as Poetry Editor for The Lindenwood Review and she directs River Styx's Hungry Young Poets Series. She is currently a visiting professor of English Literature at Northeast Normal University in Changchun, China. She is the recipient of the 2018 Magpie Award for Poetry. Her chapbook, Some Animals, won the 2016 Etchings Press Prize. Her chapbook, How We Disappear, won the 2016 Damfino Press award. Her full-length poetry collection, Otherwise, Soft White Ash, arrived from John Gosslee Books (2012) and was nominated for the Pulitzer Prize. Her collection, Imagine Not Drowning, was released by C&R Press in January 2017. Allen's new collection, Banjo's Inside Coyote, arrived from C&R Press March, 2019. www.kelli-allen.com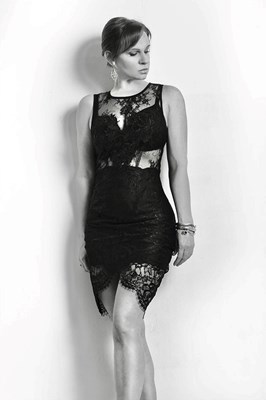 Nightmarish Nature: Vampires Among Us
This is the kickoff to a new series exploring nature that is kind of horrifying, at least in ways. Our first subject is Vampires Among Us. There are lots of animals named for vampires, sometimes due to folklore and sometimes for their appearance (like the Vampire Squid), but most of these animals don't have blood sucking tendencies.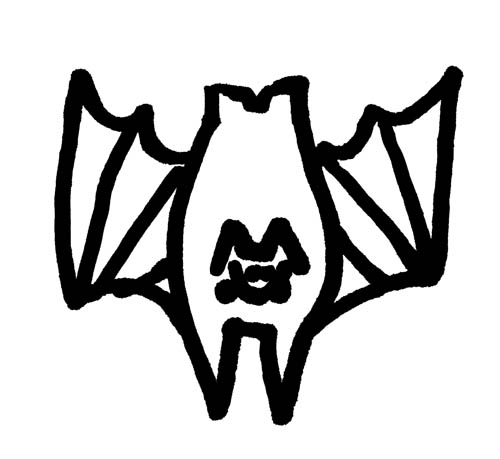 Bats & Birds
There are legit vampire leaf-nosed bats in Central and South America that drink blood. They feed on mammals and are often shown to feed on livestock. They'd be kinda cute if they weren't so creepy. There are also vampiric birds: some finches in the Galapagos have developed the taste for blood of other birds, mainly seabirds that flock to the islands to raise their young.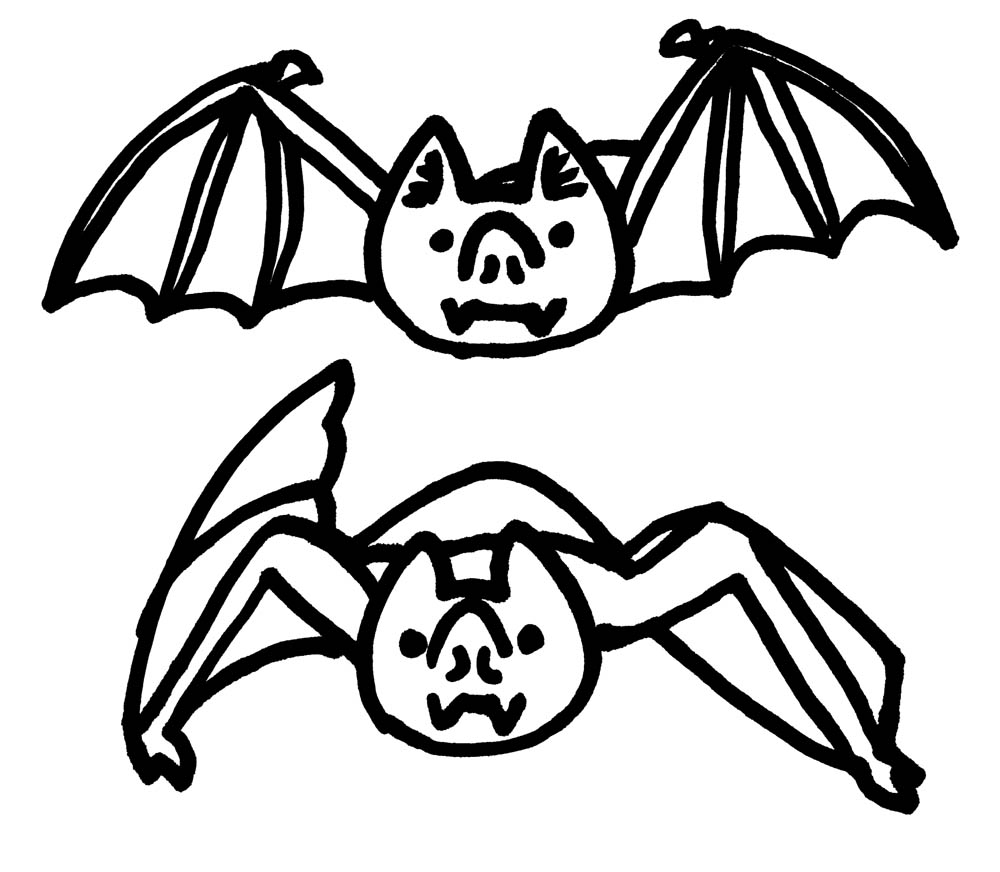 Leeches & Lampreys & More
And then you get into leeches and lampreys and other denizens of the water that are known to attach themselves to larger creatures and drink their blood. Leeches were even believed to have medicinal value (and still are in certain circumstances). And there are also numerous plants that are known to be parasitic and feed on other plants, wrapping their roots or vines around others to steal nutrients.

Spiders
Now I'm going to drift off into the realm where this becomes truly horrific. Spiders. Now, spiders aren't vampires per se, seeing as how they actually kill their prey – they don't just feed off of it while it remains living and wanders about its business. But because of their structure, they cannot eat solid foods, so they have to inject their prey with enzymes to liquefy it so they can slurp it out like a protein shake. That's sort of vampirism on steroids if you ask me, just the kind that no one is coming back from.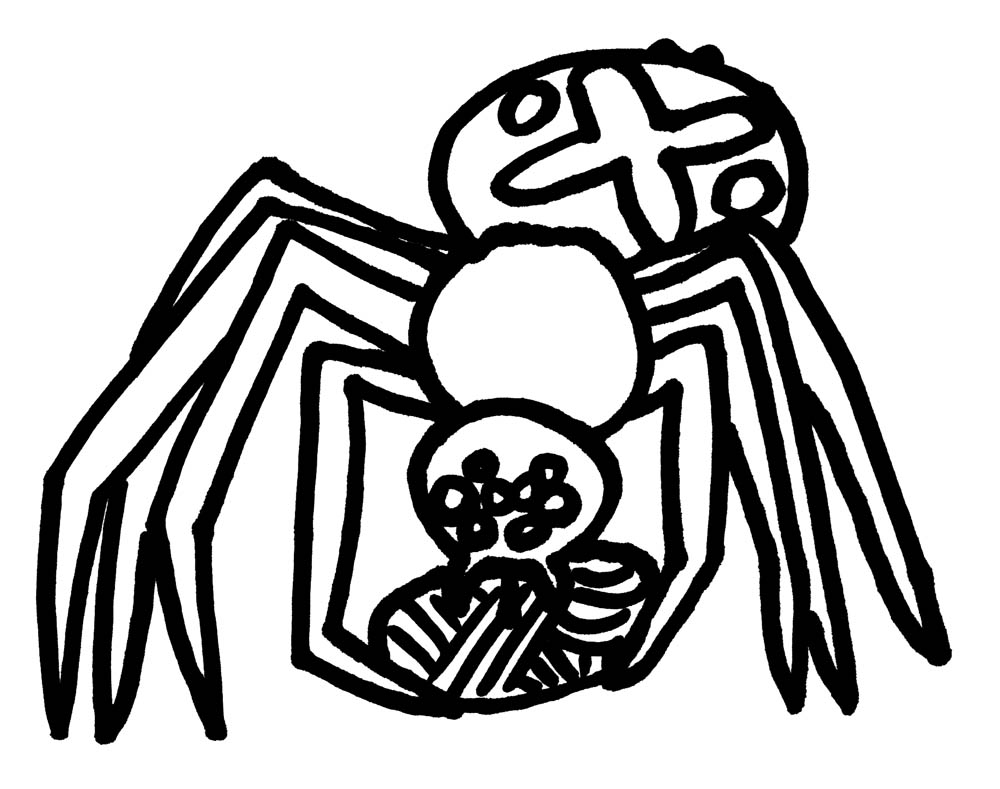 Bloodsucking Bugs
But let's get back on topic. Now let's consider mites and ticks and fleas and mosquitoes and the like. Some drink blood for their survival; others do so as part of their reproductive cycle (like mosquitoes which otherwise eat fruit and nectar but need the extra protein from blood to grow their eggs).
Ticks need to feed on blood once at every stage of their life cycle and can pick up diseases along the way (like Lyme Disease) but don't always do so. Different ticks are more likely to come in contact with different things and often humans are not their preferred meal but they are opportunistic and will feed on whatever is available when necessary. Symptoms of illness from tick bites may take years to develop and can have really weird side effects (like the allergy associated with Lone Star Ticks which makes a person unable to consume mammalian flesh).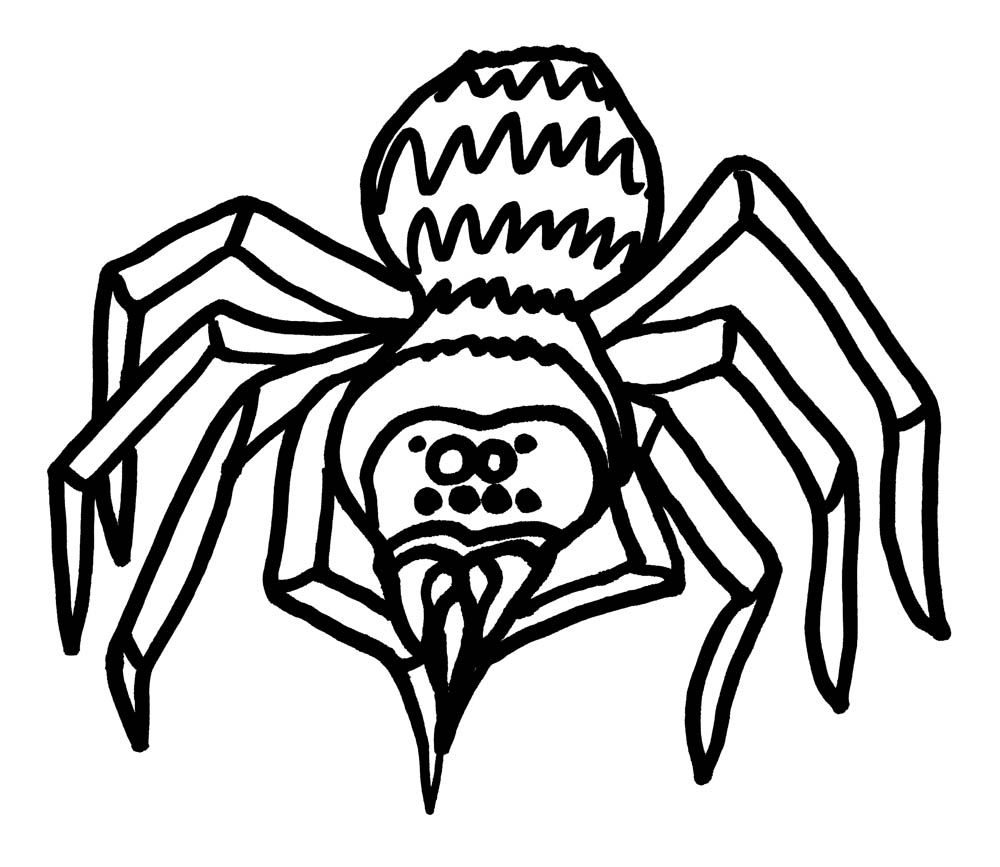 Anyway, here are some brief glimpses of vampirism in nature. Thank you for joining us for Nightmarish Nature and may you avoid getting bitten by any true vampires among us… And I still think spiders take first place in the creepy eating category here, even if they aren't technically vampiric.
Buried Treasure by "Dread Pirate" Jennifer Weigel
This story came to me in a sort of roundabout way from a rather unusual source. So I thought I'd share it with you, dear readership, and see if you can make heads or tails of it. – Jennifer Weigel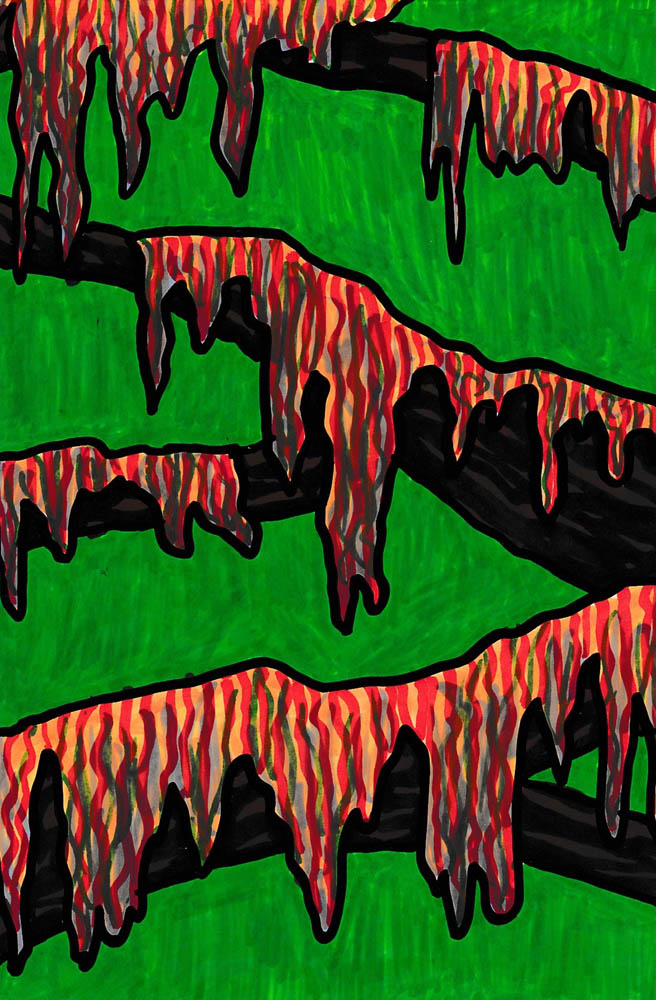 Dread Pirate Rum Tum Tugger could tell this was the right spot.
The site, beneath the sweeping limbs of the Live Oak, Spanish Moss swaying gently in the breeze, was a perfect match to the crude map he had bought off that soothsayer Deuteronomy.
The earth moved easily, as if it had been excavated previously. He dug in with greater fervor with each swipe. The sandy soil gave way to reveal something hard. He scooped and smoothed the remaining detritus from the surface as he uncovered a box.
The carton was simple.
No markings; no ornamentation; no writing. Just a plain cardboard crate, brittle from having been buried for so long but still sturdy. He hoisted it from its burrow.
"Ha HO!" he shouted to the passing breeze, rousing a small cloud of birds that erupted from a nearby thicket. They captured his attention for a moment, but he quickly refocused and returned to his task.
The box was locked but no difference.
Any self-respecting ruffian like himself could pick a lock in seconds. And he did so with panache, as was his way. He pried the lid open and licked his lips.
Inside was the legendary Kernel of Eternal Life, a small sparrow's heart, still beating.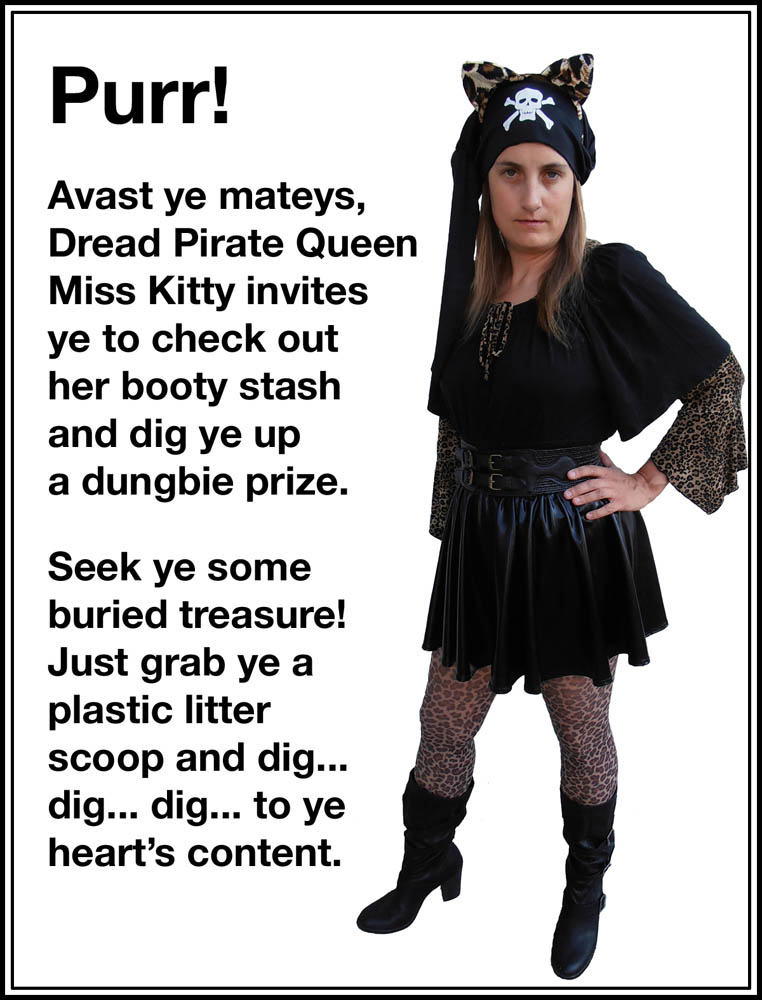 Artwork description: Myself as Dread Pirate Queen Miss Kitty wearing black bell sleeve shirt and black vinyl skirt with strapping leather belt over leopard print shirt and tights, with strapping leather boots, pirate head wrap and leopard cat ears.
Image text reads: Purr! Avast ye mateys, Dread Pirate Queen Miss Kitty invites ye to check out her booty stash and dig ye up a dungbie prize. Seek ye some buried treasure! Just grab ye a plastic litter scoop and dig… dig… dig… to ye heart's content.
---
I created this image for a promotional poster for a performance piece in a charity art show in which I, as Dread Pirate Queen Miss Kitty, hawked a carnival sideshow style sidewalk installation. For a mere $5 donation to the animal shelter the show supported, gallery goers could dig around in a kiddie pool full of litter to find a prize: a cheap plastic trinket from the dollar store. I had some takers, including one kid who seemed to really enjoy the digging and whose parents were all in, saying "You know, you can totally do that at home too."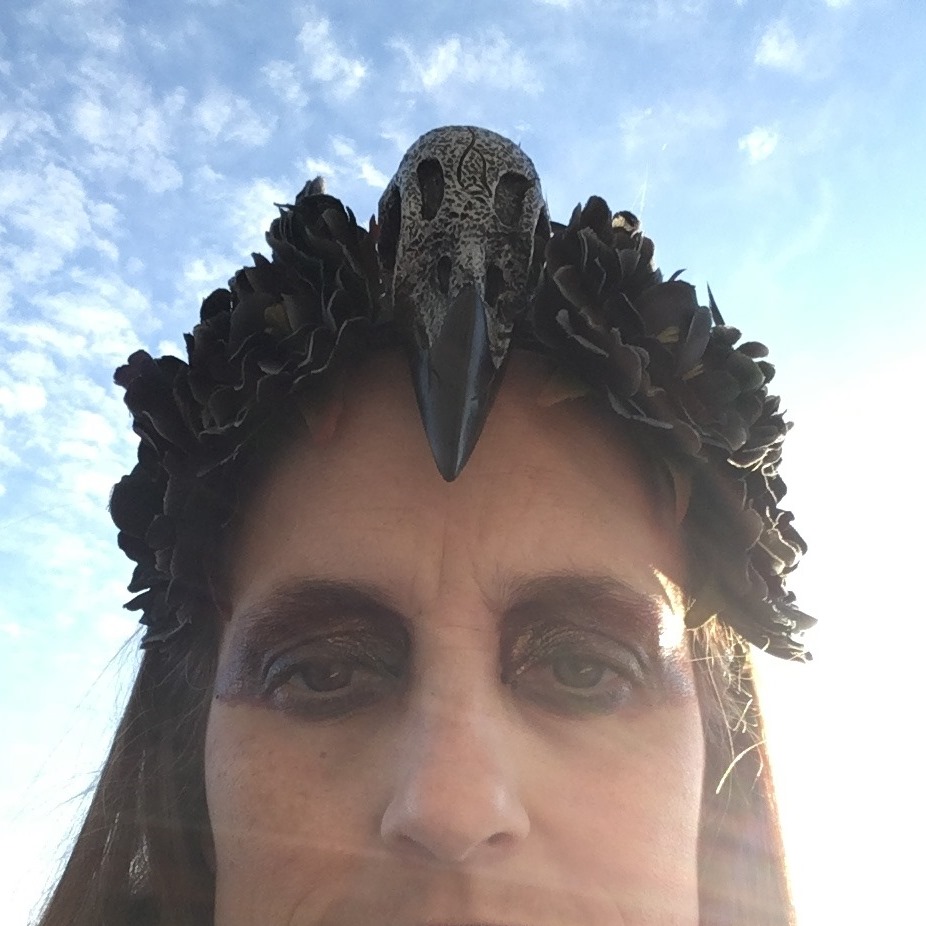 For more cat antics, we invite you to read C-2747's logbook here on Haunted MTL. Feel free to check out more of Jennifer Weigel's work here on Haunted MTL or on her writing, fine art, and conceptual projects websites.
Queen of Everything Mother's Day Wishes
Happy Mother's Day to the Queen of Everything… nothing gets by you.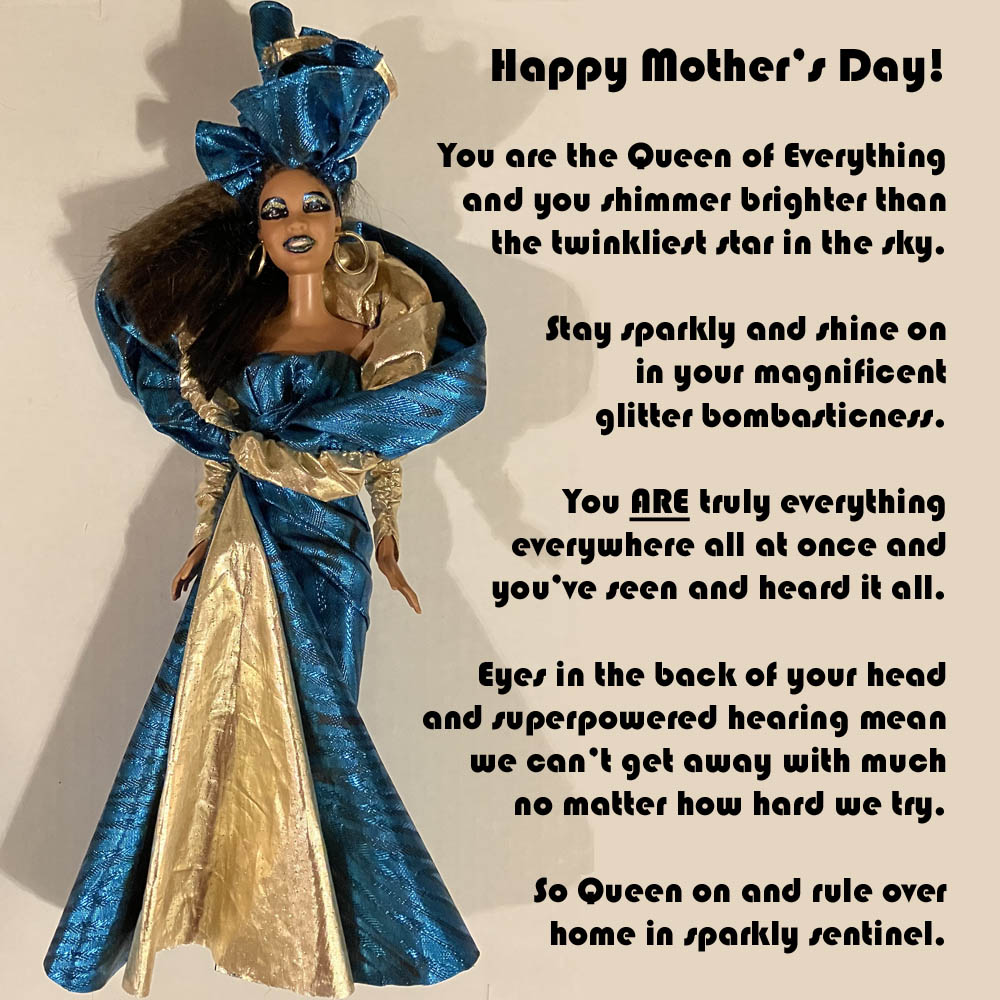 Artwork description: A Happy Mother's Day card featuring a picture of a Nefertiti doll with swooping hair, glitter makeup, and elaborate gold and blue headdress and evening gown.
Image text reads: Happy Mother's Day! You are the Queen of Everything and you shimmer brighter than the twinkliest star in the sky. Stay sparkly and shine on in your magnificent glitter bombasticness. You ARE truly everything everywhere all at once and you've seen and heard it all. Eyes in the back of your head and superpowered hearing mean we can't get away with much no matter how hard we try. So Queen on and rule over home in sparkly sentinel.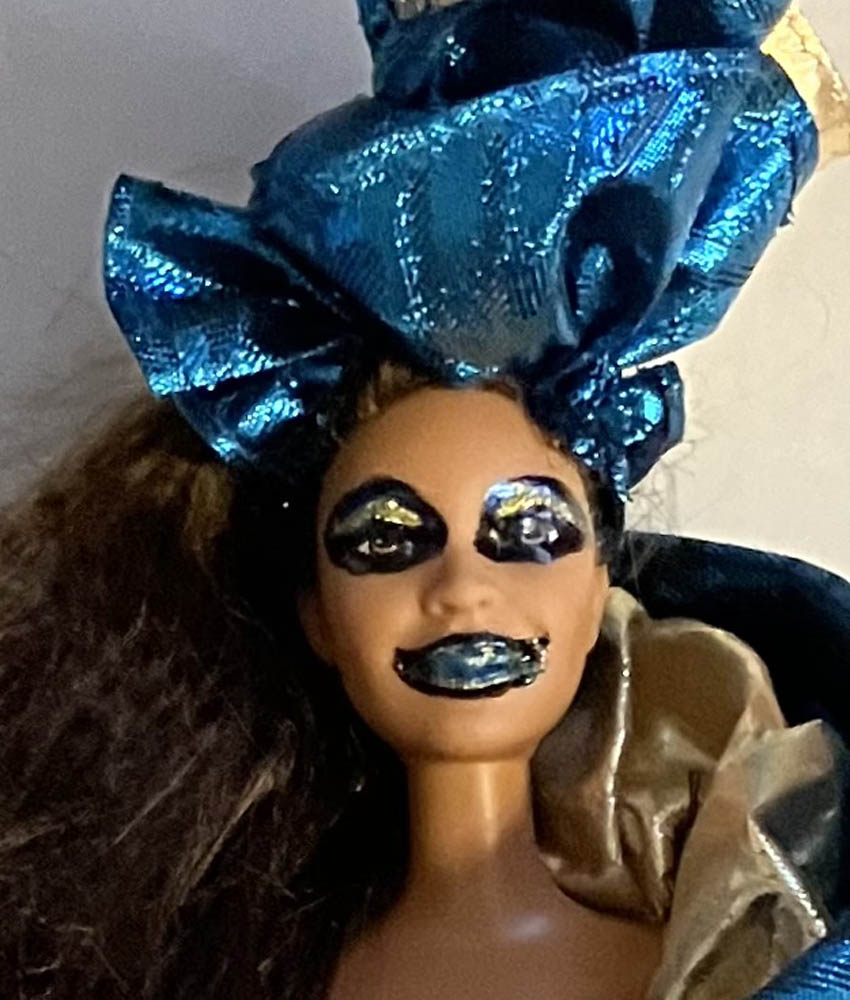 And may this be a testament to why us kids shalt never get you out of bed too early or run amok while you are getting ready to start your day… Because being the Queen of Everything takes planning and preparation…
Feel free to check out this Mummy Dearest Mother's Day card from 2021 here on Haunted MTL.