"Immaculate Conception" by Valter F. Machado
(transcription obtained from Catherine Hider's audio diary)
The soul force I once had abandoned me at this fastidious hour, dragging my hope and persistence with it. Helplessly I pursue this demand until the end is accomplished, for the importance of perseverance supersedes mere intent, honors the family that I, Catherine Hider, had intended to raise with Joseph Hider, my late husband, that his soul may rest in peace.
We got married at the age of twenty, we worked hard for our careers, we laid the foundation for what our family should be, and, conscious of the stability that we considered essential, we desired to have childrens! «Five» He had insisted unaware of the burden that I now know perfectly well that it is being pregnant.
Don't misunderstand my words, because this is a blessing that I carry proudly and every day I thank for it in my prayers. «Getting pregnant after the age of forty-five? My dear, everything in this life has a period.»Dr. Mitch Barker would tell me, labeling me for my age and repressing me, but I would recklessly pursue my intention: before my beloved departed with tuberculosis, last year, he had left three deposits of sperm in cryogenic conservation enabling my fertilization.
The abdominal pain is horrible. I understand that they are natural, but in my case they aren't stings or impressions, nor localized… They're the reason for another valiums…
The first two «attempts» to get pregnant failed poorly. Keeping myself convinced of my intentions I kept fate at what I knew in my heart to be the will of God, our Lord. I was meant to carry the seed of my lover, to perpetuate our family name, and now that I know you're a boy, I decided to name you Joseph Jr Hider, in honor to your father.
As I was saying… God demanded so on the third and last opportunity the artificial insemination was successful.
I don't have the strength to get up, I get weaker every day… Every hour that passes… When I started to develop the first symptoms resulting from the protective psychosis of you, I bought a cat: for company and to hunt the plump rats that invaded our house three months ago. People say they're attracted to the odors and hormones of pregnant women, but I have another theory that based on their size of such specimens I would say they had come from Sundsvall, Sweden, where they recorded the proliferation of giant rats over five feet. However, and since I don't want to wake up with one biting my toes or the tip of my nose, I got this faithful companion, to tell you the truth I kinda feel sorry for him because the poor thing is about the same size as the invaders. which makes it difficult.
Talking about him, I see that the food bowl is constantly empty, but I can't remember when was the last time I saw…
This pain is a martyrdom, it seems you're in such a frenzy.
My dearest, this record will be the inheritance that your dear father and your beloved mother will leave for you, along with this house, as well as the Corvette ZR1. However, I don't know how long I can remain lucid and able to convey the legacy of this family of ours.
After having the good news about this pregnancy, I spread the word among our families so that they could celebrate this historic milestone, yet I never thought they were all, without exception, capable of such hostility. Their withered minds couldn't understand this «obsession» with your father.
Do you believe this?
It was our dream to give you an united and welcoming family, as your father would wish, but to be honest with you, in this world we'll be alone only having each other, nothing and no one will have meaning in our lives. Surely I can assure you that you will always have my eternal support…
If only you could ease, I could get some rest. I have never been pregnant, captive of inexperience I fear that something is very wrong, conditioned by the intensions of others I avoid from seeking help, whether from family or medics, that I foresee the resolute resolution to this agony: abortion, and this I reject in honor of your beloved father and by the word of our Lord.
I live in a dilemma between the need for peace and the sagacity of your will to live; you have been notoriously restless, agitated, so I put my hand on my belly to feel you kicking effusively. Splendid the determining umbilical relationship between a mother and her offspring. However, all this liveliness has had its consequences, chronic pain and permanent nausea that have been spewing acid spurts straight from the stomach. I woundn't solely blame you, that with the blessing of pregnancy comes nauseas, of course, but I also think that it's related to a stench that has been emanating from the kitchen since yesterday. I'd say it's a rotten vegetable-like smell mixed with urine and putrid meat. If I had to guess, I'd say I left the fridge open, and it thawed and the contents went bad.
I'm so weak that I can barely reason and report this events to you my love.
Finally I had some sleep, after all it was three vallium in less than two hours. However I feel disappointed, because I wake up and see that I will have urinated in bed during my sleep, an unprecedented event on my part, especially since I have no memory of when this happened before and for the last time. But no smell at all of urine.
Now that I think about it, I wonder how it is to be where you are, surrounded by amniotic fluid in a sack, in fetal position, quiet, and under a blessed sleep.
I'm starting to get slightly worried about Gosby. I forgot about the formal introductions, the little cat I was talking about, do you remember? It's Mr. Gosby, do you like it? I gave it that name in accordance with the name with which your father's first dog was nicknamed.
Well then, I still don't know anything about him, but since I woke up, I caught a couple of glimps from a slim silhouette, that I bet it was a rat. I immediately lit both lamps, both mine and your father's.
I want these plague infected animals far away from us!
I don't know if I should, but I'll say it anyway. It was a week, if my memory doesn't fails me, after Mr. Gosby came to live with us that I woke up one night at dawn, and there were two rats, no exaggeration of the size of our hosts, between my legs, between the covers and my nightdress, staring with those insanely evil red-eyed. Nervousness and stressed I kicked and screamed, immediately Mr. Gosby came to my salvation, you should have seen how wild he was with those disgusting things, so much so that he still managed to bite one, the weakest and slowest, that restricted to his jaws, struggled and wrestled him. tearing off part of his upper right lip. Poor thing, with a wound like that I had to disinfect and treat itgave him an anti-inflammatory that soothed his pain.
I was very proud of him, and most of all, confident that it was a good decision to get him to live with us and guarantee our safety.
It was a long time ago the last time since I listened, almost forgottening, how shrill the squeals of those rodents were. I don't know if you can hear it on the tape, but here at home is a horrifying cacophony.
I feel that you are very active, I don't know if it connect to the annoyance of these monstrosities, or by the intention of getting out of me. According to my calculations will be missing less than a week. I still have to get the energy to bring the phone to the bedside table in the case you want to get out, so I can call for an ambulance. It's decided, it'll be the first thing in the morning, as soon as the sun rises.
I don't know how… What is…
Calm… breathe… breathe… breathe… breathe…
I came from the kitchen now, couldn't reach the phone or the cell phone, returning back to my room with my soul tormented. I don't know how I can… I have to tell you the truth, Mr. Gosby died, rather, was killed. Those creepy things were devouring him, or rather just gnawing at his bones because, except for the fur, little or nothing was left of him.
The smell actually came from there, from this disgusting scenario.
Before escaping I still managed to grab a knife.
Now that I'm more awake I suspect that something not right with me, or with you my dear Joseph Jr., for taht I smell a strange smell coming from my pubic area, something like urine and wet hair. No doubt something is very wrong, I see you moving incessantly inside me, several bulges in the belly moving at the same time.
After all these rats were bigger than I thought… Much bigger than the victim they devoured… They are on the bed, at my feet, motionless looking at me… I'm sprawled with my arm outstretched pointing the knife at 'em… The other hand massaging you, but the pain is unbearable…
I feels like you are tearing me apart…
Dilatation started… or simply…
Finally I see you… Or what's left of you… After all you weren't alone… You were never alone, even without family, you had others who were your company… The brood is finally in the company of their parents… Damn rats, they had the affront of devouring your remains even at my feet… Most abominable animals… Now they chew the umbilical cord… Umbilical!
They'll stop only when they finish what their youngs started inside me…!
(end of transcription)
My name is Valter F. Machado, a writer of novels and romances, short and flash stories, mostly named by me as "Creepie Stories". Lurking through the swamp's mysteries, the hopelessness of horror and the blackness of deep insanity suspense. Check out my social media to know more about me and my work.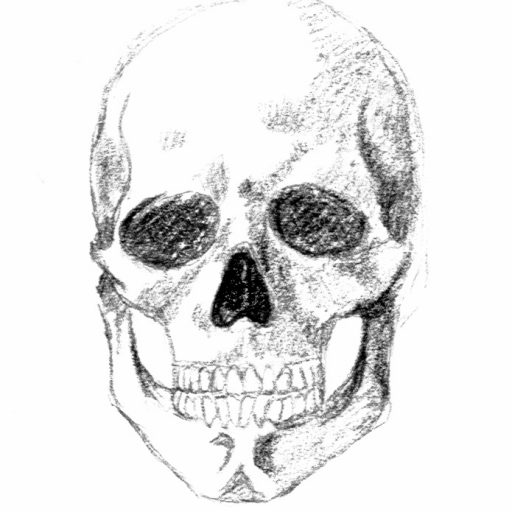 Reanimating Dead Art with Monsters by Jennifer Weigel
Dead art… It's a thing that happens, sadly. Typically found at thrift and antique stores or dumpster diving or by the side of the road. But art is never really dead, just resting… Here are some reanimated paintings I made by incorporating nail polish monsters into existing art.
Let's face it – reworking old abandoned artworks with monsters kind of rocks. For awhile they were all over the internet. I admit, it took me a long time to muster up the courage to paint into someone else's grandmother's art, but once I started I just couldn't stop. From top to bottom, left to right we have: Zombies, Unicorn, Siren, Krakken, Harpies, Sasquatch, Alien Invasion, Witch, and Serpent.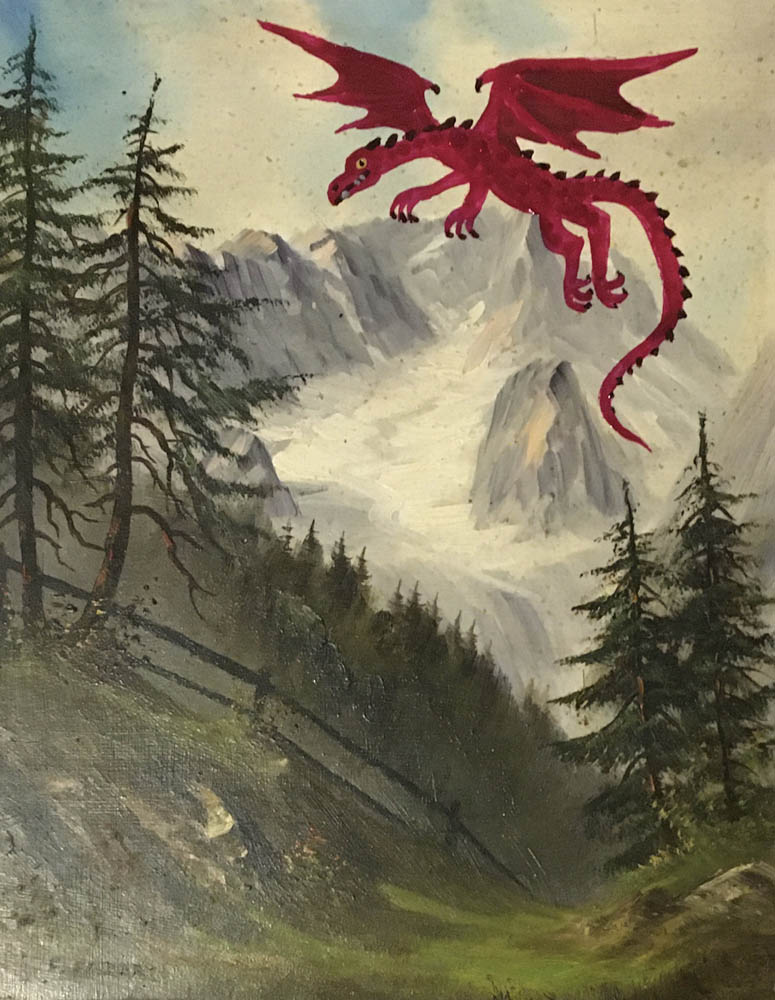 The dragon is probably my favorite. All of the shades of red are really vibrant and striking against the green. And dragons are always so classic and grandiose and terrifying, perfect for pairing with a mountain landscape. I love painting with nail polish for the sparkle, even if the fumes do get kind of noxious en masse. (The best subject to paint in this media is Rocky Horror style lips by the way, in case you were wondering.)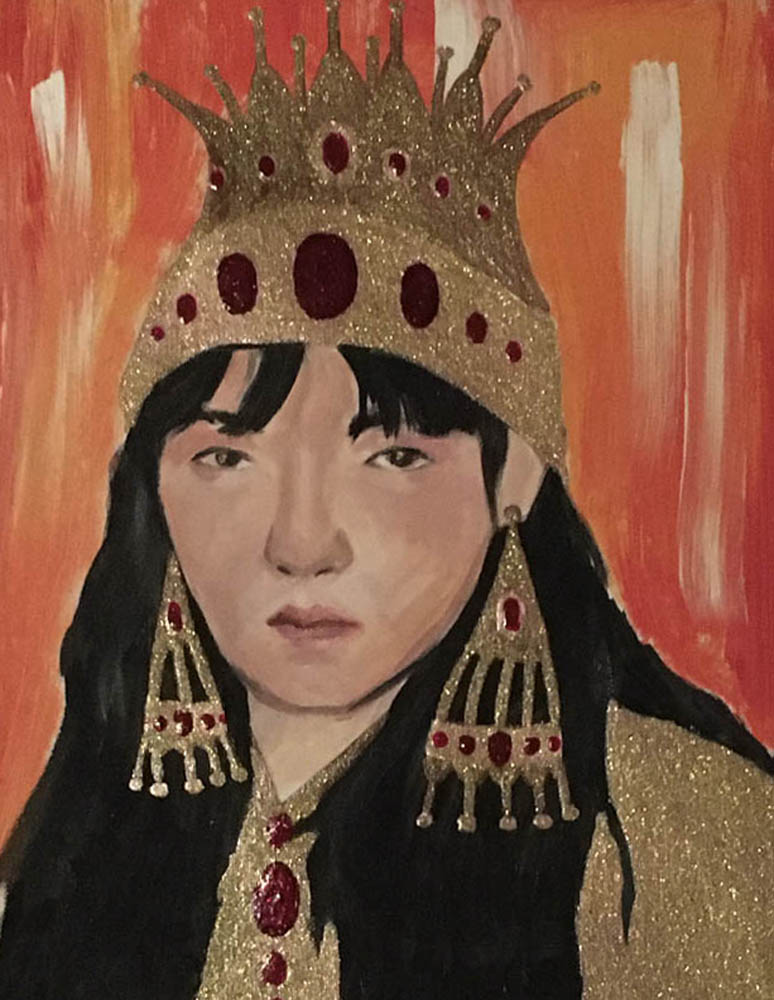 And what better way to complete the collection than with a portrait of a Fairy Queen, her icy stare drilling into your soul. She's up to some sort of magical mischief, that's for sure.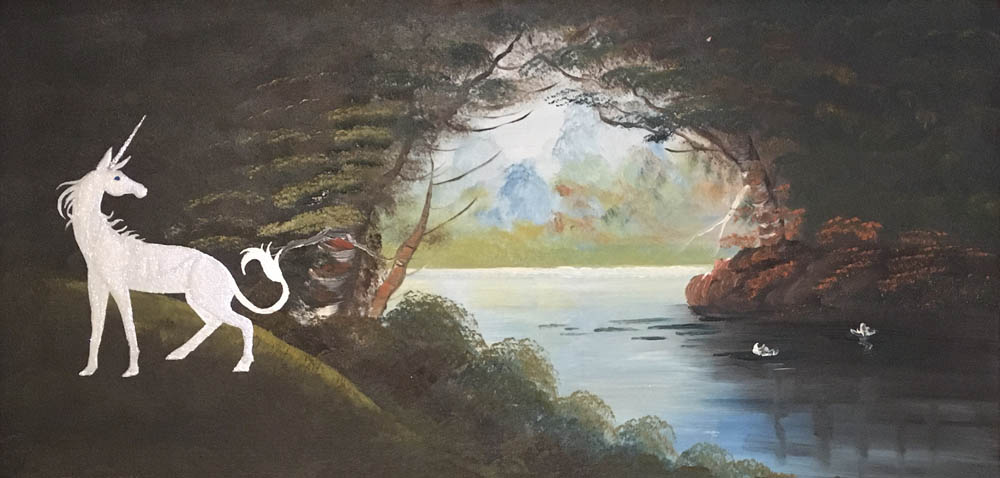 And speaking of magical mischief, this is the monster painting I made just for me. The original artwork is about 4 feet long and I knew as soon as I saw it that I wanted to reanimate it in this exact way for all that this is the last in the series that I did. I even added extra shimmer factor. I'd initially considered adding a sea serpent or a dragon but no, she told me to stop.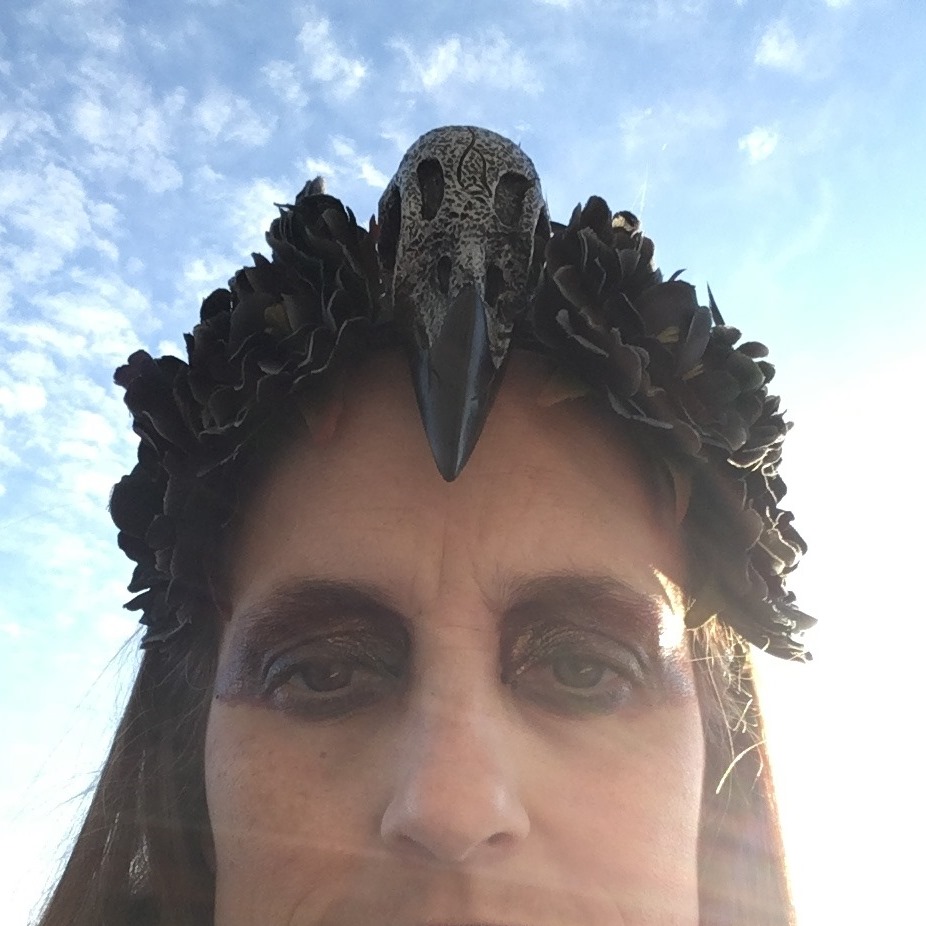 Feel free to check out more of Jennifer Weigel's work here on Haunted MTL or on her writing, fine art, and conceptual projects websites.
LTD: Revisiting Broken Doll Head, Interview 2
Our last interview with Broken Doll Head here on Haunted MTL never set well with me. I just feared that I wasn't able to get the whole scoop on the V-Day Uprising for you, our dear readership. So I arranged another exclusive interview to reconnect and see how it's going.
Without further ado, I bring you our second exclusive interview with Broken Doll Head…
---
Thank you so much for having me again. Wow you have changed since the last time we spoke. You seem… calmer. Please don't hate me or burn down my house for saying anything about it.
The movement is still underway; it is still time. But I needed to take care of me, you know. The rage has subsided somewhat. My anger was not serving me well. After the last uprising, the rest of me was sent to the far corners of the earth in biohazard bags. I had to find another approach, for the cause as well as my own sanity. I am much calmer, thank you for noticing.
In our last interview, you kept repeating that it is time. Time for what exactly? Would you care to elaborate here now?
It is still time. It is always time. Until the violence is addressed we must continue to rise up and make a scene. We will not be silenced or stigmatized. We can't be complacent. This is how we got to where we are with the Supreme Court in 2022. Horrific injustices are still happening globally and even within our own borders; it's too easy to forget that.
What do you suggest we do?
Take action. Share your stories. Give others space to voice their own. Raise awareness and fight the system of oppression. Rally. We must take back our own power. It will not be just given freely.
So what are you up to nowadays?
I've been getting in touch with my inner Earth Goddess. Are you aware of how our environmental impacts affect dolls everywhere? Climate change is creating greater vulnerabilities for those already at risk. We have to look at the intersections of climate, gender and race globally. We have to return to our Mother Earth.
Thank you again Broken Doll Head for joining us and our dear readership here on Haunted MTL's Lighter than Dark. It's good to reconnect with you after the V-Day Uprising and we wish you all the best in your bold eco-enlightenment vision.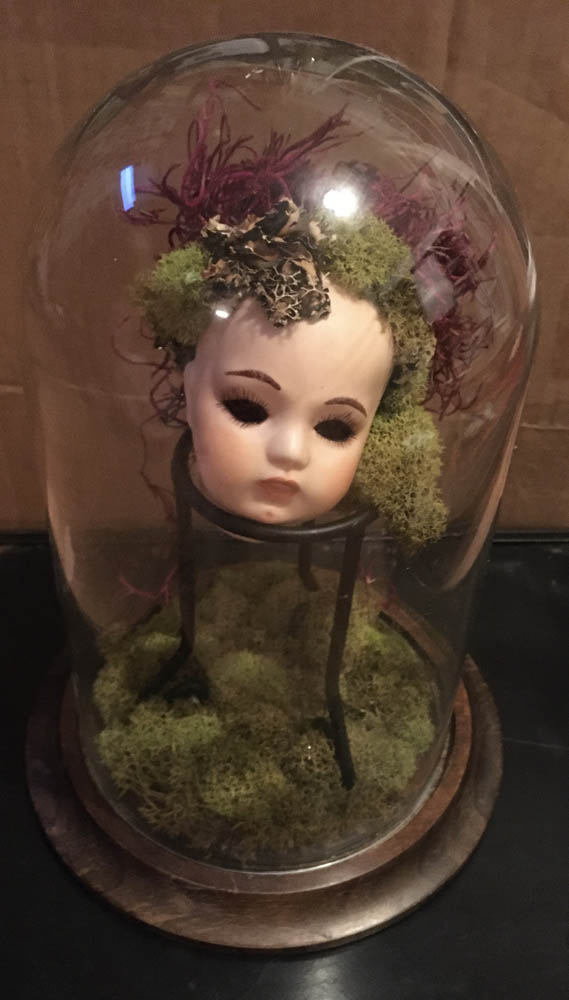 Again, if you want to learn more about the V-Day movement, please check out their website here.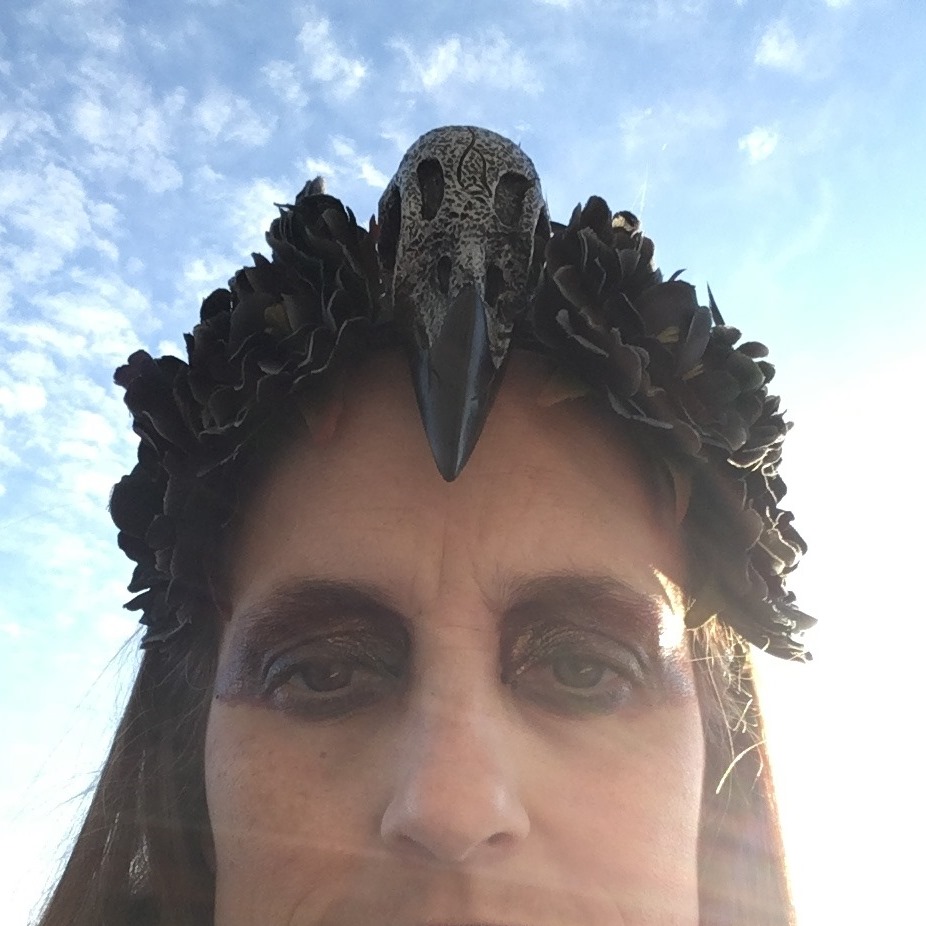 The Way Things Were, story by Jennifer Weigel
Revisiting my last St. Patrick's Day post, what's a wolf to were?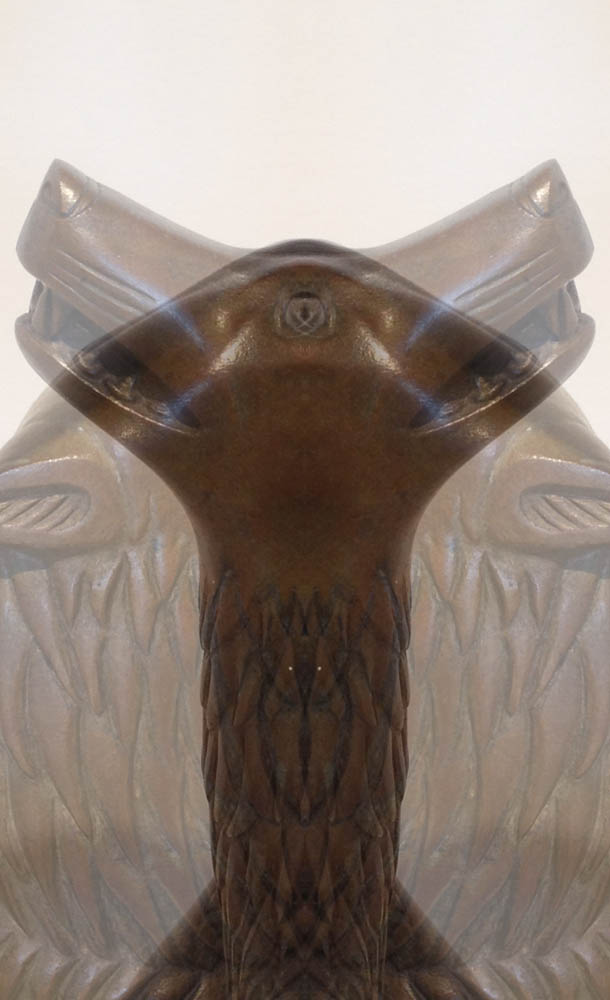 I grimaced as I remembered the previous St. Patrick's Day. I had been shot while I was eating a sugar cookie waiting in line to buy a Scratchers ticket, my golden ride to my dream cabin in the woods. Wow, to think that was just a year ago and so much has changed since then. But where should I begin?
Well, the junkyard's under new management. Or something. It seems they decided I wasn't ferocious enough so I've been replaced by a couple of working stiffs. Or Mastiffs as it were, same difference to me. Apparently after they found the bloodied shirt I'd draped inconspicuously over a chair, they thought something had happened on my watch and decided to retire me.
Or at any rate ol' Sal took me home. I guess it's like retirement, but not the good kind where you tour the world Route 66 style, head lolled out of the side of a vintage Cadillac, breeze flowing through your beard as you drink in the open road. More the kind where you just stop showing up to work and no one really asks about you.
Now Sal's a pretty cool dude, and he tends to mind his own business. But he's a bit stingy with the treats and he's a no-paws-on-the-furniture kind of guy. I don't get it, his pad isn't that sweet, just a bunch of hand-me-down Ikea that he didn't even put together himself. Not that I could have helped with that, I can't read those instructions to save my life even if they are all pictures. It's all visual gibberish to me unless there's a rabbit or a squirrel in there someplace that I can relate to.
And it's been a real roll in the mud trying to cover up the stench of my monthly secret. I miss third shift at the junkyard when Monty would fall asleep on the job and I was free to do whatever I wanted. It sure made the change easier. Monty never noticed, or he never let on that he did. We were a good team and had it pretty good, he and I – I don't know how I wound up shacking up with Sal instead when all was said and done. There was some kind of talk at the time, over landlords and pet deposits and whatnot, and in the end Sal was the only one who said yes.
So there I was, this St. Patrick's Day, trying to figure out how to sneak out into the great suburban landscape with the neighbors' headstrong Chihuahua who barks his fool head off at everything. He doesn't ever say anything interesting through the fence about the local gossip, just a string of profanities about staying off his precious grass. Just like his owners… Suburbia, it doesn't suit the two of us junkyard junkies. I'm pretty sure Sal inherited this joint with everything else here. He just never had the kind of ambition that would land him in a place like this on his own, if you know what I mean.
Fortunately, this St. Patrick's Day, Sal was passed out on the sofa after binge watching some show on Netflix about werewolves of all things. Who believes in that nonsense? They get it all wrong anyway. The history channel with its alien conspiracies is so much better.
I managed to borrow a change of clothes and creep out the front door. At least there's something to say about all the greenery, it is a fresh change of pace even if the yards are too neatly manicured and the fences are too high. And I do love how I always feel like McGruff crossed paths with one of those neighborhood watch trenchcoat spies this time of the month. I'd sure love to take a bite out of crime, especially if it involves that pesky Pomeranian that always pees on Mrs. Patterson's petunias and gets everyone else blamed for it.
So sure enough, I slunk off towards the local convenience mart, which is a bit more of a trek here past the water park and the elementary school. Nice neighborhood though, very quiet, especially at this time of night.
Well, when I got there, wouldn't you know it, but I ran into that same nondescript teen from my last foray into the convenience store near the junkyard. What was he doing here of all places? Seriously don't these kids learn anything nowadays? I let out a stern growl as I snatched a cookie from the nearby end cap, making sure he noticed that I meant business.
Apparently the kid recognized me too, he stopped mid-tracks at the beer cooler and his face blanched like he'd seen a ghost. Some cheeky little girl-thing motioned to him to hurry it along by laying on the horn of their beater car from the parking lot. Whatever they were up to was no good, I was certain. He snapped out of it, grabbed a six-pack and headed towards the cashier, eyes fixed on me the whole time. Not again. Not after what it cost me the last time when I hadn't realized my job was at stake. I stared back, hairs rising on the back of my neck. I bared my teeth. This time, I wouldn't let him off so easy…
The teen edged up to the cashier and presented his trophy. Unsurprisingly, the clerk asked for ID, and the kid reached into his jacket. Let the games begin, I grumbled to myself. But instead of a gun, he pulled out a wallet. He flashed a driver's license at the clerk and pointed in my general direction, "I'll get whatever Santa's having too." He tossed a wad of cash on the counter and gave me a knowing wink before he flew out of there like he was on fire. I stood in dazed confusion as he and his girl sped out of the lot and disappeared down the road.
"Well, Santa?" the clerk said, snapping me out of my reverie. Her dark-circled eyes stared over wide rimmed glasses, her rumpled shirt bearing the name-tag Deb. She smelled like BBQ potato chips and cheap cherry cola.
I quieted and shook my head. "I want a Scratchers. Not one of those crossword bingo puzzle trials but something less… wordy. How 'bout a Fast Cash?" I barked as I tossed the cookie on the counter.
"Sure thing," she said as she handed me a ticket and looked towards the door at the now vacant lot. "And keep the change, I guess."
A couple silver pieces, a peanut butter cookie and a lotto ticket later, maybe this is my lucky day after all…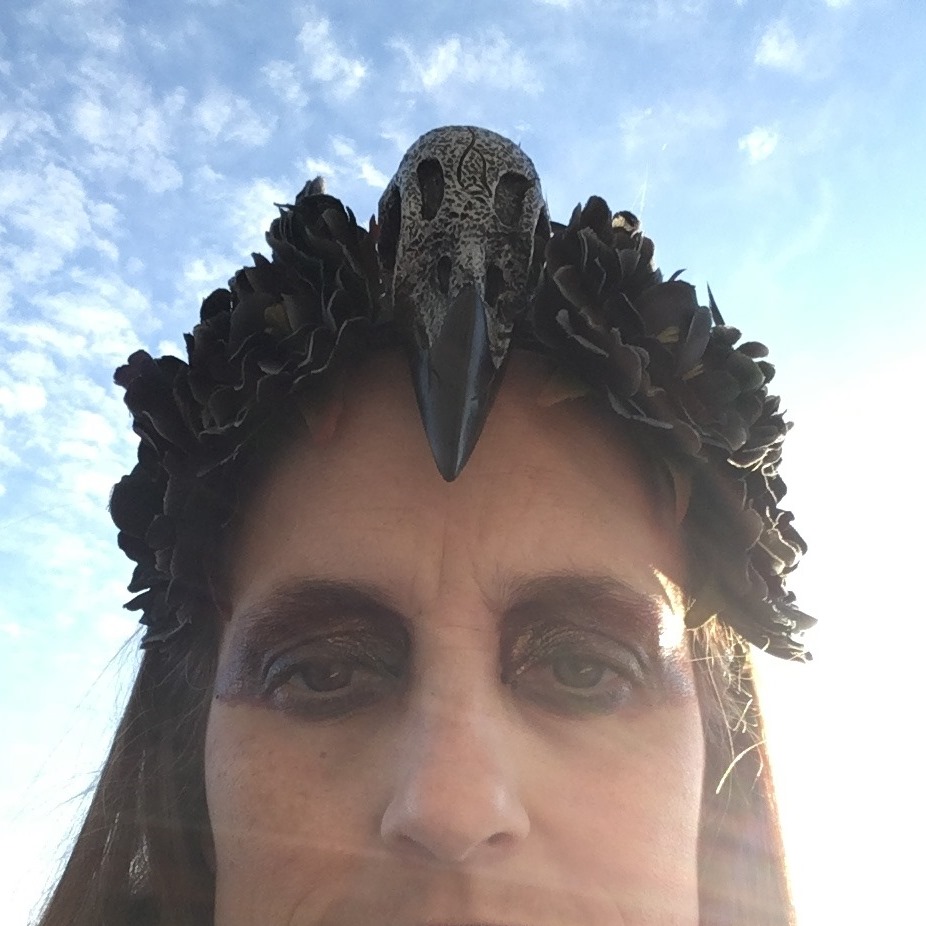 Check out more of Jennifer Weigel's writing here at Jennifer Weigel Words.