"Immaculate Conception" by Valter F. Machado
(transcription obtained from Catherine Hider's audio diary)
The soul force I once had abandoned me at this fastidious hour, dragging my hope and persistence with it. Helplessly I pursue this demand until the end is accomplished, for the importance of perseverance supersedes mere intent, honors the family that I, Catherine Hider, had intended to raise with Joseph Hider, my late husband, that his soul may rest in peace.
We got married at the age of twenty, we worked hard for our careers, we laid the foundation for what our family should be, and, conscious of the stability that we considered essential, we desired to have childrens! «Five» He had insisted unaware of the burden that I now know perfectly well that it is being pregnant.
Don't misunderstand my words, because this is a blessing that I carry proudly and every day I thank for it in my prayers. «Getting pregnant after the age of forty-five? My dear, everything in this life has a period.»Dr. Mitch Barker would tell me, labeling me for my age and repressing me, but I would recklessly pursue my intention: before my beloved departed with tuberculosis, last year, he had left three deposits of sperm in cryogenic conservation enabling my fertilization.
The abdominal pain is horrible. I understand that they are natural, but in my case they aren't stings or impressions, nor localized… They're the reason for another valiums…
The first two «attempts» to get pregnant failed poorly. Keeping myself convinced of my intentions I kept fate at what I knew in my heart to be the will of God, our Lord. I was meant to carry the seed of my lover, to perpetuate our family name, and now that I know you're a boy, I decided to name you Joseph Jr Hider, in honor to your father.
As I was saying… God demanded so on the third and last opportunity the artificial insemination was successful.
I don't have the strength to get up, I get weaker every day… Every hour that passes… When I started to develop the first symptoms resulting from the protective psychosis of you, I bought a cat: for company and to hunt the plump rats that invaded our house three months ago. People say they're attracted to the odors and hormones of pregnant women, but I have another theory that based on their size of such specimens I would say they had come from Sundsvall, Sweden, where they recorded the proliferation of giant rats over five feet. However, and since I don't want to wake up with one biting my toes or the tip of my nose, I got this faithful companion, to tell you the truth I kinda feel sorry for him because the poor thing is about the same size as the invaders. which makes it difficult.
Talking about him, I see that the food bowl is constantly empty, but I can't remember when was the last time I saw…
This pain is a martyrdom, it seems you're in such a frenzy.
My dearest, this record will be the inheritance that your dear father and your beloved mother will leave for you, along with this house, as well as the Corvette ZR1. However, I don't know how long I can remain lucid and able to convey the legacy of this family of ours.
After having the good news about this pregnancy, I spread the word among our families so that they could celebrate this historic milestone, yet I never thought they were all, without exception, capable of such hostility. Their withered minds couldn't understand this «obsession» with your father.
Do you believe this?
It was our dream to give you an united and welcoming family, as your father would wish, but to be honest with you, in this world we'll be alone only having each other, nothing and no one will have meaning in our lives. Surely I can assure you that you will always have my eternal support…
If only you could ease, I could get some rest. I have never been pregnant, captive of inexperience I fear that something is very wrong, conditioned by the intensions of others I avoid from seeking help, whether from family or medics, that I foresee the resolute resolution to this agony: abortion, and this I reject in honor of your beloved father and by the word of our Lord.
I live in a dilemma between the need for peace and the sagacity of your will to live; you have been notoriously restless, agitated, so I put my hand on my belly to feel you kicking effusively. Splendid the determining umbilical relationship between a mother and her offspring. However, all this liveliness has had its consequences, chronic pain and permanent nausea that have been spewing acid spurts straight from the stomach. I woundn't solely blame you, that with the blessing of pregnancy comes nauseas, of course, but I also think that it's related to a stench that has been emanating from the kitchen since yesterday. I'd say it's a rotten vegetable-like smell mixed with urine and putrid meat. If I had to guess, I'd say I left the fridge open, and it thawed and the contents went bad.
I'm so weak that I can barely reason and report this events to you my love.
Finally I had some sleep, after all it was three vallium in less than two hours. However I feel disappointed, because I wake up and see that I will have urinated in bed during my sleep, an unprecedented event on my part, especially since I have no memory of when this happened before and for the last time. But no smell at all of urine.
Now that I think about it, I wonder how it is to be where you are, surrounded by amniotic fluid in a sack, in fetal position, quiet, and under a blessed sleep.
I'm starting to get slightly worried about Gosby. I forgot about the formal introductions, the little cat I was talking about, do you remember? It's Mr. Gosby, do you like it? I gave it that name in accordance with the name with which your father's first dog was nicknamed.
Well then, I still don't know anything about him, but since I woke up, I caught a couple of glimps from a slim silhouette, that I bet it was a rat. I immediately lit both lamps, both mine and your father's.
I want these plague infected animals far away from us!
I don't know if I should, but I'll say it anyway. It was a week, if my memory doesn't fails me, after Mr. Gosby came to live with us that I woke up one night at dawn, and there were two rats, no exaggeration of the size of our hosts, between my legs, between the covers and my nightdress, staring with those insanely evil red-eyed. Nervousness and stressed I kicked and screamed, immediately Mr. Gosby came to my salvation, you should have seen how wild he was with those disgusting things, so much so that he still managed to bite one, the weakest and slowest, that restricted to his jaws, struggled and wrestled him. tearing off part of his upper right lip. Poor thing, with a wound like that I had to disinfect and treat itgave him an anti-inflammatory that soothed his pain.
I was very proud of him, and most of all, confident that it was a good decision to get him to live with us and guarantee our safety.
It was a long time ago the last time since I listened, almost forgottening, how shrill the squeals of those rodents were. I don't know if you can hear it on the tape, but here at home is a horrifying cacophony.
I feel that you are very active, I don't know if it connect to the annoyance of these monstrosities, or by the intention of getting out of me. According to my calculations will be missing less than a week. I still have to get the energy to bring the phone to the bedside table in the case you want to get out, so I can call for an ambulance. It's decided, it'll be the first thing in the morning, as soon as the sun rises.
I don't know how… What is…
Calm… breathe… breathe… breathe… breathe…
I came from the kitchen now, couldn't reach the phone or the cell phone, returning back to my room with my soul tormented. I don't know how I can… I have to tell you the truth, Mr. Gosby died, rather, was killed. Those creepy things were devouring him, or rather just gnawing at his bones because, except for the fur, little or nothing was left of him.
The smell actually came from there, from this disgusting scenario.
Before escaping I still managed to grab a knife.
Now that I'm more awake I suspect that something not right with me, or with you my dear Joseph Jr., for taht I smell a strange smell coming from my pubic area, something like urine and wet hair. No doubt something is very wrong, I see you moving incessantly inside me, several bulges in the belly moving at the same time.
After all these rats were bigger than I thought… Much bigger than the victim they devoured… They are on the bed, at my feet, motionless looking at me… I'm sprawled with my arm outstretched pointing the knife at 'em… The other hand massaging you, but the pain is unbearable…
I feels like you are tearing me apart…
Dilatation started… or simply…
Finally I see you… Or what's left of you… After all you weren't alone… You were never alone, even without family, you had others who were your company… The brood is finally in the company of their parents… Damn rats, they had the affront of devouring your remains even at my feet… Most abominable animals… Now they chew the umbilical cord… Umbilical!
They'll stop only when they finish what their youngs started inside me…!
(end of transcription)
My name is Valter F. Machado, a writer of novels and romances, short and flash stories, mostly named by me as "Creepie Stories". Lurking through the swamp's mysteries, the hopelessness of horror and the blackness of deep insanity suspense. Check out my social media to know more about me and my work.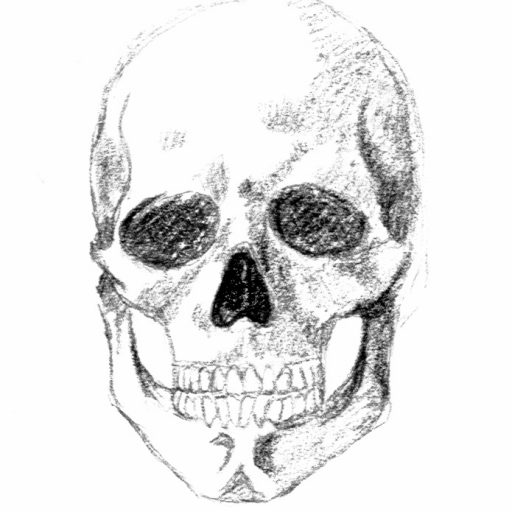 Revisitations: The Devil Went Down to Georgia
So I've been working on more painting into found art (as seen here before) and I thought I'd share a newer one, based on the song The Devil Went Down to Georgia by Charlie Daniels. But first let's make like my She Wolf post enjoy a couple variations of the song, shall we?
First we have Charlie Daniels, the writer of the song which was inspired by the beautiful poem by Stephen Vincent Benet titled The Mountain Whipporwill. You can read the poem on Your Daily Poem here.
Then we have to watch my favorite version, the animated music video by Primus. I know there are claymation-haters out there who find the effect bit too "uncanny valley" but how can you not just love those chickens?
Anyway, without further ado, here is my painting, incorporated into a found still life, original signed L. Harady.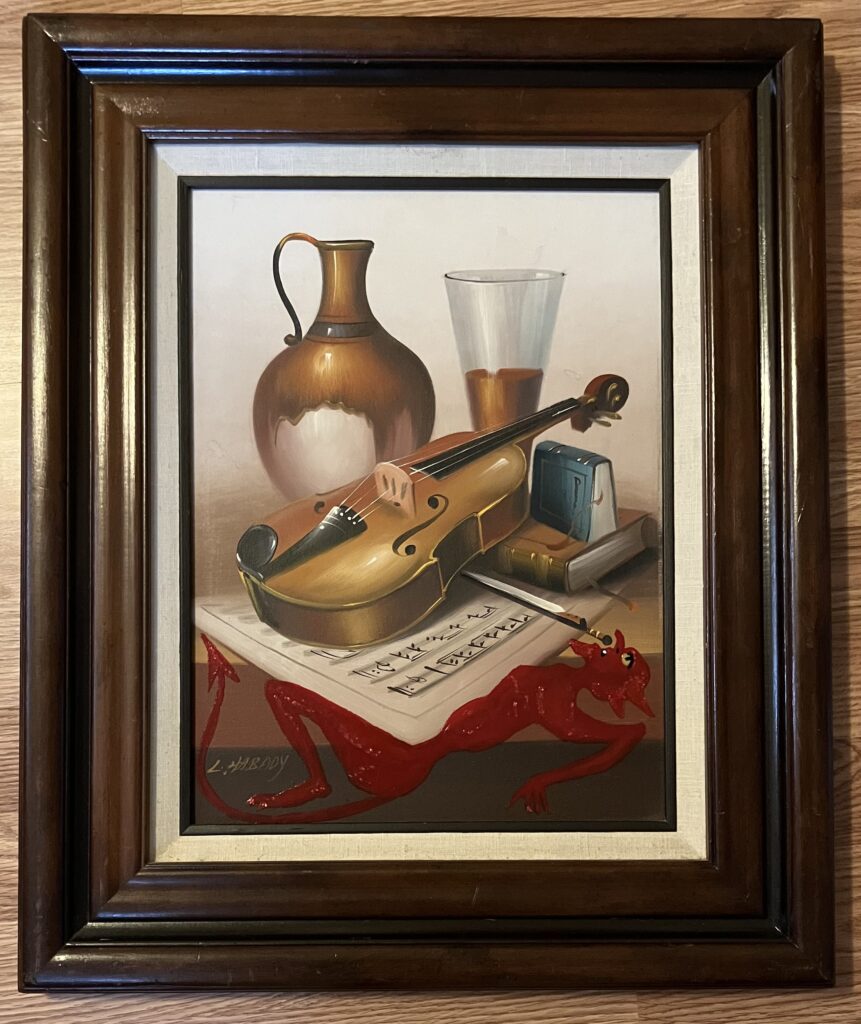 Here The Devil is defeated, crushed along the lower edge of the artwork beneath the fiddle and lamenting his loss. The bow jabs into his sneering nose as if to add insult to injury, but his eyes still glow, alight with the prospect of coming back for another round. (They actually do glow, I have acquired some blacklight reactive nail polish to use in these pieces now.) I suppose I may go to Hell for this portrayal (or for defiling yet another painting) but alas, such is the price of art sometimes. I guess I'll add it to the list…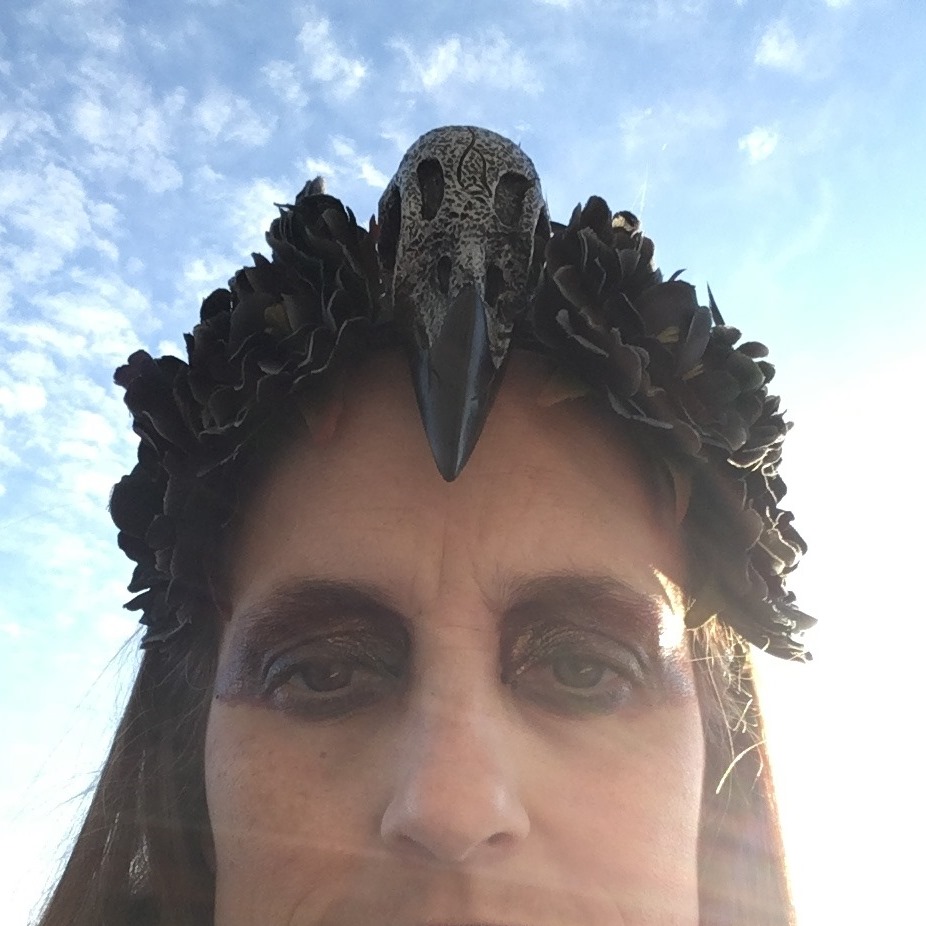 Feel free to check out more of Jennifer Weigel's work here on Haunted MTL or on her writing, fine art, and conceptual projects websites.
Cravings Part 2, story by Jennifer Weigel
If you missed the beginning of this pregnancy horror story by Jennifer Weigel, you can catch Part 1 here.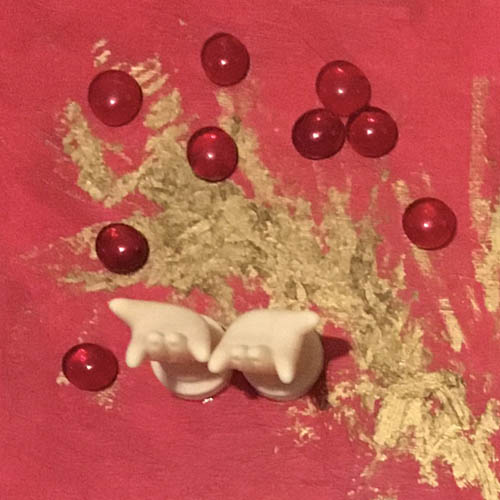 Jayden's stomach turned. Who or what was this creature standing before him, and what had it done with his wife? Claire proceeded to eat more than half of the jar of eggs in a fury of consumption; Jayden finally retreated to the office alone unable to watch any more. He heard a sloshing sound as she finished the jar and proceeded to drink the brine before retreating to the bedroom and crashing into their bed, presumably to pass out. Again. Later that night, he crept in to find her sleeping, clammy and sweaty, nervously twitching. Her body made the most abnormal guttural sounds as her internal systems groaned and sputtered. It was definitely getting worse. Jayden resolved to call Dr. Randolph the following morning; this had gone on for far too long already.
The next day, Claire awoke with a start from another bad dream that she couldn't remember. Crying uncontrollably, she clutched her swollen belly, still ripe with child, and hurriedly exclaimed, "Blood sausage! I must have blood sausage!"
Jayden woke from his curled-up safe haven beside her and muttered, "Wha… What is that? I've never even heard of such a thing."
"Go!" she snapped. "I'm starving. Go now! Return with blood sausage."
Jayden staggered over to the dresser, threw on some clothes, shuffled into his waiting shoes, and gathered himself to duck out the door in the well-practiced gesture he'd become so accustomed to. "I'll stop on my way home from work, I guess," he mused, making his own plans. Claire seemed to settle down a little as she woke further, but it was little consolation.
"Thank you Sweetcheeks," she said. "You're the best." She blew him a kiss.
While at work, Jayden managed to secure an appointment with Dr. Beth Randolph, Claire's primary physician since before he had known her, for later that day. He took off early and rushed home to gather his unwilling wife. She was going in, whether she liked it or not.
He opened the front door and peered inside. The house was dark and quiet, as he'd come to expect. He crept in and stole upstairs to the bedroom to rouse Claire from sleep. He'd tell her where they were going once he got her in the car, no sense in making this even more difficult than it already was. Unsurprisingly, there she was, a shadowy form hunched over in the bed, her back to him with the covers pulled up over her eyes. He peeled away the comforter and blanket to reveal a tangled mess of white knitted yarn; Claire was nowhere to be found. He looked around, trying to focus on the darkness of the bedroom that enveloped him. That unsettling feeling had returned, like he'd had at Maresh's shop, sinking into his gut. Claire was here idling, watching, waiting; he could sense her presence sizing him up as if she could read his mind and was on to his plan. But why was her company so disconcerting? This was still their house, their home, their lives intertwined… Jayden felt his trust ebb, spine tingling sensing danger.
"Hey there Sweetcheeks," Claire's voice echoed from the darkness of the closet. "Do you have something for me?" She emerged into the room, her eyes wide, frothing slightly at the edges of her mouth. Tiny bubbles of drool burst forth from her quivering lips and trickled down onto her chin.
"I couldn't find any… blood sausage… whatever that is," Jayden lied through his teeth. He hadn't even gone to the store. Claire should never have expected him back at this hour; apparently she didn't even know what time it was. But that seemingly wasn't a concern. She wasn't herself. Something about her fragile frame, the way she rocked from side to side, reminded him of that crazy old witch doctor Maresh. He finally managed to connect the two; it was as though she were possessed. It was imperative that she saw Dr. Beth Randolph as soon as possible, if for no other reason than to sever ties to that crazy old hag and hopefully start to snap out of it. He simply had to get her to that appointment.
"No blood sausage!" Claire shouted, becoming more and more agitated. "No… blood… sausage!" Her breathing became less regular and her body shivered all over as she hulked towards him. "I am sooo hungry!"
She lunged towards him, stumbling into his arms and collapsing towards his feet laughing maniacally. Jayden reached for her instinctively, to lower her to the ground gently, and felt something sticky and warm envelop his hand. Feeling lightheaded, he glanced down as he fell to the floor beside her. Protruding from his gut was a long silver thread, no something pointedly metal and hard, oozing thick oil sludge all around. Not oil, blood. His blood. Claire continued laughing, her lightning-fast fingers quickly and methodically ripping their way into his tattered shirt and worming around within his wounded frame to pull forth bits of viscera, which she wrung in her hands and smeared up and down her arms and torso. As Jayden passed out, she mouthed each of her fingers in turn, sucking the precious liquid off of them one at a time, before she began to feast on his entrails.
Claire's belly was finally full. The baby developing within squirmed and settled, as if finally satiated. She swiped a stray bit of flesh from her bosom, licked it off of her fingertips, and heaved a sigh of relief. Miracle Madame Maresh Meliasma was right; she just needed to get to the root of her cravings.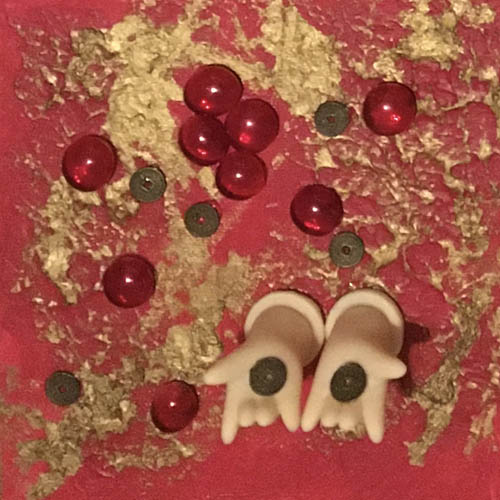 Feel free to check out more of Jennifer Weigel's work here on Haunted MTL. Or on her writing, fine art, and conceptual projects websites.
Cravings, a Pregnancy Horror Story by Jennifer Weigel
Here is Part 1 of Cravings, a pregnancy horror story considering darker cravings and changes in contrast to the glow that comes with the all-too-often toxic-positivity focus of carrying a child.
---
"Honey, I'm home," Jayden's voice echoed through the house like a bad 50s sitcom rerun for all that he didn't watch those kinds of shows. The callout seemed equally rehearsed and hopeful but harbored a hint of fear in the way his voice cracked that didn't bespeak Mayberry or the like. He waited for his wife Claire to greet him at the door. The house was still and cold with all of the heavy drapes drawn and no lights on anywhere. He glanced towards the dark bedroom where she must be napping, like the day before and the day before that, for weeks and months on end now.
Honestly, Claire hadn't been the same since she'd finally conceived, following that witch doctor Miracle Madame Maresh Meliasma's advice after years and years of trying to get pregnant. Now Claire was lethargic and succumbed to migraines, nightmares & morning sickness that kept her bedridden much of the time, screaming bloody murder because of her headaches if anyone so much as flicked on the lights. And she had barely even gotten into the second trimester. Jayden had read that it was supposed to get better but there didn't seem to be any improvement; if anything she seemed to be getting worse. He tried to get her to see her doctor about it but she snubbed the idea. "After everything they put us through, all those years of fertility treatments, the invasive procedures, the bills… No way. To Hell with modern medicine," Claire had retorted.
So now here they were, readying themselves for their first child. Maresh had foreseen that Claire would birth a healthy baby boy, and with all of the card readings, spiritual advice and herbal concoctions, Claire had fallen right in line, hanging onto the witch doctor's every word. Jayden was still frustrated she wouldn't consult with her normal doctor, but she instead visited with Maresh every day through Instachat online for about an hour and even invited the creepy old woman into their home once a week on Thursday mornings to supply fresh herbs, massage her aching joints and swelling tummy, and call forth healing realigning energies with elaborate candlelit rituals. Claire could focus on only one thing: anticipating the pending home birth and natural delivery of their firstborn child, still several months away.
Jayden wished his wife had never set foot in that weird alternative new age spiritual center, something about it had just seemed off. It wasn't the crystals or candles or psychic energy books that seemed to line every surface; he wasn't into any of that mysticism crap but it seemed pretty innocuous. He recalled small figures made of sticks, straw and mud, and giant Mason jars boasting exotic herbal remedies, and the lingering scent of something sickly sweet decaying, all of which was genuinely unsettling, but it wasn't really that either. There was something decidedly sinister about the place that he couldn't quite put his finger on, more caught up in the air surrounding and within the space itself. It settled into his gut like that feeling you get when you know you're being watched by some unseen far away presence or when you meet someone you know deep down has ill intentions. And Maresh herself was just as disturbing; she only ever addressed Claire and had not uttered a single word to Jayden in the entire time. In fact, she acted as if she looked right through him without even seeing him.
As days turned into weeks into months, Claire became more withdrawn and more obsessed about the baby. She never left the house, locking herself away in the gloomy stagnant nest and occupying herself with the remedies, rites and rituals that Maresh suggested. Oh, and knitting. Jayden hadn't realized that Claire knitted since he had never seen her do so before, but her hands were a frenzy of motion, whipping silver needles back and forth and pulling soft white yarn between them like a growing umbilical cord tethering her to the circumstance at hand like some sort of strange pregnancy lifeline. The so-called blanket she was producing grew larger and larger every day.
Jayden snapped out of his reverie to see his wife eyeing him from the hallway. She studied him up and down slowly, staring longingly at his body. She inadvertently bit her lower lip in anticipation, teeth striking flesh to cut forth a small droplet of blood. Her tongue eagerly danced across her pursed mouth and lapped it up before withdrawing again.
"Aw, what'd you bring me this time, Sweetcheeks?" Claire smirked; eyes alight with flame like a cat readying to pounce
She had been ravenous throughout the pregnancy so far, and her cravings kept getting stranger and more bizarre as time passed.  The other day, Jayden had fetched boiled shrimp, and she had devoured over 2 pounds of the mud-bugs in less than an hour's time, shell, tail and all, their little legs matted together like thick wet whiskers.  Today she had requested pickled eggs, the kind that they import from Europe or Dutch-country Pennsylvania in those big almost gallon-sized jars, stained pink with beet juice vinegar.  Jayden procured the giant jar of eggs from the paper bag in his arms.  Claire lunged at him and grabbed up the prize, prying the lid off in one fell swoop.  She reached in, pulled out a pink rubber-looking egg still dripping with brine, and shoved it in her mouth whole.  She hadn't even bothered to chew it before she grabbed another to meet the same fate.  And another.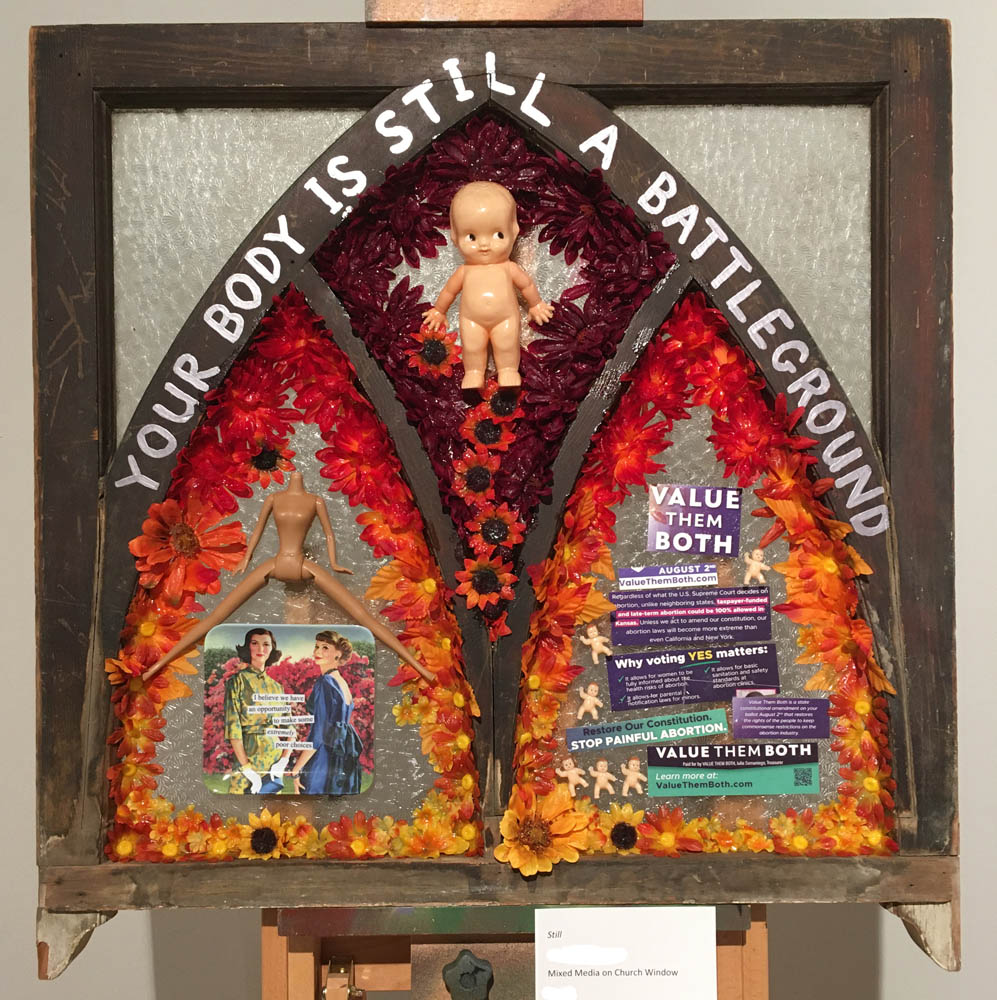 I hope you have enjoyed the first part of this story. Part 2 will air next time here on Haunted MTL. In the meantime, feel free to follow your cravings and order up some midnight munchies, or listen to this lullabye.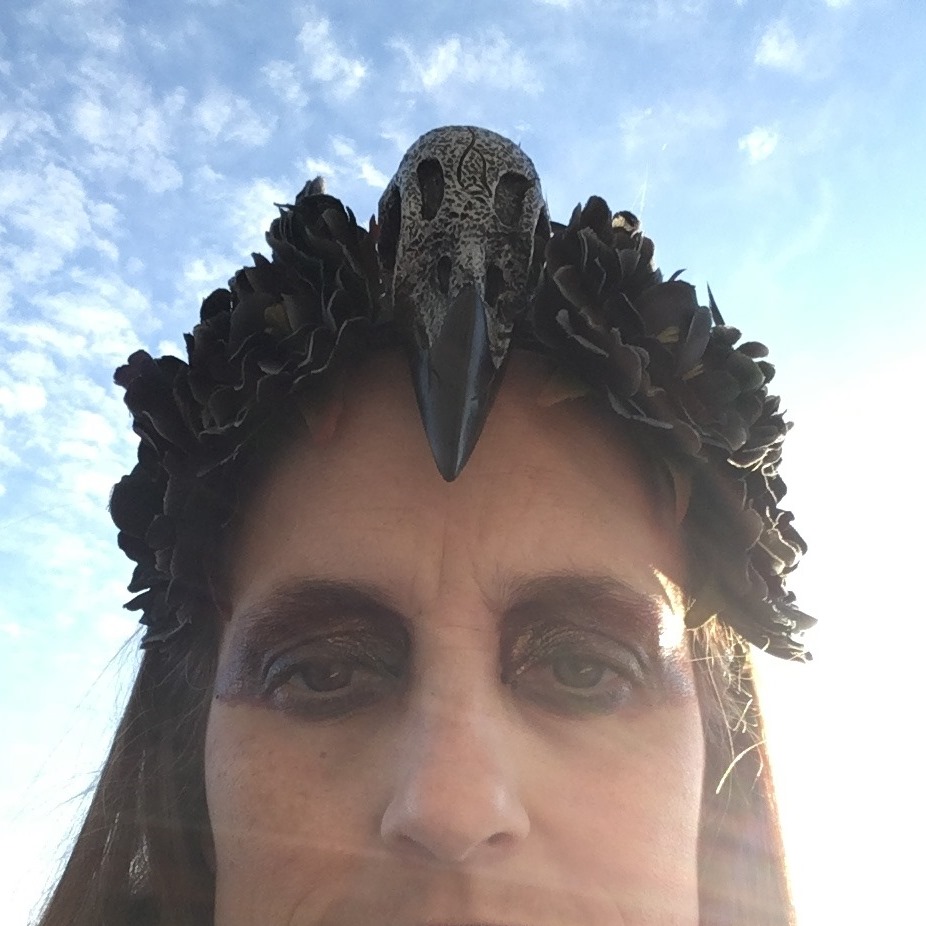 Feel free to check out more of Jennifer Weigel's work here on Haunted MTL. Or on her writing, fine art, and conceptual projects websites.