Will was alone in the dissection lab the night the bodies sat up. There were two of them, one male and one female. Both were naked but only one, the man, had been cut into so far. The other anatomy students had named him Joe because his generic white dad bod, chestnut hair, and unremarkable face made him appear—to the fresh young anatomy students, anyway—as average as they come. The female, on the other hand, they had named Kim after the most famous Kardashian. Will assumed this was because of her almond eyes, elvish nose and chin, and voluptuous hips. Well, her hips would have been voluptuous in life. By the time the anatomy students at this university got their hands on the dead, the chemically preserved bodies were already deflated and dry, like an old shed snakeskin lying about in the hot sun of a late summer day.
Kim, who was Will's project alone for the evening, so much resembled her namesake that the lad had been unable to stop himself from taking a series of photographs of her as she lay before him awaiting the first incisions. He briefly considered Instagramming the images but figured that the ensuing kerfuffle would probably get his account suspended. Instead, he planned to share them with only his fellow anatomy students, those who had yet to come face-to-face with the reality television star's dead doppelgänger and wouldn't believe him if he told them she exists.
The corpses rose from the cadaver tables in unison, bending at the waist until they sat upright, their arms at their sides, their legs straight forward, and their tagged toes still pointed skyward. Will happened to be standing between their respective tables when the duo roused, and the shock of it sent him reeling backward into a shelf that was full of disinfectants and other tools of the trade. His phone, the camera of which had been aimed at Kim's head and torso, went flying out of his right hand and clattered against the door of a metal storage closet. Will's ass hit the floor, his lab coat splayed wide beneath it. One of the bottles of disinfectant tumbled from the edge of the shelf and smacked him squarely on the noggin. He yelped in surprise.
"D'ja hurt yourself?" Joe croaked, his voice raspy with disuse. In spite of his deflated flesh, he managed to screw up his lips into something that resembled a bemused grin.
"Where are we?" Kim said. Her voice was higher pitched than Joe's but no more melodic. "And what the hell were you doing just now?"
Will swallowed thickly, tasting bile. "I ju—I just—you look—I mean…"
"This ain't history class, boy," Joe said. "Stop repeating yourself! Tell the lady what you were doing. Don't lie about it, either. My eyes were open the whole time."
Will blinked at him. "You. You could see? How long have you been able to see?"
"Never you mind that," Joe said. "Just tell her."
"You look like Kim Kardashian," Will mumbled. He was looking at his hands more than at the suddenly animated female cadaver. "That's all. I was taking a picture. Didn't think anybody would believe me."
The corpse's eyes narrowed. "You were taking a picture of me?" she said. "You were taking a picture of me like this?"
Will managed to look at her. "You're dead," he said. "At least I thought you were. I really didn't think you'd mind."
Kim threw up her hands in disgust and looked at Joe, whose crusty yellow and lifeless eyes somehow managed to positively gleam back at her. "Didn't think I'd mind, he says. Didn't think I'd mind. And why? Because I'm not among the living anymore? Because I no longer have a soul?" She glared back at Will. "Is that it? You're really something, you know that? You really are, all you living people. You sit there with your money and your jobs and your cars and your computers and your phones and you think, 'Well, I'm just top of the world, and I can do whatever I want to anybody I want.' Right? Is that it?"
From his own cadaver table beside her, Joe whooped. "You go, girl!"
Will eyeballed his hands again.
"Well, let me tell you something, Mr. Breathing Guy," Kim went on. "I didn't spend my time alive smashing all the barriers that slobbering guys who refused to think of me as anything but a hot fuck built around me just so I could be ogled and felt up by the likes of you after I died. Do you have any idea who I was when I was alive? Do you? Does it even matter to you that I was the only girl in the engineering department at this so-called school? Do you care that I was top of my class and was well on my way to getting my hands around a small fortune in research grants that would help me permanently fix this country's crumbling infrastructure?"
"Preach it!" Joe shouted. "Preeeach it! I don't want to go falling off a bridge!"
"And do you know what killed me? Do you know what took all that away from me? I can tell you that. It was a slobbering guy who roofied me. I overdosed. He was in almost all my classes. I had dinner with him because I thought he wanted to talk about my infrastructure research. He didn't. He wanted a hot fuck and didn't think he'd be able to get it unless I was unconscious."
"Uh," Will said.
Joe managed to look stricken.
"No, you didn't know any of that, did you?" Kim continued. "You didn't know any of that because instead of doing your job down here with all these dead people who have donated their bodies to science, you wanted a little trophy to send to your buddies. Well, you know what, Mr. Breathing Guy? Fuck you. Fuck you and fuck your stupid little stuck-in-their-pants buddies. Now the dead are rising, you arrogant little shit. We're rising tonight and we're not going to take any more of your abuse."
"Damn right!" Joe echoed. "You tell it!"
Kim turned on the table and hefted herself off its edge. She stood before Will, who remained splayed on the floor, in all her post-mortem nakedness. She seemed a little unsteady on her gray, Formaldehyde-clad feet. Gravity made her dead, deflated skin appear draped over her frame. Joe, who hadn't budged since sitting up except for his two attempts at facial expressions and the occasional one-liner, leaned back on his elbows on the cadaver table and spoke as if he were commiserating with old friends.
"Well, they always say your past comes back to bite you in the ass," he said. "Guess it doesn't get more past than a woman scorned and dearly departed, does it? Nope, it doesn't. But listen to me now, Bubba. My story ain't nothing like the lady's here. Nobody ever stopped me from doing what I was supposed to do to make it in life. As far as I know, the only fellow who ever slipped anything into my drinks was me. I'll tell you, though. Folks sure do want to stop you from doing what you want to do with your own death. Lord, do they ever!
"I don't even know how I ended up in this place. I never went to a university and I sure as hell didn't donate myself to be no lab rat. I just went through my life, doing everything I was told to do, just like they wanted it done. Figured being a good boy would end up getting me something somewhere down the line."
"Sometimes," Will interrupted meekly, "there are mix-ups. It's rare, but…"
"I don't give a lab rat's tortured asshole about mix-ups," Joe replied. "I ain't supposed to be here. I'm a veteran, you know? I was in the National Guard for damn near ten years. Honorably discharged. Like I was saying, I always did as they told me to do, what I was supposed to be doing. I'm supposed to be buried with a flag and military honors. I'm supposed to be respected and taken care of, you little asshole, not cut up like a slice of roast beef for your amusement. Look at my chest. Somebody's gone and sliced a big old notch in it!"
Kim spoke up. "That's right," she said. "Dead right. We're not pieces of meat. I donated my body to science, but that doesn't mean you're allowed to disrespect me. And you shouldn't be cutting him at all!"
Joe straightened and slid himself off his own cadaver table, managing a wobbly few steps to finally stand beside Kim. Now both preserved relics from a not-too-distant past stood glaring down at the autopsy student who had intended to spend his evening making up for lost time because he'd slept through that morning's class. Joe's skin was even more drape-like than Kim's. He stood with his knees together. The deflated flesh hanging off them caused him to look as if he'd grown an extra scrotum in an unfortunate place.
"So," Joe said, his attempt at a shit-eating grin still smeared across his features. "It's kind of funny, ain't it? What you thought was dead and gone ain't ever really dead and gone. It's just waiting for the right time to come back and get you. Looks like now's the time, hey? What've you got to say about all this, lab rat? What've you got to say about the dead folks who ain't gonna take all the live folks' shit anymore? What've you got to say about the past coming back to bite you in the ass?"
A beat, and it came to him: "I'm sorry?" Will said. He straightened himself, rising on his knees from where he'd landed when the bodies rose up and allowing his hands to clasp together at his lap. He nodded at the corpses and made sure that he looked them each in the eye. "I'm sorry. I apologize to both of you. On behalf of the living, I ask your forgiveness. I have no excuse for the way you were treated in life or the way you were treated in death. All I can say for myself and everyone else is that I'm sorry."
He looked at Kim. "I'm especially sorry for my behavior here tonight," he said. "Honestly, we thought you were just a couple of empty shells. Your soul or brain activity or whatever you believe in should have been long gone. Really, we had no idea that you were people."
Kim's eyebrows shot upward. She turned to Joe.
"Oh my God, did you hear that?" she said. "They didn't know we were people! Honest mistake? Is that what you're saying? We just didn't know! Look at me. Dude, just look at me. How could you not know? We move, just like you. We talk, just like you. We feel, just like you. Hath not a dead woman eyes? Hath not a dead woman hands? If you tickle us, do we not laugh? If you prick us, do we not bleed?"
"Well, not anymore," said Joe matter-of-factly. He closed his mouth when Kim shot him a look.
"If you wrong us, shall we not revenge?"
"I loved that play when I was alive!" Joe interjected.
"There!" Kim said, gesturing to the other dead person. "There's more proof for you. Do dogs like Shakespeare? Do cats recite poetry? Asshole, I was once an embryo, just like you. I was once a child, just like you. I went to school and learned the same alphabet and number system that you did. I worked hard, just like you. No, you know what? I worked harder than you because I had to. Because of people like you who didn't believe I was man enough to do a math problem or change a tire or conjure up a complicated formula in an Excel spreadsheet.
"God! Seriously? Do I really have to explain all this to you? What are you, 18? 19? Weren't you born at least close to this century? Why can't you see me as your equal?"
"It," Will stammered. "It's just what's accepted. It's just how things are.
"But I'm sorry," he repeated. "We didn't know any better. I'm so sorry."
Kim leaned toward him, her milky dead eyes mere slits. "Not anymore," she said. "It's not how things are anymore, and all the 'sorry' in the world is not going to change that."
She straightened and motioned to Joe without looking at him. "Come on," she said to the other corpse. "Let's get out of this dungeon of knives and nightmares and go change the world."
She took two ambling steps toward the door, and then seemed to rediscover the strength in her legs. As she reached for the doorknob and stepped over the transition, into the brightly lit hallway beyond, Will thought she looked taller somehow, even regal. She looked like a woman with a purpose, an energetic and motivated leader who was striding out of ages of darkness to drag the world into new enlightenment. She was Liberty resurrected, lighting the way once again for a world that had too long suffered the night.
Kim turned left just outside the door and disappeared from his sight. Will sat on his heels, his palms on his thighs, and smiled after her. The secrets of his heart spread over his face like the rosy rays of dawn over the fields. She could change the world, he thought. She would. She was right. She had made him a believer. It was long past time.
Joe, who for some reason had yet to follow Kim out the door, noted Will's face and leaned down toward him, close to his ear. The stench of the Joe's dead breath wafted to Will's nostrils when he spoke.
"Hey," he said. "I know what you're looking at. I was looking, too. Heh. And I agree with you, Bubba. Nice ass, hey?"
Isaac Thorne is a nice man who has, over the course of his life, developed a modest ability to spin a good yarn. Really. He promises. He also avoids public men's restrooms at all costs. He considers himself a lover of books, music, movies, and other forms of pop culture. When he is not writing fiction, Isaac reviews movies and other content for The Dead Walk (www.thedeadwalk.org), TN Horror News and Promotions (tnhorror.com), and The Horrorcist (thehorrorcist.com). Isaac also hosts two audio programs on SCRMRadio.com: "Thorne's Theater of Terror" and "Classic Cuts." Isaac Thorne Short Tales of Dark Comic Horror www.isaacthorne.com

You can follow him on Twitter: @isaacrthorne and IG: isaacrthorne
Reanimating Dead Art with Monsters by Jennifer Weigel
Dead art… It's a thing that happens, sadly. Typically found at thrift and antique stores or dumpster diving or by the side of the road. But art is never really dead, just resting… Here are some reanimated paintings I made by incorporating nail polish monsters into existing art.
Let's face it – reworking old abandoned artworks with monsters kind of rocks. For awhile they were all over the internet. I admit, it took me a long time to muster up the courage to paint into someone else's grandmother's art, but once I started I just couldn't stop. From top to bottom, left to right we have: Zombies, Unicorn, Siren, Krakken, Harpies, Sasquatch, Alien Invasion, Witch, and Serpent.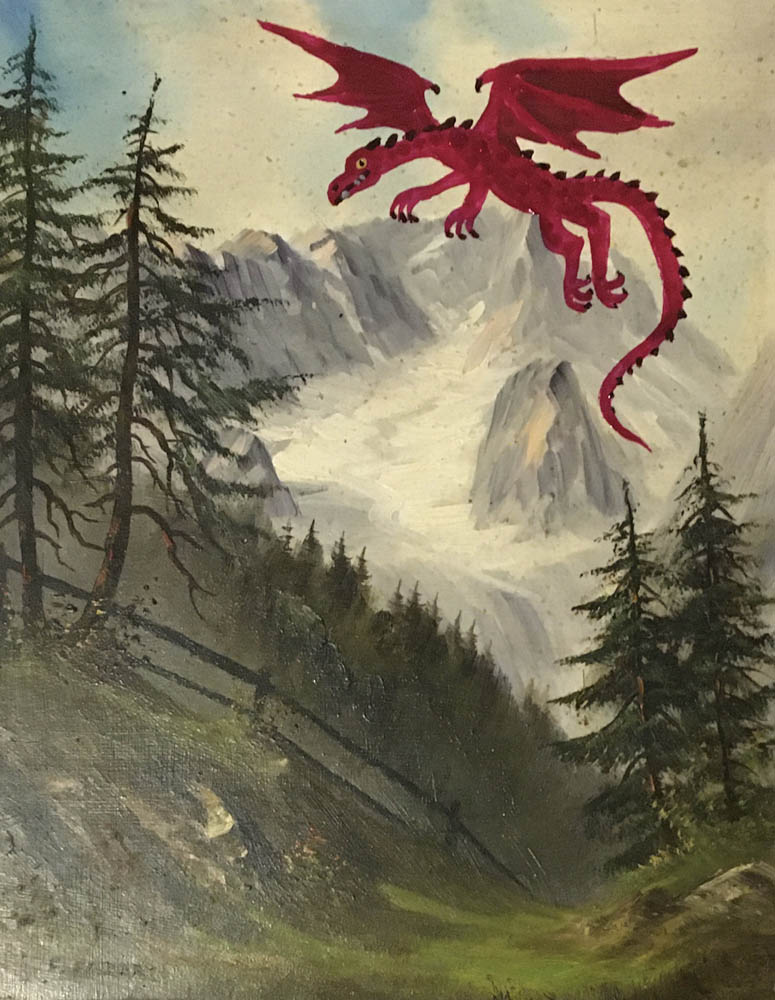 The dragon is probably my favorite. All of the shades of red are really vibrant and striking against the green. And dragons are always so classic and grandiose and terrifying, perfect for pairing with a mountain landscape. I love painting with nail polish for the sparkle, even if the fumes do get kind of noxious en masse. (The best subject to paint in this media is Rocky Horror style lips by the way, in case you were wondering.)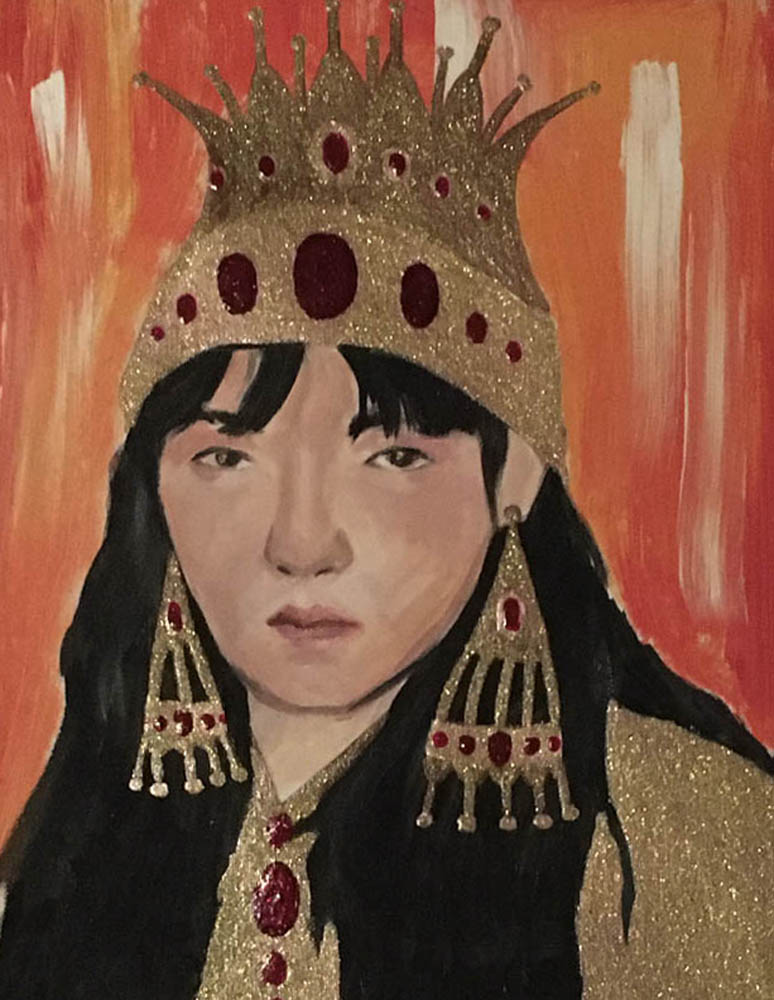 And what better way to complete the collection than with a portrait of a Fairy Queen, her icy stare drilling into your soul. She's up to some sort of magical mischief, that's for sure.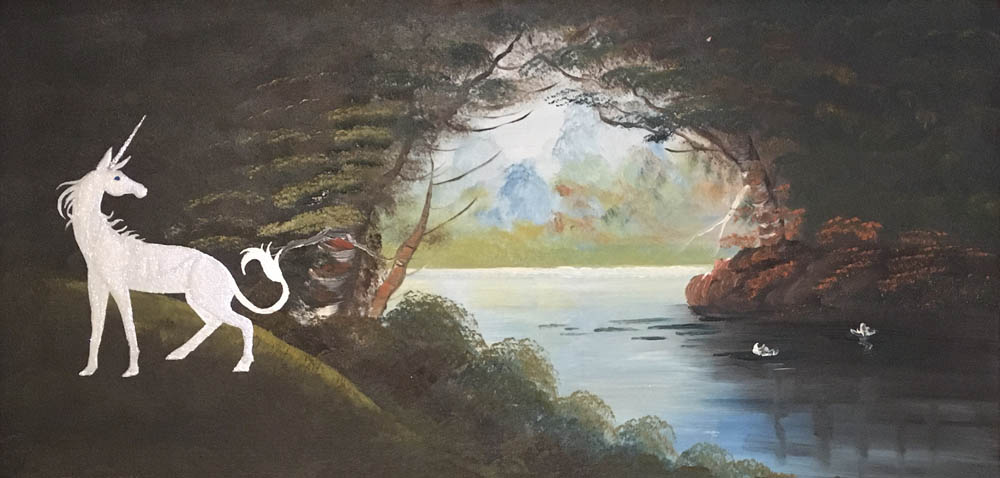 And speaking of magical mischief, this is the monster painting I made just for me. The original artwork is about 4 feet long and I knew as soon as I saw it that I wanted to reanimate it in this exact way for all that this is the last in the series that I did. I even added extra shimmer factor. I'd initially considered adding a sea serpent or a dragon but no, she told me to stop.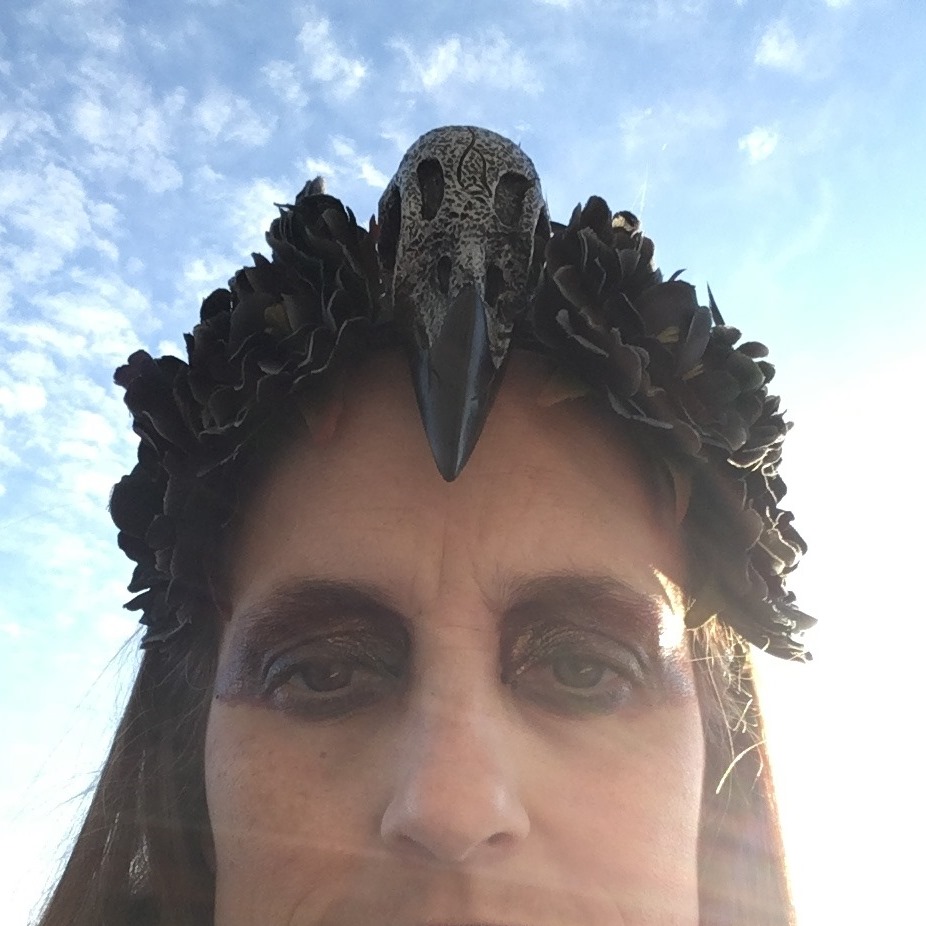 Feel free to check out more of Jennifer Weigel's work here on Haunted MTL or on her writing, fine art, and conceptual projects websites.
LTD: Revisiting Broken Doll Head, Interview 2
Our last interview with Broken Doll Head here on Haunted MTL never set well with me. I just feared that I wasn't able to get the whole scoop on the V-Day Uprising for you, our dear readership. So I arranged another exclusive interview to reconnect and see how it's going.
Without further ado, I bring you our second exclusive interview with Broken Doll Head…
---
Thank you so much for having me again. Wow you have changed since the last time we spoke. You seem… calmer. Please don't hate me or burn down my house for saying anything about it.
The movement is still underway; it is still time. But I needed to take care of me, you know. The rage has subsided somewhat. My anger was not serving me well. After the last uprising, the rest of me was sent to the far corners of the earth in biohazard bags. I had to find another approach, for the cause as well as my own sanity. I am much calmer, thank you for noticing.
In our last interview, you kept repeating that it is time. Time for what exactly? Would you care to elaborate here now?
It is still time. It is always time. Until the violence is addressed we must continue to rise up and make a scene. We will not be silenced or stigmatized. We can't be complacent. This is how we got to where we are with the Supreme Court in 2022. Horrific injustices are still happening globally and even within our own borders; it's too easy to forget that.
What do you suggest we do?
Take action. Share your stories. Give others space to voice their own. Raise awareness and fight the system of oppression. Rally. We must take back our own power. It will not be just given freely.
So what are you up to nowadays?
I've been getting in touch with my inner Earth Goddess. Are you aware of how our environmental impacts affect dolls everywhere? Climate change is creating greater vulnerabilities for those already at risk. We have to look at the intersections of climate, gender and race globally. We have to return to our Mother Earth.
Thank you again Broken Doll Head for joining us and our dear readership here on Haunted MTL's Lighter than Dark. It's good to reconnect with you after the V-Day Uprising and we wish you all the best in your bold eco-enlightenment vision.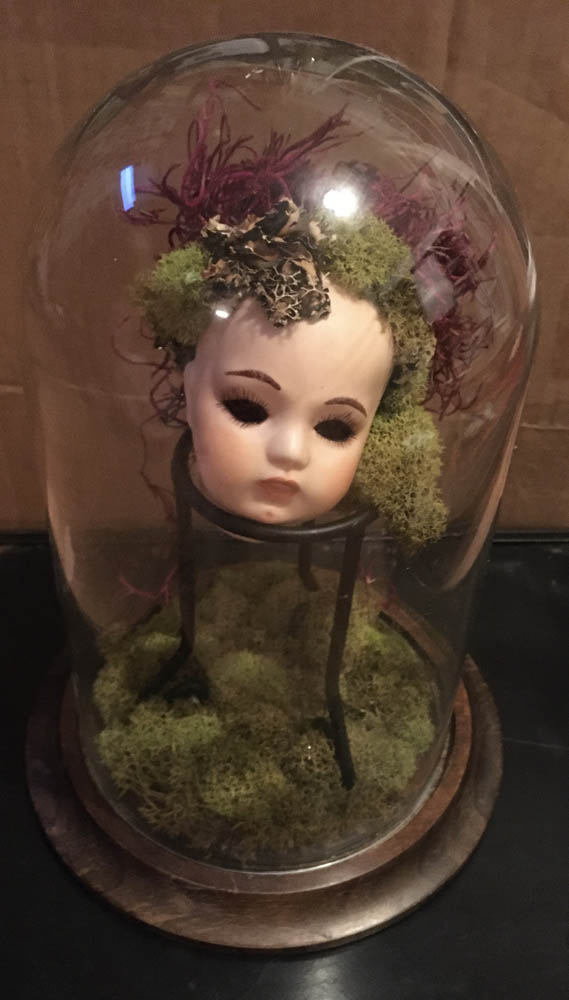 Again, if you want to learn more about the V-Day movement, please check out their website here.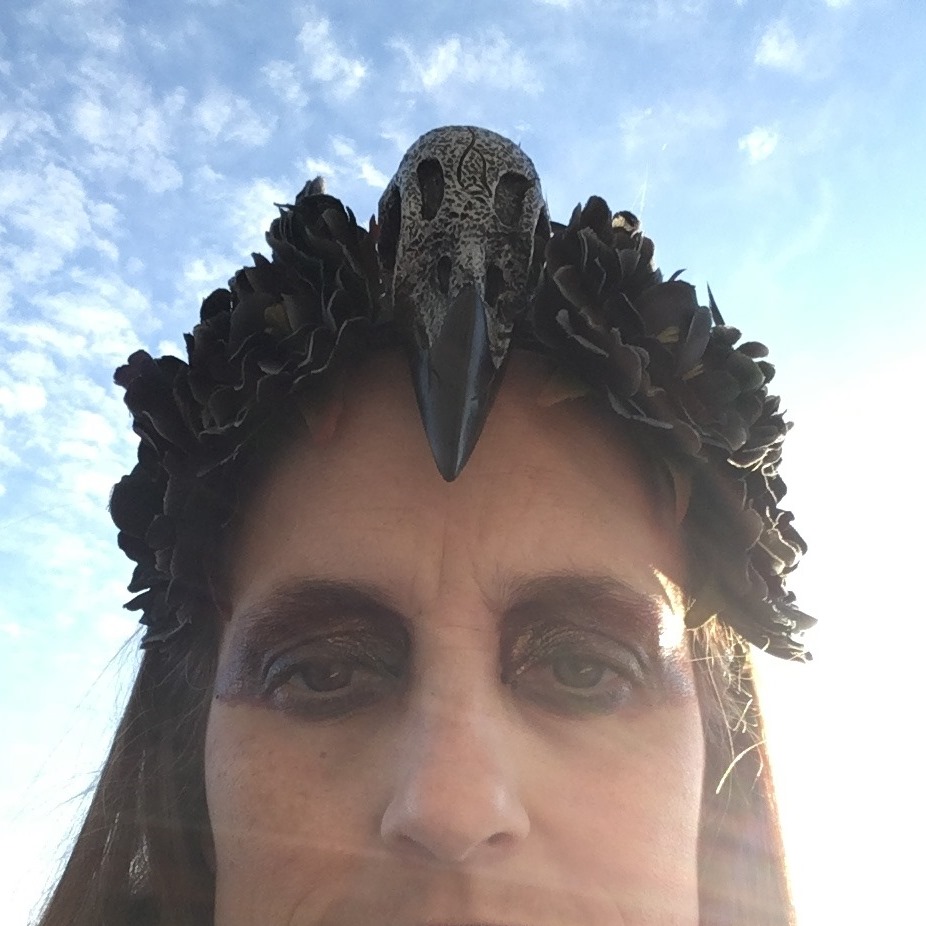 The Way Things Were, story by Jennifer Weigel
Revisiting my last St. Patrick's Day post, what's a wolf to were?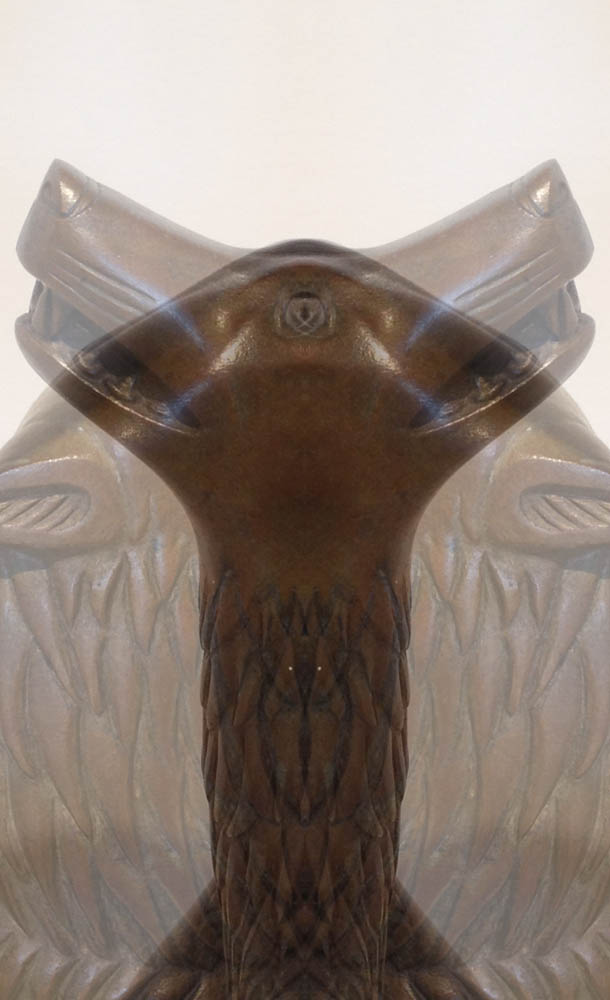 I grimaced as I remembered the previous St. Patrick's Day. I had been shot while I was eating a sugar cookie waiting in line to buy a Scratchers ticket, my golden ride to my dream cabin in the woods. Wow, to think that was just a year ago and so much has changed since then. But where should I begin?
Well, the junkyard's under new management. Or something. It seems they decided I wasn't ferocious enough so I've been replaced by a couple of working stiffs. Or Mastiffs as it were, same difference to me. Apparently after they found the bloodied shirt I'd draped inconspicuously over a chair, they thought something had happened on my watch and decided to retire me.
Or at any rate ol' Sal took me home. I guess it's like retirement, but not the good kind where you tour the world Route 66 style, head lolled out of the side of a vintage Cadillac, breeze flowing through your beard as you drink in the open road. More the kind where you just stop showing up to work and no one really asks about you.
Now Sal's a pretty cool dude, and he tends to mind his own business. But he's a bit stingy with the treats and he's a no-paws-on-the-furniture kind of guy. I don't get it, his pad isn't that sweet, just a bunch of hand-me-down Ikea that he didn't even put together himself. Not that I could have helped with that, I can't read those instructions to save my life even if they are all pictures. It's all visual gibberish to me unless there's a rabbit or a squirrel in there someplace that I can relate to.
And it's been a real roll in the mud trying to cover up the stench of my monthly secret. I miss third shift at the junkyard when Monty would fall asleep on the job and I was free to do whatever I wanted. It sure made the change easier. Monty never noticed, or he never let on that he did. We were a good team and had it pretty good, he and I – I don't know how I wound up shacking up with Sal instead when all was said and done. There was some kind of talk at the time, over landlords and pet deposits and whatnot, and in the end Sal was the only one who said yes.
So there I was, this St. Patrick's Day, trying to figure out how to sneak out into the great suburban landscape with the neighbors' headstrong Chihuahua who barks his fool head off at everything. He doesn't ever say anything interesting through the fence about the local gossip, just a string of profanities about staying off his precious grass. Just like his owners… Suburbia, it doesn't suit the two of us junkyard junkies. I'm pretty sure Sal inherited this joint with everything else here. He just never had the kind of ambition that would land him in a place like this on his own, if you know what I mean.
Fortunately, this St. Patrick's Day, Sal was passed out on the sofa after binge watching some show on Netflix about werewolves of all things. Who believes in that nonsense? They get it all wrong anyway. The history channel with its alien conspiracies is so much better.
I managed to borrow a change of clothes and creep out the front door. At least there's something to say about all the greenery, it is a fresh change of pace even if the yards are too neatly manicured and the fences are too high. And I do love how I always feel like McGruff crossed paths with one of those neighborhood watch trenchcoat spies this time of the month. I'd sure love to take a bite out of crime, especially if it involves that pesky Pomeranian that always pees on Mrs. Patterson's petunias and gets everyone else blamed for it.
So sure enough, I slunk off towards the local convenience mart, which is a bit more of a trek here past the water park and the elementary school. Nice neighborhood though, very quiet, especially at this time of night.
Well, when I got there, wouldn't you know it, but I ran into that same nondescript teen from my last foray into the convenience store near the junkyard. What was he doing here of all places? Seriously don't these kids learn anything nowadays? I let out a stern growl as I snatched a cookie from the nearby end cap, making sure he noticed that I meant business.
Apparently the kid recognized me too, he stopped mid-tracks at the beer cooler and his face blanched like he'd seen a ghost. Some cheeky little girl-thing motioned to him to hurry it along by laying on the horn of their beater car from the parking lot. Whatever they were up to was no good, I was certain. He snapped out of it, grabbed a six-pack and headed towards the cashier, eyes fixed on me the whole time. Not again. Not after what it cost me the last time when I hadn't realized my job was at stake. I stared back, hairs rising on the back of my neck. I bared my teeth. This time, I wouldn't let him off so easy…
The teen edged up to the cashier and presented his trophy. Unsurprisingly, the clerk asked for ID, and the kid reached into his jacket. Let the games begin, I grumbled to myself. But instead of a gun, he pulled out a wallet. He flashed a driver's license at the clerk and pointed in my general direction, "I'll get whatever Santa's having too." He tossed a wad of cash on the counter and gave me a knowing wink before he flew out of there like he was on fire. I stood in dazed confusion as he and his girl sped out of the lot and disappeared down the road.
"Well, Santa?" the clerk said, snapping me out of my reverie. Her dark-circled eyes stared over wide rimmed glasses, her rumpled shirt bearing the name-tag Deb. She smelled like BBQ potato chips and cheap cherry cola.
I quieted and shook my head. "I want a Scratchers. Not one of those crossword bingo puzzle trials but something less… wordy. How 'bout a Fast Cash?" I barked as I tossed the cookie on the counter.
"Sure thing," she said as she handed me a ticket and looked towards the door at the now vacant lot. "And keep the change, I guess."
A couple silver pieces, a peanut butter cookie and a lotto ticket later, maybe this is my lucky day after all…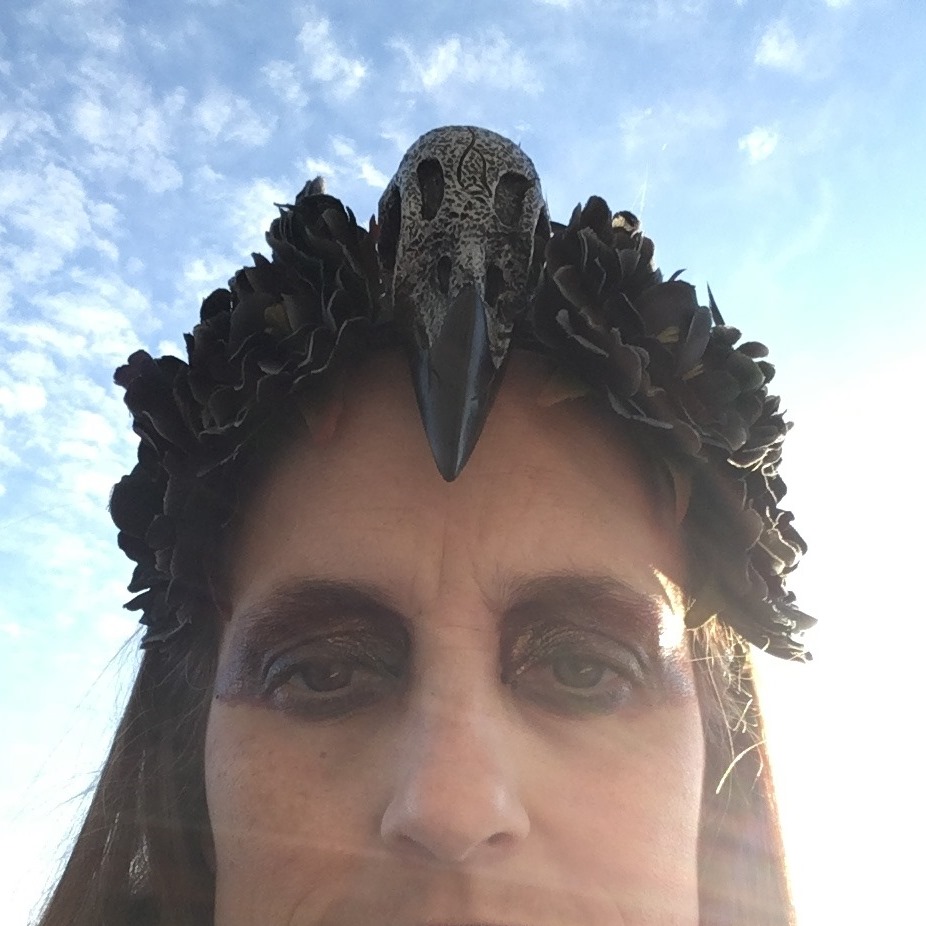 Check out more of Jennifer Weigel's writing here at Jennifer Weigel Words.