Day 14
Danielle rose to her feet and walked to the bedroom of the now-dead couple. She saw a pile of blankets strewn across the bed and floor and reached down to grab a bundle. Peering around the room, blankets piled into her arms, she saw a dark object wedged between the side of the bed and a bedside table. She'd come back to check on it after the immediate work was done.
Back in the living room, she layered two blankets over the remains. Blood began to soak into the fabric creating small spots of blotchy red, but for now, the horrid sight of the remains was gone. For good measure, she tucked the trophy under the blanket as well. She couldn't handle the chunks of hair and brain matter coating the gold-colored plastic.
She didn't know why, specifically, she had aimed for the head. Maybe she had heard something during one of those harried evening broadcasts of instructions, over shoutings of studio and radio crew. Maybe it was just that the skull was the source of all thought. All she knew was that so far that it had worked out for her, twice.
Aim for the head.
It was obvious now that she needed something more effective than a trophy if she wanted to get anywhere safely. She needed a gun and she knew exactly where her dad had kept it. But getting there would require something else to defend herself in the meantime. A kitchen knife would work in a pinch, but there had to be something else… She snagged a knife from a drawer in the kitchen. A knife would be light, but not a lasting solution. It had best be something she should get used to holding for a while but still fairly heavy.
She searched around the neighbors' apartment. There was little of practical use, but she mulled over the possibilities of each and every bludgeon, poker, or blade she stumbled on. So many things that were part of everyday life that she never would have thought of as weapons were now game… each one would be ranked by their effectiveness as she moved from space to space in the cramped two-room apartment.
She returned to the bedroom of Julie and her unknown boyfriend and checked under the bed, seeing nothing but shoeboxes. Pickings had been slim thus far. She sat down and leaned against a cheap cabinet that sat against the wall, staring at her haul of coat hangers, kitchen knives, and sporting goods. Remembering earlier, she turned her gaze to the bedside table and saw something red tucked between the bed and the table. Danielle reached her hand between them and grabbed at something heavy.
A crowbar.
The weight was reassuring. The crowbar became the first step in the plan. She needed a gun, but rather than search apartment after apartment for one, she needed a sure thing.
Her family's storage building was exactly where she would need to go.

She stepped out of the apartment with one heaping backpack weighing her down and digging into her shoulders. It was a hiking backpack she rarely used and had always griped about the cost, much to the annoyance of her friends. It only took the fucking apocalypse to make the backpack worthwhile.
The backpack had a pair of aluminum rods along the spine, connected by a plastic handle where she strapped her sleeping bag. Over her shoulder, she had a messenger bag that used to carry her school books, but now carried whatever food she could scrounge up. Across her other shoulder, she had two gallon bottles of water, strapped together with a belt drawn tight. The belt loop was wrapped with a dish towel for padding, but it did very little to ease the burden of the weight. She also has a small collection of luggage and bags at her feet, ready to be put into the trunk of her car, if it still ran.
She took some sheets and used them to lower her extra supplies to the floor below, as the stairs were demolished. Each deposit of cargo was done as silently as possible to not alert any Ghouls in the area. Supplies staged below, she lowered herself from the demolished stairwell and peered around, wary of any movement. Safe, for a moment, she took a look at her apartment that loomed above her, next to the makeshift tomb of her unlucky neighbors.
It was time to go.

Her car was not blocked in, thankfully, and she had not encountered a single ghoul on her two trips to get her supplies to the car. The back seat of the Focus was jammed with what she had brought and she slid her hiking pack into the passenger seat. She opened the driver's side door, took a deep breath, and turned the ignition.
The car sputtered but didn't turn over. She almost began to cry in frustration but she straightened in her seat and tried again. After a couple of tries, the engine rumbled to life.
She laughed, nearly startling herself with how loud she had been. She'd been quiet for what felt like weeks. It felt strange to make a noise above a loud whisper.
Her tank was still relatively full, thankfully. It was more than enough to get her to where she needed to go, only a couple of blocks away. She would drive down, break into the office, grab the gun, and get back into the car and drive the fuck out of town. It was the best plan she had and it seemed effective enough for now.
She took the Focus into reverse, then to drive, through instinct. She rounded the corner of the cross-like lane that divided the apartments, dotted with parking spots, abandoned cars, and a few grim remains. Ahead she saw the gate that opened to Acacia street was a mess; a couple of cars were piled up against an ambulance. It would be too much to move them.
She noticed a pair of figures awkwardly wedge themselves between the detritus and start moving toward her. She kept calm and reversed, noticing a single ghoul in her rear-view mirror. Taking a breath, she reversed back into her lane where she had come from, and instead made a right, rolling past the decomposing creature. The clumsy shambler bounced off the corner of the Focus and fell to the ground in a heap. She made another right to the other exit that led to Howard street and was relieved to see no cars were blocking it. The gate, however, was partially torn down and leaning into the apartment complex. It would be dangerous to drive through. It had to be moved.
The ghouls behind her were still shambling awkwardly in her direction as she rounded the corner. She rolled the Focus forward enough to park. Danielle took in her surroundings again, and not immediately able to identify any of the undead around her, stepped out of the Focus, crowbar in hand.
The young survivor made her way to the gates and hooked onto one end with the crowbar and began to pull at it, trying to pull it out toward the grass outside, like opening a door. The metal creaked and buckled, but the gate was being stubborn. Frustrated, her temper got the better of her and she pulled hard enough to rattle the gate loudly. She stopped, panting, angry, and nervous.
She heard the moans of approaching ghouls from behind.

Thank you for reading the second installment of the Haunted MTL original series, The Dead Life. Please share your thoughts about the story with us.
Nightmarish Nature: Vampires Among Us
This is the kickoff to a new series exploring nature that is kind of horrifying, at least in ways. Our first subject is Vampires Among Us. There are lots of animals named for vampires, sometimes due to folklore and sometimes for their appearance (like the Vampire Squid), but most of these animals don't have blood sucking tendencies.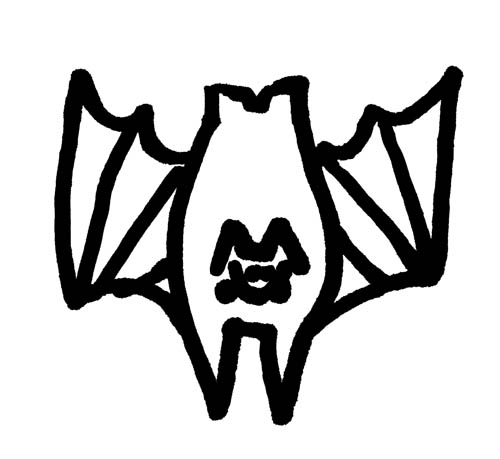 Bats & Birds
There are legit vampire leaf-nosed bats in Central and South America that drink blood. They feed on mammals and are often shown to feed on livestock. They'd be kinda cute if they weren't so creepy. There are also vampiric birds: some finches in the Galapagos have developed the taste for blood of other birds, mainly seabirds that flock to the islands to raise their young.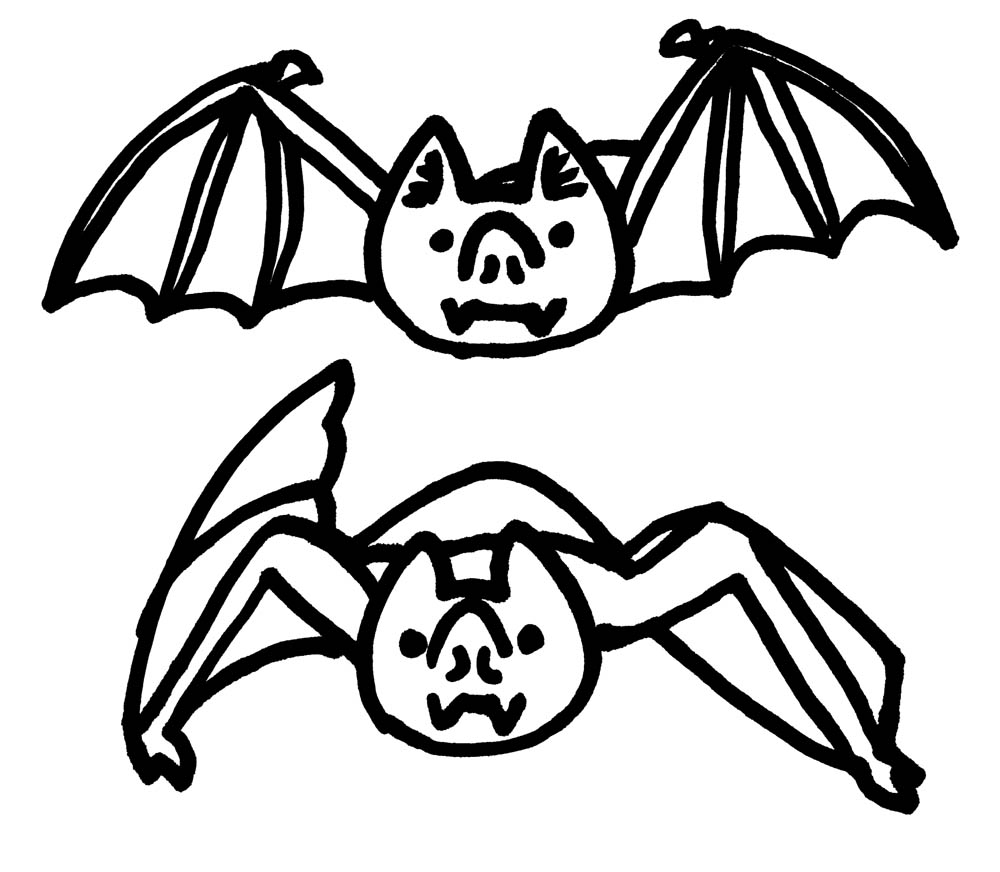 Leeches & Lampreys & More
And then you get into leeches and lampreys and other denizens of the water that are known to attach themselves to larger creatures and drink their blood. Leeches were even believed to have medicinal value (and still are in certain circumstances). And there are also numerous plants that are known to be parasitic and feed on other plants, wrapping their roots or vines around others to steal nutrients.

Spiders
Now I'm going to drift off into the realm where this becomes truly horrific. Spiders. Now, spiders aren't vampires per se, seeing as how they actually kill their prey – they don't just feed off of it while it remains living and wanders about its business. But because of their structure, they cannot eat solid foods, so they have to inject their prey with enzymes to liquefy it so they can slurp it out like a protein shake. That's sort of vampirism on steroids if you ask me, just the kind that no one is coming back from.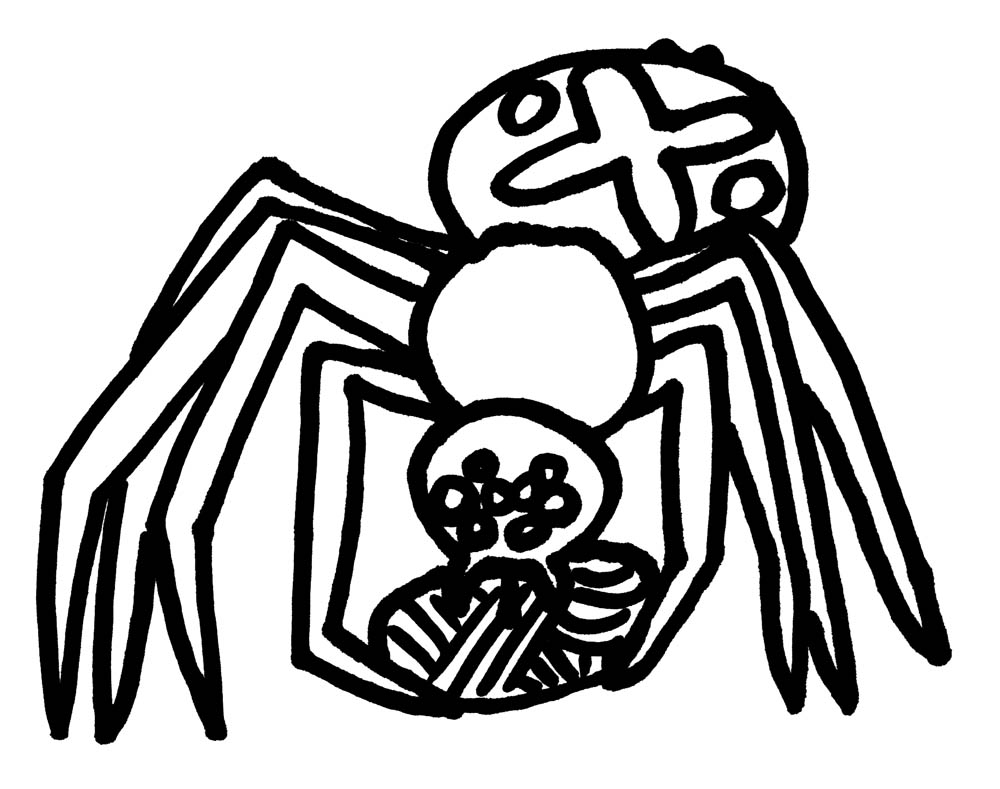 Bloodsucking Bugs
But let's get back on topic. Now let's consider mites and ticks and fleas and mosquitoes and the like. Some drink blood for their survival; others do so as part of their reproductive cycle (like mosquitoes which otherwise eat fruit and nectar but need the extra protein from blood to grow their eggs).
Ticks need to feed on blood once at every stage of their life cycle and can pick up diseases along the way (like Lyme Disease) but don't always do so. Different ticks are more likely to come in contact with different things and often humans are not their preferred meal but they are opportunistic and will feed on whatever is available when necessary. Symptoms of illness from tick bites may take years to develop and can have really weird side effects (like the allergy associated with Lone Star Ticks which makes a person unable to consume mammalian flesh).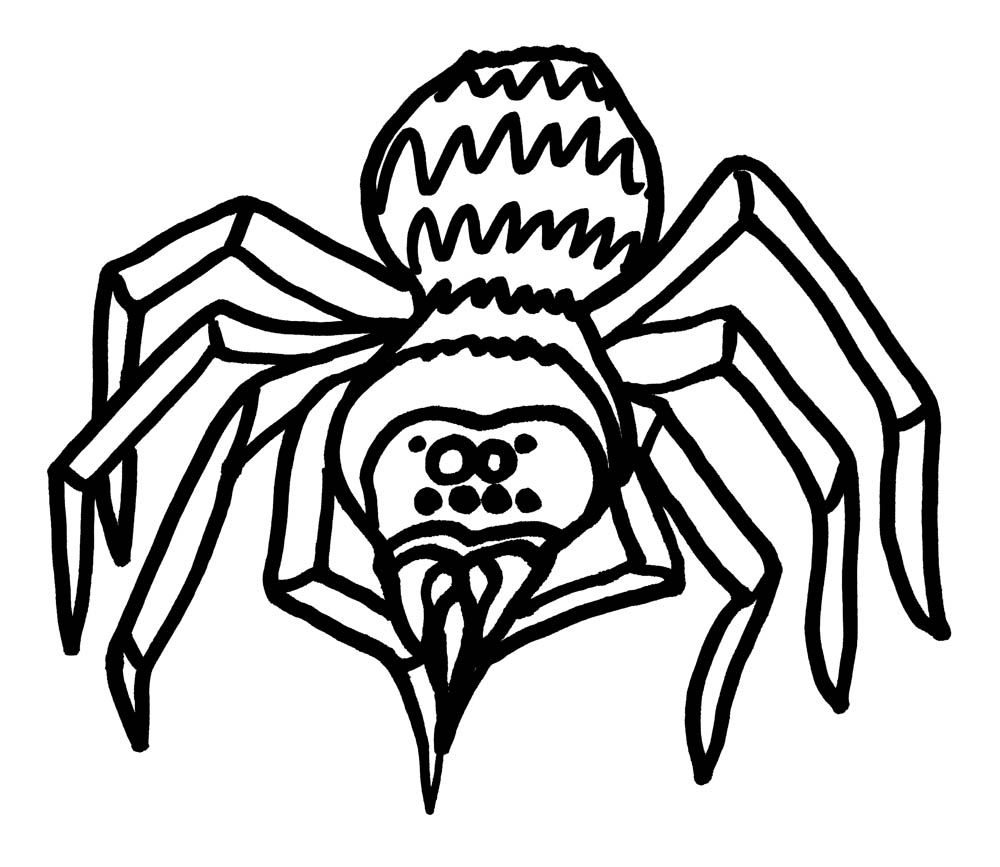 Anyway, here are some brief glimpses of vampirism in nature. Thank you for joining us for Nightmarish Nature and may you avoid getting bitten by any true vampires among us… And I still think spiders take first place in the creepy eating category here, even if they aren't technically vampiric.
Buried Treasure by "Dread Pirate" Jennifer Weigel
This story came to me in a sort of roundabout way from a rather unusual source. So I thought I'd share it with you, dear readership, and see if you can make heads or tails of it. – Jennifer Weigel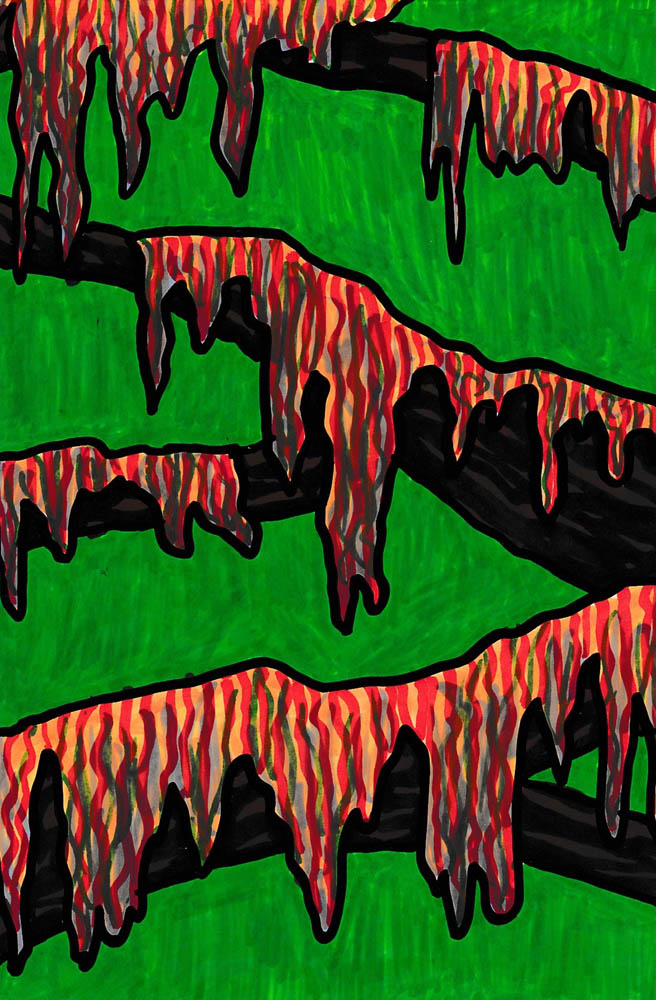 Dread Pirate Rum Tum Tugger could tell this was the right spot.
The site, beneath the sweeping limbs of the Live Oak, Spanish Moss swaying gently in the breeze, was a perfect match to the crude map he had bought off that soothsayer Deuteronomy.
The earth moved easily, as if it had been excavated previously. He dug in with greater fervor with each swipe. The sandy soil gave way to reveal something hard. He scooped and smoothed the remaining detritus from the surface as he uncovered a box.
The carton was simple.
No markings; no ornamentation; no writing. Just a plain cardboard crate, brittle from having been buried for so long but still sturdy. He hoisted it from its burrow.
"Ha HO!" he shouted to the passing breeze, rousing a small cloud of birds that erupted from a nearby thicket. They captured his attention for a moment, but he quickly refocused and returned to his task.
The box was locked but no difference.
Any self-respecting ruffian like himself could pick a lock in seconds. And he did so with panache, as was his way. He pried the lid open and licked his lips.
Inside was the legendary Kernel of Eternal Life, a small sparrow's heart, still beating.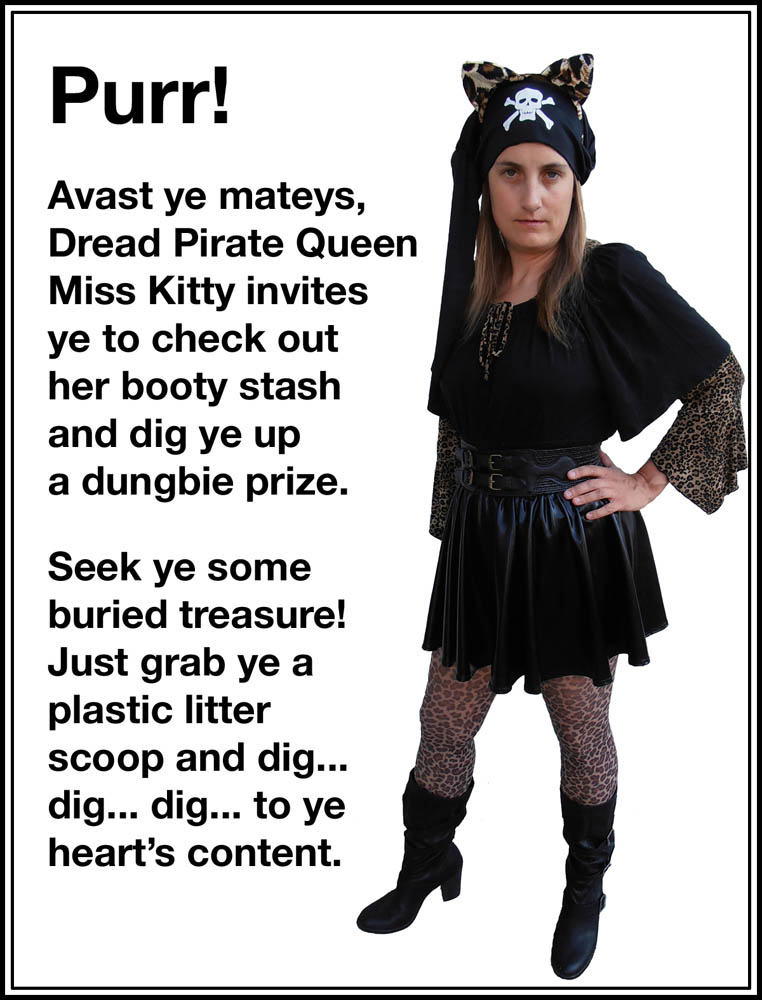 Artwork description: Myself as Dread Pirate Queen Miss Kitty wearing black bell sleeve shirt and black vinyl skirt with strapping leather belt over leopard print shirt and tights, with strapping leather boots, pirate head wrap and leopard cat ears.
Image text reads: Purr! Avast ye mateys, Dread Pirate Queen Miss Kitty invites ye to check out her booty stash and dig ye up a dungbie prize. Seek ye some buried treasure! Just grab ye a plastic litter scoop and dig… dig… dig… to ye heart's content.
---
I created this image for a promotional poster for a performance piece in a charity art show in which I, as Dread Pirate Queen Miss Kitty, hawked a carnival sideshow style sidewalk installation. For a mere $5 donation to the animal shelter the show supported, gallery goers could dig around in a kiddie pool full of litter to find a prize: a cheap plastic trinket from the dollar store. I had some takers, including one kid who seemed to really enjoy the digging and whose parents were all in, saying "You know, you can totally do that at home too."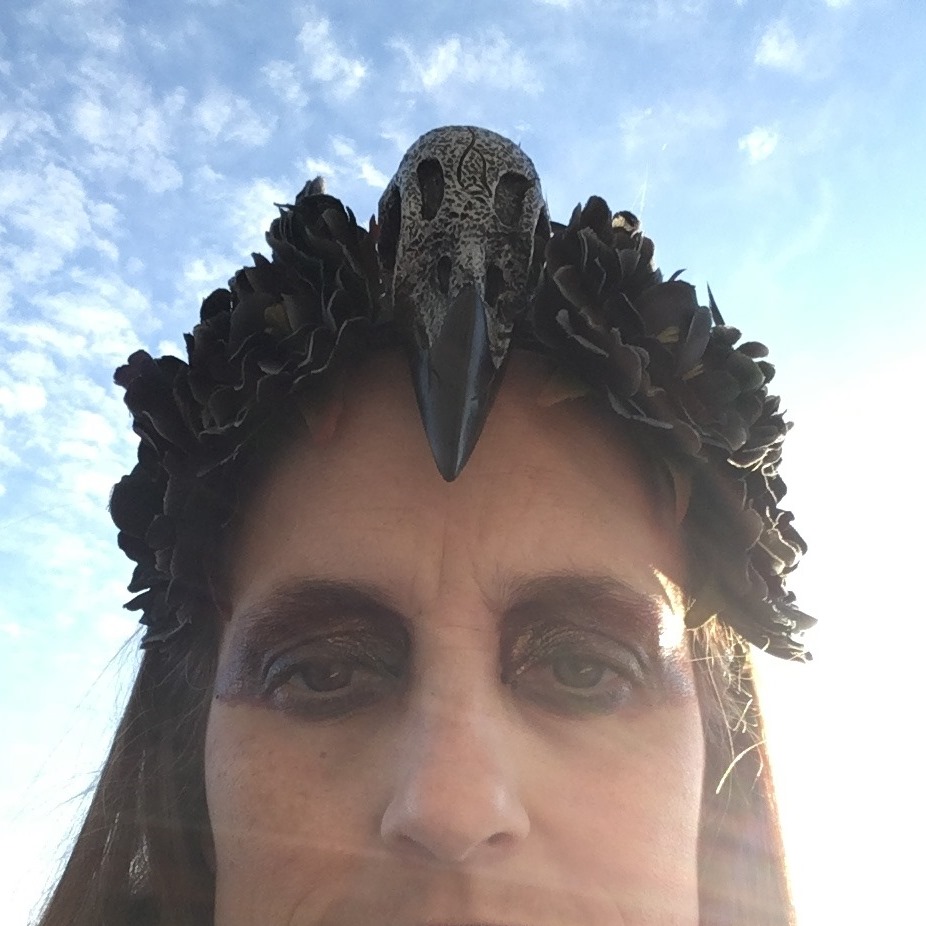 For more cat antics, we invite you to read C-2747's logbook here on Haunted MTL. Feel free to check out more of Jennifer Weigel's work here on Haunted MTL or on her writing, fine art, and conceptual projects websites.
Queen of Everything Mother's Day Wishes
Happy Mother's Day to the Queen of Everything… nothing gets by you.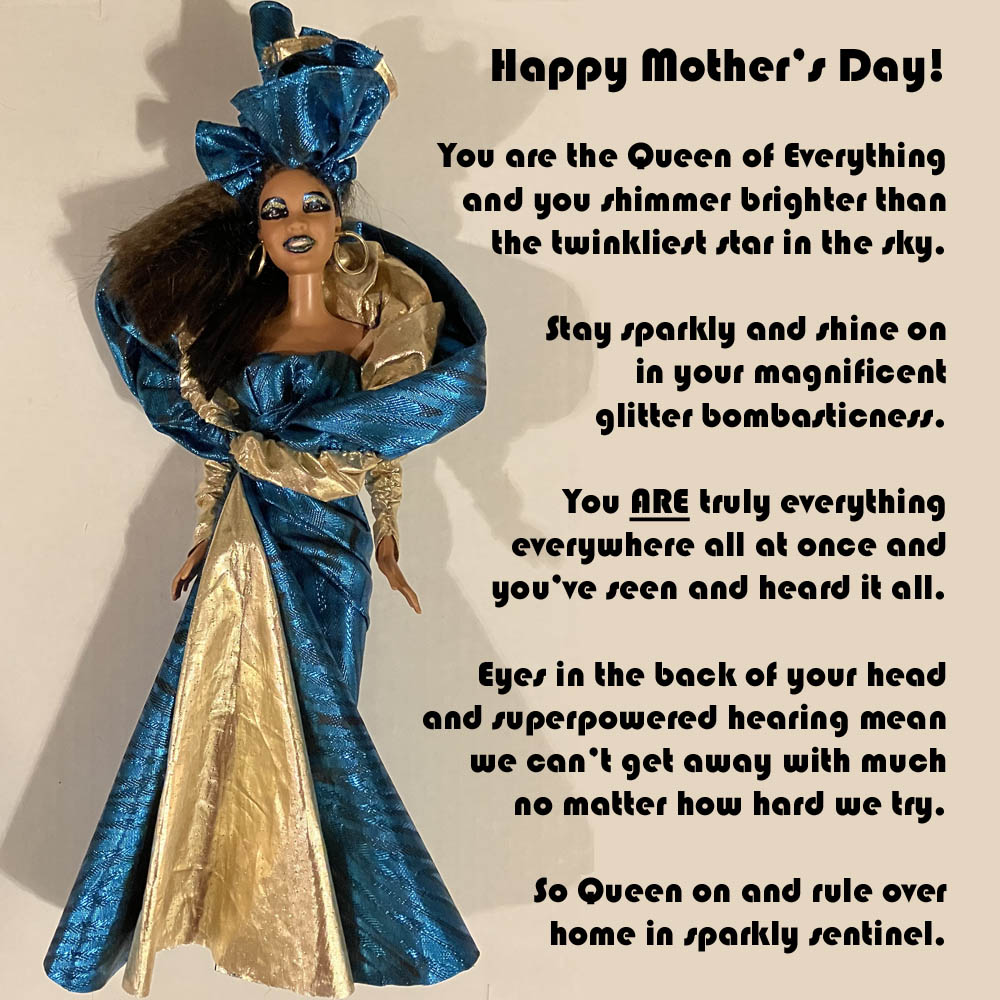 Artwork description: A Happy Mother's Day card featuring a picture of a Nefertiti doll with swooping hair, glitter makeup, and elaborate gold and blue headdress and evening gown.
Image text reads: Happy Mother's Day! You are the Queen of Everything and you shimmer brighter than the twinkliest star in the sky. Stay sparkly and shine on in your magnificent glitter bombasticness. You ARE truly everything everywhere all at once and you've seen and heard it all. Eyes in the back of your head and superpowered hearing mean we can't get away with much no matter how hard we try. So Queen on and rule over home in sparkly sentinel.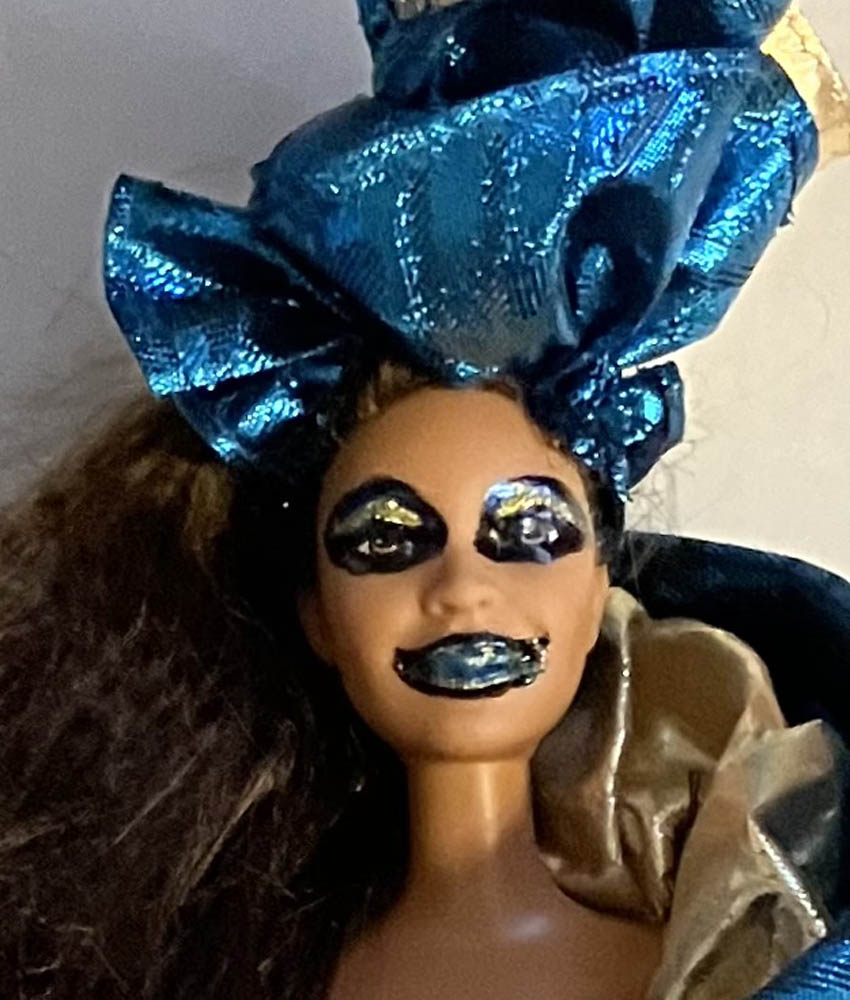 And may this be a testament to why us kids shalt never get you out of bed too early or run amok while you are getting ready to start your day… Because being the Queen of Everything takes planning and preparation…
Feel free to check out this Mummy Dearest Mother's Day card from 2021 here on Haunted MTL.