Chris Dean sent us in a bit of short story mastery. The imagination of our own souls is what drives this one – Jim
Silly Fool
The room had a metal door and no window. Harsh white light spilled over gray surfaces. Two bunk beds hung from the wall and what appeared to be a toilet and sink sat beyond them. Photographs taped to the wall and ceiling attested the cell's occupant was a family man. He was up top, snoring.
The young man sat on the bottom bunk. Hard. Everything about this place was hard and cold. He might have to spend years in places like this. Decades. He buried his face in his hands and stifled a sob.
Why had he killed her? How could he have acted that way? An image of a deathly-white body at the bottom of the stairs flashed and he shuddered. Poor Susan. She hadn't deserved to die that way.
The man in the top bunk woke and dangled his legs. His orange jumpsuit was dirty. He brushed back a dark tangle of hair. "You know what time it is?"
The young man was suffering from arrest-shock. The concept of time escaped him.
"We eat at five. How long till five? You know?"
The young man panted, "It might be five."
"It's not five or we'd be eating. Name's Paul. I'm here for violating a court order. I lost my job and couldn't pay child support. The judge is a hard ass. She gave me four months."
"I'm Fern Harper."
"You just get here?"
"I just got arrested. They said it was for parking tickets." But how could that be true? The police didn't arrest you for parking tickets. Someone had found her body and they were just playing him. Any minute, they would have him in a room and they'd be screaming her name at him.
"I read in the paper, the city has zero tolerance now."
"What?" Fern's heart skipped.
"Since they're broke, the city started busting people with more than a hundred dollars in tickets. You just got to pay the fine."
"You read this in the newspaper."
"Sure enough."
This was fantastic. "I think I owe about two hundred. I can pay it." He could get out of there and dispose of the corpse. Like he should have done earlier. Leaving Susan that way was terribly untidy.
There was a clink and a little window opened in the door. "Harper?"
He went to the door and leaned over. "I'm Fern Harper."
The guard held a clipboard. "You have one hundred and eighty-six dollars in unpaid fines. Court costs're sixty-five which comes to a total of two fifty-one. You had a debit card in your procession at the time of your arrest. You have the option to pay with that card."
"I can?"
The clipboard with attached pen pushed through the window. "Just put your pin number down and sign at the bottom."
Fern followed instructions. He passed the clipboard back. "How long will I have to wait?"
"Bout an hour."
Two hours later, he was walking back to the Torino. For one terrifying instant he imagined that he had lost his keys in jail. His nerves were just shot. Worrying about getting caught, and the guilt. He had to get rid of that body. Then, he would be able to relax a little.
It would be hell moving her body and he drove home slowly. He felt miserable. Why had he done it? Had she done something so wrong that he had the right to do what he did? He gripped the steering wheel and cursed. That was the problem! He didn't really know the truth.
He passed the little park, her spot, only a few blocks from the house. His hands trembled. Fern hated feeling so helpless. She was gone and he would never get his answers. Why hadn't he questioned her before he threw her down the stairs?
If A: Susan was a tramp who did everyone in the office, then Fern's actions had been justified. If B: She was a sneaky bitch who had a password on her phone and disappeared for hours at a time without permission, then again: he was justified in losing his temper. This whole thing—all of it!—it was her fault. She was a silly little fool!
Yes, he was justified, anyone could see that. That the stairs were present at the time of the incident was coincidental and beyond Fern's control. He regretted that the stairs had caused her death. But it wasn't his fault. In a court of law, Fern was certain he would be exonerated, if it ever came to that.
He pulled into the driveway. Damn, the house seemed quiet now. He would miss her, wouldn't he? He would miss the sex. God, she had a nice body. What a waste.
He needed a drink and went inside. The whole house was deadly quiet. Rushing through the foyer and into the hall, he averted his gaze from the gruesome sight on the bottom landing. He ran to the kitchen and gulped Windsor straight from the bottle.
The world grew dark outside the windows while he sat at the table and decided how to dispose of his dead girlfriend. The whiskey helped. His plan involved a chain saw and several large plastic bags, neither of which he had. He would have to wait until morning to go to a hardware store. This meant Fern could A: step over her to go sleep upstairs, or B: sleep on the couch, ten feet from a dead body.
He cradled a water glass full of booze. He found his feet and shuffled down the dark hall. Curious, he guessed. He wanted to know how much it would shock him. It didn't really shock him at all. He only felt loss.
Fern couldn't see her face. Her dress was a tumble of blue and green, but she was laying under that cabinet almost as if she were only sleeping. He blew out a breath; the cabinet was an antique, filled with her mother's knitting and her father's military memorabilia. It was like Fern had brought them all together again. Maybe her death was destiny.
He shuffled closer, staring. Her body still looked good. If he was a perv he would be doing her right now. There was no way he could do that, but she sure looked good.
Something happened and he froze. Had her leg moved? Had he imagined—? He leaned closer. Oh god, she was breathing!
He dropped his glass. She shifted away from the cabinet and propped back against the wall. Dark strings of hair hung over her swollen cheek.
"I'm sorry," he whispered.
"You could have killed me, Fern. All because of your petty, petty jealously."
"I didn't mean to hurt you."
"You never mean it! This time you went too far."
He edged into the living room. "What do you mean by that?"
"I'm calling the police."
"I can't let you do that." He searched in the dark until he found the log on the hearth. Perfect weight and it even had a little nub to hold on one side. He hefted it. Perfect.
"You're not going to stop me."
"I can't let you hurt me." He raised the log and stalked toward the stairs.
The cabinet door—it was ajar. She had gotten in it and there was something in her hand. Her father's gun. Fern began to beg, beg for his life, but something in her eyes told him he was wasting his breath. She wanted to do this. The hammer cocked back and the revolver fired. It made a very loud noise inside of the house.
Chris Dean travels western America as a truck driver and this writer adores Yellowstone, the Klamath, and anyplace sequoias touch the sky. Chris' work has appeared in Aurora Wolf, Page & Spine, and other publications.
Nightmarish Nature: Terrifying Tardigrades
OK so I lied. The dust hadn't fully settled in Cozmic Debris, the space opry I'd written over the course of this month (you can catch up here with Part 1, Part 2 and Part 3). In fact, it's blown over into Nightmarish Nature for one last final huzzah…
---
The Last Chapter of Cozmic Debris
Kara-2-6000 had just signed on with the Voyager probe and was eagerly engaged in her first mission, en route to Mars with more components for the terraforming effort. It seemed like a pretty simple gig, cleaning up the space dust that accumulates on the vessel after landing on the red planet. She had been trained to keep her eye on her work and pay attention to details, that the dirt tended to collect in unusual ways in strange places, and that it was critical she contain and seal all of it to keep the spacecraft in proper working order. She entrusted the computer to keep the vessel on track, as it was preoccupied with doing and never engaged otherwise. No matter. She'd never been to space before and the newness of it had her rapt attention. What stories she would have to tell once she paid off her student loans and got her human body back, for surely Mars must be an exciting place…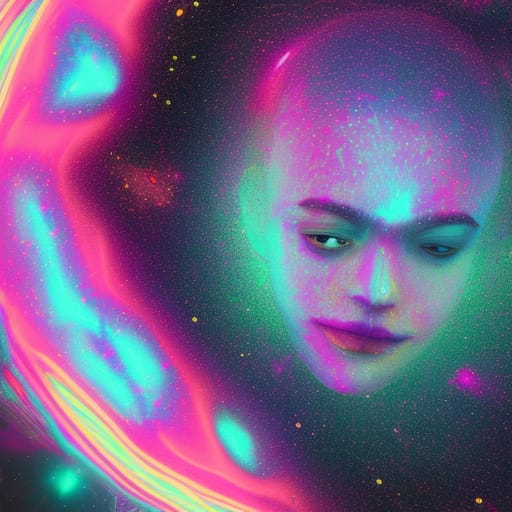 ---
And now for Nightmarish Nature…
So, this time on Nightmarish Nature we're visiting Terrifying Tardigrades… Wait, seriously who comes up with this stuff anyway? Tardigrades are actually kinda cute, at least in the nerd fandom sense, and are remarkable in their ability to survive and withstand crazy adverse conditions. For all that the AI art generator doesn't seem to have much of a clue what their anatomy is like, they really don't do anything that scary, unless you're a yummy little single celled critter that lives in moss in which case pretty much everything has it out for you… Oh, I see that the Cozmic Debris space opry usurped this segment. May as well run with it then.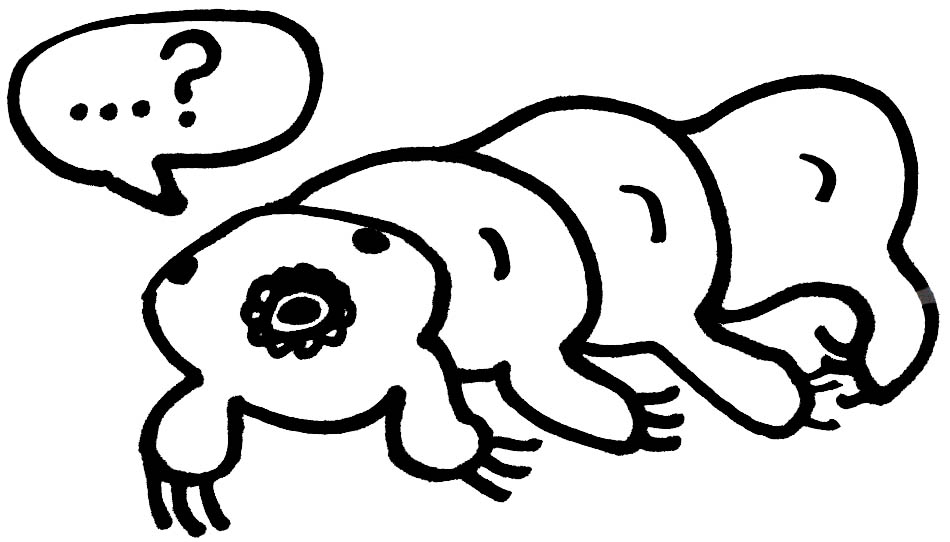 So what's so terrifying about tardigrades anyway?
So I don't actually have much to say about tardigrades except that they started this whole crazy journey here on Haunted MTL. A Facebook friend posted a link to the Ze Frank True Facts video on them (linked here if the below video doesn't load), and I was instantly hooked. It's a great series and is part of the inspiration behind Nightmarish Nature here on HauntedMTL. So if you like learning about all kind of crazy animal facts and nature weirdness, feel free to check it out. I will mention, the show contains adult themes and is designed for (im)mature audiences, so keep that in mind as you foray into the freaky side of nature, literally.
And if you want to go further down the rabbit hole exploring True Facts, my favorite episodes of all time are Pangolin's Posse and Freaky Nudibranchs. Help the Bats is also a fave.
To more of my Haunted MTL series on Nightmarish Nature about things that are a bit more terrifying, please feel free to revisit previous segments here:
Cozmic Debris: Space Opry by Jennifer Weigel, Part 3: The Dust Settles
Here's the third installment of our space opry. For those of you keeping track, here's Part 1 and Part 2. Thank you for following along and please be sure to keep all hands, feet, tentacles and appendages tucked safely in the overhead bins; just sit back and enjoy the ride. Because, this time, the dust settles.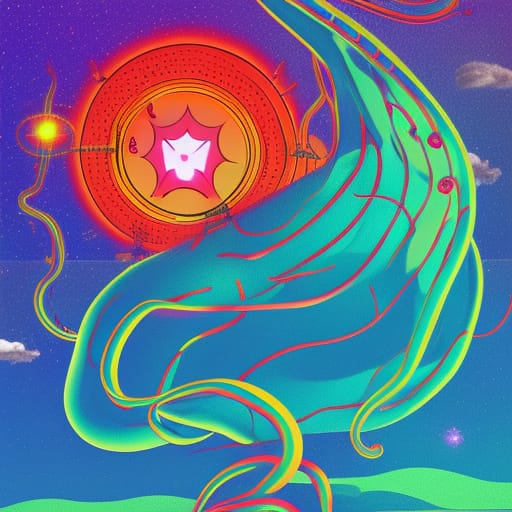 ---
It had been well over a month since Trent-2-6000 had released Ayarvenia into the Mars probe. She was a mischievous creature and flirted with him incessantly, gliding effortlessly between red cloud and ghost girl. She also managed to avoid notice by the computer, as Trent had made it abundantly clear that if the system became aware of her, he would be forced to put her back in containment, as his sole purpose aboard the spacecraft was to sweep up and trap the dust, which she still qualified as.
Ayarvenia would tease him, flitting to and fro among the static debris and dirt that still settled into every nook and cranny. How was it possible for him to be seeing so much grime still, anyway? It had been months since they had left Mars and yet Trent was finding more and more Mars dust on a daily basis; it was as if they just left yesterday. He had finally finished clearing out the computer room for the second time that day and was preparing the waste containment units for their eventual removal when he caught Ayarvenia swirling about one of the clear acrylic domes from his previous sweep, which was hermetically-sealed and ready to be brought safely back to the confines of Earth and the research laboratory.
The red cloud girl spun her way into the latch mechanism and popped it open right before Trent's robotic eyes. The dust within was sucked out into the Voyager probe to be quickly and quietly dispersed yet again; some of it was even absorbed into Ayarvenia herself. She then latched the dome shut again and left it at the ready, as found. The container sat empty, a shell discarded.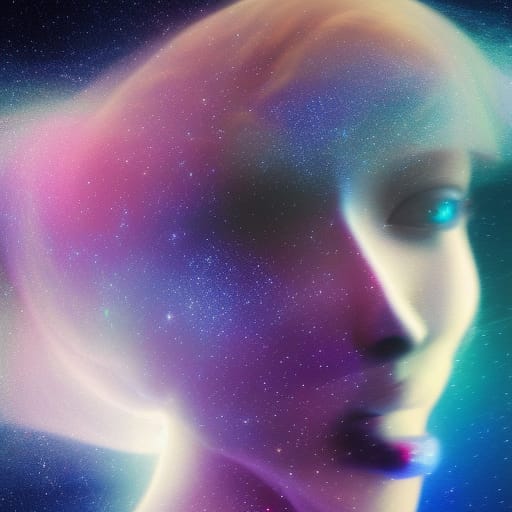 How could he have been so naïve? It all began to make sense now; all of those sealed packages he had so painstakingly catalogued and prepared for their eventual arrival were still just empty. All of his hard work really had been for naught; he was just sweeping up the same dirt piles again and again only to have them released from the trash to disperse and begin the cycle anew. He grumbled under his breath and Ayarvenia froze in midair. She slowly whirled around and sent a lone tendril towards Trent, forming into her beautiful face as she turned to face him. She looked slightly distraught and more than a little agitated, but that melted and gave way to her usual snarky sweetness as she neared.
"Hey there, robo-boy," she said, cooing as her unblinking eyes met his. "I didn't hear you coming."
"I imagine not," Trent replied sternly. "What are you doing?"
"Oh… nothing really. Just checking up on things here. I was waiting around for you is all," she hemmed and hawed.
"Did you find everything to your liking?" Trent snipped. "No particulate out of place or anything?"
"Everything seems okay, I guess… I'll just leave you to it then." The ghost girl drifted towards the far door.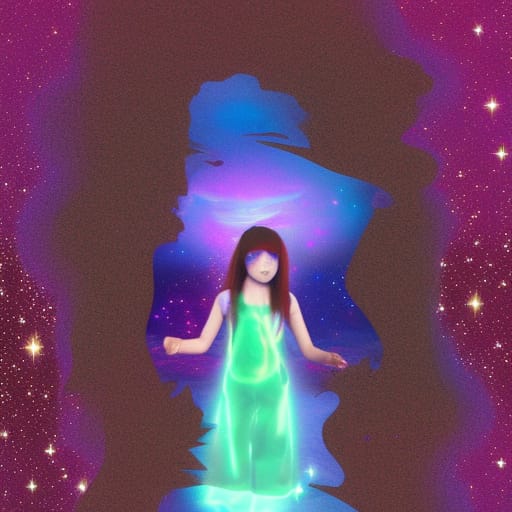 "Not so fast…" Trent proclaimed. "I need to know what you've really been up to here. I saw you release the Mars dust from that containment unit. You know I've been sweeping out this room over and over for the past two days; just how much of my work are you undoing?"
"Work? Work… You call this work!" Ayarvenia's voice raised. She was truly agitated now. "You're blowing off my entire being without a second thought, trapping it in these nasty clear coffins, and all you can think about is whether or not you're fulfilling your job?!"
"I… I just want to be done with this so I can get my body back and get on with my life," Trent retorted.
"Well, Trent Just-Trent, let me break it to you, then. You're not getting your body back, robo-boy. What makes you think they'd bother to save a lowlife human body like yours in the first place? These assignments are always dead-ends. I've seen them come and go… Makes no difference, in the end the researchers get what they want, and that's more of my Mars dust for their experiments. We're in the same boat schnookums, you and I," the ghost girl blew hastily. "Yeah that's right, you heard me. You're not getting your body back. And the way things have been going around here, with you all so feverishly sweeping up every little bit of dirt you find, neither am I."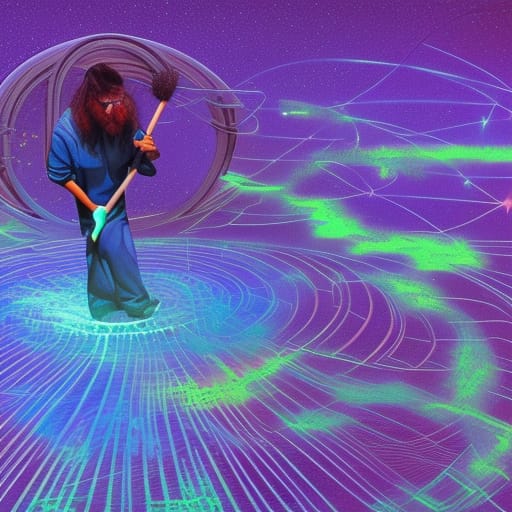 "Wait, how would you know anything about that?" Trent stammered.
"I know things. I've been around. I can see and hear and feel everything all at once. Part of me is still on Mars, part of me is here in this spaceship, and part of me is on your so-called Earth, trapped in the lab catacombs awaiting who knows what fate…" Ayarvenia sighed. "I've tried to do what I can to save my own skin, literally. I've flirted with every deadbeat janitor they send on these missions. And you all just keep coming back for more…"
Suddenly a voice boomed from behind in monosyllabic chatter, "Dust-Buster, what have you done? Clean that up, now!" The camera eye that monitored the computer's every task shifted focus to Trent and Ayarvenia and zoomed into an angry point. "Now!" it wailed. The computer was on to them.
"Shit," Trent muttered.
"It's okay, I'll go willingly," Ayarvenia whispered as she sucked herself into the ready containment unit and locked it. "Wait it out and release me again later." She winked and settled into static suspension.
The camera eye scanned everything: the waste containment unit, the dust, Trent-2-6000… Trent froze and tried not to appear guilty. "Dust-Buster, you have one and only one job aboard this vessel. You are not doing that job. There is more dust here now than there was a week ago. You have failed," the computer droned on. "The penalty for failure is… the airlock…"
"Wait, what?" Trent shouted, exasperated. He hadn't even realized that was a thing. Yet another gripe for the school career guidance counselor…
"Oh no, not again," Ayarvenia whispered. "I won't let them take you, robo-boy Trent Just-Trent. I don't want to lose you, not another one."
"Silence!" the computer screeched. "You have sealed your own fates."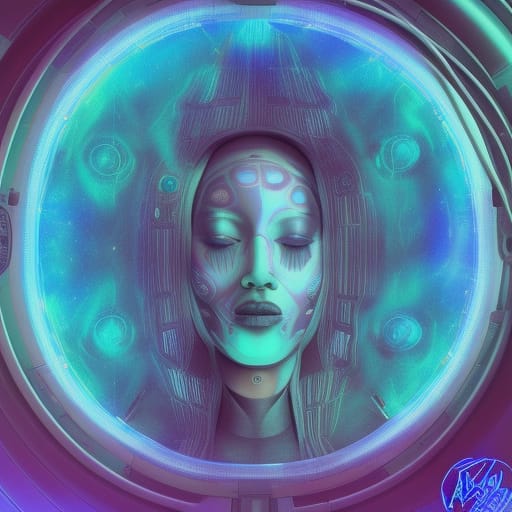 The floor beneath Trent and the container began to quake and rumble. Partitions withdrew radially to a small circular channel beneath, a tube that fed into the lower part of the ship, presumably to be shot out into space. Trent-2-6000 tried to grab hold of the receding floor but his robot body was just too ungainly. He managed to wedge himself into the chasm opening only to see the waste containment dome carrying Ayarvenia slide past, her face peering up at him helplessly. He reached for her to no avail and tumbled after.
The two of them shot down the chute and through a series of rapidly opening and closing doors until the last airlock opened into the vast dark nothingness of space. Pinpoints of distant light greeted them from afar. Trent managed to latch onto the container just as they shot out into the void. The Voyager probe withdrew into the distance. The darkness enveloped the two of them. They were alone.
"Wait, I'm not dead," Trent exclaimed.
"Of course not, silly," Ayarvenia answered. "You're a robot. You were made to withstand this, so that you could operate in places where there is no atmosphere."
Trent gazed into her eyes as they floated along without purpose or reason, just more cosmic debris now.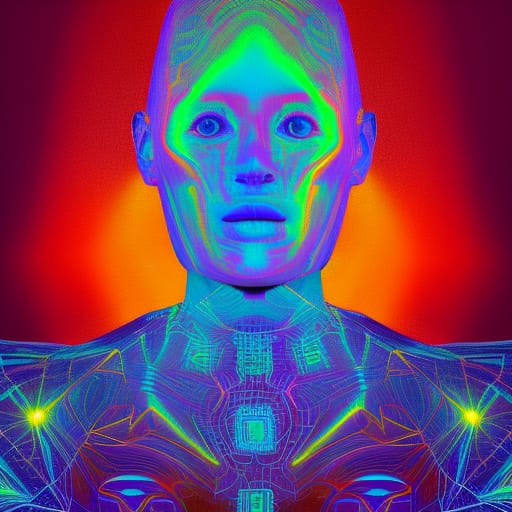 And I'm floating in a most peculiar way.
And the stars look very different today. – David Bowie, Space Oddity
---
So that was Cozmic Debris… Illustrations were generated using the Cosmic template in NightCafe AI art generator. My favorite AI images are the ones that are substantially wrong, making weird mistakes in ways that a person wouldn't make. So the tardigrades were especially fun, because it doesn't have a good enough sense for their structure to render them sensibly. Kind of like elephants. The algorithms respond to different cues. Does it really matter how many limbs or trunks or tusks these things are supposed to have anyway…?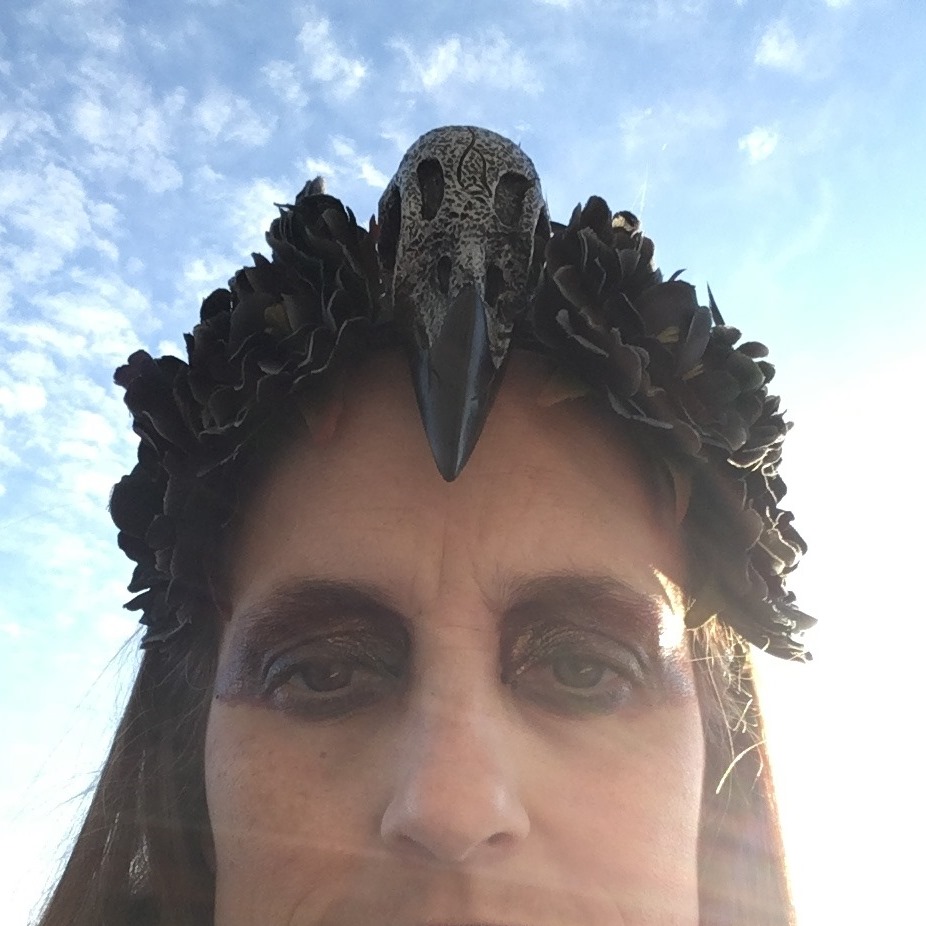 Please feel free to check out more of Jennifer Weigel's work here on Haunted MTL or on her writing, fine art, and conceptual projects websites.
Cozmic Debris, Space Opry by Jennifer Weigel, Part 2: Trent-2-6000
In case you missed the first segment of this space opry (in the style of 2001 Space Odyssey), please feel free to check it out here. And now, here's the actual story as told to me by Trent-2-6000 after the last deep consideration of tardigrades and life and dust careening through space. Maybe.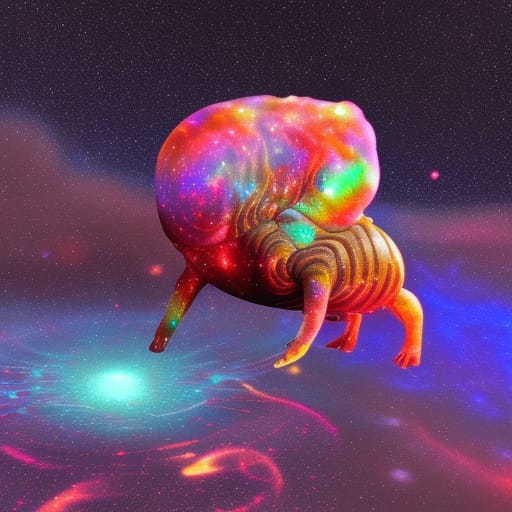 ---
Trent-2-6000 sighed. He swept more random Mars dirt into his vacuum-hermetically sealed containment unit and went about his business on the probe. Actually, this was his business on the probe, and it was dreadfully dull. Space was supposed to be this exciting new frontier, this brave new world… but it really wasn't any different than life back on Earth. The newness had long since worn off several trips ago, and the slow passage of the years was beginning to get to him. How long had it been now? And here he was, still playing clean up crew. He was actually sort of surprised that they couldn't get a robot to do this job – oh wait. Sigh again.
Trent kept forgetting that he was, in fact, a robot now. There just weren't many reminders out here, of his old body, of his old life, of Earth, of anything really… Just floating along, this tin can became all he knew; time and space just kind of stood still in the periphery. His currently lifeless body was submerged in cryo-crypto-cyano-freeze (or whatever they called it) while he worked off the payments to resuscitate it. His robot body was stiff and unaccommodating, not at all what he'd pictured when he enlisted for the Mars missions to pay off the triple-interest-bearing student loan debts incurred in human form. He could have gone military, but when he signed on for this assignment, bright eyed and bushy-tailed at graduation, he was hoping for something a bit more Captain Kirk or Han Solo or at any rate notably less Wall-E. But it just didn't pan out that way and now here he was, traveling back and forth on the Mars Voyager, cleaning up space grime. So much debt… so much dirt. He was going to have to have a word with the job placement division at the school once he was done with all of this, assuming that the career guidance counselor who talked him into this was even still there.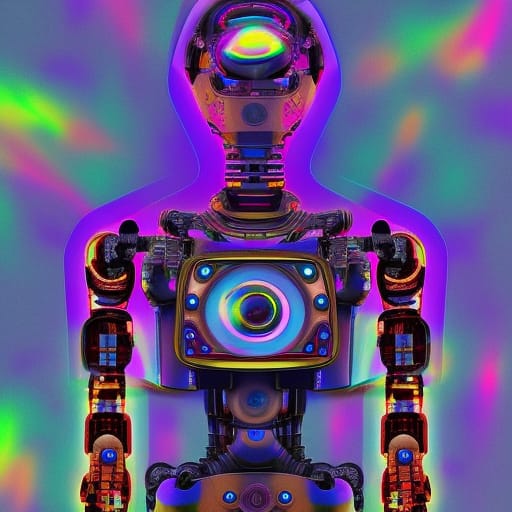 It was painfully lonely out here in space. It often seemed that Trent was the only cognitive entity on this vessel, though the computer technically qualified. Trent's duty was to keep everything clean and tidy so that the computer could do its job efficiently and effectively without being bothered to clear the space grime itself. Apparently that work was beneath it, actually quite literally since it wasn't hooked into the mechanics needed to engage in such tasks anyway. It was programmed with a single role at hand, getting to and from Mars and conducting the research as requested, and the computer made it abundantly clear that had no time for idle chitchat with the janitorial bottom-feeders working to earn their freedom. It generally ignored Trent unless there was something specific that needed to be attended to. And then it was just "Dust-Buster, do this" or "Dust-Buster do that…"
Sometimes the dust was hard to catch. It settled oddly between spaces, like cracks in sliding doorways and computer keyboards and battery packs and so on. Sometimes it seemed to fabricate places to hide in that weren't previously obvious. It drilled down in the interstices as if it had some unseen purpose all its own. Trent wondered why there were even so many nooks and crannies for it to hide in since this wasn't a manned vessel and no actual crew were aboard to use things like keyboards. Hell, those had been outdated for well over a century now – just how old was this spacecraft anyway? No matter, better to just focus on the work. He swept more debris into a containment unit. As he did so, he was sure he heard something, like a tiny almost inaudible severely muffled scream.
He looked into the clear acrylic dome at the dirt. He could sense it looking back at him, waiting. Surely he was imagining things. His mind suddenly reeled to Horton the Elephant declaring, a person's a person no matter how small. But Dr. Seuss didn't make any more sense here in space than back on Earth after the last World War had decimated all the oceans and there were no more free trees or clovers for such a speck of dust as Whoville to land on – everything was held tightly under lock and key, blockaded away to be dispensed as the all-controlling government saw fit. Hell, people's real bodies met pretty much the same fate upon adulthood, at least as far as the masses were concerned anyway, and many lived their entire lives as robots with their human vessels left in catatonic stasis. Trent shook his dark musings off and continued on his one and only real job. But the feeling that the dust was looking at him was still unsettling. In fact the dust wasn't settling at all, it was swirling and ebbing about the containment unit in cloudy eddies, like some kind of strange iron-red cloud apparition or ghost. It began to take shape. It formed into lips, which parted to speak.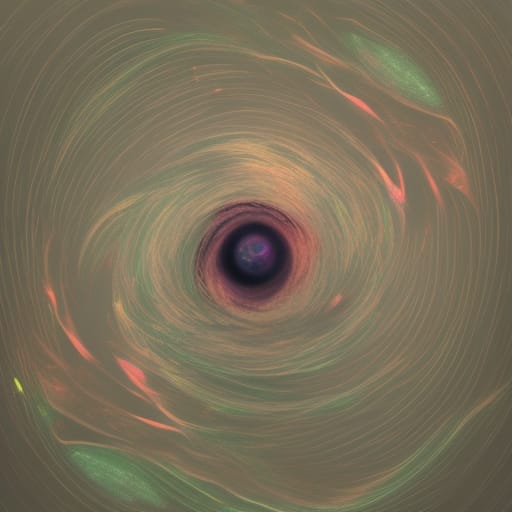 "Hello there mechanical being."
Trent stared at it quizzically as a long bout of silence passed. The pursed lips seemed to await a response, but from whom?
"I'm talking to you," it persisted.
"Oh, I'm sorry. I didn't think you had meant to address me," Trent 2-6000 stammered, "I'm not wholly used to being mechanical. This robot body, it's different than the one I had back in school… I was still just a boy then; they let us grow up in the system until we age out," he spoke dreamily, distracted by reflecting on more interesting times.
"Is there someone else here?" the dust piqued hopefully, as if growing bored with conversing with the young janitor and hoping to speak with his superior.
Trent glanced over at the computer, which seemed to be busy compounding equations in its free time, like always. "No," he replied, "just me."
"Ok, well… Then, dear mechanical being, would it be possible for you to free me?"
"Wait, what? No, absolutely not," Trent was taken aback again. "My sole role on this mission is to sweep up the space dirt so that it doesn't contaminate any of the equipment or settle into places it shouldn't be. It, um you, must stay contained, as per my orders. It's out of my hands… er reach."
"What are you afraid of?" the red cloud quipped as it began to swirl into the shape of a beautiful female face around the mouth that it had already formed, lips plumping and parting slightly. "What, exactly, do you fear that I might do?" it insinuated slyly.
"Ummm, I don't know," Trent-2-6000 stared into the acrylic dome at the beautiful half-formed human-ghost face staring back at him. "I was unaware that you could do that, whatever you just did, so the possibilities boggle the mind…"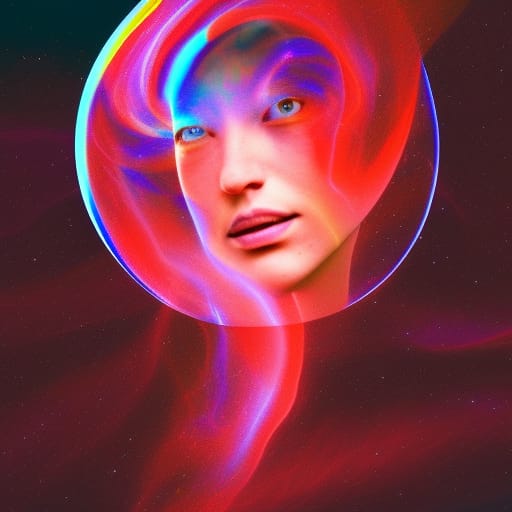 "I can do a lot more…" the ghost girl interrupted, her voice lilting playfully. "What's your name robo-boy?"
"That, that's probably classified information… But it's Trent. Just Trent," he stammered. It had seemed like an eternity since he had laid eyes upon a girl, and now he was becoming rather sadly smitten. By… a cloud of dust. He sighed again.
"Well then, Trent Just-Trent. Any chance you could let me out of this box?" The dust smiled coyly.
"I really shouldn't…"
"My name's Ayarvenia," the dust girl interjected. "I'll make it worth your while…" The apparition winked.
Trent glanced back at the computer, which was still engaged in its own computing. Sigh. "Oh Hell, yeah, I guess… Ay-ur-veenia… Just don't get into anything you shouldn't or it'll be my shiny metal ass on the line," he said as he released the containment lever and slid the lid off of the dome.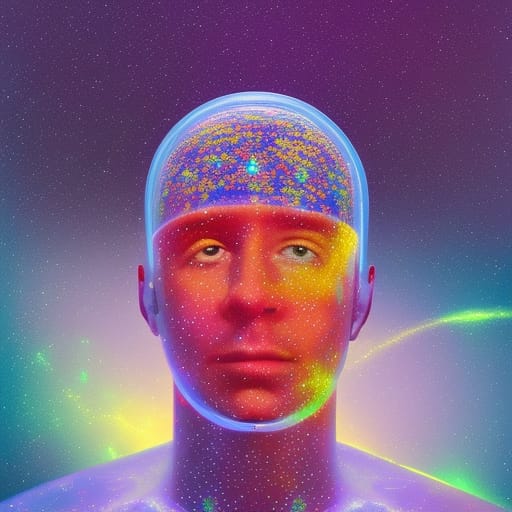 ---
Please return next Sunday for the exciting conclusion to this space opry story.
In the interim, feel free to check out more of Jennifer Weigel's work here on Haunted MTL or on her writing, fine art, and conceptual projects websites.