When asked about the story my editor said, 'Yes. It's very good. I was completely engaged throughout, excellent storytelling and style. Great horror, great flow, some humour too. It felt like watching a short film…' – Jim (and I have to agree!)
Flat Tire
Hybrids are great. I was barely three weeks into owning mine by the time I'd pissed off everyone I knew with my endless gas-mileage bragging. One of the methods (besides the giant battery) for saving gas is keeping the vehicle's weight low. This involves lots of smart methods and one stupid one.
The stupid one is how I got to where I am today. You see, to keep the weight down, they leave out a spare tire. It's bad enough that half of the population today doesn't know how to change a spare tire, now we don't even have one. Not trying to sound old here. I'm only in my thirties with a big beard, a receding hairline and box of my ex-girlfriend's stuff riding in the back of my hybrid that I've been meaning to drop off for the last week. Think of the gas mileage I could've saved…
Sometimes after a breakup you have to take some time to find yourself, to evaluate what went wrong and who you want to be going forward for the next eventual breakup. Some people go to the gym, some learn to play an instrument or to paint. All of those things take more effort than I'm willing to give. I decided hiking would be my outlet. I already had the beard, all I needed was an old backpack. I stocked it full of granola bars so they could crumble to pieces as I hiked and off I went. There are a couple national forests near my house in North Carolina. I had a plethora of trails to choose from and was ticking them off, one by one, working my way up to the longer ones. It was getting later into the fall and colder each time I went. After a nice late summer breakup, I'd had perfect hiking weather to find myself.
It wasn't until that day that I found something.
Late November. I'd had Thanksgiving with the family and no shortage of questions about Liz. How much they liked her and to not worry because she'd come to her senses. Yeah, I knew that wasn't going to happen but try convincing my mother.
I decided to try a trail I hadn't before. It was further off, a little more obscure. When you hit all the favorites in the middle of fall, it's crowded. If I was really going to find myself, it would be with nobody else around.
This trail was part of a longer one that would take you all the way into Virginia if you wanted. I wasn't that gung-ho yet but I figured I could do a couple miles in and a couple back out. It was cold enough now that the crowds had died down. After I took the road towards the John Tinsley trail, I didn't see another car. I was already ten miles from the entrance of the forest and had another four to go.
I rounded the tight turns in the forest with ease. My hybrid handled them well until I came around a particularly sharp one and there was a downed log in the road. It was on the other side and I swerved just in time to avoid it. This was when I saw the broken pavement on my side of the road. The front tire on my passenger side hit it hard, just as I was turning back to avoid it. There was a slamming and immediate hissing sound. My dashboard lit up with the low tire pressure warning. It showed me all four tires, three holding strong around thirty-five pounds of pressure and the other rapidly declining into the lower twenties. I exclaimed various combinations of curses, including threats about the road's mother.
There were no good places on the curves and even though the road had been clear, I didn't dare to pull over until I could be completely off it. I limped my poor car along, likely damaging the rim, something my dad would tell me never to do and explain how stupid of a choice it had been. Finally I spotted a small clearing across the road, it was between two trees but would get me off the street. I tucked my poor damaged hybrid, that got zero miles to the gallon when it was incapable of moving, between the trees and killed the engine.
I finished my curses at the world, the log and having to find myself. Then I checked out the tire. It looked okay from the outside, but when I ducked my head under the frame I could see the tear on the inner side. More curses, then I headed to the hatchback. You see, I wasn't yet aware of the "no spare tire" rule. I was too excited about getting fifty miles to the gallon and having built in GPS when I'd bought it. Again, all great features when you had tires that could hold air.
I ripped apart the back, finding nothing but storage slots, and a fix-a-flat kit, which would be useless in this situation. When I realized I had no spare and double checked the manual to make sure they hadn't hidden it in the glove compartment or something, I threw out some more words for the mockingbirds to learn. If there were any out there, I didn't know. If they could learn curse words, I didn't know either, all I knew is once you were a half mile into the national forest, you lost phone signal. I held it up anyway, remembering one of my hikes I'd actually gotten signal when I was about a thousand feet up. There were zero bars staring back at me. I watched the road. There really hadn't been anyone, not since three miles back on the main road. It was cold too. I wrapped my light jacket tighter. I had a coat as well, something I always kept in the back of whatever car I owned, in case of emergencies. I'd tossed it over the seat while I was looking for a spare.
I stood at the edge of the road, now wrapped in every piece of clothing I had with me, backpack on my back with crumbled granola bars and a bottle of water. I'd be okay, I had to keep reminding myself that I wasn't hurt and it was likely that I was still going to get a good hike in considering I couldn't ride the rim thirteen miles out.
It was over an hour later when I decided to take to the road. I'd only seen one person and he was on a motorcycle. He'd stopped to make sure I was okay but didn't have room to drive me out. I'd asked him to stop by the ranger station and send someone up but who knows if he bothered? Either way, nobody had come. I'd given them time and I was getting antsy just standing.
I was happy I took to my heels, as it turned out, the John Tinsley trail was only a half mile up the road. There were no cars in the pull off which led me to plan B, or C, or maybe D at that point of the day if you counted the missing spare and the biker. I would hike it, just as planned, and when I got up high enough, I might get a signal. A thousand (or so) foot climb sure beat fourteen miles back to cell service.
The trail was beautiful, despite fall killing off most of the colors in the trees, there were still the views. The blue ridge mountains stood before me, inviting me to let go of my worries and find myself. Instead I grumbled through my hike. It was supposed to be a stress free time but I couldn't stop thinking about the car and how long it would take to get someone out to my part of the forest.
I went over creeks, logs and rocks with a purpose. I wasn't taking in the sights, I was plowing my way through it, just to get it done. It was something Liz hated about me. She was more of a 'stop and smell the roses' kind of girl and to be honest, that's what I disliked about her.
It didn't matter now because she wasn't here and there were no roses to smell. After about a half hour of strenuous climbing, I stopped on a big, flat rock by the edge and did take in the view. It was more because my legs were burning and feeling wobbly but for a second, I was just enjoying it, breathing the fresh, cool air and reminding myself all would be well. I was banking on good vibes at that point and used the good moment to pull out my phone. I had two bars, more than enough to call the dealership, get the number to the towing company included with my purchase and give them directions to where I was in the forest.
After I hung up with the towing company, I looked out one last time. They'd given me a forty-five minute ETA. Across the ridge I sat on was another mountain. There wasn't a clear path to it but it was likely closer to my car. It was covered in sickly looking trees mixed in with evergreens that made the mountain look like giant with a patchy beard. There was a flash of light near the top. I could barely make it out in the daylight but it looked red with a streak or tail behind it, then it was gone. I couldn't figure what kind of natural occurrence it could be but then I saw it again, the red flash that streaked like a tail. I wanted to stay and examine it further but I could feel the car pulling me. If I missed the tow truck, how long would they wait? I didn't need to find out.
I hightailed it down the mountain, jumping the logs I climbed earlier, slipping on the wet stones as I tiptoed across the creeks. Some of the cold water splashed in one of my boots and I sloshed the rest of the way. As I jogged down the side of the road, I could hear the clunk of one boot, the squish of the other and nothing else. The forest was silent. It didn't stop me from looking back for cars that I knew weren't coming.
When I got to my car, I was breathing hard, leaning on it for support but not daring to sit down in case the truck came. I really hoped I didn't miss it but there was no way for me to find that out without climbing another mountain.
It was a half hour before I heard the rumbling of the tow truck. A warm wave of relief washed over me when I saw the monster, flatbed slowing down. A decrepit looking man hung his head out the window with a pocked face and spotty white beard.
"This you?" he asked, as if he'd seen fifty cars on the way in and wanted to be sure he got the right one.
"Yes sir," I yelled over his engine. He was stopped dead in the road next to my car and I was getting nervous again, though I knew nobody was coming. I could see he was trying to decide how to turn the flatbed around on the tight curves of the forest. I looked up the road. "There's a better spot about half a mile up."
He looked ahead, squinting as if he could see it, then back to me.
"Well, hop in and we'll make it happen."
I ran around to the passenger side, directly in the middle of the road and climbed to the cab, looking around nervously for him to get us moving. He patted his shirt pocket and pulled out a smashed pack of Camels, shook one halfway out and grabbed it with his lips. When it was lit and he finished his first drag, he rolled down his window, then finally put the truck into gear and slowly got us up the hill.
"Pretty far out here," he said. "I never been this far. I usually stick to the fishin' river up front."
"Yeah," I said, not excited about small talk.
He switched hands so he could flick some ashes out the window and pointed with his cigarette hand. "My cousin used to—" His words cut out as he gave a groan and pounded his chest. "Woo, bit of heartburn there." He kept driving without finishing his sentence.
The turnaround was a challenge even with the parking area to help him out. He was miserably slow at it too, but eventually we were heading back to my car and my great hiking adventure would end at the dealership that was hopefully still open at six on Saturday.
The tow truck driver pulled, the best he could, in front of my car. He was still half on the road as he lowered his ramp. I had to show him how to work the push-button start and then assure him the car was running, though you couldn't hear the engine, yet another great feature of my hybrid. He seemed more pissed off than impressed, but managed to drive it up onto the truck.
When he was wrapping the supports around the tires, I looked off into the dusky forest. Despite all the delays and the unhelpful motorcyclist, I'd made it before dark. The day wasn't a total wash. Maybe the dealership would kick in a free replacement tire since they hadn't given me a spare. I wasn't holding my breath on that one.
"Alright," said the old man, patting one of my tires.
I got in the cab much quicker than him, ready to get out before it hit freezing. I saw a skinny, spotty arm grab the wheel, then his body pop up as he grunted his way into the seat.
"They should make ladders for these things, huh?" I said.
He just nodded, gripping the wheel as sweat dripped down his brow. He managed to light himself another cigarette before he threw the truck into gear and we started on. I watched us pick up speed around the curves, wanting to turn around to check on my car but not wanting to openly question the man's driving. He hit the brakes hard on the next turn, as if reading my mind and we evened out.
I saw the patchy mountain from earlier out the driver's side window. The old man did too, raising his cigarette hand as if to make a comment, but instead, his head leaned in until it hit the half-rolled-down window. His right arm, dragged across the wheel as he did.
"Hey!" I yelled, and saw us heading right for the trees on the side of the road and the cliff behind them. I grabbed the wheel, yanking it back to the right but the weight of the flatbed and my car dragged us off the road. A branch smashed his window as we plowed down the trunk it was attached to. Then we were rolling over. My seatbelt held tight, smashing my chest as my body tried to fly out the window. After two rolls, I felt my stomach fighting me. I'd hit my head on my window before it exploded against another tree. I felt glass shards stinging my arms as I slammed against the door. Then the truck was facing downhill and nothing was stopping it. We built up momentum again and left the ground as we hit another drop off, before gravity took hold and we were finished off on a row of big, pine trees. We'd stopped near the bottom of a valley between two mountains. There was blood on the windshield. My head ached and the driver looked worse. I couldn't hear him breathing. I tried to assess my own damages first. The glass in my arm was minimal, I didn't think I had a concussion but who could tell right then? Everything felt upside-down. My right knee throbbed but there was no visible damage. I managed to get off my seatbelt and check on the old man. I wasn't feeling a pulse and he wasn't breathing. I was in a wrecked truck at the bottom of a valley as the temperature plummeted. Next to me was a corpse. I looked to the forest around me as night fell.
I didn't even bother with curse words this time. Compared to the tow truck driver, I was in good shape. I was no medical examiner but I assumed he either had a heart attack or stroke from the exertion of getting my car loaded or maybe he'd just picked the worst time to take a nap. It didn't matter now.
I patted my pocket for my cell phone and found it empty. I thought back, had it been in my hand? Did I have it ready so I could call the dealership again and let them know I was on the way? I honestly couldn't remember and I couldn't find it anywhere in the truck. Maybe I did have a mild concussion. I shook it off and searched the old man for his phone. It was of the flip variety, clipped to his belt with a tobacco staind, leather case. I pulled it free and flipped it open. There were bold black letters on the screen saying, "No Service." It wasn't a surprise to me. The battery was at twenty percent which would be good enough. "Searching for towers" it read as I closed it and tucked it in my pocket. My knee screamed at me as I did. I found the dome light and clicked it on, surprised it was still working. I pulled up my pant-leg and struggled to get it over my swelling knee. I must have banged it hard during one of the rolls. Stretching it out felt awful, but each time I did it, it hurt a little less.
I flicked off the dome light, sitting in the dark, letting the weight of my situation wash over me. There were trees all around and a trickle of moonlight between them. I couldn't find a flashlight in the truck. Surely he had one but maybe it had been tossed with my phone. I tried the truck's headlights with no luck. I would have to make do.
The cab door fought me but popped open with a loud creak. I stayed on my good leg, using the door and the seat cushion to help lower me down. I looked up to say goodbye to the driver but couldn't find the words. I didn't know him well enough to by mad at him or even all that sad for him.
I landed on a pile of fallen leaves on both legs and crumpled to a heap. My knee was not ready for that much pressure. I could feel the swelling pushing on every joint. It took a minute full of whimpering before I was back up. I looked at the path we'd plowed on our way down. My poor car was, somehow, still connected to the flatbed, though it had been crushed by the journey down. A new tire wasn't going to do it anymore. If I got another hybrid, I'd be sure to see if it came with a spare this time.
The way we came was steep, obviously not meant as a way down but it was my way back to the road. The problem was then I'd have to hope somebody was driving by in the dark when so far, nobody had been all afternoon. Plus, there was no cell service at the road level. I looked back the other way. It would be another good mountain climb on a bum knee this go-round.
Then I saw the red flash. It pierced the dark about halfway up the mountain, then tailed off. I couldn't tell exactly where I was but I pictured the patchy, bearded mountain from earlier. Could I get service up there? Would they send a helicopter at this point? Who or what was making the red light?
I didn't have the answers, only the will to survive. The mountain seemed like my best option. Even if I made it to the road, I couldn't do thirteen miles on my knee.
We'd almost made it to the bottom of the valley before we stopped. There was a little creek running there and I realized how thirsty I was. I took a drink from the bottle in my backpack. It had survived the fall and I grabbed one of the crumbled granola bars while I was at it. They were broken down to the kind of granola you put on your yogurt but I needed the energy for the climb up. I shook the crumbs into my mouth as I went. The going was slow. I found a good stick to use to support my knee and was beginning to look like a real hiker. The beard, the backpack, the rugged look and now a walking stick. I could be on the cover of an outdoor magazine at this point.
I groaned with every step. I didn't see the red light again and I was desperate for something to focus on in the dark. The woods were creepy, cold, and quiet. It felt awful going further away from the road on a bad knee with a dead guy's cell phone but I was using the best logic I had.
I stopped at one of the clear patches on the side of the mountain. It loomed above me in the moonlight. I pulled out the phone, hoping for some insane luck that I'd already found reception and that was quickly quelled when it read "searching for service" again. Only now, the battery was down to ten percent. The constant searching was killing it before I could even get up the mountain. I held the power button and had a brief jolt of fear as I watched the screen go black. What if it required a password when I started it back up? Too late now. Though it was an old flip phone. The ones I had back in the day never had a password option, I doubted the tow truck driver had put one in place.
Then I spotted the red flash. It was off to my left and much higher up, but there it was. It was more clear to me now that the movements of the light were not automated but human. Some crazy group was out camping in this cold weather and they were about to save my life.
I pushed on with a new found energy. My knee screamed at me but the pain was getting dull as the excitement of rescue was filling my stomach. I got into a rhythmic stride, focussing on my breathing and finding solid footing for my bad leg. As I went, there were noises picking up in the trees. There were all kinds of animals out here. I mainly thought of bears, cougars and wolves. I was a sitting duck between the dark and my leg. I couldn't outrun or fight off anything. I found myself looking over my shoulder at a particularly loud noise behind me and stepped sideways on a rock. I collapsed at the pain, dropping my stick and gripping my knee as it throbbed. I fought back the desire to scream and kept it to a muffled groan, realizing, as I lay there, how it probably made no difference. A predator would already be able to find me just by my trudging walk.
I listened between breaths. The forest was silent again. I located my stick and was back on my way in the direction of the light. I would see it flash here and there but it seemed like I wasn't getting any closer, as if it were just part of the sky.
Finally, after ten minutes of painful darkness, I saw it, only twenty feet up or so. This time I saw more. The red glowed across a gray, stone building and I paused. What building would be out this far? Surely it couldn't be a ranger station. Maybe an electrical relay? I didn't know, only that I had to keep moving.
The light was out as I approached the building but the moonlight gave me enough clarity to see the stones, dirty and aged, with a brown roof barely intact and no door. There was no one around and no light.
"Hello?" I said to no reply.
I approached the empty, door frame. There was a small fire pit inside, there were black coals and soot around the floor but a tipi of fresh sticks atop them.
Then I saw movement in the corner of the small room. The red light lit up. It was like a miniature lightsaber from a Star Wars toy collection and it was pointed at me. On the other end was a boy, no more than five, bundled in mismatched clothing with a fixed, angry expression. He grunted and I have to admit I jumped back against the wall.
"Hi, I'm sorry if I scared you. I was in an accident, are you parents around?"
The boy tilted his head at me and pointed at my stick.
"Oh, sorry, just to help me walk," I said. "See?" I held it out and the boy grabbed it. For a moment we wrestled for it. It felt silly but I needed it. It was my only defense out here. In the end, I was unprepared for his burst of strength and when I planted my bad leg, the pain shot up to my arms and I let go. He watched me curiously as I winced in pain.
"My leg," I said, holding my knee with two hands, bent over. "I hurt it in the crash. If you could find your parents—" My sentence was cut off when he swung the stick into the side of my head. It struck me in the temple and I felt the world spin. I went down to my knees when I saw the second blow coming. I caught the stick just before he clocked me again. I pulled it away from him and he let it go, switching to swinging his fists instead. He hit me a couple times before I shoved him square in the chest, harder than I meant to and he smacked his back on the wall, falling down to the floor.
"I'm sorry. I'm not trying to hurt you. Why are you—"
I heard an angry cry, louder and from directly behind me. The doorway darkened with the figure of a man, not much bigger than me but with crazed eyes, likely because I just hurt his child. I opened my mouth to explain myself but he was already lunging at me. His shoulder caught my chest and he drove me into the hard, dirt floor. I felt the breath shoot out of my lungs. I was gasping for air, raising my head as the man pulled back. Then I saw it, the tow truck driver was laying just a few feet from the door in the grass. Had this man dragged him all the way up? Was he trying to save him? Was he— A fist pounded me in the head and everything went black.
When I came to, I smelled smoke. I blinked a couple of times and tried to rub my face but my hands were tied, my arms spread out like I was asking for a hug. I was in the corner of the small building on an old chair. The fire was going, giving a nice warmth to the room on a cold night as the smoke billowed through holes in the roof. The man was tending to the fire as the boy was playing with his lightsaber again.
"Excuse me," I said. "I think we got off on the wrong foot. I was in a wreck down there." I looked around to see the tow truck driver propped in the opposite corner, nearer to the fire. He was naked, his clothes piled under him. "What is…?" But I couldn't finish my sentence. Something was very off about this father and son combo. I heard it now, the father's muttering.
"Fresh meat, fresh meat, fresh meat," he repeated. Then he moved an old, iron spit over the fire and reached for a rusty, handsaw.
"What are you…?" I watched in horror as he went to work on the driver's leg like it was nothing more than a tree-limb. I slammed my eyes shut, turned my head but I couldn't plug my ears. The squishing of saw through skin and muscle, quickly turned to scraping of bone and tendon. It was awful and the rusty saw didn't make it a quick job. After a grueling minute, the saw hit the floor and I heard other clanking sounds accompanied by a sickly squelching. When I dared to look up, it was exactly as I pictured but much worse to see with my own eyes. The driver's leg was turning on the spit like a roast chicken, foot and all. I looked away again, moaning with a sick feeling I couldn't even describe at this point. I begged for him to stop, to let me go, all the usual stuff, how you won't say anything to the police if they just don't kill you but he just kept on as if I wasn't even there. I called for the boy, hoping to reason with him as a five year old, or at least trick him but as he gave me his attention, his father grunted at him and he came away from me. I couldn't watch them eat their meal but I had to hear them. All of my request to be let out, to use the bathroom, anything went unmet.
Later, as I was slipping in and out of consciousness, my eyes snapped open at a thought. I was watching them bed down, still not acknowledging me when I realized that they didn't see me as human. I was just like a chicken or squealing pig. My time would come, just as the poor old man's had. Thankfully he'd been dead when it all happened. Then I had a worse thought, maybe they didn't see themselves as human.
I was drifting off again, watching them sleep so peacefully after the horrific acts they'd just performed. I wondered what had made them that way. I wondered how long they'd wait before they started in on me and if they'd have the decency to kill me first.
I woke, aching from the pull of the ropes. I was at least propped in the corner so I could rest my knee. I felt dehydrated and my lungs burned from the smoke the night before. I'd drifted in and out of horrible nightmares, shaking myself awake many times throughout the night, but each time I awoke, I realized I'd rather be back in the nightmares.
The sun was lighting up the mountain but I was shivering bad, exposed even with my coat, the room had dropped down to whatever temperature it was outside. I guessed not much above forty. The boy was rubbing his arms, a small sign that he was part human at least, and mumbling something to his father. As much as I could make out of their incoherent conversation was that he was cold and wanted to start the fire and his father told him to go get more sticks while he stayed behind. The boy grabbed his lightsaber, tucked the little loop of rope on the end of it around his wrist and was out the door.
The father caught my eyes for a second and I could see there was no human left in him. He grunted at me and turned to find his saw. I couldn't tell if he was happy I was still alive or wished I'd passed in the night. All I knew was he was about to cut a hunk of his breakfast off of the guy who was supposed to drive me to safety last night. I looked away and caught a glimpse of a group of random objects across from me. There were clothes, a couple backpacks, various water canteens and in the little, closed-off windowsill was a small, golden figure. It glimmered like real gold and I wondered what other victim he'd pulled that off of. If it was really gold, I couldn't even guess how much it was worth. Then I heard the saw hit flesh and I tried my best to find a happy place in my head that didn't exist anymore.
It was about ten minutes later when the boy returned with an armful of sticks. He started piling them on the firepit and his dad set down the spit he'd impaled the driver's arm on. Apparently it was leg for dinner and arm for breakfast, I really didn't want to know what was for lunch.
The man started grunting at the boy. I finally heard a few real words, the first time since he'd said "fresh meat." These words most resembled "Wet" and "Wrong" and he repeated them over and over at the boy who seemed to protest just a little too much as the father struck him across the face with one of the sticks. The boy fell, reaching to his cheek and coming away with a handful of blood. He didn't cry and that hurt the most. He was so hardened to whatever this world was that he lived in that he didn't even cry anymore, if he ever had. The father made a restless noise, went over and grabbed a piece of the driver's clothing and tossed it to the boy. He held it to his cheek to stop the bleeding. There was an awkward silence before the father grunted and went out the door, presumably to get some sticks that weren't wet with morning dew.
I looked at the boy, who'd push himself under the closed-off window in front of me. His head rested on his knees and I knew this might be my only chance.
"He shouldn't have hit you," I said, quietly.
The boy didn't look up.
"I like the toy, the light thing you have. Do you like toys?" I asked, and now I had his attention. He looked up with big, green eyes and I continued, "I have a toy kinda like that. It's in this pocket." I motioned to the bulge of the cell phone in my pants.
He looked a me curiously.
"Yeah, right there, if you can get it, I can show you how to use it."
He looked at my legs and frowned.
"I swear, I'm not trying to hurt you. I just thought you'd like a new toy."
The boy approached, slowly at first, then began digging in my pocket. I had the thought for just half a second to clutch him in my legs and squeeze the life out of him, but I'd still be tied up. Who knows what his father would do if he came back and saw that scene?
The boy held up the flip phone, turning it over in his hands, then he looked at me.
"You gotta open it," I said. "If you untie me…" But he figured it out. The screen was dark but he seemed to recognize it was supposed to do something. He held it up to me.
"Hold down the red button," I said and he did. After a few seconds, the screen came to life. He was marveling over it, hitting buttons as it loaded. The electronic beeps made him smile and he looked up again, happily playing with his new toy. I knew I needed to focus him.
"Try pushing that nine in the corner."
He looked confused and I opened my hand, waving for him to hand it to me. He was reluctant, and hit a few more buttons, flipped it closed and open again then hit the send button and got a beeping in the receiver. His eyes went wide and I motioned for him to hand it over. He agreed this time and I made a pathetic effort to stretch my head to see the screen within my tied off hand.
"Can you…? Please, just so I can show you how it works?"
The boy frowned at me and grabbed my walking stick, brandishing it towards me. I widened my hand not holding the phone and said, "I swear, I just want you to see how fun this thing is." He didn't seem convinced but he started biting at the ties around my wrist. I silently urged him to hurry, not knowing how long dear-old-dad would be searching for wood. He got the phone hand free and I raised it to my face. My heart leapt to see one bar of signal. It was down to five percent battery but it should be enough if I could just dial it. I punched nine-one-one and hit send. The boy was already impatient.
"Just one second, this part is really cool," I assured him.
A voice came on the other end that brought me back to reality, back to hope, "Nine-one-one, what is your emergency?"
The boy's eyes widened at the voice on the other end and I knew I had to hurry.
"Please help. I'm trapped in a building on the side of—"
The boy ripped the phone out of my hand and put it to his ear. The person on the other end was talking and his eyebrows moved each time he heard them. Then he flipped the phone shut and went back to turning it over in his hands. He'd hung up my call. He flipped it open again and looked up at me just in time to catch a boot to the face. He flew back against the wall, hitting the window frame and collapsing to the floor on the pile of clothing and items they'd collected. The golden figure tipped off the sill and rolled down the boy's limp body.
I didn't have time to feel like the biggest piece of shit on Earth for distracting a five-year-old boy and then kicking him in the face. I had to free my other hand and get the hell out before I became lunch. I took the kid's method and used my teeth, biting at the rope like a wild animal. It didn't take long and I was on my feet, feeling how swollen my knee had become overnight as I put my weight on it again. The phone lay next to the golden figure. I grabbed them both, tucking one in each pocket before collecting my walking stick. I leaned on it hard as I got to the door. I gave one last glance at the mangled driver, it was an image I'd never forget, then to the poor boy. I should've checked his body, made sure he was okay, but I was a few minutes from being eaten by his dad. There would be no explaining anything if he came back.
I went out to the woods, crunching on the leaves and heading in the direction of the ranger station, fourteen miles away. When I gave a look back, I saw the man standing at the doorway with a load of sticks in his arms. I knew he saw me, but he went into the building instead. Once he saw his son…
*****
"Now hold on," said Park Ranger Gifford, sitting across his desk from a wild looking, bearded man who was rubbing his thumb over a small, golden object in his hand as they sat in the little ranger station near the entrance to the national park.
"You're saying there's a crazy man and his son out there eating people?" said the ranger.
The bearded man just nodded. He looked like he'd seen a ghost and become friends with it in the process.
"What in the world. Why didn't you call the police yet?" He reached for the phone on his desk and the man slapped it out of his hand, tugging the cord from the wall. The ranger leaned back in his chair in surprise.
The bearded man stood and started mumbling as he stuck the golden figure in his pocket. "Fresh meat, fresh meat, fresh meat," he said as he jumped over the desk onto the ranger.
A man came stumbling to the door, holding a young boy in his arms. He was heaving breaths out, barely able to hold the boy. The boy had a broken nose but let out a scream as they saw the bearded man slamming the skull of the ranger on the floor. "Daddy," he said. "Look."
The dad covered his boy's face and they ran off to the parking lot.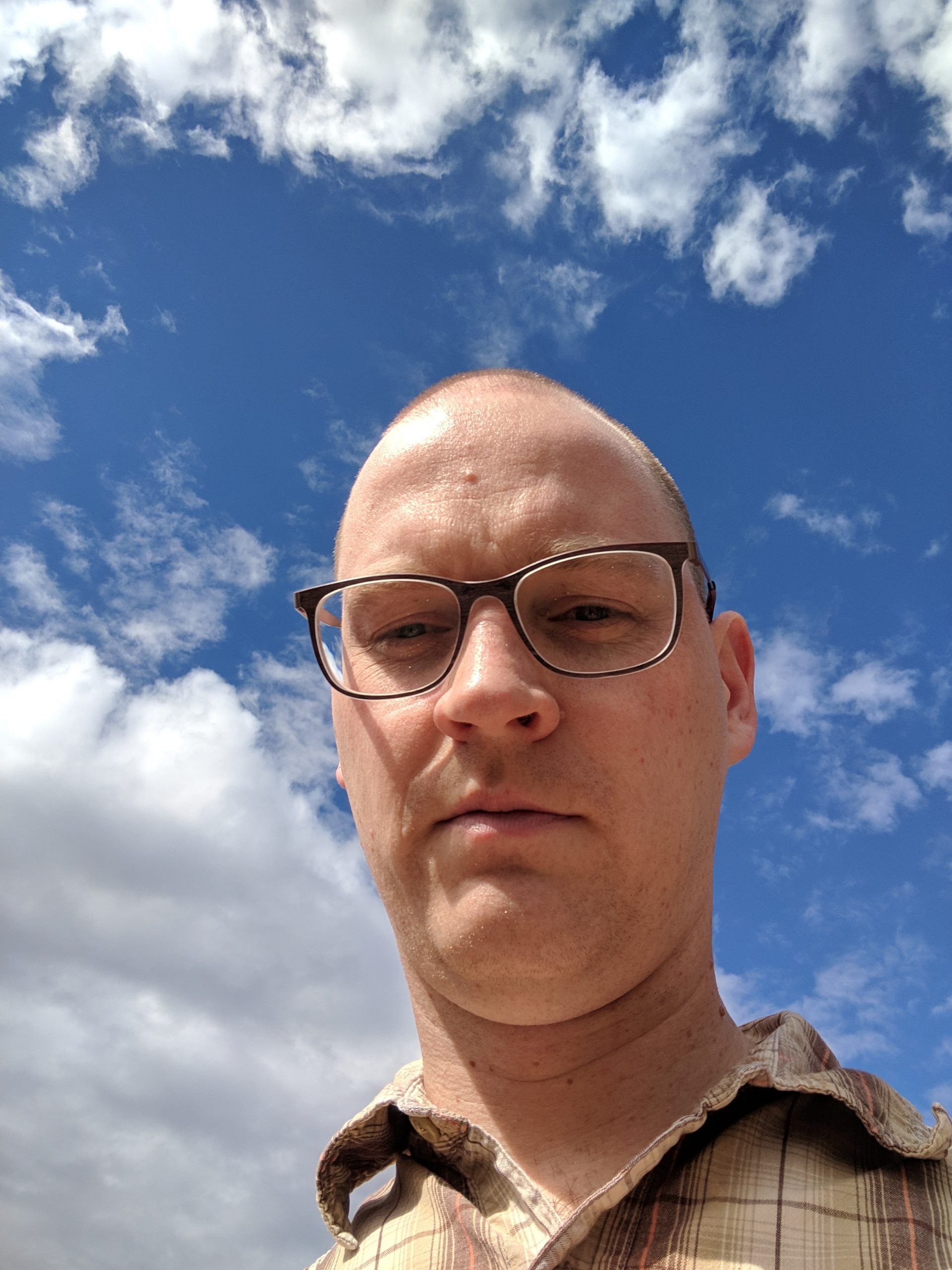 Scott Boss is an author and musician from western North Carolina.
He started writing around eight-years-old with his comic series, "Hammerhead Worm." 
Thankfully, the public has been spared it's release. 
Scott is a fan of things that are a little off and likes to write anything from horror, to dark humor, to sci-fi. 
In his spare time, Scott records heavy music in his home studio under the name EL CARO. 
Nightmarish Nature: Vampires Among Us
This is the kickoff to a new series exploring nature that is kind of horrifying, at least in ways. Our first subject is Vampires Among Us. There are lots of animals named for vampires, sometimes due to folklore and sometimes for their appearance (like the Vampire Squid), but most of these animals don't have blood sucking tendencies.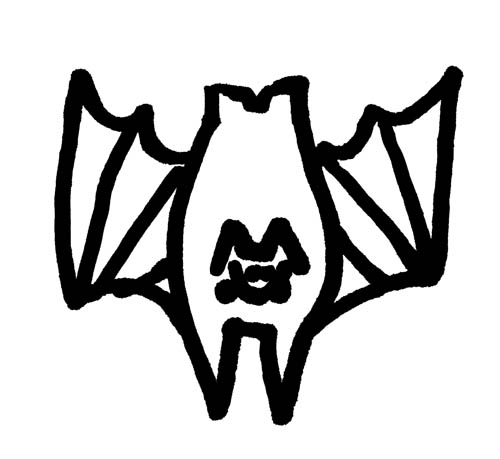 Bats & Birds
There are legit vampire leaf-nosed bats in Central and South America that drink blood. They feed on mammals and are often shown to feed on livestock. They'd be kinda cute if they weren't so creepy. There are also vampiric birds: some finches in the Galapagos have developed the taste for blood of other birds, mainly seabirds that flock to the islands to raise their young.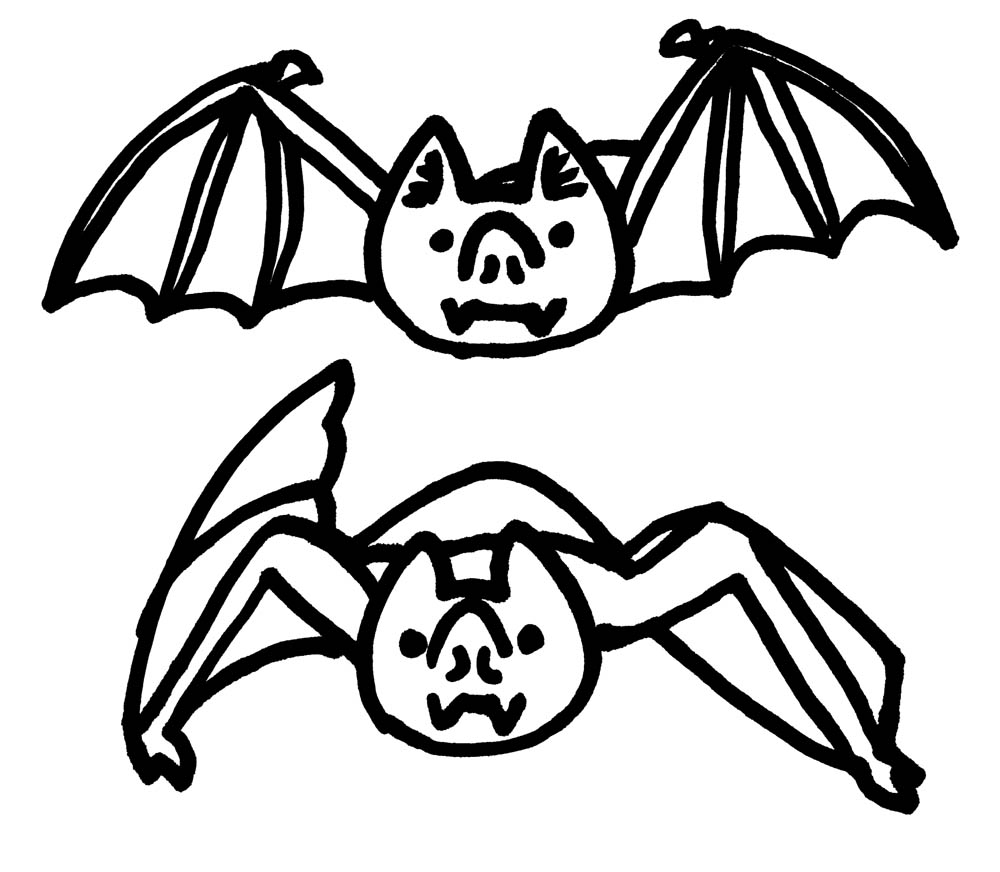 Leeches & Lampreys & More
And then you get into leeches and lampreys and other denizens of the water that are known to attach themselves to larger creatures and drink their blood. Leeches were even believed to have medicinal value (and still are in certain circumstances). And there are also numerous plants that are known to be parasitic and feed on other plants, wrapping their roots or vines around others to steal nutrients.

Spiders
Now I'm going to drift off into the realm where this becomes truly horrific. Spiders. Now, spiders aren't vampires per se, seeing as how they actually kill their prey – they don't just feed off of it while it remains living and wanders about its business. But because of their structure, they cannot eat solid foods, so they have to inject their prey with enzymes to liquefy it so they can slurp it out like a protein shake. That's sort of vampirism on steroids if you ask me, just the kind that no one is coming back from.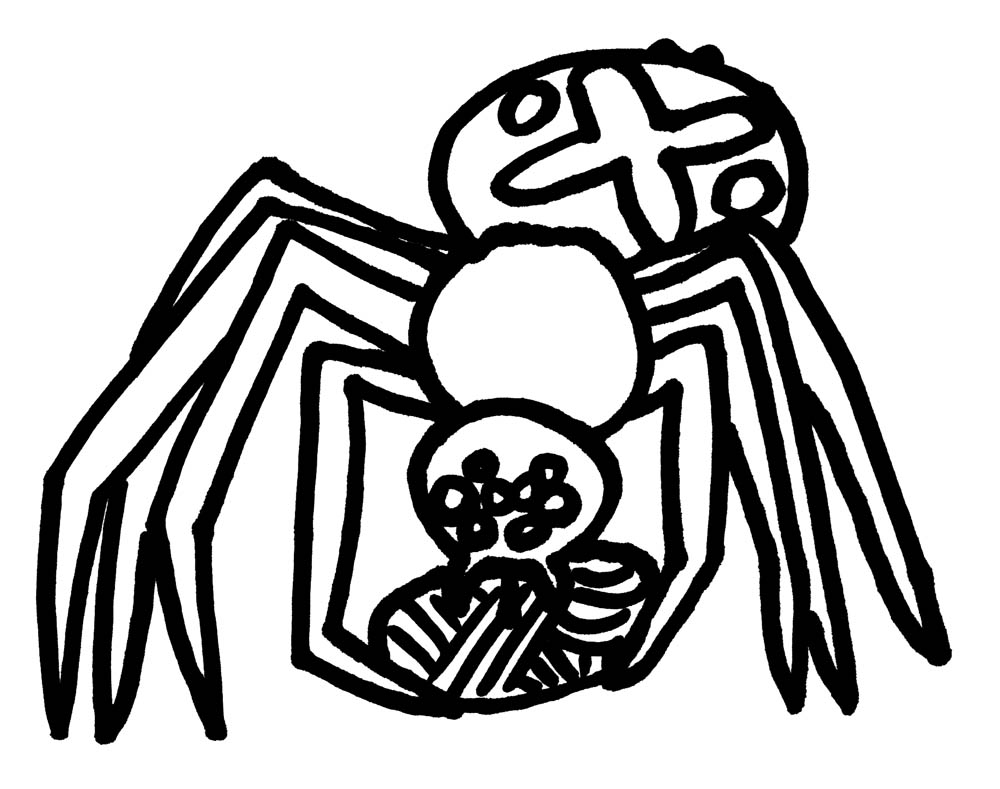 Bloodsucking Bugs
But let's get back on topic. Now let's consider mites and ticks and fleas and mosquitoes and the like. Some drink blood for their survival; others do so as part of their reproductive cycle (like mosquitoes which otherwise eat fruit and nectar but need the extra protein from blood to grow their eggs).
Ticks need to feed on blood once at every stage of their life cycle and can pick up diseases along the way (like Lyme Disease) but don't always do so. Different ticks are more likely to come in contact with different things and often humans are not their preferred meal but they are opportunistic and will feed on whatever is available when necessary. Symptoms of illness from tick bites may take years to develop and can have really weird side effects (like the allergy associated with Lone Star Ticks which makes a person unable to consume mammalian flesh).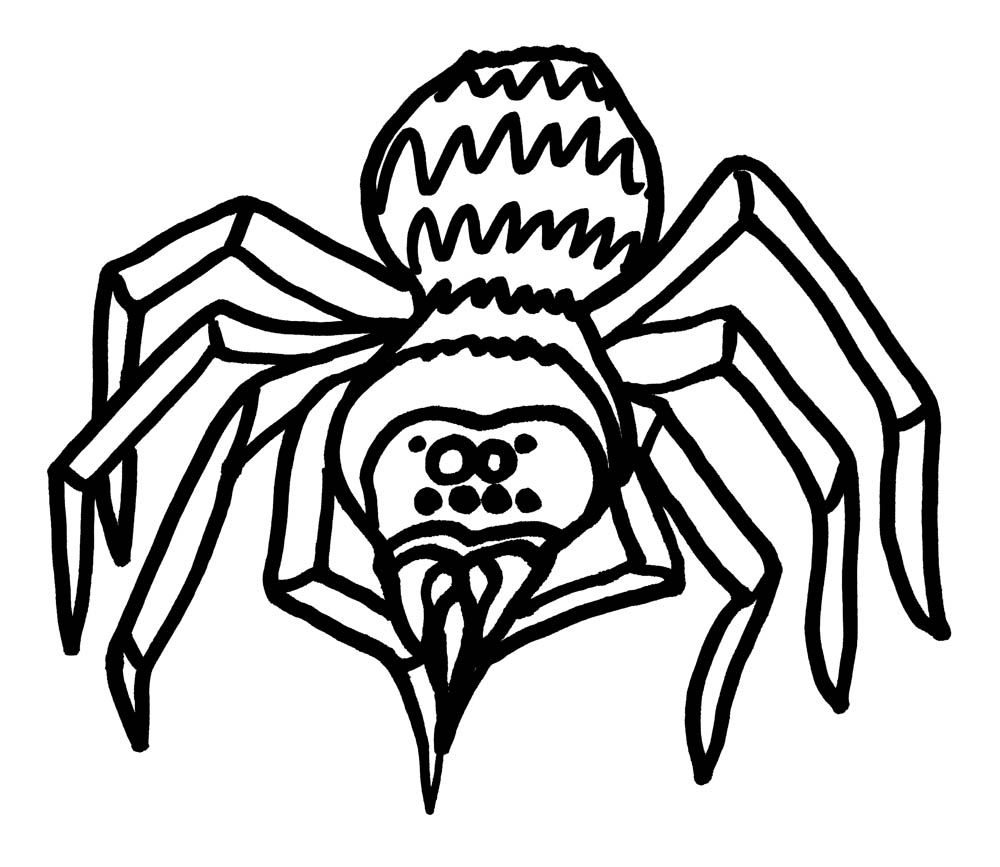 Anyway, here are some brief glimpses of vampirism in nature. Thank you for joining us for Nightmarish Nature and may you avoid getting bitten by any true vampires among us… And I still think spiders take first place in the creepy eating category here, even if they aren't technically vampiric.
Buried Treasure by "Dread Pirate" Jennifer Weigel
This story came to me in a sort of roundabout way from a rather unusual source. So I thought I'd share it with you, dear readership, and see if you can make heads or tails of it. – Jennifer Weigel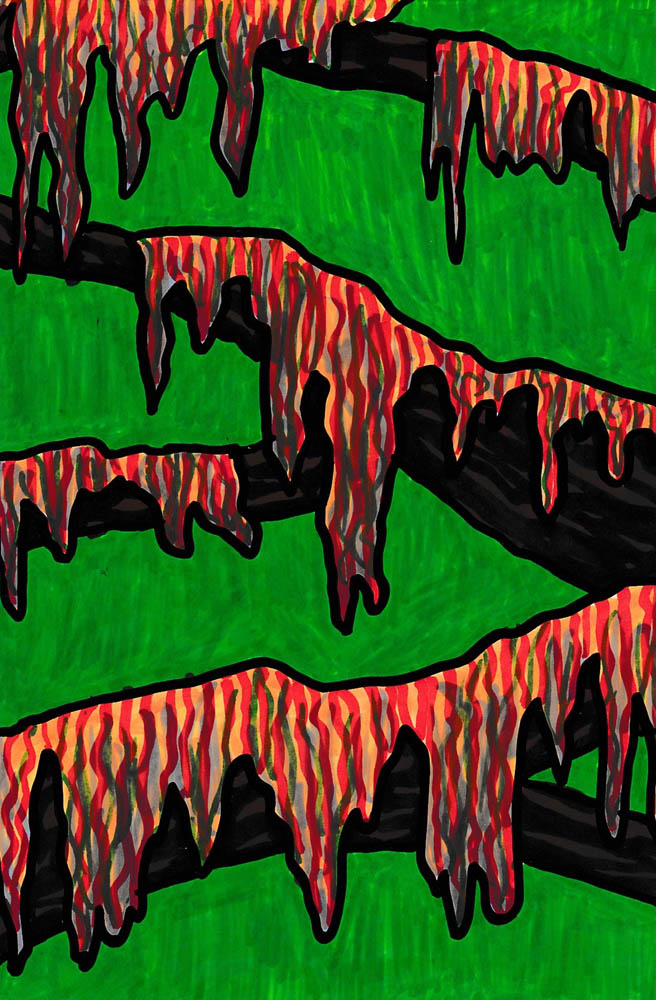 Dread Pirate Rum Tum Tugger could tell this was the right spot.
The site, beneath the sweeping limbs of the Live Oak, Spanish Moss swaying gently in the breeze, was a perfect match to the crude map he had bought off that soothsayer Deuteronomy.
The earth moved easily, as if it had been excavated previously. He dug in with greater fervor with each swipe. The sandy soil gave way to reveal something hard. He scooped and smoothed the remaining detritus from the surface as he uncovered a box.
The carton was simple.
No markings; no ornamentation; no writing. Just a plain cardboard crate, brittle from having been buried for so long but still sturdy. He hoisted it from its burrow.
"Ha HO!" he shouted to the passing breeze, rousing a small cloud of birds that erupted from a nearby thicket. They captured his attention for a moment, but he quickly refocused and returned to his task.
The box was locked but no difference.
Any self-respecting ruffian like himself could pick a lock in seconds. And he did so with panache, as was his way. He pried the lid open and licked his lips.
Inside was the legendary Kernel of Eternal Life, a small sparrow's heart, still beating.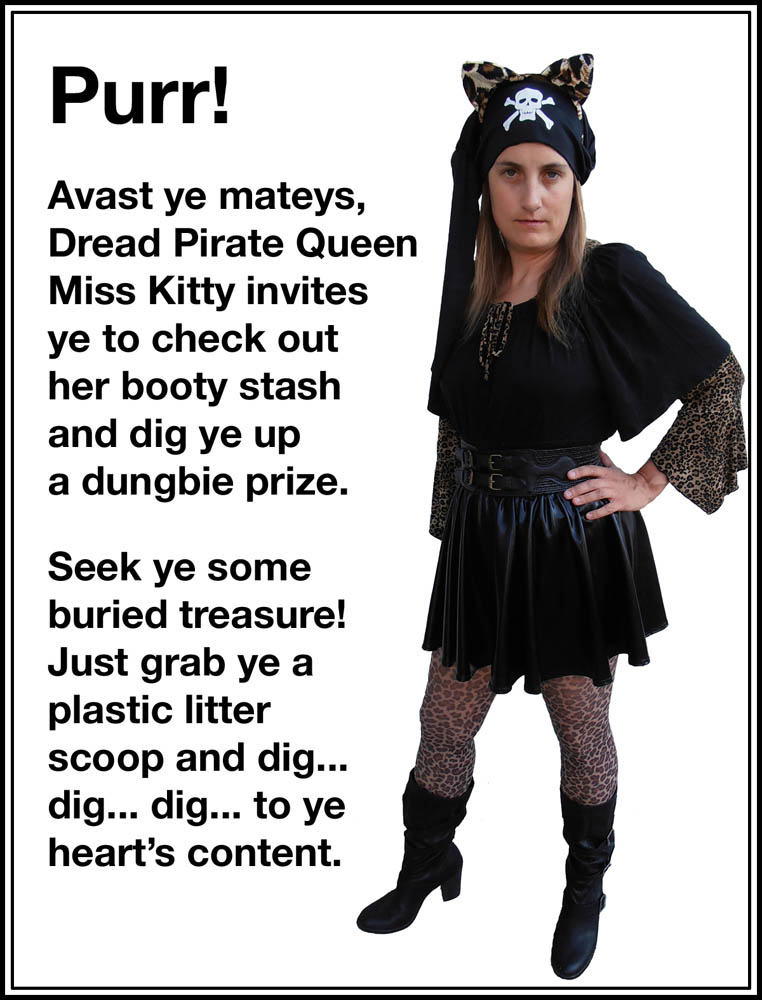 Artwork description: Myself as Dread Pirate Queen Miss Kitty wearing black bell sleeve shirt and black vinyl skirt with strapping leather belt over leopard print shirt and tights, with strapping leather boots, pirate head wrap and leopard cat ears.
Image text reads: Purr! Avast ye mateys, Dread Pirate Queen Miss Kitty invites ye to check out her booty stash and dig ye up a dungbie prize. Seek ye some buried treasure! Just grab ye a plastic litter scoop and dig… dig… dig… to ye heart's content.
---
I created this image for a promotional poster for a performance piece in a charity art show in which I, as Dread Pirate Queen Miss Kitty, hawked a carnival sideshow style sidewalk installation. For a mere $5 donation to the animal shelter the show supported, gallery goers could dig around in a kiddie pool full of litter to find a prize: a cheap plastic trinket from the dollar store. I had some takers, including one kid who seemed to really enjoy the digging and whose parents were all in, saying "You know, you can totally do that at home too."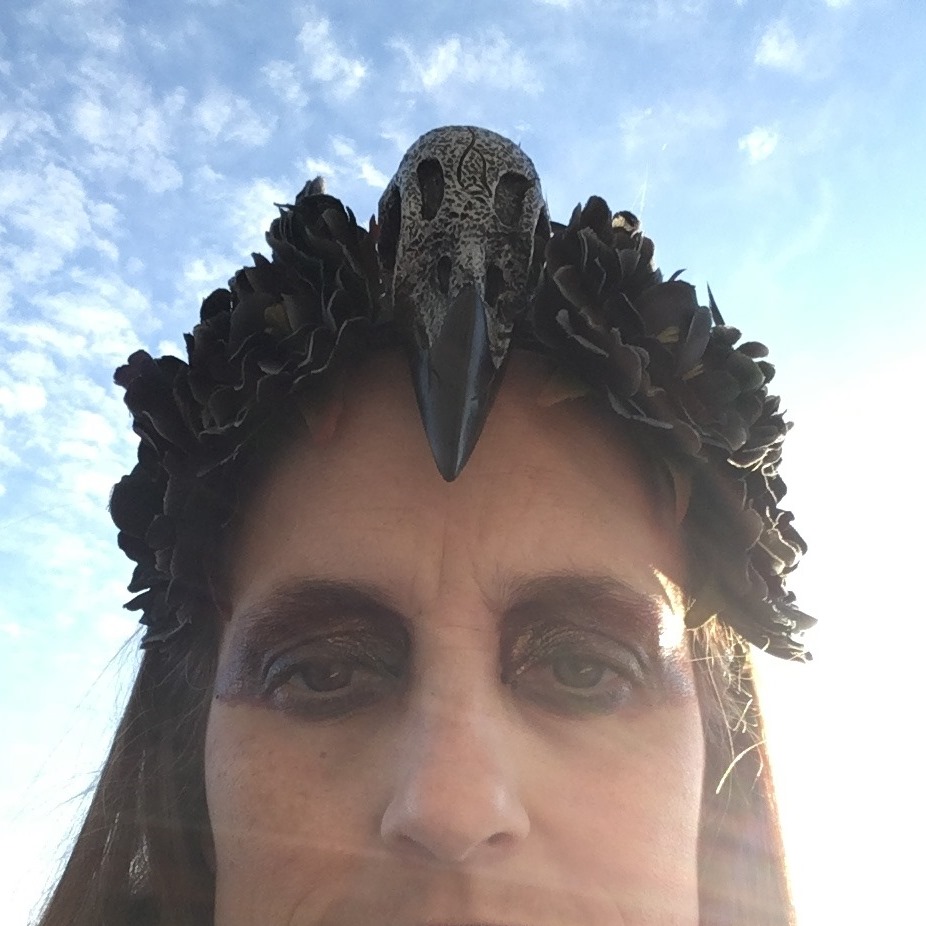 For more cat antics, we invite you to read C-2747's logbook here on Haunted MTL. Feel free to check out more of Jennifer Weigel's work here on Haunted MTL or on her writing, fine art, and conceptual projects websites.
Queen of Everything Mother's Day Wishes
Happy Mother's Day to the Queen of Everything… nothing gets by you.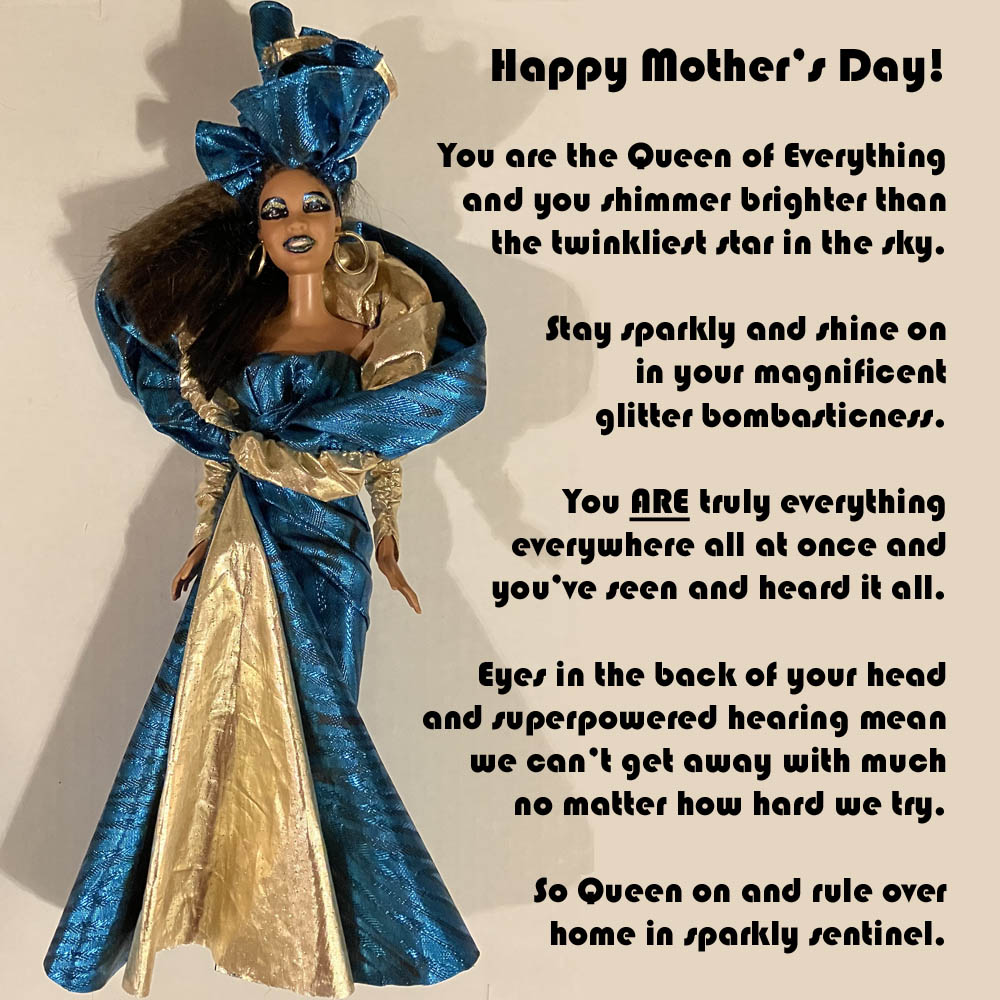 Artwork description: A Happy Mother's Day card featuring a picture of a Nefertiti doll with swooping hair, glitter makeup, and elaborate gold and blue headdress and evening gown.
Image text reads: Happy Mother's Day! You are the Queen of Everything and you shimmer brighter than the twinkliest star in the sky. Stay sparkly and shine on in your magnificent glitter bombasticness. You ARE truly everything everywhere all at once and you've seen and heard it all. Eyes in the back of your head and superpowered hearing mean we can't get away with much no matter how hard we try. So Queen on and rule over home in sparkly sentinel.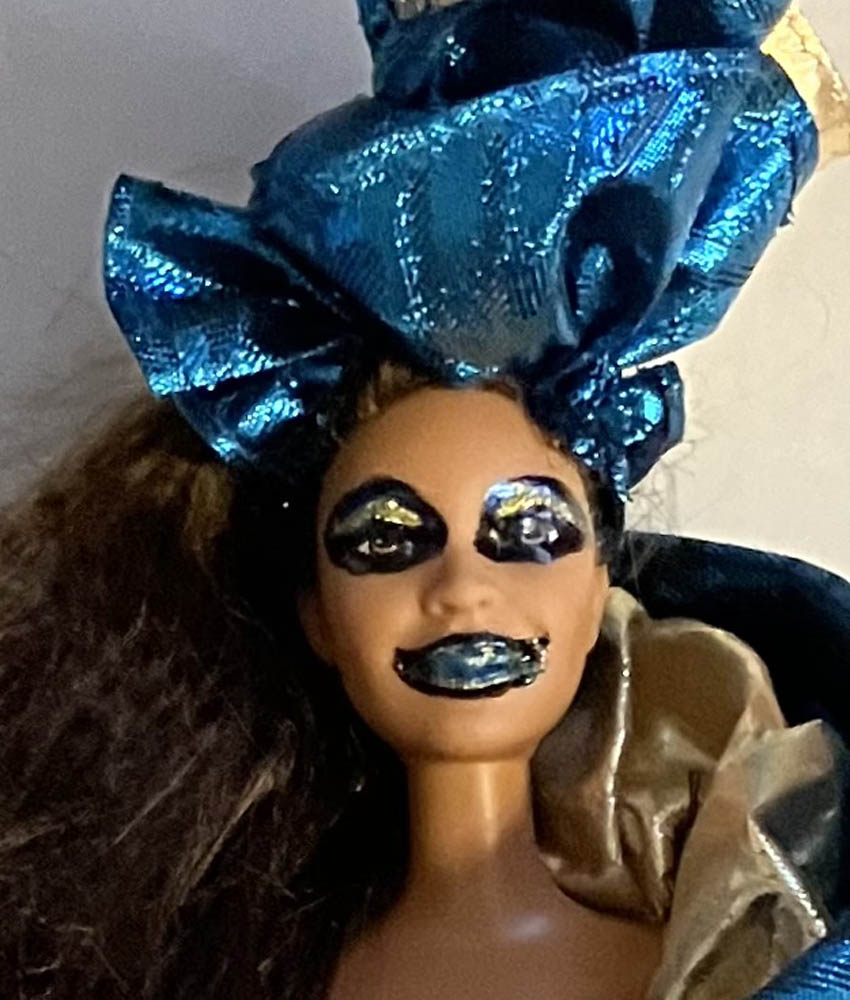 And may this be a testament to why us kids shalt never get you out of bed too early or run amok while you are getting ready to start your day… Because being the Queen of Everything takes planning and preparation…
Feel free to check out this Mummy Dearest Mother's Day card from 2021 here on Haunted MTL.