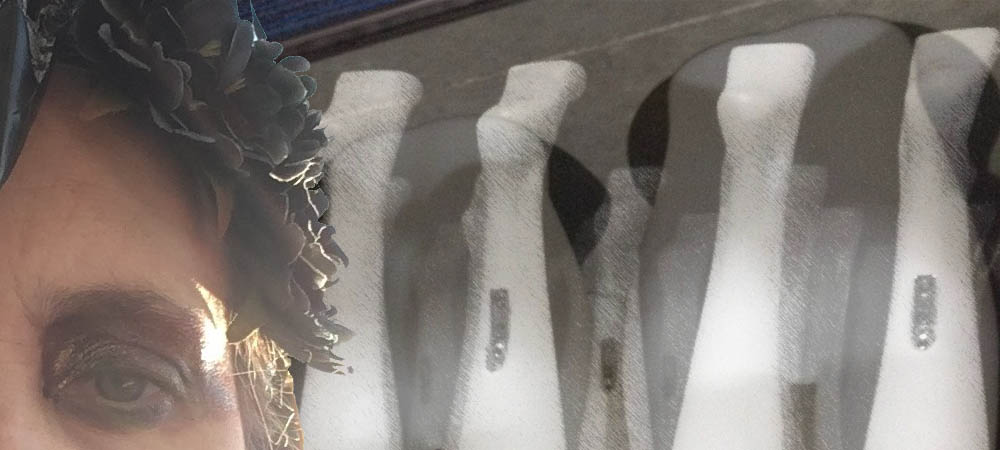 Betty Lou's Treasure Trove: Mannequin Horror Summer Series by Jennifer Weigel, Chapter 1
To help fill your summer reading needs, I'm doing another long-form story series like my Feeding Frenzy story from last year. This story is based on my life experience as an art school student, though perhaps with some embellishment. So without further ado…
***
Pauline found the Treasure Trove on her way to school one day, set back off the road a bit. She thought it odd that she'd never noticed it before; she'd driven this strip of road every day for almost two and a half years. And yet, there it was. She pulled off the main road into the gravelly weedy overgrowth of the alleyway next to the shop and wandered around to the front.
It was the mannequins that had first caught her eye. Majoring in fashion design, Pauline had always wanted one. She owned a couple of simple dress forms, but they really weren't the same. There was just something special about a mannequin, a young Fiberglass model smiling gently at the poor, aging passersby who gazed upon the eternal beauty in the department store window.
There were several stationed outside of the small antique store, welcoming would-be customers with their silent smiles and waving at the dirty, exhaust-fuming cars. A rather effeminate Fiberglass man was strapped to a metal pole with a couple of black bungee cords, holding an American flag to attention towards the street. He wore a sequined dress suit from the seventies, a slightly askew black Elvis wig that resembled a road kill lap dog, and a pair of dark rhinestone rimmed sunglasses. A statuesque woman with a long, brown wig in a blue, flower printed dress waved at the passing traffic from behind him while a couple of static children wearing shorts and t-shirts laughed silently with wide frozen smiles from a bench by the door.
Pauline swung open the red door to the antique store and was instantly greeted by loud, operatic music and the clanging of a brass bell tied to the inside handle of the door to warn of incomers. A heavy old metal cash register faced the door from its perch on a large mirrored glass case filled with knickknacks. A voice called out from behind it, "Welcome to Betty Lou's Treasure Trove." Pauline poked her head around the register. An exceptionally large woman sat in a worn Papasan chair, her girth spilling over the round nest. Awash in a boldly printed teal and magenta muumuu, she stared into a large oscillating fan as it twirled to face her. A small television sat in abandoned silence beside the fan. The woman turned to Pauline with a wide smile, "Thanks so much for dropping in. I'm Betty Lou. Just let me know if there's anything I can do for you, hon."
"Thanks," Pauline peeped, caught somewhat off-guard by the sheer immensity of the woman hidden behind the glass cabinet. "I'm just looking," she called as she wandered off along the front window.
The store itself featured a bizarre mix of collectibles and junk. Expensive, hand-painted dishware sat in an open cabinet in a back corner, surrounded by racks of vintage clothing. Old, tattered quilts and bedspreads were folded over collapsing wire hangers on more metal clothing racks, next to a small bookcase heaped with metal tins half-filled with used kitchen spices. Corrugated cardboard boxes and plastic milk crates lined the floor offering old, worn shoes and unkempt wigs like kittens at only three dollars each. A short wooden bookcase housed an unbelievably large number of the same Perry Como record along the bottom shelf, while children's dolls and toys were piled haphazardly on the top shelf. And there were about a dozen or so mannequins scattered about: next to bookcases, watching over to clothing racks, looming over wig and shoe crates, and otherwise standing at attention in whatever space had been made available.
One particular mannequin caught Pauline's eye. She was little more than five feet high and balanced on her Fiberglass toes as if wearing heels despite being barefoot. Her subtly made-up face and long, brown eyelashes held a steady, soft gaze to her feet. Her lithe resin body twisted as if caught in a dancer's pirouette. Her head was crowned in a short auburn wig and she wore a bright green dress, probably from the late 50s, which brought out the subtly painted green highlights in her glass eyes. She seemed alive, ready to complete her graceful turn at any moment.
This was the one – Pauline knew it. There was just something extra special about her that Pauline couldn't quite place. She simply had to have this mannequin, in all of her youthful grace and beauty, exactly as she stood in the little junk shop. With the same auburn wig and the same bright green dress. Pauline fingered the price tag, biting her lip, two hundred fifty dollars for just the mannequin alone. Add another three dollars for the wig. And yet another twenty for the dress…
"I see you like that one, hon," a voice cracked through Pauline's silent reverie. Betty Lou stared at her from the other end of the junk shop, propped between the glass cabinet and a sturdy metal walking cane. "I can cut you a deal on it."
"Thanks, but I can't," Pauline replied. "I'm just a poor college student. And I'm pretty sure financial aid doesn't offer any scholarships for mannequin purchases…" she hid her discomfort behind a tinny giggle.
Betty Lou hobbled slowly over, balancing on the cane with small trying steps. She swayed back and forth as she moved, her body rippling into place with every footfall under its teal and magenta tent like a large, overfull sack of rice. Pauline couldn't help but stare as the large woman approached cooing, "I'll make you an offer you can't refuse…"
Betty Lou circled over to where Pauline stood beside the bookcase of Perry Como records. She gently slapped Pauline on the back. Her immense hand barely even touched the girl, and her round fingers had the subtle feel of newly baked breadsticks. "Why don't you work it off, then?" Betty Lou proposed. "I'll give you fifteen dollars an hour towards that mannequin if you'll help me get my shop in order. That's less than twenty hours for everything you see there. You can drop by whenever you want."
"Really?" Pauline asked, exasperated. She didn't exactly relish the idea of making that many return visits to this backwash Treasure Trove antique junk store, but there was no other way she could even dream about purchasing a mannequin. Especially not such a nice one as this one was.
"Sure thing, hon," Betty Lou smiled an unnervingly wide, toothy grin. "She was my first. I just couldn't help myself. Now I've got a whole warehouse full of hundreds of them. I'd rather this little gal went to a good home."
"Wow, thanks so much. But I couldn't…" Pauline replied. She gazed back at the mannequin's graceful form, bright lifelike eyes, and subtle smile. "I'll drop by every Tuesday and Thursday after class – those are my light days. I can do four or five hours at a time, depending on my classes…" she stared longingly at the mannequin, "I can't wait to take her home."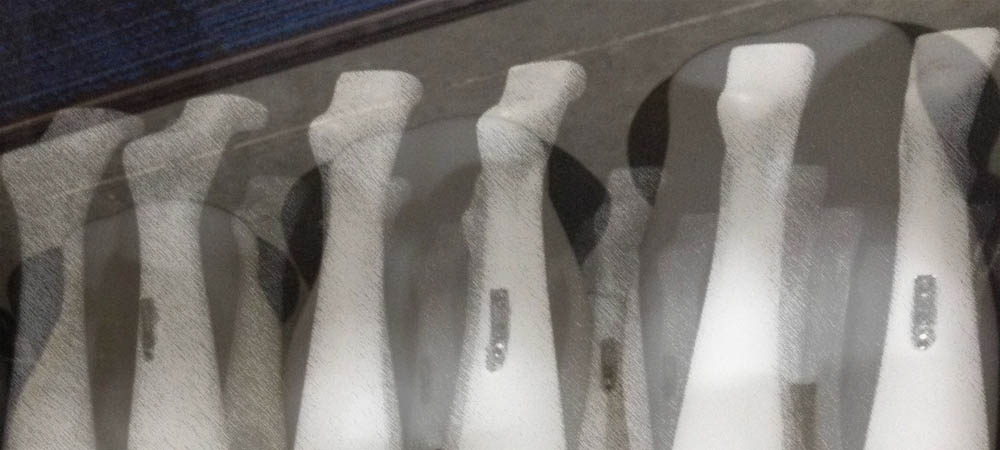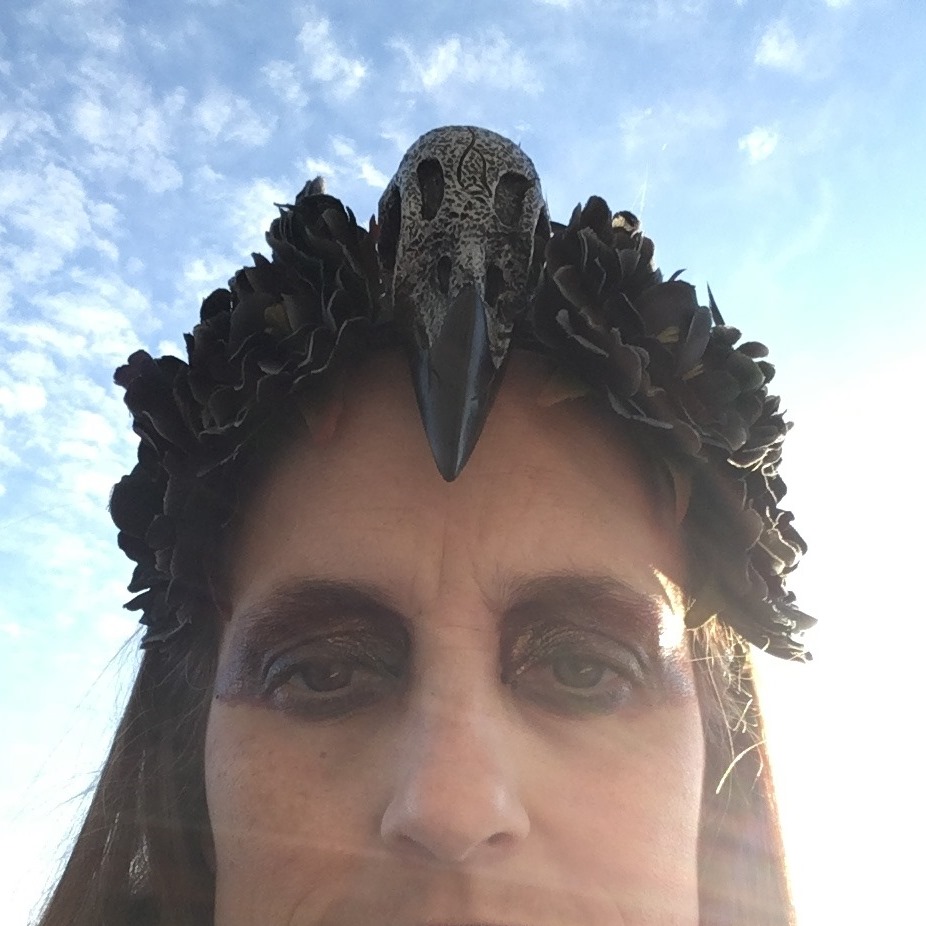 Eye Drawing You: Yet More Art by Jennifer Weigel
In our last installment of the art show preview, the eye drawing has it… All-seeing works by Jennifer Weigel go to show you gotta watch where you look. I'm a little obsessed with eyes, so they appear in a lot of my art, especially the more surreal the circumstance. Here are a few that have found themselves in odd and unusual settings…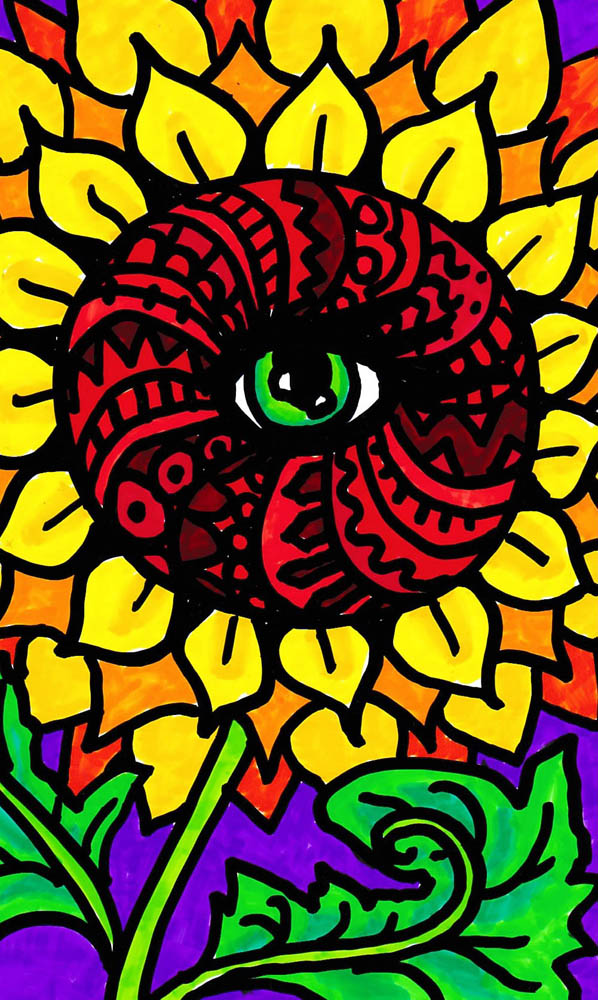 We're still watching you, in full spectrum Technicolor psychedelia. Eye drawing sunflowers stretch their petals and blink into the sun… The little Eye See You drawing is one of my personal favorites.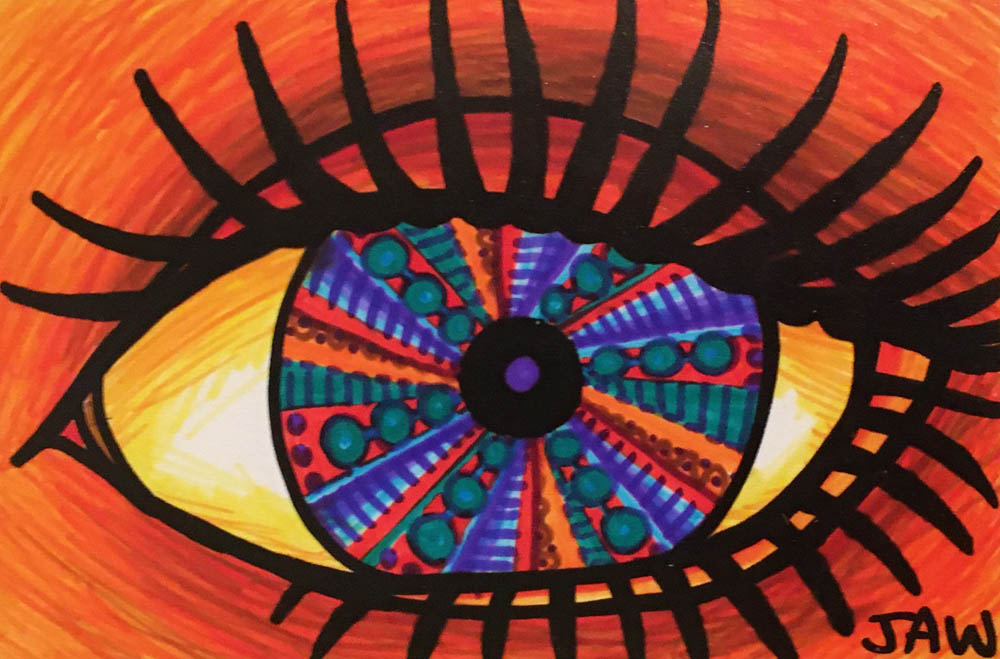 I had so much fun drawing this with Art Girls Reality Meg Graham and Day de Dada in one of the mandala gatherings. The big Sunflower Vision above also happened in one of these online groups. All of my mandalas have eyes, it just kind of happens…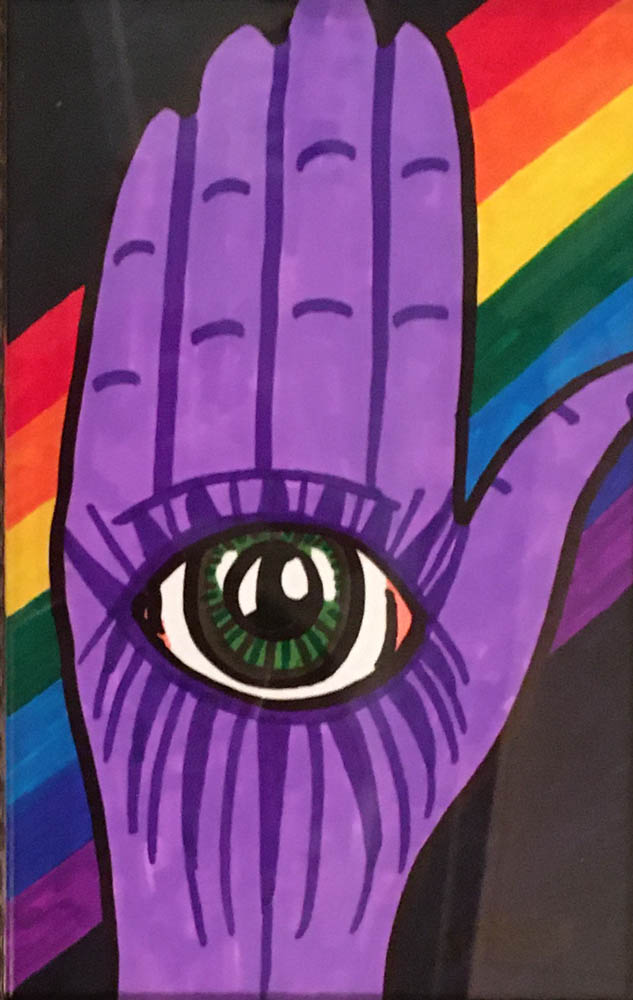 No spiders this time, so we'll close with a rainbow Hamsa warding sigil eye drawing. The hamsa or Hand of Fatima is an ancient symbol that protects against evil and negativity when facing upwards and brigs prosperity and good fortune upon its wearer when turned the other way. It is found in spiritual, religious and cultural beliefs throughout the world in various forms. I included it previously in one of my walking sticks. My version is fairly Goth-punk influenced with the huge central eye and running mascara, but seriously would you expect any different?
Feel free to check out more of Jennifer Weigel's work here on Haunted MTL. Or on her writing, fine art, and conceptual projects websites.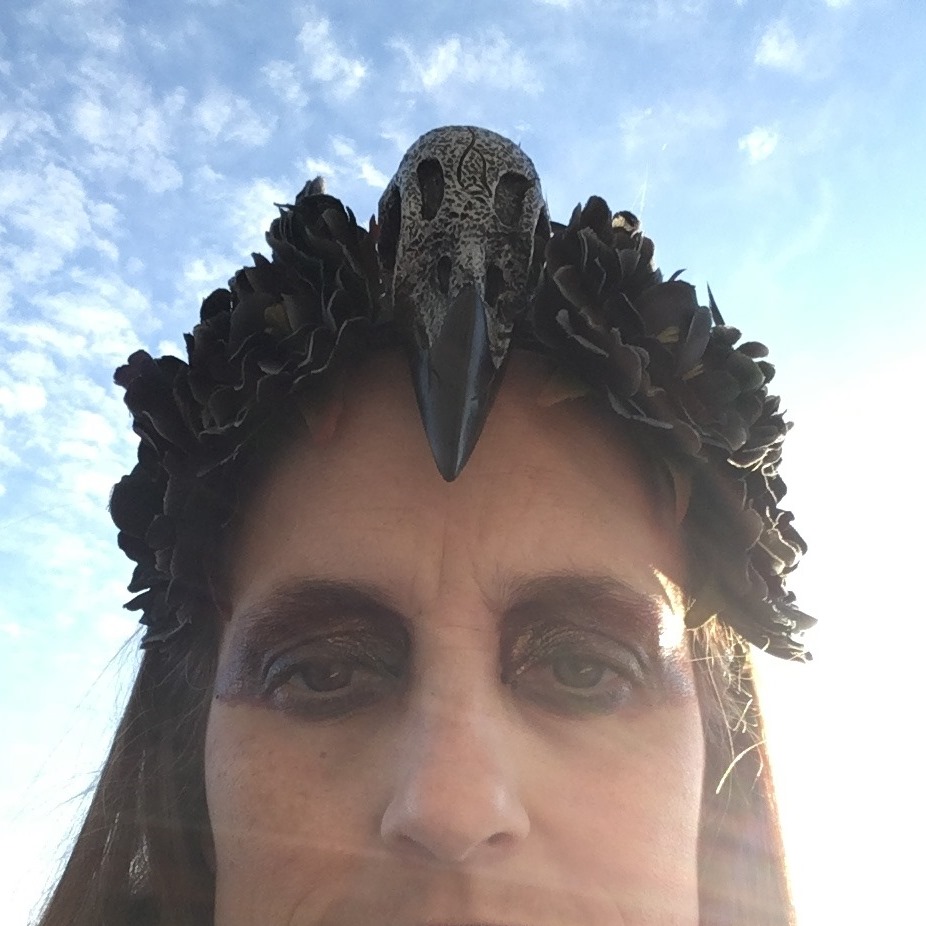 More Marker Drawing by Jennifer Weigel
And we're back! Here's more marker drawing from Jennifer Weigel, continuing our exclusive preview of works for her upcoming show… This time we're diving into full spectrum Technicolor!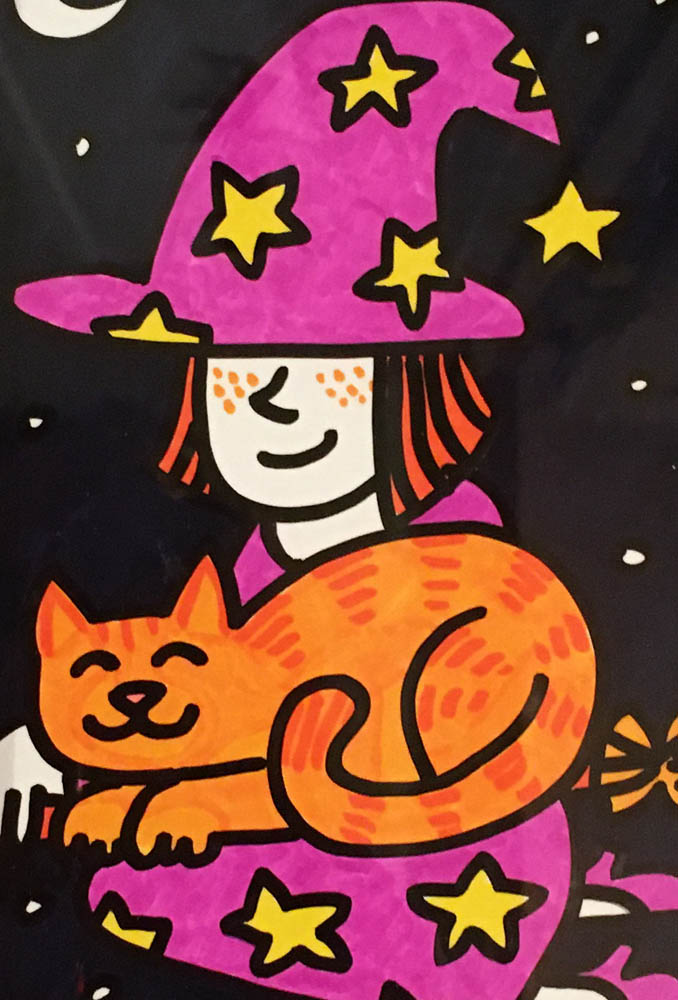 This Little Witch and her tabby cat wanted to kick things off with a fly-by hello. They're bringing the witchy magics from the last post. That's a crowded broomstick, but what a way to ride in style. Funny how cats always seem to fill whatever space is available to them, especially while lap-napping.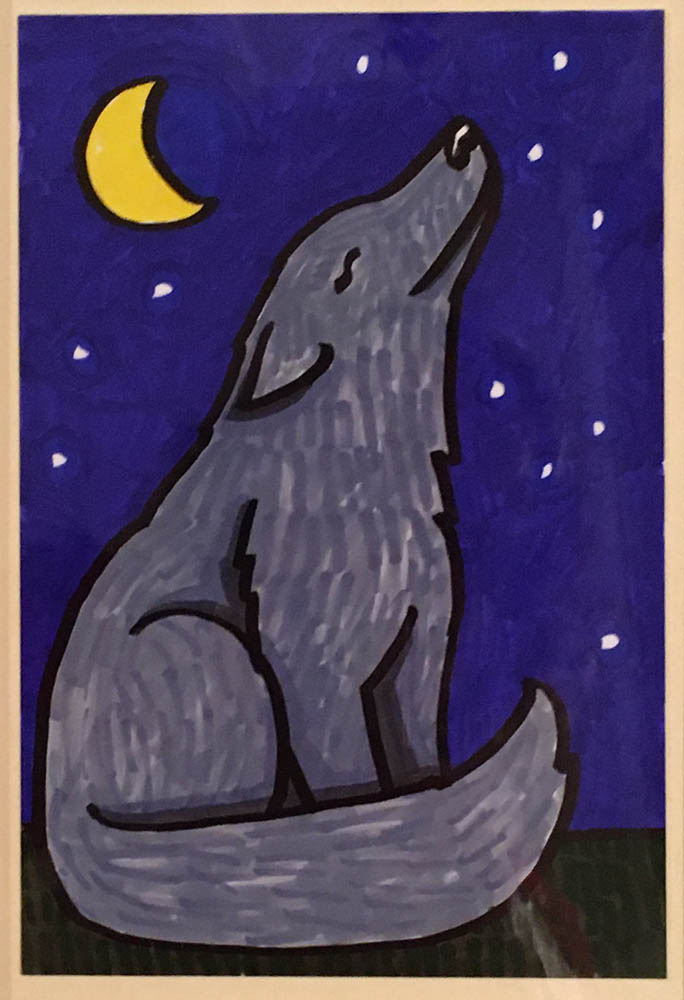 It's a perfect time to howl at the moon in this Night Watch marker drawing. Such a happy lycanthrope. He's setting the night to music, a capella werewolf-style.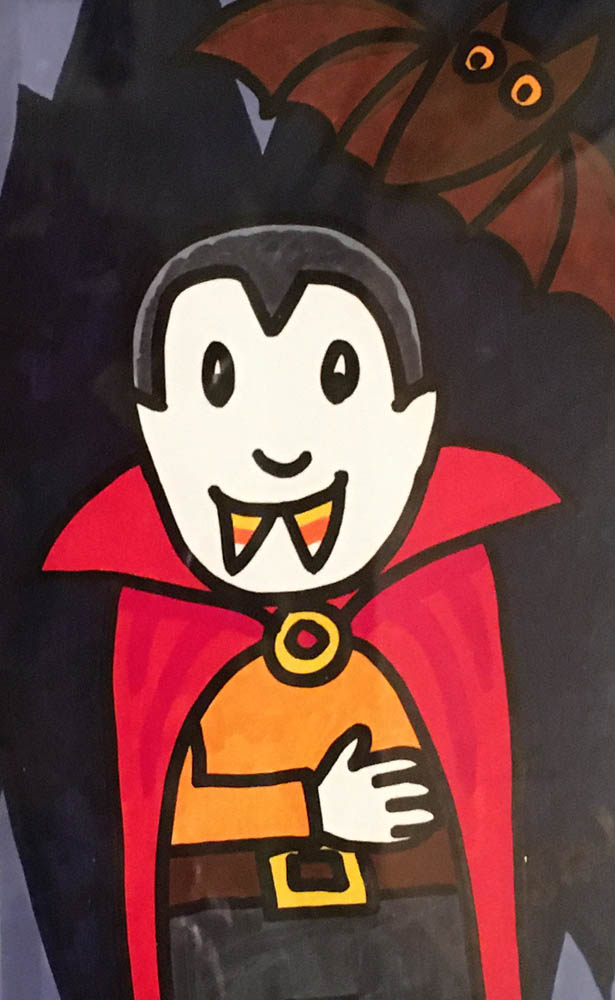 The cuteness just cannot be contained in this Candy Corn Vampire marker drawing. I vant to suck your sugary soda. I used to take great glee in doing this with candy corn as a child, to my dentist father's chagrin. It's every dentist's nightmare. Or $$$ depending on their personal motivations, I suppose.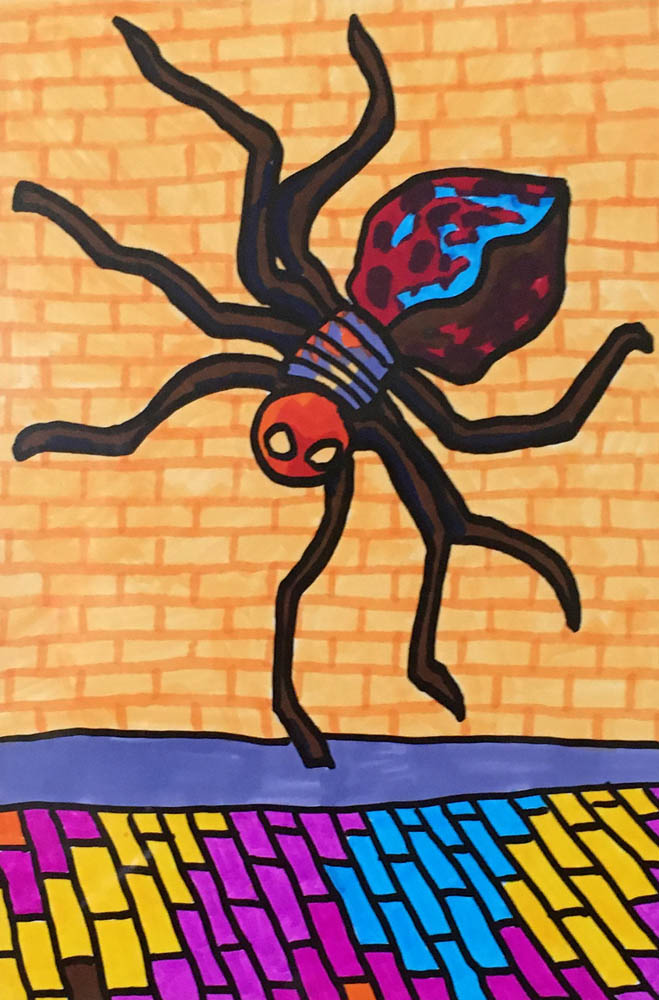 And why not end with some more spiders? This is a plein air drawing done in situ based off of this fun sculpture in Wichita, Kansas USA. You can see the finished drawing and its inspiration here. This spider is HUGE! Made out of metal and rocks and other crazy stuff…
Feel free to check out more of Jennifer Weigel's work here on Haunted MTL. Or on her writing, fine art, and conceptual projects websites.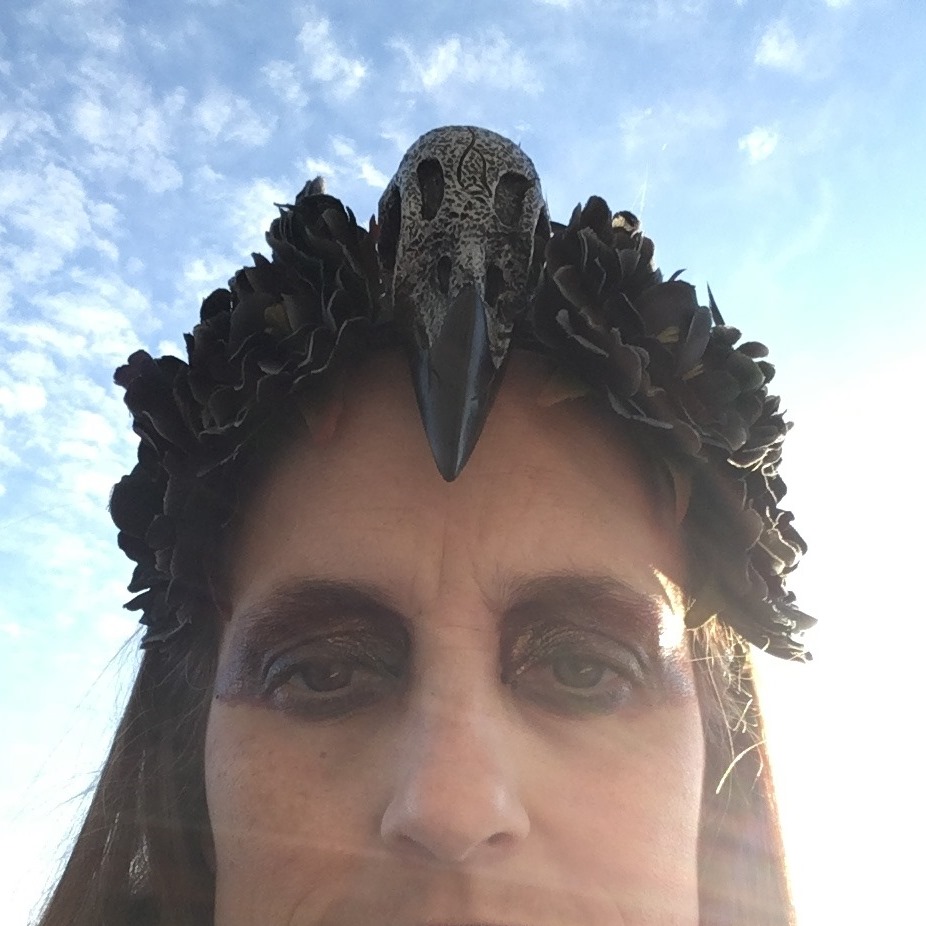 Some Bewitching Line Drawing by Jennifer Weigel
This month we are going to explore more fun marker art from Jennifer Weigel, starting with black and white line drawing. Jennifer is getting ready for her big Life Is Brilliant solo show in March and has snuck in a few spookier themes, so she wanted to share them with you here.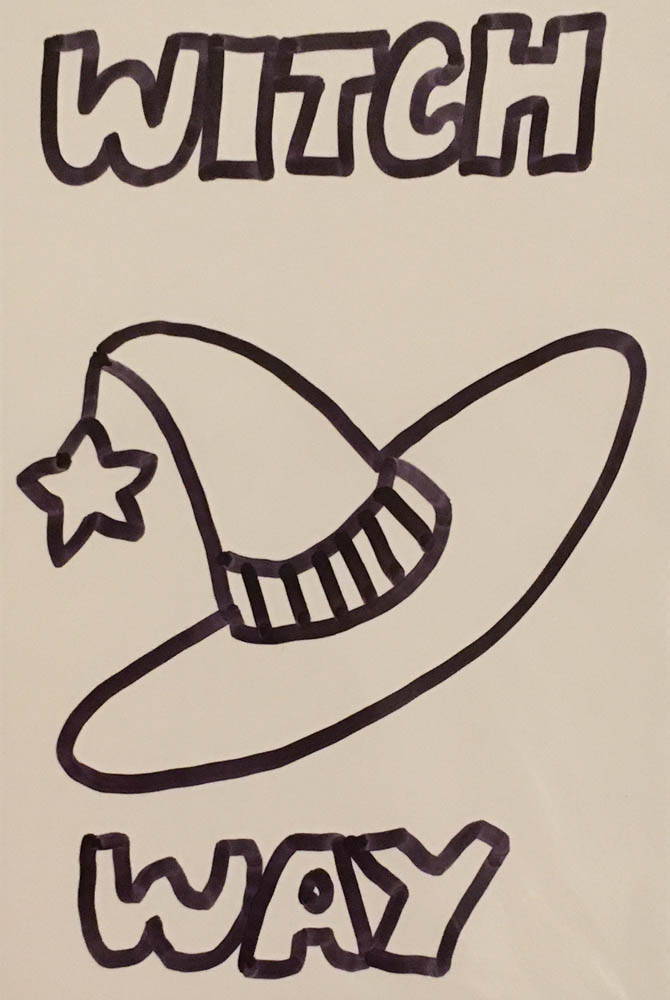 The magic is strong in this Witch Way line drawing with its fun witchy head-topper, complete with striped hat band and star dangle. No self-respecting wizard's ensemble would be complete without it.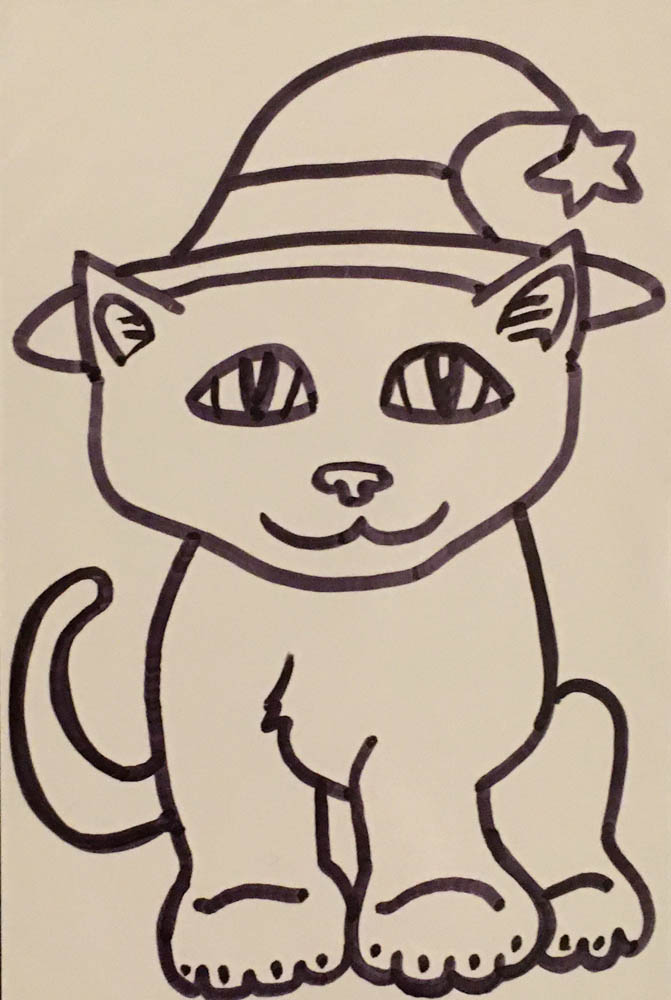 And now the adorable Kitty Witch will don the Witch Way hat and cast a spell of cuteness on you. You gotta wonder just how the hat stays on but best not to question these things. We all know it's magic…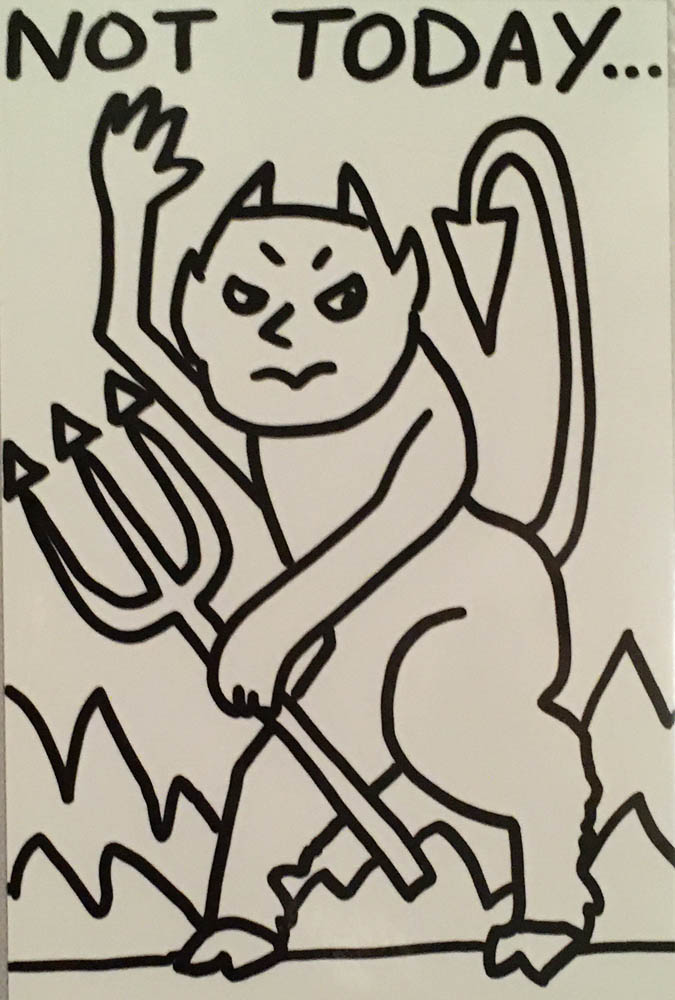 The devil is in the details in this Not Today Satan line drawing, and boy is he pissed!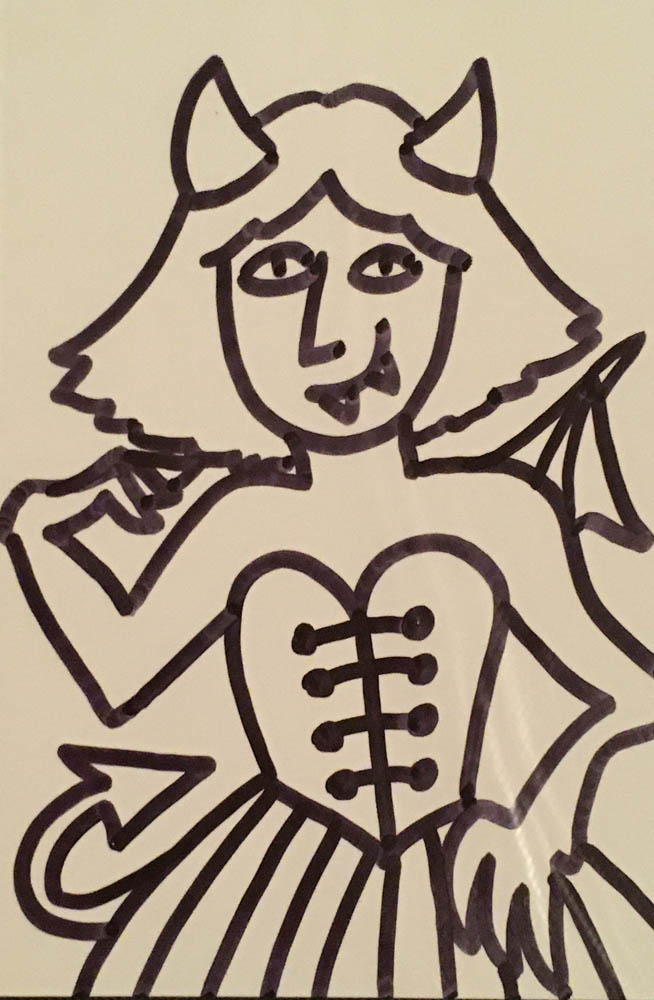 This She Devil is just plain goofy. Maybe she's coyly playing innocent; it's not a look most devils can pull off, seeing as how innocence really isn't their schtick…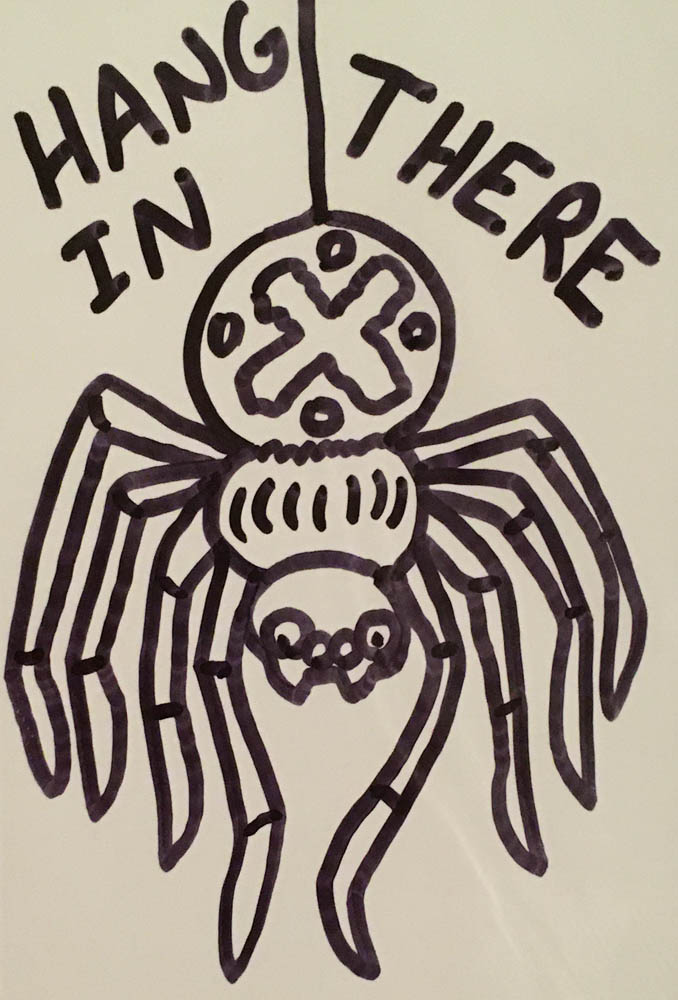 This little spider came down to your tuffet to remind you to Hang in There. She is very well-intentioned and is only looking out for you. I guess maybe she's not so little though, she is an Argiope after all…
Feel free to check out more of Jennifer Weigel's work here on Haunted MTL. Or on her writing, fine art, and conceptual projects websites.