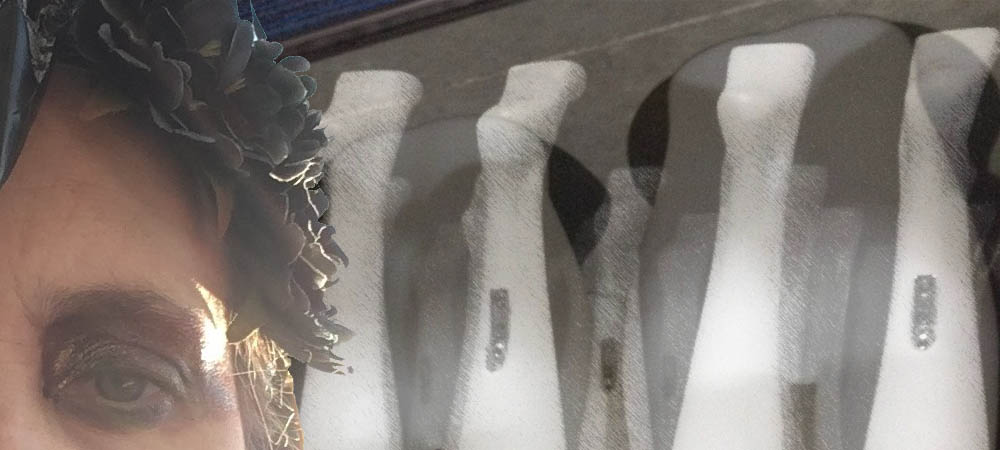 Betty Lou's Treasure Trove: Mannequin Horror Summer Series by Jennifer Weigel, Chapter 2
Last time on Betty Lou's Treasure Trove…
On her first visit, Pauline sorted old, partially used spices and cleaned residue off the shelves that housed them. She found it disgusting that such items were even offered for sale; they weren't rare or even old enough to be valuable, just everyday used, slightly-rusted McCormick spice containers with various powders leaching out of them. Pauline decided that she didn't really want to know where they had come from, some dead person's estate no doubt. Lost in her reverie, she didn't notice the shadow of the man standing behind her, watching. She turned and gaped at him, hastily dropping a small tin of what was once nutmeg.
"Sorry. Didn't mean to startle you," the man rasped and bent down to scoop up the dropped spice tin. "Name's Chester. I'm Betty Lou's hubby. I just wanted to meet the new young thing she's got cleaning the shop now. Her last girl Dinah left unexpectedly. Just up and vanished."
Chester stood there with his hand outstretched, his thin fingers clasped around the tin. He was a scant twig of a man, not even six feet tall, with dramatically bony features and dark brown eyes that came across as deep black pools without distinguishing the iris from the pupil. His thinning grey hair wired its way across the top of his balding head. A red and black plaid shirt draped itself over him as if still on its hanger. He gave the air about his extended gaunt hand a quick wave. Pauline hesitantly reached out and grabbed the nutmeg.
"Nice to meet you…" he exclaimed. "What was your name again?"
"Oh, sorry" she said with a jolt, "I'm Pauline. I'm going to school at the College of Art and Design, studying fashion. I'm here working off that mannequin," she said gesturing to the elegant beauty that had transfixed her when she first stopped in.
"That's good to hear," Chester responded. "Just stay out of trouble and do what Betty Lou needs done, and you'll have her worked off in no time." His dark eyes sparkled as he smiled wryly. "Oh, and one more thing," Chester said as his face and voice dropped. "Don't be going downstairs – just a broom closet and my workshop down there. Nothing for you to be concerned with." His black eyes deepened with a sinister undertone.
"Sure," Pauline answered, glancing at the dark, empty stairs in the corner of the shop. Chester slunk off to chat with Betty Lou at the register while Pauline finished cleaning spice tins, warily shooting a glance at the stairs every so often. There was a soft swishing sound emanating from the basement, perhaps something mechanical like an overworked sump pump but seemingly echoing through a hollow space, more like a scuttling in the walls from mice or rats or something larger.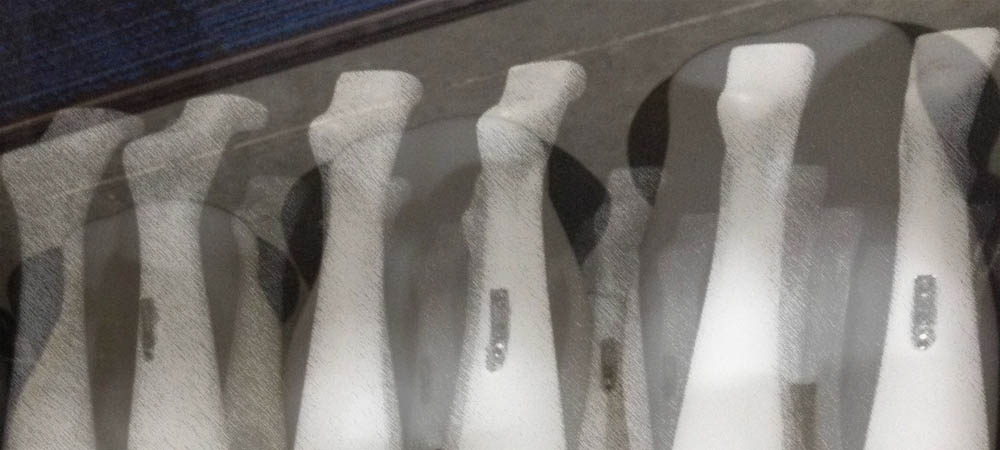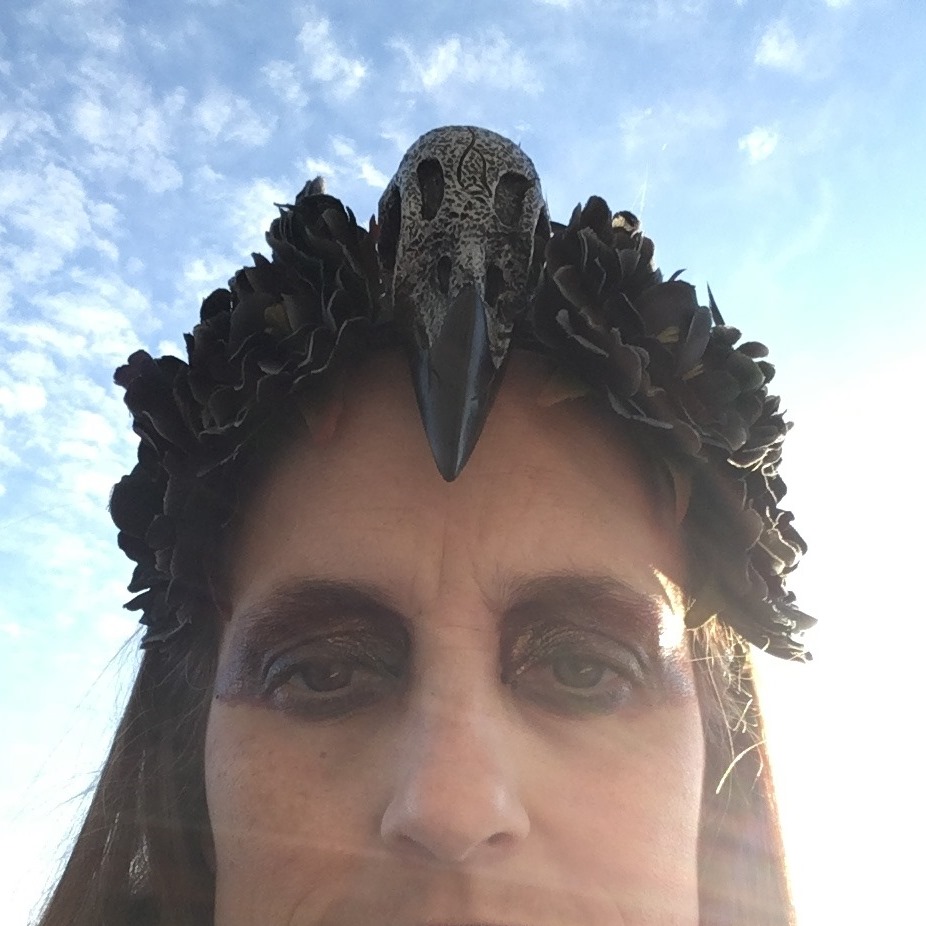 Eye Drawing You: Yet More Art by Jennifer Weigel
In our last installment of the art show preview, the eye drawing has it… All-seeing works by Jennifer Weigel go to show you gotta watch where you look. I'm a little obsessed with eyes, so they appear in a lot of my art, especially the more surreal the circumstance. Here are a few that have found themselves in odd and unusual settings…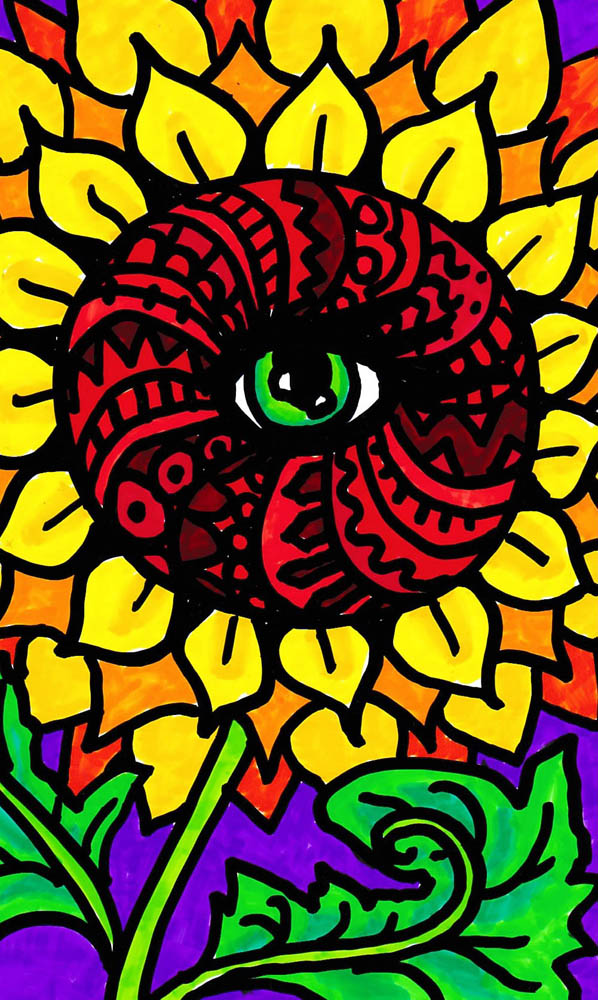 We're still watching you, in full spectrum Technicolor psychedelia. Eye drawing sunflowers stretch their petals and blink into the sun… The little Eye See You drawing is one of my personal favorites.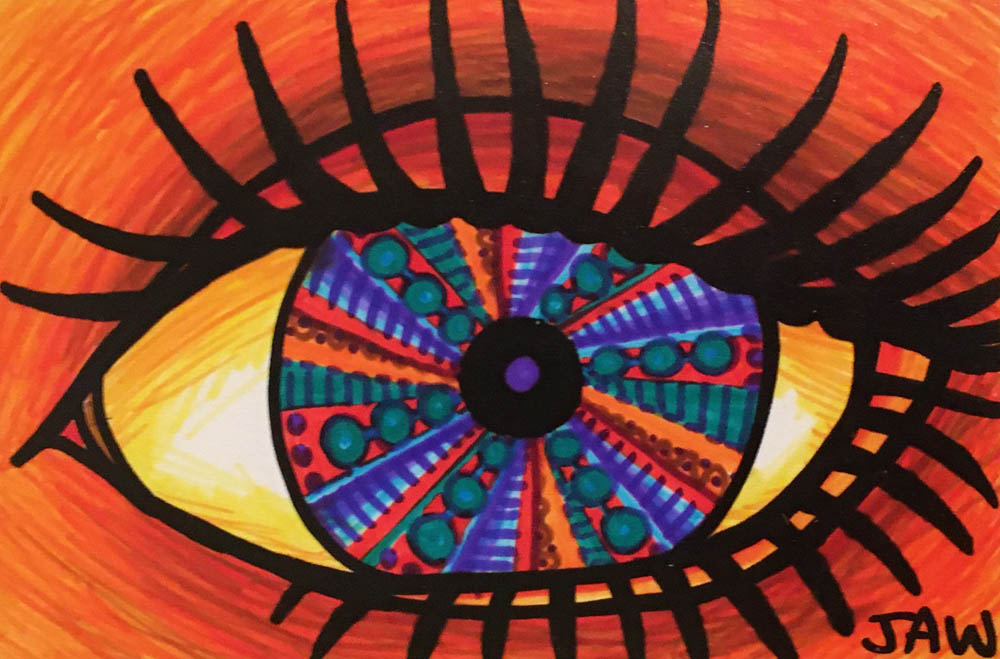 I had so much fun drawing this with Art Girls Reality Meg Graham and Day de Dada in one of the mandala gatherings. The big Sunflower Vision above also happened in one of these online groups. All of my mandalas have eyes, it just kind of happens…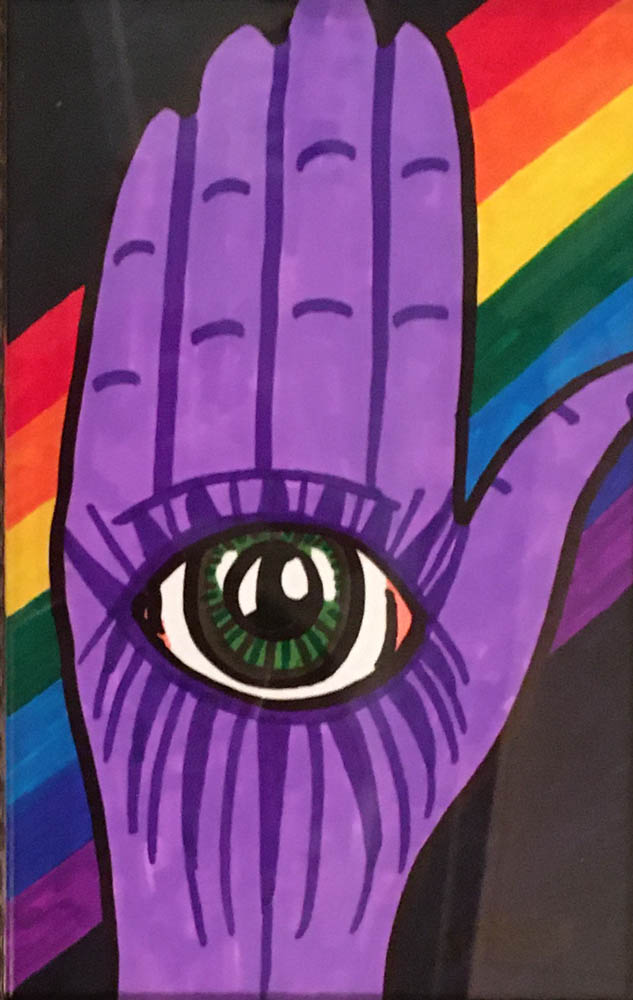 No spiders this time, so we'll close with a rainbow Hamsa warding sigil eye drawing. The hamsa or Hand of Fatima is an ancient symbol that protects against evil and negativity when facing upwards and brigs prosperity and good fortune upon its wearer when turned the other way. It is found in spiritual, religious and cultural beliefs throughout the world in various forms. I included it previously in one of my walking sticks. My version is fairly Goth-punk influenced with the huge central eye and running mascara, but seriously would you expect any different?
Feel free to check out more of Jennifer Weigel's work here on Haunted MTL. Or on her writing, fine art, and conceptual projects websites.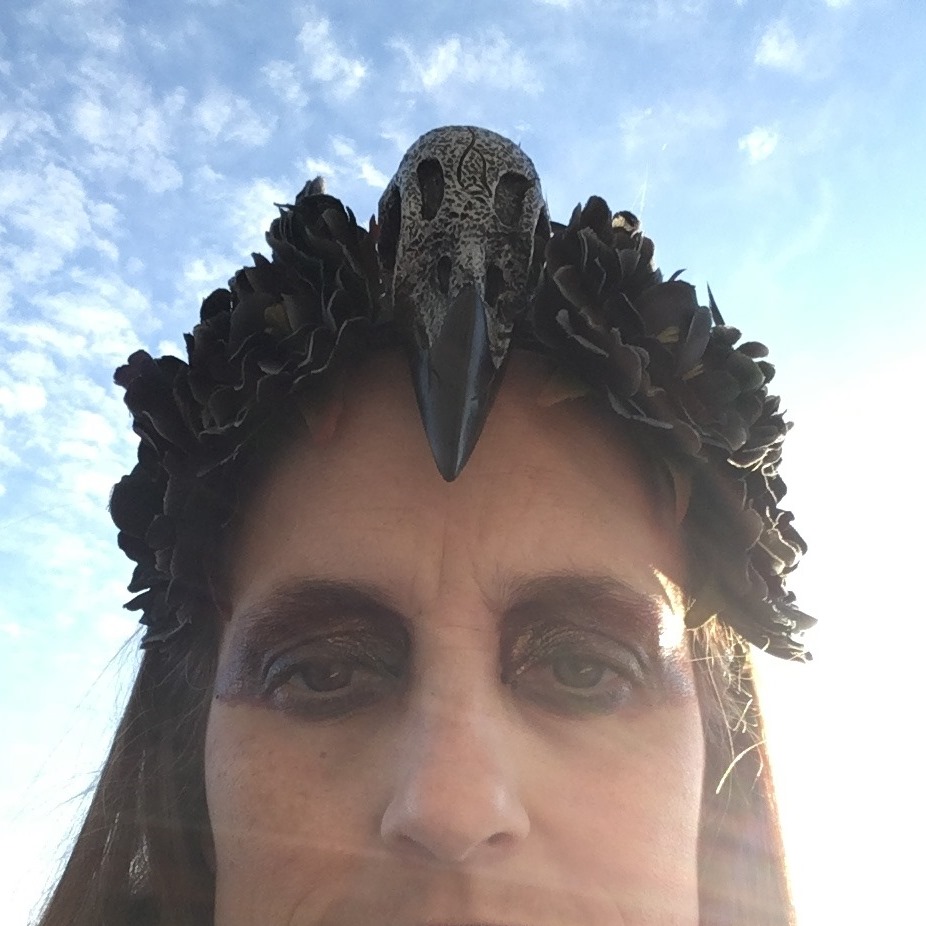 More Marker Drawing by Jennifer Weigel
And we're back! Here's more marker drawing from Jennifer Weigel, continuing our exclusive preview of works for her upcoming show… This time we're diving into full spectrum Technicolor!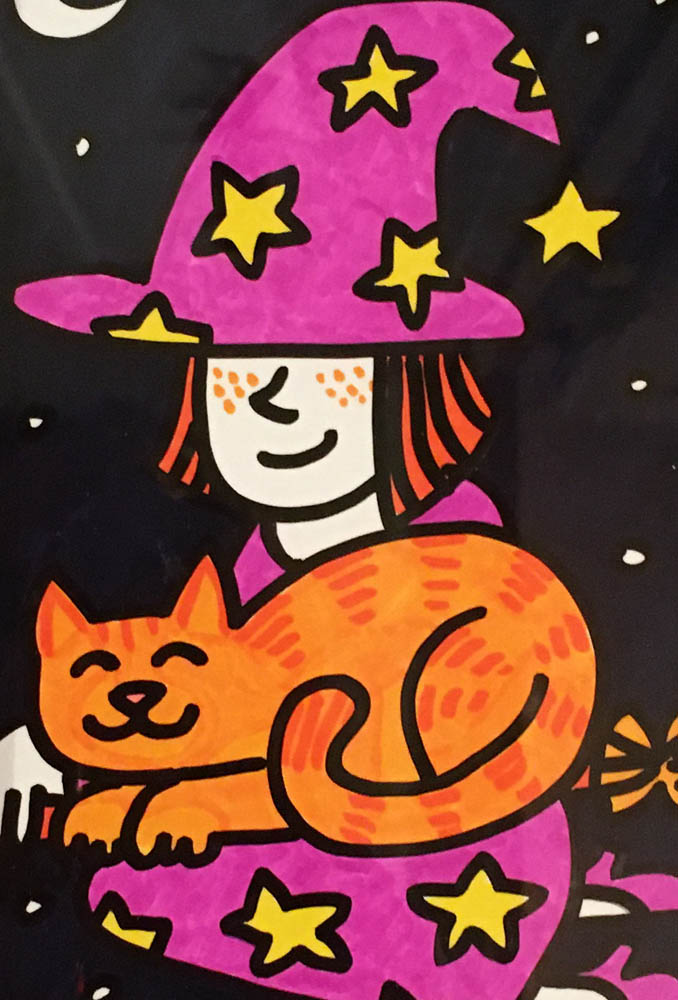 This Little Witch and her tabby cat wanted to kick things off with a fly-by hello. They're bringing the witchy magics from the last post. That's a crowded broomstick, but what a way to ride in style. Funny how cats always seem to fill whatever space is available to them, especially while lap-napping.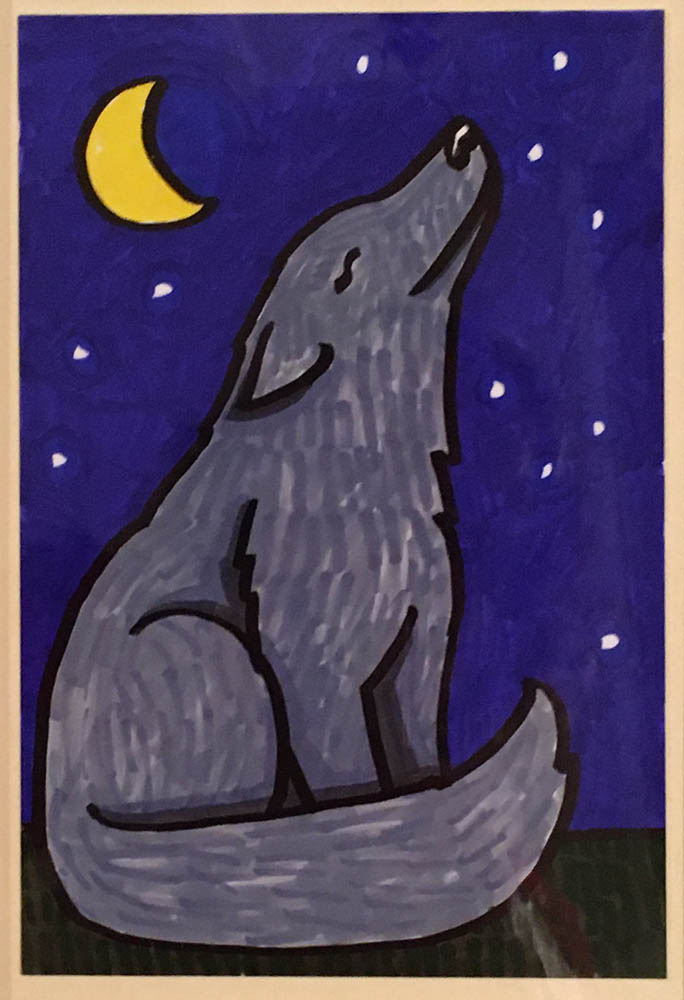 It's a perfect time to howl at the moon in this Night Watch marker drawing. Such a happy lycanthrope. He's setting the night to music, a capella werewolf-style.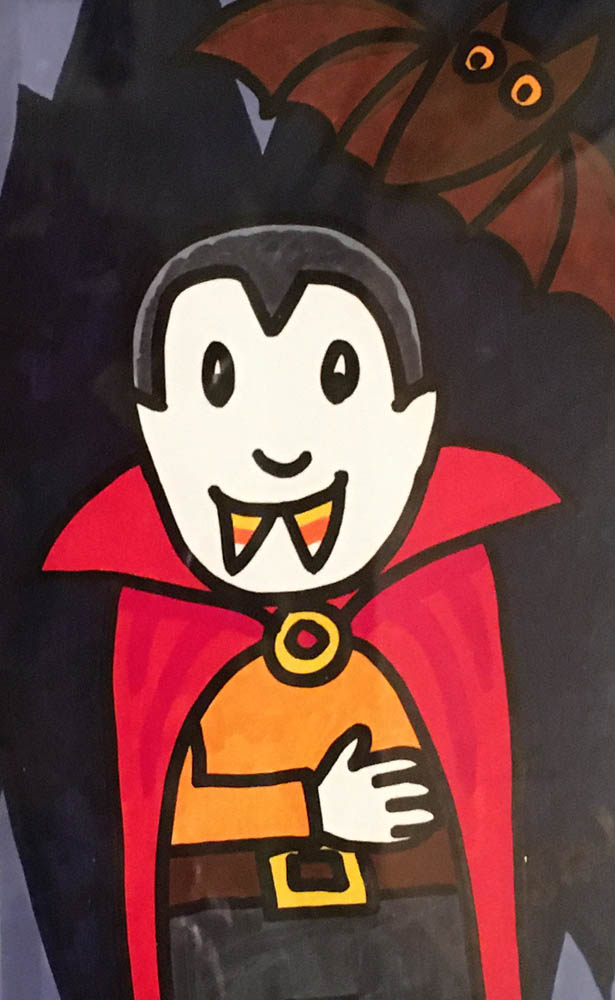 The cuteness just cannot be contained in this Candy Corn Vampire marker drawing. I vant to suck your sugary soda. I used to take great glee in doing this with candy corn as a child, to my dentist father's chagrin. It's every dentist's nightmare. Or $$$ depending on their personal motivations, I suppose.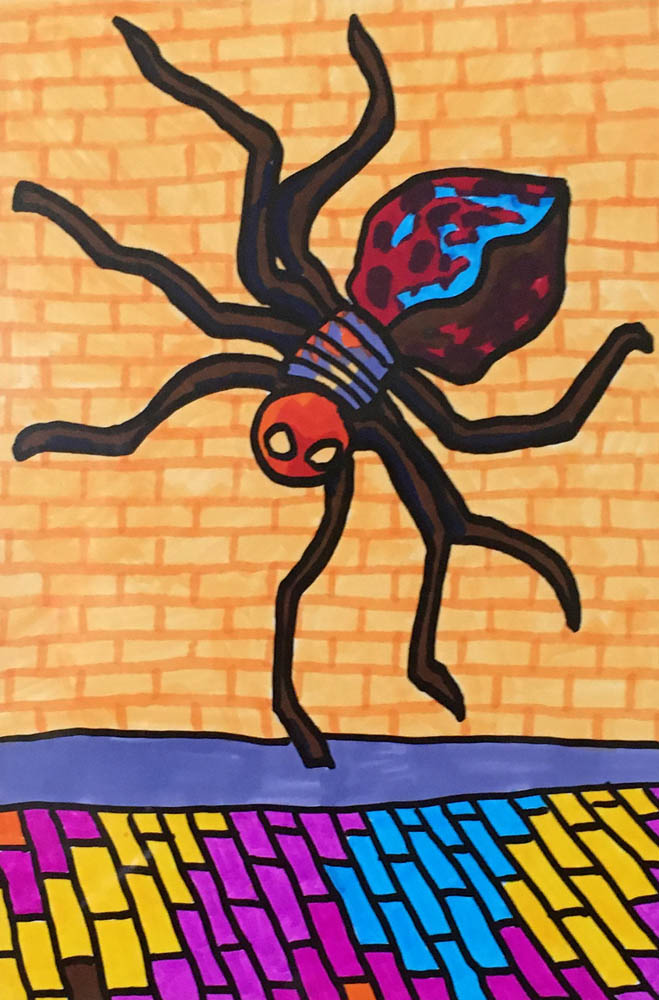 And why not end with some more spiders? This is a plein air drawing done in situ based off of this fun sculpture in Wichita, Kansas USA. You can see the finished drawing and its inspiration here. This spider is HUGE! Made out of metal and rocks and other crazy stuff…
Feel free to check out more of Jennifer Weigel's work here on Haunted MTL. Or on her writing, fine art, and conceptual projects websites.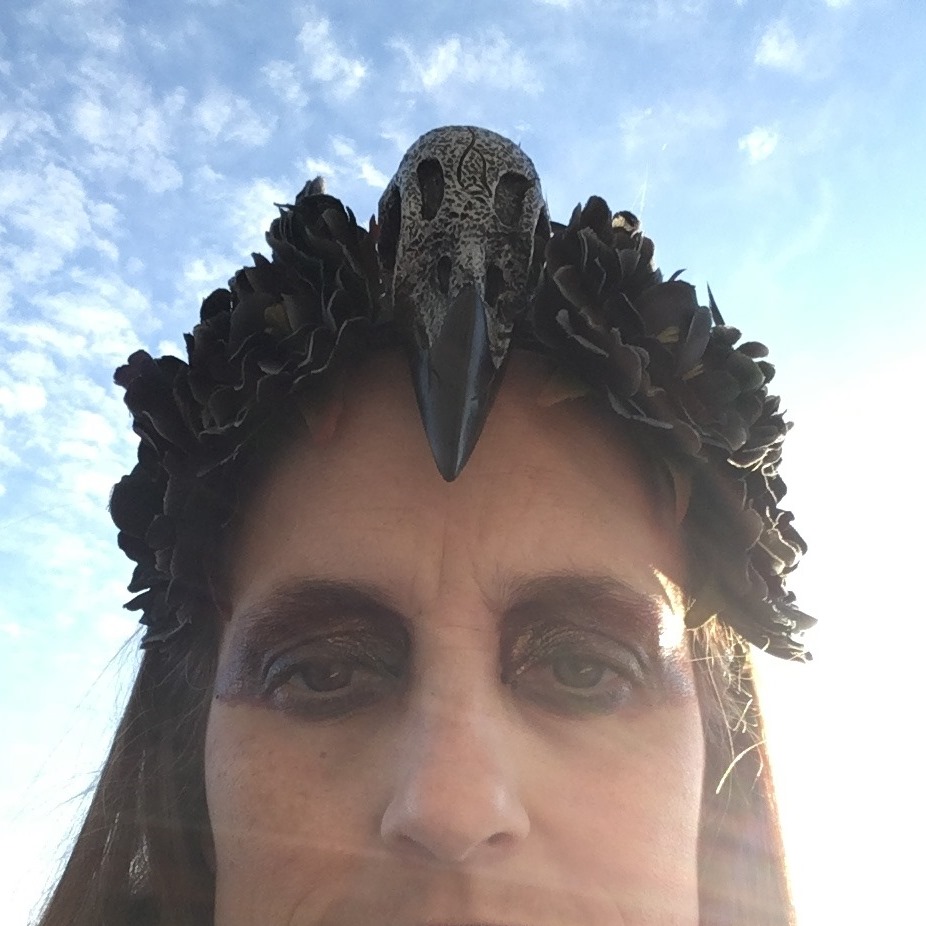 Some Bewitching Line Drawing by Jennifer Weigel
This month we are going to explore more fun marker art from Jennifer Weigel, starting with black and white line drawing. Jennifer is getting ready for her big Life Is Brilliant solo show in March and has snuck in a few spookier themes, so she wanted to share them with you here.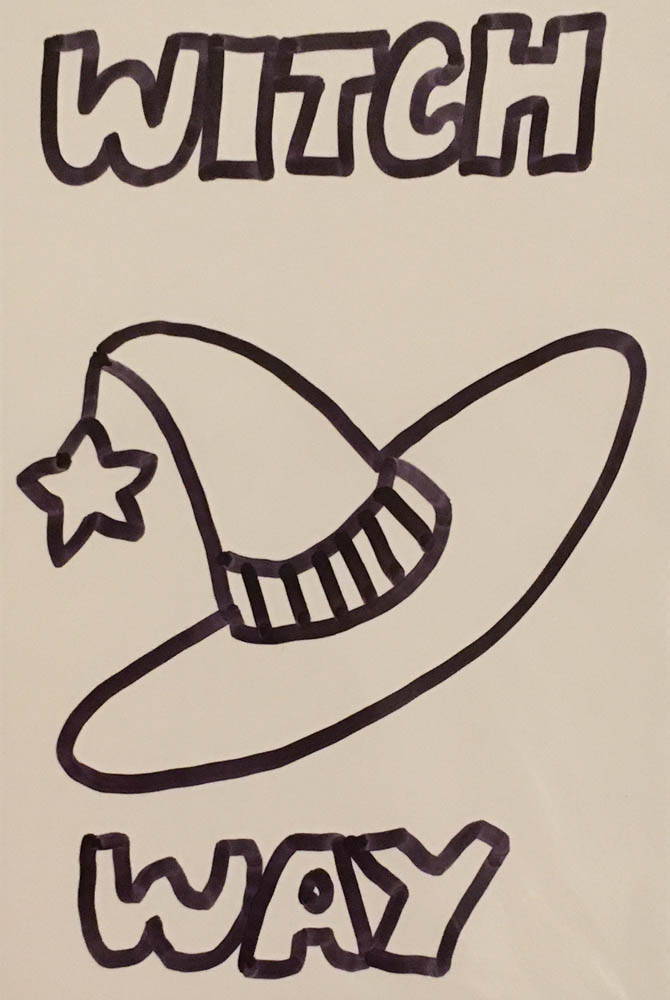 The magic is strong in this Witch Way line drawing with its fun witchy head-topper, complete with striped hat band and star dangle. No self-respecting wizard's ensemble would be complete without it.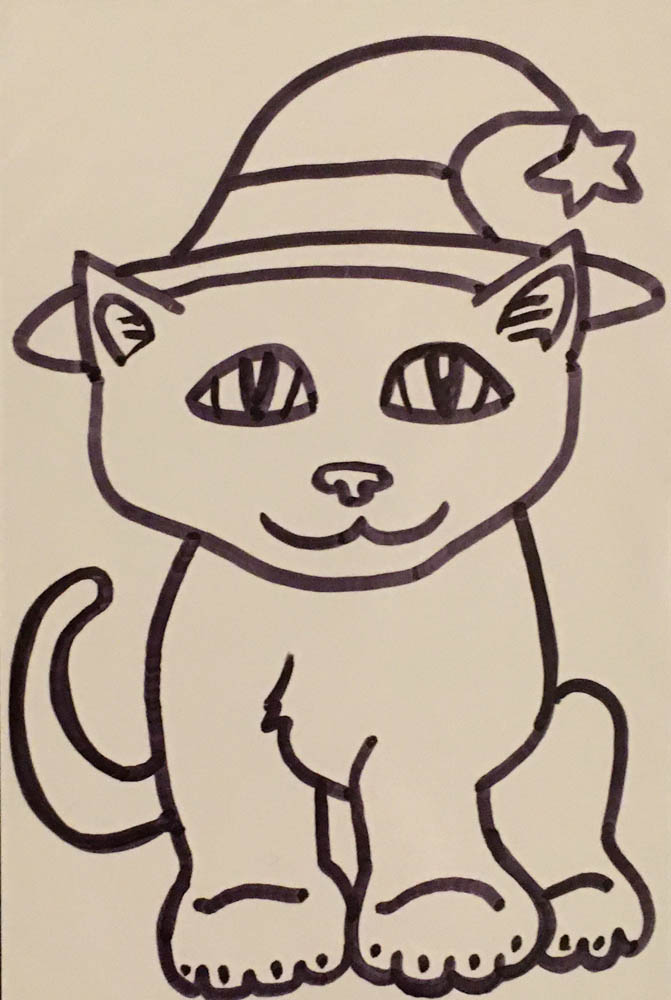 And now the adorable Kitty Witch will don the Witch Way hat and cast a spell of cuteness on you. You gotta wonder just how the hat stays on but best not to question these things. We all know it's magic…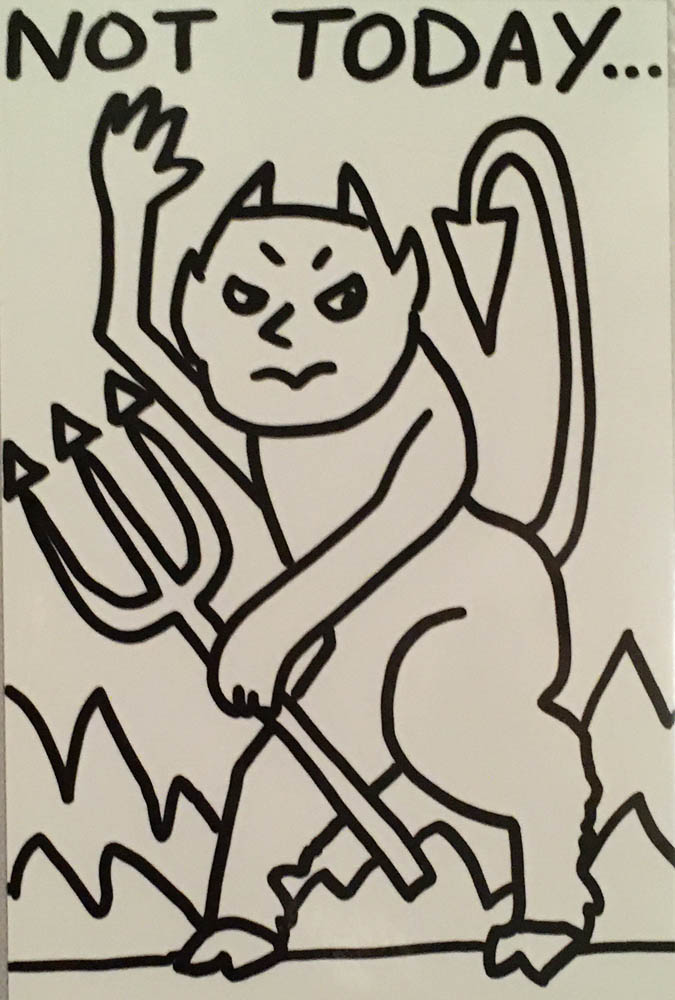 The devil is in the details in this Not Today Satan line drawing, and boy is he pissed!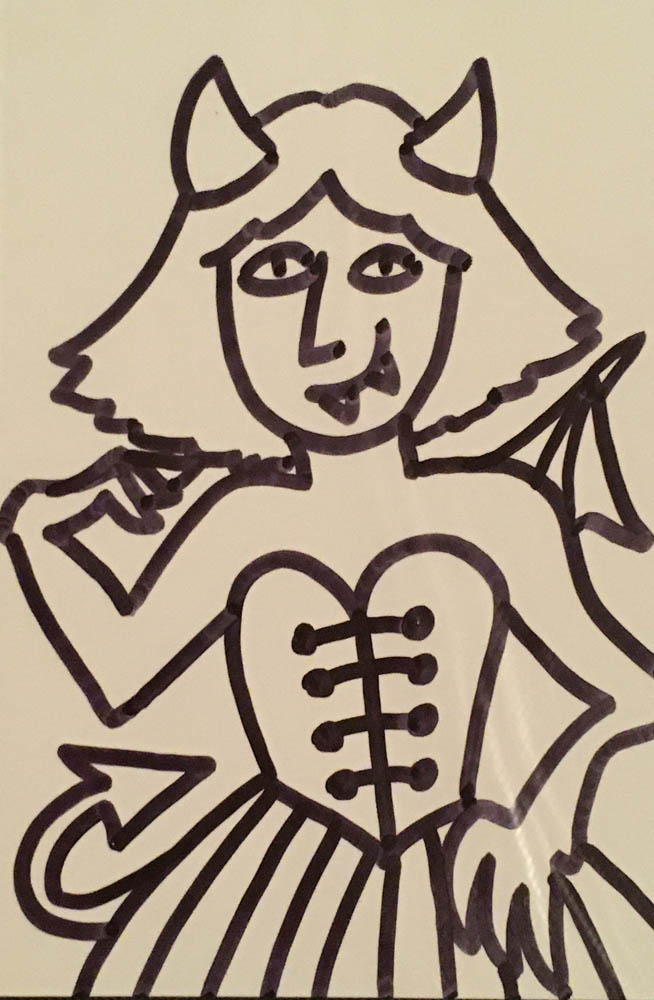 This She Devil is just plain goofy. Maybe she's coyly playing innocent; it's not a look most devils can pull off, seeing as how innocence really isn't their schtick…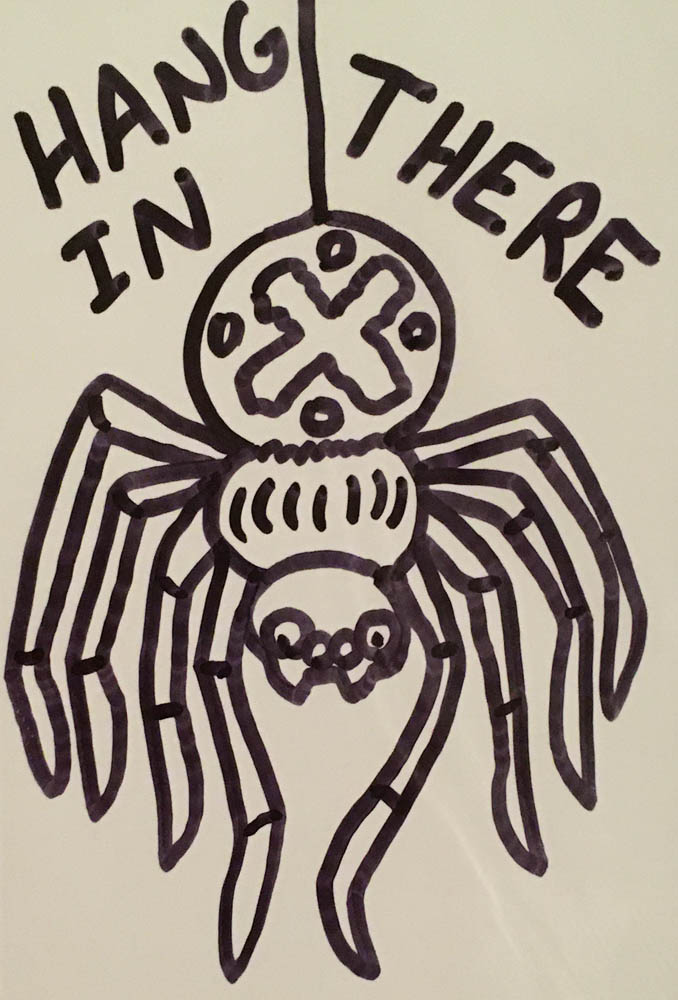 This little spider came down to your tuffet to remind you to Hang in There. She is very well-intentioned and is only looking out for you. I guess maybe she's not so little though, she is an Argiope after all…
Feel free to check out more of Jennifer Weigel's work here on Haunted MTL. Or on her writing, fine art, and conceptual projects websites.