"Just for Laughs" by Liam Moran
I swear when I told Pretty-boy Pete this, he nearly lost his shit.
My dad's all stern—he's got those frown lines pronounced so you know he's serious—and he says to me, "What happened to you? You were at the top of your class in high school. You were always on honor roll. You were always on the dean's list. And now here you are, drinking, drugging, driving drunk. What happened to your brain?"
I smile—I can't help but smile—and I say, "It drowned in bourbon." And I just laugh my ass off. My dad keeps trying to lecture me and I just laugh louder and louder.
So when I tell my buddy Pete this—I always do—he busts a big old gut and he says, "Ain't that a fuckin' hoot."
That's what it was—our catch phrase. Any time we found something entertaining, the phrase 'Ain't that a fuckin' hoot' was sure to follow. It had such a dirty twang to it. It sounded like one of those phrases that some greaseball says in some old-time seventies or eighties movie. So it just kind of stuck. You know those little inside jokes among friends. Try to explain it to someone else, and people will look at you all mouth agape and stupid; but say it to your best buddy, well, you two will be rolling on the floor.
You see, we were able to see what nobody else could see. Pete ain't too bright, but he at least accepted this truth: the world's a fucking joke. Nothing more. It's just a joke, and if you're not laughing, then why the hell even come to the comedy club. You stop laughing for more than a day: well, you oughta end it right there. Slit your wrists and exit stage right.
You see, Pretty-boy Pete got his nickname for his looks, if you're too stupid to figure that out on your own. He ain't got a lot upstairs, but his looks were enough to get his dick wet. And that's where he got his laughs. Find one slut, do what you need, then move onto the next. I swear, he went through more cases of chlamydia than one of those sniveling twerps with bad allergies goes through tissues. He used to have the nickname 'Penicillin Pete' for a while, but he didn't like it. So I had my laughs and then backed off.
See, I wasn't so lucky. Sure, I wasn't fuck-ugly or anything, but I had to work for it. I've had a couple of fine pieces of tail, but I really had to work the game. It's hard, but a little manipulation goes a long way.
So another night I come home so shitfaced that I bump into my pop's car. Rich schmuck paid for a brand new one, so you bet your ass he's fuming. He's shouting at me, "What the hell is wrong with you?! Are you fucking dense?!" It took all I could muster to stifle my laughter.
So then he calms down, and begins his old lecture again. "What happened to you?" He's all nauseatingly sincere about it too. I can't decide whether I should bust a gut or spew. "You were at the top of your class in high school…" You know where this is going. He must have given me this speech about a hundred times, so I zone out until it's my turn. Then he says my cue, "What happened to your brain?"
"It got lost on its last acid trip," I belt out and roar another round of laughter. Man, I had a new response for every time.
Then he starts slapping me, but I can't help it. I can't stop laughing. And his feeble attempt to stop me only adds to the hilarity.
I tell Pretty-boy Pete that one and he laughs so hard, the bourbon shoots straight out of his nose. Then he says, "Ain't that a fuckin' hoot." And we laugh some more.
I'm twenty-four and I see what nobody else sees. Everyone's breaking their backs trying to put food on the table. Dipshits who forgot to wear a rubber have children to feed. Everyone's wasting their time working and growing up, when they miss out on the fun. Meanwhile, I'm cruising down the road with a bottle in my hand laughing my ass off.
So this one time I'm in the car with Pete. He's got one spliff in his mouth and one tucked behind his ear, and he's taking huge rips off it. The road's hard to see with the smoke accumulating on the dashboard. So I roll down the window, take a swig of Jim Beam, and press down on the pedal.
"Hey," I say to Pete, "hold this and give me a hit." I hand him the bottle and he gives me the joint.
I take a good long rip. Then I take another. Then another.
"Quit fuckin' hoggin' it," Pete complains.
"You got one tucked behind your ear," I tell him.
"Yeah, but it's my weed," he says.
"Oh, who gives a shit?" I say.
"Give it, man," he says.
I blow out a cloud and concede, "Fine, you fucking fiend," then I hand him back the joint.
We drive a bit longer and I feel the cold wind whip my sweaty scalp. The pot blows in my face as if Pretty-boy Pete is trying to tempt me with it. Fucking asshole. I take another swig of bourbon.
"Say, know what we should do?" I say to Pete.
"What?" he says.
"Let's go fuck up Ron's car," I say.
You see, Ron's this asshole we used to know. He always used to pick fights with me for no reason at all. He just had some grudge against me. I don't know why he singled me out, but I ain't somebody who forgives easy.
"Ron?" Pete asks and I nod. "Why Ron? I haven't heard from him in years."
"You got something better to do?" I raise an eyebrow.
He shrugs and says, "Whatever."
He didn't seem too enthusiastic at first, but the moment we took the baseball bats out of the trunk, he looked like a kid in a candy shop. We fucked that car up: broke his tail lights, busted his hood, shattered his windows; ain't nothing in that piece of shit mobile was untouched.
We start driving back fast, fleeing the scene, just cracking up. "Ain't that a fuckin' hoot," Pete says, and we laugh some more. We haven't laughed that hard in a long time. So then the laughter dies down, and Pete says, "You sure that was Ron's car?"
I look at him, then start to grin, then we both start laughing louder than ever. Was it? I thought it was. But I haven't seen or heard from him in almost five years, so maybe he moved. God damn. Ain't that a fuckin' hoot.
So we're feeling that nice crossfaded buzz—just cruising with the pedal down—and damned if we didn't finish that entire fucking bottle of Jim Beam. We must have also killed an eighth of bud too. We're all numb and tingly and warm and fuzzy and not entirely sure if we've pissed ourselves or not. But one thing was for sure: we were laughing our asses off. That's the way we were: always laughing.
So then my song comes on: it's "Blinded by the Light". God, I love that song.
So I turn to Pete and I say, "Roll another joint; this is my smoking song."
"We're out of bud," he says.
"What do you mean we're out of bud?" I ask.
"I mean just what I said," he says. "We smoked damn-near an eighth."
"Well give me a cigarette," I say. "I need to smoke something."
So he hands me a cigarette, and—you're gonna love this—I'm so fucked up I light the filter. What a fuckin' riot.
So I get another one and succeed this time. I tell you, lighting a smoke while driving when you're seeing double is no small feat. So I spark the square and keep driving with my eyelids at half-mast.
Right when we get to my favorite part of the song, it happens. Right after Paul Jones tells his momma where the fun is for the last time, and Manfred Mann starts his iconic keyboard solo, our car comes to a violent halt.
We smash right into another car; I have no idea how many miles per hour we were going. Pete wasn't wearing a seatbelt—I told you he ain't got a lot upstairs—and he goes flying right through the windshield. Can you imagine that? Just broke through the glass headfirst and flew through the air.
The airbag explodes in my face, and the car crumples and shatters my leg in three places, and the empty bourbon bottle shatters and imbeds itself all throughout my busted up leg. I mean, what are the fucking chances, right?
So when I finally am able to drag myself out of the car, I see Pete lying twenty feet in front of the car dead as a fucking doorknob. I walk up to him, crying my eyes out, dragging my bum leg, and he smells rank. And—get this—he literally shit himself. I'm not making this stuff up! A complete bowel discharge! I'm screaming in tears. I'm devastated. My only friend is lying there stone-dead. I mean, what are the chances?
So now I'm sitting in a courtroom before a judge. I'm facing vehicular manslaughter, reckless endangerment, driving under the influence, and the prosecutor is pushing for life. You see, the car that I crashed into was carrying a husband and wife and their only son. The mother is still in a coma, the father only suffered a few broken bones, and their son died in the accident.
And—this is the real kicker—they were celebrating their son making honor roll again. Get a load of that! He was honor role, dean's list, top of his class, just like I used to be. What are the fucking chances?
My mother is clinging to my father, and in both of their eyes it's Niagara Falls. They're sobbing and holding each other for support. My only real friend is now being turned into soil by hungry worms.
And then—get this—the judge, he leans over and asks me, "What happened to your brain?"
Now ain't that a fuckin' hoot.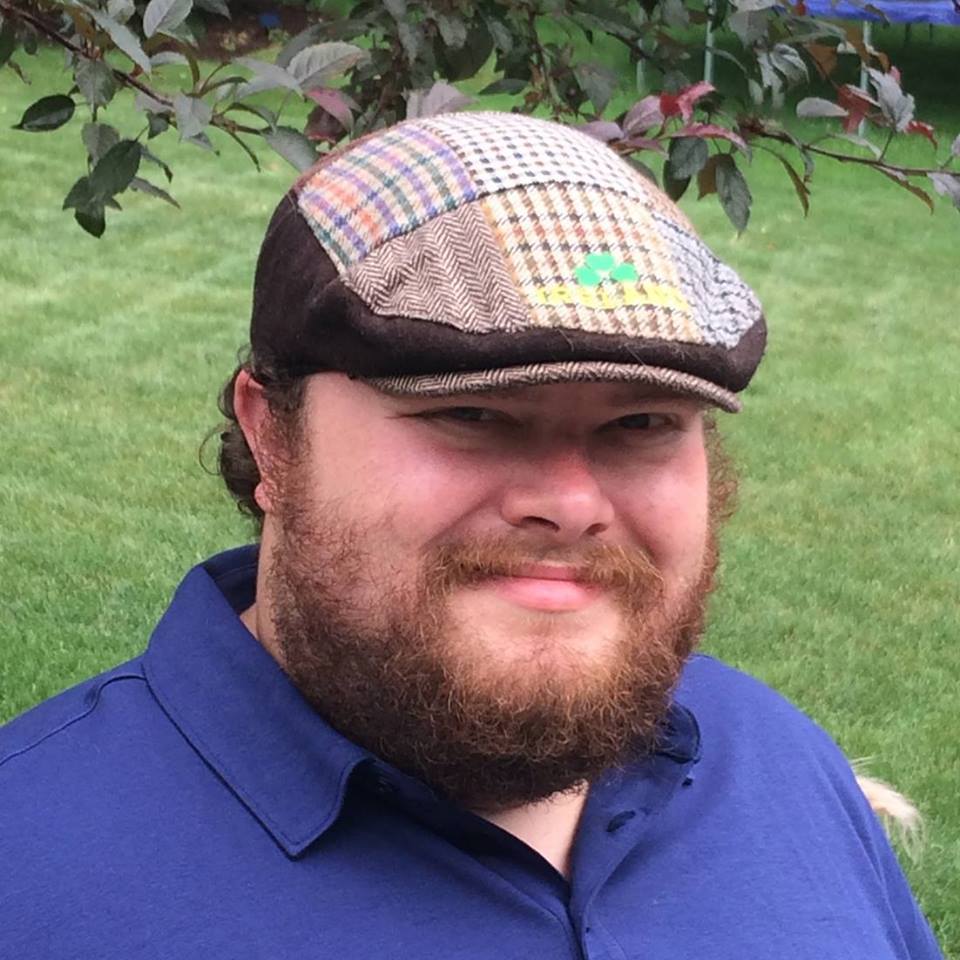 Liam Moran has been published in Coffin Bell Journal and Ripples in Space and his novels, 'Saving Fiction' and 'Love is Delusional', are available on Amazon. Originally from Levittown, New York, he now resides in the suburbs of Chicago. He invites fans to follow him on his Facebook page @LiamMoranAuthor or on his website at amazon.com/author/liammoran.
The Elves Reunion, a short story by Jennifer Weigel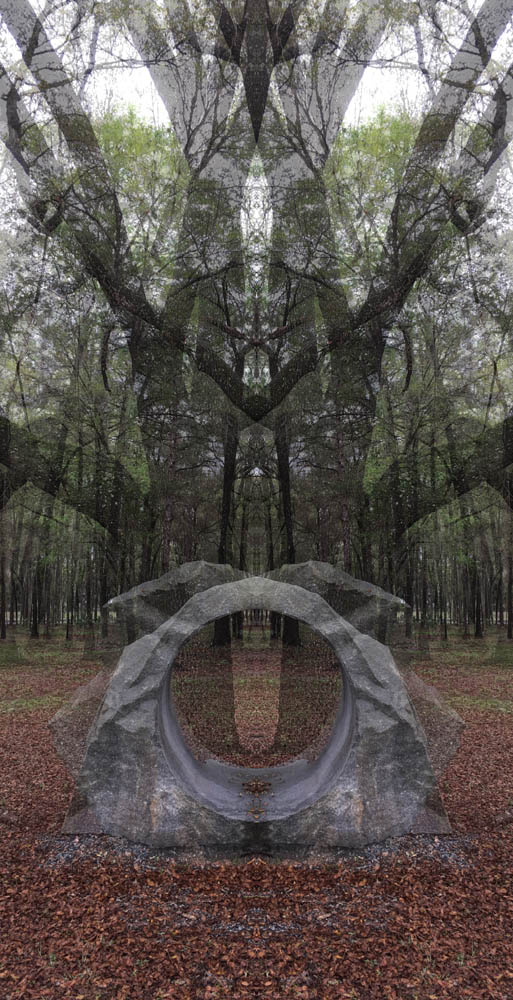 I had heard tale that The Elves dwell in these woods. Many underestimate The Elves; they have a fondness of heart for Tolkienesque Middle Earth fantasy stories and tales where Elves are the most highly civilized, virtuous and intelligent. They forget that those are just myths, save for The Elves being cunning. Remember that the Pied Piper was an Elf, and the children he took were not destined for such a glorious fate.
My sister lost her firstborn to The Elves. She hadn't noticed the Changeling until it was too late. Her baby had already long since been stolen away. She was so distraught she refused to eat or speak. She locked herself in her room. Or my family locked her into it as she succumbed to the madness. Such are the ways of the family, for all of our protection. We never question but follow as expected, as a means of self-preservation. It has kept us all alive.
But I couldn't get the sinking feeling out of my stomach; the grief became too overwhelming. That is why I came here. I know I will not be able to rescue the child, nor my sister. But I seek to avenge their meaningless deaths. To ensure that it doesn't happen again. My family will never act. I am tired of the Village Elders just shrugging these things off in hushed whispers and badly shrouded secrets. It happens time and again. We are all expendable. They never do anything.
So here I am, in the Elven wood. Alone. As soon as my family figures out that I'm here, they will disown me. They probably already have. Again, it is for our own protection. I'll be just another casualty of The Elves. Everything is so structured, so regimented. Anyone who dares act in opposition to the rules vanishes. We are all so afraid.
I lay in wait. It's just a matter of time before the portal appears. The Elves use the portals to travel across time and space. They appear where and when they wish. But this time, I will go through first. I know not what is on the other side, just that the portals allow only one to traverse in each direction. We will trade places, if only for a moment until another portal forms. Hopefully that will be enough time.
The trees shift and morph. Falling leaves drift slower and slower towards the ground. There is a stillness that I cannot fully express. My breath hangs heavy in the silent air. There is no sound, no smell, no taste. It is time. The hairs on the back of my neck and arms rise. I can sense the opening forming. There is an uncanny familiarity in this moment, as if I have been here before.
As soon as the portal opens, I dash through. But something isn't right. No one came through from the other side. Or did they? I cannot tell. I am alone, in limbo between states of existence. The world spins around me. I can feel the drift. Is this what death feels like? Cold unbroken silence? I feel distant eyes upon me everywhere, all around me, in the trees, the clouds, pinpoints of light that shimmer through.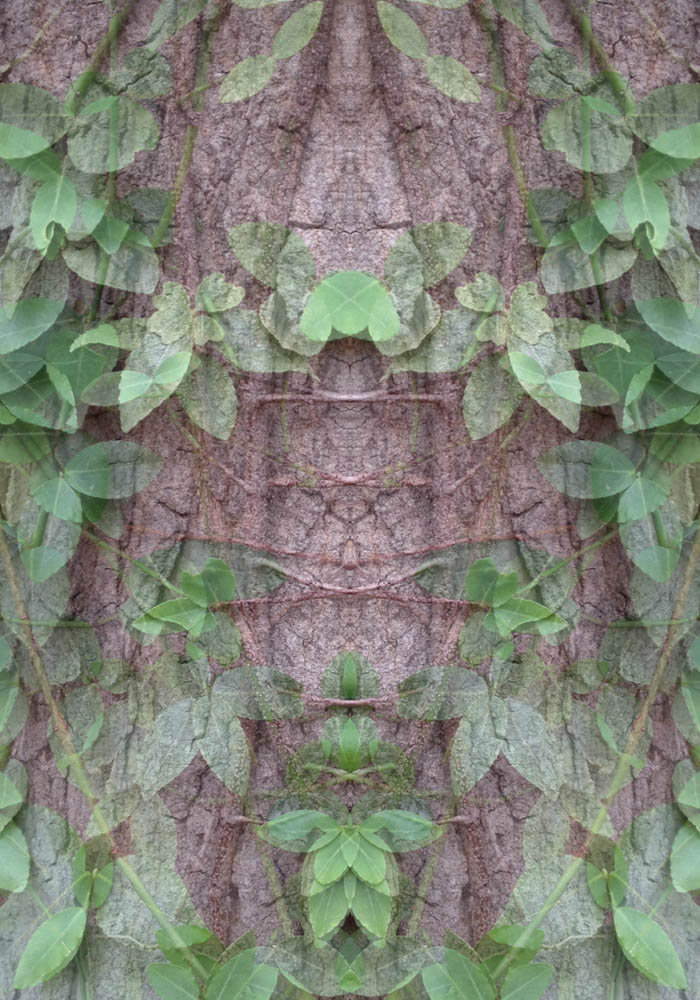 I wasn't sure what to expect. Maybe this is all according to plan. But who was orchestrating the exchange? My idea was only half formed in those passing pensive moments I am able to think for myself, few and far between. My family, the Village Elders… no one allows time for freeform thought. I hadn't considered what would happen after the portal exchange. I never really got past step one.
A voice greets me from the trees. It is hauntingly familiar but seems only a distant memory.
"I've been expecting you."
The world slowly comes into focus. Clarity restored, the leaves circle me in an embrace. My sister emerges, her dark eyes smiling. She cradles the baby in her arms.
"You made it. You escaped," she sings.
"I didn't see anyone," I retort, skeptical. I hadn't recalled having seen any Elves, dark nightmarish fiends that they are, wild, unkempt, uncouth. Savage beasts like Pan or Krampus. Is this an illusion? My sister seems so lifelike, so much herself. She is the joyful young mother I had known her to be. Filled with love and laughter. Light dances about her, and she shimmers.
"Not in passing," my sister clarifies. "You have been living among them your whole life. I had done so as well until the baby was stolen. My heart broke; I had to follow after. That was when I learned the Truth."
"Why do you think we are so sheltered? Why are we forbidden to do anything? They do so to protect us from the Truth about who and what we are," she continued. "We've spent our lives evading that which we truly know ourselves to be. We were the stolen ones, not the other way around…"
I notice that the portal I came through is still open, reinforcing my idea that no one had passed through the other way. It is as if the portal was opened specifically to call me through. My sister extends her hand, beckoning me to join her. There is a gleam in her eye I cannot pinpoint. She seems happy, but something still isn't quite right. I'm still uncertain why I am here, in this time and place, as if destined to be present in this moment, in this decision.
The Village has fallen away to the woods. There are no breadcrumb trails to follow home. The idea of home itself seems distant like yet another illusion. Nothing makes sense anymore. I am unsure whether I am coming or going. Two paths lay open before me. Which shall I take?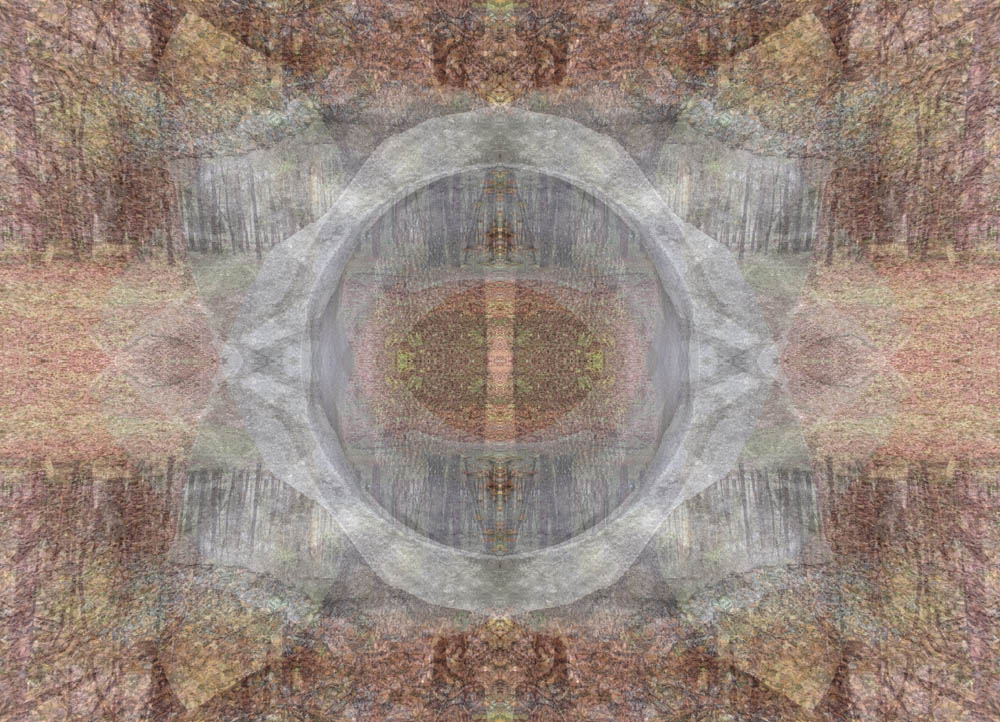 The trees are full of Elven magicks… Feel free to check out more of Jennifer Weigel's work here on Haunted MTL or on her writing, fine art, and conceptual projects websites.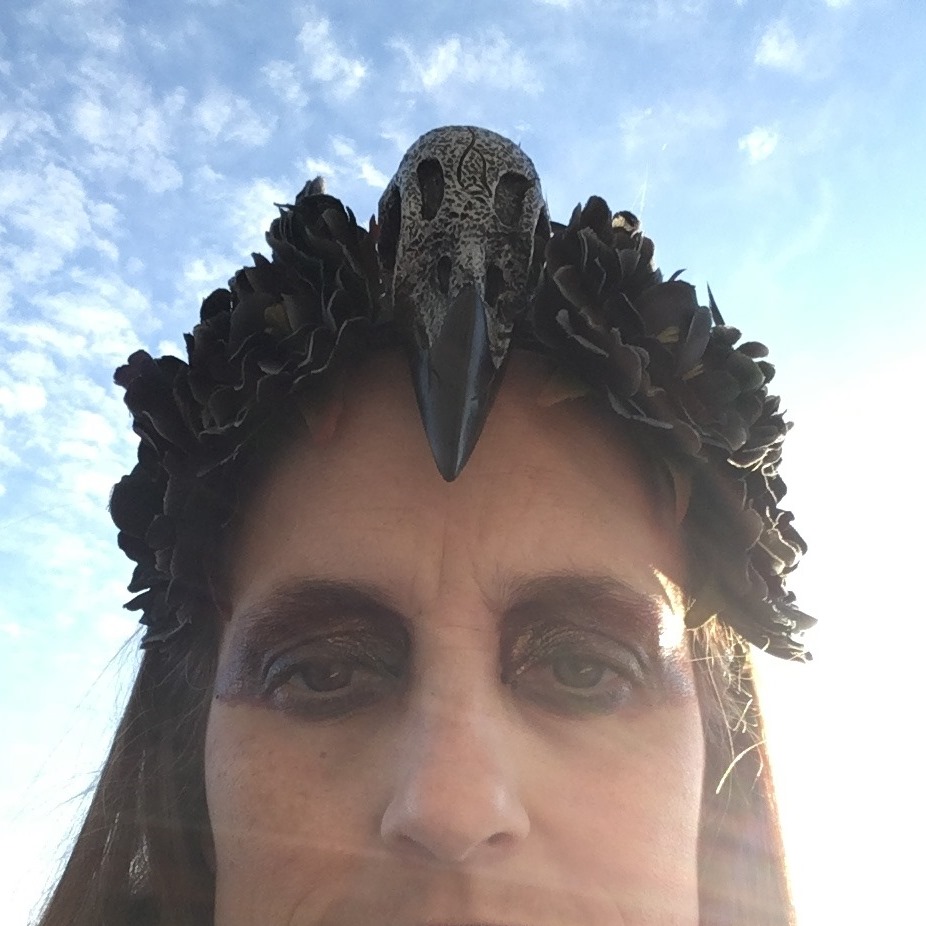 Eye Candy Jewelry by Jennifer Weigel
I have been getting ready for a jewelry show in February and thought I'd share some of the fun eye candy necklaces I've been working on. Do they thwart or attract the Evil Eye? I think that depends largely on the wearer's intentions… Each is hand-beaded and features a spooky printed eyeball pendant as its focus.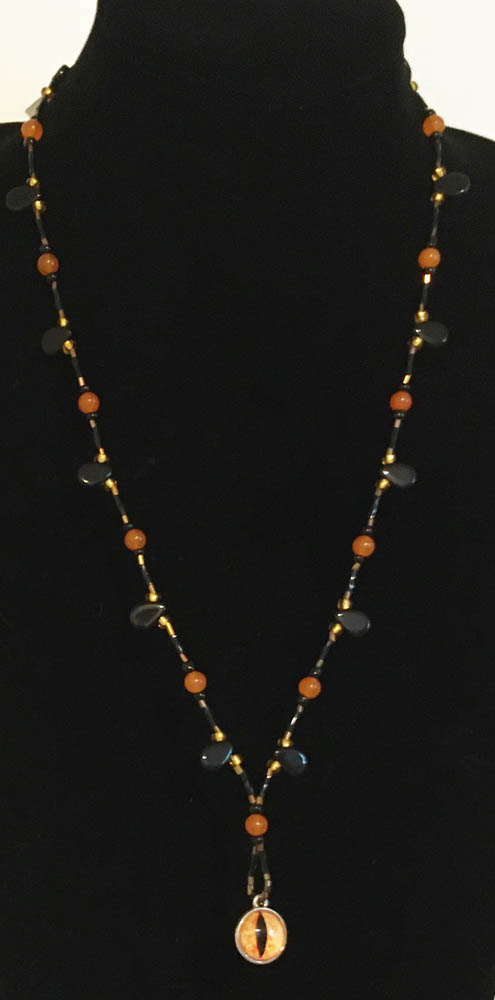 And the piece de resistance… A RAINBOW Evil Eye necklace with magnesite stone skulls! I love these happy little deadheads – they are just too spoopy… I have seen these beads ranging in size from very small to huge and I love all of them.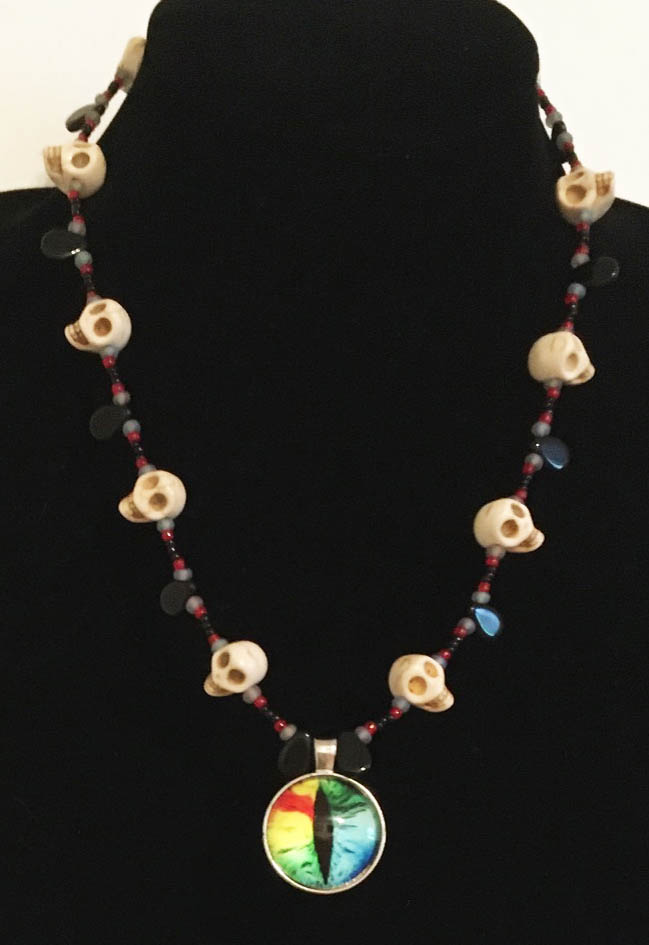 I love using eyes in art in weird and unusual contexts in my art. They have so much presence and symbolism. They also bring a sort of surreal atmosphere to any artwork, which bears just a hint of spookiness regardless of context.
Other artworks & graphics by myself that prominently feature eyes have appeared here on Haunted MTL in Insomnia, Indecision, Illuminati, Carriage Factory art installation, The Watchers, The Red Key, and Shaman Sticks.
You can check out some of my Hauntings jewelry on Haunted MTL here, and more jewelry is featured on my website here.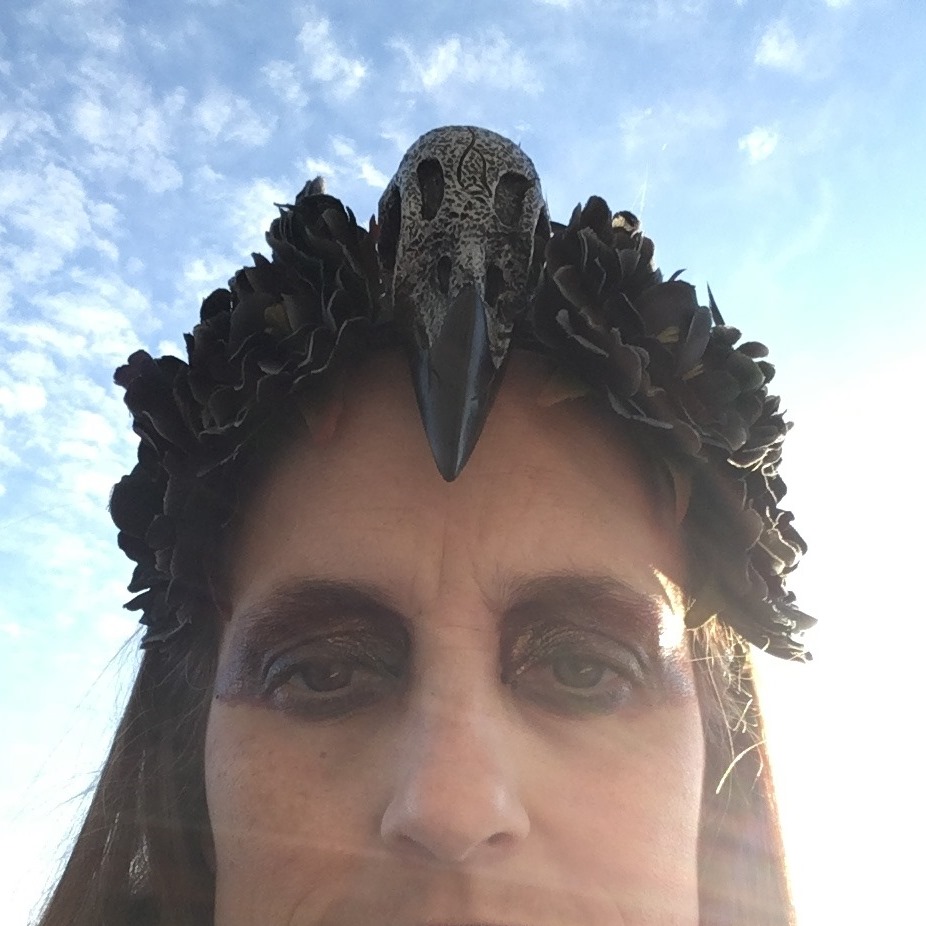 Wax Museum Living Dead Girls with Jennifer Weigel
Revisiting my costume modeling work, like my previous witch and skeleton sitting, I participated in a Living Wax Museum as part of No Craft Left Behind at Monika House over Halloween this past year. The premise is that participating performers each choose a historical figure, living or dead, and portray them. Anyone attending the event then asks questions to deduce who the living wax figures are. It's a lot of fun, and also educational.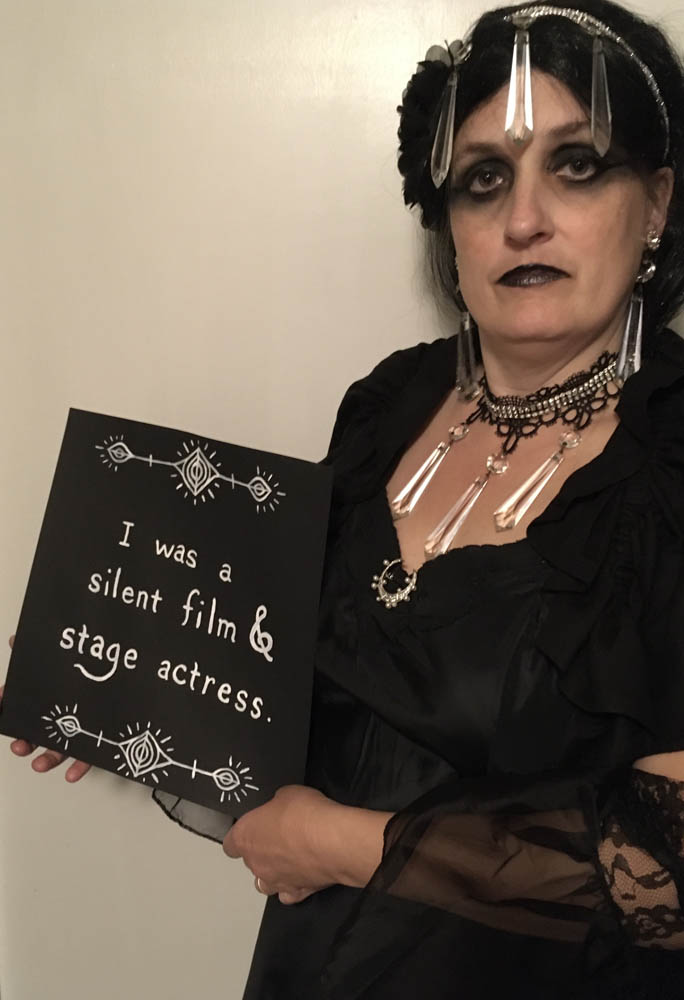 Here are some images of my outfit and props. Since I was a silent film actress, I decided to create intertitle signs to flash at audience members rather than talking, kind of like reading the snippets of conversation between scenes in actual silent films. See if you can guess who I am.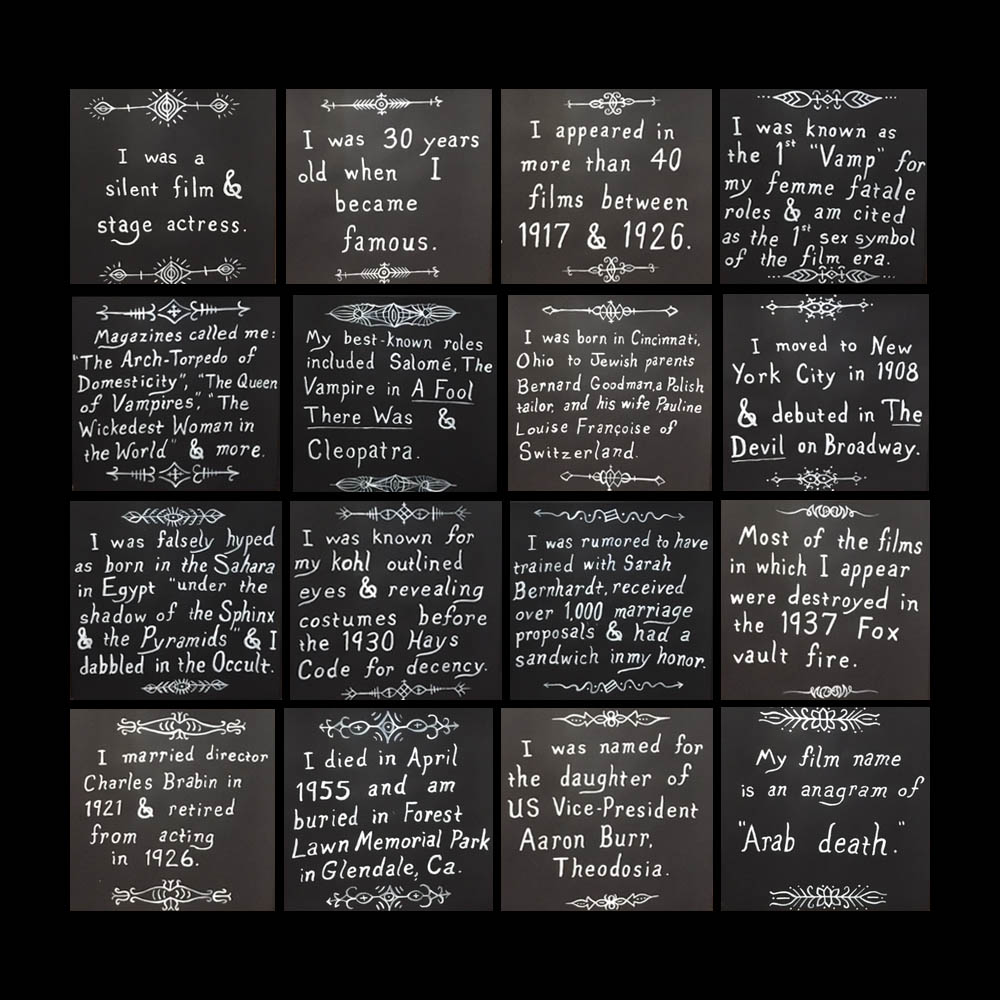 The intertitle signs from the Living Wax Museum read:
I was a silent film & stage actress.
I was 30 years old when I became famous.
I appeared in more than 40 films between 1917 & 1926.
I was known as the 1st "Vamp" for my femme fatale roles & am cited as the 1st sex symbol of the film era.
Magazines called me "The Arch-Torpedo of Domesticity", "The Queen of Vampires", "The Wickedest Woman in the World" & more.
My best known roles included Salome, The Vampire in A Fool There Was & Cleopatra.
I was born in Cincinnati, Ohio to Jewish parents Bernard Goodman, a Polish tailor, and his wife, Pauline Louise Francoise of Switzerland.
I moved to New York City in 1908 & debuted in The Devil on Broadway.
I was falsely hyped as born in the Sahara in Egypt "under the shadow of the Sphinx & the Pyramids" & I dabbled in the occult.
I was known for my kohl-outlined eyes & revealing costumes before the 1930s Hays Code for decency.
I was rumored to have trained with Sarah Bernhardt, received over 1,000 marriage proposals & had a sandwich in my honor.
Most of the films in which I appear were destroyed in the 1937 Fox vault fire.
I married director Charles Brabin in 1921 & retired from acting in 1926.
I died in April 1955 and am buried in Forest Lawn Memorial Park in Glendale, Ca.
I was named for the daughter of US Vice-President Aaron Burr, Theodosia.
My film name is an anagram of "Arab death".
---
Feel free to check out more of Jennifer Weigel's work here on Haunted MTL or on her writing, fine art, and conceptual projects websites.