The Death Door
Stephanie Vitarelli
The long and windy driveway trails up a small hill where a colonial mansion stands tall and stands alone, its four massive columns towering high in front of a façade of brick. Three chimneys release smoke, three fireplaces warming the house inside. Or, at least that's what the outsiders think. Yellow and red leaves litter the four and a half acres of land; autumn is flaunting its show. The hedges are landscaped daily, perfectly green, but there are never any flowers. I make sure of that.
The flagpole stands tall on the other side of the house, but there's never been a flag to blow in the wind. The pole just stands there lonely as ever. Lonely like it should be. Lonely like my mother. Lonely like I used to be.
Come on in, if you like. You know the saying, "don't judge a book by its cover?"
The front door creaks open to a claustrophobically thin hallway that smells of dust and a sick mix of rotting meat and faded perfume. The old faded carpet is greying more as each day passes, withering strings laying in every direction. The walls of the narrow hallway are lined with mirrors of all shapes and sizes, some of them cracked, and in no order whatsoever.
On the left is the door to my home. It's a two-bedroom apartment, more like a shed, that I used to share with my mother. As a child, my favorite past time was climbing up onto the toilet seat to look out the small rectangle window into Apartment Two of the mansion. Apartment Two was much bigger. Almost triple in size to the shed. I'd watch what went on behind the other door in this house. It was a little peep show. What do they call that? Voyeurism? Except I was watching something different than what most kids were watching at that age.
Back up. I almost forgot to tell you about my favorite part of the property. The weeping willow. It weeps on the side of the house, its leaves blowing in the wind like the long hair of a sad little girl. It reminds me of my childhood. My mother always cried under the weeping willow. She'd just lie there under the tree and let the tears fall to her ears until the chill of the night forced her back inside the home. I got tired of this, my mother moaning every evening, all because my father left. It was her fault he left, didn't she know that? He worked hard for us just to live in that little apartment. He would work long, exhausting hours. Sometimes he would leave at dawn and wouldn't be back until long after supper. She must feel guilty for what she'd done. Guilt. It was never really a thing I understood…
When my mother knew my father was going to be away, she would invite the neighbor, John Hart over. He was the owner of the funeral parlor next door, or Apartment Two. Technically, we rented from the Harts. It was all one big house separated by no more than the two front doors.
John would come over and they'd sit and eat cheese and stale crackers and sip on cheap wine, candles lit throughout the dim kitchen. I'd spend the time in my room, hating the way my mother leaned over the table and grabbed his hand, laughing at jokes that weren't funny. I'd see it every time I had to leave my room to use the bathroom, and each time I did my mother was a little more drunk, until eventually she was slurring her words and spilling wine on her ivory frilled dress. Eventually, she'd forget I was home and they'd make their way to my mother's room. The first time, I didn't know what it was. I heard the bed creaking and I heard my mother yelling, though it didn't sound like it was in pain. It lasted a few minutes and I assumed they had passed out or that John had left before Daddy got back. But then I heard his footsteps coming down the narrow hallway.
I didn't know if they were John's or Daddy's. The doorknob to my bedroom turned so I assumed it must be Daddy coming to kiss me goodnight like he always did when he got home. It took me a moment to realize that it was John standing in the doorway. He just stood there for a few moments, his head cocked to the side, my nightlight shining on his glossy eyes and on his hand moving up and down his groin over his pants. He walked closer to me, still touching himself in that same way. I tried to ask what he was doing, but no words came out of my mouth. My mouth was glued shut or I forgot how to talk. I just prayed Daddy would come home now. John sat next to me on the edge of my bed, his breathing heavy and strained. He kissed my forehead like Daddy does, and I could feel his 5 o'clock shadow rough on my skin. I thought maybe he just wanted to say goodnight. But then he kissed both my cheeks, and then my mouth, and Daddy never did that. I laid there, not knowing what to do, trying to yell for Mommy until the words finally came out, but Mommy didn't hear me. She was in a drunken stupor passed out in her bed. John's hands pinned my shoulders down to the mattress as he continued kissing me down my neck and chest. I was crying and yelling for Mommy but it was no use. I was smart enough to know that. I heard a metal clinking noise and realized John was taking off his belt. He unzipped his pants, still stroking himself with one hand as he stared into my eyes, kissing my face. I turned my head away from him, feeling my tear soaked pillow cold on my cheek.
And then he stood up and he walked out.
That continued for years, until John was no longer our neighbor. My pure hatred for him is what inspired my "peep show" habit. I could barely reach that bathroom window standing on my tiptoes, but I would watch the people cry in despair until my toes burned from holding my weight up. I would watch the funerals and pretend it was John in the coffin instead of John giving the service. I would make up scenarios in my head of how he died. One day he got hit by a truck, his body mutilated between the wheels in the process. Another day he was out on his boat with his kids. He jumped in for a swim, and his son, not knowing any better, turned the engine on. John got sucked into the propeller before his son's eyes, and if one piece of John was left, it was left for the fish.
I remember a time when I was ten years old. I was wearing my favorite overalls and I knew a funeral was about to start. The cars lined up the driveway, more than usual, and I knew it must be someone important that had died. I ran to the bathroom and climbed up on the toilet seat, peeking out the window. As the people filed in and took their seats, my excitement grew wondering how John was going to die today. As John was about to start the service, he looked over to the window, seeing me watch for the first time. I should've jumped off the toilet seat and ran to my room like nothing happened, embarrassed. But I just stared into his eyes, feeling a smile slowly form on my face as the gears in my head began to turn.
As I grew up I became more and more interested in the history of funerals and dead people. Most cultures throughout history have three common threads for the dead and how to get rid of the dead. First comes the ceremony or ritual. Next, a sacred place for the dead, and finally, memorials for the dead. Funeral homes weren't established until after 1800. Up until then, families got rid of their loved ones on their own, which is how I think it still should be. Homes used to have what is called a death door; a door in the home that led down into a basement or cellar, where they'd keep their dead family members. I'd always wanted a death door in my home, and I saw to it that I got what I wanted.
I was able to "buy out" the funeral home. The Hart family mysteriously went missing. How odd! I guess I finally had enough of John Hart and his games, so I played my own game. I finally decided how he was going to really die. I waited until he was preoccupied holding his dick in his hands on my bedside. I was ready, with a rock the size of an orange in my hand. I acted fast, nervous but excited. I heard his skull crunch under the force of the rock and I smiled as he fell over. I didn't want to kill him just yet. I just needed him unconscious so I could tie up his hands and feet.
When he woke, I gave him three options. Three different weapons: an ice pick, a dagger, and an axe. I won't spoil it for you; I'll leave it up to your own imagination. But what I will tell you is that his choice was a fun one for me. And no, I didn't feel sorry for him, though I did feel slightly sorry that I had to kill the rest of his family. They'd never done anything to me, but you know what they say: guilty by association.
The Hart family was my first addition to the Death Door. John lies at the head of the dark room in his vestment with a cross in his pocket. Oh John, you bastard. Now I can do whatever I want to him. The stupid prick must've known this was coming. Revenge creates a surge of power through me, and it's a feeling like no other. On the adjacent wall lies Beth Hart, John's wife, and their two kids Addison and Benjamin. Their wall is what I refer to as the "friend wall". You know, people who never really did me wrong but had to die by default. They can be my friends now that they're dead. I've never really had a best friend until now.
I just never saw the point in making friends. I didn't need a friend when I had the house. This house has been my only friend and my best friend. When I was younger, the shutters winked at me every time I came strolling up the driveway. It got me through the hard times, and that's when I knew that we had a connection. We became very close once the Hart family no longer resided here. Resided here alive, at least. Now we can really be together, just the house and me and my dead friends.
My mother was the next addition to the death door. I made the door from the wood of the weeping willow, in memory of her. Before she died, I made sure to tell her all the filthy things John had done to me. I made sure to tell her it was all her fault. I made her look beautiful, though she really didn't deserve that. I gave her ruby red lips and long eyelashes. She is still my favorite of them all. I put her in her favorite silk robe; it was the only expensive piece of clothing that she owned and she wore it only on special occasions. She sometimes wore it for John Hart. Now she gets to wear it forever.
I am a currently a Legal Writer for a law firm on Long Island, and looking to take my career to a more creative level. I started writing when I was six years old, with a story I named The Dolphin Who Cried Shark (it was a play off of The Boy Who Cried Wolf). I have had three short stories published in The Cortland Writer: "The Thing That Happened", "Salted Avocado", and "My Grandmother's Bathroom". Two of these pieces won second place in monthly contests. I also have fourteen articles published in Social Lifestyle Magazine, where I was interning as a journalist.– Stephanie Vitarelli
Nightmarish Nature: Vampires Among Us
This is the kickoff to a new series exploring nature that is kind of horrifying, at least in ways. Our first subject is Vampires Among Us. There are lots of animals named for vampires, sometimes due to folklore and sometimes for their appearance (like the Vampire Squid), but most of these animals don't have blood sucking tendencies.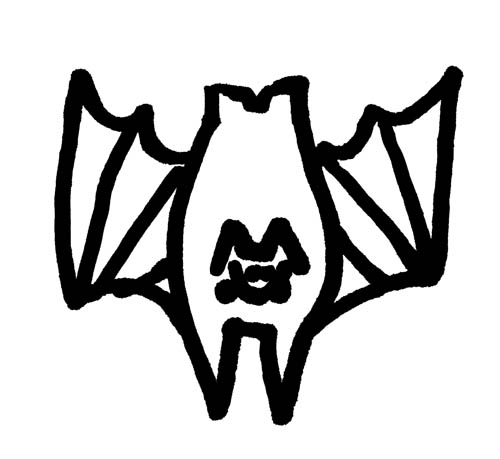 Bats & Birds
There are legit vampire leaf-nosed bats in Central and South America that drink blood. They feed on mammals and are often shown to feed on livestock. They'd be kinda cute if they weren't so creepy. There are also vampiric birds: some finches in the Galapagos have developed the taste for blood of other birds, mainly seabirds that flock to the islands to raise their young.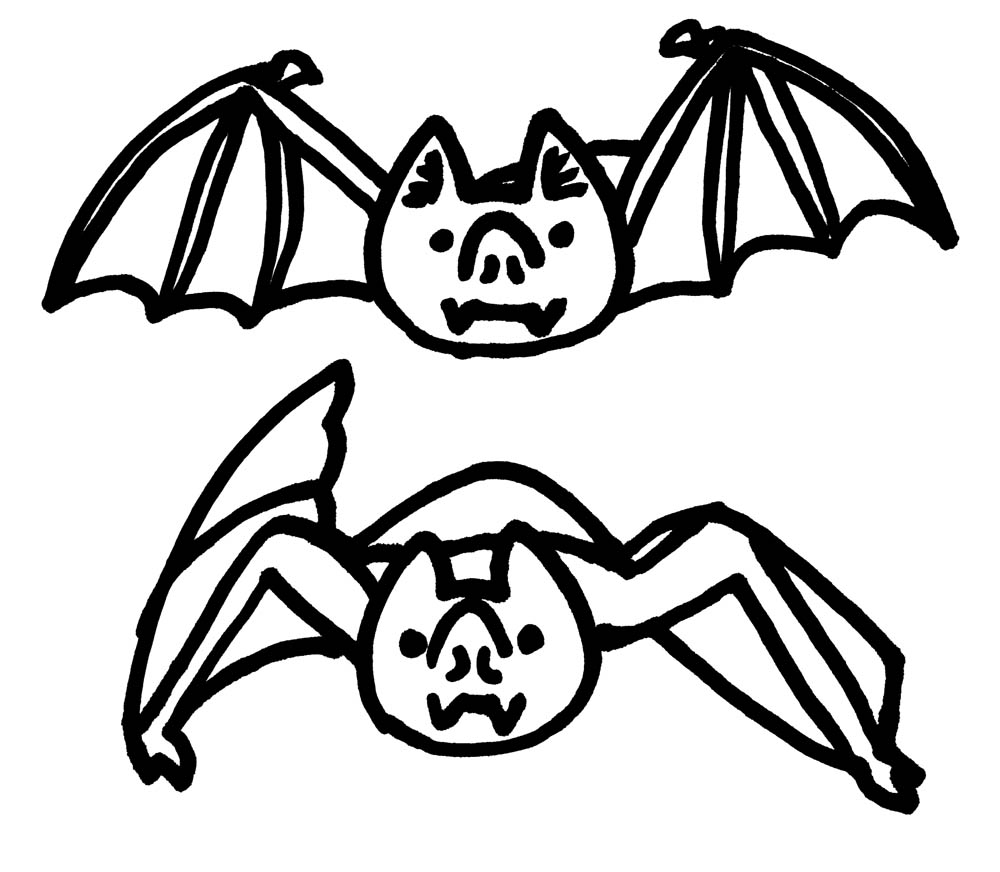 Leeches & Lampreys & More
And then you get into leeches and lampreys and other denizens of the water that are known to attach themselves to larger creatures and drink their blood. Leeches were even believed to have medicinal value (and still are in certain circumstances). And there are also numerous plants that are known to be parasitic and feed on other plants, wrapping their roots or vines around others to steal nutrients.

Spiders
Now I'm going to drift off into the realm where this becomes truly horrific. Spiders. Now, spiders aren't vampires per se, seeing as how they actually kill their prey – they don't just feed off of it while it remains living and wanders about its business. But because of their structure, they cannot eat solid foods, so they have to inject their prey with enzymes to liquefy it so they can slurp it out like a protein shake. That's sort of vampirism on steroids if you ask me, just the kind that no one is coming back from.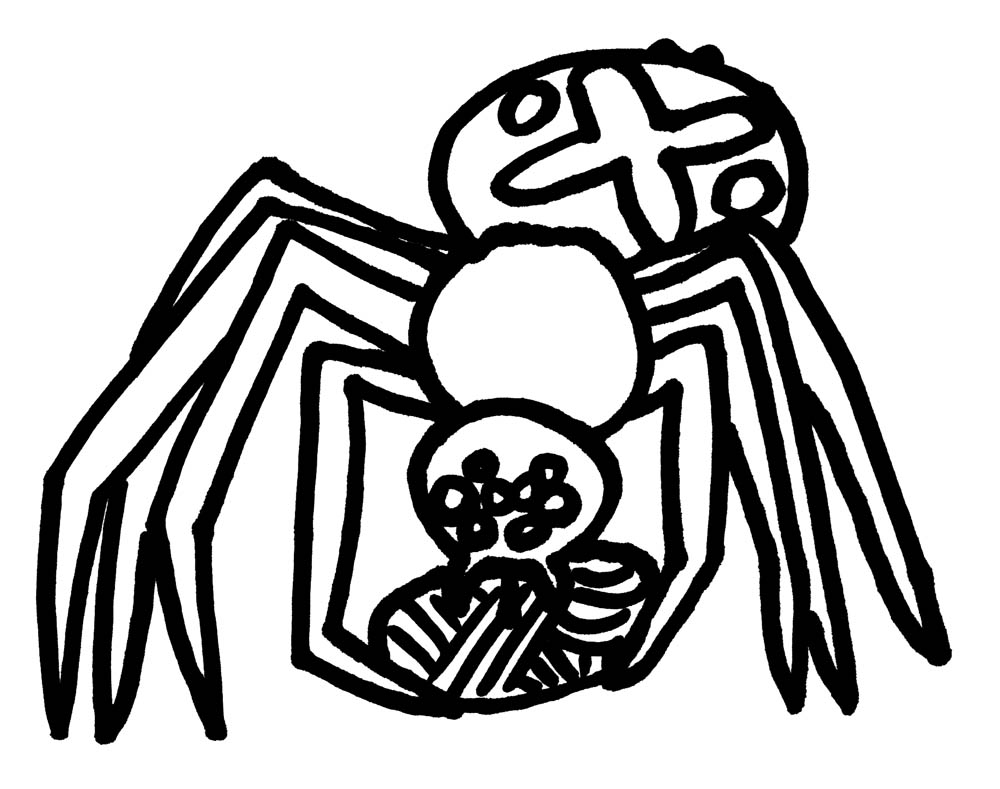 Bloodsucking Bugs
But let's get back on topic. Now let's consider mites and ticks and fleas and mosquitoes and the like. Some drink blood for their survival; others do so as part of their reproductive cycle (like mosquitoes which otherwise eat fruit and nectar but need the extra protein from blood to grow their eggs).
Ticks need to feed on blood once at every stage of their life cycle and can pick up diseases along the way (like Lyme Disease) but don't always do so. Different ticks are more likely to come in contact with different things and often humans are not their preferred meal but they are opportunistic and will feed on whatever is available when necessary. Symptoms of illness from tick bites may take years to develop and can have really weird side effects (like the allergy associated with Lone Star Ticks which makes a person unable to consume mammalian flesh).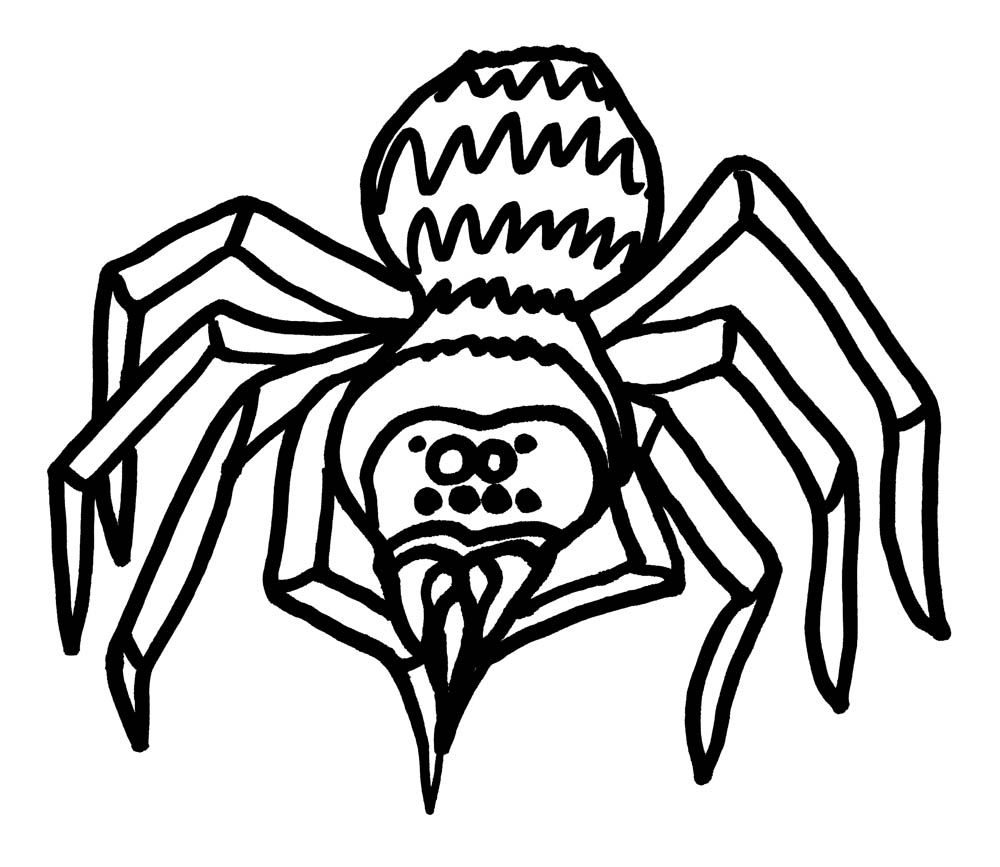 Anyway, here are some brief glimpses of vampirism in nature. Thank you for joining us for Nightmarish Nature and may you avoid getting bitten by any true vampires among us… And I still think spiders take first place in the creepy eating category here, even if they aren't technically vampiric.
Creepy Comics Collages by Jennifer Weigel, Part 5
Well, you won't get rid of me that easily… Ha ha, I lied about coming to the end and the afterlife in the Creepy Comics Collages segment, it was just an opportunity for rebirth. Besides, it's World Collage Day! So having come into another comic book to rework, here we go again…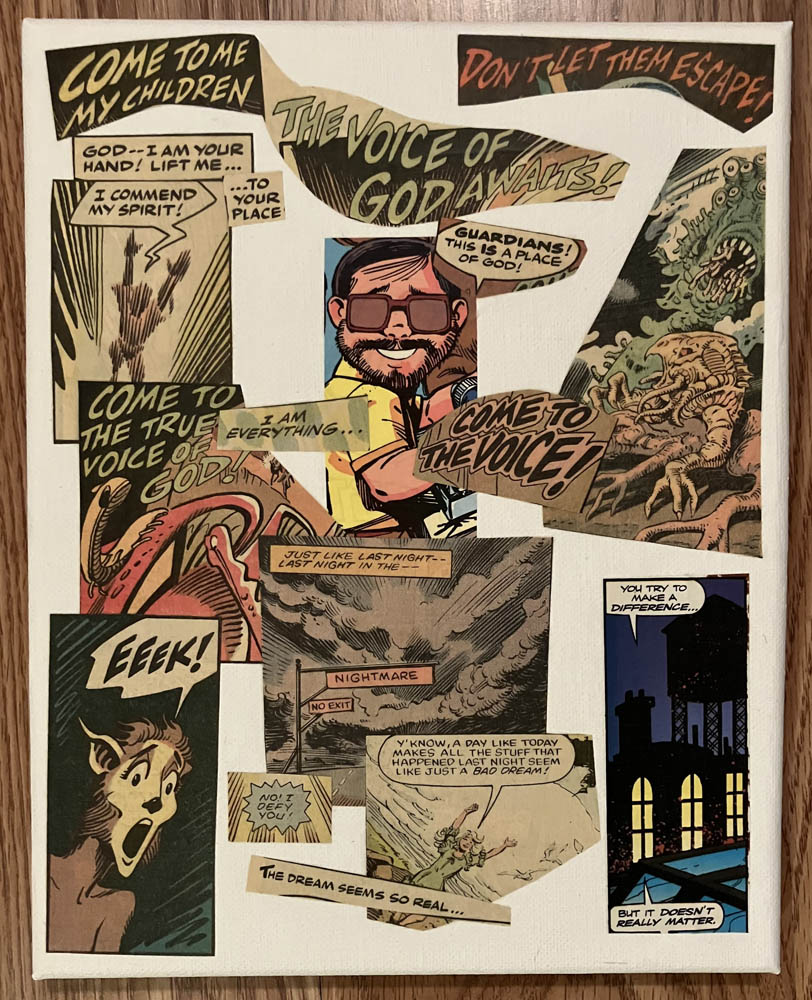 Creepy Comics Story 9: The Voice (of God or Reason or perhaps an homage to my ex)
"Come to me my children, the voice of God awaits!… Don't let them escape!" Please beam me up out of this weird comic collage alternate reality. "God I am your hand! Lift me… to your place. I commend my spirit!" I want to go back to dreaming about starfish.
The computer programmer behind the scenes turns to face us and smiles. "Guardians! This is a place of God!… Come to the true voice of God!" "I am everything." "Come to the voice!" And the horrific AI generated creatures abide by his every coded word.
Just like last night in the — signs posted for Nightmare, No Exit. The deer spirit faun screams in surprise, "Eeek!" "No! I defy you!" She returns to the form of a little girl with arms outspread to the open sky. "Y'know, a day like today makes all the stuff that happened last night seem just like a bad dream!" The dream seems so real…
Somewhere in the city, the computer programmer sits up at night in pensive monologue, "You try to make a difference… But it doesn't really matter."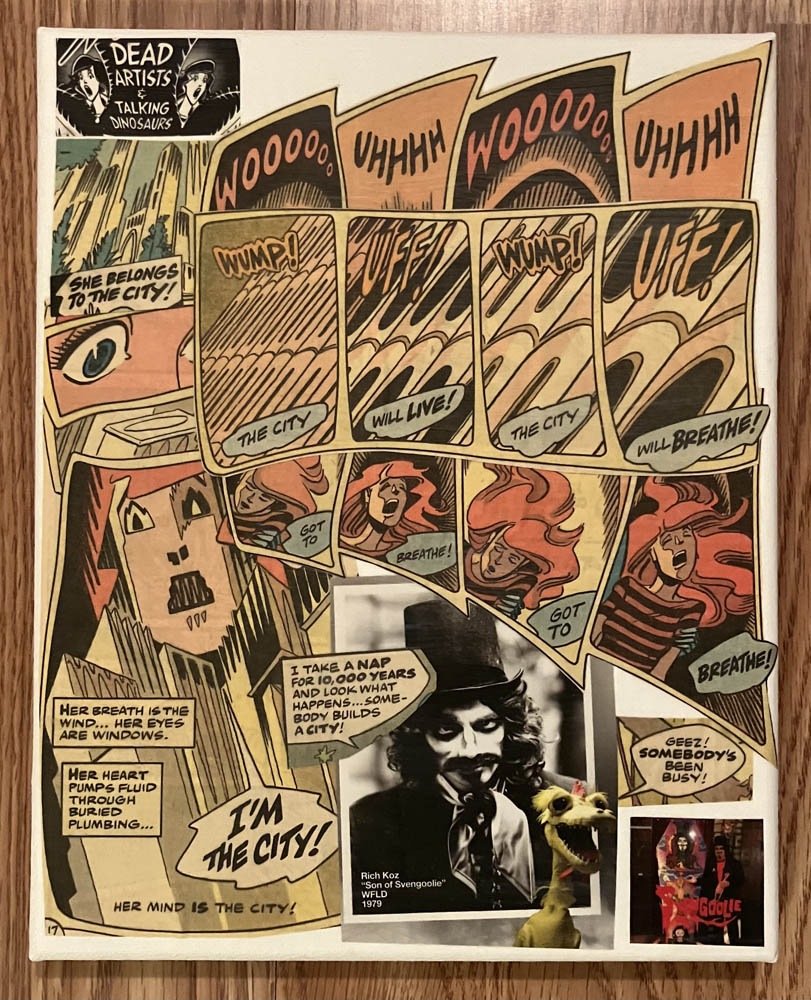 Creepy Comics Story 10: The City (Metropolis becomes self-aware)
This segment is brought to you by Dead Artists and Talking Dinosaurs. No really, wait for it…
Woooooo Uhhhh Wooooooo Uhhhh… Wump! Uff! Wump! Uff! "She belongs to The City!" The Glenn Fry 1985 hit single looms ominously overhead as Metropolis becomes self-aware. "The City… will live!… The City… will breathe!" The City gasps for air, "Got to… breathe!… Got to… Breathe!"
Her breath is the wind… Her eyes are windows. Her heart pumps fluid through buried plumbing… "I'm The City!" Her mind is The City!
And we have a celebrity appearance by Rich Koz "Son of Svengoolie" WFLD 1973: "I take a nap for 10,000 years and look what happens… some-body builds a city!" Kerwyn chimes in, "Geez! Somebody's been busy!" And we cut out to a scene of Svengoolie standing alongside his coffin.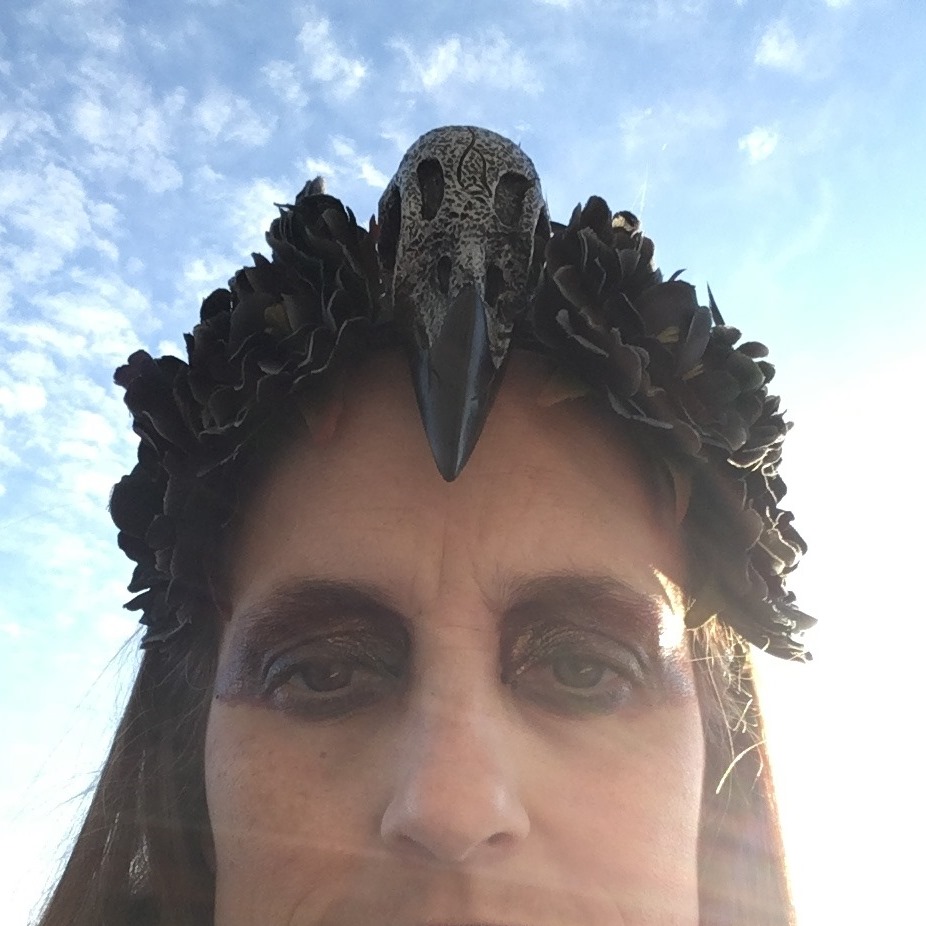 Well, that's all folks. Or is it? For now, any way… until I get more comic books… Duh duh DUHHHH…
If you want to see more art, check out more of Jennifer Weigel's work here on Haunted MTL or on her writing, fine art, and conceptual projects websites.
Creepy Comics Collages by Jennifer Weigel, Part 4
Wow, I can't believe you've stayed the course through four whole strange story posts of these creepy comics collages. But this is the final frontier, the last segment, the standing ovation as it were. So here goes…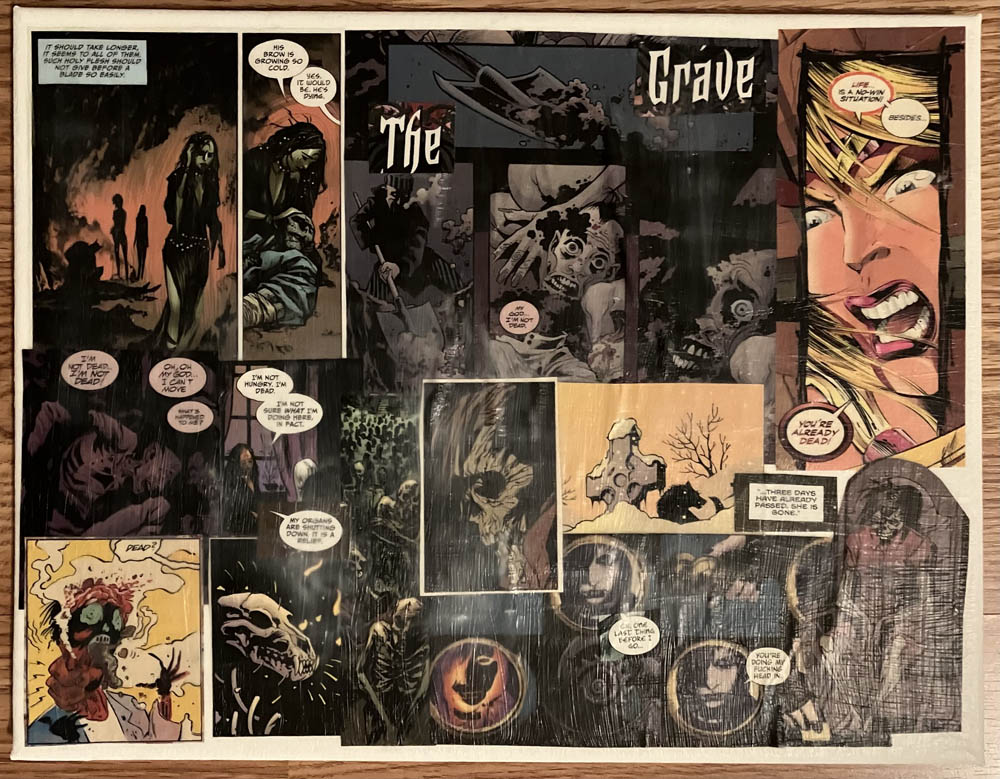 Creepy Comics Story 7: The Grave (shallow enough for ya?)
"It should take longer, it seems to all of them. Such holy flesh should not give before a blade so easily." "His brow is growing so cold." "Yes it would be. He's dying."
"My god… I'm not dead." Put the shovel down. "Life is a no-win situation. Besides… You're already dead!"
"I'm not dead. I'm not dead!… Oh, Oh my god… I can't move… What's happened to me?" Buried alive. Or maybe not.
"Dead?" Perhaps I am actually dead. I was expecting something… I dunno… different.
"I'm not hungry, I'm dead. I'm not sure what I'm doing here, in fact." At least I'm not a zombie. That seems a small consolation right now though. "My organs are shutting down. It is a relief."
"Three days have already passed." We're just sitting here, rotting. Like Norman Bates' Mother. At least someone was kind enough to supply a rocking chair. "Oh, one last thing before I go… You're doing my fucking head in."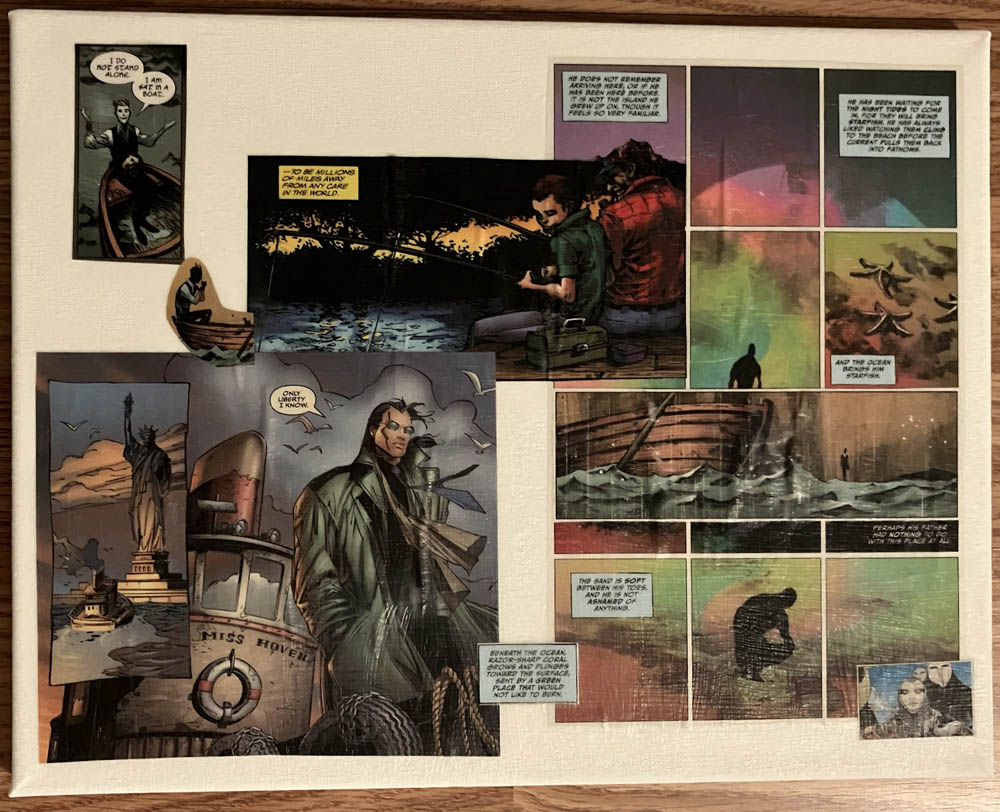 Creepy Comics Story 8: Adrift Afterlife (why you save the best gold coins for the ferryman)
How'd we get here? "I do not stand alone. I am sat in a boat." ".. to be millions of miles away from any care in the world." Was that the Ferryman? "Only liberty I know."
"He does not remember arriving here, or if he has been here before. It is not the island he grew up on, though it feels so very familiar… He has been waiting for the night tides to come in, for they will bring starfish. He has always liked watching them cling to the beach before the current pulls them back into fathoms."
"And the ocean brings him starfish… Perhaps his father had nothing to do with this place at all." The ferryman stands on the far shore. It makes no difference now.
"Beneath the ocean, razor-sharp coral grows and plunges towards the surface, sent by a green place that would not like to burn." "The sand is soft between his toes and he is not ashamed of anything." The ghosts are here, contentedly it seems.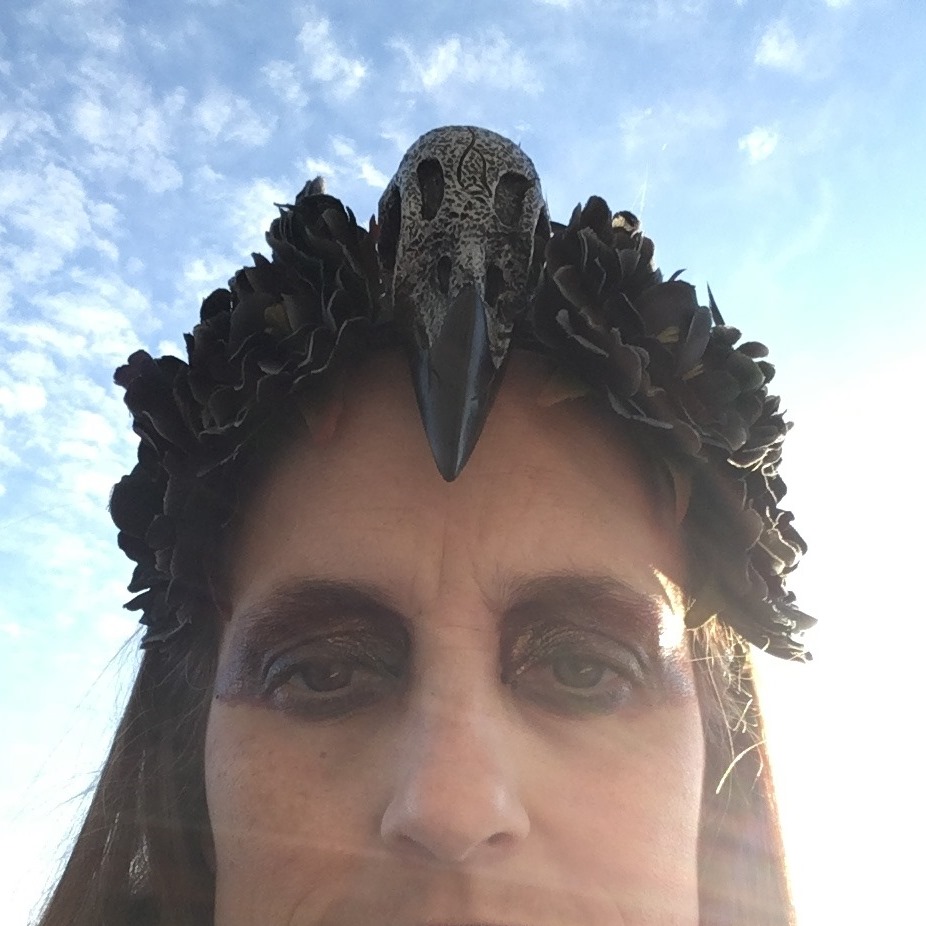 Thank you for joining us for these creepy comics collage art stories. But here's where we have to leave it off. Trust me, it's best that way. Besides I'm out of creepy comics to collage with.
If you want to see more art, check out more of Jennifer Weigel's work here on Haunted MTL or on her writing, fine art, and conceptual projects websites.