Welcome to the third story of the Spring Horror Collection for 2022, where Haunted MTL's writers craft original tales of terror that'll grow on you. Check with us all week for new stories.
For more original stories, check out Haunted MTL's Original Creations.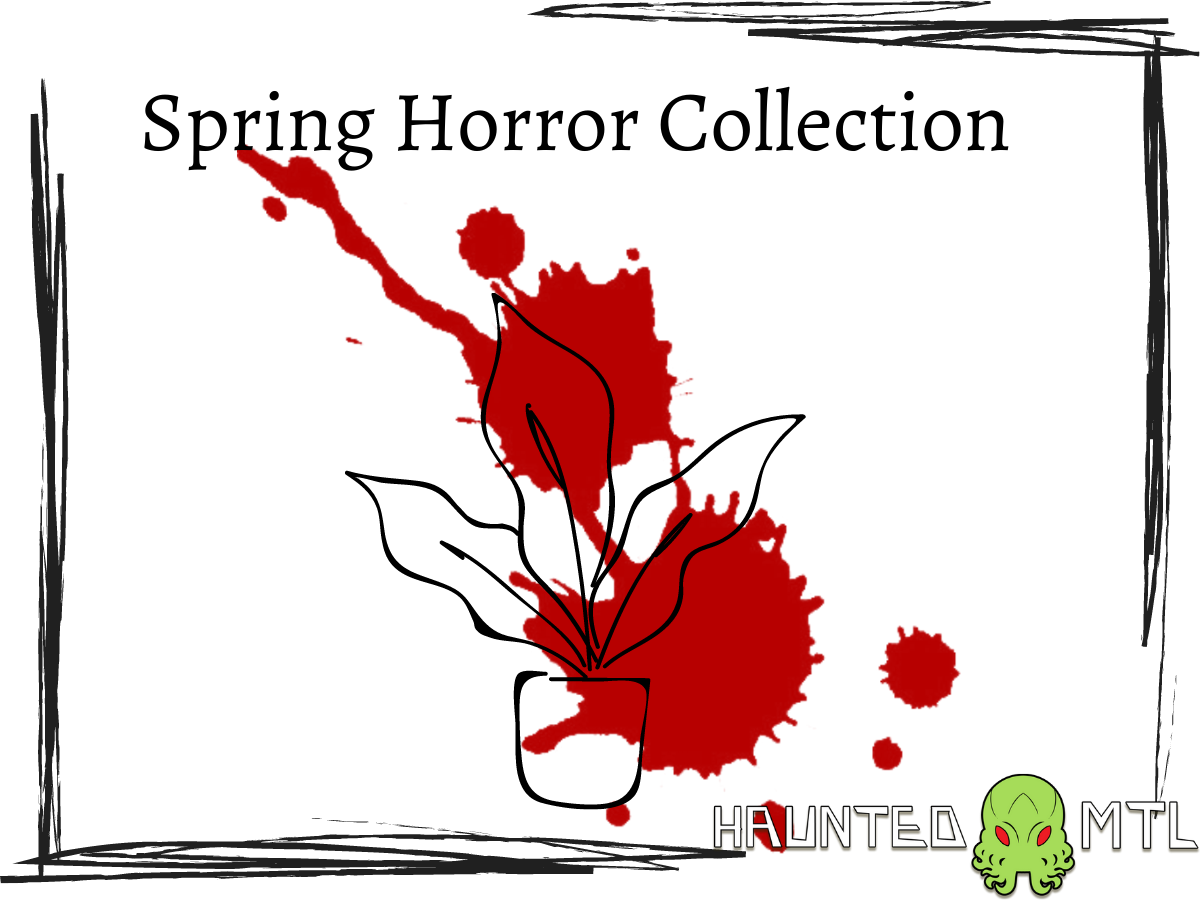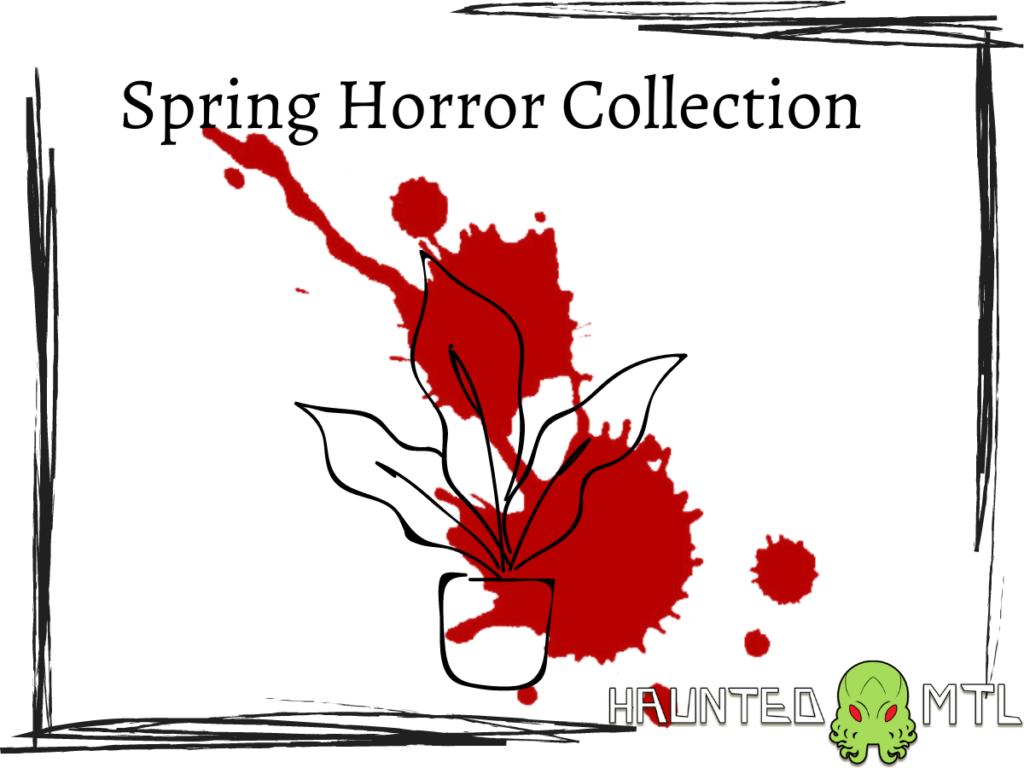 Imagine, if you will, a world in which every individual's name must be completely original and unique, where they cannot be repeated under any circumstances. Growing in numbers, how do you address the Naming Ceremony?…
In the Maternity Ward
Raynala gazed at the newborn cradled in her arms. What could she possibly name the little girl? This was the most stressful decision for any mother, for if she chose a name that had already been given the child would wither away, shriveling to dust instantaneously.
For no two persons could exist by the same name as it confused the Gods and was thusly forbidden. So any time this happened would result in the immediate death of the baby by divine interventions. Sure, there were safeguards in place in order to minimize the likelihood that a mother would decide upon a name that had been taken already, but even that was not a guarantee.
From a far room down the hall of the maternity ward, Raynala heard a woman shriek and then burst into a fit of uncontrollable crying. Apparently she had chosen poorly and had suffered the loss of the baby as a result. Her resounding sobs echoed throughout the corridor reminding all of the other mothers of their possible fates.
The sound of the Naming Cart grew louder as it approached from that direction, wheel squeaking as it slid across the polished tile floor. The Recorder of Names entered the room in his hooded evergreen robe pushing a metal trolley with incense and candles burning in a circle around the tome in which all persons were recorded. He rocked gently back and forth and chanted softly to appeal to the Gods to bestow a worthy name unto this young mother for her newborn child.
He slowly and methodically wheeled the cart to the foot of the hospital bed while continuing his chanting and swaying. As he came to rest in the proper position, he stopped suddenly and fixated his gaze upon Raynala. The time had come for the Naming Ceremony to occur. It was up to her now.
Raynala gasped and emitted a hollow shrill sigh before finding her nerve and her voice. "May I call upon the Gods and hope that this pleases them, this child's name shall be Aryanalarayna," Raynala proclaimed through clenched teeth as she winced. She had stuttered in the Naming Ceremony and, although she had recovered, she desperately hoped that the misspoken moment would not cost the baby girl her life.
The Recorder of Newborns pressed the tip of the pen to paper in the giant book on the cart before himself. A faint glow emanated from the page and then faded away as he traced over the letters. Nothing happened. He looked up and gazed at the young mother smiling.
"So it is written, so it shall be," the Recorder of Names exclaimed. "You have chosen wisely." He rose from his perch overseeing the hospital bed where the young woman lay with the infant. He turned and wheeled the cart with the tome recording all living and dead persons out of the room and down the hall towards the next uneasy new mother's room, chanting and swaying.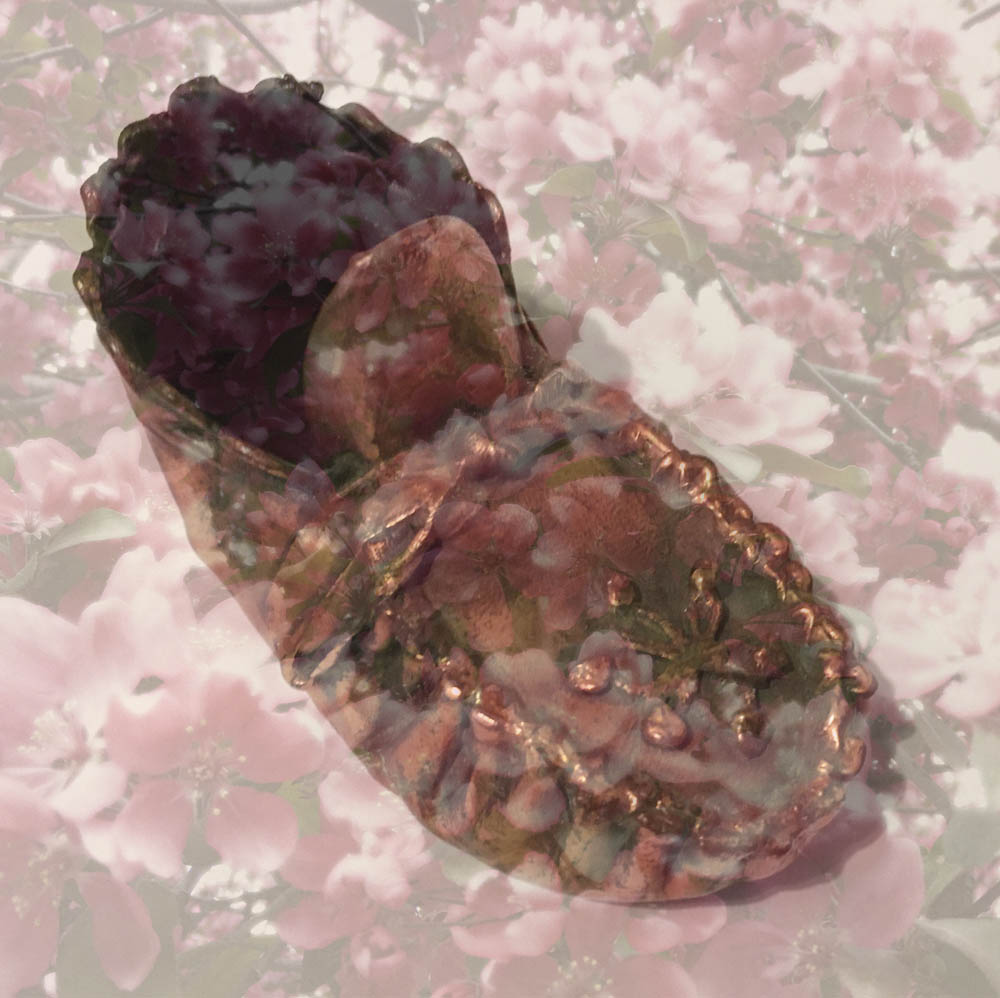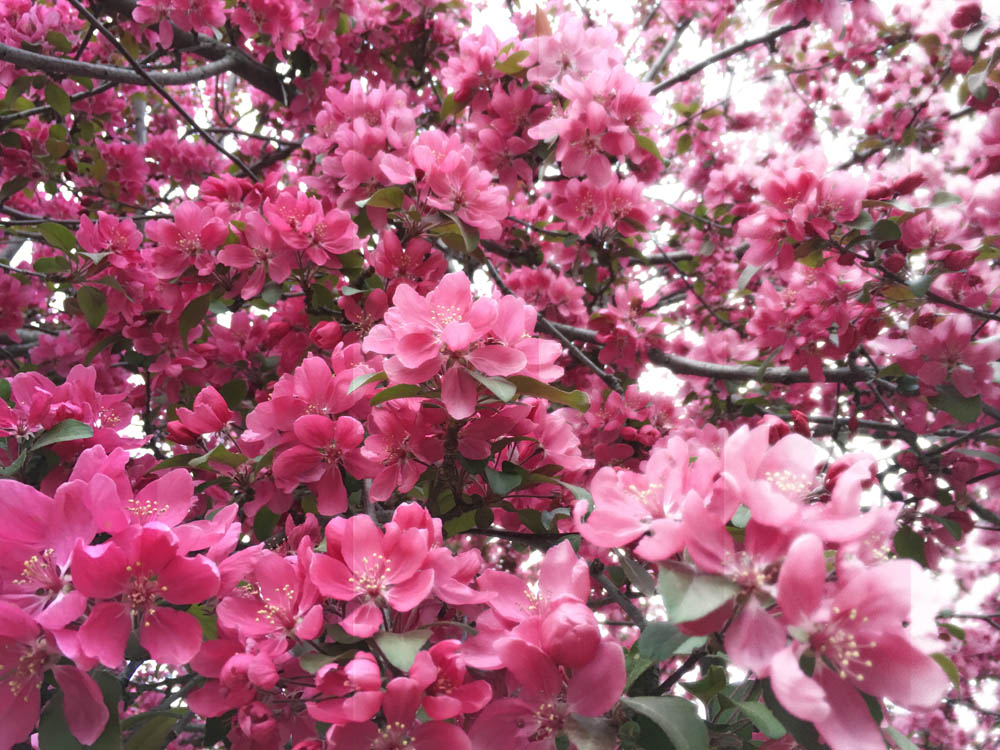 You can find more of Jennifer Weigel's horror stories, reviews and art here on Haunted MTL and check out more of her writing on her website at Jennifer Weigel Words.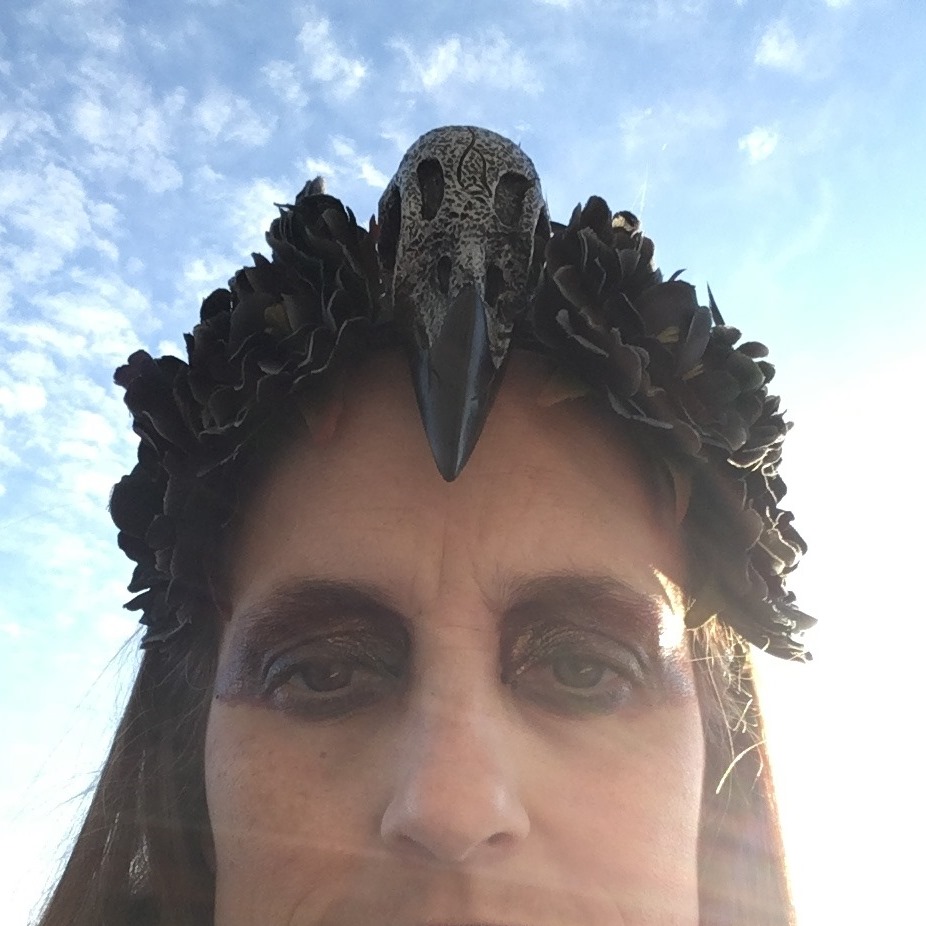 Eye Drawing You: Yet More Art by Jennifer Weigel
In our last installment of the art show preview, the eye drawing has it… All-seeing works by Jennifer Weigel go to show you gotta watch where you look. I'm a little obsessed with eyes, so they appear in a lot of my art, especially the more surreal the circumstance. Here are a few that have found themselves in odd and unusual settings…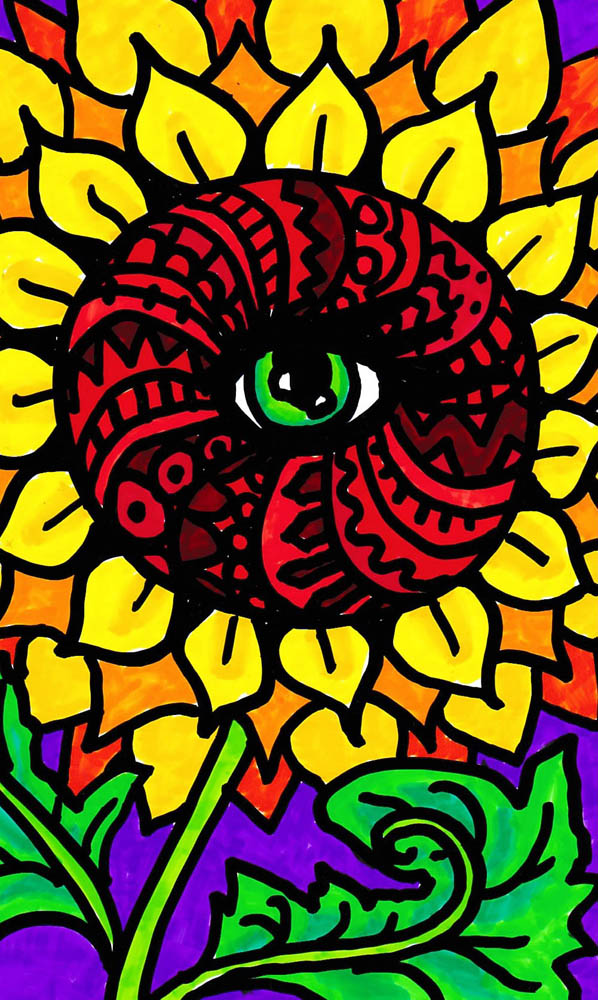 We're still watching you, in full spectrum Technicolor psychedelia. Eye drawing sunflowers stretch their petals and blink into the sun… The little Eye See You drawing is one of my personal favorites.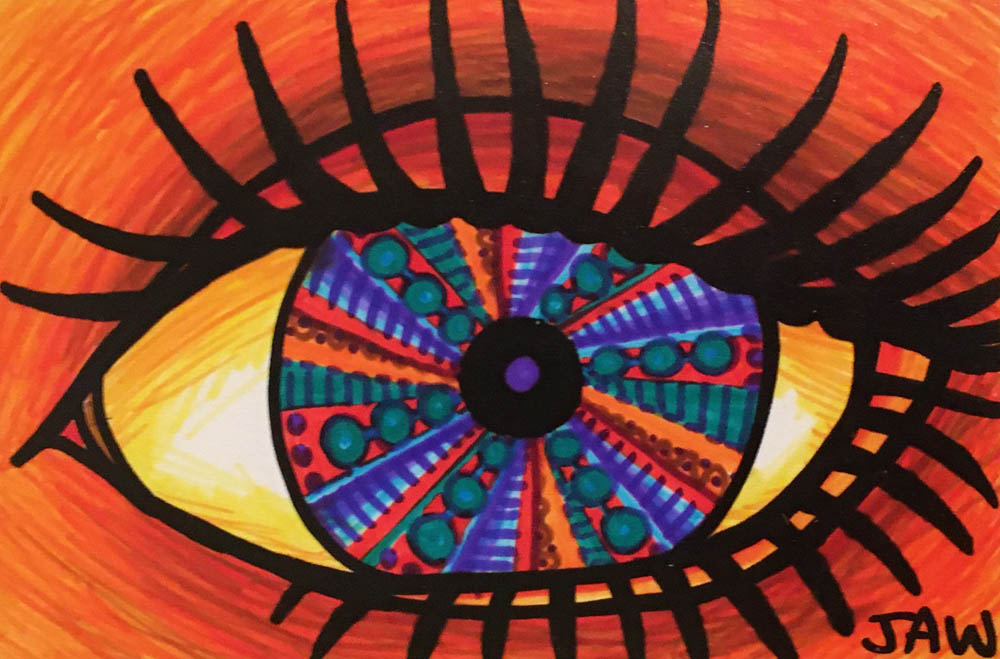 I had so much fun drawing this with Art Girls Reality Meg Graham and Day de Dada in one of the mandala gatherings. The big Sunflower Vision above also happened in one of these online groups. All of my mandalas have eyes, it just kind of happens…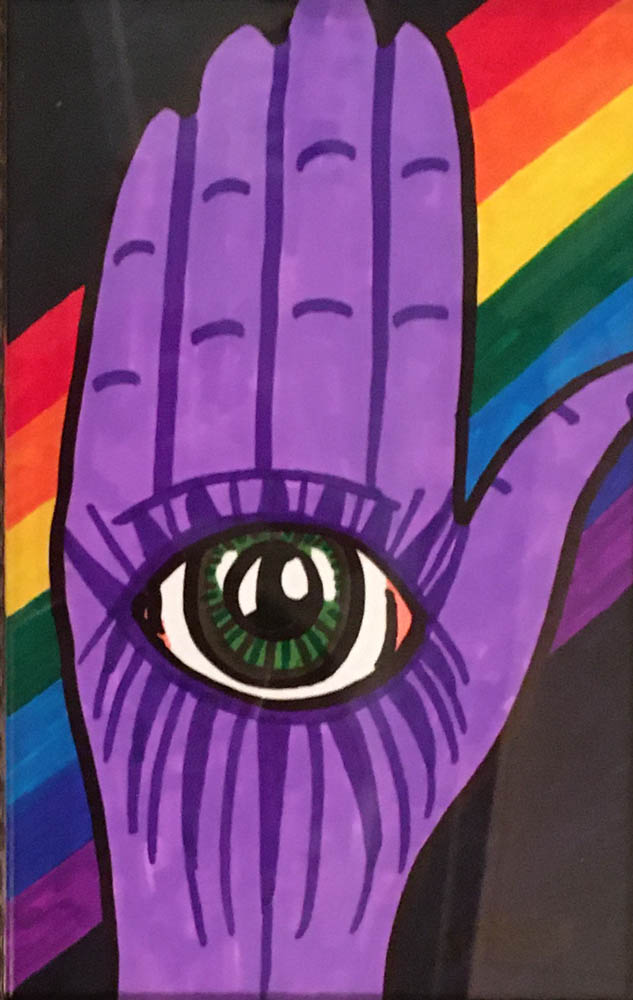 No spiders this time, so we'll close with a rainbow Hamsa warding sigil eye drawing. The hamsa or Hand of Fatima is an ancient symbol that protects against evil and negativity when facing upwards and brigs prosperity and good fortune upon its wearer when turned the other way. It is found in spiritual, religious and cultural beliefs throughout the world in various forms. I included it previously in one of my walking sticks. My version is fairly Goth-punk influenced with the huge central eye and running mascara, but seriously would you expect any different?
Feel free to check out more of Jennifer Weigel's work here on Haunted MTL. Or on her writing, fine art, and conceptual projects websites.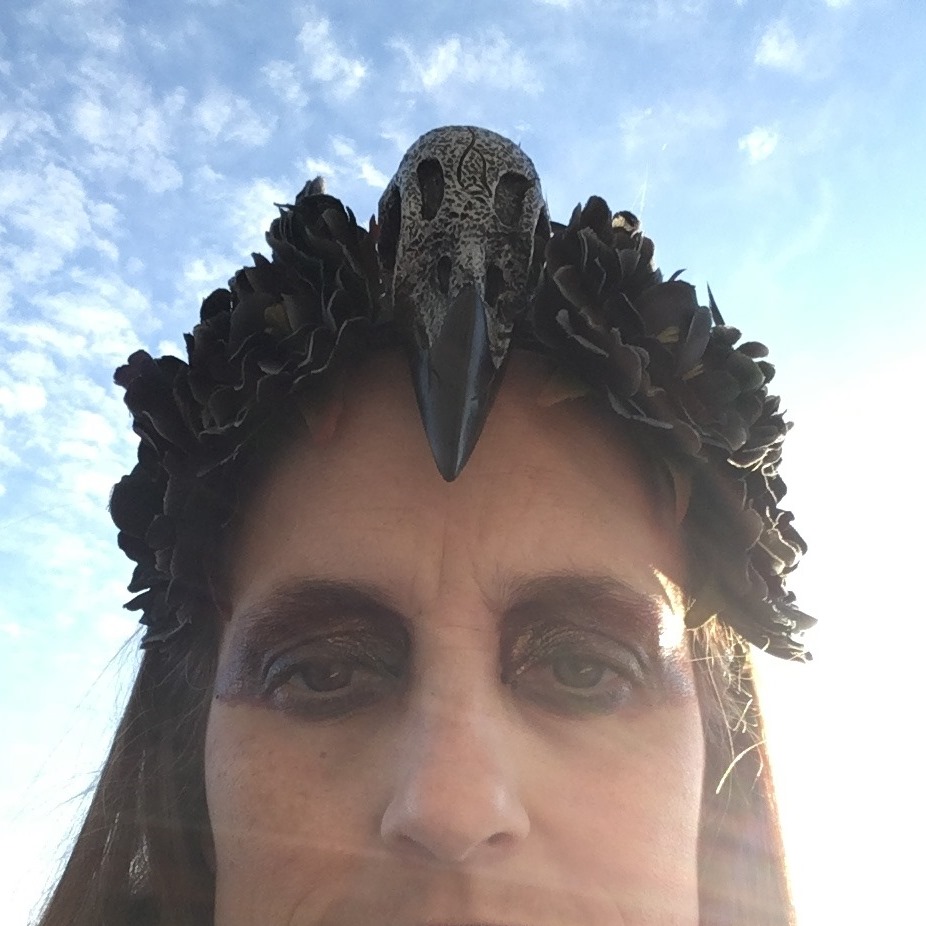 More Marker Drawing by Jennifer Weigel
And we're back! Here's more marker drawing from Jennifer Weigel, continuing our exclusive preview of works for her upcoming show… This time we're diving into full spectrum Technicolor!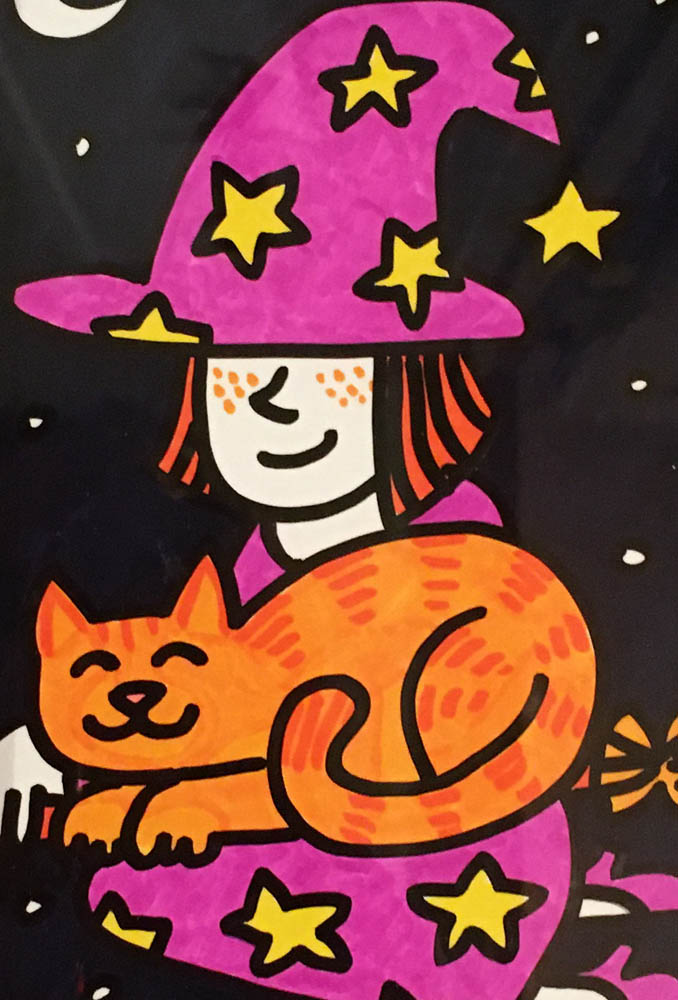 This Little Witch and her tabby cat wanted to kick things off with a fly-by hello. They're bringing the witchy magics from the last post. That's a crowded broomstick, but what a way to ride in style. Funny how cats always seem to fill whatever space is available to them, especially while lap-napping.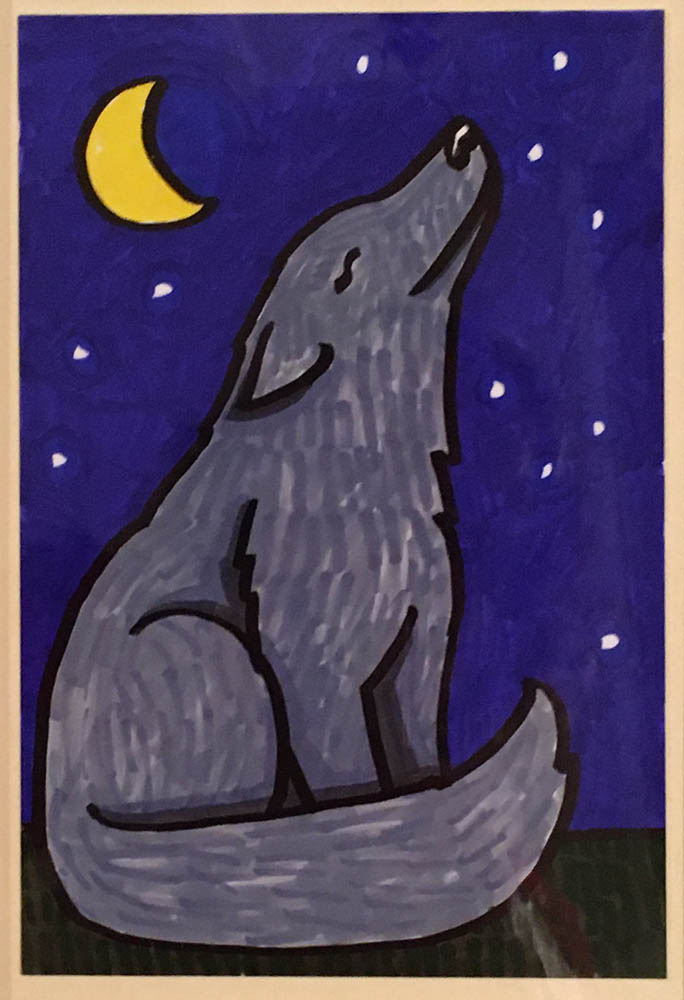 It's a perfect time to howl at the moon in this Night Watch marker drawing. Such a happy lycanthrope. He's setting the night to music, a capella werewolf-style.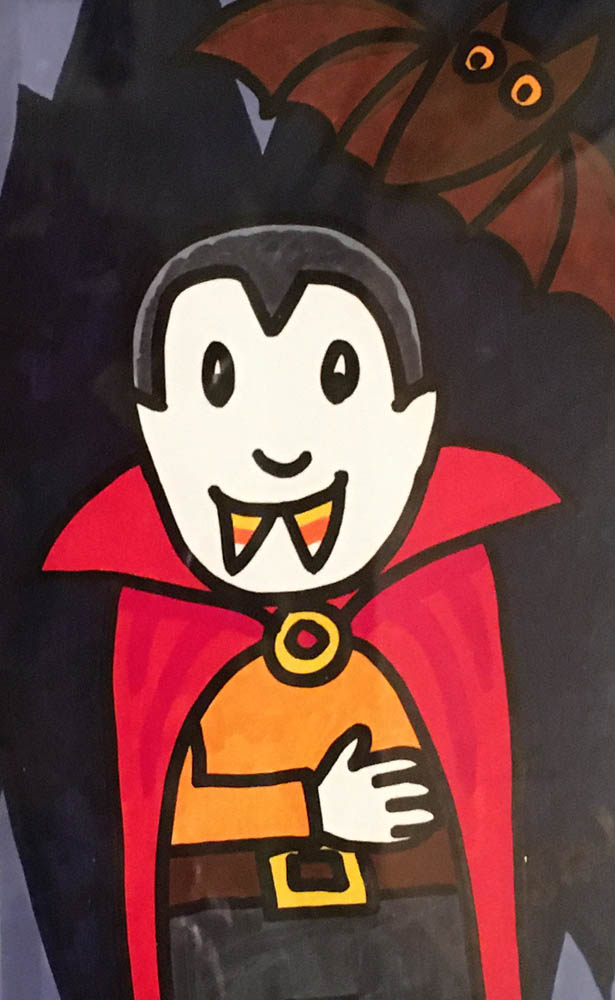 The cuteness just cannot be contained in this Candy Corn Vampire marker drawing. I vant to suck your sugary soda. I used to take great glee in doing this with candy corn as a child, to my dentist father's chagrin. It's every dentist's nightmare. Or $$$ depending on their personal motivations, I suppose.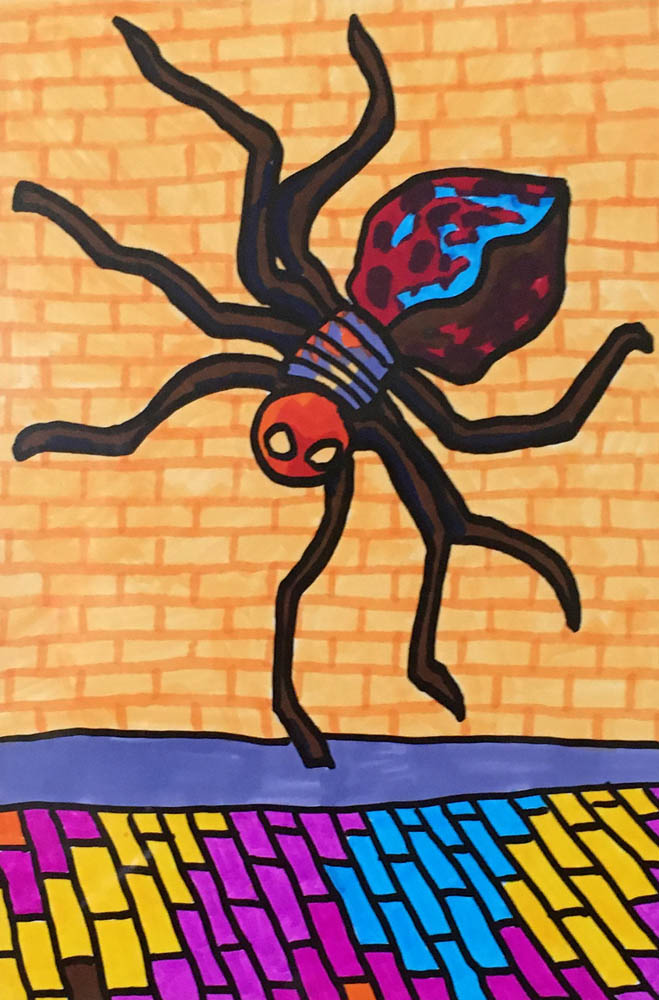 And why not end with some more spiders? This is a plein air drawing done in situ based off of this fun sculpture in Wichita, Kansas USA. You can see the finished drawing and its inspiration here. This spider is HUGE! Made out of metal and rocks and other crazy stuff…
Feel free to check out more of Jennifer Weigel's work here on Haunted MTL. Or on her writing, fine art, and conceptual projects websites.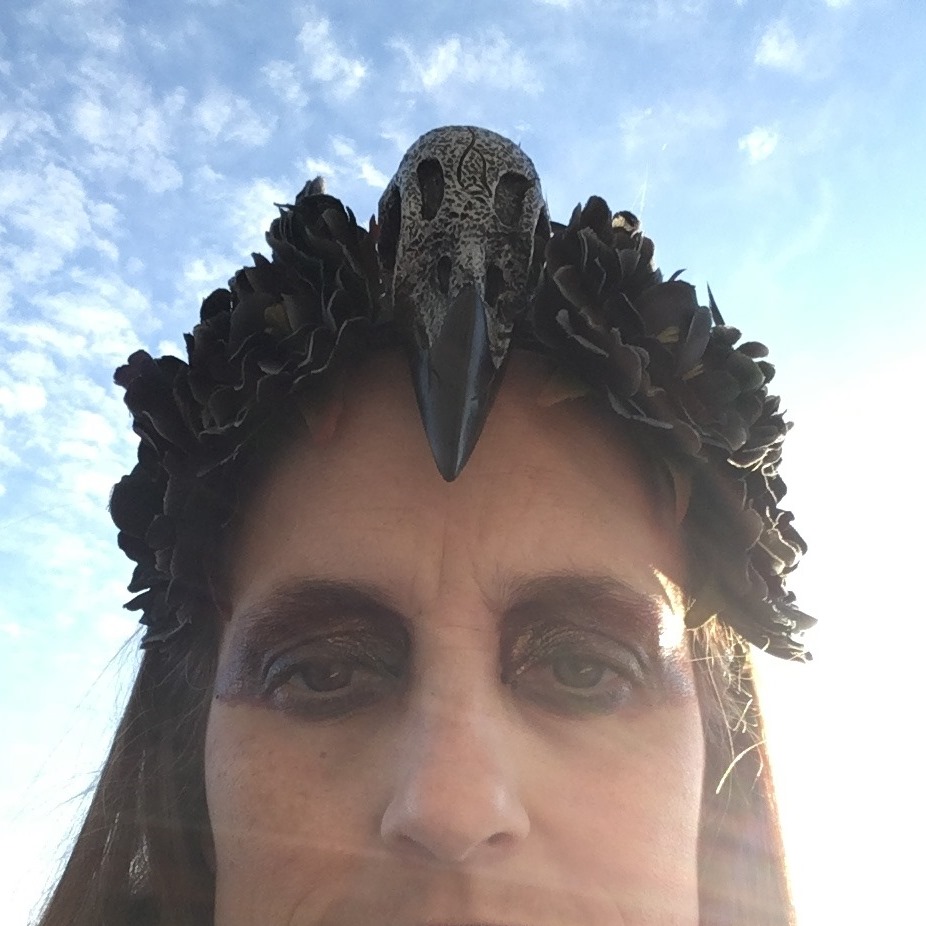 Some Bewitching Line Drawing by Jennifer Weigel
This month we are going to explore more fun marker art from Jennifer Weigel, starting with black and white line drawing. Jennifer is getting ready for her big Life Is Brilliant solo show in March and has snuck in a few spookier themes, so she wanted to share them with you here.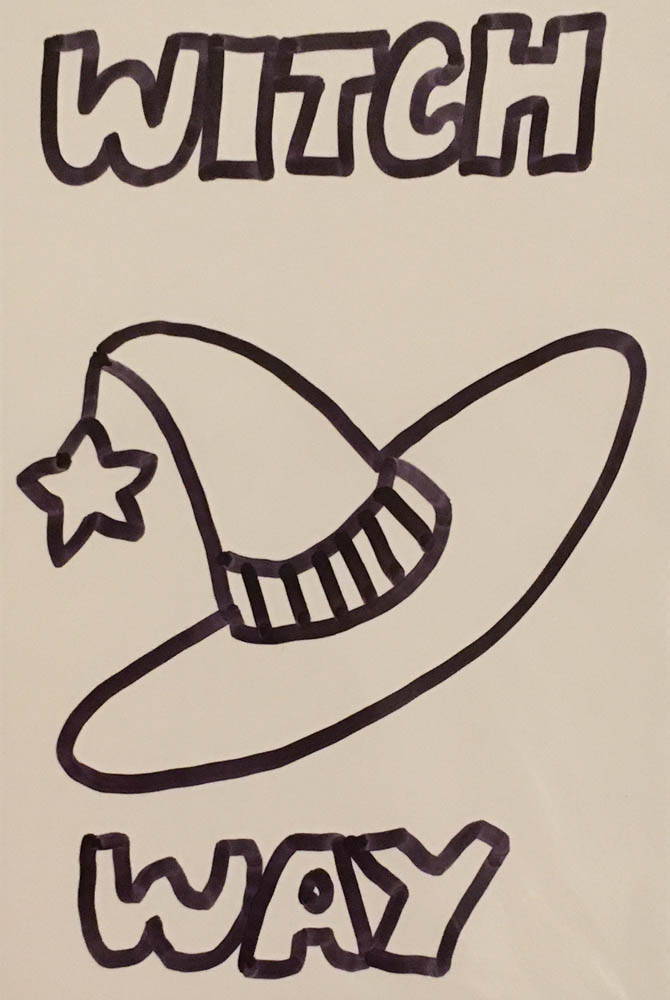 The magic is strong in this Witch Way line drawing with its fun witchy head-topper, complete with striped hat band and star dangle. No self-respecting wizard's ensemble would be complete without it.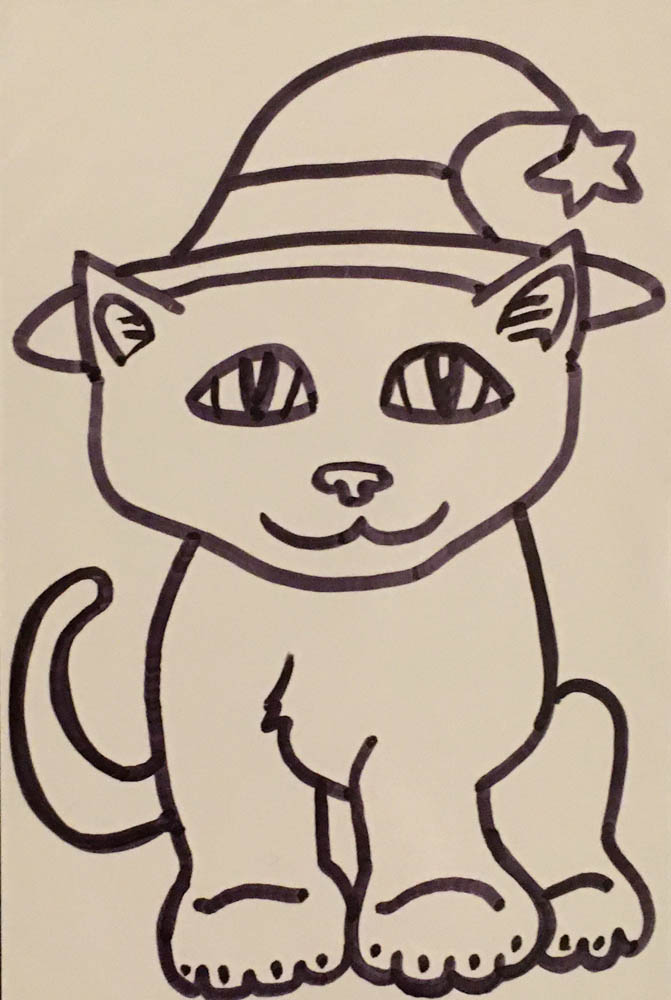 And now the adorable Kitty Witch will don the Witch Way hat and cast a spell of cuteness on you. You gotta wonder just how the hat stays on but best not to question these things. We all know it's magic…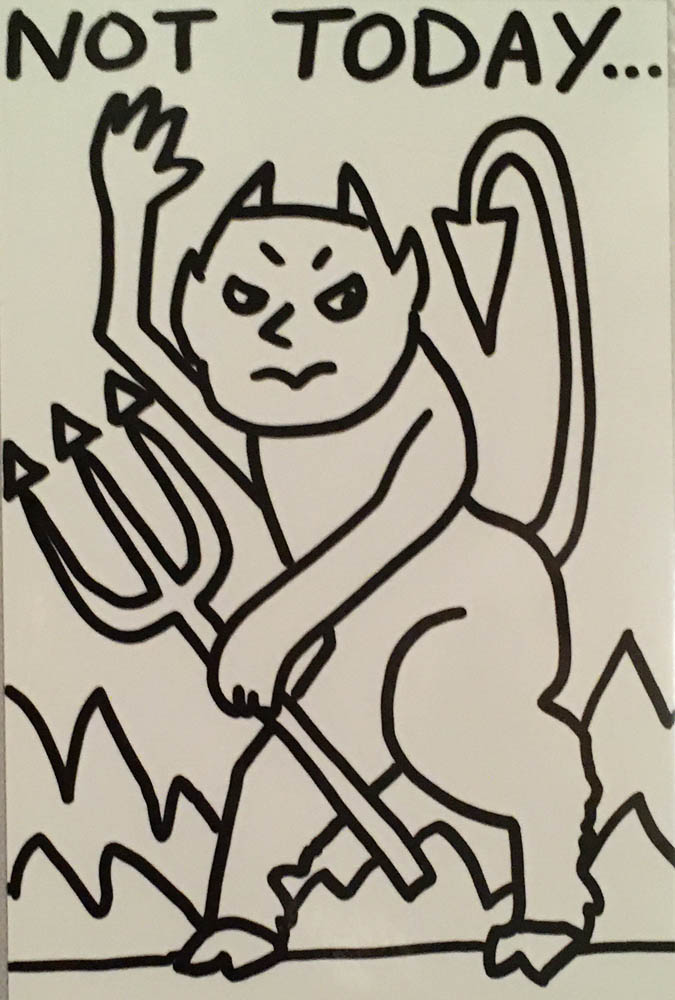 The devil is in the details in this Not Today Satan line drawing, and boy is he pissed!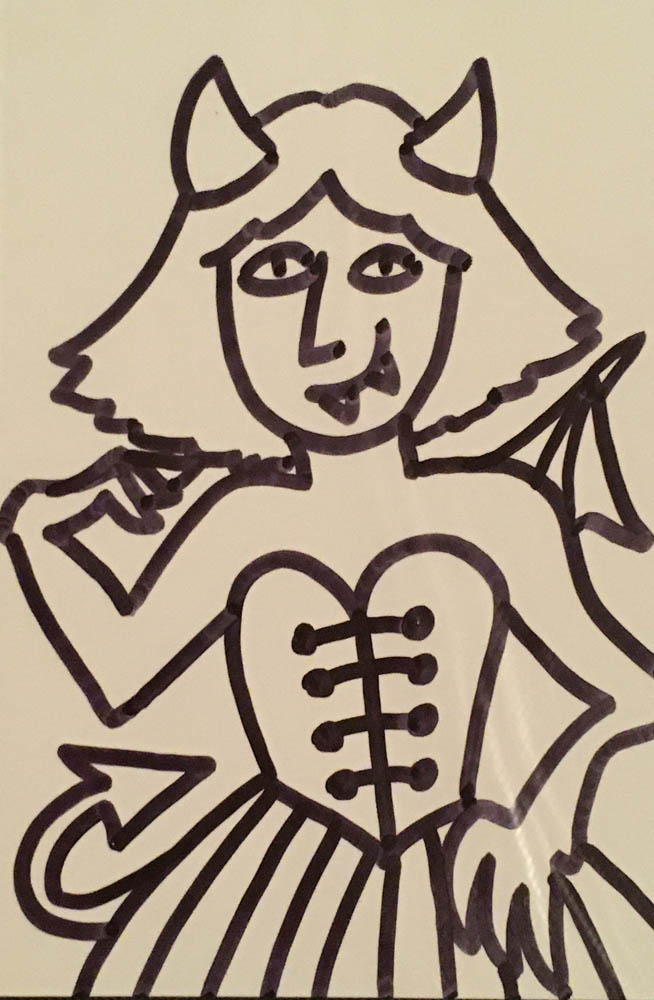 This She Devil is just plain goofy. Maybe she's coyly playing innocent; it's not a look most devils can pull off, seeing as how innocence really isn't their schtick…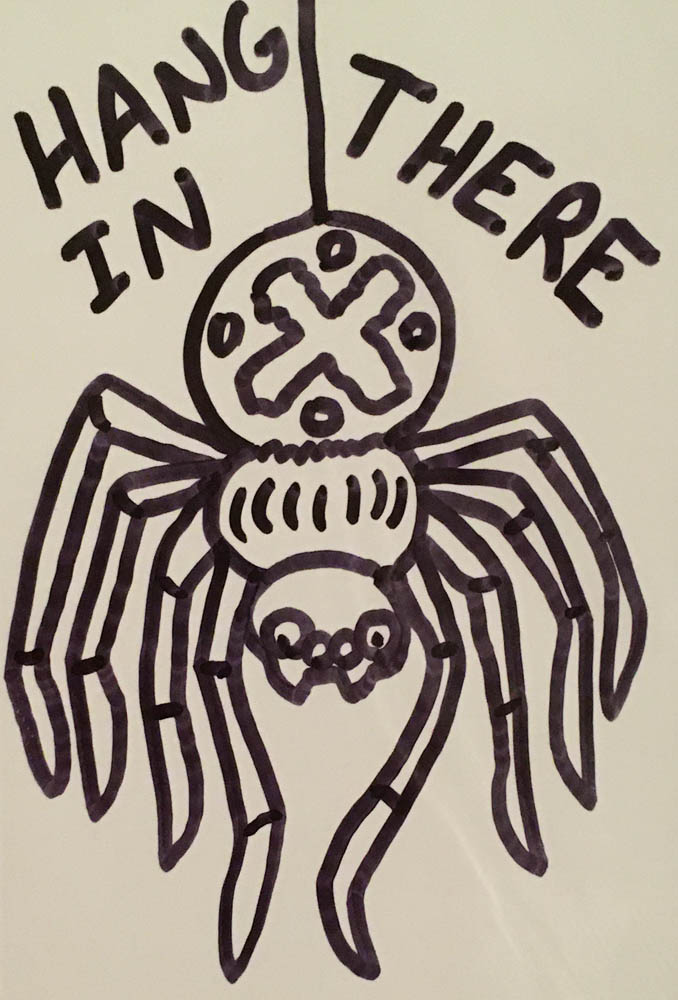 This little spider came down to your tuffet to remind you to Hang in There. She is very well-intentioned and is only looking out for you. I guess maybe she's not so little though, she is an Argiope after all…
Feel free to check out more of Jennifer Weigel's work here on Haunted MTL. Or on her writing, fine art, and conceptual projects websites.