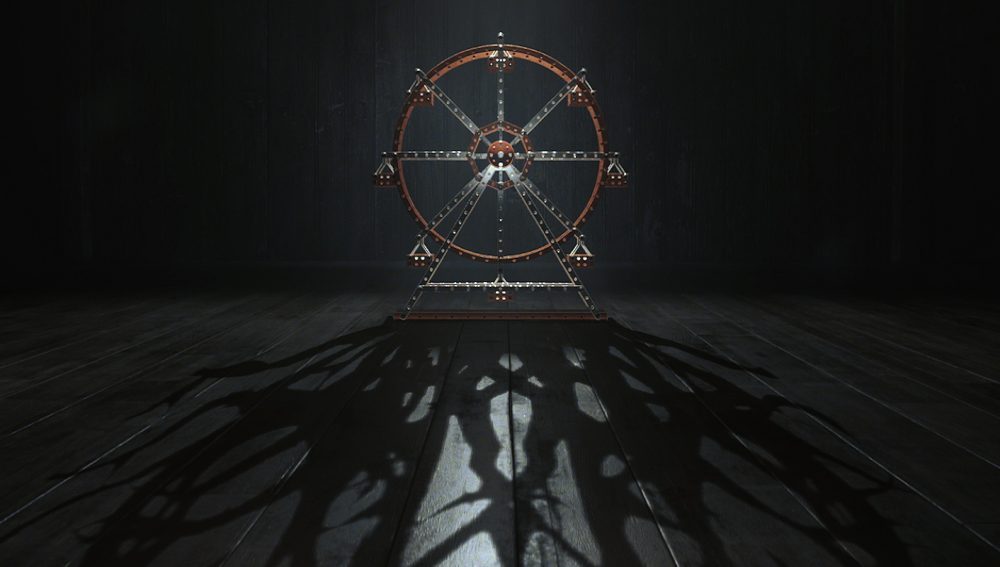 The story…
"La Noria" is an animated horror short about a boy trying to complete a gift from his father. As the film starts, an image of a happy sun and Ferris Wheel is an old happiness as the new images the boy is drawing are dark and dreary. The boy reveals a Ferris Wheel toy in progress and begins to put the last of it together.
Looking for a missing piece, the boy opens a keepsake box revealing pictures of his father who appears to be a soldier. A postcard is also shown which translates: "I'm on my way to Jeruel. I wanted to tell you that I love you so much and that we will finish the Ferris Wheel when I return."
In a bit of frustration with one of the pieces, the boy tosses the toy aside. Looking to recover a piece that rolled under his bed, he finds it missing. As he sits on his bed, he witnesses a picture fall from the wall.
Leaving it at that…
I don't want to go to far into the story. That little summary takes the audience to about three minutes and the short is only about eleven minutes long. This film is great for younger horror viewers as no one comes to harm.
Why I like it…
Firstly, we never know exactly what happens to the father. Not every bit of horror needs to include death. For a child, a father simply not being there because of work or other reasons can be enough to go to a dark place. Being in the military myself, I know the kind of fear and loneliness my children endure when I'm not there.
Secondly, I love the impact that short horror needs to make. A whole story needs to be told in a short amount of time and it's not always easy. Can this be a two hour movie? Yes, of course. But these twelve minutes will always be the core.
Lastly, the animation is stunning. Carlos Baena has been around for some time and while most might have never seen his name, you know his work (Toy Story, Cars, Star Wars: Clone Wars). Carlos has been animating with Lucasfilm, Disney/Pixar, and others, leading to a beautiful visual experience that he wrote and directed.
La Noria in Review…
For the great horror story that is enjoyable to young and old and the amazing visual effects, I give "La Noria" 5 out of 5 Cthulhus.

(5 / 5)