This week's theme is… big, big messes. Seriously, both movies are full of gore, viscera, and the cleanup involved afterwards has gotta be insane.
We're back with Joe Bob again this week at The Last Drive-In, exclusively on Shudder. It's important to note, Mutants, that as of this moment Shudder has not committed to renewing The Last Drive-In for another round, so what I ask is that you take a moment to tweet @shudder with your desire for more episodes. Don't forget the hashtag #TheLastDriveIn either!
WolfCop (2014)
Opening Rant: Did you know that Saskatchewan is the Arkansas of Canada?
The first film of the night, WolfCop, is pretty much perfect drive-in fare. WolfCop is a Canadian horror comedy about a cop named (wait for it) Lou Garou. Lou is a fairly unimpressive cop in the small community of Woodhaven who spends most of his time at the bar. Well, soon enough he becomes swept into an investigation of cultist activity in town that results in him becoming a werewolf to violent and hilarious results.
The movie was written and directed by Lowell Dean for the CineCoup Film Accelerator program. WolfCop stars Leo Fafard as Lou Garou, and features Amy Matysio, Jonathan Cherry, Sarah Lind, Aiden Devine, and Jesse Moss. Jonathan Cherry as Willie gives a particularly inspired manic wing-man performance with a twist. Leo Fafard steals the show, however as Lou in deadbeat cop and WolfCop modes.
Reviews
Joe Bob was very enthusiastic in his discussion of WolfCop, awarding the film three stars. The film is violent, hilarious, and gory and in the words of Joe Bob, features "interspecies aardvarking." The film, structurally, falls a bit flat which likely explains why, despite all the film has going for it, it only reached the three star level. That's okay though, because the final act of the film is absolutely bonkers in the best way possible because the whole film is played fast and loose. The highlight of the night, of course, was The Last Drive-In mangled-dick consultant Felissa Rose. Thanks for your expertise, Felissa!
The big disappointment of the night for us, as Drive-In fans, is that there just isn't a ton to talk about the movie compared to previous films. The film was made through the Cinegroup Film Accelerator program, but beyond that the team behind the movie and the cast has not done a ton since beyond a sequel, Another WolfCop. The most recognizable face in the film, Aiden Devine, is mostly a Canadian genre actor who might be recognized here and there. Unfortunately, unlike DEATHGASM, WolfCop doesn't have enough interesting stuff going on around the movie. Nor has the talent around it had long enough to build interesting careers like some of the older films at the Drive-In.
As for us at Haunted MTL, WolfCop obviously gets a Canadian bump in the score. That being said, it is not like the film needs it. WolfCop is great, despite some plot problems, so we award it three and a half stars. There is some wonderfully loony special effects work in the transformation scenes, and the love scene between woman and beast is funny as hell.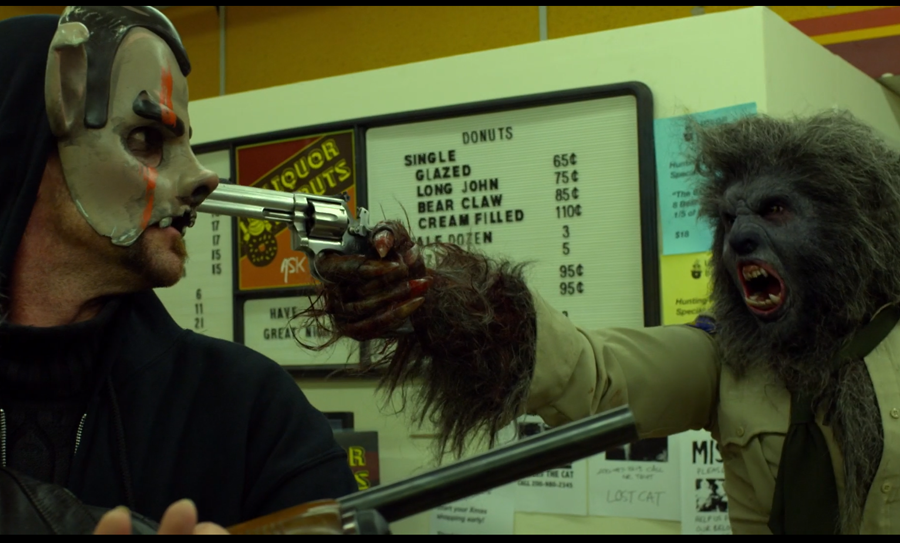 Best Line: "Grab some meth!"
Henry: Portrait of a Serial Killer (1986)
Opening Rant: The legacy of Henry: Portrait of a Serial Killer
The second film of the night is a masterpiece of feel-bad film. Henry: Portrait of Serial Killer is one of those movies that people love to be destroyed by, or absolutely hate. Again, tonight's pairing is one of those strange combinations that has popped up on The Last Drive-In and results in a little bit of a tonal whiplash, like we saw during the pairing of DEATHGASM and The Changeling.
Henry: Portrait of a Serial Killer is not quite a horror film in the way Mutants are used to, and is more of a psychological horror film with true crime elements. The movie is a very, very loose adaptation of the supposed crimes of real-life serial killer Henry Lee Lucas and his partner-in-crime Ottis Toole. The film is notorious for being both controversial and critically praised. The fact the MPAA rated the film with an X-rating also increased the movie's mystique.
Henry: Portrait of a Serial Killer follows a period of time where a drifter and killer, Henry, lives with a prison friend, Otis, and Otis' sister, Becky. The three are intensely damaged people who live in Otis' Chicago apartment for a time. While Becky feels an abusive husband and tries to make a life for herself in Chicago, Henry introduces and educates Otis in the joy and art of murder.
It doesn't get any more pleasant from there, folks.
The movie stars Michael Rooker, Tom Towles, and Tracy Arnold. Henry was directed by John McNaughton, who is also known for Wild Things (1998). The core cast of Rooker, Towles, and Arnold are superb and live in their parts so well the film almost feels like a documentary.
Reviews
Joe Bob absolutely had nothing but praise for the film, awarding Henry four stars. The lack of interesting asides in WolfCop was more than made up for in the break segments for Henry, as Joe Bob not only had a great deal to say about the film, but John McNaughton himself stopped by the trailer to reveal some insights into the movie and the lasting legacy of one of the grimiest crime films ever made. Recounting the film of the harrowing "home assault scene," in particular, revealed a lot about how special this movie truly is. In one anecdote about the film of the movie, McNaughton muses to Joe Bob at the time saying "none of us are going to Heaven" after filming one of the infamous murder scenes. It is a movie so sleazy that an actual real life video pirate played a video pirate in the T.V. shopping scene.
As Joe Bob stated at one point, if drive-in films are about sex and violence, Henry: Portrait of a Serial Killer is sex and violence stripped down to it's essentials. The film is disturbing and grimy in such a way that as viewers you feel complicit in the on-screen carnage. Needless to say, we here at Haunted MTL love that. Henry: Portrait of a Serial Killer is a four star film.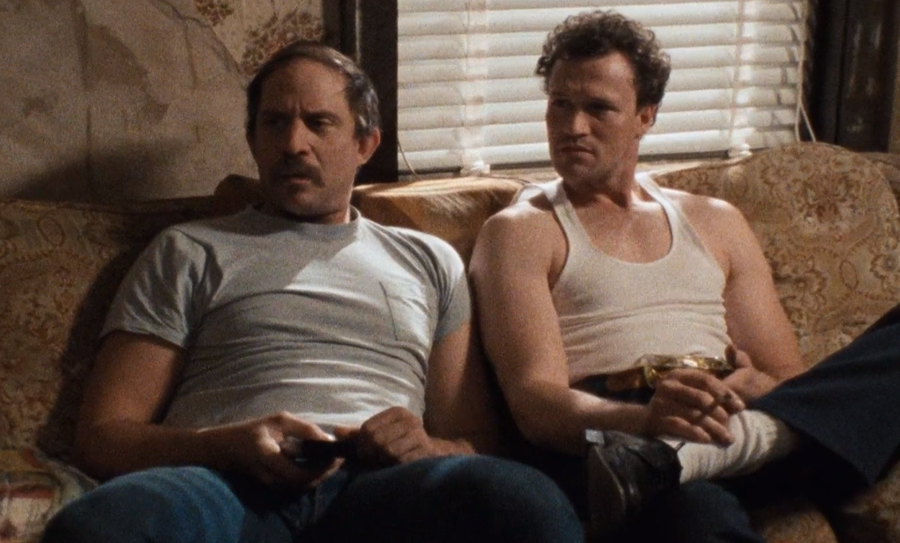 Best Line: "Shit, I've got to have a T.V."
Haunted MTL Drive-In Totals
Joe Bob Fashion: A white button up shirt with black, floral trim and an orange oval bolo tie
1 Degloved face
1 Sad, sad bowl of nachos (what even were those, Joe Bob?)
2 Plot-relevant Eclipses (this week, WolfCop, last week, The House of the Devil)
2 Eye Gouges
3 Victims played by the same actress
7 Producers on WolfCop
6 Twitter bans for Darcy
Felissa Rose Mangled Dick Expertise Fu
Post-murder Sandwich and Coffee Fu
Rat Tail Comb Fu
Walmart Joke Fu
Five O'Clock Shadow Fu
Irishman, Italian, and Redneck Joke Fu
Gratuitous Whip Zooms and Pans
Gratuitous Chair Pratfall
Gratuitous Folklore Infodump
Gratuitous Movie-based Rap Song over Credits
Gratuitous Darcy Cosplay (as WolfCop)
Gratuitous TV Shopping Scene
As always, please share your thoughts with us about The Last Drive-In. Also, please check out our other great content here at Haunted MTL.