Welcome to Notes from the Last Drive-In. Normally these go up on Mondays, but some real-life engagements delayed my chance to view the films and write the review. This week we cover two 1980s films with 1989's Bride of Re-Animator and 1982's Next of Kin. Two wildly divergent films paired up, splattery pulp and an artsy slow burn, but welcome nonetheless. It's another movie night on Shudder with the world's greatest host. Let's dive in, shall we?
This week's tweets were handled by Payne and some of our other writers. Thanks for covering, gang! Give them a follow.
Bride of Re-Animator (1989)
Opening: The character reversal of the City and the Town
With Bride of Re-Animator the luster of the original film shines brighter, but it's not as though Bride is a dull film. It's effective, technically sound, and features many things to love. But it is the first of what would be many lesser sequels – still fun, but incapable of quite capturing what worked so well with the 1985 original. Most of the pieces are there, and the film largely succeeds in its ambition to follow up on Herbert West and Dan Cain's exploits. Yet something is missing. The film fell under the direction of Brian Yuzna and a script cobbled together quickly by Yuzna, Rick Fry, and Woody Keith. As a whole it is serviceable, but there is a distinct lack of the late Stewart Gordon. one wonders how things might have turned out if production wasn't rushed to get a sequel made for a tax credit.
Despite the quibbles one may have with the fairly obvious Frankenstein-riff of a plot and the lesser writing and direction compared to the first, much of the film largely works and works well. The performances are excellent, with Jeffrey Combs and Bruce Abbott returning as West and Cain, respectively, the comical and ridiculous return of David Gale, and the fantastic performance of Kathleen Kinmont as the titular "bride." The film is also technically strong, with some interesting tricks behind the camera at Yuzna's direction and masterful effects by Screaming Mad George. Yet… the compromises are one too many for the film to truly live up to the original. No Gordon, a rushed script, and a planned finale that would never be filmed. It's frustrating, really.
Most of my enjoyment of the first half of the night came from seeing what Jeffrey Combs is up to, as he was beamed onto the set with the socially-distance mannequin. We really should see if the mannequin has a name, honestly. The interviews do feel a little flat as a whole due to social distancing – they certainly lack a certain spontaneity that we've enjoyed in prior seasons, but they're still quite fun. It helps that Jeffrey Combs is a perfect Drive-In guest: a living legend with some surprises, such as his slipping in and out of his redneck roots. We also received a number of fun anecdotes about the shoot, Combs' continued friendship with Bruce Abbott, and hints about where the series could have headed. Of course, Combs is still game to do another Re-Animator film. Who else could play Herbert West, really?
Joe Bob Briggs generously gave Bride of Re-Animator the four-star treatment. I think Joe Bob has been a bit generous as of late, perhaps slowly losing his mind from cabin fever. It's a good movie, but is it a four-star film by Drive-In standards? I am not so sure – the original Re-Animator? Undoubtedly. Bride, not really. As for me, I'd give Bride of Re-Animator four out of five Cthulhus.
(4 / 5)
Best Line: "He's a wife-beater, Dan, use the gun!" – Herbert West being helpful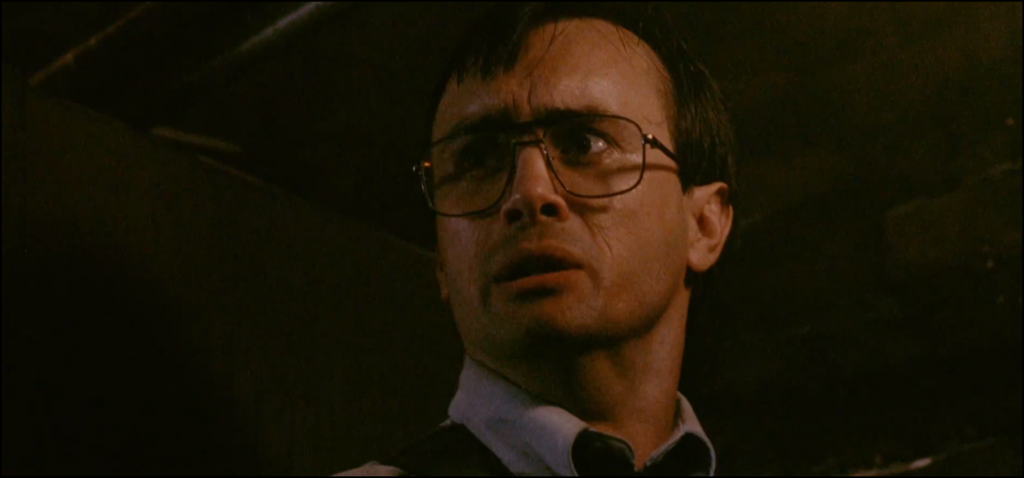 Next of Kin (1982)
Opening: The Dyson Airblade
Next of Kin is an obscure, slow-burn Australian horror film, and yes, despite the wishes of the director, it is horror. As Joe Bob said last week, we know horror when we see it. It is probably the slowest burn on The Last Drive-In, but as someone who enjoys when horror takes its time, I found myself enjoying it a great deal. It is not without problems, however, perhaps grasping too ferociously at prestige, the film ultimately offers short bursts of mood between needlessly labored plot revelations. It's fine, a good effort for first-time horror director/writer Tony Williams. He wasn't long for the movie industry, ultimately turning to the advertising industry, but Next of Kin is like a tantalizing peek at what could have been an impressive film career.
The film follows a woman, Linda, who inherits an old folk home who sees a series of deaths of the elderly residents that evokes something from her past. It is a film of family secrets and the threat of madness that muddies the waters of what is real and what isn't, yet the film doesn't really commit to the supernatural vs. reality angle much at all. It is a haunted house story where the haunting is all in the mind and the threat is a strange, not necessarily satisfying reveal. The performances are solid, with Jackie Kerlin selling her tormented character with much skill – only to leave the film industry altogether. A strange turn on what could have been a promising career, but one mustn't begrudge her choices.
Ultimately, much like how Jackie Kerlin left the film industry and Tony Williams transitioned to the ad industry, the film itself feels like a strong start with a sudden stop. So much potential lays within the bones of the story, but it gets traded for plodding pace, a non-sensical revelation, and an out-of-place explosive finale. So much potential and style just sort of squandered. Joe Bob discusses this film in the context of a rediscovered gem, a limited release that was given a new lease on life after a name drop from Quentin Tarantino. Yet, I can't help but think the value of Next of Kin is in some admittedly stylish directorial choices and the sheer curiosity of it all. It isn't quite Ozspoitation, nor is it totally inscrutable for the art-house crowd. It's an odd film from Australia, albeit one that causes me to ponder the question of "what if?"
Joe Bob's assessment of the film puts it in the four-star territory. I find myself disagreeing, heavily. What works in the film works, in spite of the issues with the plot and what feels like a desperate bid for cultural excellence. I can't see myself giving this film more than three out of five Cthulhus.

(3 / 5)
Best Line: "Sex it up, baby!" – Joe Bob Briggs on making films, the AMERICAN way.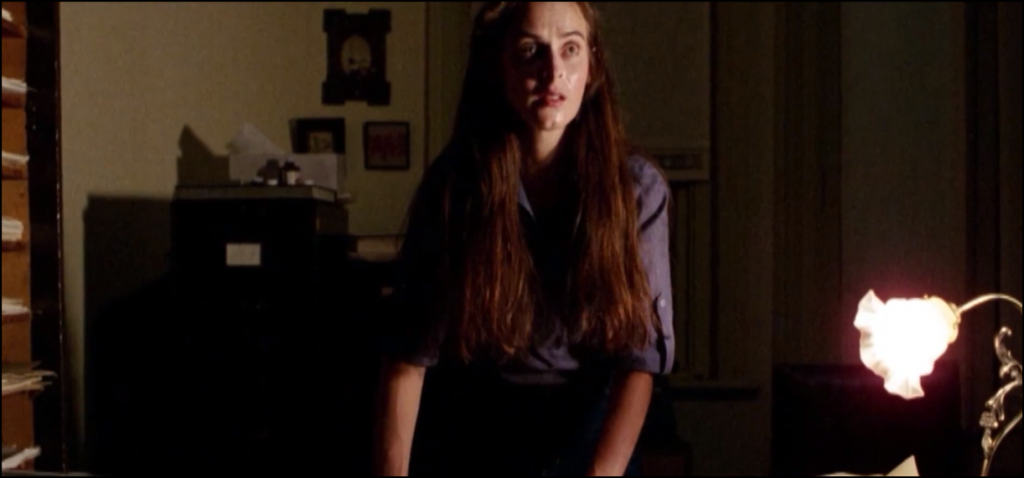 Haunted MTL Drive-In Totals
As always, we have our own Drive-In totals to share!
8 months later and 10,000 miles away
"30 Fucking Iguanas"
4 Effects Companies
2 Heads in a Bucket
20 Appliances on Kathleen Kinmont
Dead Dog
Nudie Pen
Hitchcockery
Spontaneous Carpentry
Gratuitous G'Days
Cat Calling
Michigan J. Froggery
One-Act Frankensteinery
Lizard Stuffing
Gratuitous Calculation
Heartwarming Letter Reading
Super Bingo Hall Freakout
Superman Joking
Disney Joking
Yuki Count: 3
Season 4-Star Count: 5
Silver Bolo Award: The Losers Club
Darcy Cosplay: The Bride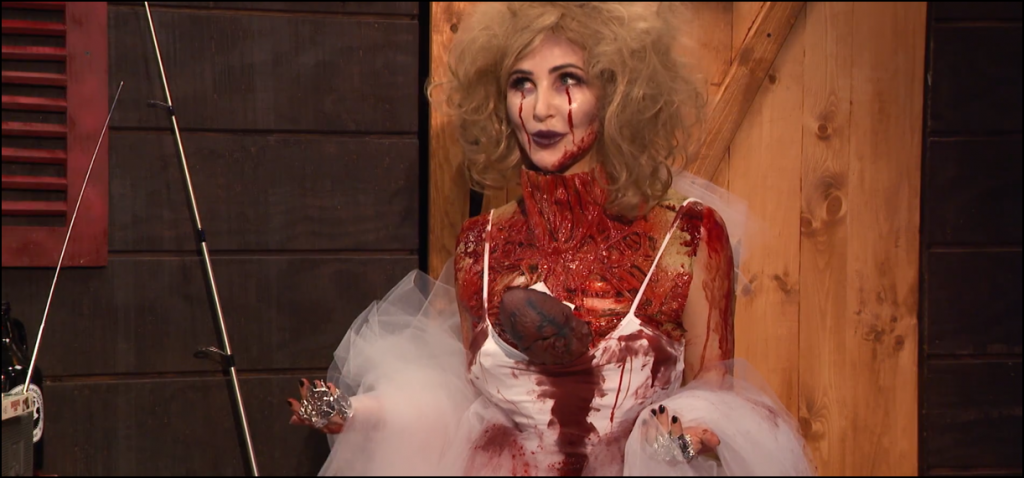 Episode Score
Ultimately, not the finest night at the Drive-In, but still very fun. Who doesn't love movie night? That being said, Herbert West carries the night, thanks to a game Jeffery Combs, who is as delightful now as he seems to have always been.
(3.5 / 5)
See you all next week for more Drive-In fun. I'll be live-Tweeting the show from Haunted MTL's Twitter account again (thanks for filling in this week, Payne), so be sure to give us a follow there.