Man, this movie has EVERYTHING! Children, corn, the mom of John Connor…um, corn.
This is a classic, folks. It's hard to review something that's so classic and iconic. So, I'll go through general deets before I get into my notes and thoughts. Cool?
The Plot (Spoilers-free):
A young doctor (Peter Horton) and his wife (Linda Hamilton, pre-Terminator) are on their way to Seattle, where he will be establishing himself as a doctor. While driving through Nebraska, they meet with an unexpected tragedy…besides being in Nebraska. Zing!
However, things are not as they appear to be as the small town they stop in seems abandoned. But the couple soon discover that they are not alone and are at the heart of a merciless cult of murderers. Will they be able to survive when the murderers themselves are but innocent children?
Thoughts (Spoiler-free):
Let's talk about the cinemotagrapher for a hot sec, yeah? The cinematography is beautiful and really showcases both the beauty of the farmlands and the brutality of the small-town cult.
Suresuresure, but the cinematographer, Raoul Lomas…or should I say… ::rips the mask off::
"Harry Flecks" OR… ::rips another mask off::
"Harry Flex" OR… ::rips final mask off:
Brazilian cinematographer, João Fernandes!!!
João Fernandes got his start by filming adult classics in the heyday of adult classics – the magical 1970's. This includes the iconic Deep Throat, Wet Rainbow, and The Devil in Mrs. Jones.
In fact, he has an enormous amount of experience under his belt, so to speak, including a plethora of horror, tv movies, and had a hand in Chuck Norris's foray into Turner and Hooch territory with the sadly disappointing, Top Dog.
Actually, a lot of his later work was with Chuck Norris and Cannon films.
Anyway, I just thought that was a fun thing to know about Children of the Corn and it's working parts.
Brain Roll Juice (Spoilers):
Okay, maybe not so much brain roll juice (although I was tempted by the corn-Jesus iconography in this), but I want to talk about some random thoughts.
1st Thought:
Just imagine this: half of the movie takes place with a child's dead, decomposing body in the trunk of our protagonist's car. Just imagine that every time Malachai stalks around screaming, "OUTLAAANDER!!!!" and when Burt decides to dick around at the school for a while.
Also, at the end of the movie (these people will be going to prison, no doubt), they leave the car with the dead body in the trunk and an unconscious, concussed child in the front. Aaaaand…
That's where the movie just limply ends. The adults joking about letting two orphans kick around with them for a little while, like some cousin who just got laid off and needs a place to crash while getting back on their feet. I mean, dude, you just saw confirmation that an entity beyond your conceptions and faith exists in this world and…like, whatever, I gotta get to Seattle. Oh, but, should we tell the cops about trunk kid? Ehhhh…?
2nd Thought:
Job and Sarah are basically un-emotive baggage until the end when Job becomes the only competent one. Throughout the film, they seem to just…be there. And there's a reason for that – they aren't in the original short story.
But the strange part is that the movie has them so…bland. Like two scoops of vanilla ice cream at Baskin-Robbins, there's so little to them in the midst of chaos and flavor.
They do very little during the story besides playing games, drawing people dying and listening to vintage records- Oh, I get it. They're hipsters. Well played, movie. Well played.
3rd Thought:
Let's talk five hours about Malachi and Isaac. I will never grow tired of Malachi screaming, "OUTLANDER!!". I need this on a ten-hour loop.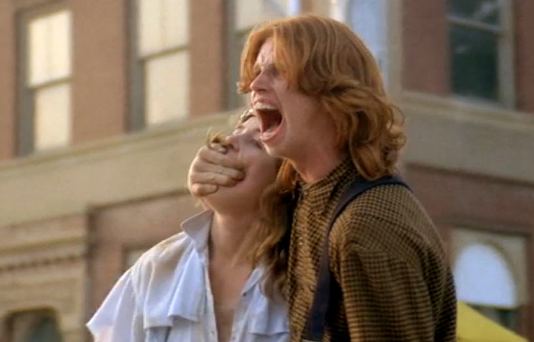 Honestly, John Franklin as Isaac and Courtney Gains as Malachi are the ABSOLUTE best thing about this movie. They're both amazing actors who took it to a ten. Their performance carried most of the scenes and I would watch their new HBO mini-series in a heartbeat.
The characters themselves have a terrific chemistry – a blend of questioning loyalty, shaky respect, and utter abhorrence towards each other. Malachi begrudgingly follows Isaac's fury and vision, but with a glare and whispered threat. Isaac resents Malachi, but needs his support as a right hand man to get shit done.
Honestly the energy between them feels like I've seen this somewhat recently…It's strangely familiar…Down to red hair and dark hair…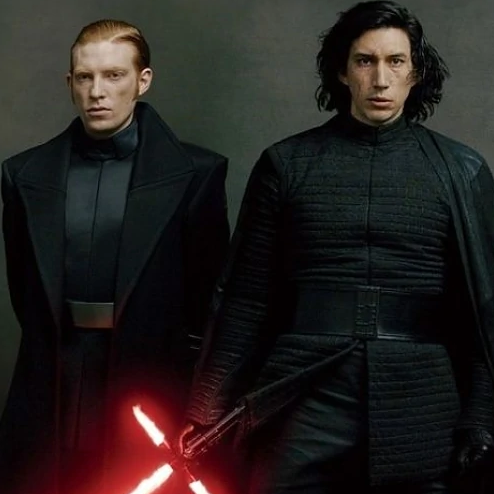 Bottom-line:
Corn and kids ain't scary, but it's a fun romp for you and your OUTLANDER!!!!
(3.5 / 5)