Rape revenge films ask a lot from their audience. They are some of the most emotionally driven and violent horror movies, and this includes the 2018 Shudder Original Movie Revenge.
Directed and written by Coralie Fargeat, we begin with Richard (Kevin Janssens), a married man going on vacation with Jen (Matilda Lutz), whom he is having an affair with. The vacation is actually a hunting trip for Richard and his two friends, Stan (Vincent Colombe) and Dimitri (Guillaume Bouchède), but none of them mind Jen's company. She is bubbly, fun, sexy: traits that the infatuated men use as justification to hurt her. After raping, assaulting and leaving her for dead, they go off and have fun on their little hunting trip, unaware of who and what awaits them.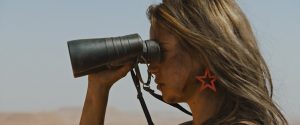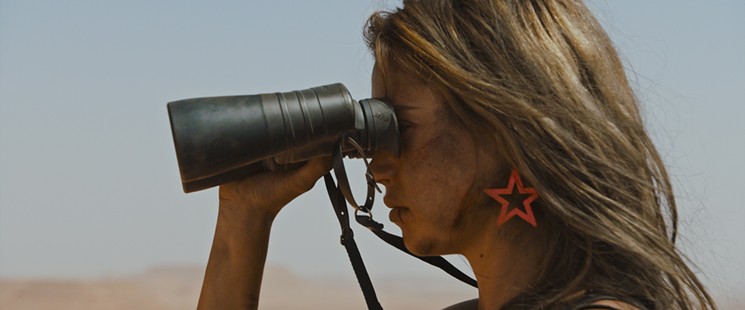 "Women Always Have to Put Up a Fucking Fight"
Revenge does not shy away from standard rape revenge archetypes. Substance matters more than plot, the location is desolate, and the characters can withstand more than is humanly possible. And it may be no coincidence that Jen is also the name of the main protagonist in the 1978 classic I Spit On Your Grave.
But what makes Revenge unique is how Fargeat focuses more on Jen's revenge rather than the men's violence against her. Jen is never not fighting for her life, her sole focus fighting against her assailants. The male gaze is heavy (in one scene, Dimitri – sitting only a few inches across from Jen – watches her with a pair of binoculars) to the point of satire, but Jen's perspective is most emphasized and most important.
Blood, Blood, Blood
All of this is not to say rape revenge films do not have their issues, and Revenge is no exception: the entire horror subgenre's existence relies on violence against women, which is exhaustive and already a prevalent reality.
The film is also a sensory overdrive of blood: there are closeups on ants drowning in blood, silent minutes of windshield wipers wiping blood back and forth, the sound of blood oozing out of Jen's stomach. It is a gore-fest of symbolism, which on its own can be excessive. However, Revenge couples the ultraviolent revenge scenes with fun, sporadic camera sequences and Robin Coudert's John Carpenter inspired score, giving us the thrill of a lifetime.
Rating
Revenge is a strange, electric bloodbath. The acting is stellar; Lutz is incredible to watch and it is impossible to not feel pure hatred toward Richard, Stan, and Dimitri. Equally masterful and uncomfortable, it is a movie that will cling onto you for dear life long after you see it. 
(4 / 5)
Check out more of our movie reviews here!
Photo Credits: Cover Photo, Photo 1, Photo 2