Welcome to Haunted MTL's ongoing coverage of Shudder's original series, Creepshow. We have two fresh new stories tonight. We have werewolves have Nazis in one glorious bloody segment. The other features DJ Qualls and a skinny little monster who happens to not be DJ Qualls (we joke because DJ is great).
---
"Bad Wolf Down"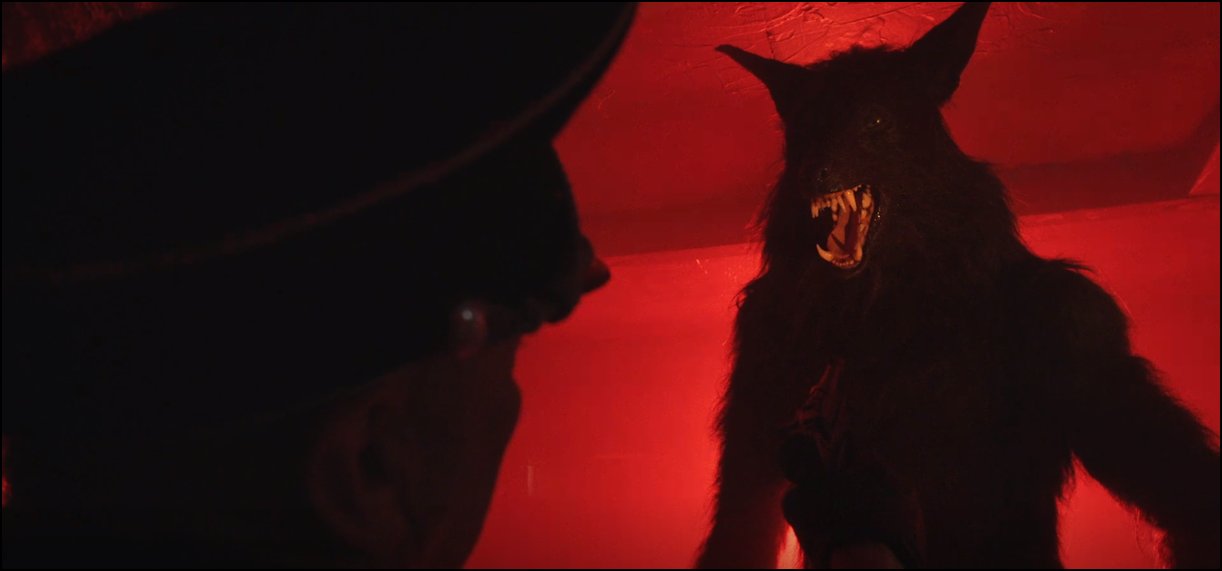 Written and Directed by Rob Schrab, "Bad Wolf Down" delivers gory werewolf vs. Nazi action. Rob Schrab, known to fans of MST3K, Rick and Morty, and SCUD: The Disposable Assassin delivers pretty much a perfect storm of gory pulp that befits the Creepshow title. The episode features Dave MacDonald, Callan Wilson, Kid Cudi, Nelson Bonilla, Kate Feund, and the legendary Jeffrey Combs.
This is not a subtle story with a lot of depth. The remains of an American platoon in WWII barricades itself in an abandoned police station, only to discover a young woman afflicted by lycanthropy within. To make matters worse, a Nazi Captain, played by a delightful as ever Jeffrey Combs rallies his men to kill those who killed his son. That's pretty much it. The soldiers, cornered with the woman, offer to end her suffering in exchange for the curse of the werewolf for their own Nazi-slaughtering purposes.
… and what Nazi-slaughter there was. The werewolf transformations are gloriously budget-conscious thanks to a page-turning effect. Additionally, the werewolf designs vary, referencing three distinct styles of werewolves. There is one moment with a tongue being torn from Jeffrey Combs' mouth that is as satisfying as a Snickers bar. Plus, there is a scene involving the aftermath of a landmine that is wonderfully gross.
Bottom Line
"Bad Wolf Down" is one of those ridiculously fun concepts that was likely as fun to film as it was to watch. It's pulpy, bloody, and a great time, though it offers little beyond the surface. But not everything has to try for some grander message; we sometimes just want to see werewolves chow down on Nazis.

(4.5 / 5)
"The Finger"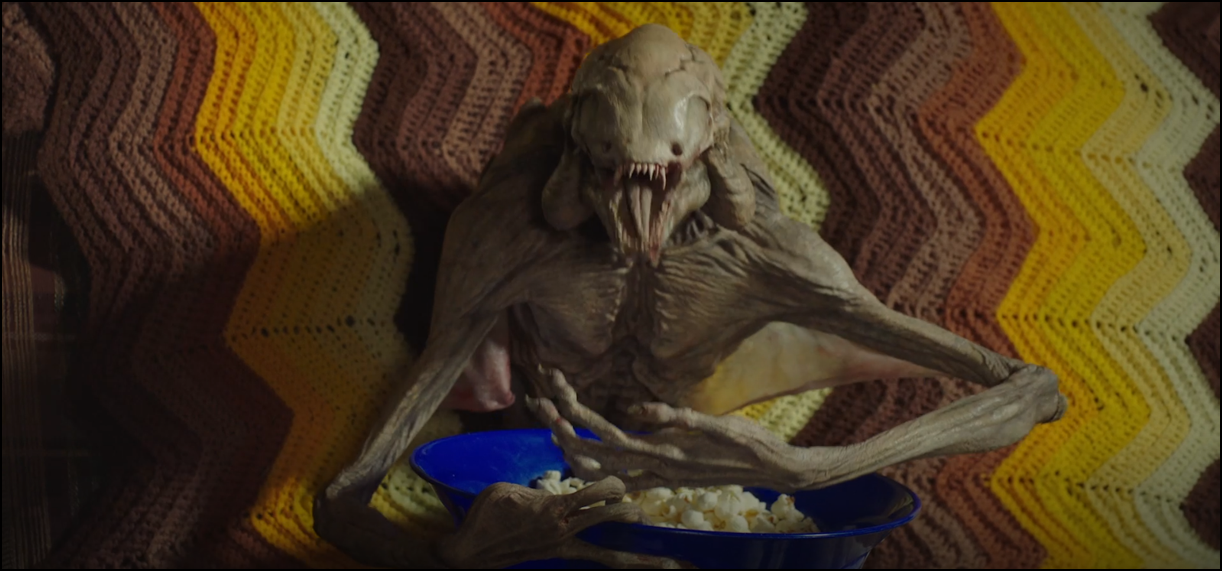 Written by David J. Schow and directed by Greg Nicotero, "The Finger" is just one of those really strange sorts of stories you would find in the pages of Creepy or Tales From The Crypt. You know, the sort of comics that influenced George A. Romero and Stephen King when they first developed the original Creepshow. It's just a weird little revenge story with the twist of a demonic helper named Bob and the suggestion that maybe Bob was just a projection of a broken, murderous mind. You know, that old trope. The episode is sparsely populated and features DJ Qualls, Antwan Mills, Gino Crognale, and Jake Garber. Also, Bob deserves credit as well; or more to the point, credit should be extended to Jefffrey C. Edwards, Jake Garber, and Gino Crognale as Bob's puppeteers.
The finger is gory, a little meta, and features an oddly-cute demonic hell-imp who does dark deeds of revenge for DJ Qualls' jaded, junk-hoarding loner. Qualls plays Clark, who spends the episode recounting events to the viewer. It's mostly fun, with some moments where Clark pushes the plot forward through summarizing events pithily to speed along the truncated runtime of the episode. The story follows Clark's discovery of a finger and the growth of Bob, from that finger. Bob, not unlike a dutiful cat, brings Clark some gifts. The issue is that these gifts are body parts from individuals who Clark feels have wronged him. The gifts escalate, as do the questions from two cops who visit Clark a few times, investigating the deaths of Clark's ex-wife and two stepchildren.
The escalation of the story is incredibly fun and horrifying to watch. The real shame is that rather than commit to the lunacy of Clark's revenge-demon, the episode undercuts it with the cliche of it being all in Clark's head.
Bottom Line
"The Finger" is a great little story of revenge presented by an unreliable narrator. Plus, Bob is perhaps the most adorable little demonic henchman ever put to film. Even if the ending is a bit predictable, what are you gonna do?
(4 / 5)
The Creep Factor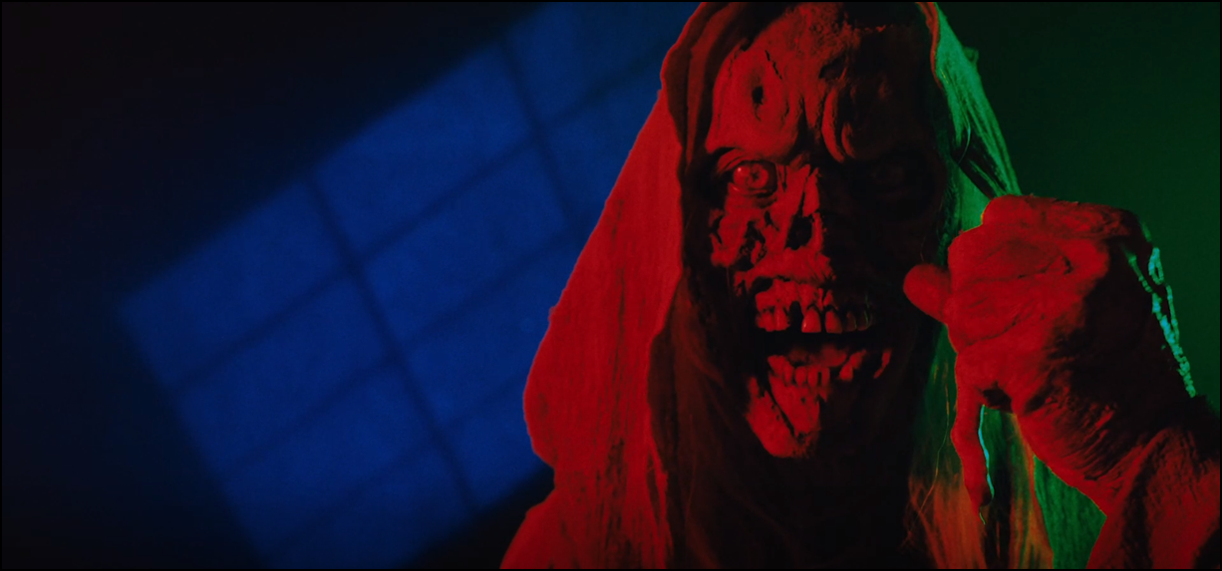 This week's pairing is a solid outing that plays to their strengths. A story with Nazis and werewolves is bound to be pulpy as hell, and "Bad Wolf Down" delivers on that with a glorious lycanthropic massacre. Additionally, "The Finger" presents a highly entertaining and unreliable narrator. It also features one of the best modern horror puppets in quite a while.
Between the pair of stories, "Bad Wolf Down" takes the win. The story is earnest and straightforward it is in delivering exactly what it advertises. The asylum ending of "The Finger" feels a little overthought in comparison.
However, "The House of the Head" from episode one is still a strong contender for the best story of the season so far. We'll see how the remaining for episodes shake out.
---
We hope that you enjoyed our coverage of the first installment of Shudder's Creepshow. Creepshow will air on Thursdays around 9 PM EST on Shudder. Haunted MTL will be covering the whole 6 episodes of the first season.
Wheel of Time, Daughter of The Night
We've reached episode four of Wheel of Time, which means we're halfway through the season. While it doesn't seem like much has happened so far, this is the episode where things start heating up.
The Story
We begin this episode with a flashback. Ishamael is raising something dark and twisted. As we watch, it takes the shape of a woman.
More on that in a bit.
Meanwhile, Nynaeve is healing from her time in the arches. She is quiet and withdrawn. She's also awkward and uncomfortable around Egwene now that she's initiated and Egwene is not. Her new friendship with Elayne isn't helping.
But the three girls come together when Liandrin tells Nynaeve that Perrin has been captured by the Seanchan.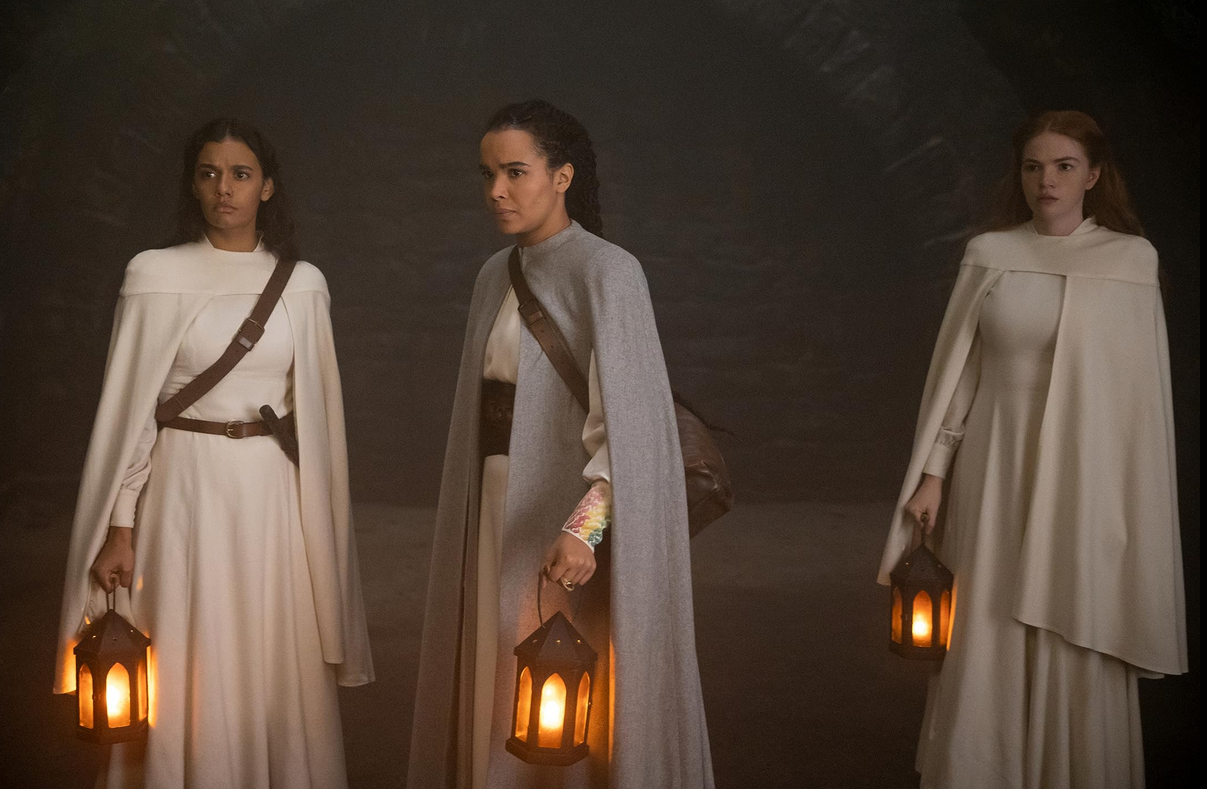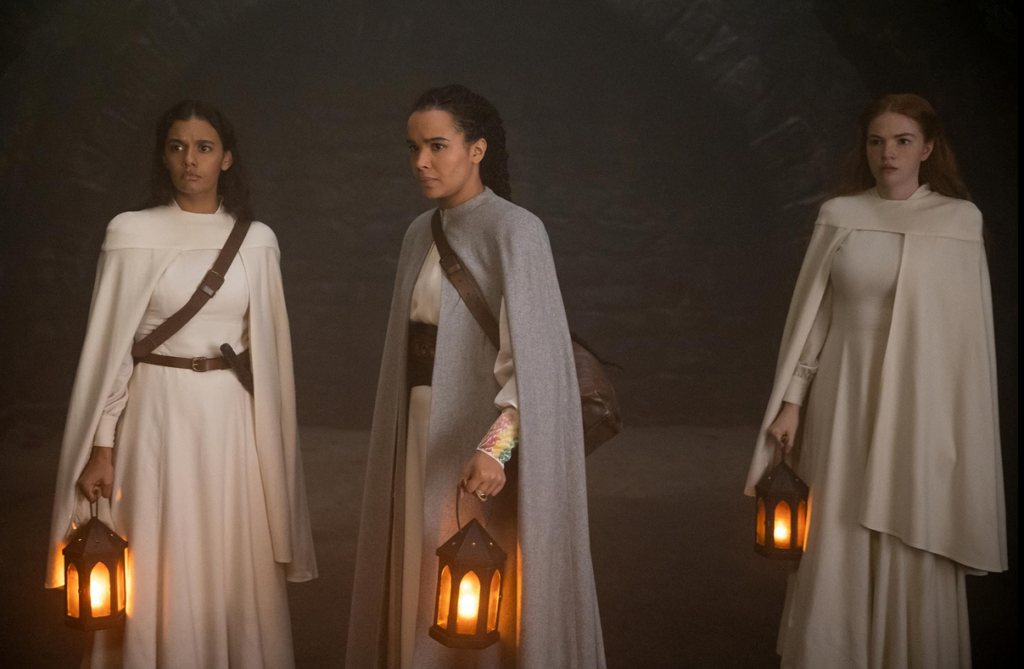 However, Perrin is no longer in the clutches of the Seanchan. He was rescued by Elyas and a pack of beautiful wolves. Beautiful and deadly AF by the way. If you have any fear of dogs, this episode might not help that.
Elyas explains to Perrin that he is a Wolf Brother. This means that he can communicate with the wolves, and eventually will gain some of their abilities. While Perrin and Elyas don't exactly get off on the right foot, he does find a fast friendship with one specific wolf. After a time, he introduces himself by showing Perrin an image of himself jumping up and down. From this, Perrin assumes his name is Hopper.
Finally, we return to Rand. He and Selene have been off in the mountains. They haven't done much more than each other so far.
And that's exactly what it appears they're about to do when Moiraine bursts into the cottage and cuts Selene's throat.
Rand is surprised and furious until Moiraine explains that the woman he knows as Selene is the Dark Friend Lanfear. With this shocking revelation, the two run off into the night.
What worked
It should be a surprise to no one that I loved the wolves in this episode. Hopper himself was worth an extra Cthulhu. But this is not just because dogs are cute. It's also because the dog playing Hopper just does a great job.
On a more serious note, I loved how Nynaeve responded upon coming back to the real world. She isn't okay.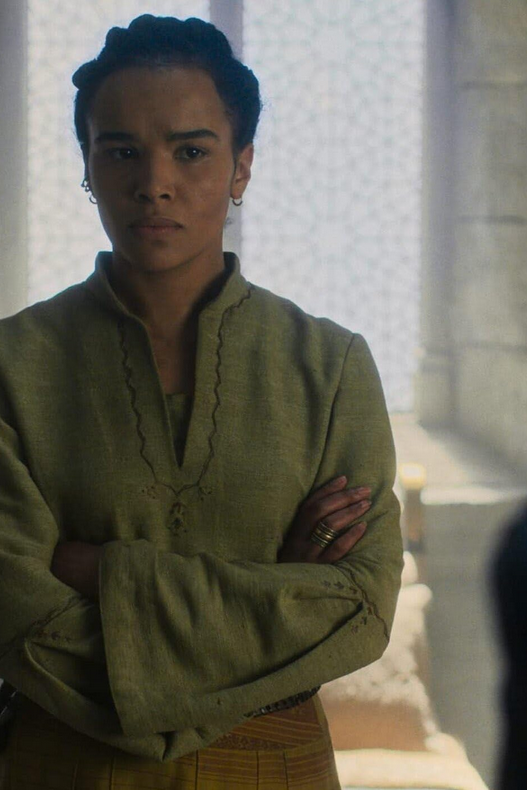 And it's a good thing that she isn't. Too often in fiction we don't see the fallout of emotional damage. Hell, we don't usually see realistic fallout from physical damage.
But she is hurt by what she experienced. And you can tell. That's realistic character building, and we don't see that enough.
I also really appreciate the special effects in this episode. The first time we see Lanfear, she's eerie. She's frightening. Part of this is thanks to Natasha O'Keeffe, who does a great job. But the effects are what really sells this.
What didn't work
If Wheel of Time has any fault, it's that there is far too much sitting about and talking about things. In this case, there's a lot of standing about and talking about things. Some of this was necessary, and some of it could have been done better. Honestly, there just has to be a better way to convey that characters are struggling.
This was most apparent with Rand and Selene/Lanfear. Honestly, anytime the two of them were on screen it was a great time for me to catch up on Instagram.
This might come as a surprise to anyone who hasn't read the books, but Rand is supposed to be the main character. And here we are, four episodes into an eight-episode season, and so far all he's done is mess about with his emo girlfriend!
That being said, the story is starting to pick up. With four episodes left, I can't wait to see how far we go.

(3 / 5)
Elevator Game, a Film Review
Elevator Game (2023) is directed by Rebekah McKendry and is the first feature-length production of Fearworks.
Elevator Game (2023) is directed by Rebekah McKendry and is the first feature-length production of Fearworks. It adapts the supernatural myth and creepypasta of the same name while providing an original plot. This unrated Shudder exclusive stars Gino Anania, Samantha Halas, and Verity Marks. In full disclosure, I had the opportunity to interview Gino Anania and Stefan Brunner about the film.
Ryan seeks to find answers to his sister's mysterious disappearance. To do this, he infiltrates a myth-busting web series that seems to have some ties to her final confirmed moments. Desperate to force a confrontation, he encourages them to play the elevator game. Unfortunately, there seems to be more truth to the myth than expected.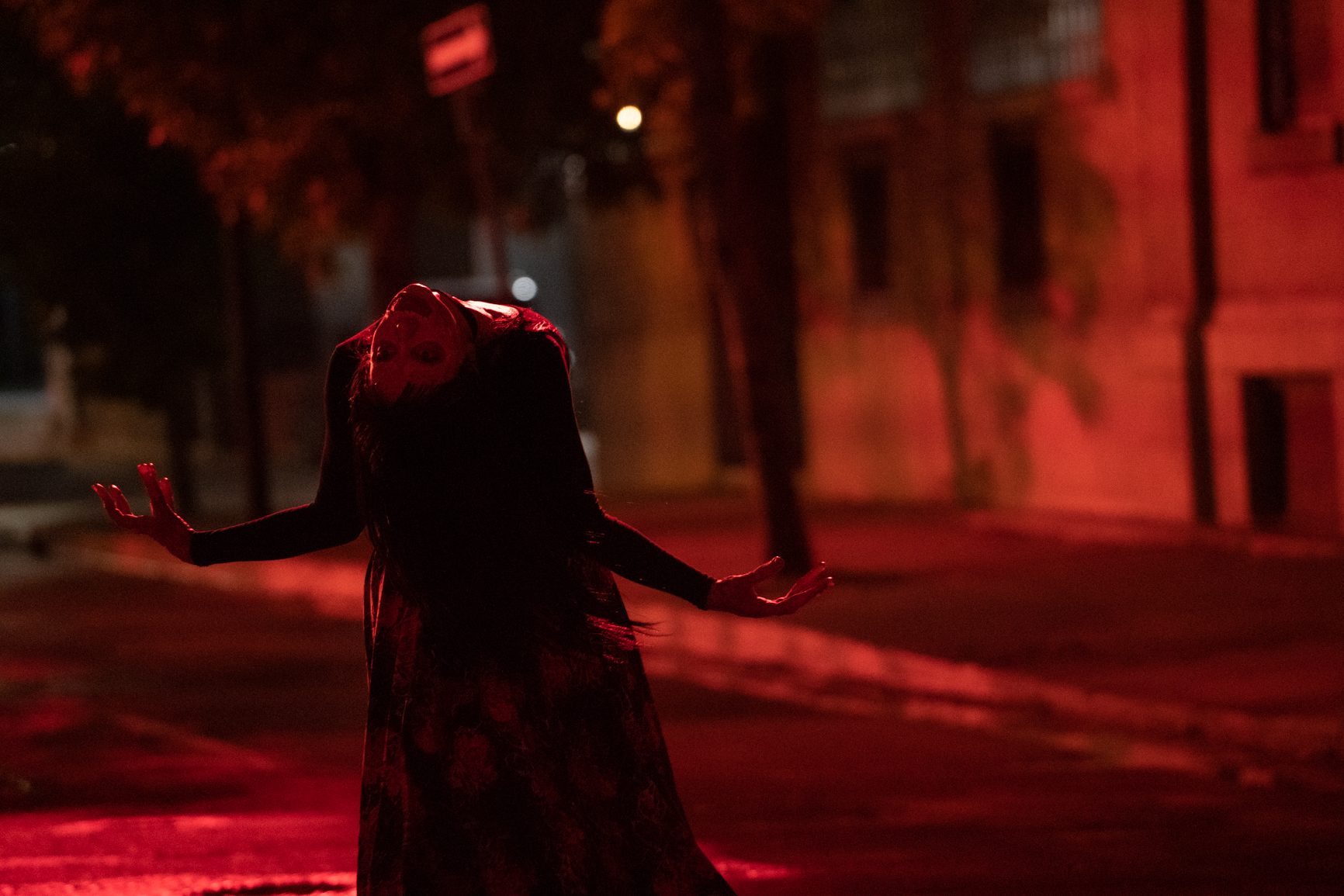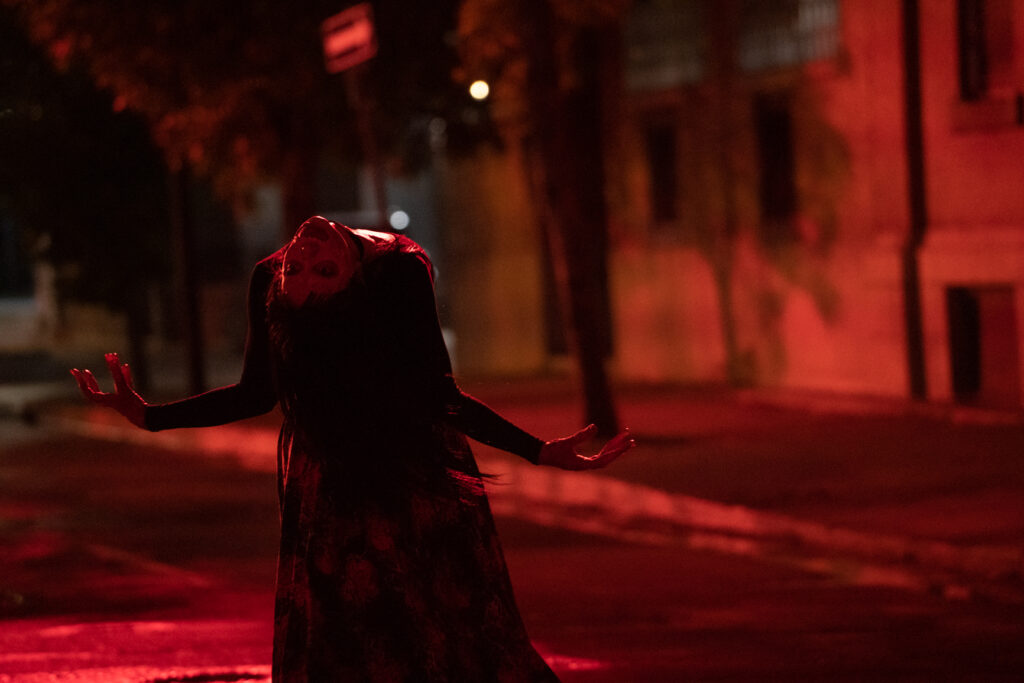 What I Like about Elevator Game & as an Adaptation
I am lucky to have additional insight into the development hell this movie overcame due to COVID. It's commendable that the film manages to make it of that, even if it requires a lengthy delay of the film.
Usually, I provide a separate section for adaptation quality. However, the source material remains the ritual, which Elevator Game performs accurately. While the myth inspires many creepypastas, Elevator Game doesn't directly take or adapt any of these works from what I've seen. Instead, it makes its own film based on the legend.
As the Fifth Floor Woman, Samantha Halas creates an eerie and disturbing character. While I won't go so far as to say terrifying, she certainly makes an impression. The revelation that the stunts and performance are all her, as an actual contortionist, I give her more credit.
Gino Anania, given a more complex role than most of his cast members, really does bring a strong performance that creates either friction or synergy with his cast members. I suppose I wanted more of these interactions as some cut sooner than appreciated.
Another amusing element is that the entire motivation for the plot to follow is a forced advertisement from an investor. Something about the chaos being a product of appeasing some investors feels uncomfortably real.
The alternate reality remains surprisingly effective. To be clear, it's not impressively realistic but stylistic. It genuinely seems like an alternate world with a skewered impression.


Tired Tropes or Trigger Warning
I feel weird mentioning this, but endangering a sister's life to push the brother's story forward seems a common trend beyond one form of media.
No discredit to the actors, but the romance feels rushed and unnecessary. Without going into too much detail, to avoid spoilers, there is synergy between the actors but little chemistry in the plot.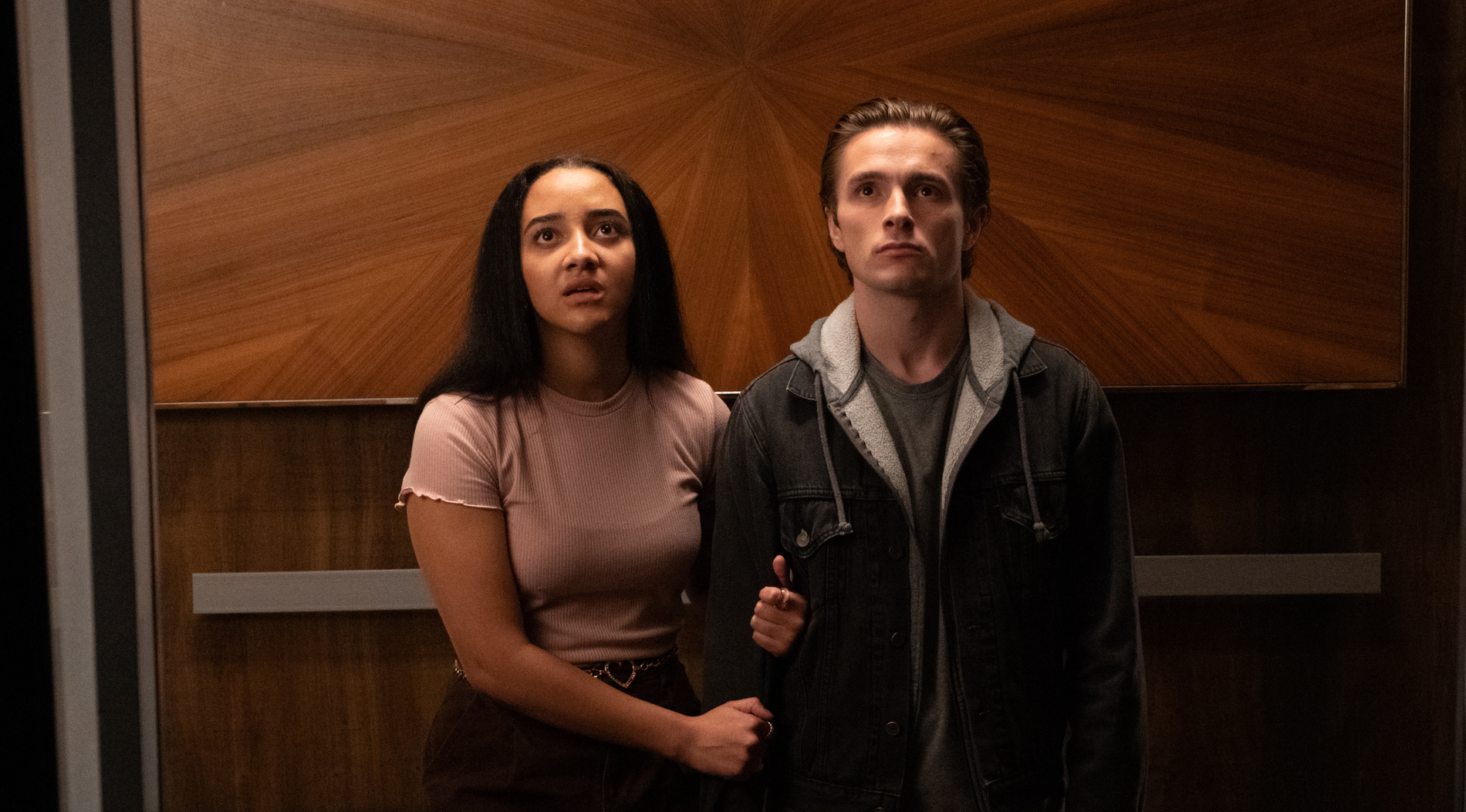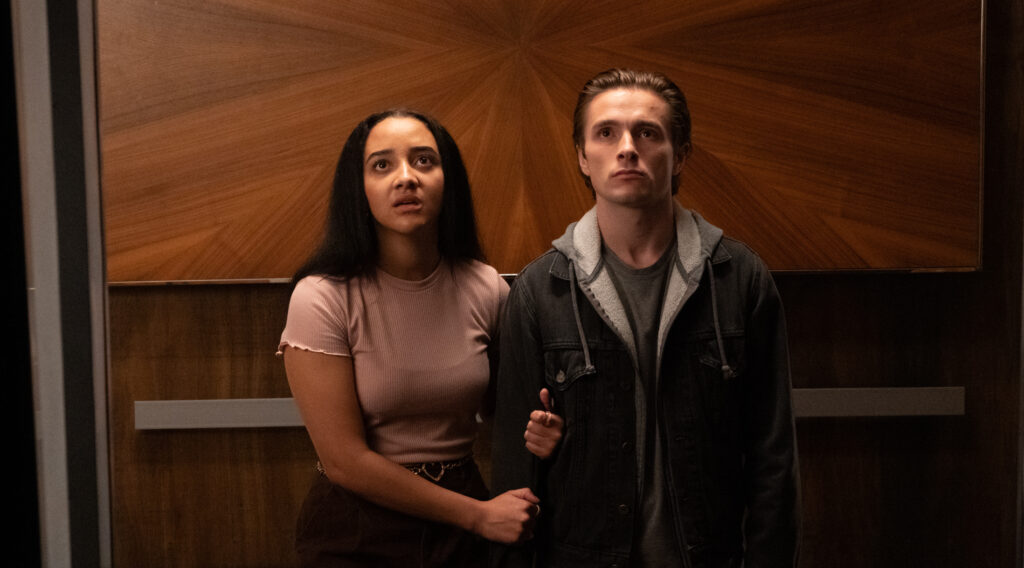 What I Dislike or Considerations
Elevator Game remains set in providing a B-movie experience. Its tight budget leaves little room to surprise the viewer visually. While I am surprised at what it accomplishes, it's far from overwhelming. This film also remains the first production of Fearworks, which shouldn't surprise anyone. I'm interested in the future, but Elevator Game leaves much to grow from.
Rebekah McKendry may have a directorial style that influences dialogue, but the line delivery evokes an overexpression that's common in Lovecraftian films. I say this not as a direct negative, but it remains a required taste best known before viewing. As this isn't Lovecraftian, I fear it removes some of the reality and tension of those haunting elements.
Many of the characters feel underdeveloped, making me wonder if cutting these roles might lead to more invested characters. While the performances hit their marks, a tighter cast might give each role more to work toward. As this is a tight cast already, it seems an odd issue to rectify.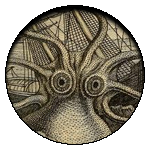 Final Thoughts
Elevator Game provides an interesting B-movie experience for those who know the legend. For those expecting something different, this film may not work for you. This film overcame a lot to exist but doesn't break the mold. While I am excited to see Fearworks pursue further ventures toward its ambitious mission statement, I find Elevator Game falling short of its goal.

(2 / 5)
My Best Friend's Exorcism, a Film Review
My Best Friend's Exorcism (2022) is a R-rated horror comedy directed by Damon Thomas, available on Amazon Prime.
My Best Friend's Exorcism (2022) is a horror comedy directed by Damon Thomas. Based on Grady Hendrix's novel of the same name, this R-rated film stars Elsie Fisher, Amiah Miller, Cathay Ang, and Rachel Ogechi Kanu. As of this review, the film is available to Amazon Prime subscribers.
Abby Rivers (Elsie Fisher) and Gretchen Lang (Amiah Miller) seek to escape the monotony of high school drama with their friends. However, in their efforts to have fun, Gretchen Lang encounters a troubling otherworldly demon bent on controlling her body. It's up to Abby to help her overcome this demonic threat.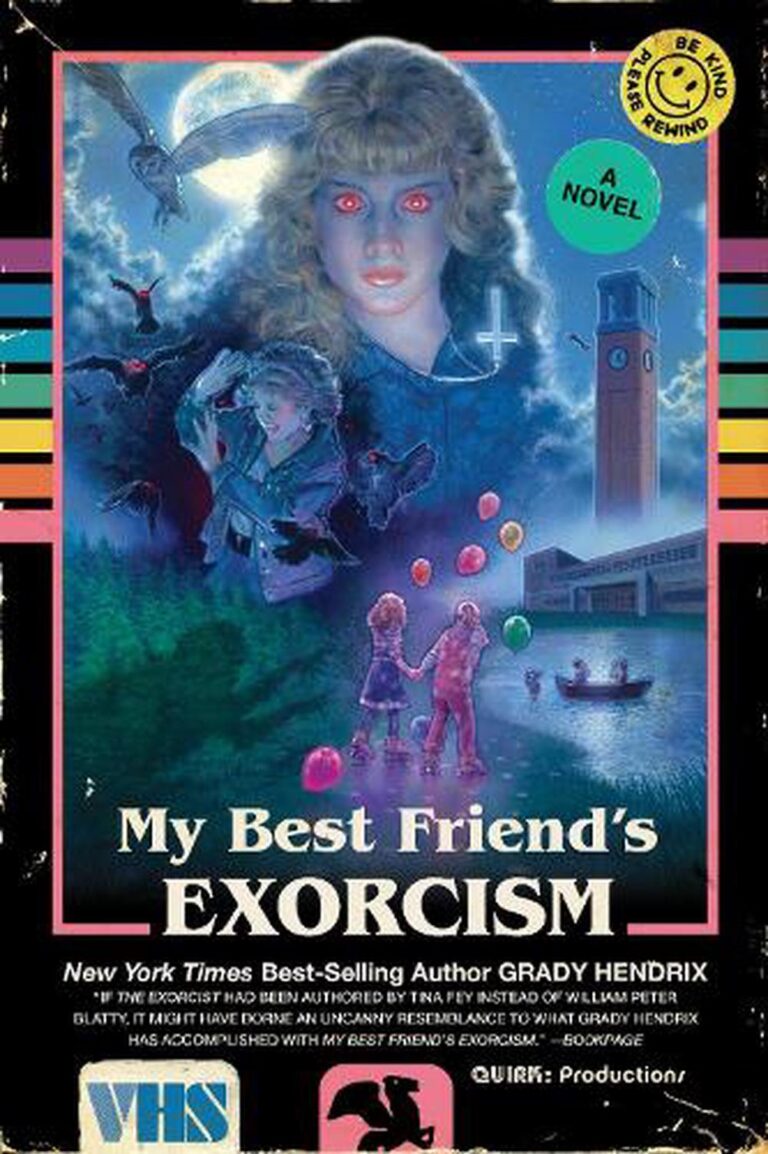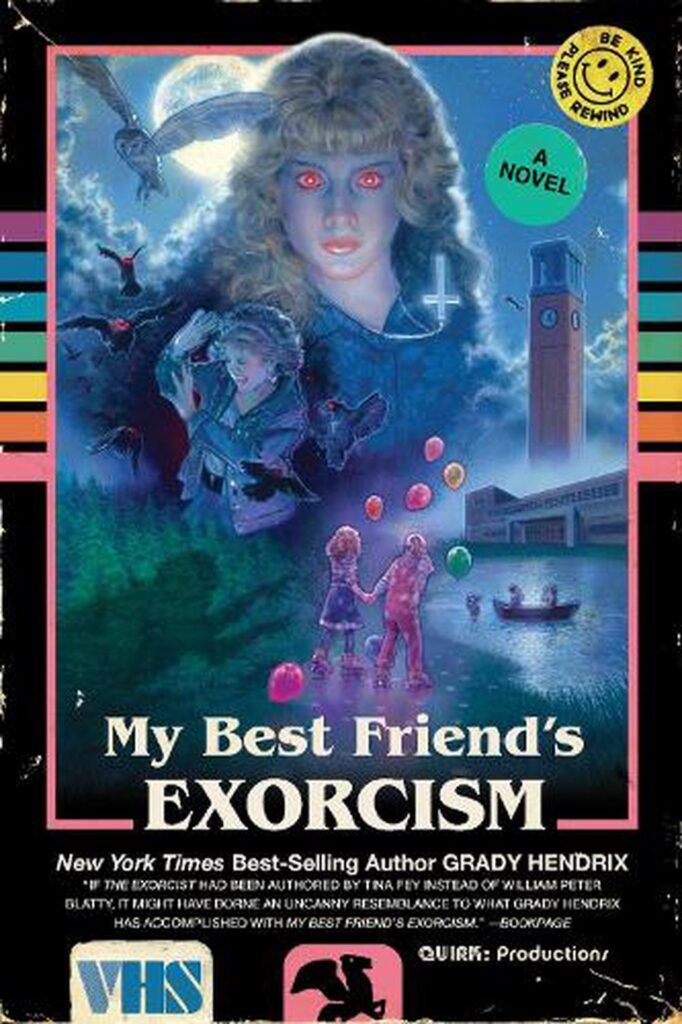 What I Like in My Best Friend's Exorcism
The effects are surprisingly good. While not overwhelming, these effects never take me out of the film. Even the less realistic scenes fit the overall tone while looking better than expected or required. The 80's aesthetic strengthens that believability.
Continuing that thought, My Best Friend's Exorcism oozes the 80's. Perhaps this comment should set an expectation for the viewer. I can't exactly comment on the accuracy of the era, but it certainly fits the era of film. If 80's films don't interest you, consider looking somewhere else.
While I don't meet the target audience, the jokes land and provide an enjoyable horror comedy feel. My Best Friend's Exorcism focuses more on comedy than horror, but this remains a common trend in horror comedies.
The performances remain strong throughout, with leads Elsie Fisher and Amiah Miller pulling off that best-friend chemistry. The cast purposely captures that 80's nostalgia. Added to the campy nature of the film, one might grow irritated with the acting choices. For me, it certainly fits with the tone and setting.


Tired Tropes and Trigger Warnings
Drug use might deserve a mention on this list. While I don't find this egregious, I imagine this point, or some other technicality, earns the film its undeserved R-rating.
The possession lends itself as a rape allegory, with some characters even believing this to be the trauma Gretchen Lang suffers from. While this isn't the case, the conversation remains for those who want to avoid such material.
Body horror describes a few scenes of the film, though sparingly. However, one scene convinces me to bring this up for those who get squeamish at the cracking of bones or slimies in the body.
A character is tricked into outing themselves and faces some homophobia because of it. This homophobia is rightfully taken as cruel, not condoned in the slightest, but it remains potentially triggering and deserves mention here.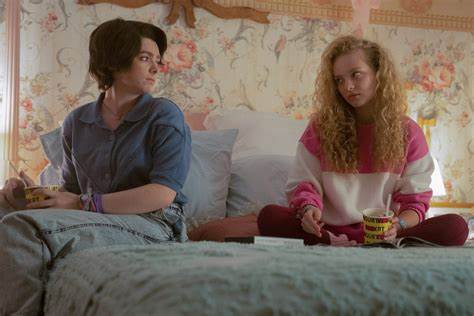 What I Dislike, or Food for Thought on My Best Friend's Exorcism
This film seems to earn its R-rating off some technicality. It is neither raunchy nor gruesome for those expecting that from their R-rated horror films. For me, it's more an issue of setting expectations. I expect my R-rated horrors to hit hard. My Best Friend's Exorcism doesn't.
It would be unfair to expect something like Jennifer's Body, as this is a lighter and zanier film. There are elements of sisterhood and bodily autonomy that echo the cult classic, but My Best Friend's Exorcism remains an entirely campier affair.
In terms of performances that lack the intended impact, three over-the-top anti-drug spokesmen outstay their welcome. It's clearly a jab at D.A.R.E., which certainly works in increments, but then one character becomes an important part of the plot and still keeps his caricature.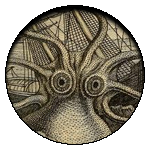 Final Thoughts
My Best Friend's Exorcism fits the taste of an 80's horror comedy fan. Don't expect to be frightened at any point, but the comedy lands well enough. The film knows its niche and hits most of its targets. It's hard to say if the film will stand the test of time, but it certainly earns its runtime.

(3.5 / 5)