Welcome to Haunted MTL's ongoing coverage of Shudder's original series, Creepshow. The last episode was a combination of one of the best installments the show had and one of the weakest, which made for a fairly strong half-hour overall because even a week Creepshow segment is good anyway. This week, however, both installments are pretty great.
---
"The Companion"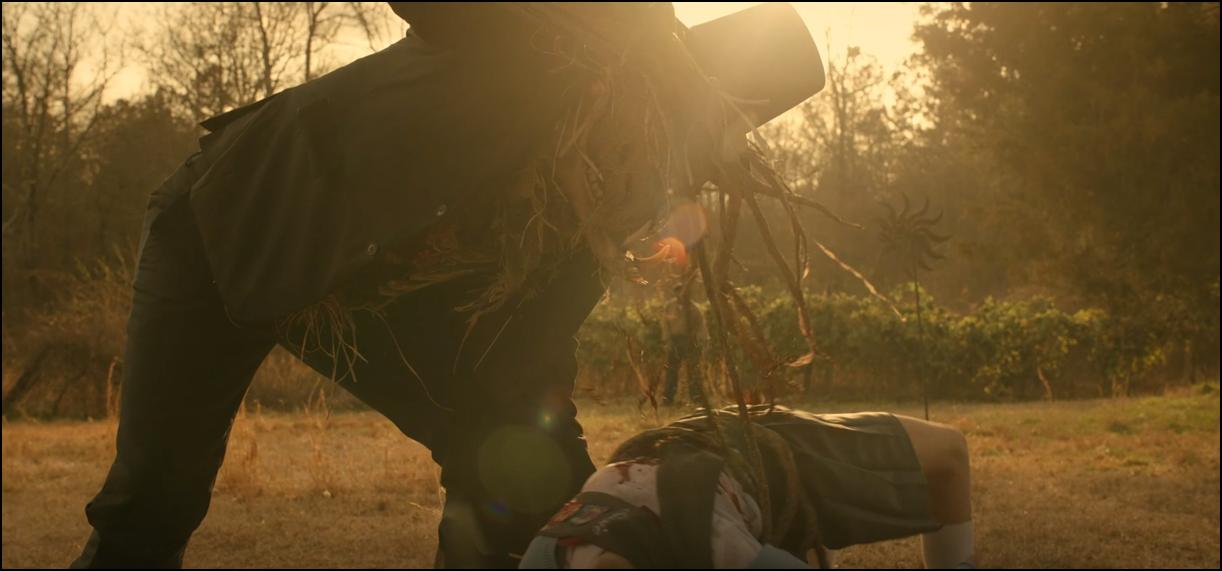 David Bruckner directs and Matt Venne writes an adaptation of a short story. The original short story was written by Joe, Kasey, and Keith Lansdale. It's a family affair this week. This is Bruckner's sixth segment of the show thus far. His highlight, however, is still "The House of the Head," but he also directed the fantastic "The Man in the Suitcase." Venne has written for Masters of Horror, Bag of Bones, and the 2013 sequel to Fright Night.
"The Companion" is a lean little tale that stars Logan Allen, Dylan Gage, Voltaire Council, and Afemo Omiliani. The impressive, sinister scarecrow is performed by Carey Jones, a veteran make-up and SFX talent who has had quite the resume.
The story has that certain quality that I felt was missing from last week's "All Hallow's Eve," and that quality is a certain sort of meanness. The story follows a kid, Harold, on the run from his bully, who just happens to be his older brother, Billy. During his escape, Harold stumbles onto an abandoned farm and awakens a vengeful scarecrow. He later finds the corpse of the farmer, face blown off in gruesome detail, who has left behind a note telling a sad tale. It's very much a play on that Frankenstein story of the unintended consequences of creating life, and for the most part, it works. What really sells the episode, though, is the fact that Harold learns absolutely nothing from his traumatic experience. Instead, he buys in and uses the scarecrow for vengeance.
Bottom Line
"The Companion" is pretty great. There are some choices that feel like they could have been reconsidered. The kindness of the character of Smitty, for example, feels a little wasted. He shows up, ends up being a cool kid, but then leaves and has no real effect on the story.
That being said, the usage of the comic panels to show the passage of time in the farmer's narrative is inspired and one of the more interesting ways the comic trappings have inserted themselves into the episodes.
Plus, that scarecrow was really cool. Good stuff.
(4 / 5)
"Lydia Lane's Better Half"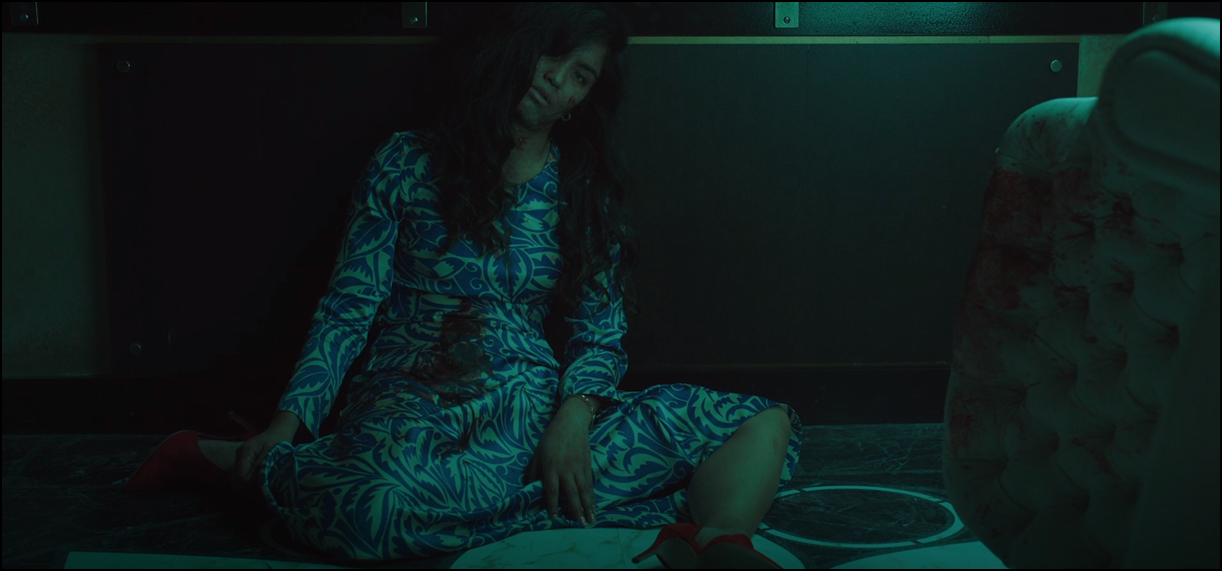 The second segment of the evening is directed by Roxanne Benjamin. John Harrison handled the teleplay of the story which was developed by Greg Nicotero and Harrison. Roxanne Benjamin has a solid list of production credits, such as with the V/H/S franchise. Most of Benjamin's directorial credits revolve around short-horror such as Southbound and XX, making her a great fit for Creepshow. Harrison and Nicotero, of course, are horror veterans who need no further introduction.
The episode, which plays out like the most messed up take on Weekend at Bernie's ever, is anchored by the incomparable Tricia Helfer as the titular Lydia Layne. Helfer holds her own in what is, in many ways, a one-woman morality play with Danielle Lyn spending the majority of her appearance as a vengeful corpse.
"Lydia Lane's Better Half" is wonderfully dark and grimy in tone, not texture. Visually there is a wonderful cinematic polish to the episode. Neither Lydia or the soon-to-be-dead Celia are good people and the episode is a series of escalations and terrible ideas that play out as you would expect. Creepshow segments are at their best on a small scale, and "Lydia Lane's Better Half" is a prime example of this. Most of the story takes place in an elevator, stuck in the aftermath of an earthquake. It's wonderfully screwed up, forcing Lydia to directly confront her actions. Meanwhile, Danielle Lynn, as the corpse of Celia, proves to be a powerful performer with just dead-body language and accusatory stares alone.
The show also has an absolutely fantastic head injury. One for the ages.
Bottom Line
"Lydia Lane's Better Half" is a strong contender for an iconic segment in this series so far. It's just mean, mean, mean, and filled with terrible decisions that play out about as well as you'd expect. It also feels the most thoroughly modern of the segments thus far, dealing with themes of finances, same-sex relationships, and even a completely unintentional but timely Hong Kong mention. Some of the segments have clearly been contemporary, but this one just feels a little more timely than those.
(4 / 5)
The Creep Factor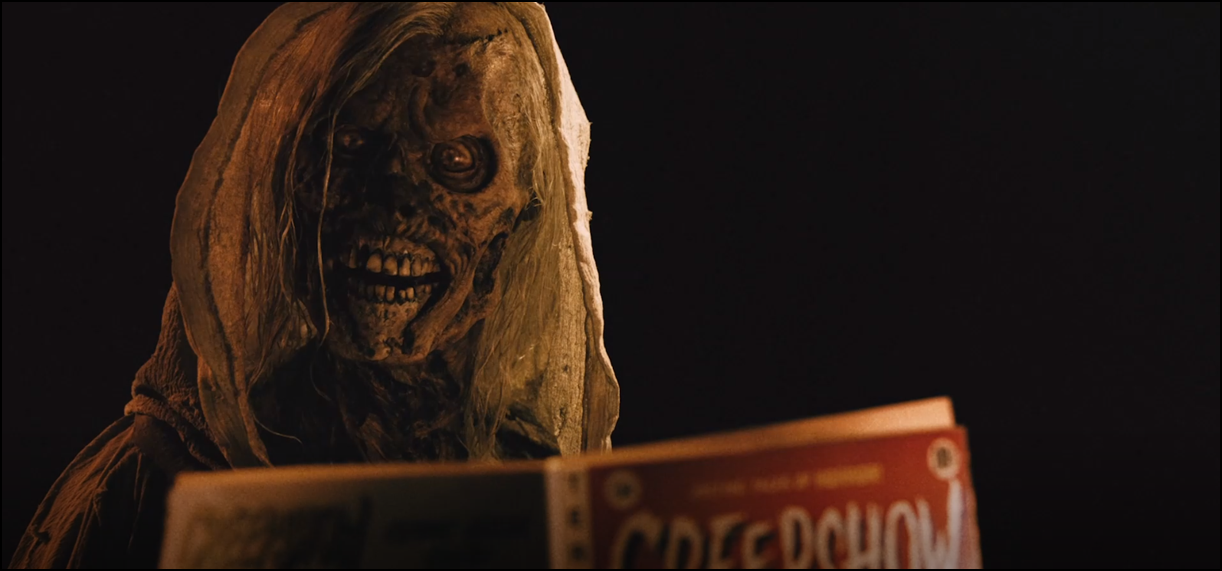 We don't get to spend a whole lot of time with the Creep this week. But we do get a rather infectious laugh from the Creep as they read a magazine.
Actually, what gender is the Creep, anyway?
We do get a neat little bonus in "The Companion" as a Creepshow comic works its way into the frame, and the Creep also finds a way to observe the ending of that same segment, first-hand, lurking right outside the window.
---
We hope that you enjoyed our coverage of the first installment of Shudder's Creepshow. Creepshow will air on Thursdays around 9 PM EST on Shudder. Haunted MTL will be covering the whole 6 episodes of the first season.
Most true crime content includes a dramatic courtroom scene. Two dashing lawyers face off, defending their clients no matter how gruesome their crimes were.
While there was a courtroom scene, it wasn't exactly what I expected. It's something that, again, I don't think I've seen before.
Let's discuss.
As the title would suggest, most of this episode was from Lionel Dahmer's point of view. And Lionel, it should go without saying, is not in a great place right now. His son, who he loves, is in a hell of a lot of trouble. And Lionel is doing his best to make this whole mess not his fault.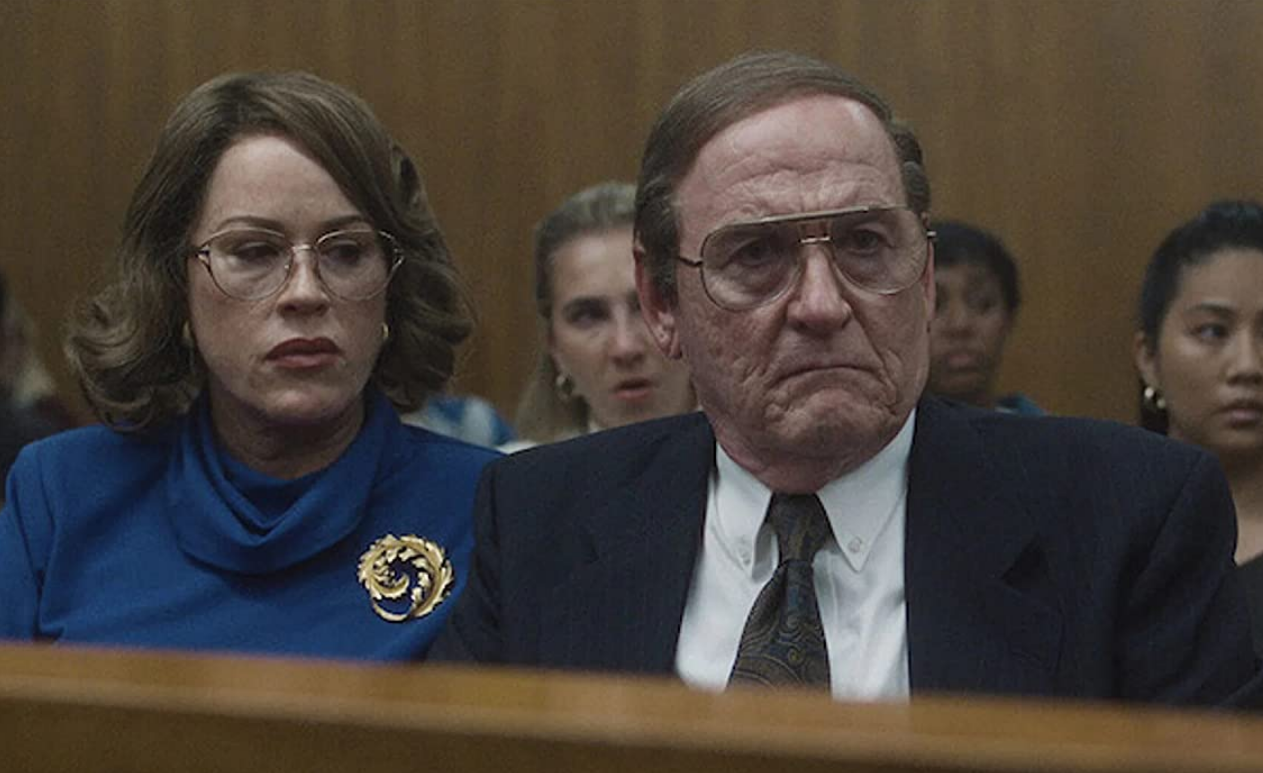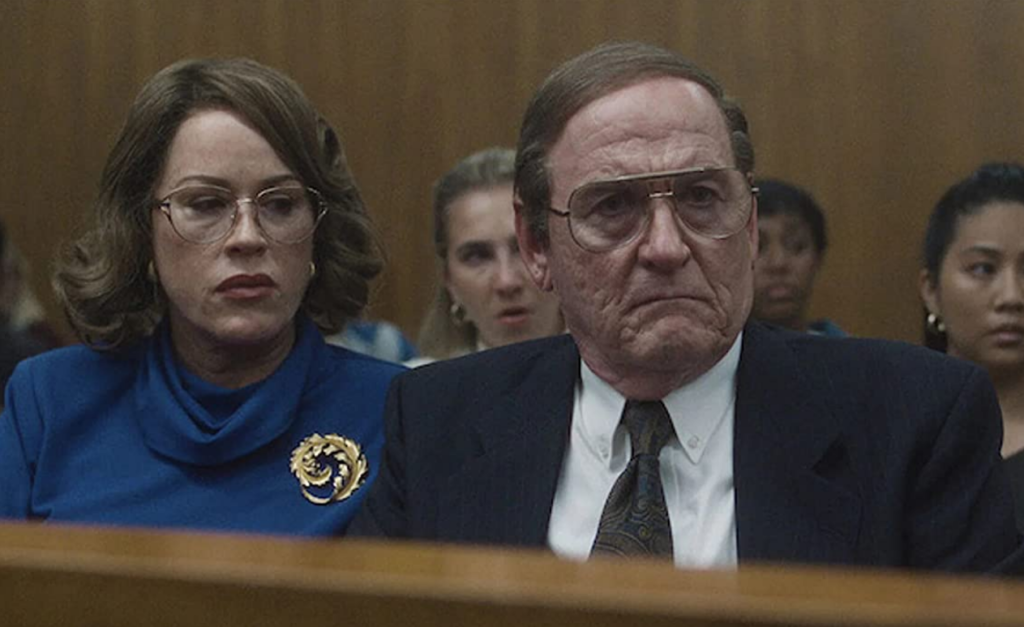 The fault, as far as he's concerned, lies with Joyce. It should be no surprise to anyone that Joyce doesn't agree. She's been doing her best to distance herself as much as possible from her oldest son and former husband as possible.
This doesn't work, as reporters find and hound her just the same.
With Jeff in jail, an angry population doesn't have anyone to turn their anger on, except Jeff's family. And they are all getting harassed. Jeff's grandma, suffering from dementia, is having her home raided by the police. People are coming forward, claiming to be Jeff's friends from childhood. We know that's a like, Jeff didn't have any friends. Accusations are flying against Lionel, that he sexually abused Jeff when he was a little boy.
All in all, it's hard to not feel bad for the Dahmers. Yeah, they were bad parents. They made some pretty serious mistakes. But honestly, no more than lots of parents. And most people don't go on cannibalistic murder sprees.
Now, to the court scene. Honestly, this was so hard to watch.
Dahmer's attorney tried to convince him that he can plead insanity like Ed Gein. On the off chance you don't know who Ed Gein is, he's the notorious serial killer who inspired both Norman Bates and the Texas Chainsaw Massacre. He killed women who resembled his mother, cut them up, and did stuff to them. And yes, just like it says in this episode when he was caught he sold himself out for an apple pie with a slice of cheddar cheese on top.
Gein spent the rest of his life in a mental ward, and Lionel would like to see the same for Jeff. It's hard to argue with him.
But that argument fails. And before sentencing, the families of the victims are allowed to speak.
They have a lot to say.
This is what I meant when I said the courtroom scenes were unusual. We saw non of the actual trial, it was hopped right over. This is normally a dramatic moment in true crime shows. Instead, we see the impact that these murders had. Dahmer's actions destroyed his family. He destroyed the families of the people he killed.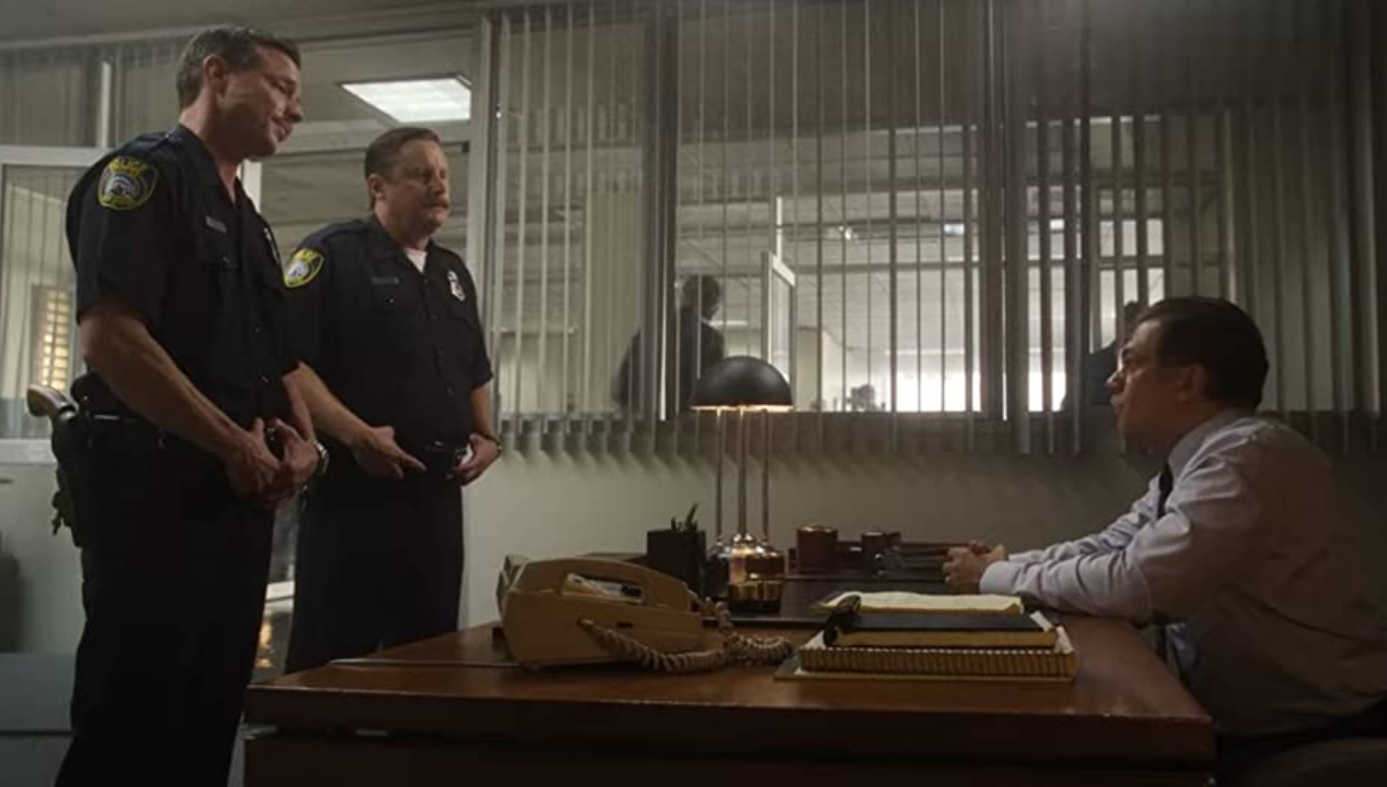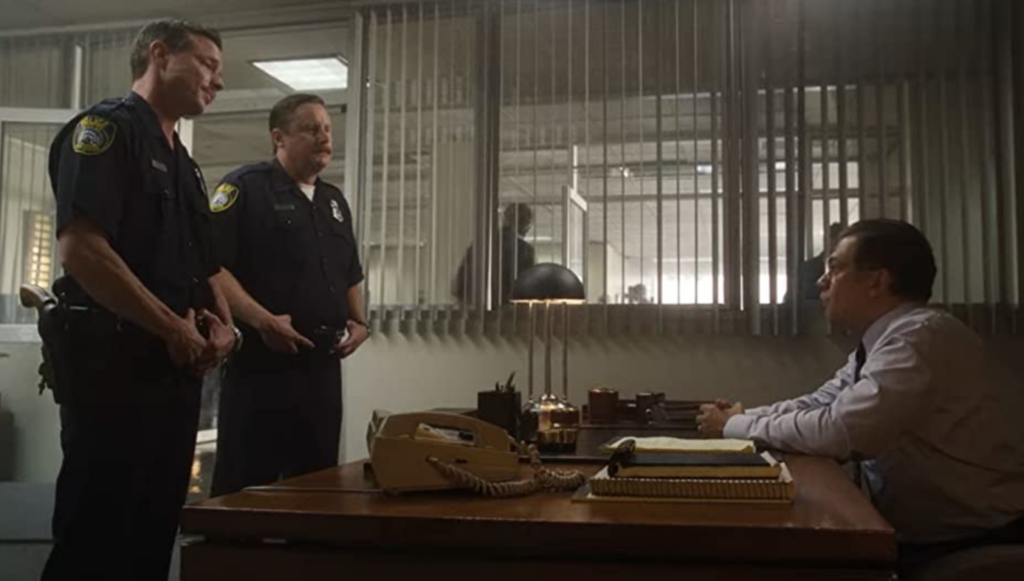 There is so much collateral damage when a life is lost. And that, I think, is what this episode is truly about. The extensive, heartbreaking collateral damage of Jeff Dahmer.
With Dahmer sentenced to fifteen life sentences, I'm honestly not sure how we still have two episodes to go. One I could understand, but two seems a bit much. I'm hoping that the creators have some additional chapters of the story that we haven't yet explored.
I guess we'll have to see. 
(3.5 / 5)
"The Menu" Gives Us A Bloody Good Time
Writers Seth Reiss and Will Tracy have outdone themselves with the plot of "The Menu." Spoilers ahead!
The Plot
Yes, chef!
Tyler and Margot are attending a high-class restaurant located on a remote island for the meal of a lifetime. This meal comes at a steep cost: thousands of dollars ($1,250 a plate to be exact) as well as possibly your life. Those who attend the dinner at Hawthorne are the type who frequently ask: "Do you know who I am?"
Chef Julian does not care who you are, and after years of serving the privileged elite, he has had enough. Julian commands his chefs and the room with a loud clap, his chefs answering him in tandem with a bone-chilling "yes, chef." Ralph Fiennes as Julian gives a shiveringly scary performance. Julian commands the space as well as everyone in it and Ralph Fiennes is dastardly, dark, and daunting.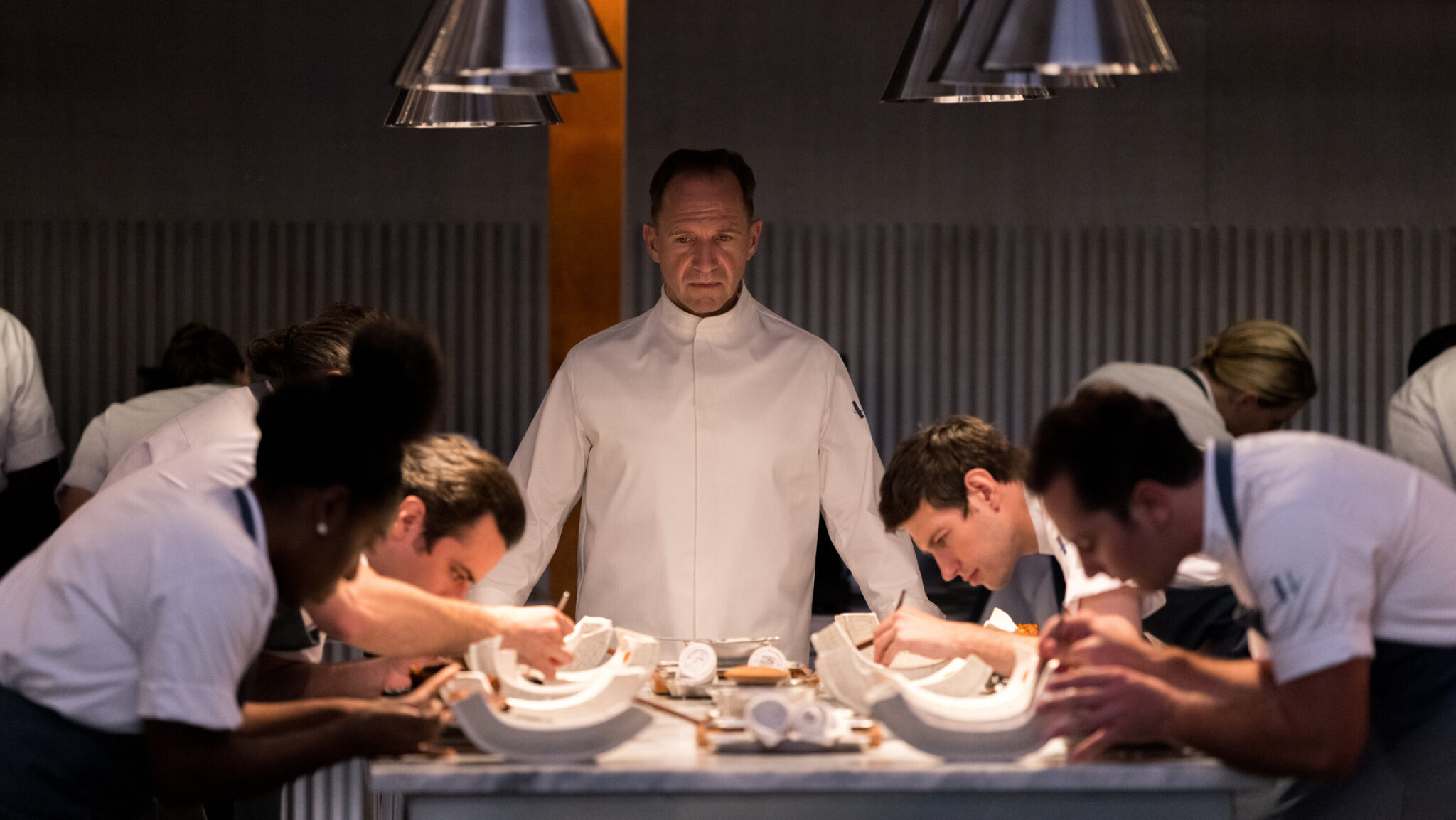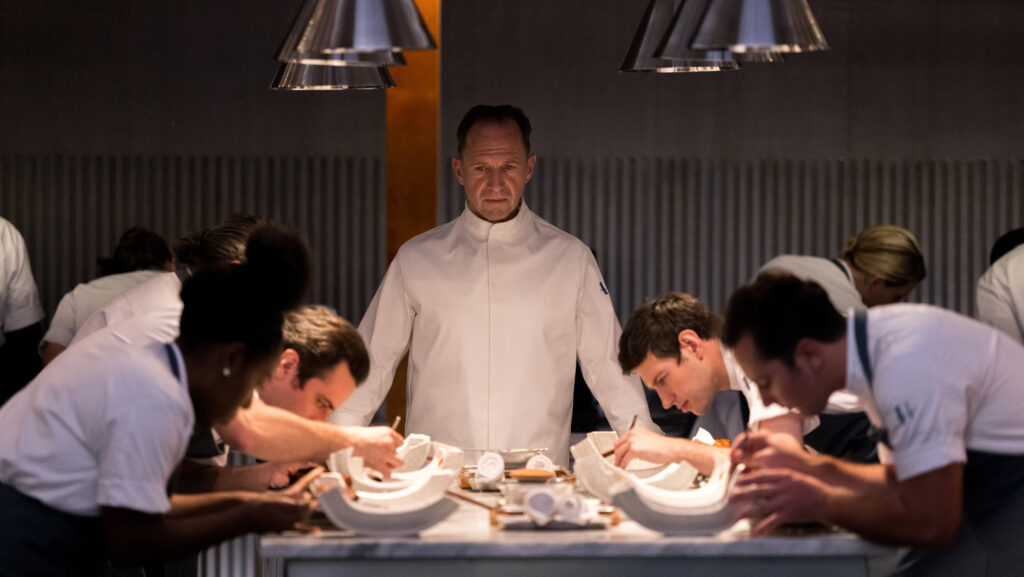 Chef Julian's sidekick is creepy herself, doing his bidding just as the other chefs do. Female subservience is addressed through this side character as well as sous chef Catherine, who created one of the courses that is served to the guests.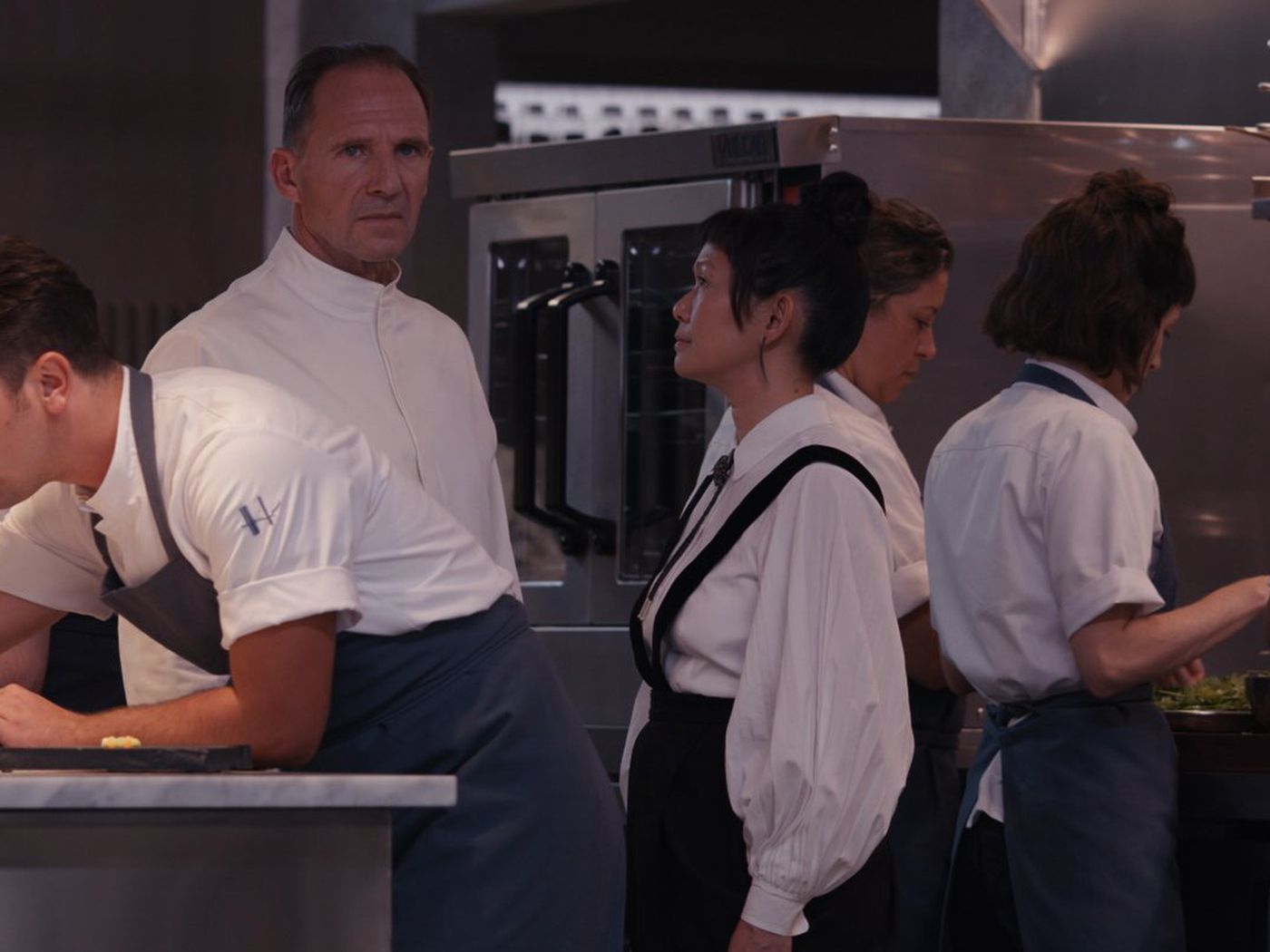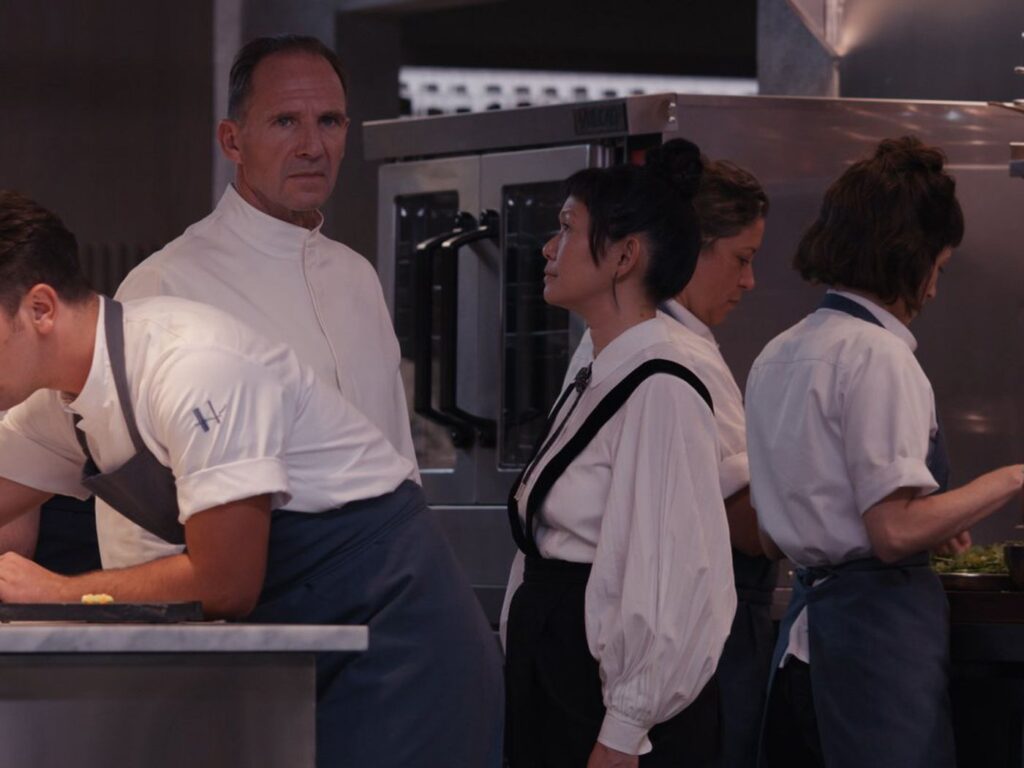 This course is introduced by Catherine telling the story of how Chef Julian tried to have sexual relations with her. When she denied him, he refused to look at her in the eye anymore. Before Catherine serves her dish, she stabs Julian with scissors in the thigh, getting revenge for his behavior. Julian acts none the wiser, pulling the scissors from his thigh before serving the diners the hunk of meat with the same kind of scissors plunged into it.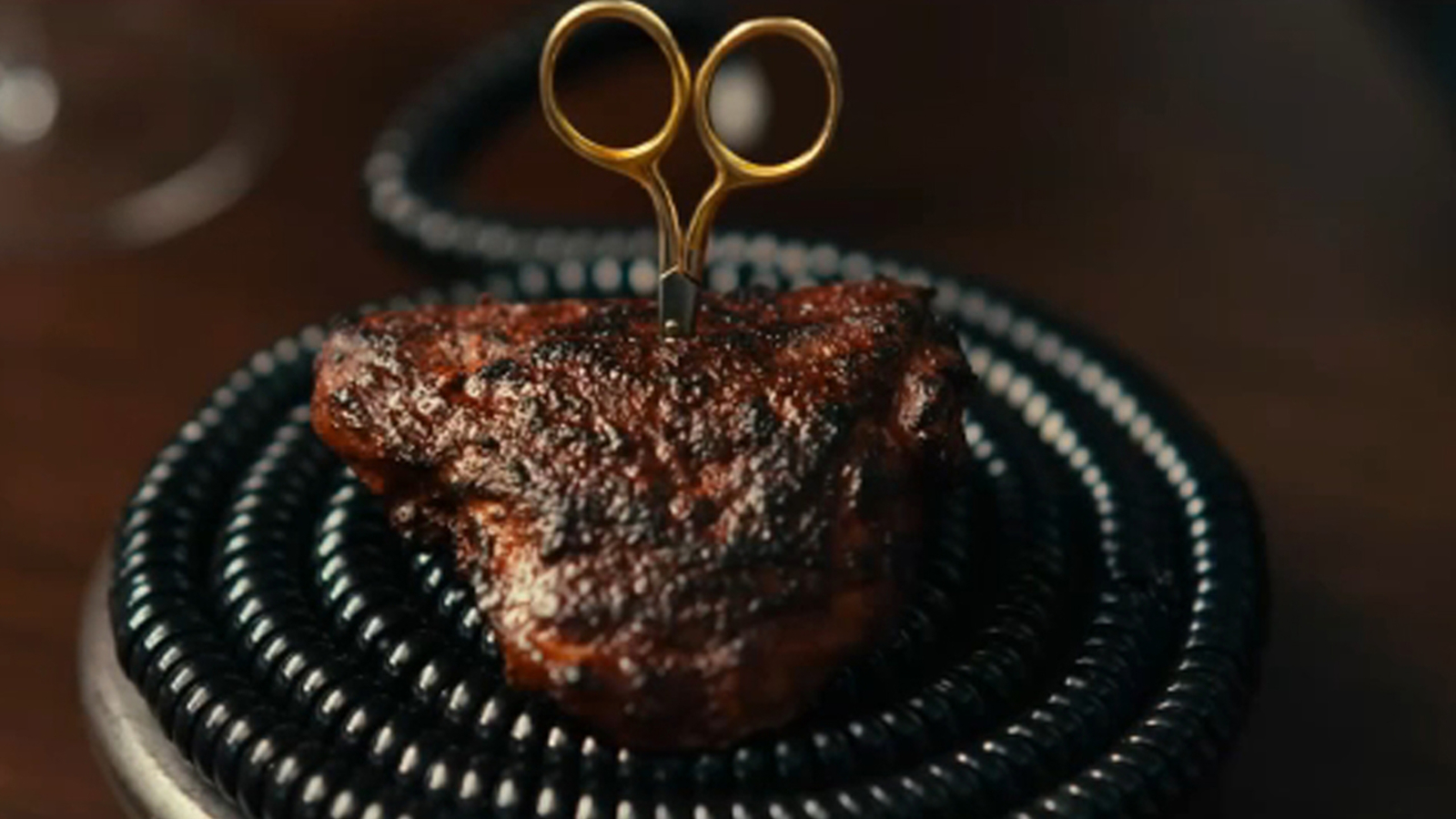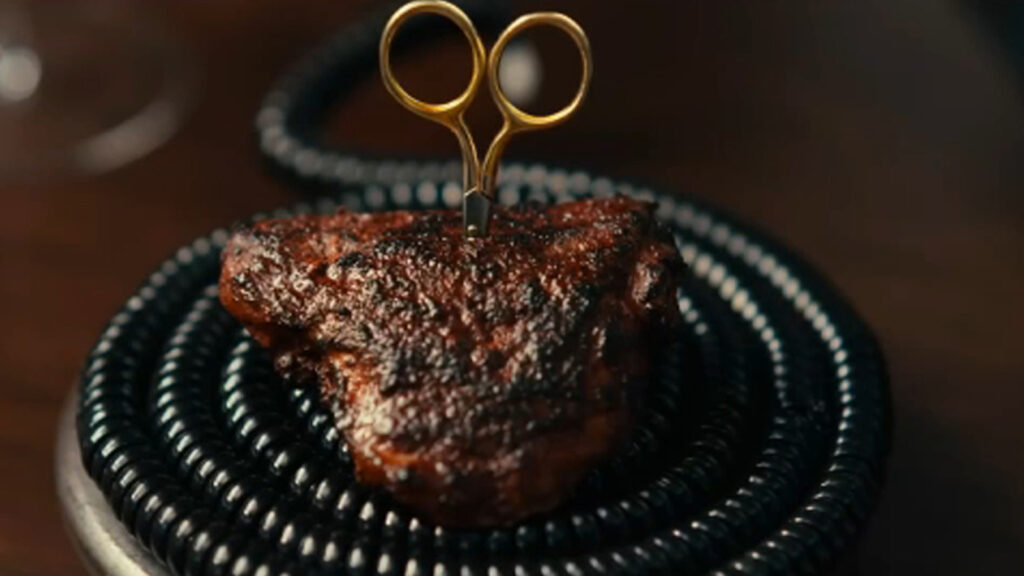 Everyone obeys Chef Julian except for Margot. Women and men in the room accept that this is their last night alive, not protesting too hard or trying to escape. Margot is the only fighter. Perhaps this is why she escapes.
The Verdict
In a world where we have seen a rise in slasher films, The Menu lives in a place between darkly satirical horror and a slasher film.
The Menu is whip smart, remarking on our class system, displaying those who can afford a $1,250 a plate meal on a remote island against the thought of the character of Margot. Margot is revealed halfway through the film to have been a sex worker, hired by Tyler to attend the dinner. His girlfriend, the original intended guest, had broken up with him and Tyler knew that there was never a table for one at Hawthorne.
Tyler knew everyone would die at the meal, yet still involved Margot, an innocent bystander who turns out to be the only one that makes it out alive. Chef Julian does this as it is clear he believes Tyler tainted his final menu experience by not bringing the guest who RSVP'd.
Tyler gets what is coming to him in the end. He comments on each course in mostly negative ways and snaps photos (which was expressly forbidden). Chef Julian asks Tyler to make him a meal since he knows so much more than anyone about cuisine. When Tyler's meal doesn't live up to Chef's expectations, he is killed.
Margot is juxtaposed with the famous and rich at the dinner who can afford such an experience while she is being paid to attend. The film remarks on the lavish actions of the rich in the movie versus those who may not know where their next meal will come from.
Final Thoughts
The food that the film shows is gorgeous and conceptual, Chef Julian giving backstory to each dish. The film is the darkest version of Hell's Kitchen I've ever seen. As a foodie and a horror lover, this film touched on all my favorite genres. It was deep, had something to say, and screamed it at the top of its lungs.
I respect the filmmakers and writers of this movie as it was compelling, engrossing, and kept me guessing, all while remarking on important social themes.

(5 / 5)
Episode seven of Netflix's Dahmer brings the spotlight, finally, to the hero of our story. Glenda Cleveland. 
Glenda was Jeff's neighbor. And honestly, I can't think of a worse neighbor. A horrific stench is always coming from his apartment. He has people over, and they make a lot of noise.
While they're dying.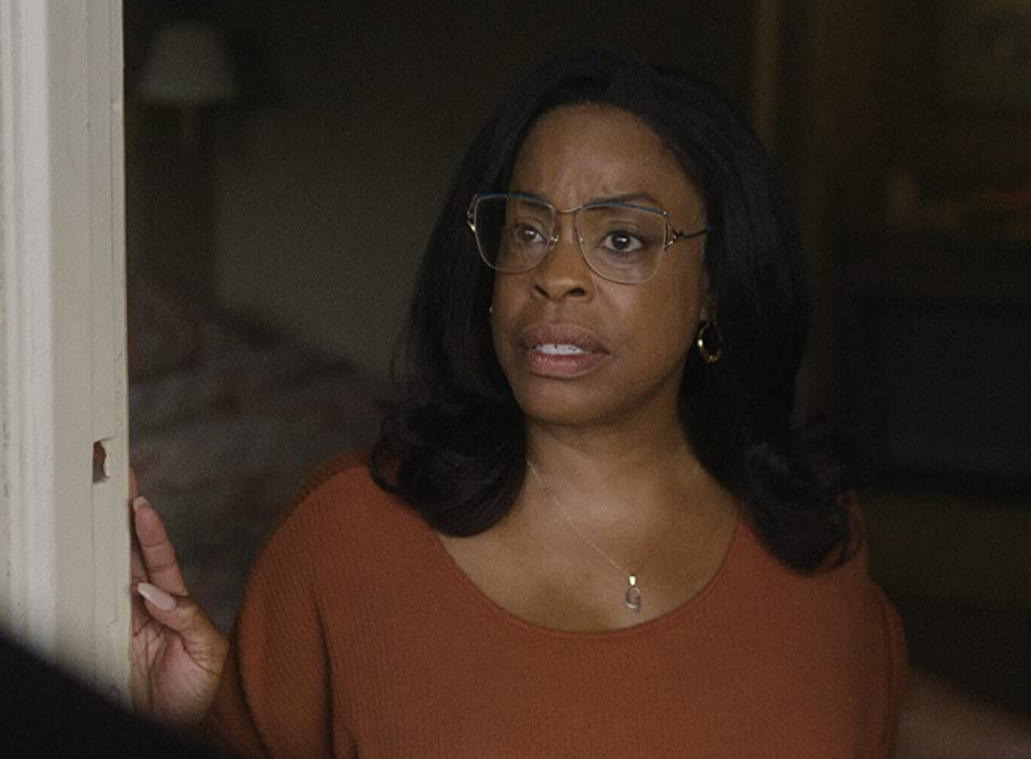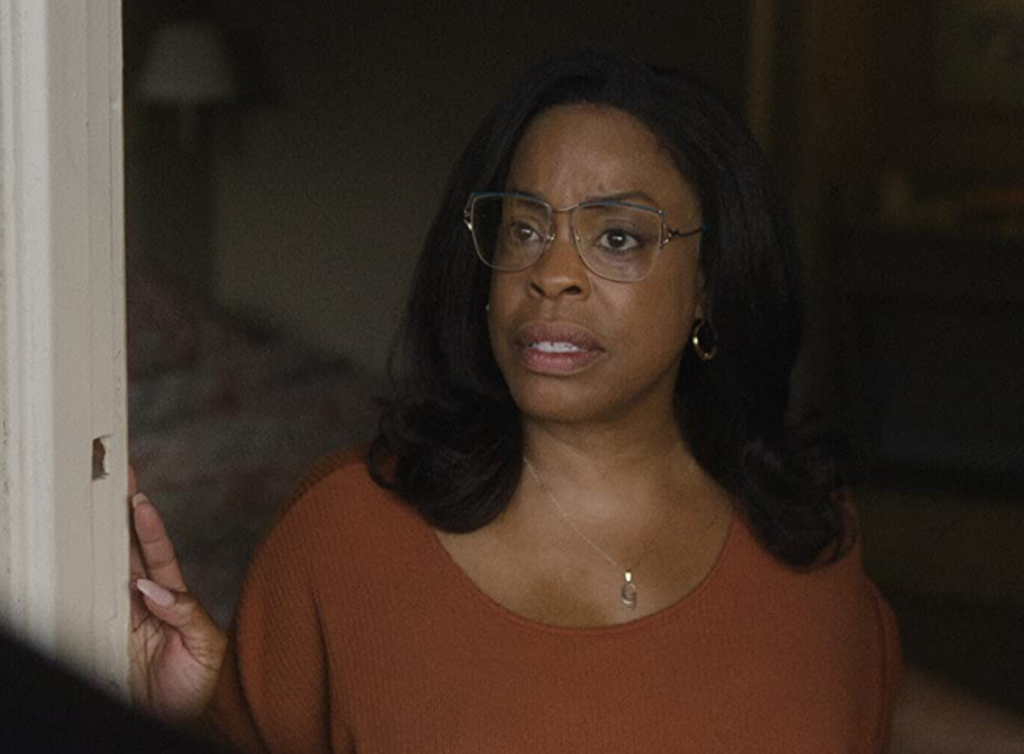 If you'll recall episode one of Dahmer ended with all of his neighbors, including Glenda, being forced to leave their homes. The whole building was declared a crime scene. They're not given any place to go, of course.
Everyone's got a few thousand dollars socked away for an unexpected motel stay, right?
Fortunately, Glenda was able to get a motel room. And that's where she is when Reverend Jesse Jackson finds her.
Glenda pours out her story to Reverend Jackson. The rest of the episode consists of her dark and troubling encounters with Dahmer.
The most compelling scene, I think, is when Dahmer brings Glenda a sandwich. He's being evicted, and he knows it's because she's been complaining about the smells coming out of his apartment.
He tries to pour on his little boy charm. He tells her that he got his apartment cleaned, just for her. He brings her a pulled meat sandwich as a present.
Notice I don't say pulled pork, because I'm fairly sure it was human meat. Or, it was just drugged.
Or both.
This episode just hummed with tension and rage. I was so happy to see Reverend Jackson tear into the police in the most polite way possible. I hated seeing what Glenda went through. And even though I know she lives through this horrific encounter, I held my breath the entire time she was alone with Jeff.
Dahmer is certainly not afraid to jump back and forth between the past and present. But they are careful to never do it in such a way that I felt lost. And I honestly think this was the best way to do it. 
The reason for this is that it adds a level of suspense that Dahmer might have lacked without it. Suspense is something that true crime stories can lack. Especially well-known ones. We have heard this story before. We know how it ends. But in presenting the tale this way, first from one point of view and then another, it reveals sides of it that we may not have seen before.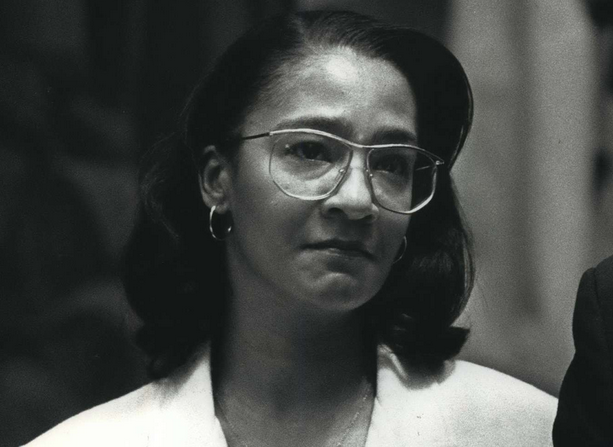 I loved seeing the story from Glenda's point of view. She was brave, determined, and selfless. She had every right to be furious at the way the police dismissed her concerns for years. And yet she continued to handle everything professionally. She never stopped trying to help people, even when no one else seemed to care. And for that, she is a true hero. 
(4 / 5)