Frank's Hideaway by Bryan Fontenot
Last week I received word that Frank had died in a bar fight, his throat cut by another man. Frank wasn't a friend, not for a long time now, but when we were twelve years old, we had been best buddies. I was overdue to visit a few relatives, so I came down for the funeral, and now, with the burial over, I decided to take a walk down here, to the little hideaway we used to visit. When we were middle school friends, this little patch had been a refuge, a place to play hooky, sneak a little chewing tobacco, and play cards. But that was before Frank murdered his kid brother Joe. It was this awful patch of ground that had changed Frank.
I'm not going any closer. This is far enough. It smells rotten here, the air heavy and putrid. I'm convinced now this is truly an evil place. It's really just an ugly pimple of dirt and bushes, no bigger than the backyards I remember from childhood. Frank's death brought me back here. I came because I needed to know if my memories were false memories, or the real thing. Now I know, because I'm not twelve years old anymore, but a highly functioning 25 year old, and this cesspool still feels like a crypt of demons.
I remember Frank telling me he had a "cool" place for us to hang out after school one day.
"Nobody knows about this spot," said Frank. "It's behind the subdivision, going towards the warehouses, where they keep all the rusty pipes. When the ground slopes down, the place is invisible from all sides. A crazy optical illusion, man." And he was right, it was a private place, ignored by most people. Happy, bright eyed, normal people would no doubt just go around this place, without even thinking about it, the way you step around dog poop, instead of stepping right into it.
"But it stinks here," I had said. "Smells like dead rats or dog crap."
Yet, he was so proud of the hideaway that I said okay, and we started going there to play hooky or just to hang out. One day it really reeked, and I walked up to the spot gagging. But there was Frank, laying on his side, reading a MAD magazine and eating a Snickers bar. It was then that I noticed the dead possum, only about ten feet from Frank. It was covered with buzzing green flies, the flies that only show up when something is dead.
"Jesus, Frank!" I called, covering my mouth and nose with my shirt collar. "What the hell, man. It smells horrible."
"He looked up, continuing to chew his Snickers bar, and started sniffing the air. Sniffing! Like he was trying to catch the subtle odor of distant wood smoke.
"I guess so," he said skeptically, then kept reading his magazine.
That's how it started. The place was a stinking, festering hole, but Frank didn't seem to notice, and slowly he began to change. Instead of shooting soda cans with his BB gun, Frank began shooting birds. One day he started torturing a large box turtle we had caught. I told him to stop and we argued, shoved each other, and then he killed the turtle. I left in disgust. His cesspool (a crazy optical illusion man) seemed satisfied somehow. It buzzed with flies and pukey little green shimmering beetles. Looking back, I think the diseased little pimple of dirt and bushes infected Frank with something dark and ugly.
That summer between seventh and eighth grade, I didn't hang out much with Frank. But sometimes I saw him walking back to his house from the old hangout. I couldn't understand why he would go there alone, to that haunted, boil of a place. Two events convinced me that Frank killed Little Joe that summer, although everyone else thought it was a terrible accident. Joe was a 6 year old, snotty nosed little brat, and I loved him. Everyone loved Little Joe – everyone except his big brother. I visited Frank's house the day before it happened, because Frank had called me on the phone and invited me over to see the new color television his dad had bought. So I was there when Frank's dad put the old TV up on the hallway shelf. I saw him carefully tape the electrical cord into a coil and tuck it away. So how come the police and neighbors all said that Little Joe had pulled the cord and caused the TV to fall on his sweet little head. Everyone wondered how anyone wouldn't know better than to create such a safety hazard. There was a lot of anger directed at Little Joe's dad. But I saw something else the morning it happened. I saw Frank climb out of his bedroom window and run towards his cesspool of a hideaway. Soon after, there had been frantic movement around the house, police sirens, a fire rescue unit. Little Joe was dead, his skull fractured by a falling Zenith television.
Why did Frank climb out the window? Why not use the door? And the look on his face as he started running for the hideaway, it was the look of a thing that enjoyed death – tongue sticking out from one corner, eyes too bright and lustful. I don't know if Frank just unwound the electrical cord and hung it so Little Joe could reach it (here little buddy, want to play? Pull the pretty rope Little Joe) or if he pulled down the TV himself. But I know he did it.
Suddenly, I feel like a dumbass for coming here.  What did it matter anyway?  So what that my best friend had turned out to be a sadistic monster.  Or more likely, it was just a freak accident, because that careless, screw-up of a dad put a busted television on a high shelf.  Maybe if I see Frank's and Little Joe's screw up of a dad in town, I'll bust his face before I leave.  Yeah, I'm a dumbass for coming back here, just wasting time and money.  I wasted my money on that flea bag of a motel where I rented a room.  If that arrogant little punk of a clerk is on the desk when I get back, I think I'll slam his head on the counter bell – just bounce his face up and down so the bell rings again and again and again!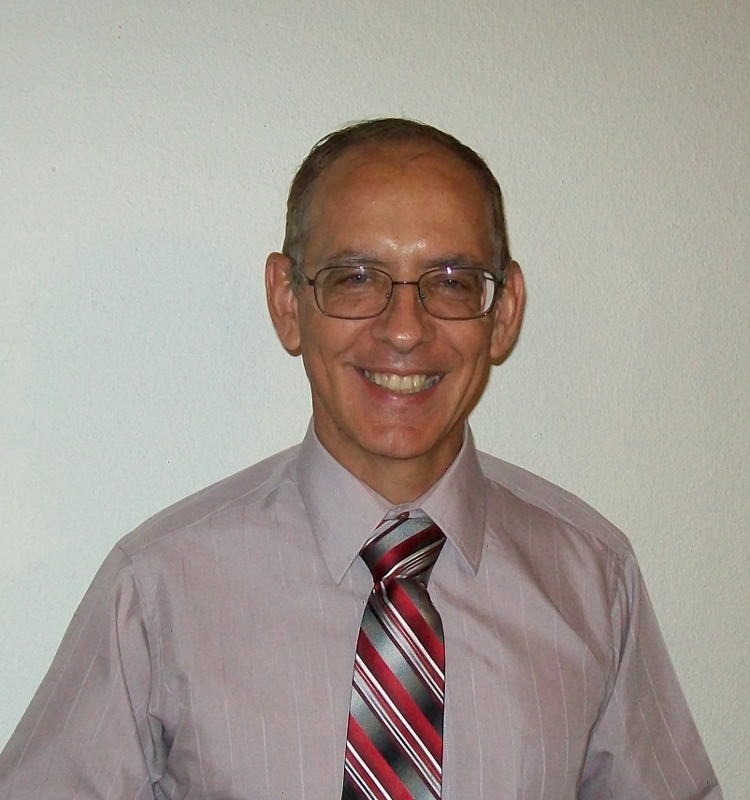 Bryan has written short stories, now and then, during the past ten years, and is working on a longer story. His favorite book is "The Pickwick Papers", but also enjoys mysteries, science fiction, and lots of horror stories. He lives near San Antonio, Texas.
LTD Tripped Out Motivational Posters
Tripped out… in case you just couldn't get enough of Everything Everywhere All at Once and the return of the infinite bagel with EVERYTHING on it…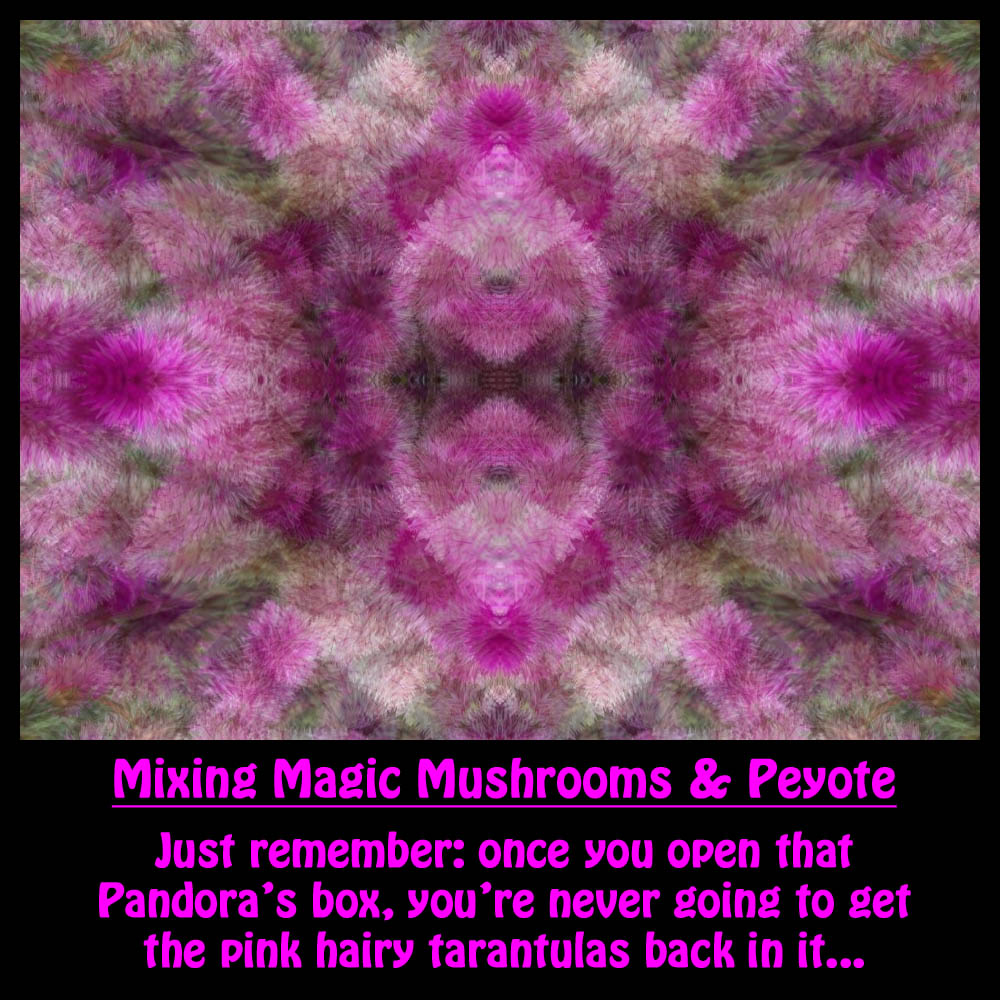 Artwork description: kaleidoscopic image of pink hairy horror (This is actually a fink fuzzy frond plant not unlike a Cockscomb but with longer thinner flowering feelers rather than the fuller protuberances you see on a full-bodied Cockscomb plant. I have no idea what it was, but it was very odd so I had to snap a photo.)
Image text reads: Mixing Magic Mushrooms & Peyote Just remember: once you open that Pandora's box, you're never going to get the pink hairy tarantulas back in it…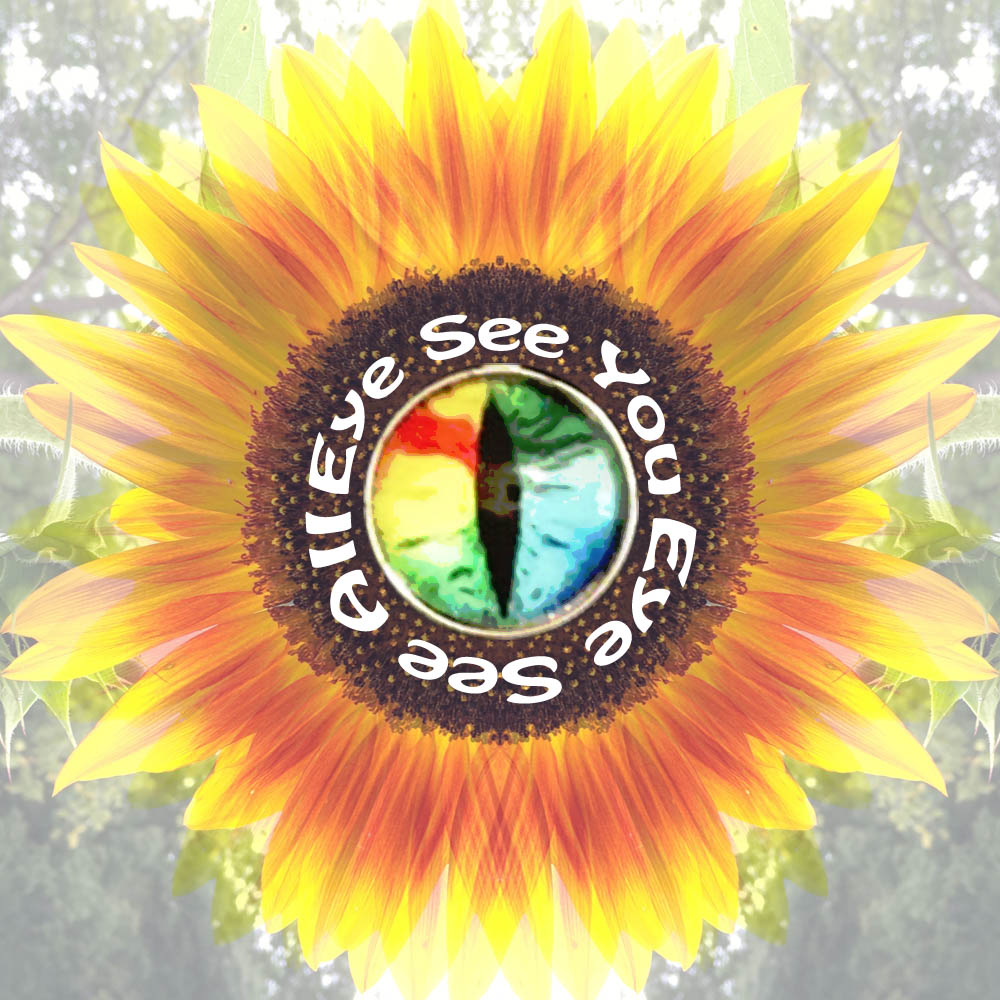 Artwork description: kaleidoscopic sunflower backlit by the sun with text and rainbow eye overlay
Image text reads: Eye See You Eye See All (in circle text so you can start and end reading wherever). In an ideal context this would be printed in the bottom of your tea mug or on a record that can slowly spin.
For more crazy tripped out fun, check out Weird Al's post on Craig's List…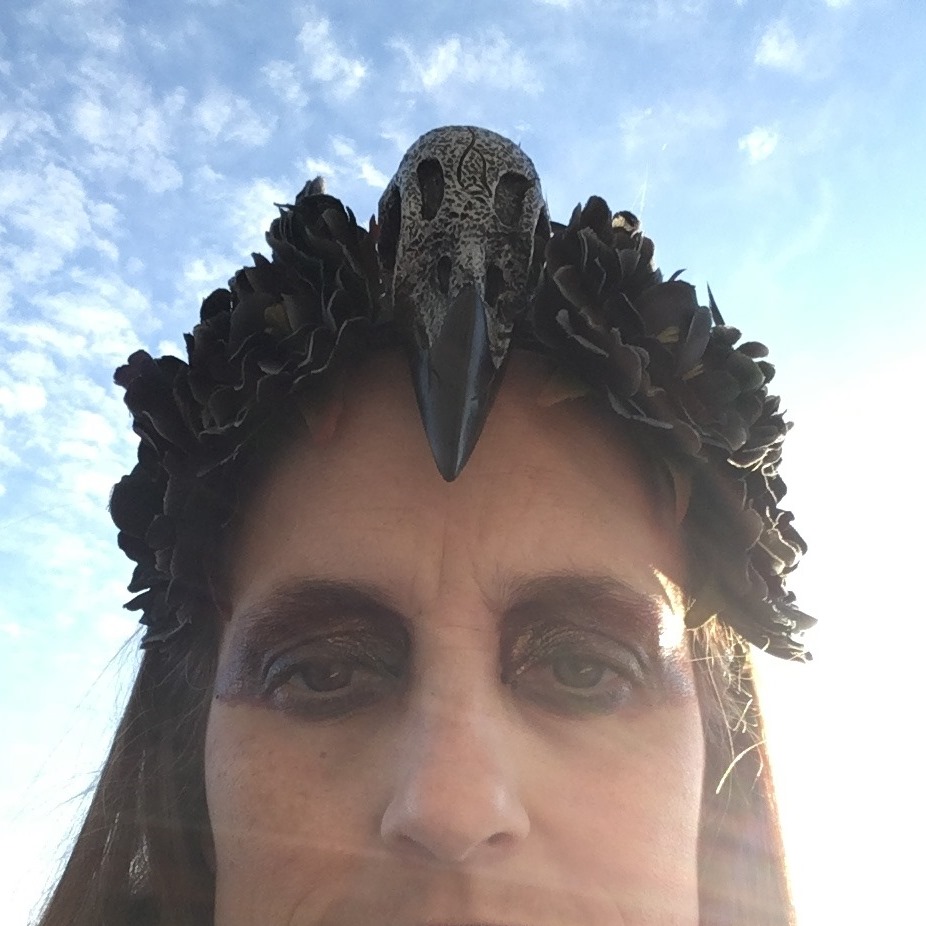 The Elves Reunion, a short story by Jennifer Weigel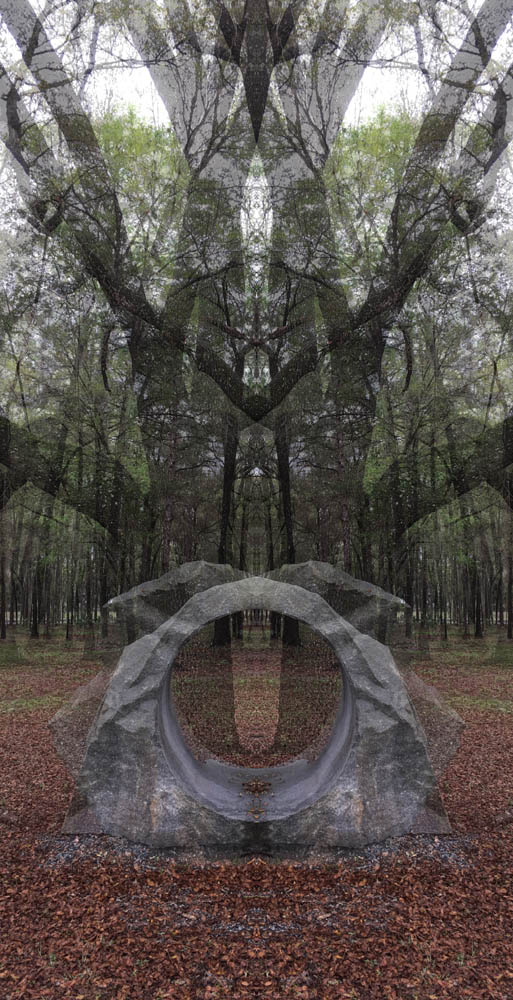 I had heard tale that The Elves dwell in these woods. Many underestimate The Elves; they have a fondness of heart for Tolkienesque Middle Earth fantasy stories and tales where Elves are the most highly civilized, virtuous and intelligent. They forget that those are just myths, save for The Elves being cunning. Remember that the Pied Piper was an Elf, and the children he took were not destined for such a glorious fate.
My sister lost her firstborn to The Elves. She hadn't noticed the Changeling until it was too late. Her baby had already long since been stolen away. She was so distraught she refused to eat or speak. She locked herself in her room. Or my family locked her into it as she succumbed to the madness. Such are the ways of the family, for all of our protection. We never question but follow as expected, as a means of self-preservation. It has kept us all alive.
But I couldn't get the sinking feeling out of my stomach; the grief became too overwhelming. That is why I came here. I know I will not be able to rescue the child, nor my sister. But I seek to avenge their meaningless deaths. To ensure that it doesn't happen again. My family will never act. I am tired of the Village Elders just shrugging these things off in hushed whispers and badly shrouded secrets. It happens time and again. We are all expendable. They never do anything.
So here I am, in the Elven wood. Alone. As soon as my family figures out that I'm here, they will disown me. They probably already have. Again, it is for our own protection. I'll be just another casualty of The Elves. Everything is so structured, so regimented. Anyone who dares act in opposition to the rules vanishes. We are all so afraid.
I lay in wait. It's just a matter of time before the portal appears. The Elves use the portals to travel across time and space. They appear where and when they wish. But this time, I will go through first. I know not what is on the other side, just that the portals allow only one to traverse in each direction. We will trade places, if only for a moment until another portal forms. Hopefully that will be enough time.
The trees shift and morph. Falling leaves drift slower and slower towards the ground. There is a stillness that I cannot fully express. My breath hangs heavy in the silent air. There is no sound, no smell, no taste. It is time. The hairs on the back of my neck and arms rise. I can sense the opening forming. There is an uncanny familiarity in this moment, as if I have been here before.
As soon as the portal opens, I dash through. But something isn't right. No one came through from the other side. Or did they? I cannot tell. I am alone, in limbo between states of existence. The world spins around me. I can feel the drift. Is this what death feels like? Cold unbroken silence? I feel distant eyes upon me everywhere, all around me, in the trees, the clouds, pinpoints of light that shimmer through.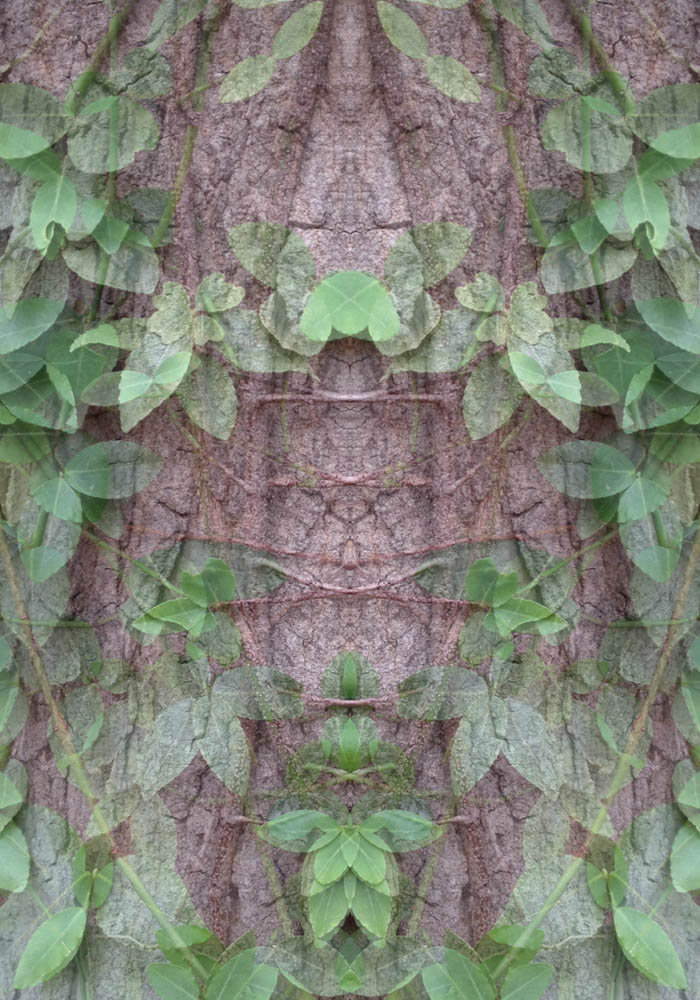 I wasn't sure what to expect. Maybe this is all according to plan. But who was orchestrating the exchange? My idea was only half formed in those passing pensive moments I am able to think for myself, few and far between. My family, the Village Elders… no one allows time for freeform thought. I hadn't considered what would happen after the portal exchange. I never really got past step one.
A voice greets me from the trees. It is hauntingly familiar but seems only a distant memory.
"I've been expecting you."
The world slowly comes into focus. Clarity restored, the leaves circle me in an embrace. My sister emerges, her dark eyes smiling. She cradles the baby in her arms.
"You made it. You escaped," she sings.
"I didn't see anyone," I retort, skeptical. I hadn't recalled having seen any Elves, dark nightmarish fiends that they are, wild, unkempt, uncouth. Savage beasts like Pan or Krampus. Is this an illusion? My sister seems so lifelike, so much herself. She is the joyful young mother I had known her to be. Filled with love and laughter. Light dances about her, and she shimmers.
"Not in passing," my sister clarifies. "You have been living among them your whole life. I had done so as well until the baby was stolen. My heart broke; I had to follow after. That was when I learned the Truth."
"Why do you think we are so sheltered? Why are we forbidden to do anything? They do so to protect us from the Truth about who and what we are," she continued. "We've spent our lives evading that which we truly know ourselves to be. We were the stolen ones, not the other way around…"
I notice that the portal I came through is still open, reinforcing my idea that no one had passed through the other way. It is as if the portal was opened specifically to call me through. My sister extends her hand, beckoning me to join her. There is a gleam in her eye I cannot pinpoint. She seems happy, but something still isn't quite right. I'm still uncertain why I am here, in this time and place, as if destined to be present in this moment, in this decision.
The Village has fallen away to the woods. There are no breadcrumb trails to follow home. The idea of home itself seems distant like yet another illusion. Nothing makes sense anymore. I am unsure whether I am coming or going. Two paths lay open before me. Which shall I take?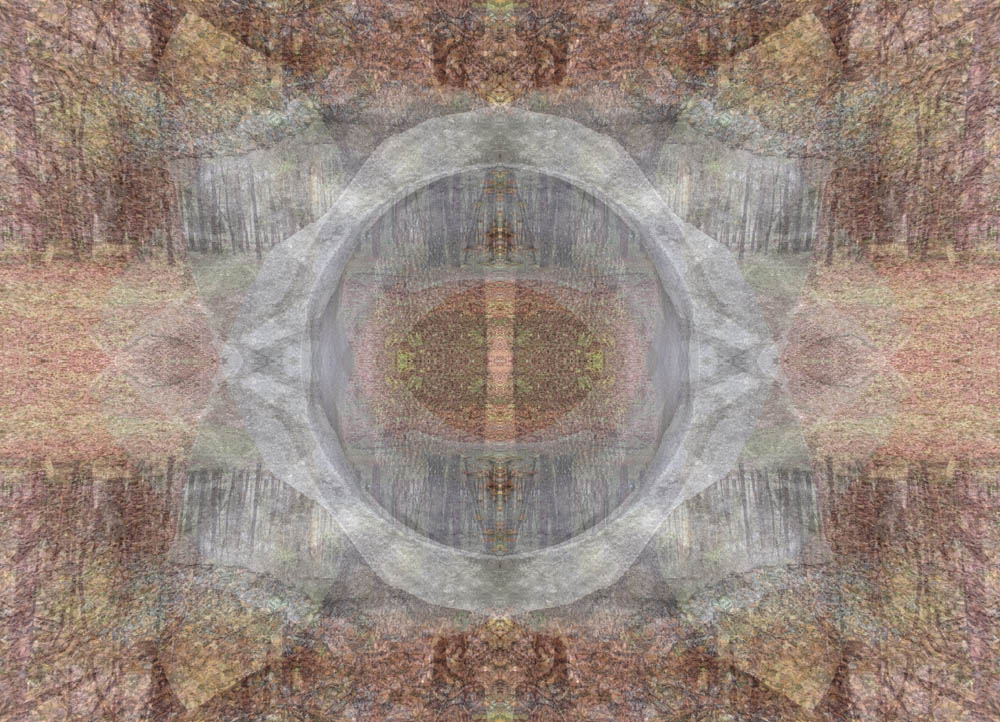 The trees are full of Elven magicks… Feel free to check out more of Jennifer Weigel's work here on Haunted MTL or on her writing, fine art, and conceptual projects websites.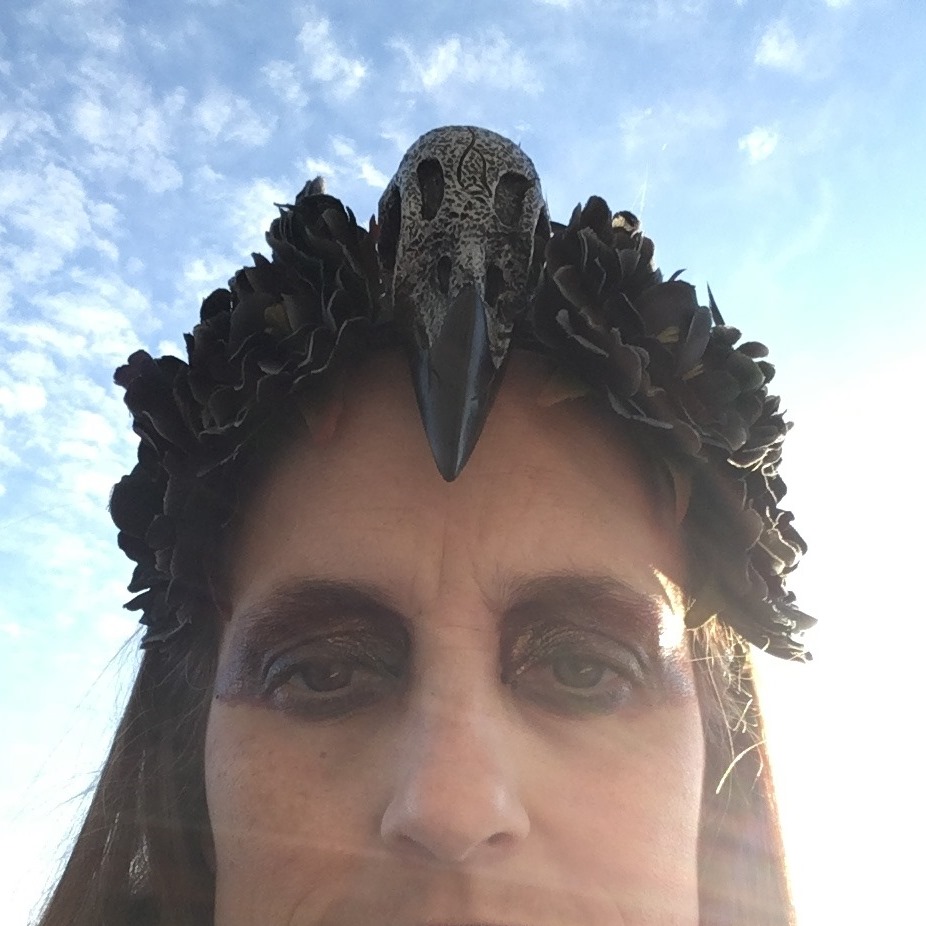 Eye Candy Jewelry by Jennifer Weigel
I have been getting ready for a jewelry show in February and thought I'd share some of the fun eye candy necklaces I've been working on. Do they thwart or attract the Evil Eye? I think that depends largely on the wearer's intentions… Each is hand-beaded and features a spooky printed eyeball pendant as its focus.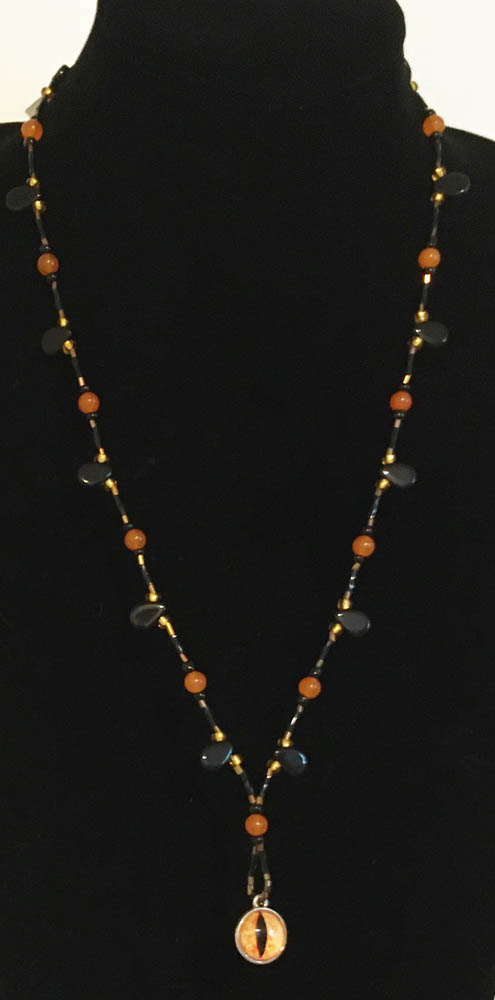 And the piece de resistance… A RAINBOW Evil Eye necklace with magnesite stone skulls! I love these happy little deadheads – they are just too spoopy… I have seen these beads ranging in size from very small to huge and I love all of them.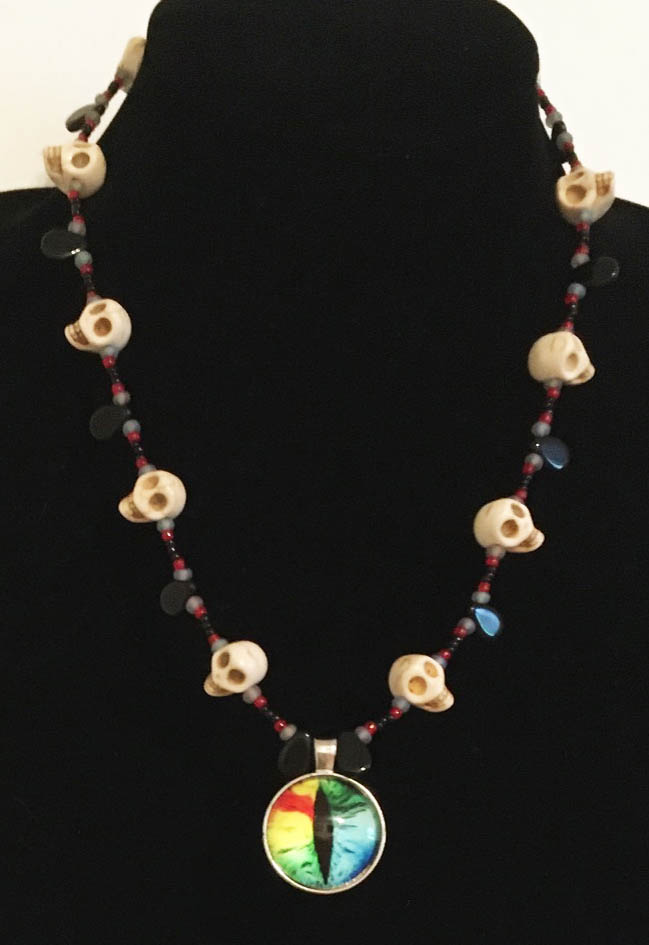 I love using eyes in art in weird and unusual contexts in my art. They have so much presence and symbolism. They also bring a sort of surreal atmosphere to any artwork, which bears just a hint of spookiness regardless of context.
Other artworks & graphics by myself that prominently feature eyes have appeared here on Haunted MTL in Insomnia, Indecision, Illuminati, Carriage Factory art installation, The Watchers, The Red Key, and Shaman Sticks.
You can check out some of my Hauntings jewelry on Haunted MTL here, and more jewelry is featured on my website here.