"Monsters" by Linda M. Crate
Judy breathed in heavily. She hated that the council had decided she was the one to do this. When she had become a monster slayer, she never imagined that she would ever have to do anything this difficult.
How did she know that her father would be bitten and turned by a vampire, and become one of the most vicious and dangerous villains in the whole of their village? She remembered the last time she had seen him as a human. He had told her that he would always love her, that she could always count on him, that everything was going to be all right.
The first person he had killed was the vampire that turned him. Her tortured face looked up at Judy from the snow, even still. The contorted features, the eyes forever staring in the heavens in horror.
How a fledgling could kill his master was beyond her. Most fledglings weren't that strong. She must have been a powerful vampire, and underestimated the strength of the one she had turned.
The second person he had killed had been her mother. She couldn't imagine the terror her mother must've felt when the man she loved turned out to be a brutal murderer who cared more about his blood lust than anyone else he had once known.
He hadn't even tried to fight it as some vampires did. Some of them banished themselves from their own families in an attempt to save them, but not her father. He had embraced and accepted the blood sucking demon and become intimately involved with him.
Judy knew he deserved to die for all the harm he had done. But why did she have to do it?
Why did the council need her to prove her loyalty to them this way? She had already killed hundreds of monsters: vampires, werewolves, harpies, banshees, dark elves, dark fae, gorgons, evil dragons, and countless others. She was very good at what she did.
But they insisted that her thousandth kill had to be Bernie. The man whose hazel eyes were her own, the man who taught her how to walk and how to hold a spoon, the man who had first taught her to use magic, the man who had always been her safe harbor. She had always been a daddy's girl. She had loved her mother…but they had never been close the way she and her father had.
How hadn't he fought the beast he had become? How dare he just succumb so easily to the darkness?!
Judy breathed in sharply again, and more importantly, just how was she supposed to do this? Judy thought she might have a mental breakdown then and there, had there not been a louder voice inside of her insisting that she had to prove herself worthy of the council so she could finally have more independence. If she managed this then she wouldn't have to work with any of the fledgling slayers, anymore, she could work with someone more advanced and learn whatever magic they were willing to teach her.
The young witch sucked in another breath. Her mother had been a healer, but she was a slayer. Perhaps, she and her father had been monsters all along and his vampirism just exacerbated what he was always capable of becoming.
She felt torn. She knew the village needed protected from these monsters, and yet she felt guilty.She wasn't so sure this was the right choice, and yet she told herself she couldn't be weak. The council wouldn't have put her on this task if they hadn't believed Judy was strong. And so she sucked in another deep breath and looked at the weapons in her cloak: a stake, a potion that immediately turned to flames when the glass broke, and blades that were made by stringing sunlight and magic together with metal which would slow a vampire but wouldn't completely kill them unless one hit them in the heart.
Judy didn't bother bringing garlic. She knew that if he smelled garlic that he wouldn't come.
She wasn't so sure that he would come to begin with, but Judy had sent a letter out with a carrying pigeon. The pigeon hadn't returned.
"Hello, Sparrow."
Judy felt her heart leap in her throat. She had just barely arrived at the place she had asked her father to come. She saw her shocked face leap up at her in the glass window of the bakery, and her feet nearly lost their footing on the cobble stone street as if there were ice on the ground. There wasn't, as it was mid-summer, but she was really surprised he had come.
"Didn't mean to scare you, Sparrow."
Her father had been calling her Sparrow since she were a child, she always fought back insisting she were more fierce a bird. But that old nickname was a ploy, she was certain, to make her lose her guard. She wouldn't. She was aware of the monster he was.
Judy glared at him. "Hello, father."
"You've come to kill me," Bernie said, with a dark smile. "Go on, then."
Judy looked around her at the deserted street. Using magic she closed off the sector they stood upon. She pulled out her weapons. "Any preference?"
Bernie snorted. "Do you always ask those whom you kill how they want to die?"
"Don't make me sound like a monster, you're the monster."
"We're both monsters, darling, even if we don't share the same fangs."
Judy threw the potion where Bernie had been standing, the vampire jumped out of the way but not before the flames grabbed onto his cloak and it was a fast moving fire that consumed him. "The council's using you just like they used your mother. One day, Sparrow, you'll see the truth." And then he was gone.
Judy scattered the ashes before she flung herself at the ground, sobbing. She had killed her father, but at what price? She watched the wind scatter his ashes.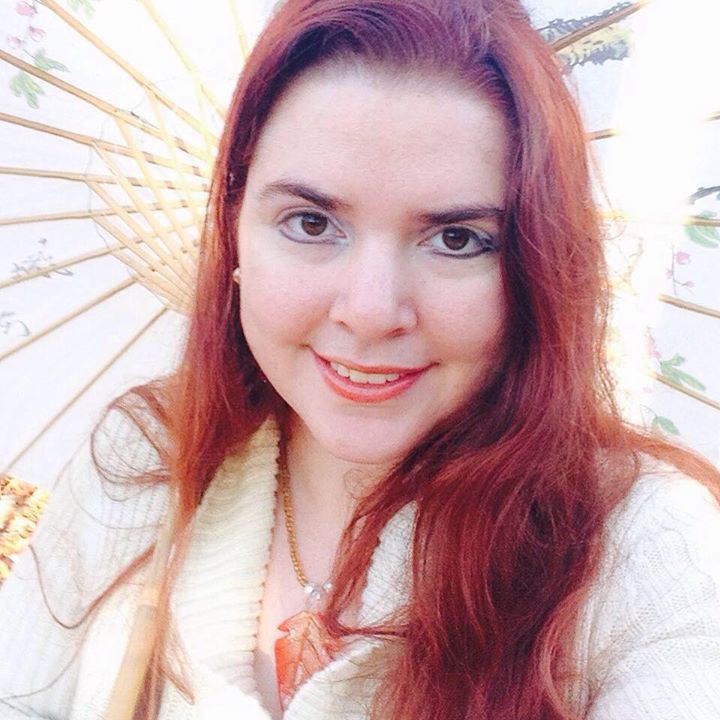 Linda M. Crate's works have been published in numerous magazines and anthologies both online and in print. She is the author of six poetry chapbooks, the latest of which is: More Than Bone Music (Clare Songbirds Publishing House, March 2019). She's also the author of the novel Phoenix Tears (Czykmate Books, June 2018) and two micro-poetry collections. Recently she has published two full-length poetry collections Vampire Daughter (Dark Gatekeeper Gaming, February 2020) and The Sweetest Blood (Cyberwit, February 2020).
Some Bewitching Line Drawing by Jennifer Weigel
This month we are going to explore more fun marker art from Jennifer Weigel, starting with black and white line drawing. Jennifer is getting ready for her big Life Is Brilliant solo show in March and has snuck in a few spookier themes, so she wanted to share them with you here.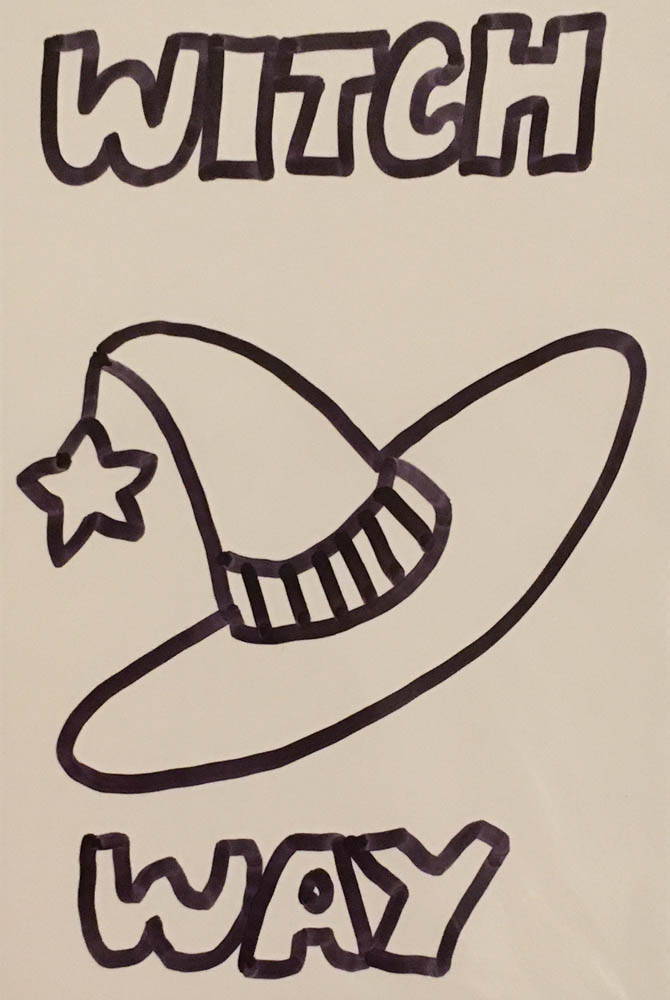 The magic is strong in this Witch Way line drawing with its fun witchy head-topper, complete with striped hat band and star dangle. No self-respecting wizard's ensemble would be complete without it.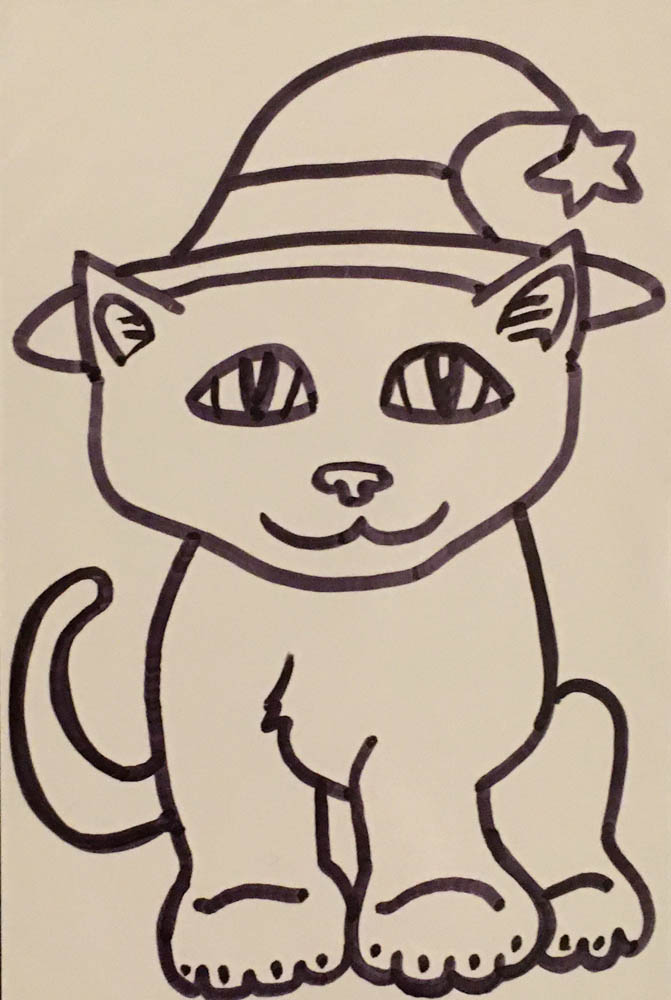 And now the adorable Kitty Witch will don the Witch Way hat and cast a spell of cuteness on you. You gotta wonder just how the hat stays on but best not to question these things. We all know it's magic…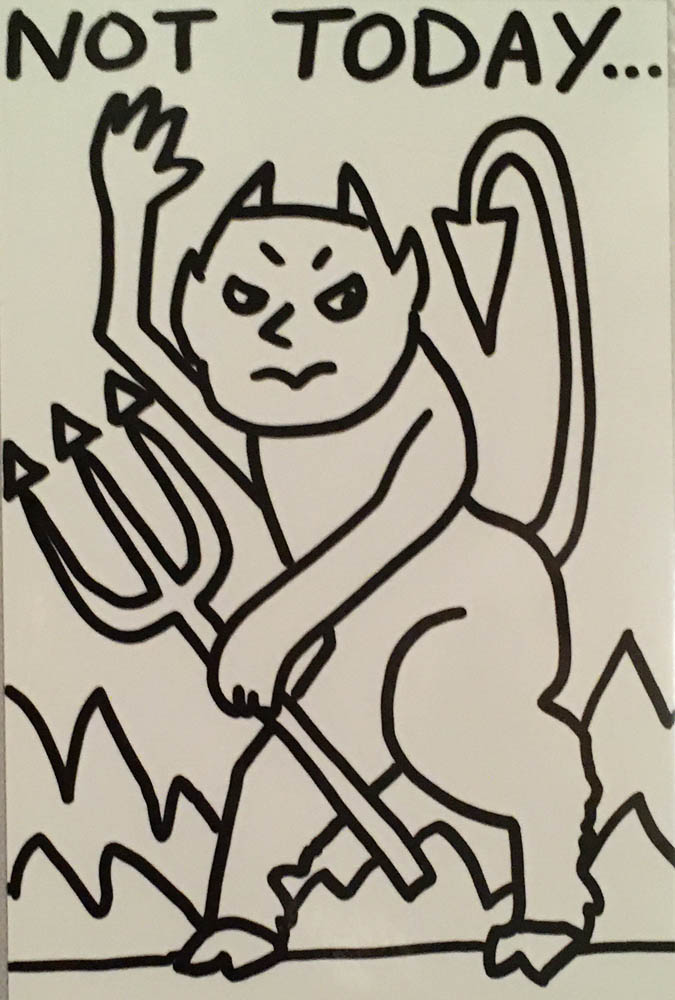 The devil is in the details in this Not Today Satan line drawing, and boy is he pissed!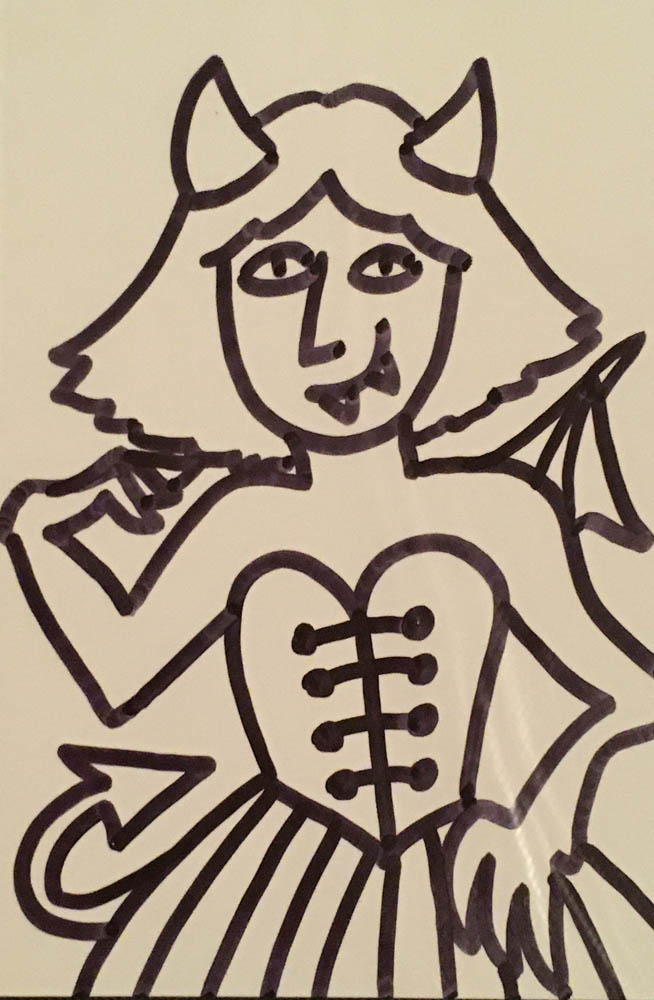 This She Devil is just plain goofy. Maybe she's coyly playing innocent; it's not a look most devils can pull off, seeing as how innocence really isn't their schtick…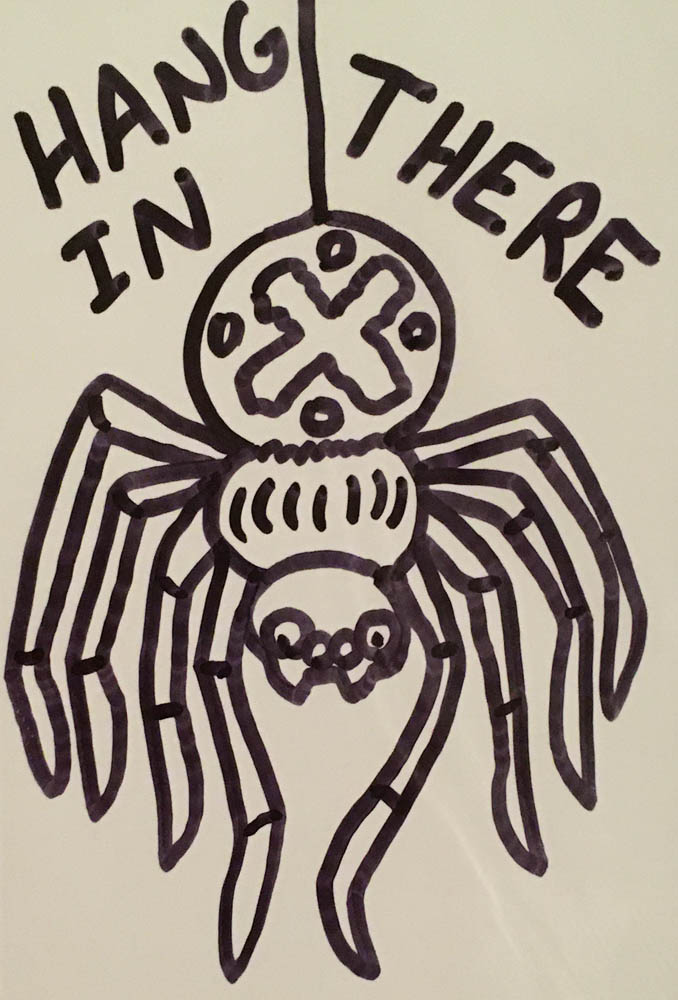 This little spider came down to your tuffet to remind you to Hang in There. She is very well-intentioned and is only looking out for you. I guess maybe she's not so little though, she is an Argiope after all…
Feel free to check out more of Jennifer Weigel's work here on Haunted MTL. Or on her writing, fine art, and conceptual projects websites.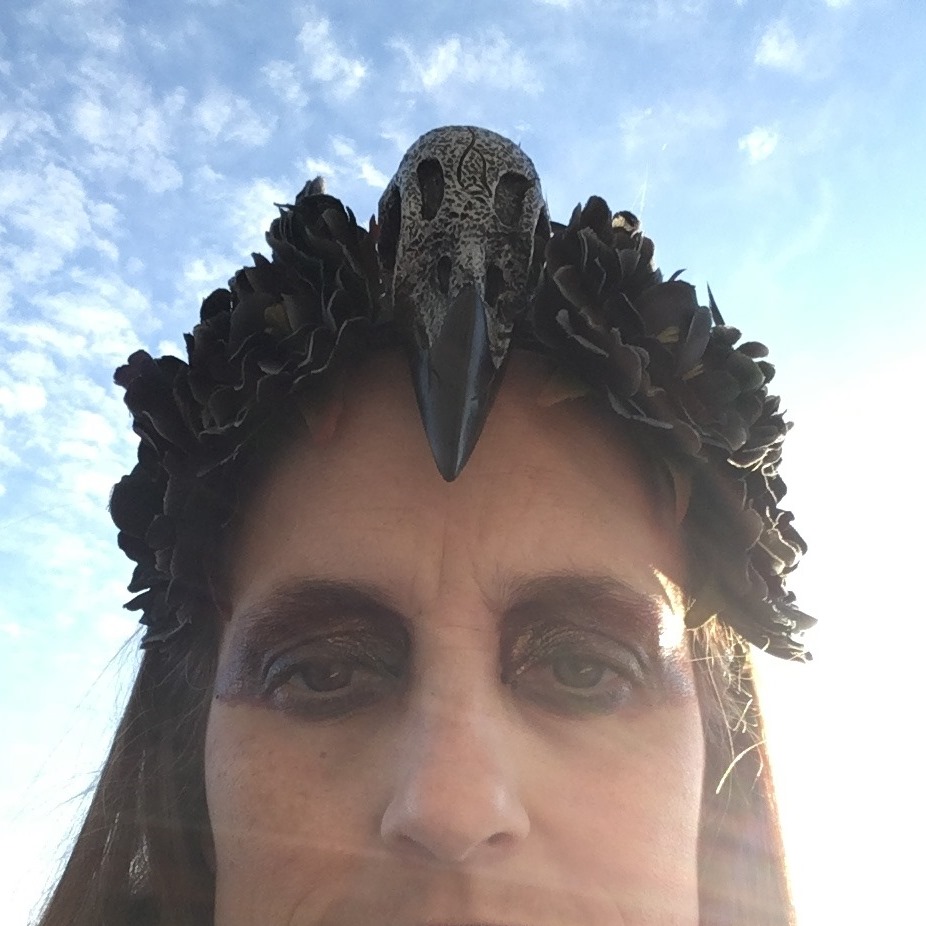 LTD Tripped Out Motivational Posters
Tripped out… in case you just couldn't get enough of Everything Everywhere All at Once and the return of the infinite bagel with EVERYTHING on it…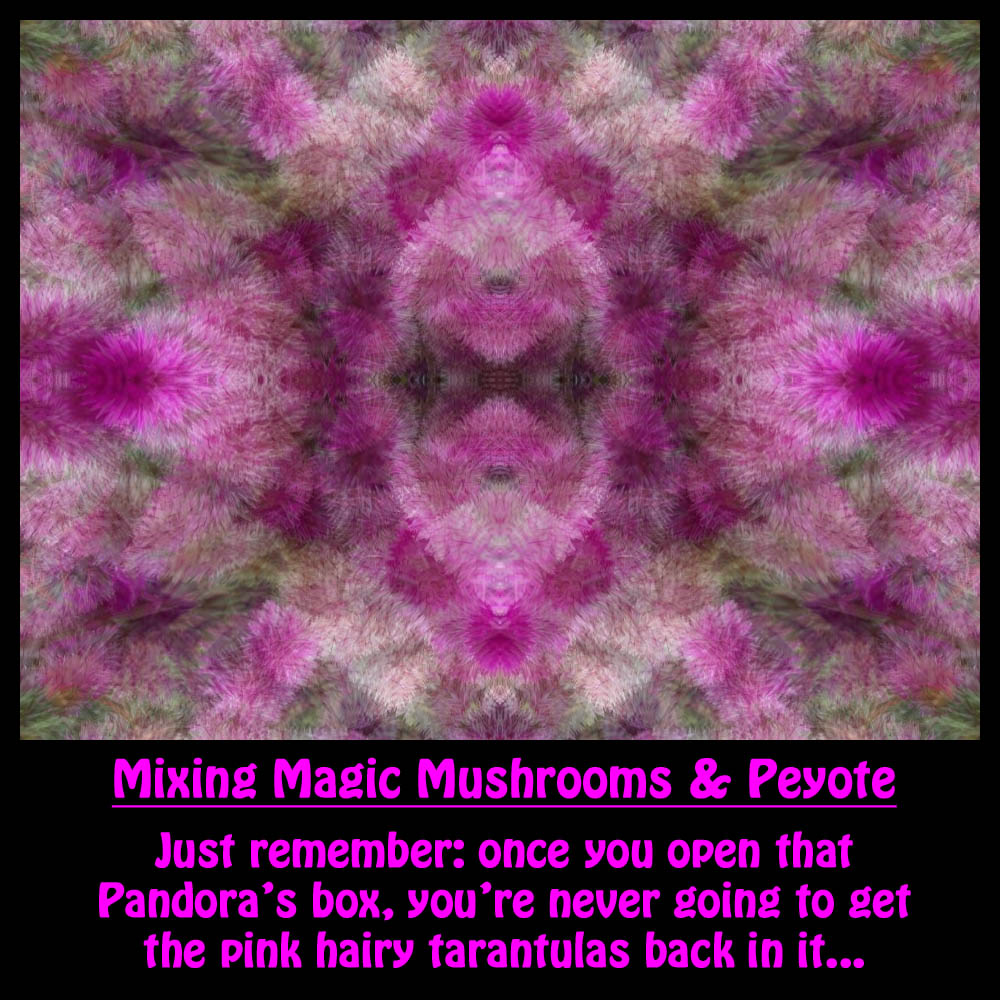 Artwork description: kaleidoscopic image of pink hairy horror (This is actually a fink fuzzy frond plant not unlike a Cockscomb but with longer thinner flowering feelers rather than the fuller protuberances you see on a full-bodied Cockscomb plant. I have no idea what it was, but it was very odd so I had to snap a photo.)
Image text reads: Mixing Magic Mushrooms & Peyote Just remember: once you open that Pandora's box, you're never going to get the pink hairy tarantulas back in it…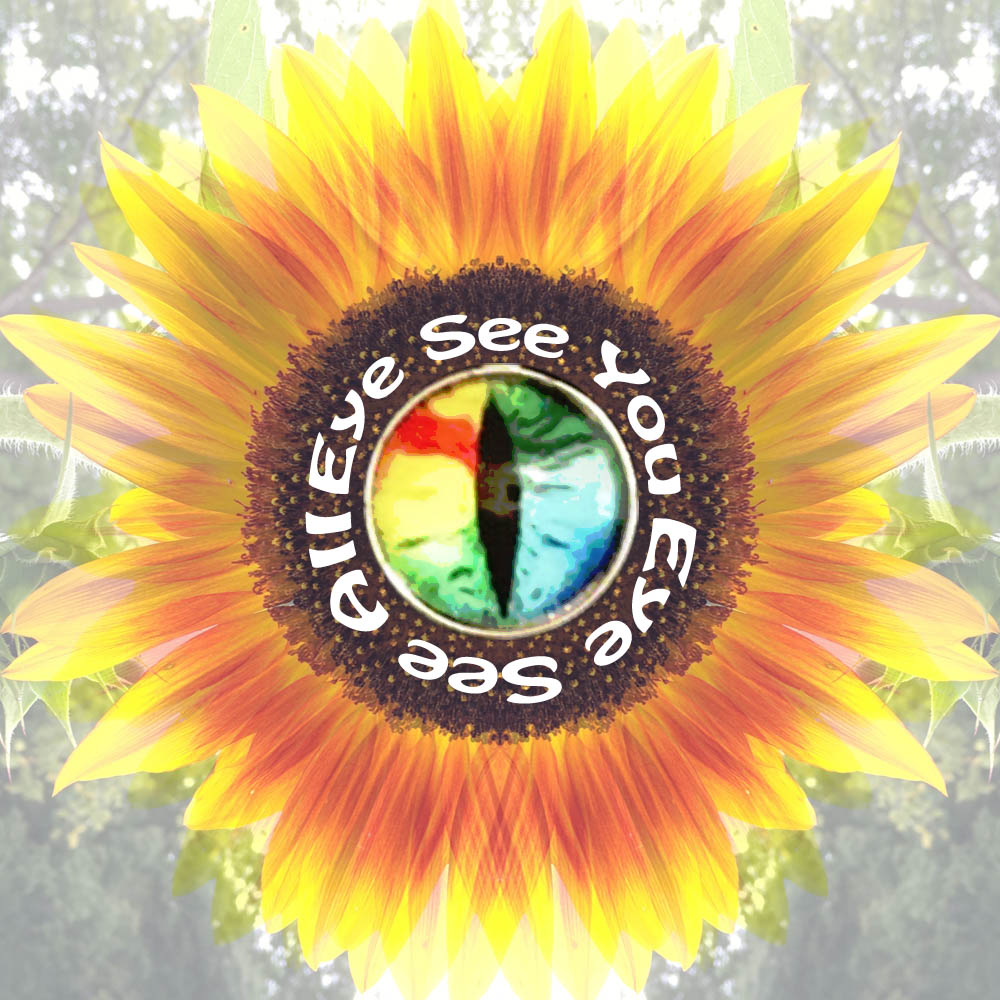 Artwork description: kaleidoscopic sunflower backlit by the sun with text and rainbow eye overlay
Image text reads: Eye See You Eye See All (in circle text so you can start and end reading wherever). In an ideal context this would be printed in the bottom of your tea mug or on a record that can slowly spin.
For more crazy tripped out fun, check out Weird Al's post on Craig's List…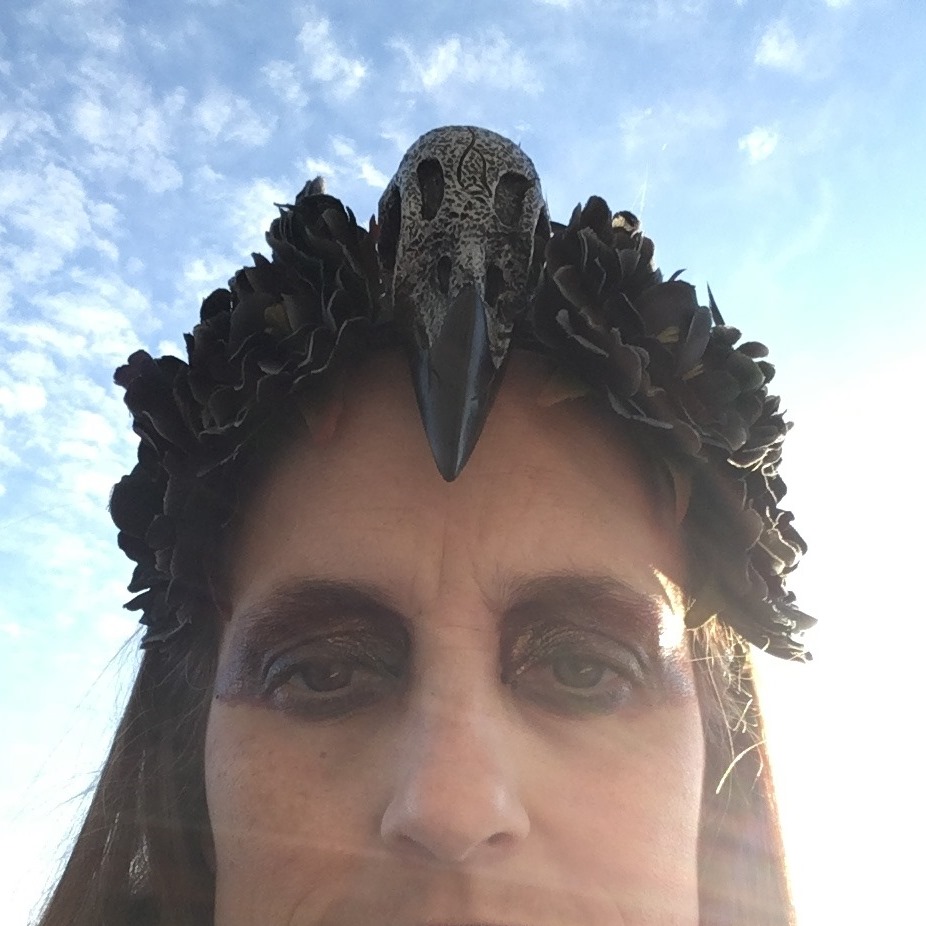 The Elves Reunion, a short story by Jennifer Weigel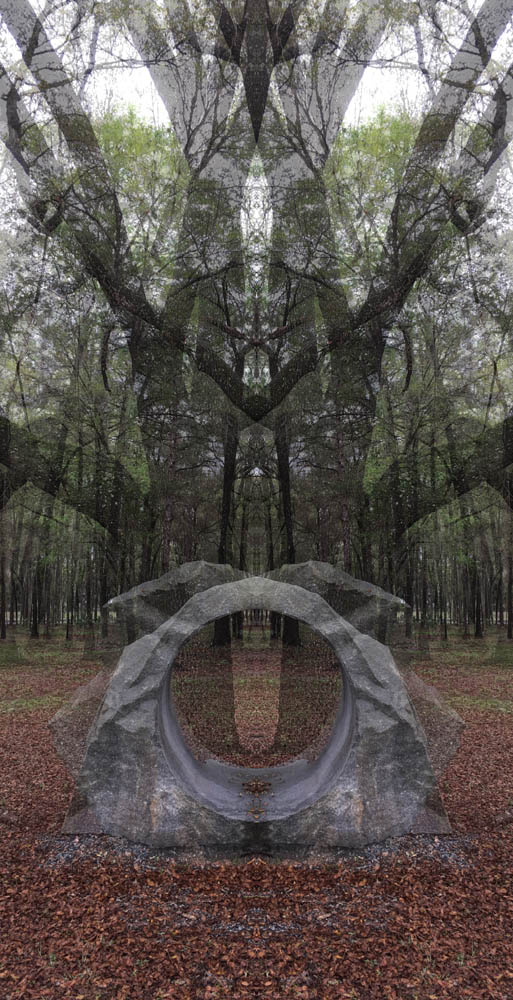 I had heard tale that The Elves dwell in these woods. Many underestimate The Elves; they have a fondness of heart for Tolkienesque Middle Earth fantasy stories and tales where Elves are the most highly civilized, virtuous and intelligent. They forget that those are just myths, save for The Elves being cunning. Remember that the Pied Piper was an Elf, and the children he took were not destined for such a glorious fate.
My sister lost her firstborn to The Elves. She hadn't noticed the Changeling until it was too late. Her baby had already long since been stolen away. She was so distraught she refused to eat or speak. She locked herself in her room. Or my family locked her into it as she succumbed to the madness. Such are the ways of the family, for all of our protection. We never question but follow as expected, as a means of self-preservation. It has kept us all alive.
But I couldn't get the sinking feeling out of my stomach; the grief became too overwhelming. That is why I came here. I know I will not be able to rescue the child, nor my sister. But I seek to avenge their meaningless deaths. To ensure that it doesn't happen again. My family will never act. I am tired of the Village Elders just shrugging these things off in hushed whispers and badly shrouded secrets. It happens time and again. We are all expendable. They never do anything.
So here I am, in the Elven wood. Alone. As soon as my family figures out that I'm here, they will disown me. They probably already have. Again, it is for our own protection. I'll be just another casualty of The Elves. Everything is so structured, so regimented. Anyone who dares act in opposition to the rules vanishes. We are all so afraid.
I lay in wait. It's just a matter of time before the portal appears. The Elves use the portals to travel across time and space. They appear where and when they wish. But this time, I will go through first. I know not what is on the other side, just that the portals allow only one to traverse in each direction. We will trade places, if only for a moment until another portal forms. Hopefully that will be enough time.
The trees shift and morph. Falling leaves drift slower and slower towards the ground. There is a stillness that I cannot fully express. My breath hangs heavy in the silent air. There is no sound, no smell, no taste. It is time. The hairs on the back of my neck and arms rise. I can sense the opening forming. There is an uncanny familiarity in this moment, as if I have been here before.
As soon as the portal opens, I dash through. But something isn't right. No one came through from the other side. Or did they? I cannot tell. I am alone, in limbo between states of existence. The world spins around me. I can feel the drift. Is this what death feels like? Cold unbroken silence? I feel distant eyes upon me everywhere, all around me, in the trees, the clouds, pinpoints of light that shimmer through.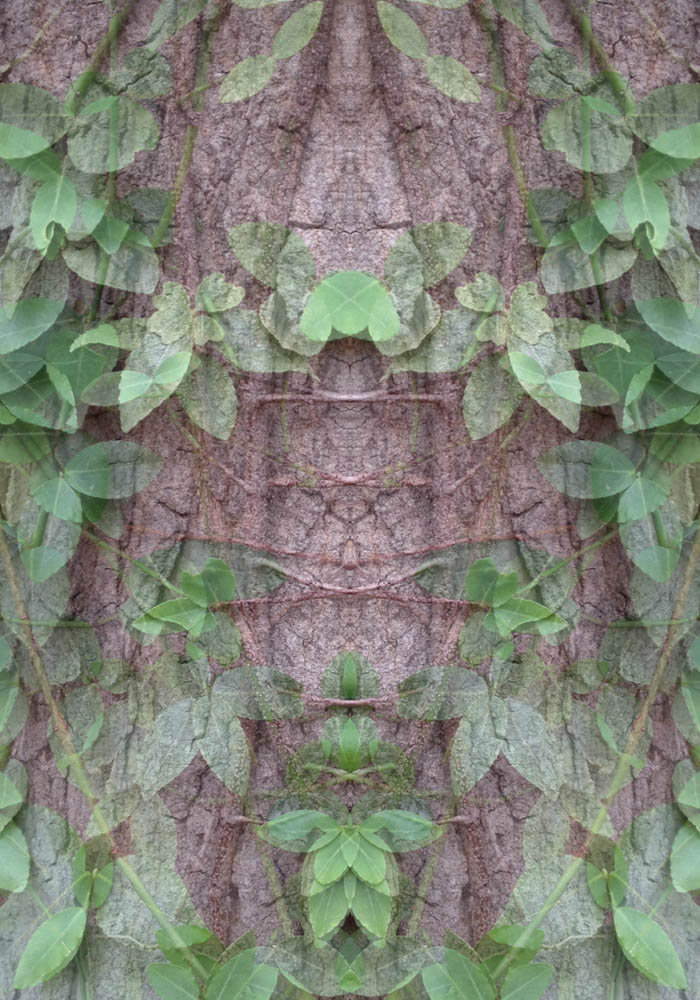 I wasn't sure what to expect. Maybe this is all according to plan. But who was orchestrating the exchange? My idea was only half formed in those passing pensive moments I am able to think for myself, few and far between. My family, the Village Elders… no one allows time for freeform thought. I hadn't considered what would happen after the portal exchange. I never really got past step one.
A voice greets me from the trees. It is hauntingly familiar but seems only a distant memory.
"I've been expecting you."
The world slowly comes into focus. Clarity restored, the leaves circle me in an embrace. My sister emerges, her dark eyes smiling. She cradles the baby in her arms.
"You made it. You escaped," she sings.
"I didn't see anyone," I retort, skeptical. I hadn't recalled having seen any Elves, dark nightmarish fiends that they are, wild, unkempt, uncouth. Savage beasts like Pan or Krampus. Is this an illusion? My sister seems so lifelike, so much herself. She is the joyful young mother I had known her to be. Filled with love and laughter. Light dances about her, and she shimmers.
"Not in passing," my sister clarifies. "You have been living among them your whole life. I had done so as well until the baby was stolen. My heart broke; I had to follow after. That was when I learned the Truth."
"Why do you think we are so sheltered? Why are we forbidden to do anything? They do so to protect us from the Truth about who and what we are," she continued. "We've spent our lives evading that which we truly know ourselves to be. We were the stolen ones, not the other way around…"
I notice that the portal I came through is still open, reinforcing my idea that no one had passed through the other way. It is as if the portal was opened specifically to call me through. My sister extends her hand, beckoning me to join her. There is a gleam in her eye I cannot pinpoint. She seems happy, but something still isn't quite right. I'm still uncertain why I am here, in this time and place, as if destined to be present in this moment, in this decision.
The Village has fallen away to the woods. There are no breadcrumb trails to follow home. The idea of home itself seems distant like yet another illusion. Nothing makes sense anymore. I am unsure whether I am coming or going. Two paths lay open before me. Which shall I take?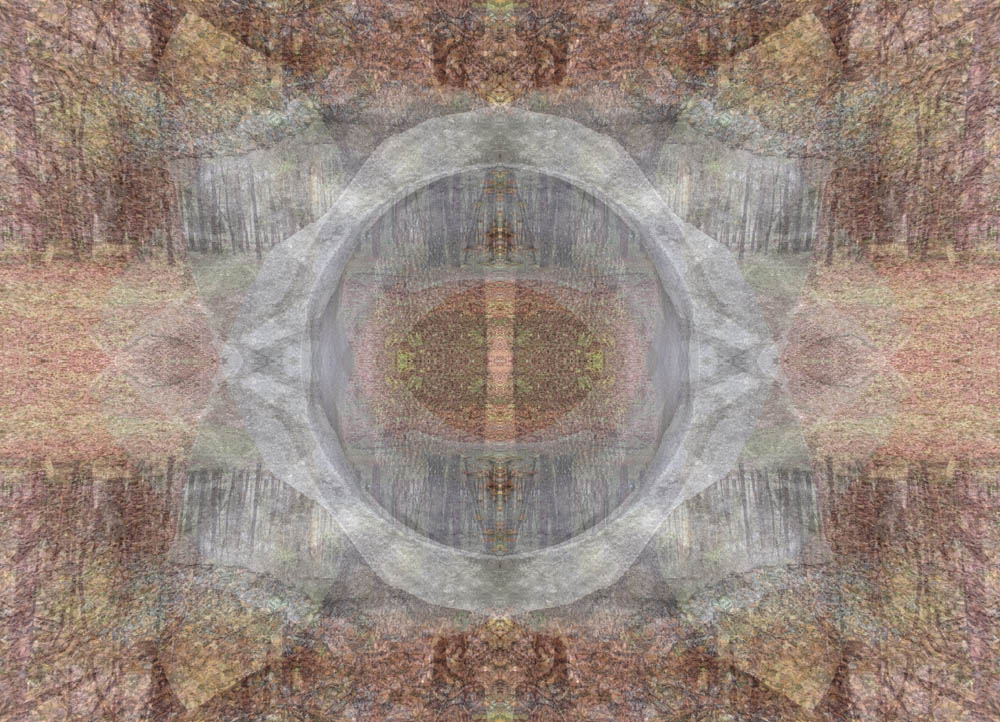 The trees are full of Elven magicks… Feel free to check out more of Jennifer Weigel's work here on Haunted MTL or on her writing, fine art, and conceptual projects websites.