Blessed by Eddie House
Fairy lights glittered from where they were half hidden in the foliage, creating a warm glow in the dusk. The honeysuckle scent of the air floated through on a cooling breeze, playing with tendrils of hair and lifting the lace tablecloths at the edges. People swarmed around the edges of the garden, mosquito buzzing with light-hearted conversation. Everybody was dressed in elegance; tuxedos with pocket squares and fine silks of dresses, like butterfly wings wrapped around bodies. Sweets lingered on tongues, coating breath, and red liquid flowed freely from crystal fountains. An orchestra played soft music, the lilting notes vibrating over the party, creating a relaxing ambiance as background noise for the partygoers.
A woman stepped forward, her skirts circling and settling. Pulling her shawl closer around narrow shoulders, she adjusted the microphone set centred in the middle of the festivities and leaned into it. At this motion, a young girl's eyes widened and the sharp smell of fear mingled with the flowery atmosphere. She noticed herself sweating through the thin fabric of her white dress and adjusted a hand to pick at the embroidered roses sewn onto the skirt. The tulle underneath crackled uncomfortably against her bare legs as she shifted from foot to foot.
At the microphone, the woman cleared her throat. With this sound, the girl flinched, her heart pounding.
Her terror was palpable; several of the guests cast blank faces towards her in interest as tensions increased.
"On this day, we are blessed."
The woman's strong voice carried over the sounds of the music playing and the party quietened, allowing her to be heard.
"On this day, we are blessed." The crowd echoed in unison, causing the girl to shiver.
It was about to begin.
—
Earlier that day, the girl lay curled on a stone floor, limbs stiff and unused. A rat scurried past, inches away from her face but she did not move. A clanging noise rang out through the cell as someone turned a key and the metal gate fencing her into the corner was removed.
"It is time."
At this, the girl finally lifted her head. Her eyes, previously cold and resigned, now filled with panic.
Lifting her by the shackles chained to her wrists, the guard hefted her to her feet, half dragging her on numb legs.
Emerging from the dark room, the girl screwed her face up in response to the new colours and light. As her eyes adjusted, she took in the intricate wall carvings, lit up by chandeliers embedded into ceilings so high they made her head spin. Whilst they led her through the hallway, dread settled in- an uncomfortable nausea coupled with the lack of food which caused her to sway on the spot. The guard noticed and tugged harshly at the restraints.
As the pair entered another spectacular room, the guard unlocked the cuffs, allowing the girl a modicum of freedom. It was not well received. With her now unrestricted hands, the girl moved to attack but her chill stiffened arms were not quick enough for the guard, who responded by slapping her face without emotion.
"You will behave."
Resigned to her fate, the girl sat on the pulled-out stool in the centre of the room and awaited what would become of her. Almost instantly, several women appeared from the doorway and settled themselves around the girl. She let her façade drop and a low keening noise emitted from her throat as tears formed in the corners of her eyes. One woman tilted her face towards her, using a delicate hand to gently, carefully wipe the tears away with a tissue.
"Don't cry pet. It will all be over soon."
Her voice caused ice to drip down the girl's spine, leeching any warmth the room provided.
They held a glass of water out to her which she took, composing herself. After sipping it, she lifted her chin to stare defiantly at the wall ahead, focusing on the beautiful artwork there. The women set to work, skilfully applying makeup to hide the damage that two weeks in the jail cell had caused.
As one of them painted rose coloured eyeshadow onto her eyelids, she broke her silence.
"What will become of me?"
To her credit, her voice did not falter despite the fear she felt.
The women continued their work without hesitation. Only one responded at all, biting her lip but not ceasing in applying strands of glitter to the flower crown she was weaving with nimble fingers.
Another of the servants crossed the carpeted floor to a huge wardrobe in the corner, removing from it a dress of white silk. It was undoubtably stunning- off the shoulders with layers of pale pink peeking through the white making up the skirt and covered with sparkling hand embroidered flowers- but the knowledge of what it symbolised filled the young girl with dread. As they laced her into the bodice, she snaked a hand towards a pair of sharp nail scissors left unattended. The tiny scraping noise they made as they lifted off the table top seemed to resonate through the room. The woman who had bitten her lip when questioned quietly lay a hand over the girls and removed the weapon deftly.
"It is not worth it." She whispered. "It would never work."
The other women pretended not to notice and busied themselves putting the final touches into the girl's appearance. The last step completed as the flower crown was placed upon her dark hair.
The party was already in full swing when she exited through the glass patio doors. Outwardly, she kept her head held high. Inwardly, her mind screamed for help.
The festivities continued throughout the night. She went ignored, attracting little attention.
Only one person paid her any notice. A woman, elegant in her black shawl, approached. A long-nailed hand cupped the girl's chin, tilting her face this way and that.
The girl responded only with a dead stare.
"Now, now. You know I can't see that evil look."
The woman tipped her head to the side. The fairy lights caught her, illuminating the hollowed cheeks, and lack of any features upon her pale face. Aside from that mouth.
Black lips framed a wide hole of saliva dripping fangs. A split tongue emerged and disappeared back into the black hole in her face almost instantly as she licked her lips in eagerness of what the evening was to hold.
The woman leaned in, flicking her tongue out again to touch the girl's cheek.
A throat clearing interrupted the woman. She turned to where the noise had emitted from, where another woman stood at the microphone.
"On this day, we are blessed." came the voices, laced with anticipation.
The girl shut her eyes. Better to not see what was coming.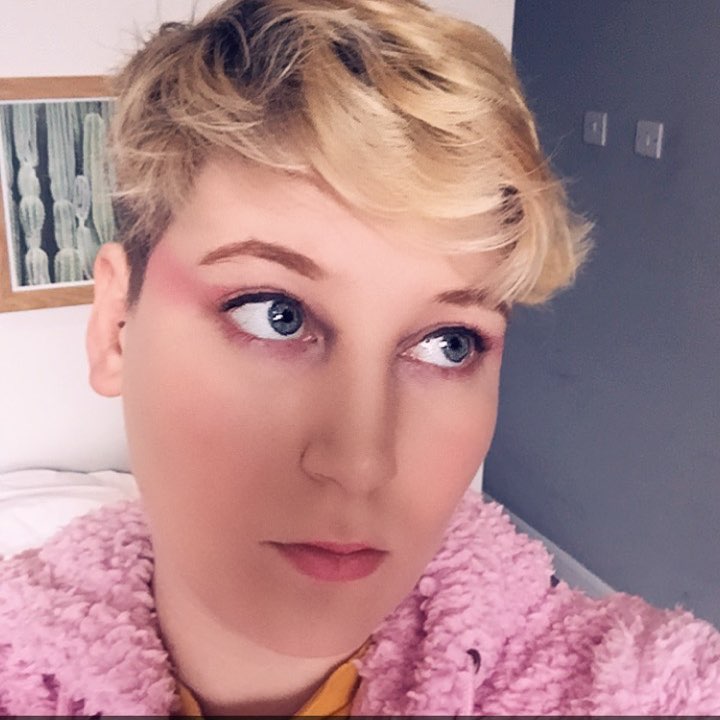 Eddie House is a 22 year old genderqueer manic pixie daydream. In their free time, they love to write, especially poetry and short stories. Their aim is for other queer young people to read their work and be inspired.  You can find more of their work at http://eddielhouse.tumblr.com, or in Anatolios Magazine
Nightmarish Nature: Vampires Among Us
This is the kickoff to a new series exploring nature that is kind of horrifying, at least in ways. Our first subject is Vampires Among Us. There are lots of animals named for vampires, sometimes due to folklore and sometimes for their appearance (like the Vampire Squid), but most of these animals don't have blood sucking tendencies.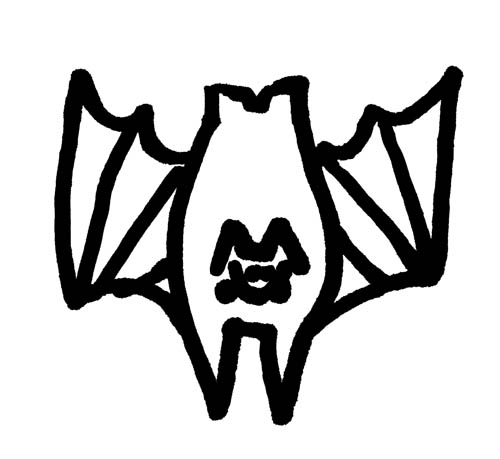 Bats & Birds
There are legit vampire leaf-nosed bats in Central and South America that drink blood. They feed on mammals and are often shown to feed on livestock. They'd be kinda cute if they weren't so creepy. There are also vampiric birds: some finches in the Galapagos have developed the taste for blood of other birds, mainly seabirds that flock to the islands to raise their young.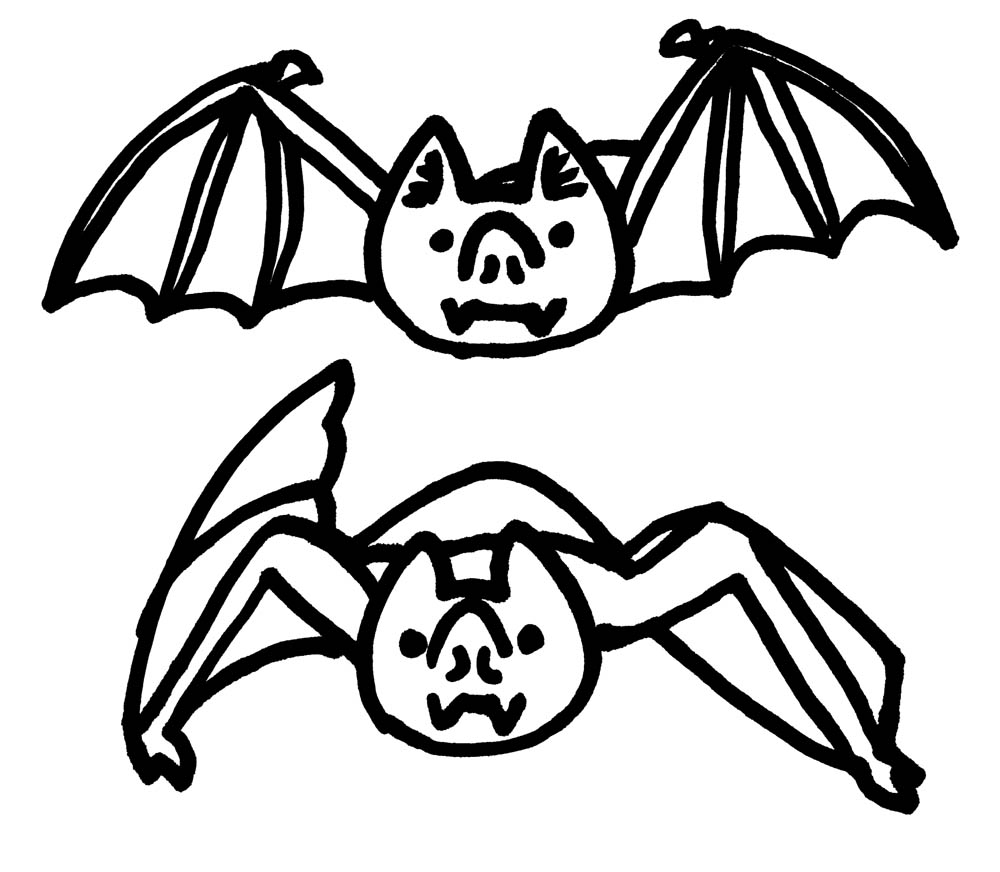 Leeches & Lampreys & More
And then you get into leeches and lampreys and other denizens of the water that are known to attach themselves to larger creatures and drink their blood. Leeches were even believed to have medicinal value (and still are in certain circumstances). And there are also numerous plants that are known to be parasitic and feed on other plants, wrapping their roots or vines around others to steal nutrients.

Spiders
Now I'm going to drift off into the realm where this becomes truly horrific. Spiders. Now, spiders aren't vampires per se, seeing as how they actually kill their prey – they don't just feed off of it while it remains living and wanders about its business. But because of their structure, they cannot eat solid foods, so they have to inject their prey with enzymes to liquefy it so they can slurp it out like a protein shake. That's sort of vampirism on steroids if you ask me, just the kind that no one is coming back from.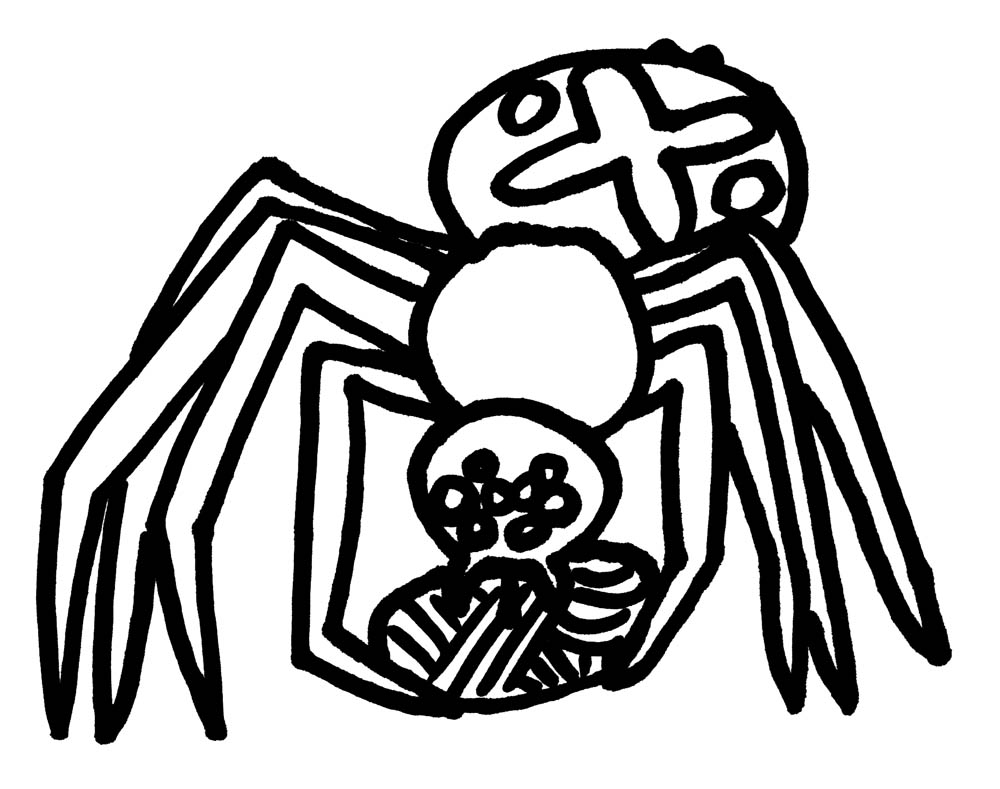 Bloodsucking Bugs
But let's get back on topic. Now let's consider mites and ticks and fleas and mosquitoes and the like. Some drink blood for their survival; others do so as part of their reproductive cycle (like mosquitoes which otherwise eat fruit and nectar but need the extra protein from blood to grow their eggs).
Ticks need to feed on blood once at every stage of their life cycle and can pick up diseases along the way (like Lyme Disease) but don't always do so. Different ticks are more likely to come in contact with different things and often humans are not their preferred meal but they are opportunistic and will feed on whatever is available when necessary. Symptoms of illness from tick bites may take years to develop and can have really weird side effects (like the allergy associated with Lone Star Ticks which makes a person unable to consume mammalian flesh).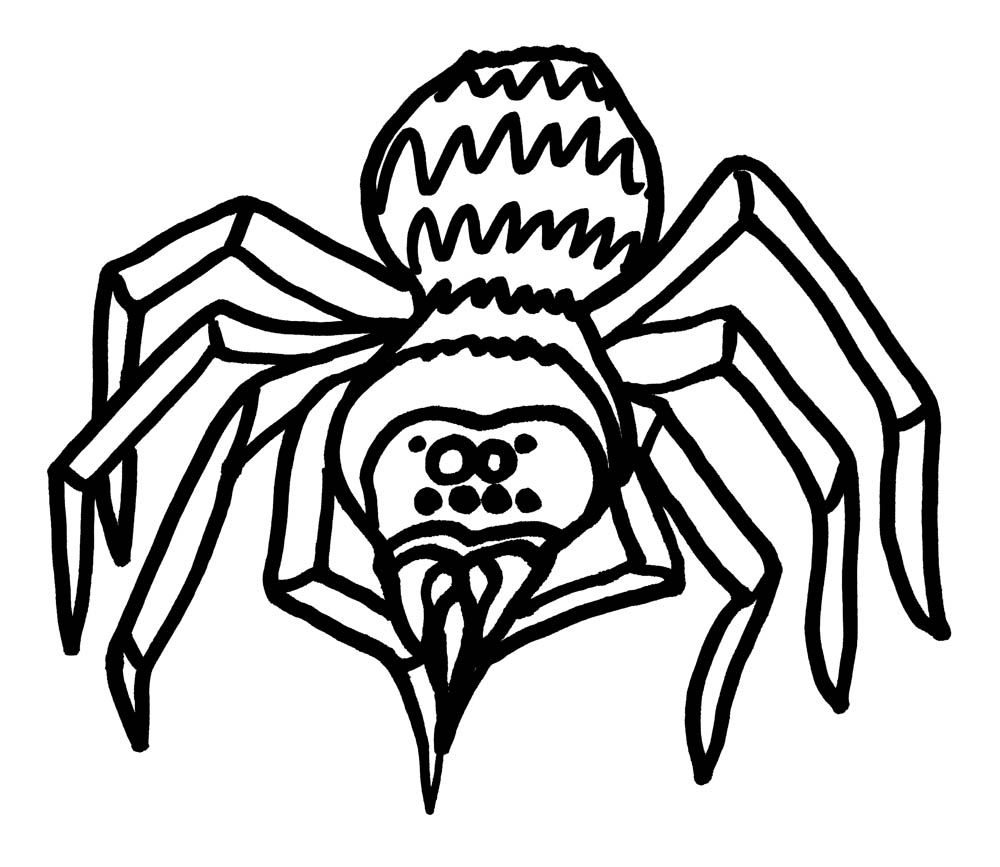 Anyway, here are some brief glimpses of vampirism in nature. Thank you for joining us for Nightmarish Nature and may you avoid getting bitten by any true vampires among us… And I still think spiders take first place in the creepy eating category here, even if they aren't technically vampiric.
Buried Treasure by "Dread Pirate" Jennifer Weigel
This story came to me in a sort of roundabout way from a rather unusual source. So I thought I'd share it with you, dear readership, and see if you can make heads or tails of it. – Jennifer Weigel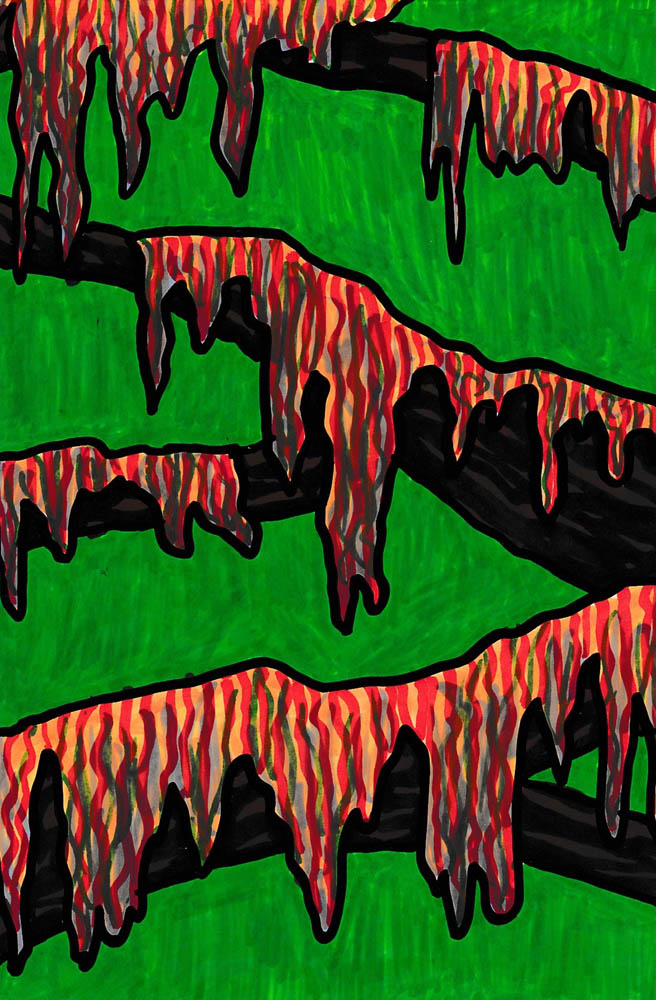 Dread Pirate Rum Tum Tugger could tell this was the right spot.
The site, beneath the sweeping limbs of the Live Oak, Spanish Moss swaying gently in the breeze, was a perfect match to the crude map he had bought off that soothsayer Deuteronomy.
The earth moved easily, as if it had been excavated previously. He dug in with greater fervor with each swipe. The sandy soil gave way to reveal something hard. He scooped and smoothed the remaining detritus from the surface as he uncovered a box.
The carton was simple.
No markings; no ornamentation; no writing. Just a plain cardboard crate, brittle from having been buried for so long but still sturdy. He hoisted it from its burrow.
"Ha HO!" he shouted to the passing breeze, rousing a small cloud of birds that erupted from a nearby thicket. They captured his attention for a moment, but he quickly refocused and returned to his task.
The box was locked but no difference.
Any self-respecting ruffian like himself could pick a lock in seconds. And he did so with panache, as was his way. He pried the lid open and licked his lips.
Inside was the legendary Kernel of Eternal Life, a small sparrow's heart, still beating.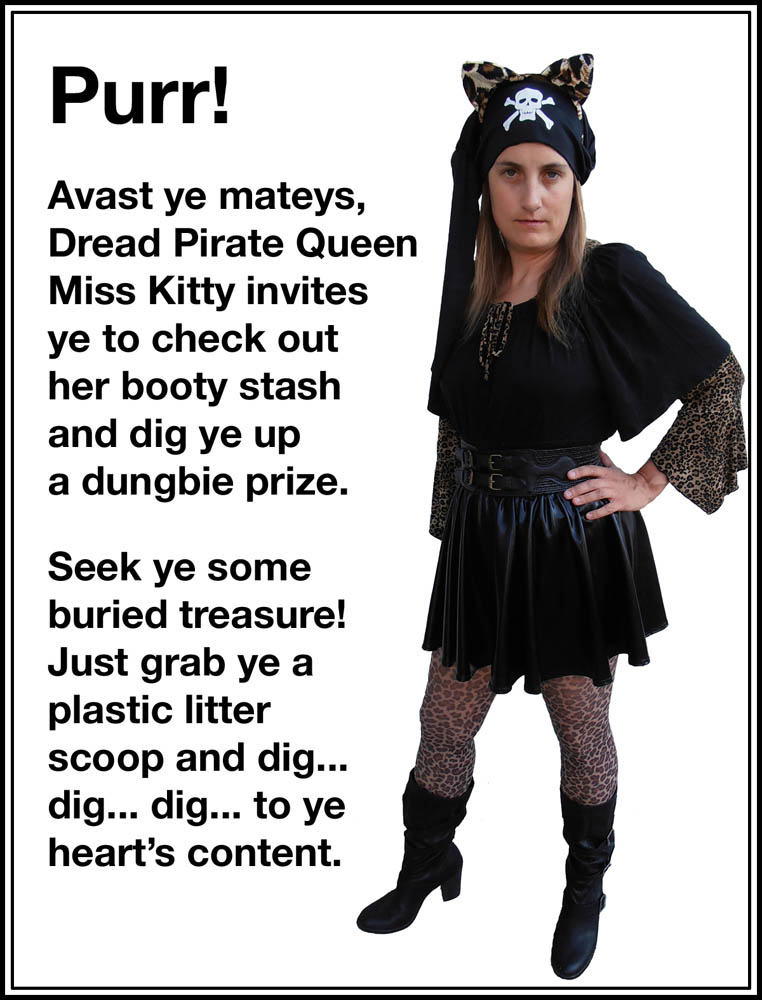 Artwork description: Myself as Dread Pirate Queen Miss Kitty wearing black bell sleeve shirt and black vinyl skirt with strapping leather belt over leopard print shirt and tights, with strapping leather boots, pirate head wrap and leopard cat ears.
Image text reads: Purr! Avast ye mateys, Dread Pirate Queen Miss Kitty invites ye to check out her booty stash and dig ye up a dungbie prize. Seek ye some buried treasure! Just grab ye a plastic litter scoop and dig… dig… dig… to ye heart's content.
---
I created this image for a promotional poster for a performance piece in a charity art show in which I, as Dread Pirate Queen Miss Kitty, hawked a carnival sideshow style sidewalk installation. For a mere $5 donation to the animal shelter the show supported, gallery goers could dig around in a kiddie pool full of litter to find a prize: a cheap plastic trinket from the dollar store. I had some takers, including one kid who seemed to really enjoy the digging and whose parents were all in, saying "You know, you can totally do that at home too."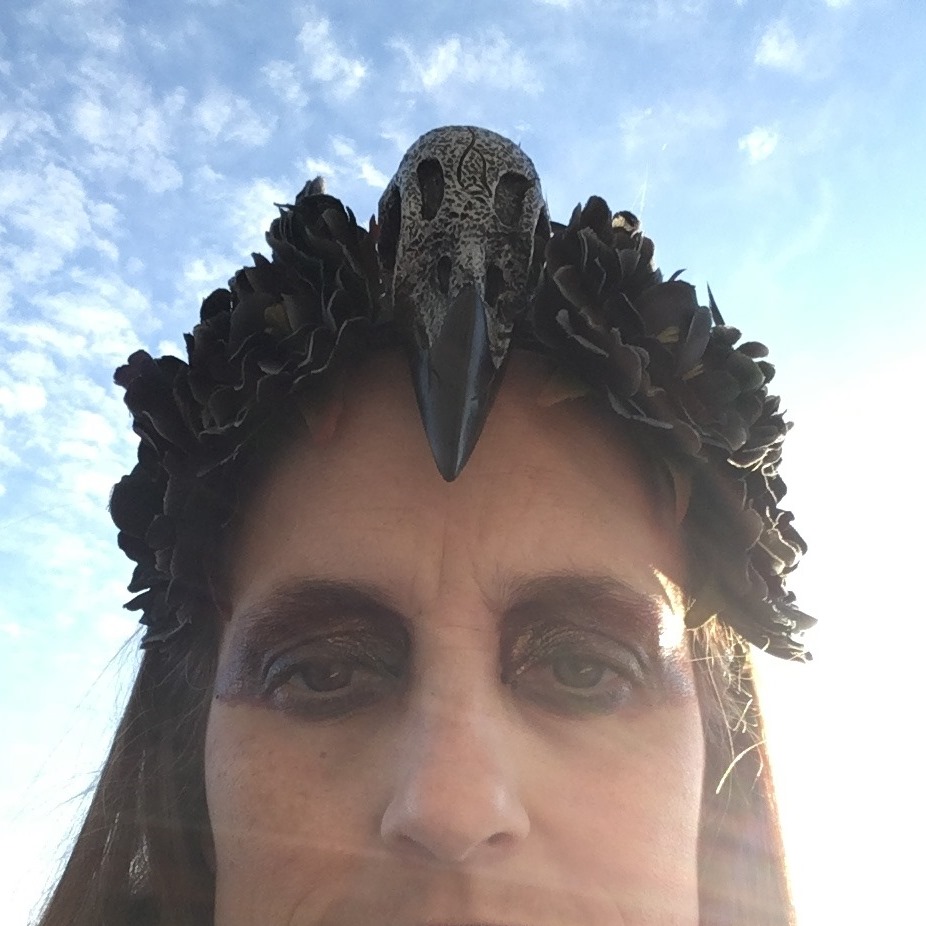 For more cat antics, we invite you to read C-2747's logbook here on Haunted MTL. Feel free to check out more of Jennifer Weigel's work here on Haunted MTL or on her writing, fine art, and conceptual projects websites.
Queen of Everything Mother's Day Wishes
Happy Mother's Day to the Queen of Everything… nothing gets by you.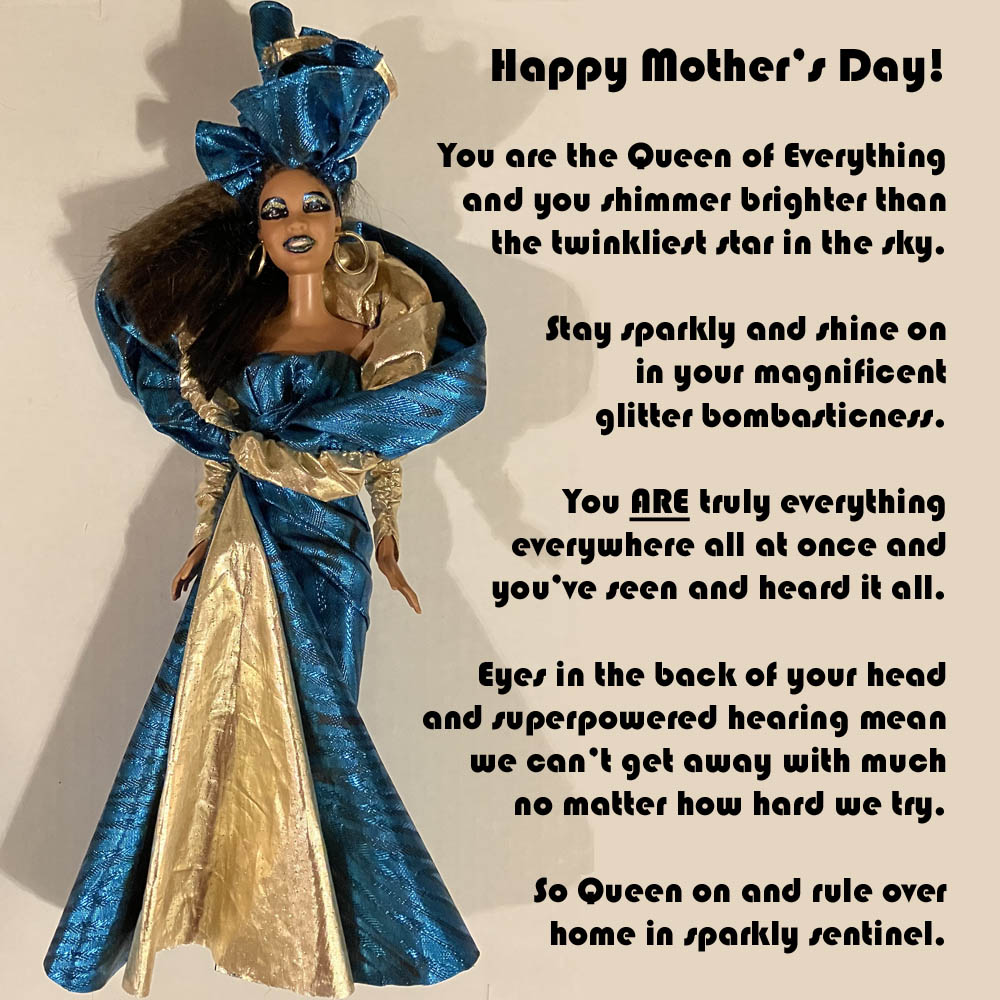 Artwork description: A Happy Mother's Day card featuring a picture of a Nefertiti doll with swooping hair, glitter makeup, and elaborate gold and blue headdress and evening gown.
Image text reads: Happy Mother's Day! You are the Queen of Everything and you shimmer brighter than the twinkliest star in the sky. Stay sparkly and shine on in your magnificent glitter bombasticness. You ARE truly everything everywhere all at once and you've seen and heard it all. Eyes in the back of your head and superpowered hearing mean we can't get away with much no matter how hard we try. So Queen on and rule over home in sparkly sentinel.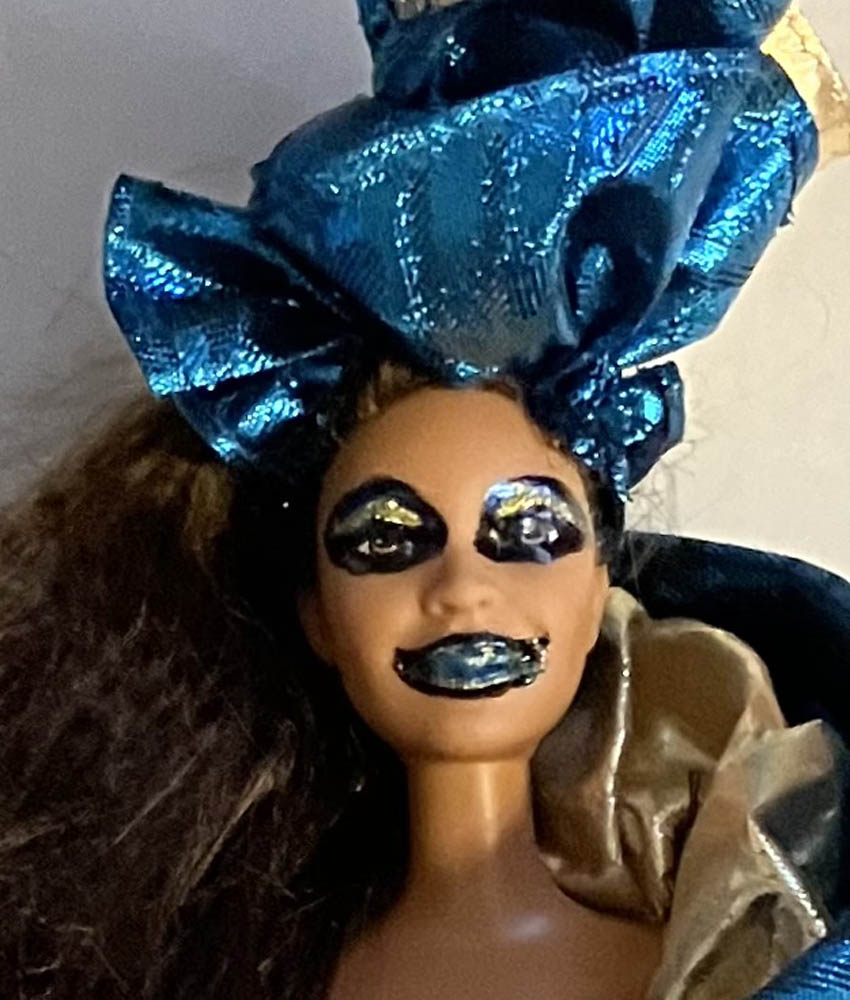 And may this be a testament to why us kids shalt never get you out of bed too early or run amok while you are getting ready to start your day… Because being the Queen of Everything takes planning and preparation…
Feel free to check out this Mummy Dearest Mother's Day card from 2021 here on Haunted MTL.