What a delightful tale coming from the mind of Christa Planko. It reminds me of the games my cousin and I used to play in a haunted house somewhere in the Northwoods. But they weren't games for Corey and the gang, were they? – Jim
The Shutterbug
"Do you think this is a good idea?" Jeremy hesitated at the bottom of the warped wooden stairs. His three friends already stood upon the creaking porch.
The shortest, stockiest of the boys swept the cobwebs out of his way as he led the pack toward the front door. "What he means," Corey said. "Is 'do you think we're a bunch of wussies?'"
"Hell, no!" chimed Randy and Raymond in unison. They were identical twins and always in sync.
"I'm not wussing out!" Jeremy cried. "I just don't want to get busted for trespassing. The cops patrol the streets on Mischief Night, you know."
"So, we'll keep extra quiet," Corey said. "Now shut up and follow me!"
Jeremy gulped and climbed the rickety steps. The boys stood by while Corey picked the lock. Slowly, he pushed open the door. It moaned on rusty hinges.
"Quick, guys!" Corey ushered the boys in and shut the door behind them. Their flashlights immediately scanned the dusty room. Nothing but a few pieces of furniture draped with sheets—a sofa, an armchair, a coffee table. Otherwise, the house stood as vacant as the day it was abandoned.
"We're here again why?" Jeremy asked.
"To see the room where it happened," Corey said.
"Um…where what happened?"
"I'll tell you all when we get there," Corey's flashlight illuminated a staircase. "This way!"
He mounted the stairs, bravely leading the way. Randy and Raymond prodded each other to go first.
Corey paused halfway up the stairs and spun around. He frowned. "Come on!"
Jeremy shoved the twins from behind and they squeezed up the stairwell, side by side. They followed as Corey ventured up the second-floor hallway. He shone his light into each room, passing each one by until he came upon the largest at the end of the hall.
"This is it!" he cried. "The master bedroom. This is where they found her."
"Found who?" Jeremy asked.
"Shirley Sugg," Corey whispered. "The Shutterbug!"
"Oh, we know this story!" Randy elbowed his brother in the ribs.
"Yeah, but we thought it was just an old tale," Raymond added, clutching his side.
"What tale?" Jeremy asked. "Someone please tell me already."
"It was told to us as an old rhyme," Randy started. Then he and his brother chanted in unison:
Shutterbug. Shutterbug.
Shirley Sugg was a shutterbug.
Photography her only role,
she captured your photo, then captured your soul.
She carved your smile with a box cutter.
The Shutterbug will make you shudder.
The boys all jumped as a rat suddenly darted across the floor, startling them.
"OK, that was really creepy, guys!" Jeremy panted, holding a hand to his racing heart.
"Oh, it gets better," Corey smiled. "I know the true story. Shirley Sugg was an actual person. This was her bedroom." He propped a lantern on the bed and turned it on.
The twins froze, then glanced about, trying to play it cool. Jeremy's body shook with fright.
"Check you out, bro!" Corey snorted. "You really are a wuss!"
"Am not!" Jeremy snapped. He collected himself. "It's just that it's cold in here."
He shone his light around the room.
"Hey, look!" He snatched an object from a nightstand and turned around. "It's an old Polaroid camera!"
He held it up and aimed it toward them all.
"Group selfie! Smile!"
He pushed the button. Surprisingly, the camera groaned, producing a square, white photo. They stood around, watching as an image began to develop. Within minutes, their awkwardly smiling faces emerged.
"You shouldn't have done that," Corey said.
"Why not?" Jeremy asked. "We needed to lighten the mood."
Corey shook his head. "I didn't get to tell you the story."
"Well, tell it already so we can all get outta here."
Jeremy crossed his arms and glared at Corey. Corey glanced from face to face, then began.
"OK. So, Shirley Sugg was a local photographer about half a century ago. She was an oddball, but good at what she did. She never married and she lived alone—here."
Corey observed the captive audience before him, then continued.
"Over the years, she got stranger and stranger. She started walking around with a Polaroid camera, taking pictures of random things. Then one day, someone got in her way. That's when she completely flipped out and went bonkers. They say she stalked the person afterward, then killed her."
For dramatic effect, Corey lowered his voice to a whisper.
"When they found the body, it was posed in a chair, the mouth carved into a permanent smile. The ruined photo sat in the dead woman's lap with her image scratched out."
Corey stared at the horrified faces before him. The twins whistled low in disbelief.
"That is one creepy story, dude," Jeremy finally said. "But whatever happened to Shirley? Was she arrested?"
"No," Corey smirked, enjoying the fright he was giving his friends. "That's the strange part. When the cops showed up at her house, there was no answer. So, they entered. What they found was Shirley Sugg in her bed in this room, dead. She had a huge grimace frozen onto her cold, dead face and a Polaroid on her lap. It was a selfie she took—in this very room, but her smiling face was missing from the photo. Instead, it fixed itself permanently onto her dead body."
"Christ!" Jeremy cried. He slowly backed up, bumping into the bed. He jumped. The Polaroid fell out of his hand, onto the bed. It landed image side up.
"Holy, shit, guys!" he screeched. "Look!"
Corey snatched the photo. The twins gasped as they looked over Corey's shoulder. The photo showed the entire group with the exception of Jeremy's face, now a white smear.
"OK, let's get outta here!" Corey said. He bolted out the door and down the hall, the twins immediately in tow, when a slam occurred behind them. The last sound they heard from behind Shirley's closed bedroom door was Jeremy's scream, followed by a maniacal laugh.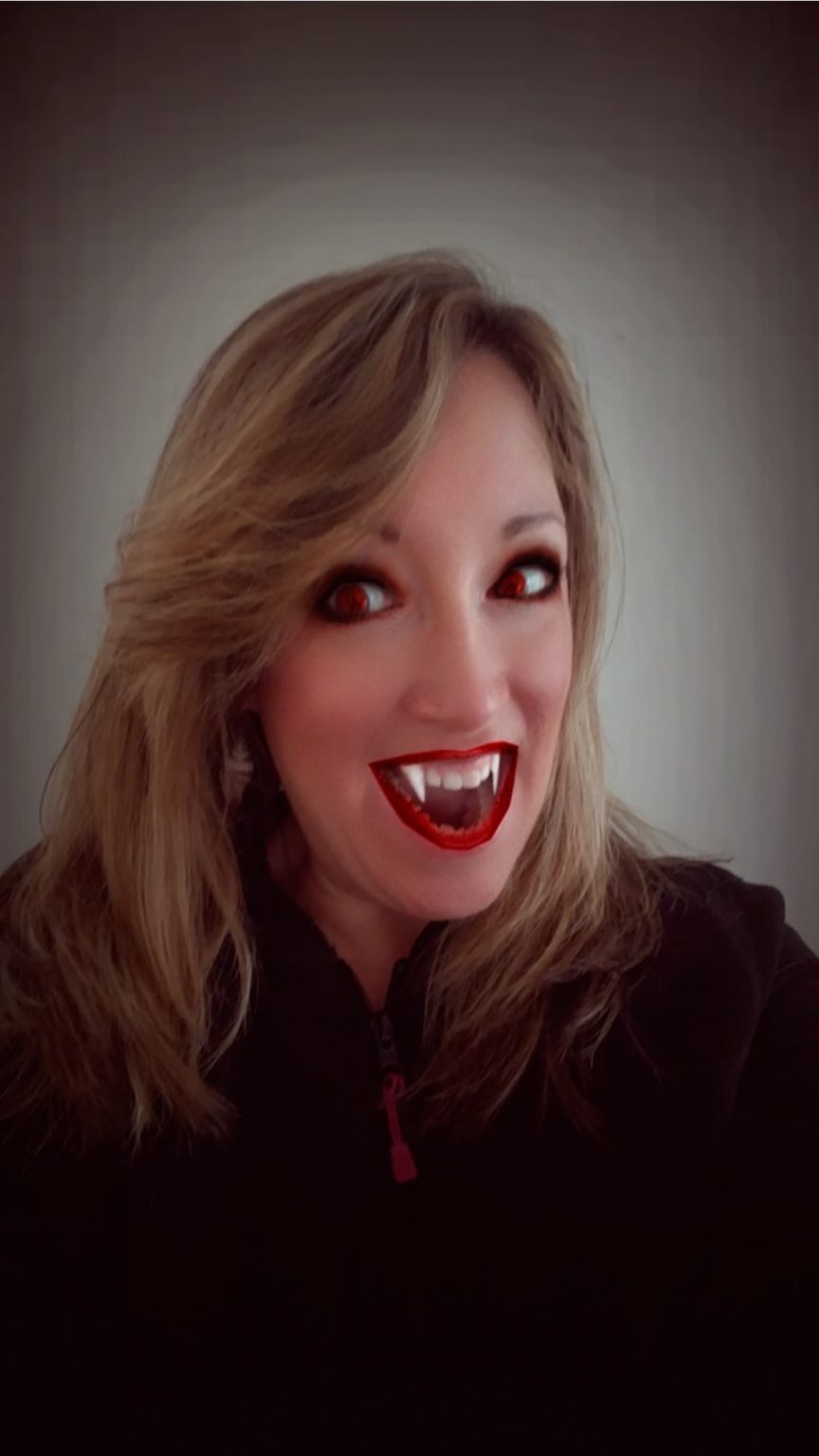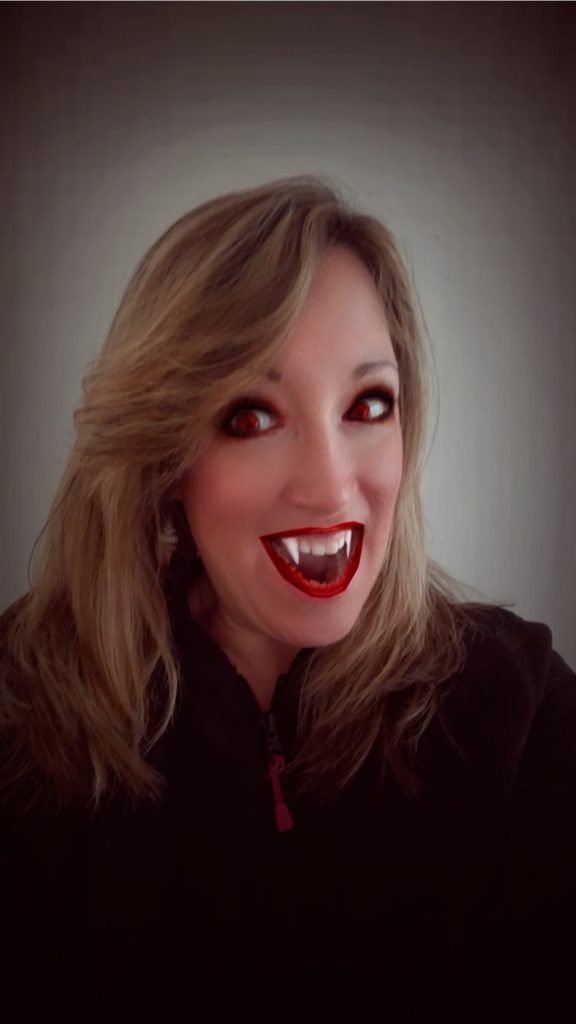 Christa resides in South Jersey—home of the Pinelands and the Jersey Devil. She is a medical writer by day with a passion for creative expression. Her poetry and short stories have been featured in several publications, including Jitter Press, Rune Bear, Tanka and Haiku Journal, and Every Day Fiction.
LTD Tripped Out Motivational Posters
Tripped out… in case you just couldn't get enough of Everything Everywhere All at Once and the return of the infinite bagel with EVERYTHING on it…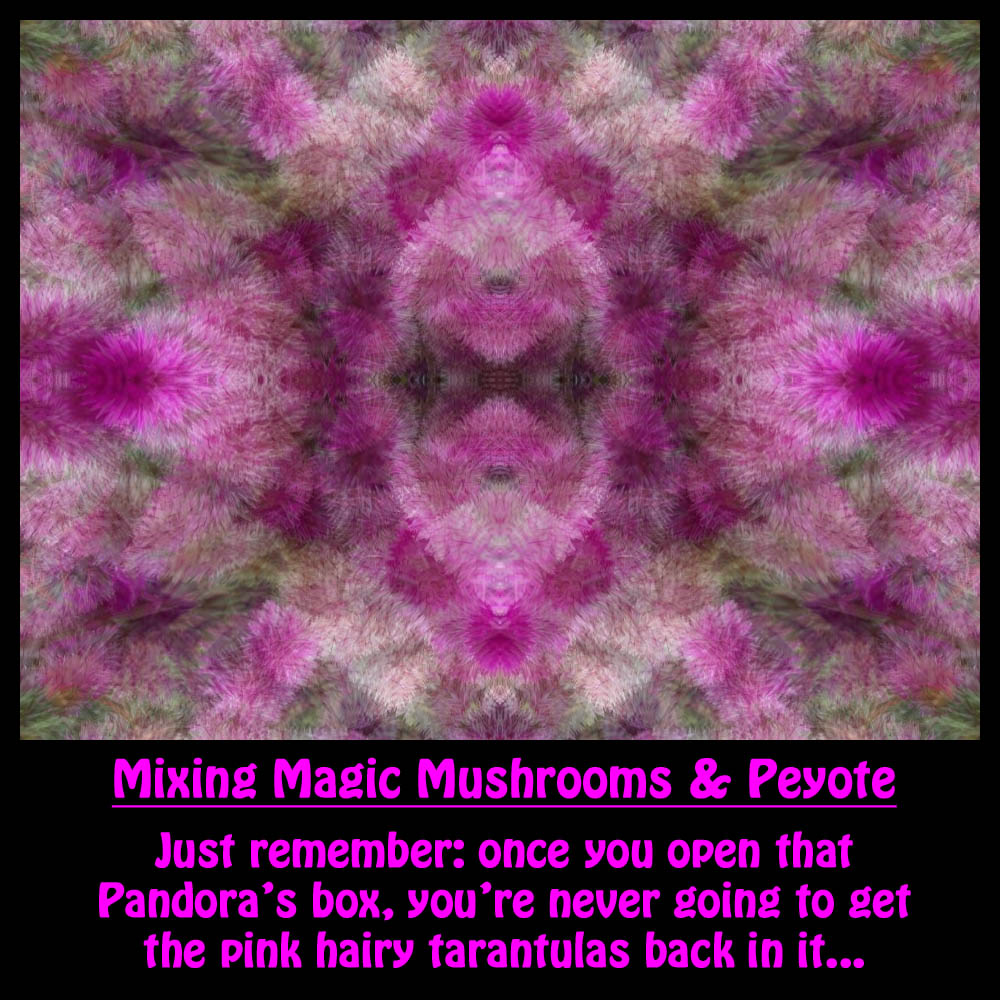 Artwork description: kaleidoscopic image of pink hairy horror (This is actually a fink fuzzy frond plant not unlike a Cockscomb but with longer thinner flowering feelers rather than the fuller protuberances you see on a full-bodied Cockscomb plant. I have no idea what it was, but it was very odd so I had to snap a photo.)
Image text reads: Mixing Magic Mushrooms & Peyote Just remember: once you open that Pandora's box, you're never going to get the pink hairy tarantulas back in it…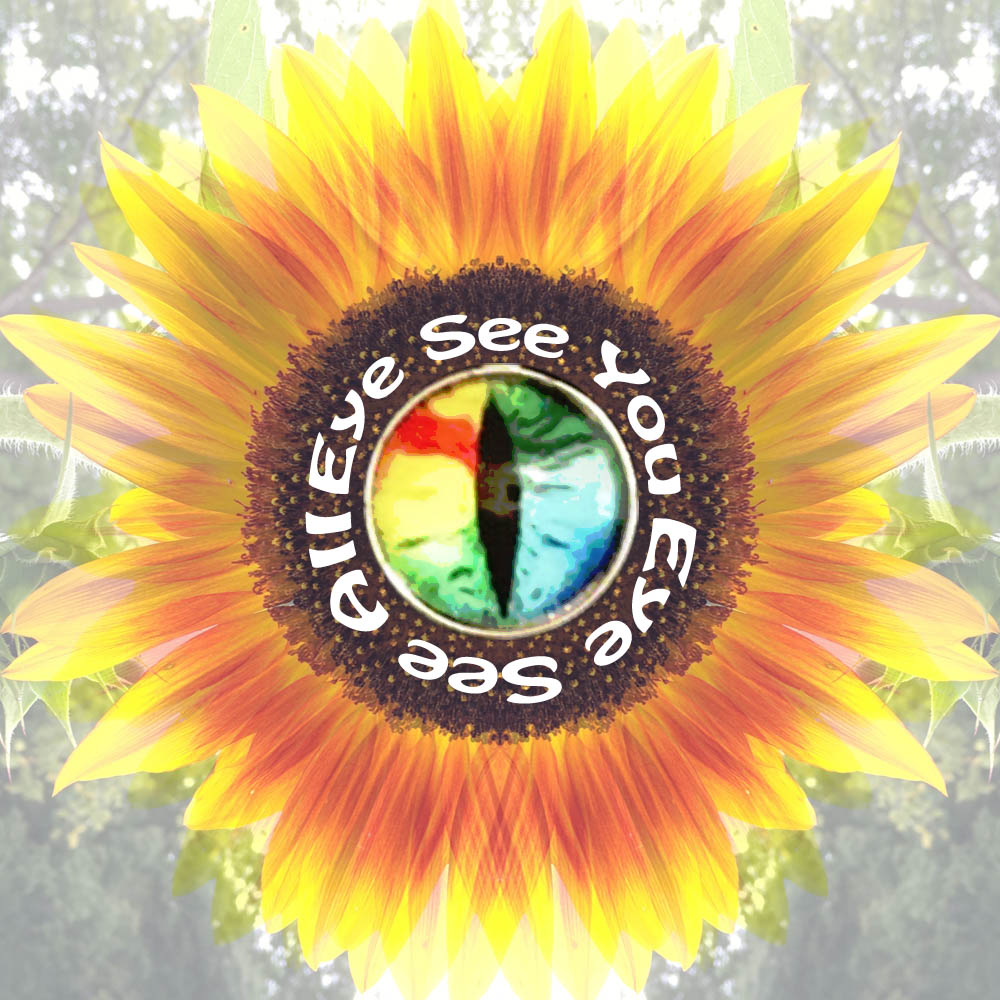 Artwork description: kaleidoscopic sunflower backlit by the sun with text and rainbow eye overlay
Image text reads: Eye See You Eye See All (in circle text so you can start and end reading wherever). In an ideal context this would be printed in the bottom of your tea mug or on a record that can slowly spin.
For more crazy tripped out fun, check out Weird Al's post on Craig's List…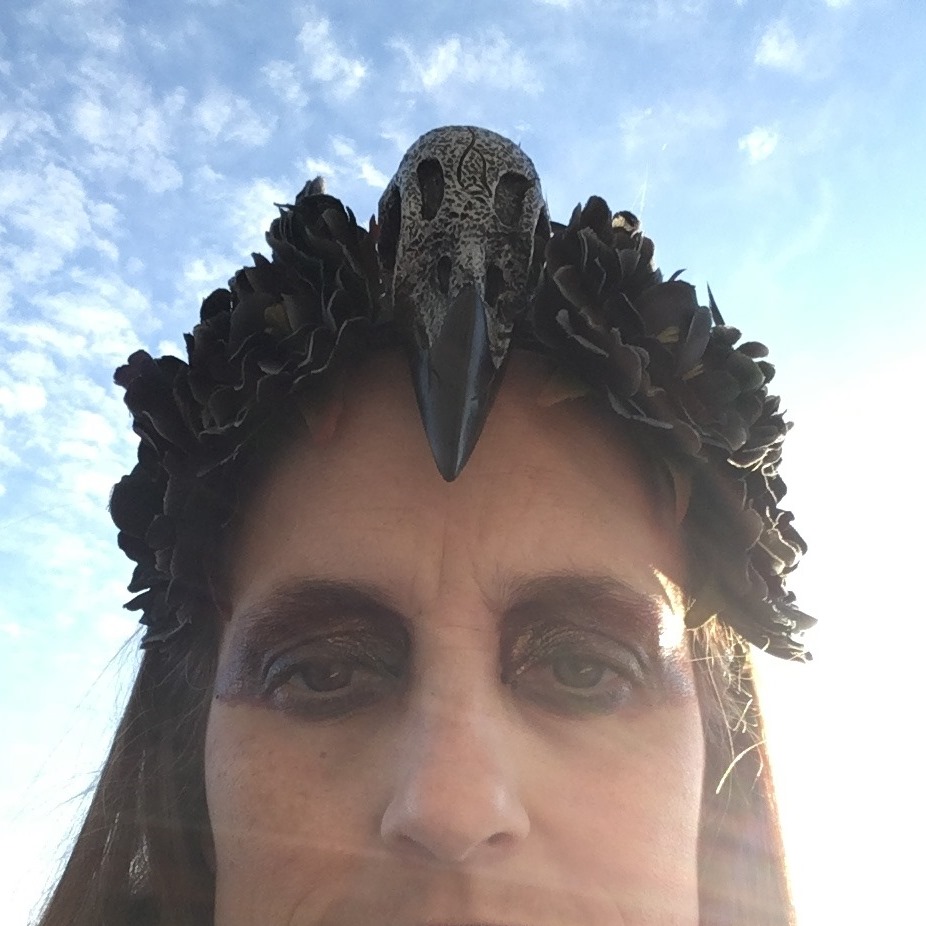 The Elves Reunion, a short story by Jennifer Weigel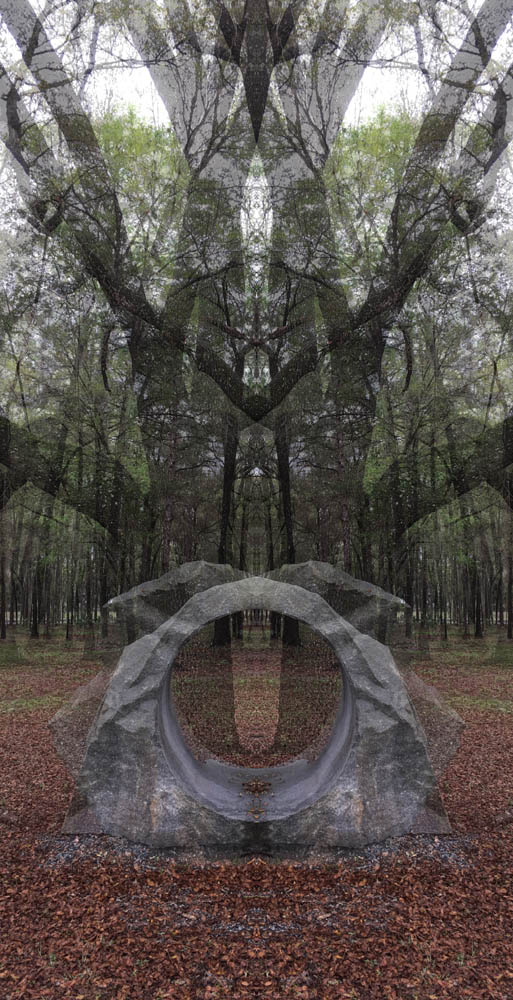 I had heard tale that The Elves dwell in these woods. Many underestimate The Elves; they have a fondness of heart for Tolkienesque Middle Earth fantasy stories and tales where Elves are the most highly civilized, virtuous and intelligent. They forget that those are just myths, save for The Elves being cunning. Remember that the Pied Piper was an Elf, and the children he took were not destined for such a glorious fate.
My sister lost her firstborn to The Elves. She hadn't noticed the Changeling until it was too late. Her baby had already long since been stolen away. She was so distraught she refused to eat or speak. She locked herself in her room. Or my family locked her into it as she succumbed to the madness. Such are the ways of the family, for all of our protection. We never question but follow as expected, as a means of self-preservation. It has kept us all alive.
But I couldn't get the sinking feeling out of my stomach; the grief became too overwhelming. That is why I came here. I know I will not be able to rescue the child, nor my sister. But I seek to avenge their meaningless deaths. To ensure that it doesn't happen again. My family will never act. I am tired of the Village Elders just shrugging these things off in hushed whispers and badly shrouded secrets. It happens time and again. We are all expendable. They never do anything.
So here I am, in the Elven wood. Alone. As soon as my family figures out that I'm here, they will disown me. They probably already have. Again, it is for our own protection. I'll be just another casualty of The Elves. Everything is so structured, so regimented. Anyone who dares act in opposition to the rules vanishes. We are all so afraid.
I lay in wait. It's just a matter of time before the portal appears. The Elves use the portals to travel across time and space. They appear where and when they wish. But this time, I will go through first. I know not what is on the other side, just that the portals allow only one to traverse in each direction. We will trade places, if only for a moment until another portal forms. Hopefully that will be enough time.
The trees shift and morph. Falling leaves drift slower and slower towards the ground. There is a stillness that I cannot fully express. My breath hangs heavy in the silent air. There is no sound, no smell, no taste. It is time. The hairs on the back of my neck and arms rise. I can sense the opening forming. There is an uncanny familiarity in this moment, as if I have been here before.
As soon as the portal opens, I dash through. But something isn't right. No one came through from the other side. Or did they? I cannot tell. I am alone, in limbo between states of existence. The world spins around me. I can feel the drift. Is this what death feels like? Cold unbroken silence? I feel distant eyes upon me everywhere, all around me, in the trees, the clouds, pinpoints of light that shimmer through.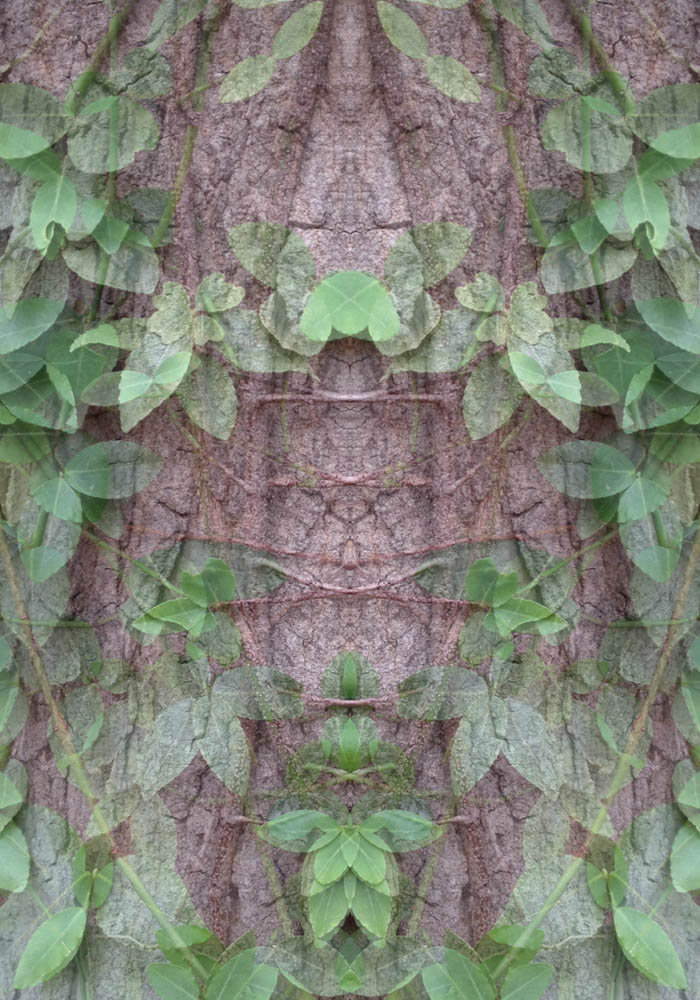 I wasn't sure what to expect. Maybe this is all according to plan. But who was orchestrating the exchange? My idea was only half formed in those passing pensive moments I am able to think for myself, few and far between. My family, the Village Elders… no one allows time for freeform thought. I hadn't considered what would happen after the portal exchange. I never really got past step one.
A voice greets me from the trees. It is hauntingly familiar but seems only a distant memory.
"I've been expecting you."
The world slowly comes into focus. Clarity restored, the leaves circle me in an embrace. My sister emerges, her dark eyes smiling. She cradles the baby in her arms.
"You made it. You escaped," she sings.
"I didn't see anyone," I retort, skeptical. I hadn't recalled having seen any Elves, dark nightmarish fiends that they are, wild, unkempt, uncouth. Savage beasts like Pan or Krampus. Is this an illusion? My sister seems so lifelike, so much herself. She is the joyful young mother I had known her to be. Filled with love and laughter. Light dances about her, and she shimmers.
"Not in passing," my sister clarifies. "You have been living among them your whole life. I had done so as well until the baby was stolen. My heart broke; I had to follow after. That was when I learned the Truth."
"Why do you think we are so sheltered? Why are we forbidden to do anything? They do so to protect us from the Truth about who and what we are," she continued. "We've spent our lives evading that which we truly know ourselves to be. We were the stolen ones, not the other way around…"
I notice that the portal I came through is still open, reinforcing my idea that no one had passed through the other way. It is as if the portal was opened specifically to call me through. My sister extends her hand, beckoning me to join her. There is a gleam in her eye I cannot pinpoint. She seems happy, but something still isn't quite right. I'm still uncertain why I am here, in this time and place, as if destined to be present in this moment, in this decision.
The Village has fallen away to the woods. There are no breadcrumb trails to follow home. The idea of home itself seems distant like yet another illusion. Nothing makes sense anymore. I am unsure whether I am coming or going. Two paths lay open before me. Which shall I take?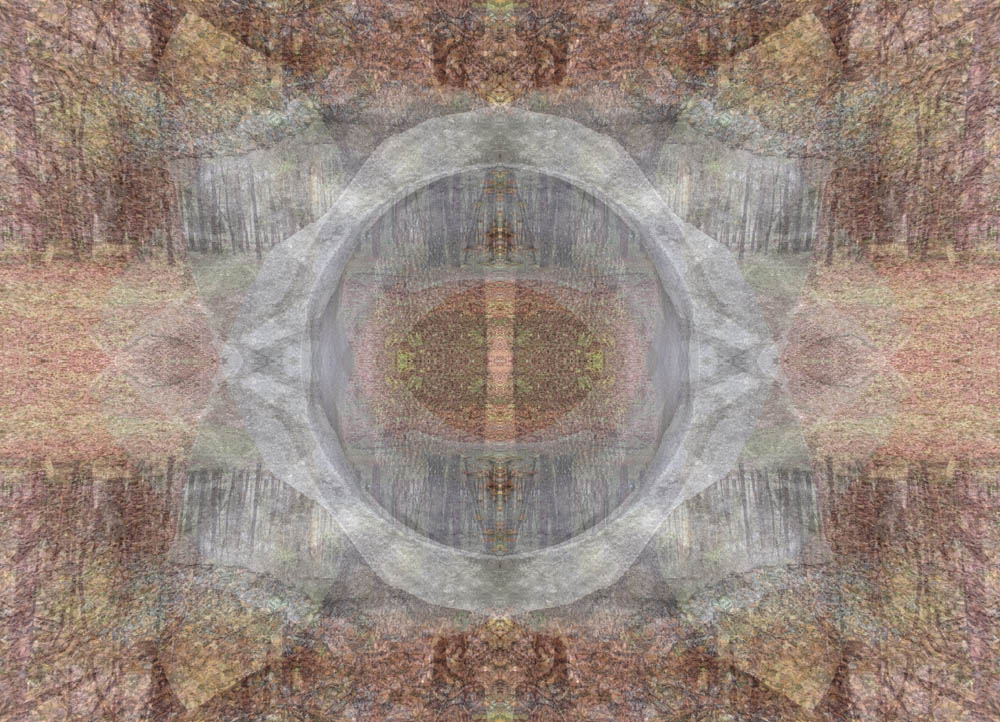 The trees are full of Elven magicks… Feel free to check out more of Jennifer Weigel's work here on Haunted MTL or on her writing, fine art, and conceptual projects websites.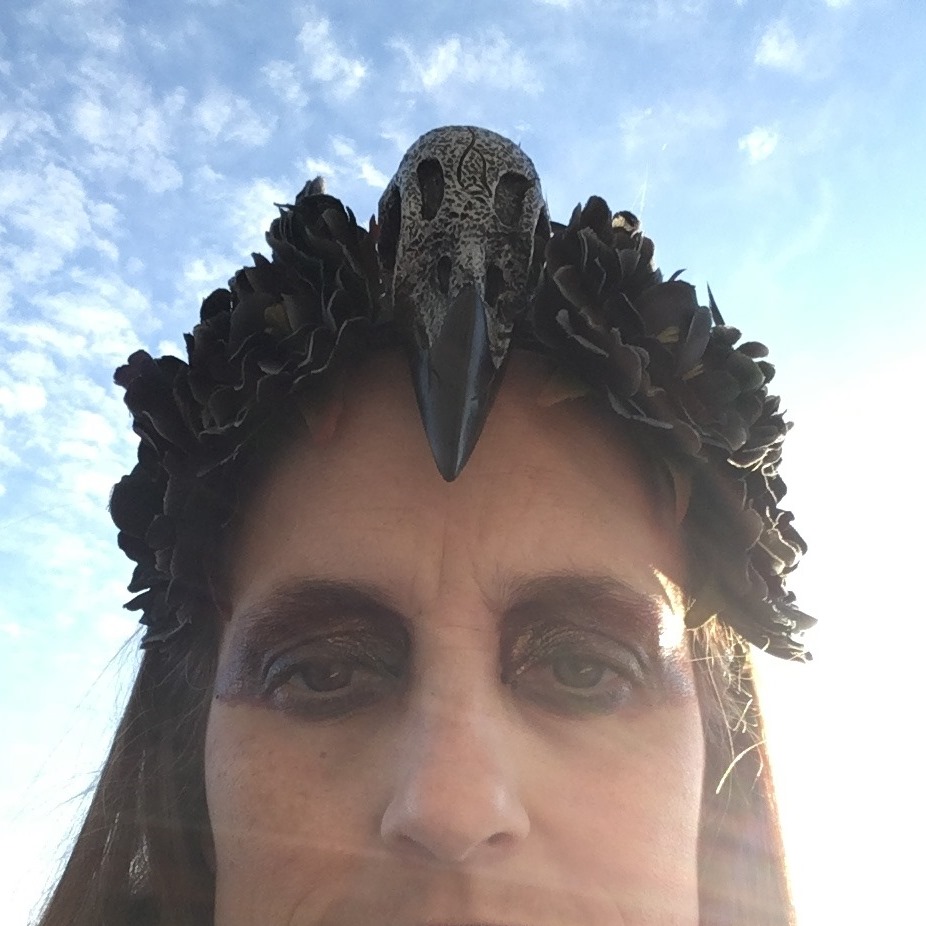 Eye Candy Jewelry by Jennifer Weigel
I have been getting ready for a jewelry show in February and thought I'd share some of the fun eye candy necklaces I've been working on. Do they thwart or attract the Evil Eye? I think that depends largely on the wearer's intentions… Each is hand-beaded and features a spooky printed eyeball pendant as its focus.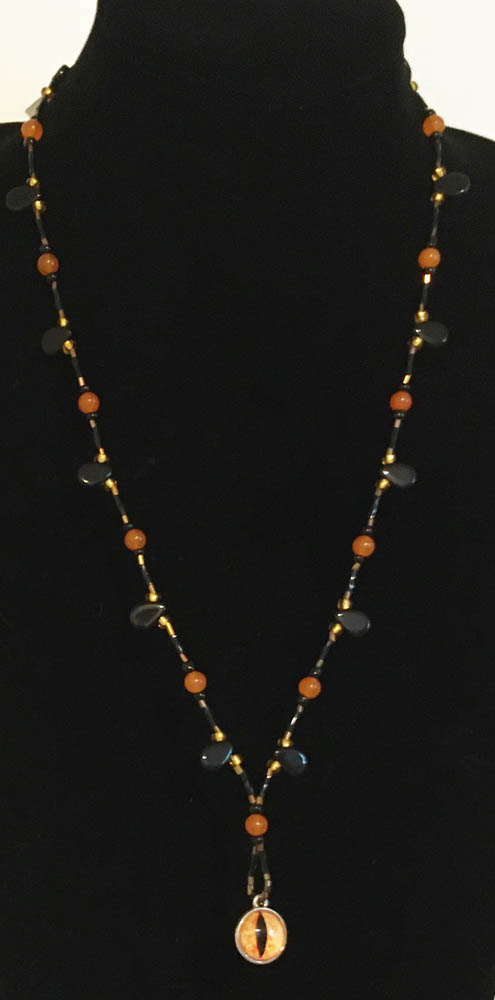 And the piece de resistance… A RAINBOW Evil Eye necklace with magnesite stone skulls! I love these happy little deadheads – they are just too spoopy… I have seen these beads ranging in size from very small to huge and I love all of them.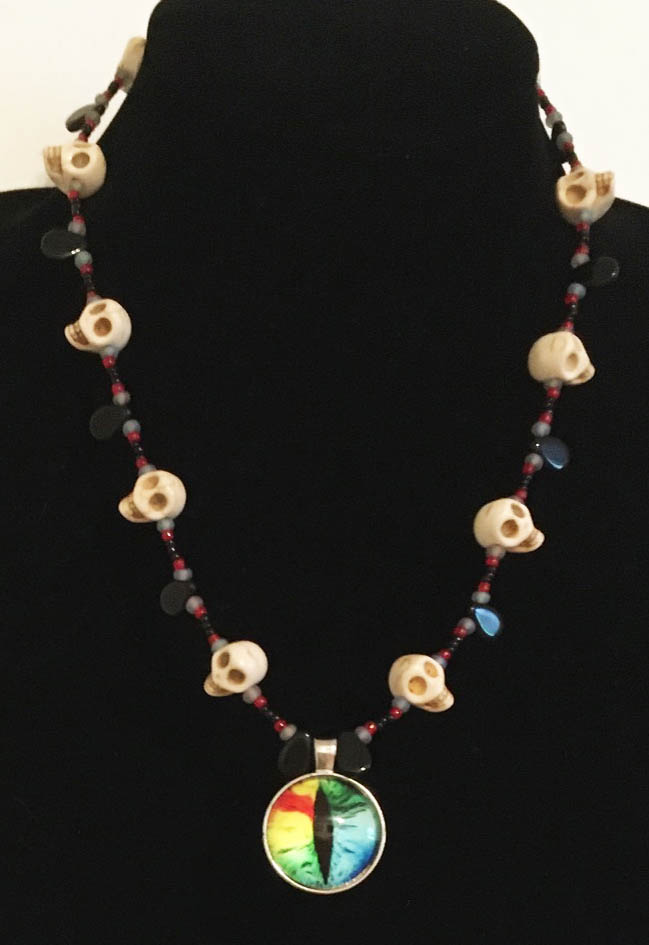 I love using eyes in art in weird and unusual contexts in my art. They have so much presence and symbolism. They also bring a sort of surreal atmosphere to any artwork, which bears just a hint of spookiness regardless of context.
Other artworks & graphics by myself that prominently feature eyes have appeared here on Haunted MTL in Insomnia, Indecision, Illuminati, Carriage Factory art installation, The Watchers, The Red Key, and Shaman Sticks.
You can check out some of my Hauntings jewelry on Haunted MTL here, and more jewelry is featured on my website here.