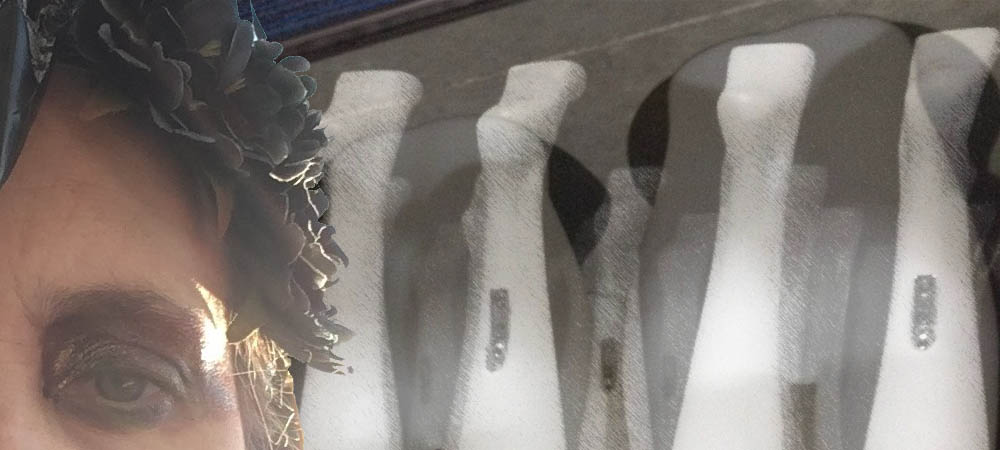 Betty Lou's Treasure Trove: Mannequin Horror Summer Series by Jennifer Weigel, Chapter 3
Last time on Betty Lou's Treasure Trove…
On her second visit, Pauline cleaned and organized old sets of dishes along their display, dusting everything as she rearranged it. She faced a large plate or platter from each set towards the shop and stacked other pieces of the set in front of it to hold it in place. As she worked, Pauline became aware of a low sobbing. It was almost lost to the harsh wailing operatic trills piped into the small shop, but it was clearly audible. Pauline turned quickly towards the source of the sound, straining to hear. A hushed woman's cries seemed to echo from the basement, down the dark rackety stairwell.
Dear God, that creepy man Chester has someone trapped down there, Pauline thought. She stepped towards the stairwell briefly and then stopped in her tracks. What if he was there? He had explicitly said never to go downstairs and, if he had one poor hapless girl trapped there, he probably wouldn't think twice before adding another…
Pauline glanced around the shop. Betty Lou was sitting up front, motionless. She had apparently fallen asleep in her chair, waiting for the brass bell tied to the door to ring and alert her to any would-be shoppers. Chester was nowhere to be found. The downstairs lurked, dark and unobserved. Slowly, Pauline crept down the stairwell, slinking along the wall. It ended in a tight hallway. An open door straight ahead gestured into a small closet boasting a mop bucket, broom, and other cleaning supplies. A closed wooden door to the left led under the main body of the shop. The hushed wailing was louder now, emanating from behind the closed door.
Pauline felt the doorknob. It was cold and clammy, worn with age and use. It turned easily, apparently left unlocked. Pauline glided slowly into the room. It was dark, save for a small work lamp clamped to the corner of a reappropriated office desk that had been left on, but her eyes adjusted quickly. The room was a library of mannequin parts. Everything was categorized and shelved on hardware store metal racks accordingly. The lower level cradled an array of legs, some attached in pairs at the hip, others singly spilling over one another, loosely arranged in a pile. A higher shelf held a tangle of arms. An array of torsos sat motionless in the corner.
As she slid past the metal shelves, Pauline noticed a plastic bin with drawers of glass eyes, all sorted into pairs by color. Chipped china bowls held various nuts and bolts, a small jelly jar of nails and other metal tacks among them. Some cleaning and painting supplies took up one end of a shelf, their cracking paper labels faded and peeling beyond readability, along with several very used and notably rust-stained rags that reeked of strong chemicals and lingering funk. The sobbing grew louder as Pauline approached the desk, an out-of-date office monstrosity of rusted metal painted to look like wood with a poorly maintained melanine work surface streaked with gouges, stains, and glued-on detritus.
A lone mannequin torso was perched on the desk, that of a strikingly beautiful young woman. She seemed almost too real, eerily even more so than the elegant mannequin that had drawn Pauline to work in this creepy backwash in the first place. Her Fiberglass frame had a quality about it that seemed almost genuinely fleshy or waxy, like it was still pliable and malleable. A blonde cascade of curls draped itself over her shoulders and spilled onto the desk, coiling into a chipped china saucer filled with small wig pins. Her pale blue eyes appeared wet, staring pleadingly at Pauline. Everything about her looked alive but frozen in time and space, caught in a static hollow shell. She smelled of Fiberglass and harsh chemical cleaners, but also faintly of lilacs and lavender oil and of something else more offputting that Pauline couldn't place, something decaying.
As she studied the mannequin intently, she realized the soft sobbing seemed to emanate from her. As Pauline stood staring, a single tear welled in the mannequin's right eye, pooling into a full droplet before streaking down her cheek towards her pouty full lips. The lone drip was quickly reabsorbed into the Fiberglass form tracing only a shiny streak through the paint on her face until that too dried and she was again wholly static. The low weeping continued, and a second droplet began to form, again in her right eye. It pooled before streaking down her cheek like its predecessor. Pauline's stomach tightened into a ball and locked in her gut. Something was decidedly amiss.
Pauline was shaken from the scene as she heard the bell on the door ring and muffled footsteps trail above her head. She dashed out of the room as fast as she could quietly muster, closing the door behind her on her way out. She slid up the stairs and slunk back to the dishes, returning those she had been cleaning to their shelf as if she had been there the whole time.
Betty Lou was engaged in talking to a couple of drag queens who came to pore through the boxes of old wigs, looking for gems that had henceforth gone undiscovered. As they rifled through a box, Betty Lou pointed out other crates hidden under clothing racks and on lower shelves. One of the visitors was trying on a pair of vintage crystal heels and trying to convince the other that they would work for the show if they just extended the straps a bit.
Pauline finished arranging the shelf of dishes wordlessly, focusing on the task at hand. She was still shaken by her experience downstairs, and could not get the image of the single tear winding its way down the mannequin's cheek out of her head. She wrapped up what she was doing and flashed a goodbye at Betty Lou as she streaked past and out the door. Betty Lou was still fumbling through a box of wigs, pulling out one after another to run her thick fingers through them and hold them aloft for her visitors to consider. A pile of rejects sat to her side while those that passed inspection were lined up on the counter.
"Bye, hon," Betty Lou cooed from behind the register. "See you next week."
After what she had experienced downstairs, for all that she had no idea what exactly she'd seen, Pauline wasn't entirely sure she'd be back…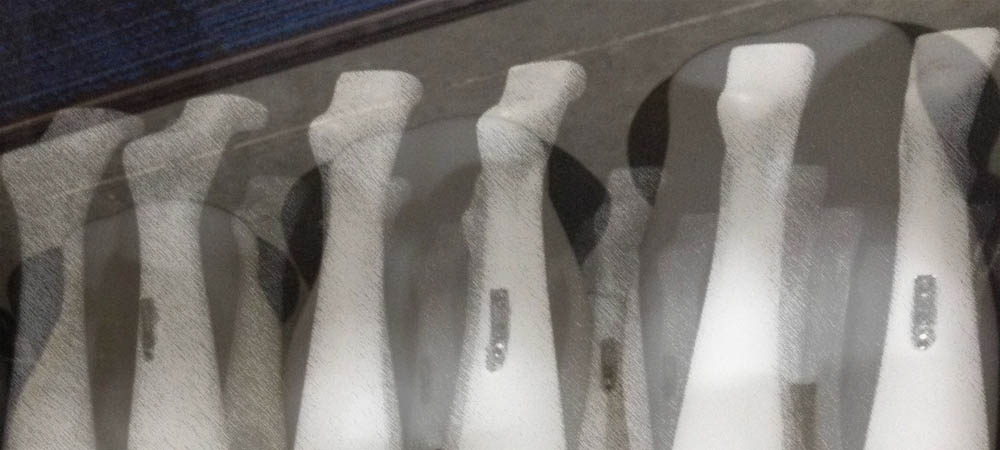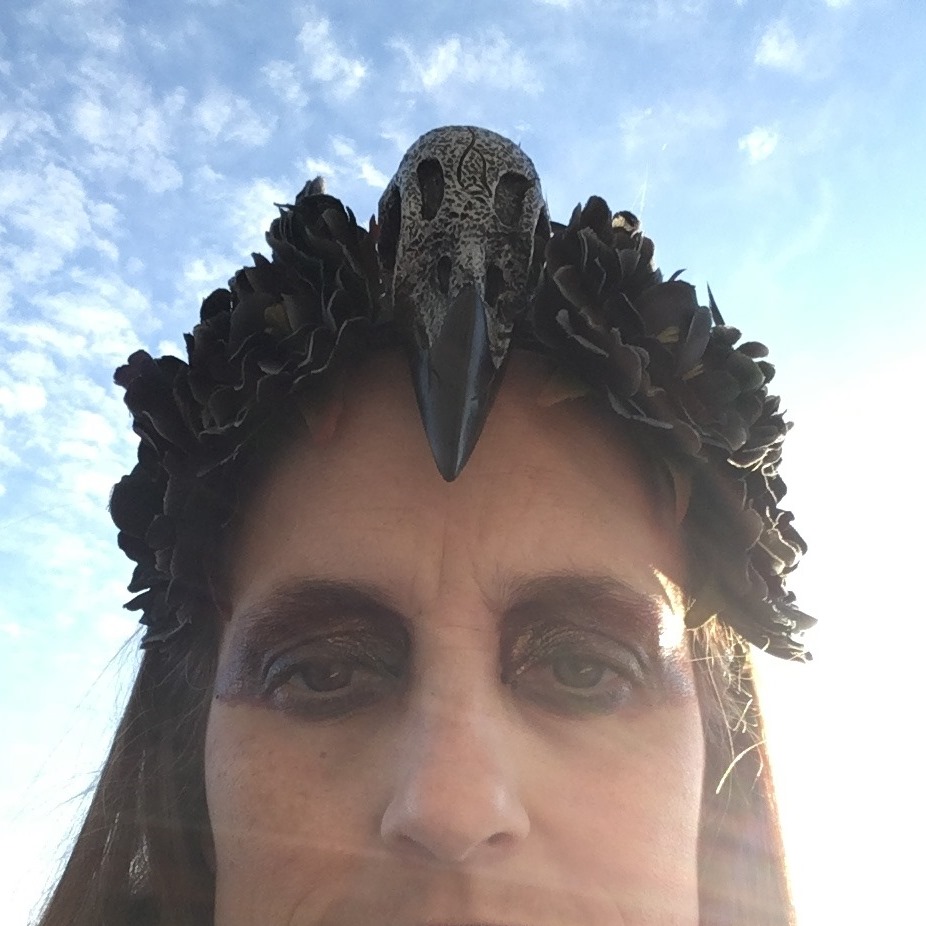 Nightmarish Nature: Vampires Among Us
This is the kickoff to a new series exploring nature that is kind of horrifying, at least in ways. Our first subject is Vampires Among Us. There are lots of animals named for vampires, sometimes due to folklore and sometimes for their appearance (like the Vampire Squid), but most of these animals don't have blood sucking tendencies.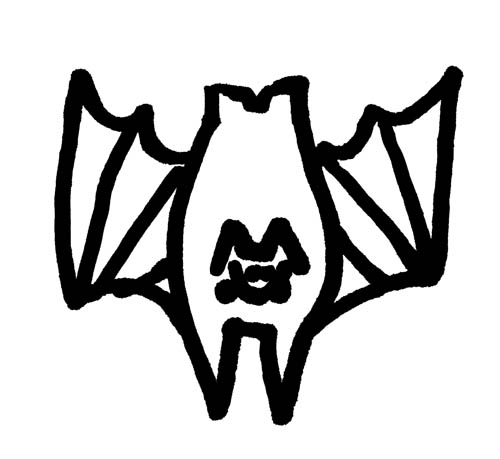 Bats & Birds
There are legit vampire leaf-nosed bats in Central and South America that drink blood. They feed on mammals and are often shown to feed on livestock. They'd be kinda cute if they weren't so creepy. There are also vampiric birds: some finches in the Galapagos have developed the taste for blood of other birds, mainly seabirds that flock to the islands to raise their young.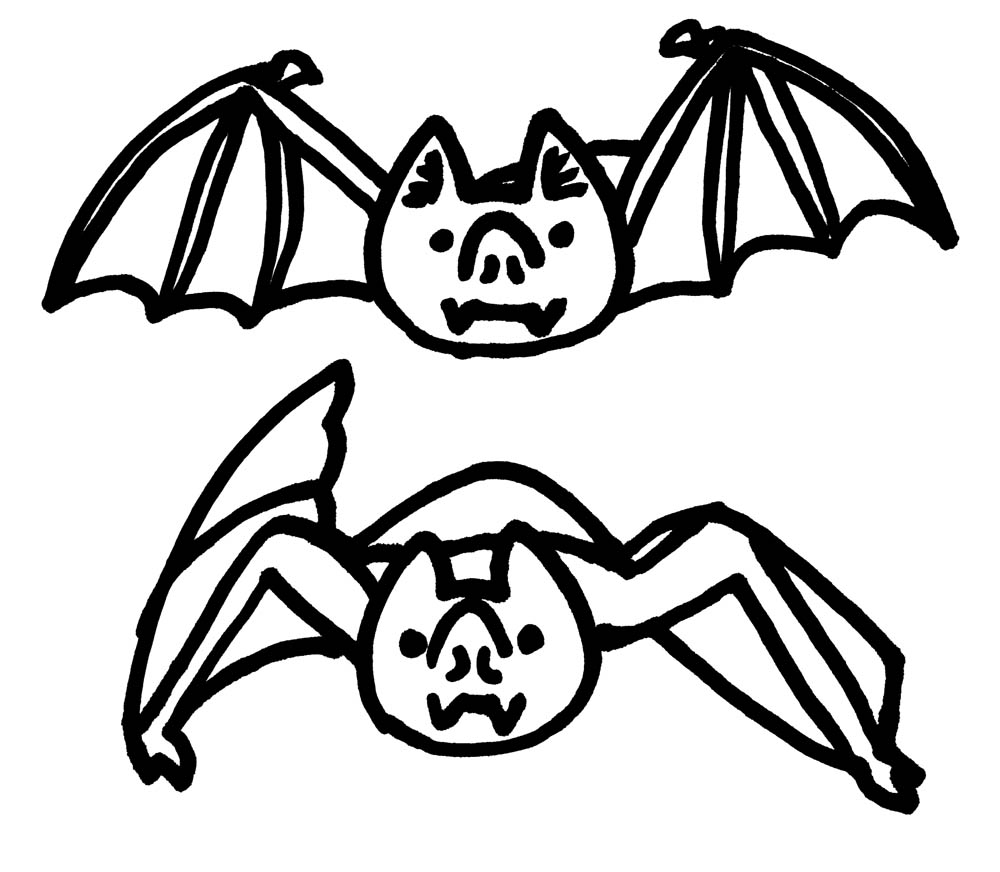 Leeches & Lampreys & More
And then you get into leeches and lampreys and other denizens of the water that are known to attach themselves to larger creatures and drink their blood. Leeches were even believed to have medicinal value (and still are in certain circumstances). And there are also numerous plants that are known to be parasitic and feed on other plants, wrapping their roots or vines around others to steal nutrients.

Spiders
Now I'm going to drift off into the realm where this becomes truly horrific. Spiders. Now, spiders aren't vampires per se, seeing as how they actually kill their prey – they don't just feed off of it while it remains living and wanders about its business. But because of their structure, they cannot eat solid foods, so they have to inject their prey with enzymes to liquefy it so they can slurp it out like a protein shake. That's sort of vampirism on steroids if you ask me, just the kind that no one is coming back from.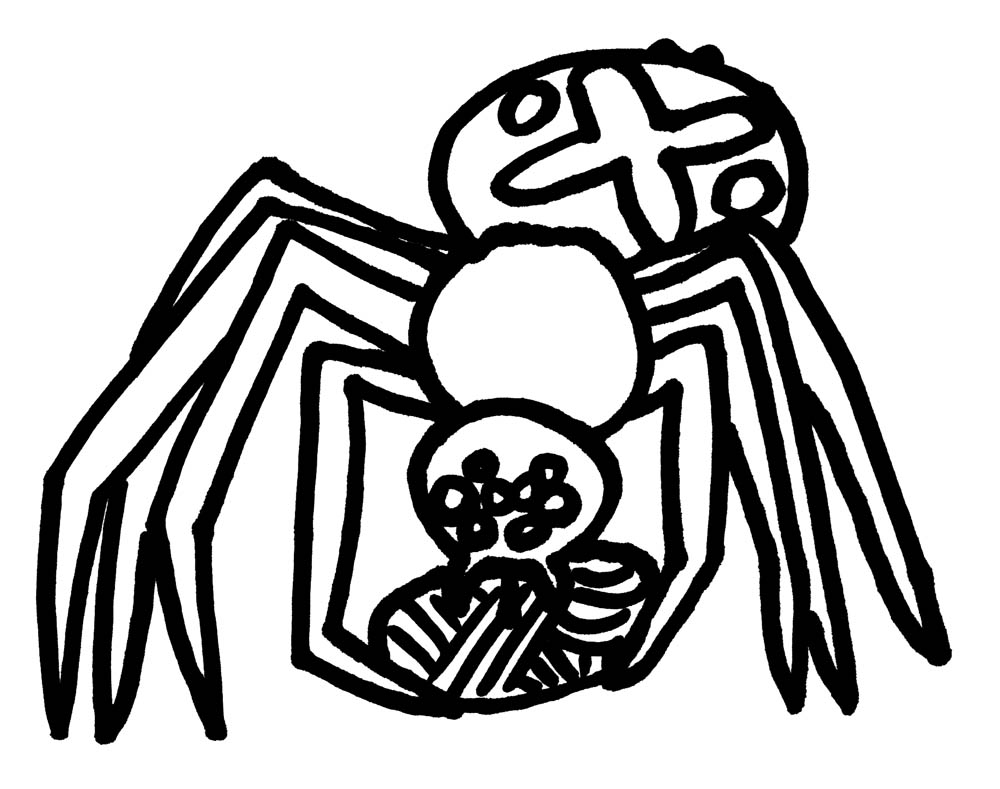 Bloodsucking Bugs
But let's get back on topic. Now let's consider mites and ticks and fleas and mosquitoes and the like. Some drink blood for their survival; others do so as part of their reproductive cycle (like mosquitoes which otherwise eat fruit and nectar but need the extra protein from blood to grow their eggs).
Ticks need to feed on blood once at every stage of their life cycle and can pick up diseases along the way (like Lyme Disease) but don't always do so. Different ticks are more likely to come in contact with different things and often humans are not their preferred meal but they are opportunistic and will feed on whatever is available when necessary. Symptoms of illness from tick bites may take years to develop and can have really weird side effects (like the allergy associated with Lone Star Ticks which makes a person unable to consume mammalian flesh).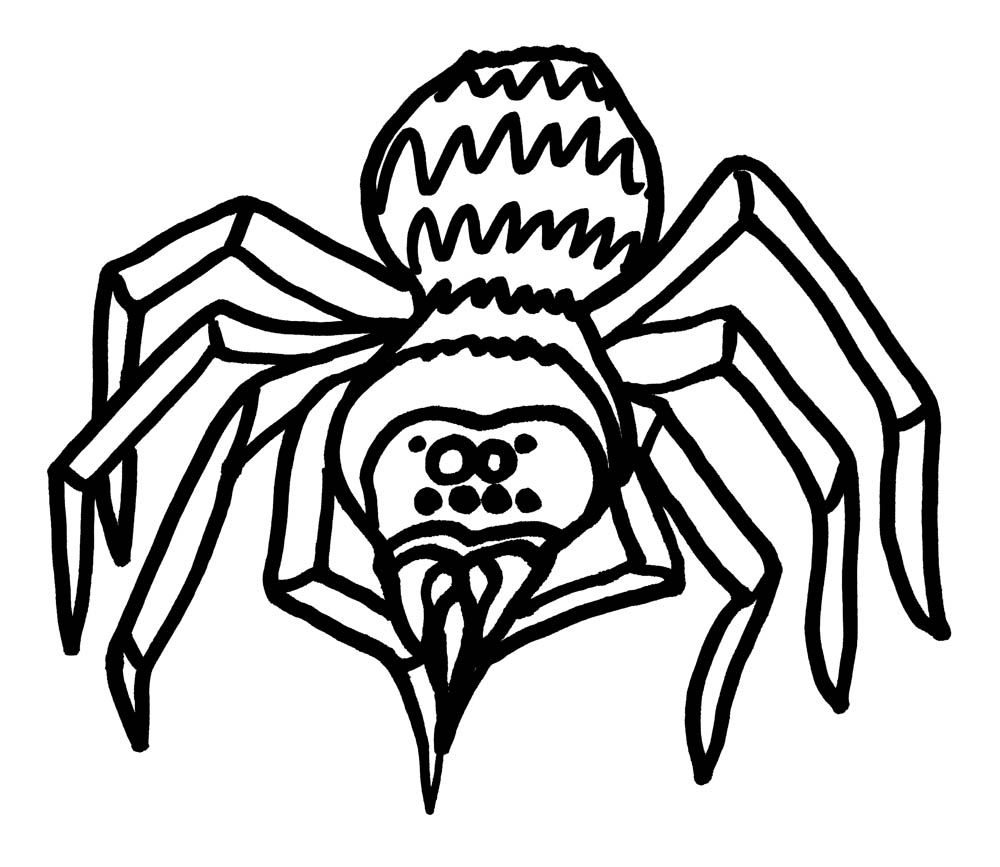 Anyway, here are some brief glimpses of vampirism in nature. Thank you for joining us for Nightmarish Nature and may you avoid getting bitten by any true vampires among us… And I still think spiders take first place in the creepy eating category here, even if they aren't technically vampiric.
Creepy Comics Collages by Jennifer Weigel, Part 5
Well, you won't get rid of me that easily… Ha ha, I lied about coming to the end and the afterlife in the Creepy Comics Collages segment, it was just an opportunity for rebirth. Besides, it's World Collage Day! So having come into another comic book to rework, here we go again…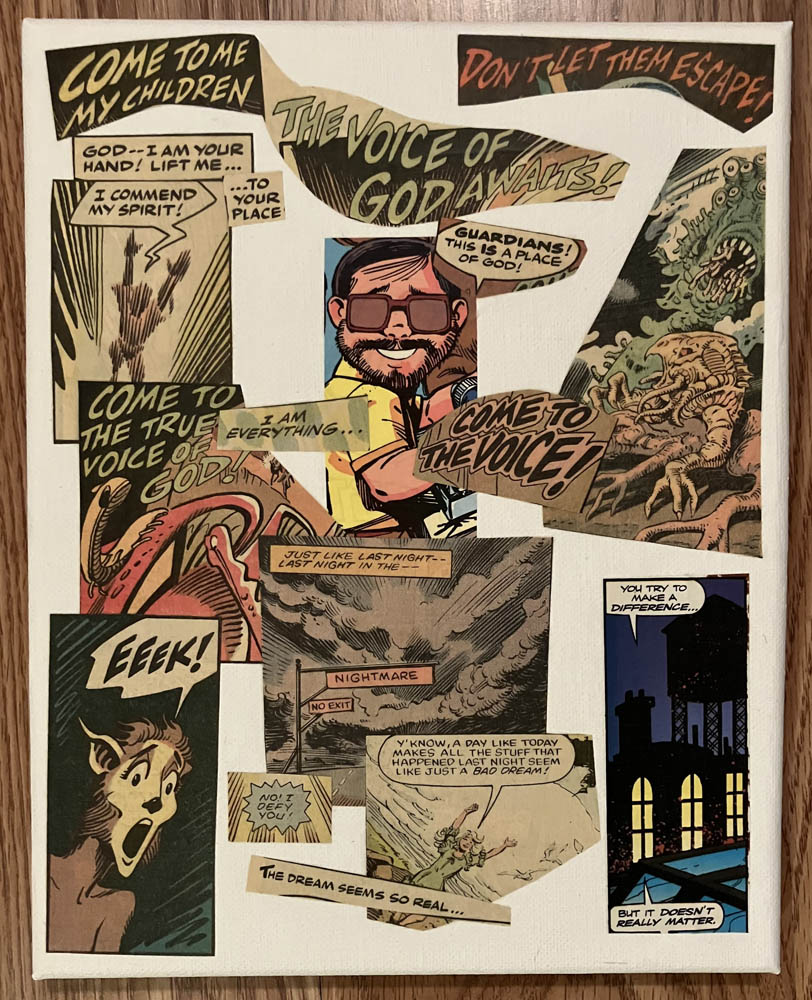 Creepy Comics Story 9: The Voice (of God or Reason or perhaps an homage to my ex)
"Come to me my children, the voice of God awaits!… Don't let them escape!" Please beam me up out of this weird comic collage alternate reality. "God I am your hand! Lift me… to your place. I commend my spirit!" I want to go back to dreaming about starfish.
The computer programmer behind the scenes turns to face us and smiles. "Guardians! This is a place of God!… Come to the true voice of God!" "I am everything." "Come to the voice!" And the horrific AI generated creatures abide by his every coded word.
Just like last night in the — signs posted for Nightmare, No Exit. The deer spirit faun screams in surprise, "Eeek!" "No! I defy you!" She returns to the form of a little girl with arms outspread to the open sky. "Y'know, a day like today makes all the stuff that happened last night seem just like a bad dream!" The dream seems so real…
Somewhere in the city, the computer programmer sits up at night in pensive monologue, "You try to make a difference… But it doesn't really matter."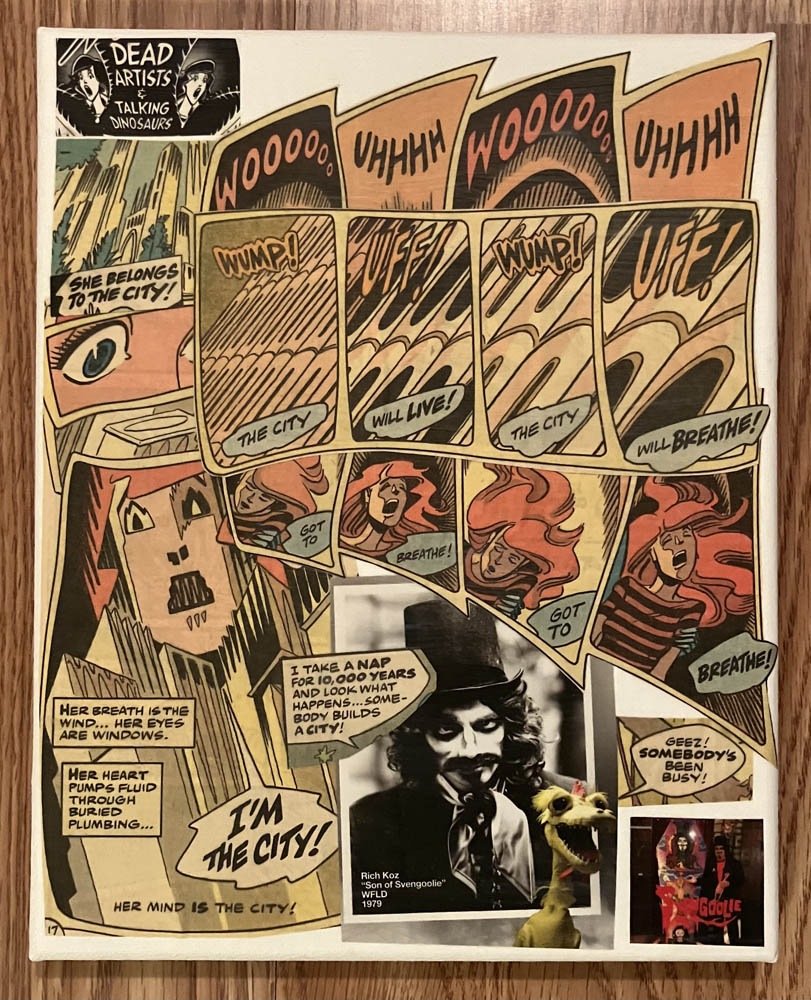 Creepy Comics Story 10: The City (Metropolis becomes self-aware)
This segment is brought to you by Dead Artists and Talking Dinosaurs. No really, wait for it…
Woooooo Uhhhh Wooooooo Uhhhh… Wump! Uff! Wump! Uff! "She belongs to The City!" The Glenn Fry 1985 hit single looms ominously overhead as Metropolis becomes self-aware. "The City… will live!… The City… will breathe!" The City gasps for air, "Got to… breathe!… Got to… Breathe!"
Her breath is the wind… Her eyes are windows. Her heart pumps fluid through buried plumbing… "I'm The City!" Her mind is The City!
And we have a celebrity appearance by Rich Koz "Son of Svengoolie" WFLD 1973: "I take a nap for 10,000 years and look what happens… some-body builds a city!" Kerwyn chimes in, "Geez! Somebody's been busy!" And we cut out to a scene of Svengoolie standing alongside his coffin.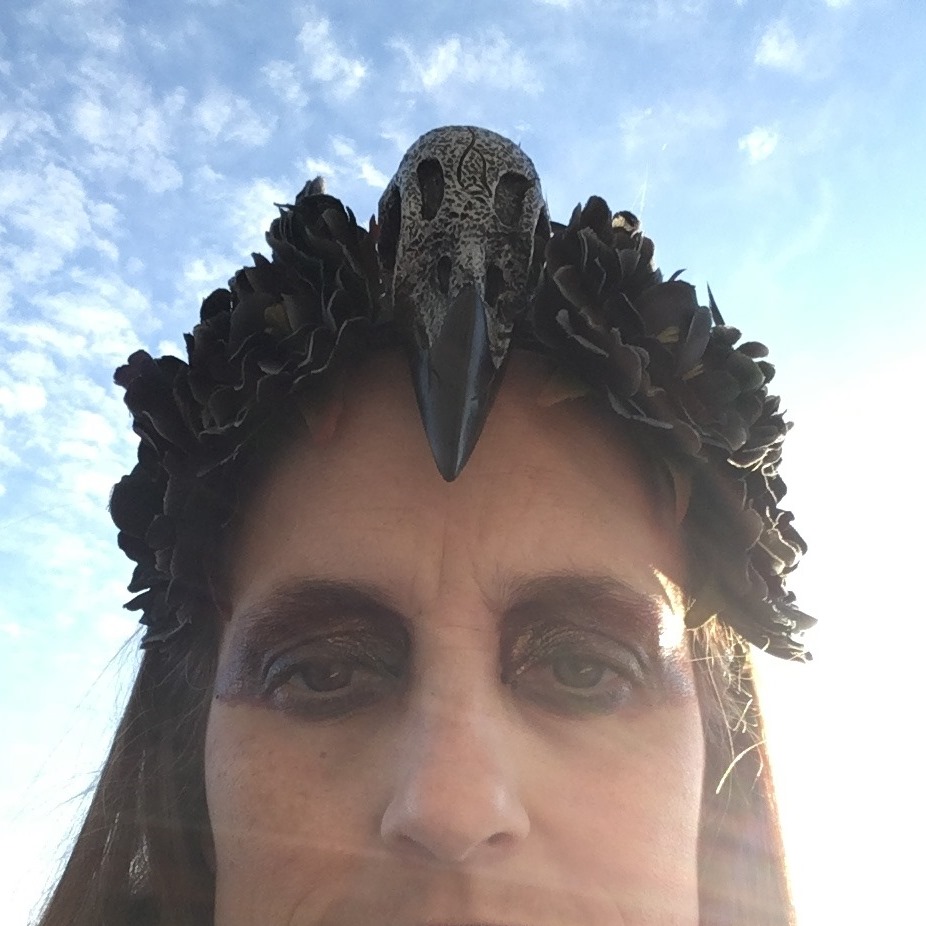 Well, that's all folks. Or is it? For now, any way… until I get more comic books… Duh duh DUHHHH…
If you want to see more art, check out more of Jennifer Weigel's work here on Haunted MTL or on her writing, fine art, and conceptual projects websites.
Creepy Comics Collages by Jennifer Weigel, Part 4
Wow, I can't believe you've stayed the course through four whole strange story posts of these creepy comics collages. But this is the final frontier, the last segment, the standing ovation as it were. So here goes…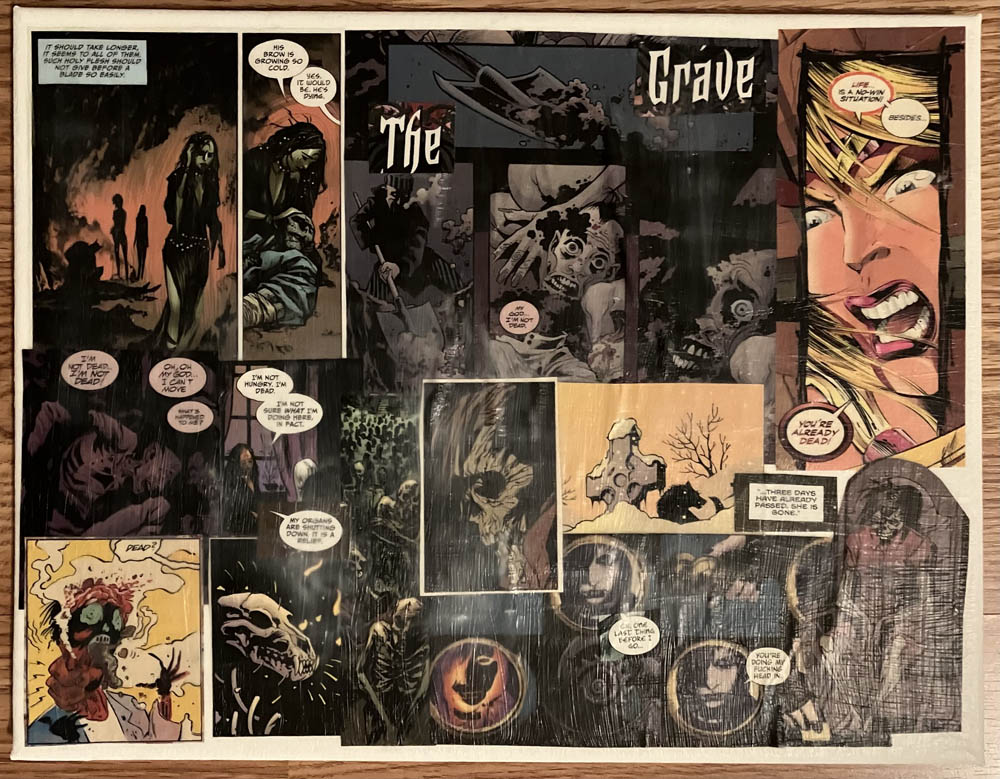 Creepy Comics Story 7: The Grave (shallow enough for ya?)
"It should take longer, it seems to all of them. Such holy flesh should not give before a blade so easily." "His brow is growing so cold." "Yes it would be. He's dying."
"My god… I'm not dead." Put the shovel down. "Life is a no-win situation. Besides… You're already dead!"
"I'm not dead. I'm not dead!… Oh, Oh my god… I can't move… What's happened to me?" Buried alive. Or maybe not.
"Dead?" Perhaps I am actually dead. I was expecting something… I dunno… different.
"I'm not hungry, I'm dead. I'm not sure what I'm doing here, in fact." At least I'm not a zombie. That seems a small consolation right now though. "My organs are shutting down. It is a relief."
"Three days have already passed." We're just sitting here, rotting. Like Norman Bates' Mother. At least someone was kind enough to supply a rocking chair. "Oh, one last thing before I go… You're doing my fucking head in."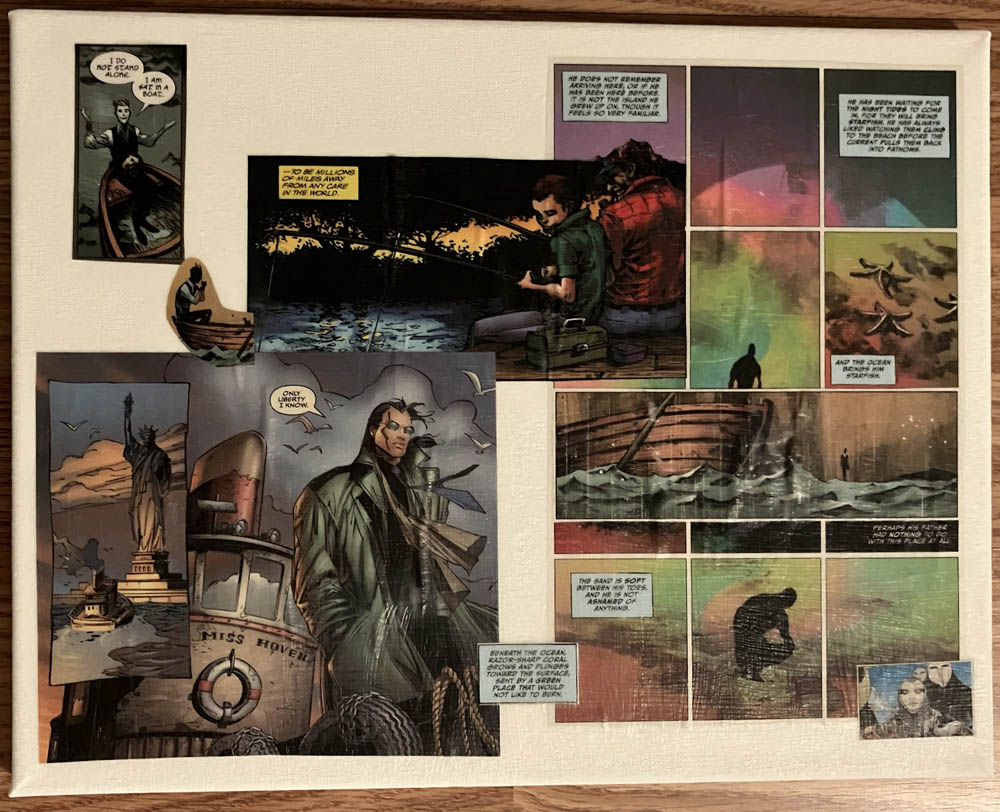 Creepy Comics Story 8: Adrift Afterlife (why you save the best gold coins for the ferryman)
How'd we get here? "I do not stand alone. I am sat in a boat." ".. to be millions of miles away from any care in the world." Was that the Ferryman? "Only liberty I know."
"He does not remember arriving here, or if he has been here before. It is not the island he grew up on, though it feels so very familiar… He has been waiting for the night tides to come in, for they will bring starfish. He has always liked watching them cling to the beach before the current pulls them back into fathoms."
"And the ocean brings him starfish… Perhaps his father had nothing to do with this place at all." The ferryman stands on the far shore. It makes no difference now.
"Beneath the ocean, razor-sharp coral grows and plunges towards the surface, sent by a green place that would not like to burn." "The sand is soft between his toes and he is not ashamed of anything." The ghosts are here, contentedly it seems.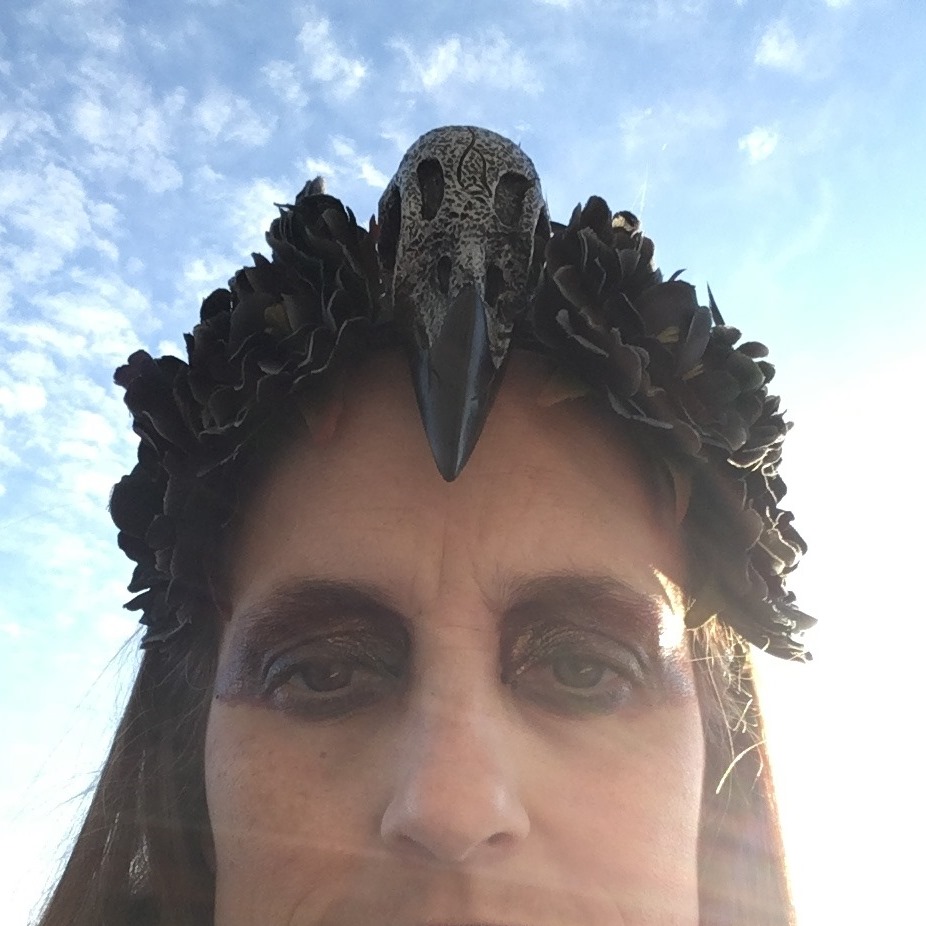 Thank you for joining us for these creepy comics collage art stories. But here's where we have to leave it off. Trust me, it's best that way. Besides I'm out of creepy comics to collage with.
If you want to see more art, check out more of Jennifer Weigel's work here on Haunted MTL or on her writing, fine art, and conceptual projects websites.