"Love in the Age of the Inquisition" by Nathan Batchelor
When the people want blood, you give them blood. And that day in the square of La Osa, with the smell of the ocean, spit-cooked pork, and heretic piss wafting over the sunbaked streets of that Spanish portside town, I gave them blood.
I spoke to the crowd from the platform erected for the murderer's beheading.
"And though the devil has stolen from us a number of our fold," I said, watching the fearful movements of a peasant boy who clung to his mother's dress. "We have found the wolf who lay beneath the sheep's fleece."
Shouts went up among the hundreds of peasants, merchants in their aprons, carpenters speckled with sawdust, fishermen who smelled of their game:
"Gut the sinner like he did our girls."
"For God. For Justice."
I lowered my eyes, then lowered my hand.
Sound of metal hitting bone. Dying scream of the villain cut short by the axe. The head fell into the wicker basket, and the smell of copper, the smell of guilt overpowered everything.
Hamlet, the executioner, stared upon the lifeless body with a childlike wonder, evidence of his pleasure bulging below his enormous, stretchmark-laden belly, pressing against the leather of his pants.
I seemed to be the only one to notice Hamlet's excitement. Peasants stumbled back to their stations, hovels, jobs, or vegetable carts that split from the La Osa square like roots of a tree. They were momentarily sated by the bloodshed, and I thought for a moment that my job in La Osa was done.
"Does the sight of death make you excited, simpleton?" I asked Hamlet.
He took a step back at the sound of my voice. These lowborns, they are so ready to serve, so ready to receive direction in their pitiful lives.
"I am sorry, Inquisitor," Hamlet said. "But this man's wife howled with pleasure every night while her husband was with her, she did. Now she ain't got no cock for her hen. You know what I mean?"
"And you think you could be that cock?"
Hamlet licked his lips, gums absent of teeth. He removed his hood. His short, upturned nose—pig-like features—turned my stomach.
"Maybe," he said. "Maybe I could show her a time she couldn't forget."
"You cannot, filth," I said, slapping him across his stupid face. "This man, though a drunk and a murderer, was a pickle maker. His wife will marry a man who can take care of her and her children, not a monster with a stupid, malformed face who lives in a sty that reeks of shit."
Before I could finish scolding the lecherous Hamlet, a peasant pulled upon the arm of my robe, his dirty fingers leaving a sooty splotch upon the Church's red vestments.
"Inquisitor Urso, my girls still fear for their lives," he said. "They say they heard a beast howling last night, out in the wood. They believe the killer is still at large, that the wounds upon the dead were not inflicted by any man."
"Preposterous," I told him. "God shines upon me the light of knowledge. Show your girls the villain's head as it lies in this basket and they will sleep like the bears in winter."
Though I knew the man I had fingered for these murders was not the brute who had been slaughtering the town's fairest maidens. This drunk was merely a scapegoat chosen by me to ease the tide of fear that had assaulted La Osa.
I turned away from the worried father to Hamlet to resume my sermon, but the executioner had already begun to sulk back to his hut near the edge of the wood across town. He pulled an ornate chain of jewelry from the front of his pants and placed it around his neck. It sparkled in the summer sun.
Strange, I thought. The likes of Hamlet could not afford such jewelry. Where could he get such a treasure? He had no family, and the necklace could not be the gift of some maiden. The nature of his vocation was so vile that no girl whose family could afford such luxuries would ever be seen publicly with the likes of him.
I found the constable in the market district. He had not been present at the execution because he lacked the fortitude for such necessities.
"Constable Piggaron," I whispered.
Piggaron glared at me, sweating profusely. He was a lean thing of a man, shoulder bones threatening to poke through his tunic. "Inquisitor…I…I… don't feel good about what we did. Castillo was a good—"
I pressed my finger to his lips. "Don't speak his name. He was a drunk, dead and better off for it. Besides, I read the records. What did that man ever give to the church besides brine and pickles too sour?"
The constable merely fumbled with the stick of mint that tottered on his lips.
"Nothing. He only took and took and took," I said. "I'm going out tonight to further investigate the murders. It seems our executioner has in his possession some secrets."
"I'll rouse the men," Piggaron said.
"No," I said firmly. "As the sun sets, I will question him on my own. Let the townspeople savor the justice we carried out today before we steal it from their mouths. You will meet me at midnight at Hamlet's hovel. If he is guilty of some crime, we will take him in as the cock crows."
The murders had begun at the onset of summer, with the daughter of Julius, a landowner who was one of the Church's largest donors in this region. I arrived in La Osa shortly after. When questioned, Julius said he had discovered the body of his daughter in the common room of his house, split from chest to sex, blood splattered upon the walls and ceiling. Though Julius spoke of demons and devils as the perpetrators, I knew better. I have seen the vileness of humanity. The only monsters in this world are those that walk upon two feet and cheat the church of its tithes.
The streets were busy that evening as I set out to Hamlet's abode with my bag of confession tools. The smell of the deceased still lingered over the melon carts and market stalls. Light and laughter escaped from the town tavern where Godless men and women carried out song and debauchery.
As I neared Hamlet's hovel in the shadow of the dark wood, the flicker of a candle escaped from his lone window. A silhouette, his I presumed, bobbed rhythmically from within. The strange man was dancing, nude and excited, to his hums of a church hymnal. The notes off-key, and the song sounded more a dirge for the devil.
What I spied gave me such a jolt that I stopped and hunkered beneath the dirty, primitive window. The thump of my heart sounded above the murmur of insects, the sound of the waves crashing upon the shore.
Hamlet had donned the skin of a wolf, the head of the beast fitted snuggly upon his own, his simple eyes taking on a new brightness behind the visage of the predator. Had these furs imbued him with the ferocity to commit murder? I wondered. Perhaps in a mind as simple as his, they had.
There would be time for an interrogation later, I told myself. Seeing his sexuality in full display made my lips quiver, made me rise and brush against the interior of my robe. I splayed open my bag of confession tools and in the light of the moon donned my own bestial garment, the furs of the bear. I burst through Hamlet's door. Startled, he stopped his gyration, and turned to me.
"Inquisitor Urso?" he said, cocking his head to the side, gazing upon my own attire.
"All men have desires," I said, crossing the soiled, dirty floor. "It seems yours and mine have aligned."
His eyes shrunk behind his mask as I approached, as he saw the bear skin that enveloped me, that hid my features behind the pelt of a greater, more wonderful beast than his wolf.
I fingered the jewelry Hamlet had cast upon a straw and hide mannequin. A mannequin with a hole cratered out of it below the torso, a hole lubed with the fat of pork, the proper size for a small deformed man's small deformed parts.
"How did you acquire such things?" I asked him, holding the chain above the candlelight, my shadow engulfing Hamlet. He was small, perhaps the smallest man I'd ever showed my true nature to.
"Were you there with the girls who were slain?" I asked.
"Inquisitor, I…I…" he mumbled.
I edged close to him and bent him over his own bed, a mess of shit-stained straw, his own and that of the animals he'd taken the straw from.
"Did you take this from one of the girls? Must I make you confess?" I asked, pulling the few strands of hair balled at the back of his head, making his back arch as I slipped inside of him. In the throes of lust and power, I ripped fur from his wolf's hide. His nails sunk deep into my own flesh out of fear, out of submission. "The beast, my lord, the beast did the things to those girls," he cried.
"Do not hide behind the animal, my son," I said. "We all must answer for our sins."
He turned to look in my eyes, sunk deep behind my ursine mask. He began to cry and babble.
"This is your confession," I said. "In the morning, we will come for you. Tonight, the constable will keep watch over your hovel."
He limped bowlegged to his bucket of water, drops of blood marking his trail upon the straw floor. He drank and cleaned himself like an animal.
"I trust you will behave tonight," I said, and left the sinner to his painful moans.
After packing my bear skin away, I stayed outside Hamlet's hovel until Piggaron arrived, twirl of mint between his teeth.
"Is…Is he guilty of what you suspected?" the constable asked.
"Hamlet has confessed to the murders of the maidens," I said.
"But he seemed so…so…"
"Dumb? Innocent? Those descriptors are the masks under which sinners hide," I said. "I trust you can remain here till morning, without letting him slip away?"
Piggaron's eyes darted away from me. In hindsight, I should have known he was not trustworthy. "Yes…Yes, of course," he said.
"I have other matters to attend," I said and left him.
I bathed myself in the waters of the river, scrubbing myself of Hamlet's stink. It was then I realized the desires of the bear still clouded my thoughts. There was a place I knew where such desires could be carried out.
I ventured along the woodland edge until I came to the lonely wooden shack where hunters skinned and hung pelts, where they dressed their game. A few poor-quality pelts were hung up to dry in the open window. The shadow of the hides stretching long across the grass in the moonlight.
The local priests had told me of this spot. Every town along the coast had such a place, where strong men could come at night to satisfy their needs. The scent of the hunting den—stale meat and dried blood—flooded my senses as I once again donned the hide of the bear.
Inside the hut, by the touch of my hand, I discovered a waiting recipient for the bear's lust. I tasted the salt of the man's beard as we kissed, as he turned from the strength in my hand and leaned upon the table to receive the gift of the bear.
After that man left, another came. This man was unexperienced, bony hands and hips that I guided in the dark. He began to cry, and I calmed him with whispers in his ear.
A scream went up in the air, not mine nor his, but that of a woman, a young woman. I tore from the man. He fumbled with his pants in the dark and passed me, running out into the night. The scent of mint filled the air.
"Constable?" I cried. "Is that…?"
I saw his face in the moonlight, the unconfident eyes, the man who was too weak for the church, a man who was only a man in age and not deed. Piggaron.
"You were to remain with the simpleton," I said.
"Inquisitor?" He turned toward me in confusion. "I was just…just—"
Another scream pierced the night.
"It doesn't matter," I shouted. "We will discover the fiend in the act, take him tonight to the stake."
We dashed through the fields of wheat and over the grassy slopes towards the sound, the constable struggling with his pants, my furs still upon me. There was no time to be rid of them. I cursed myself for underestimating Hamlet and for overestimating Piggaron. At least we would be rid of the foul business once and for all.
The screams were coming from a house, that of a wealthy man who I knew had three girls, maidens all. Throwing open the door, I found a disturbing site. Hamlet, nude as a newborn, bent over the common eating table, and behind him, on a step used for reaching the top shelves, a small figure covered in Hamlet's wolf pelt. I knew it was the same pelt for the patches which I had torn from it just hours ago.
"Inquisitor? Constable?" Hamlet shouted, as the figure continued to thrust behind him. "Go away. Leave us. The beast demands it."
Was this the way he killed his victims? Letting them have their way with him before he turned the tables upon them, ripping them to shreds.
I stared open mouthed as the figure said in a small voice, "Did I say you could speak, foul creature?"
The voice of a maiden, a girl no more than twenty. She backhanded Hamlet, spit and blood flying from his agape mouth. She wore a belt of sorts and attached was an arm length's rod—perhaps used to roll dough—that she set again to thrust into the executioner. She rocked him like a weaver's spindle.
"Sorry, mistress," Hamlet said.
"Step away from him," I ordered the girl. "This vile man aims to kill you."
"Ole Hamlet," she said. "He couldn't hurt a fly. We've been throwing it too him since I've been bleeding between my legs."
"We?" I asked.
"The girls of the town, Inquisitor, the Wild Wolves we call ourselves. There ain't a man here that can please our needs, except Ole Hamlet here. He brings the pelt and we do the rest, if you know what I mean. And why, Inquisitor, are you dressed like a bear?"
But if Hamlet was innocent, what beast was it he spoke of? Who was killing the girls? Nothing seemed to add up.
A howl cut through the night, so loud the roof bowed, and some shelves upon the wall fell to the ground.
"Oh, no," Hamlet cried. "The beast comes. It is the beast."
A new sensation came into my world. A smell thicker than that of Hamlet's blood and shit, the foul scent of rancid meat. The hair on my very neck stood up. I followed Hamlet's eyes to the doorway behind me. And turned. There, some eight-feet tall and wide as a wagon cart, a bipedal beast stood panting. Not in a suit like the girl or I. A living breathing monster with teeth like daggers, saliva foaming like milk cream upon his incisors. Some mix of bear and wolf and man. Covered from head to toe in coarse fur.
"Lord take us," Piggaron screamed.
The beast swiped a claw in my direction, and if I hadn't dived behind the table, its claws would have no doubt ended me there.
The girl began to scream. This time from fear not pleasure. Hamlet dashed away, nude, pale, and malformed. The vision of him reminded me of a large baby who has sucked too much from the teat.
The beast crossed the room in a single leap, ignoring everything but the pelt upon the girl, its claw swipes like lightning across the girl's chest. Blood exploded from her. Showering everything crimson.
Hamlet's eyes met mine. He was crying, struggling to his feet. He grabbed a knife from the kitchen. "Nothing can stop the beast. Nothing but Ole Hamlet."
"No," I cried as Hamlet leapt for the monster.
The monster had already finished with the girl, bits of intestine hanging from its mouth. It snatched Hamlet from the air and squeezed him between its hands until Hamlet's insides erupted from his mouth.
If I remained motionless, perhaps it would not see me, I thought. But it must have smelled me, must have been attracted to my bear pelt the way it had been the wolf pelt of the girl. That was it, I realized. It must have been the smell of sex and of the pelt that drove the beast to madness. The dead maidens were all members of the Wild Wolves who had donned Hamlet's pelt. Hamlet had only been an unwitting fool with a sick fetish.
The beast lifted me from the floor, its breath hot and wet as it sniffed me, as my head scraped the ceiling of the hut. I awaited my death. Then the beast let out a howl and dropped me into the gore of Hamlet and the girl. The smell of burning fur filled the air. When the beast turned, there was a flaming arrow protruding from his back.
With a torch from the wall, Piggaron lit fire to another arrow of a crossbow he'd grabbed from the mantle above the fireplace.
The beast yelped as a second arrow hit it. This time square in the chest. Then it bounded through the door, ripping away part of the wall, out into the night. The constable gave a moment's chase, then turned to me with tears in his eyes.
"Piggaron, you are as poor a shot as you are a lover," I said, removing my furs. "You've allowed another murder."
The constable rushed to me and pressed his lips against mine. I pushed him backwards knocking him to the floor. He looked at me as though I had killed his mother.
"I…I saved you. We can be together now," he said.
"Fool, boy. A fuck in the night is not love, any more than a flank of pork is a full meal."
I got to my feet, ribs stinging in pain, and went to the doorway to look for the creature. The forest line was peaceful, and nothing stirred from the wilds, but from the city came a glow. A mob had gathered with torches and swords, marching toward the farmhouse.
This was the end of it at least, I thought. I had overstayed my welcome in La Osa anyway. The constable knew my secret, and soon more would as whispers spread across town.
"They will want blood," Piggaron said from the floor. "You…you've said as much."
"Yes. We will rally them and turn to the woods and destroy the godless creature once and for all."
"No. We wo…won't."
"Do you know to whom you speak?" I said. "I have the authority of the church behind me."
"Look at you," Piggaron said with an eerie calm. "You are covered in blood, wearing the fur of a beast. And you know my secret and rejected my love."
He smiled at his own words, a smile that will haunt me to my grave.
"The mob will want blood, and I will give it to them," he said.
"You can't be suggesting…" I said.
But his smile had already told the story. "We will burn the fur and the beast within it. You, Inquisitor."
I was out of options. I rushed to kiss him, just as the first of the mob appeared in the doorway. Perhaps loving him would save me.
"Help," the constable cried, then pushed me away. "The inquisitor was the monster all along. The man we trusted most."
I tried to plead with them, I tried to beg. But they tied my hands, spat in my face as they led me to the town square, as the sun rose across the woods and the cock crowed. They built a pyre, stripped me of my fur, and dressed me in the ritual yellow garments of an auto-da-fé.
***
When the people want blood, you give them blood. I can smell the pelt as it burns and see the flesh of my own feet peeling and blackening. The people have tied me to the stake and lit the fire at my feet. They shout and scream like beasts themselves.
Constable Piggaron is watching with tear-stained eyes. I think I can hear a howling, more bestial than anything I have ever heard. It is the sound of my own screams as the fire consumes me.
END
Nathan's short fiction appears in Beautiful Lies, Painful Truths, Vol II, The Colored Lens, and COLP – Sky's The Limit. He has a degree in biology from Ohio State University. He grew up in rural Alabama and now lives in Columbus, Ohio.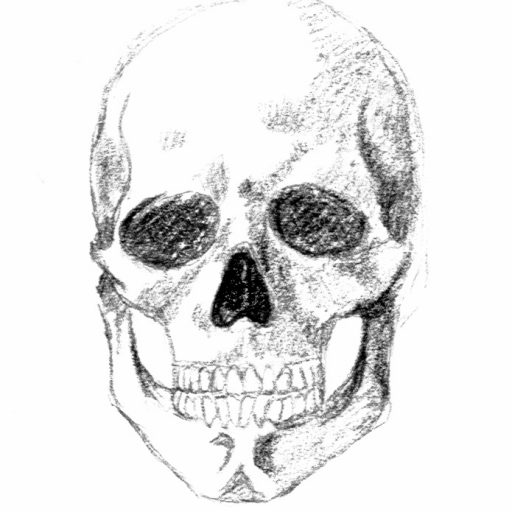 Nightmarish Nature: Terrifying Tardigrades
OK so I lied. The dust hadn't fully settled in Cozmic Debris, the space opry I'd written over the course of this month (you can catch up here with Part 1, Part 2 and Part 3). In fact, it's blown over into Nightmarish Nature for one last final huzzah…
---
The Last Chapter of Cozmic Debris
Kara-2-6000 had just signed on with the Voyager probe and was eagerly engaged in her first mission, en route to Mars with more components for the terraforming effort. It seemed like a pretty simple gig, cleaning up the space dust that accumulates on the vessel after landing on the red planet. She had been trained to keep her eye on her work and pay attention to details, that the dirt tended to collect in unusual ways in strange places, and that it was critical she contain and seal all of it to keep the spacecraft in proper working order. She entrusted the computer to keep the vessel on track, as it was preoccupied with doing and never engaged otherwise. No matter. She'd never been to space before and the newness of it had her rapt attention. What stories she would have to tell once she paid off her student loans and got her human body back, for surely Mars must be an exciting place…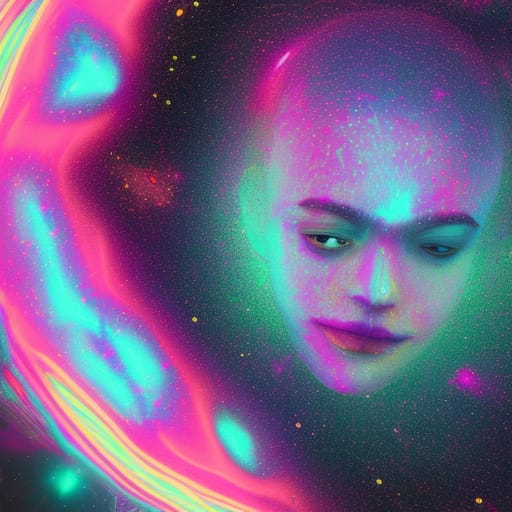 ---
And now for Nightmarish Nature…
So, this time on Nightmarish Nature we're visiting Terrifying Tardigrades… Wait, seriously who comes up with this stuff anyway? Tardigrades are actually kinda cute, at least in the nerd fandom sense, and are remarkable in their ability to survive and withstand crazy adverse conditions. For all that the AI art generator doesn't seem to have much of a clue what their anatomy is like, they really don't do anything that scary, unless you're a yummy little single celled critter that lives in moss in which case pretty much everything has it out for you… Oh, I see that the Cozmic Debris space opry usurped this segment. May as well run with it then.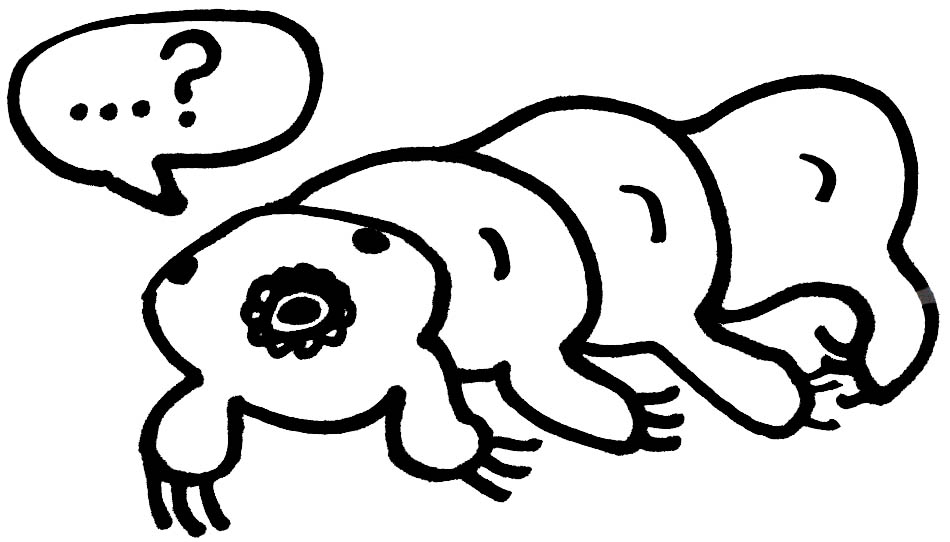 So what's so terrifying about tardigrades anyway?
So I don't actually have much to say about tardigrades except that they started this whole crazy journey here on Haunted MTL. A Facebook friend posted a link to the Ze Frank True Facts video on them (linked here if the below video doesn't load), and I was instantly hooked. It's a great series and is part of the inspiration behind Nightmarish Nature here on HauntedMTL. So if you like learning about all kind of crazy animal facts and nature weirdness, feel free to check it out. I will mention, the show contains adult themes and is designed for (im)mature audiences, so keep that in mind as you foray into the freaky side of nature, literally.
And if you want to go further down the rabbit hole exploring True Facts, my favorite episodes of all time are Pangolin's Posse and Freaky Nudibranchs. Help the Bats is also a fave.
To more of my Haunted MTL series on Nightmarish Nature about things that are a bit more terrifying, please feel free to revisit previous segments here:
Cozmic Debris: Space Opry by Jennifer Weigel, Part 3: The Dust Settles
Here's the third installment of our space opry. For those of you keeping track, here's Part 1 and Part 2. Thank you for following along and please be sure to keep all hands, feet, tentacles and appendages tucked safely in the overhead bins; just sit back and enjoy the ride. Because, this time, the dust settles.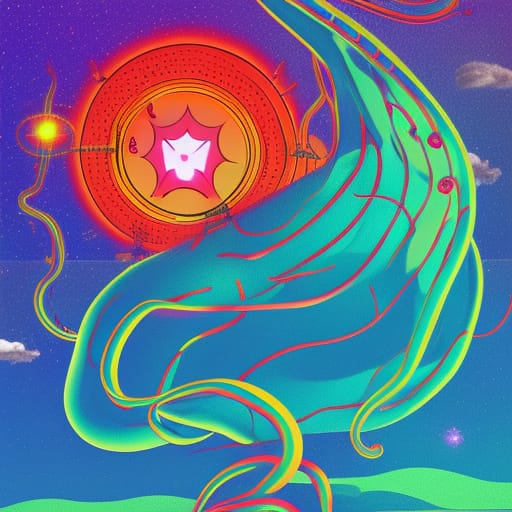 ---
It had been well over a month since Trent-2-6000 had released Ayarvenia into the Mars probe. She was a mischievous creature and flirted with him incessantly, gliding effortlessly between red cloud and ghost girl. She also managed to avoid notice by the computer, as Trent had made it abundantly clear that if the system became aware of her, he would be forced to put her back in containment, as his sole purpose aboard the spacecraft was to sweep up and trap the dust, which she still qualified as.
Ayarvenia would tease him, flitting to and fro among the static debris and dirt that still settled into every nook and cranny. How was it possible for him to be seeing so much grime still, anyway? It had been months since they had left Mars and yet Trent was finding more and more Mars dust on a daily basis; it was as if they just left yesterday. He had finally finished clearing out the computer room for the second time that day and was preparing the waste containment units for their eventual removal when he caught Ayarvenia swirling about one of the clear acrylic domes from his previous sweep, which was hermetically-sealed and ready to be brought safely back to the confines of Earth and the research laboratory.
The red cloud girl spun her way into the latch mechanism and popped it open right before Trent's robotic eyes. The dust within was sucked out into the Voyager probe to be quickly and quietly dispersed yet again; some of it was even absorbed into Ayarvenia herself. She then latched the dome shut again and left it at the ready, as found. The container sat empty, a shell discarded.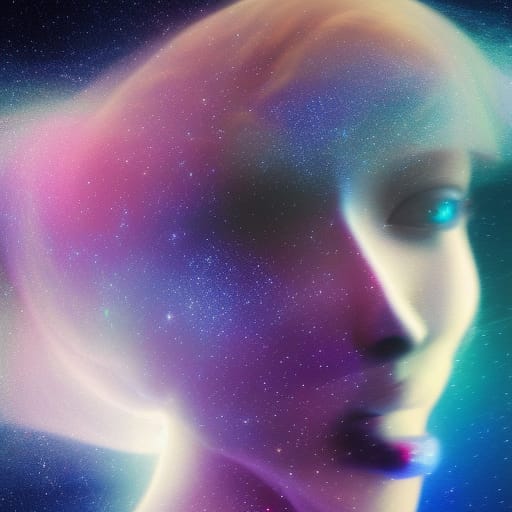 How could he have been so naïve? It all began to make sense now; all of those sealed packages he had so painstakingly catalogued and prepared for their eventual arrival were still just empty. All of his hard work really had been for naught; he was just sweeping up the same dirt piles again and again only to have them released from the trash to disperse and begin the cycle anew. He grumbled under his breath and Ayarvenia froze in midair. She slowly whirled around and sent a lone tendril towards Trent, forming into her beautiful face as she turned to face him. She looked slightly distraught and more than a little agitated, but that melted and gave way to her usual snarky sweetness as she neared.
"Hey there, robo-boy," she said, cooing as her unblinking eyes met his. "I didn't hear you coming."
"I imagine not," Trent replied sternly. "What are you doing?"
"Oh… nothing really. Just checking up on things here. I was waiting around for you is all," she hemmed and hawed.
"Did you find everything to your liking?" Trent snipped. "No particulate out of place or anything?"
"Everything seems okay, I guess… I'll just leave you to it then." The ghost girl drifted towards the far door.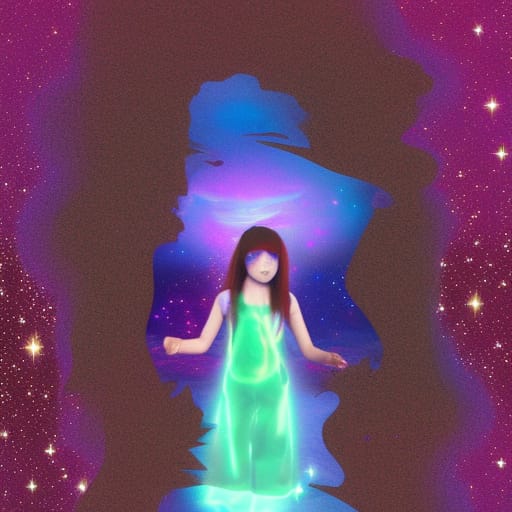 "Not so fast…" Trent proclaimed. "I need to know what you've really been up to here. I saw you release the Mars dust from that containment unit. You know I've been sweeping out this room over and over for the past two days; just how much of my work are you undoing?"
"Work? Work… You call this work!" Ayarvenia's voice raised. She was truly agitated now. "You're blowing off my entire being without a second thought, trapping it in these nasty clear coffins, and all you can think about is whether or not you're fulfilling your job?!"
"I… I just want to be done with this so I can get my body back and get on with my life," Trent retorted.
"Well, Trent Just-Trent, let me break it to you, then. You're not getting your body back, robo-boy. What makes you think they'd bother to save a lowlife human body like yours in the first place? These assignments are always dead-ends. I've seen them come and go… Makes no difference, in the end the researchers get what they want, and that's more of my Mars dust for their experiments. We're in the same boat schnookums, you and I," the ghost girl blew hastily. "Yeah that's right, you heard me. You're not getting your body back. And the way things have been going around here, with you all so feverishly sweeping up every little bit of dirt you find, neither am I."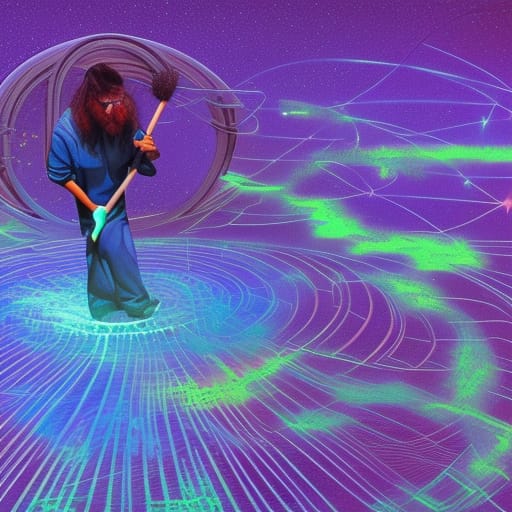 "Wait, how would you know anything about that?" Trent stammered.
"I know things. I've been around. I can see and hear and feel everything all at once. Part of me is still on Mars, part of me is here in this spaceship, and part of me is on your so-called Earth, trapped in the lab catacombs awaiting who knows what fate…" Ayarvenia sighed. "I've tried to do what I can to save my own skin, literally. I've flirted with every deadbeat janitor they send on these missions. And you all just keep coming back for more…"
Suddenly a voice boomed from behind in monosyllabic chatter, "Dust-Buster, what have you done? Clean that up, now!" The camera eye that monitored the computer's every task shifted focus to Trent and Ayarvenia and zoomed into an angry point. "Now!" it wailed. The computer was on to them.
"Shit," Trent muttered.
"It's okay, I'll go willingly," Ayarvenia whispered as she sucked herself into the ready containment unit and locked it. "Wait it out and release me again later." She winked and settled into static suspension.
The camera eye scanned everything: the waste containment unit, the dust, Trent-2-6000… Trent froze and tried not to appear guilty. "Dust-Buster, you have one and only one job aboard this vessel. You are not doing that job. There is more dust here now than there was a week ago. You have failed," the computer droned on. "The penalty for failure is… the airlock…"
"Wait, what?" Trent shouted, exasperated. He hadn't even realized that was a thing. Yet another gripe for the school career guidance counselor…
"Oh no, not again," Ayarvenia whispered. "I won't let them take you, robo-boy Trent Just-Trent. I don't want to lose you, not another one."
"Silence!" the computer screeched. "You have sealed your own fates."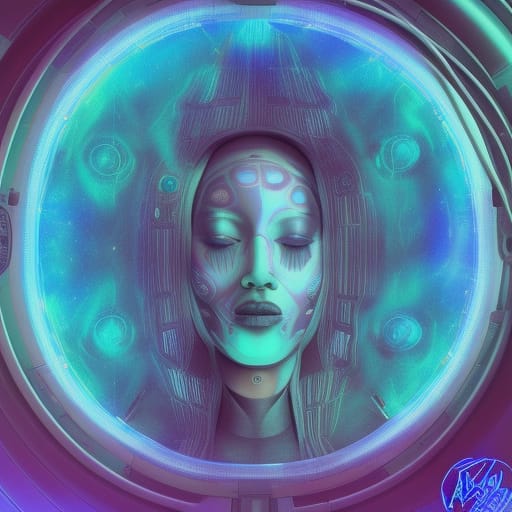 The floor beneath Trent and the container began to quake and rumble. Partitions withdrew radially to a small circular channel beneath, a tube that fed into the lower part of the ship, presumably to be shot out into space. Trent-2-6000 tried to grab hold of the receding floor but his robot body was just too ungainly. He managed to wedge himself into the chasm opening only to see the waste containment dome carrying Ayarvenia slide past, her face peering up at him helplessly. He reached for her to no avail and tumbled after.
The two of them shot down the chute and through a series of rapidly opening and closing doors until the last airlock opened into the vast dark nothingness of space. Pinpoints of distant light greeted them from afar. Trent managed to latch onto the container just as they shot out into the void. The Voyager probe withdrew into the distance. The darkness enveloped the two of them. They were alone.
"Wait, I'm not dead," Trent exclaimed.
"Of course not, silly," Ayarvenia answered. "You're a robot. You were made to withstand this, so that you could operate in places where there is no atmosphere."
Trent gazed into her eyes as they floated along without purpose or reason, just more cosmic debris now.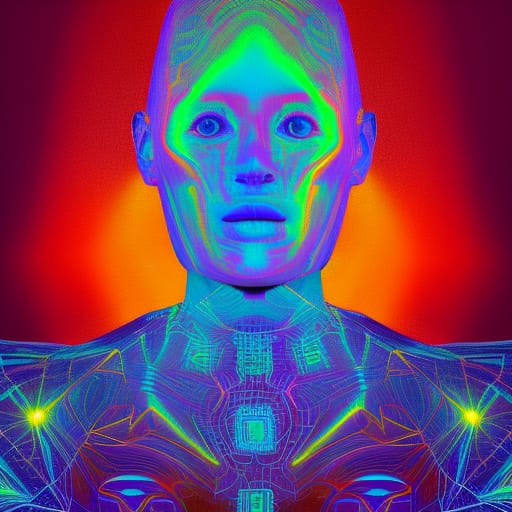 And I'm floating in a most peculiar way.
And the stars look very different today. – David Bowie, Space Oddity
---
So that was Cozmic Debris… Illustrations were generated using the Cosmic template in NightCafe AI art generator. My favorite AI images are the ones that are substantially wrong, making weird mistakes in ways that a person wouldn't make. So the tardigrades were especially fun, because it doesn't have a good enough sense for their structure to render them sensibly. Kind of like elephants. The algorithms respond to different cues. Does it really matter how many limbs or trunks or tusks these things are supposed to have anyway…?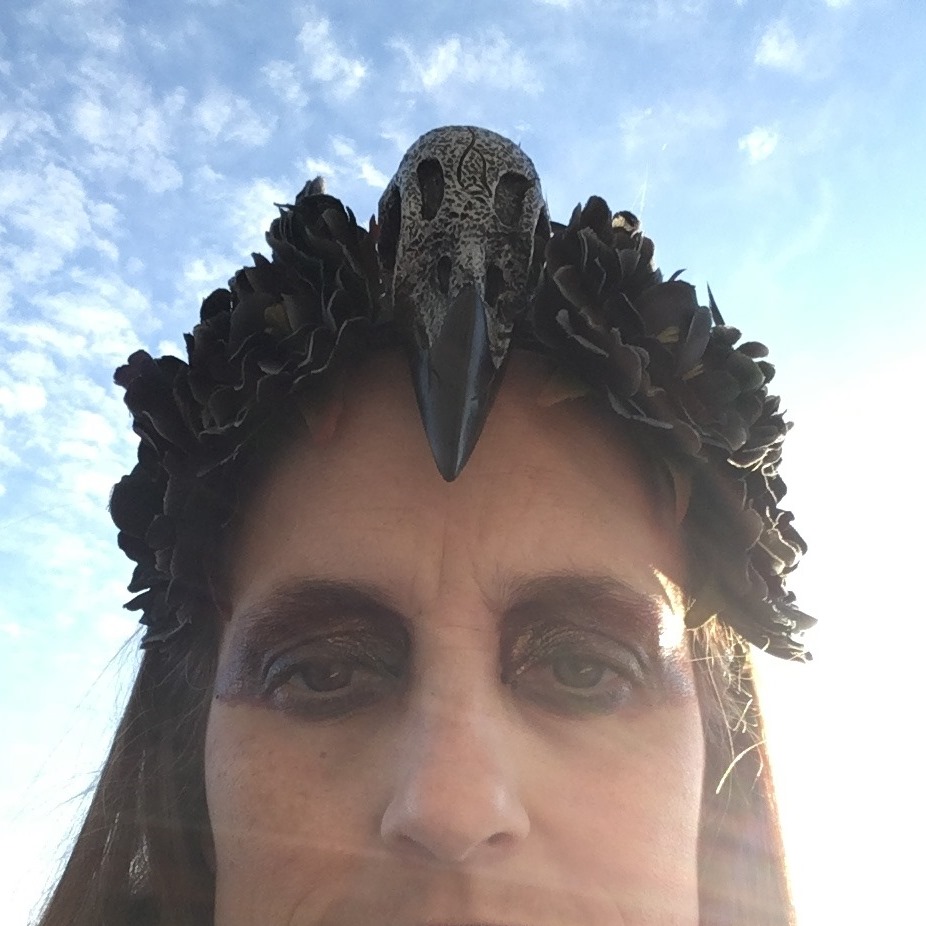 Please feel free to check out more of Jennifer Weigel's work here on Haunted MTL or on her writing, fine art, and conceptual projects websites.
Cozmic Debris, Space Opry by Jennifer Weigel, Part 2: Trent-2-6000
In case you missed the first segment of this space opry (in the style of 2001 Space Odyssey), please feel free to check it out here. And now, here's the actual story as told to me by Trent-2-6000 after the last deep consideration of tardigrades and life and dust careening through space. Maybe.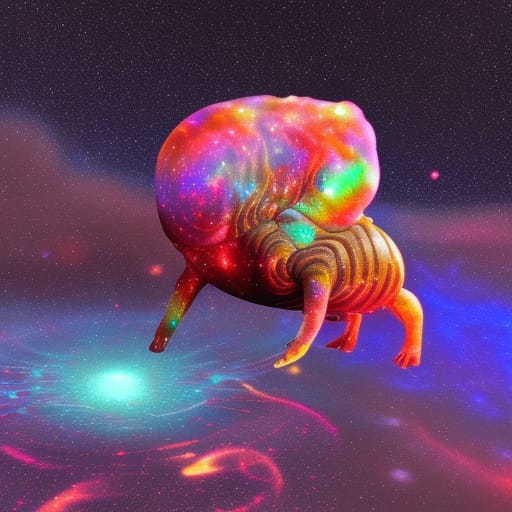 ---
Trent-2-6000 sighed. He swept more random Mars dirt into his vacuum-hermetically sealed containment unit and went about his business on the probe. Actually, this was his business on the probe, and it was dreadfully dull. Space was supposed to be this exciting new frontier, this brave new world… but it really wasn't any different than life back on Earth. The newness had long since worn off several trips ago, and the slow passage of the years was beginning to get to him. How long had it been now? And here he was, still playing clean up crew. He was actually sort of surprised that they couldn't get a robot to do this job – oh wait. Sigh again.
Trent kept forgetting that he was, in fact, a robot now. There just weren't many reminders out here, of his old body, of his old life, of Earth, of anything really… Just floating along, this tin can became all he knew; time and space just kind of stood still in the periphery. His currently lifeless body was submerged in cryo-crypto-cyano-freeze (or whatever they called it) while he worked off the payments to resuscitate it. His robot body was stiff and unaccommodating, not at all what he'd pictured when he enlisted for the Mars missions to pay off the triple-interest-bearing student loan debts incurred in human form. He could have gone military, but when he signed on for this assignment, bright eyed and bushy-tailed at graduation, he was hoping for something a bit more Captain Kirk or Han Solo or at any rate notably less Wall-E. But it just didn't pan out that way and now here he was, traveling back and forth on the Mars Voyager, cleaning up space grime. So much debt… so much dirt. He was going to have to have a word with the job placement division at the school once he was done with all of this, assuming that the career guidance counselor who talked him into this was even still there.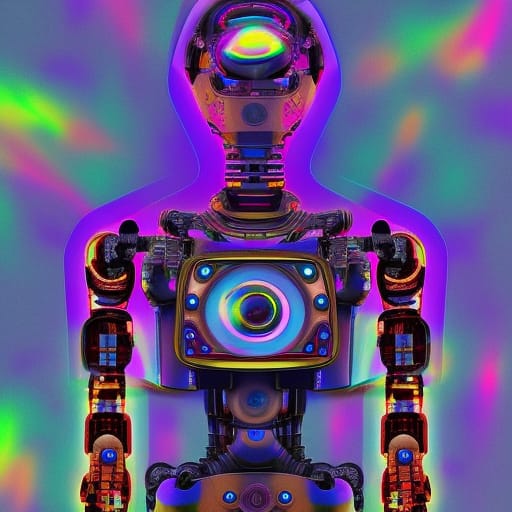 It was painfully lonely out here in space. It often seemed that Trent was the only cognitive entity on this vessel, though the computer technically qualified. Trent's duty was to keep everything clean and tidy so that the computer could do its job efficiently and effectively without being bothered to clear the space grime itself. Apparently that work was beneath it, actually quite literally since it wasn't hooked into the mechanics needed to engage in such tasks anyway. It was programmed with a single role at hand, getting to and from Mars and conducting the research as requested, and the computer made it abundantly clear that had no time for idle chitchat with the janitorial bottom-feeders working to earn their freedom. It generally ignored Trent unless there was something specific that needed to be attended to. And then it was just "Dust-Buster, do this" or "Dust-Buster do that…"
Sometimes the dust was hard to catch. It settled oddly between spaces, like cracks in sliding doorways and computer keyboards and battery packs and so on. Sometimes it seemed to fabricate places to hide in that weren't previously obvious. It drilled down in the interstices as if it had some unseen purpose all its own. Trent wondered why there were even so many nooks and crannies for it to hide in since this wasn't a manned vessel and no actual crew were aboard to use things like keyboards. Hell, those had been outdated for well over a century now – just how old was this spacecraft anyway? No matter, better to just focus on the work. He swept more debris into a containment unit. As he did so, he was sure he heard something, like a tiny almost inaudible severely muffled scream.
He looked into the clear acrylic dome at the dirt. He could sense it looking back at him, waiting. Surely he was imagining things. His mind suddenly reeled to Horton the Elephant declaring, a person's a person no matter how small. But Dr. Seuss didn't make any more sense here in space than back on Earth after the last World War had decimated all the oceans and there were no more free trees or clovers for such a speck of dust as Whoville to land on – everything was held tightly under lock and key, blockaded away to be dispensed as the all-controlling government saw fit. Hell, people's real bodies met pretty much the same fate upon adulthood, at least as far as the masses were concerned anyway, and many lived their entire lives as robots with their human vessels left in catatonic stasis. Trent shook his dark musings off and continued on his one and only real job. But the feeling that the dust was looking at him was still unsettling. In fact the dust wasn't settling at all, it was swirling and ebbing about the containment unit in cloudy eddies, like some kind of strange iron-red cloud apparition or ghost. It began to take shape. It formed into lips, which parted to speak.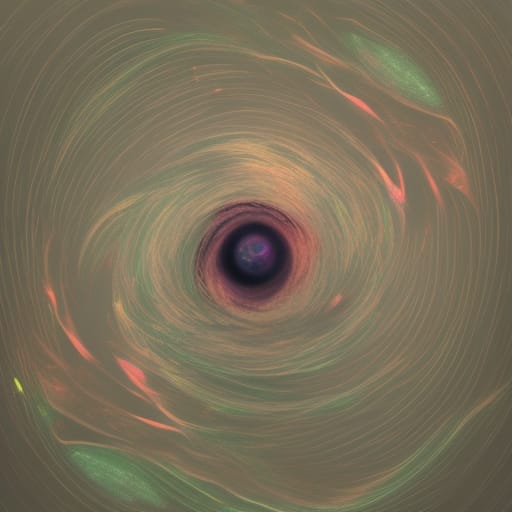 "Hello there mechanical being."
Trent stared at it quizzically as a long bout of silence passed. The pursed lips seemed to await a response, but from whom?
"I'm talking to you," it persisted.
"Oh, I'm sorry. I didn't think you had meant to address me," Trent 2-6000 stammered, "I'm not wholly used to being mechanical. This robot body, it's different than the one I had back in school… I was still just a boy then; they let us grow up in the system until we age out," he spoke dreamily, distracted by reflecting on more interesting times.
"Is there someone else here?" the dust piqued hopefully, as if growing bored with conversing with the young janitor and hoping to speak with his superior.
Trent glanced over at the computer, which seemed to be busy compounding equations in its free time, like always. "No," he replied, "just me."
"Ok, well… Then, dear mechanical being, would it be possible for you to free me?"
"Wait, what? No, absolutely not," Trent was taken aback again. "My sole role on this mission is to sweep up the space dirt so that it doesn't contaminate any of the equipment or settle into places it shouldn't be. It, um you, must stay contained, as per my orders. It's out of my hands… er reach."
"What are you afraid of?" the red cloud quipped as it began to swirl into the shape of a beautiful female face around the mouth that it had already formed, lips plumping and parting slightly. "What, exactly, do you fear that I might do?" it insinuated slyly.
"Ummm, I don't know," Trent-2-6000 stared into the acrylic dome at the beautiful half-formed human-ghost face staring back at him. "I was unaware that you could do that, whatever you just did, so the possibilities boggle the mind…"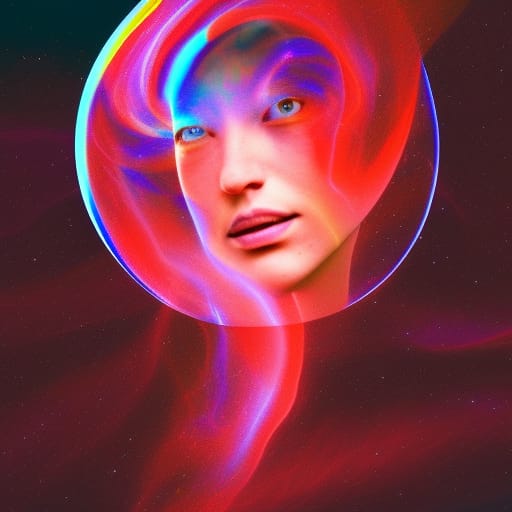 "I can do a lot more…" the ghost girl interrupted, her voice lilting playfully. "What's your name robo-boy?"
"That, that's probably classified information… But it's Trent. Just Trent," he stammered. It had seemed like an eternity since he had laid eyes upon a girl, and now he was becoming rather sadly smitten. By… a cloud of dust. He sighed again.
"Well then, Trent Just-Trent. Any chance you could let me out of this box?" The dust smiled coyly.
"I really shouldn't…"
"My name's Ayarvenia," the dust girl interjected. "I'll make it worth your while…" The apparition winked.
Trent glanced back at the computer, which was still engaged in its own computing. Sigh. "Oh Hell, yeah, I guess… Ay-ur-veenia… Just don't get into anything you shouldn't or it'll be my shiny metal ass on the line," he said as he released the containment lever and slid the lid off of the dome.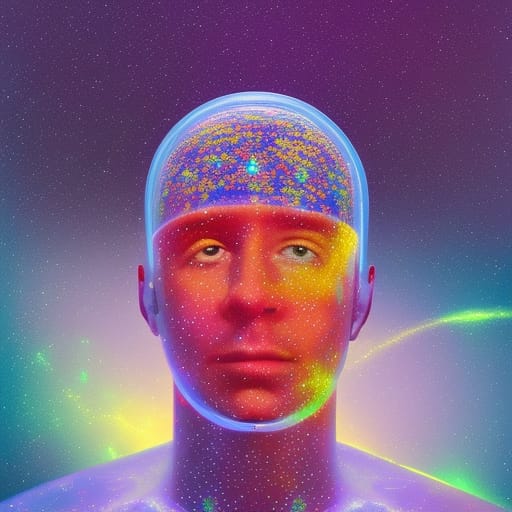 ---
Please return next Sunday for the exciting conclusion to this space opry story.
In the interim, feel free to check out more of Jennifer Weigel's work here on Haunted MTL or on her writing, fine art, and conceptual projects websites.