Here are some poems I wrote in response to the Seven Deadly Sins and Seven Holy Virtues and how they can become more alike than different…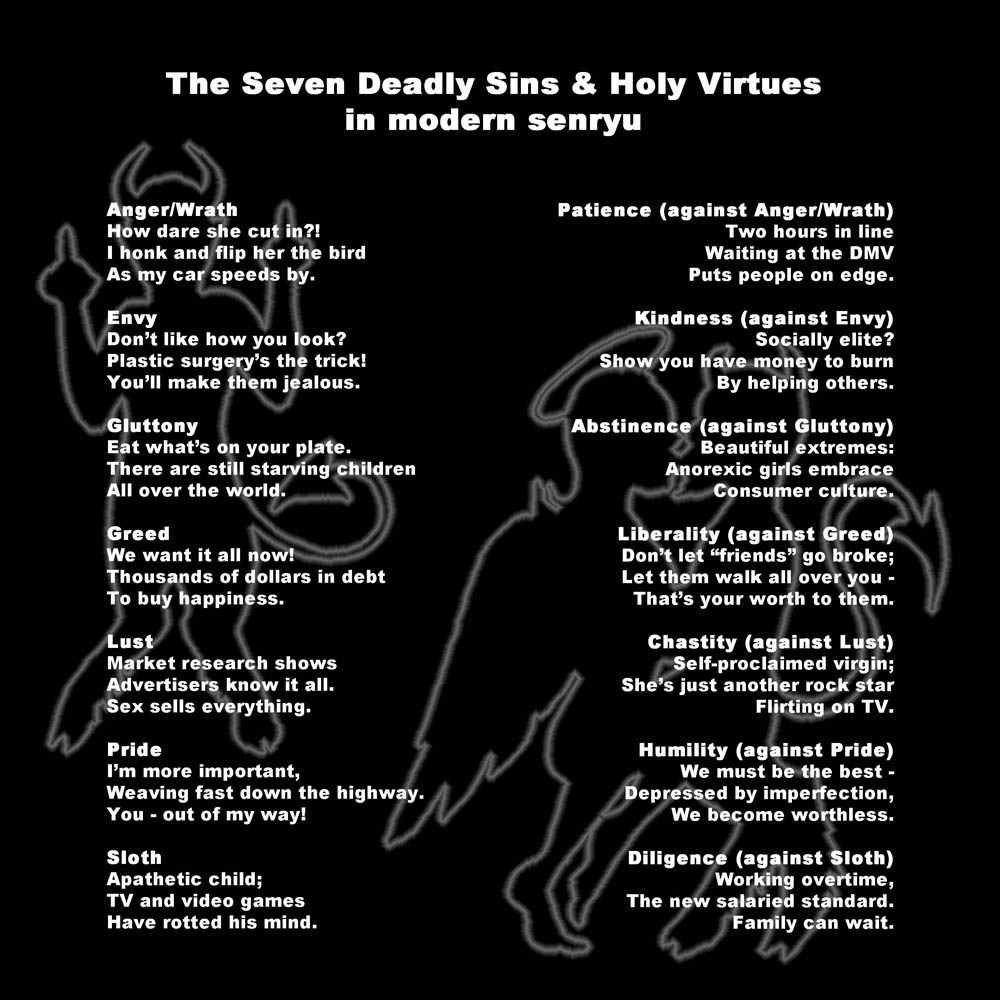 Seven Deadly Sins
Anger/Wrath
How dare she cut in?!
I honk and flip her the bird
As my car speeds by.
Envy
Don't like how you look?
Plastic surgery's the trick!
You'll make them jealous.
Gluttony
Eat what's on your plate.
There are still starving children
All over the world.
Greed
We want it all now!
Thousands of dollars in debt
To buy happiness.
Lust
Market research shows
Advertisers know it all.
Sex sells everything.
Pride
I'm more important,
Weaving fast down the highway.
You – out of my way!
Sloth
Apathetic child;
TV and video games
Have rotted his mind.
Seven Holy Virtues
Patience (against Anger/Wrath)
Two hours in line
Waiting at the DMV
Puts people on edge.
Kindness (against Envy)
Socially elite?
Show you have money to burn
By helping others.
Abstinence (against Gluttony)
Beautiful extremes:
Anorexic girls embrace
Consumer culture.
Liberality (against Greed)
Don't let "friends" go broke;
Let them walk all over you –
That's your worth to them.
Chastity (against Lust)
Self-proclaimed virgin;
She's just another rock star
Flirting on TV.
Humility (against Pride)
We must be the best –
Depressed by imperfection,
We become worthless.
Diligence (against Sloth)
Working overtime,
The new salaried standard.
Family can wait.