Welcome to the first installment in an ongoing series spotlighting original horror creations. The first piece we have is an illustration titled "Summon" by UrbanKnightArt on DeviantArt. Be sure to read out exclusive interview with the artist as well.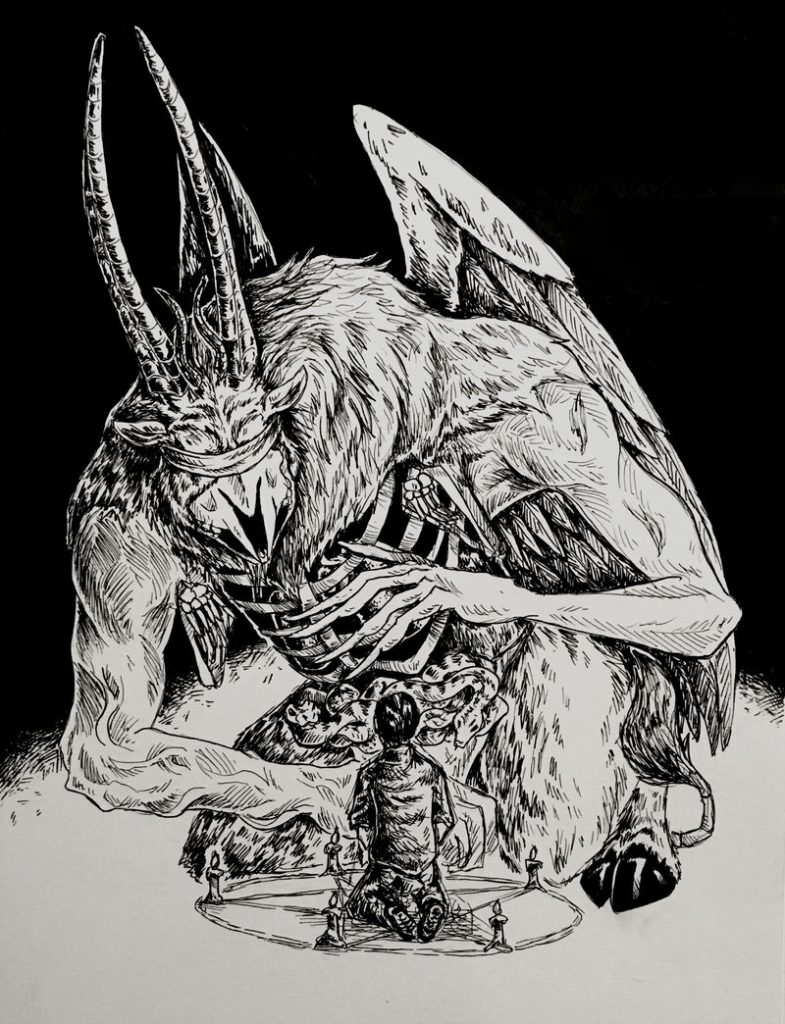 What was your inspiration for "Summon"?
Honestly, it was just one of those illustrations that developed itself as it went. Most of my art I don't plan out ahead, I have a base idea, and then I let it emerge as I draw. I wanted to use my goat monster ('The Eyeless One' as I refer to him) in a scene with a human, just to put his size and presence into perspective.
What sort of tools did you use for the piece?
Pigma Micron pens for the sketch and details, and Winsor & Newton ink and a brush to fill in the bigger spaces. I use paper around 140gsm to be able to take the ink.
Do you have any projects you are working on?
Yes! The illustration is foreshadowing for a graphic novel I launched recently, titled 'Terms and Conditions'. The best way to describe it would be a Lovecraft inspired Faustian story, about a girl who gets involved with these creatures from a dark parallel world. It mainly focuses on character progression and the darker side of the human existence, through both humans and how these creatures perceive and live alongside humanity.
Being my first graphic novel, it's certainly a learning curve, but it already made me grow a lot as both an artist and a writer. 
Do you have any particular horror themes you like to explore in your art?
I enjoy creating creatures and stories that are related to the occult.I always had an interest in exploring unsettling themes and monster designs, but never really had the confidence or means to up until the past few years. I've been trying to push my designs and illustrations more and more as I get braver with the topic and my ideas. People usually have strong feelings and opinions about occult themes, which makes for interesting insights and conversations. I enjoy making an impact.
Do you have any particular horror films/books/movies you particularly love?
As cliche as that sounds with horror artists, H.P. Lovecraft is definitely among my biggest inspirations. Other books that I still hold dear are The Silence of the Lambs and the Hannibal series by Thomas Harris, and some of Stephen King's work. With movies I prefer some of the old classics, such as An American Werewolf in London, The Fly, The Thing, and the Alien series. I also enjoy horror video games, particularly inspired by the mood and designs of the Souls series.
Have you ever experienced something supernatural? Anything you would like to experience?
Nothing grandiose or noteworthy, honestly. There were a few instances that left me to wonder, but I still have an open mind about the supernatural. I mean, as humans we're surprisingly not that perceptive! As for wanting to experience… as long as it's not a ten foot monster out for my blood, why not!
. . .
For more of UrbanKnightArt's work, you can follow them on social media such as Instagram, Twitter, and DeviantArt. You can also check out the webcomic Terms and Conditions.
If you have an original creation you would like us to spotlight here on Haunted MTL please let us know!