Welcome to our ongoing series spotlighting original horror creations. This time we have is an illustration titled "The Night Begins" by Director and Illustrator David Hartman, also known as SideshowMonkey on DeviantArt. Be sure to read out exclusive interview with the artist as well.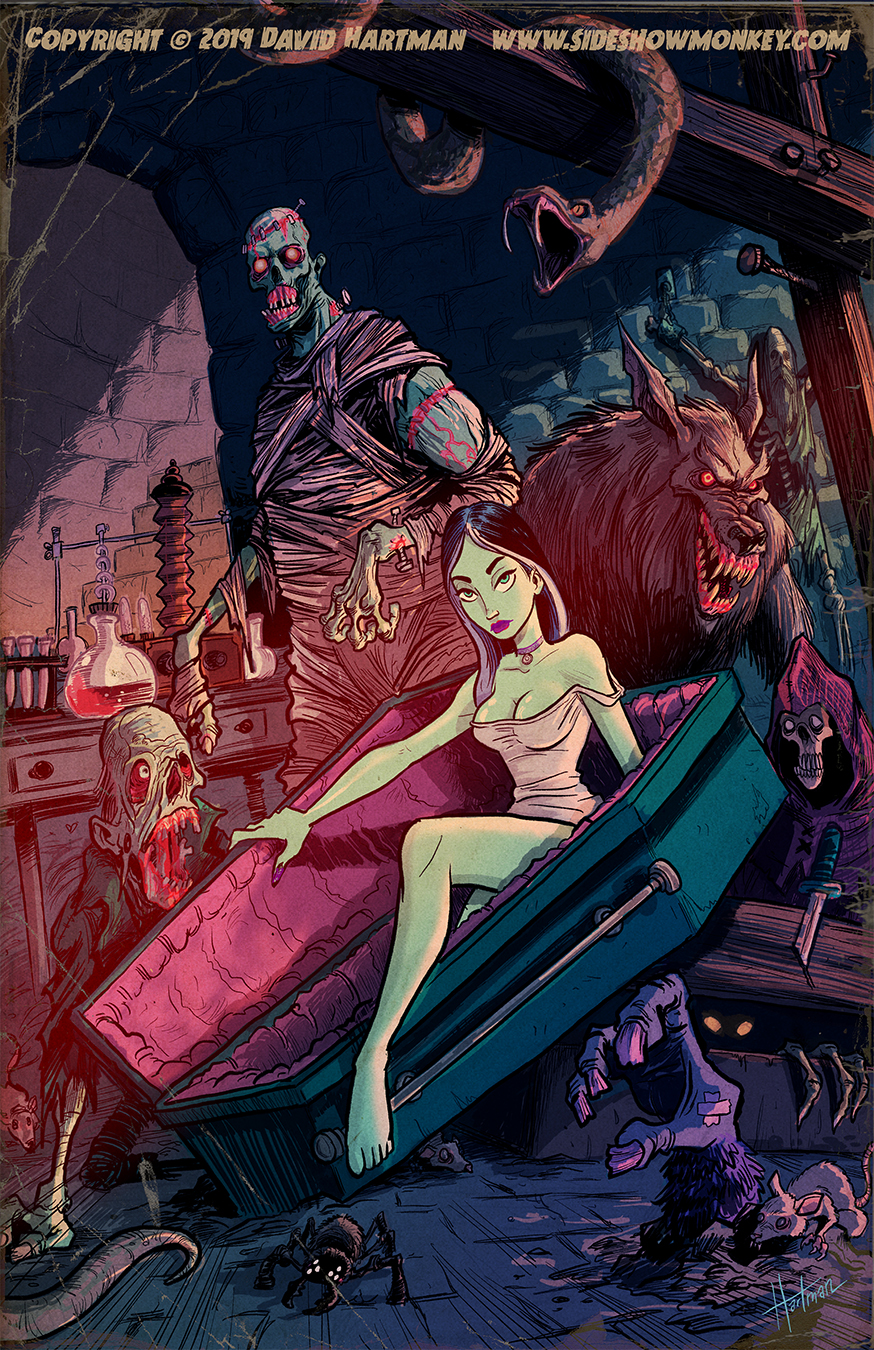 What was your inspiration for "The Night Begins"?
I really love doing groups of monsters reminiscent of the old horror magazine covers seen on "Witches Tales," "VooDoo" and others like them. This piece also has a bit of influence from the old Hammer films with the seductive female vampire surrounded by her horde. I really like the classic monsters and tend to draw them frequently.
What sort of tools did you use for the piece?
This piece was done completely digital on the iPad Pro using the Procreate app. I also did a time-lapse video on the creation of this piece which can be seen on my youtube channel.
Do you have any projects you are working on?
I always have too many going on. I have a comic series called "the adventures of Rite" that is available on Amazon that is a mix of horror, comedy and adventure. I also have a project with Rob Zombie going on as well as currently directing for a Netflix animated series that really delves into horror and the supernatural.
Do you have any particular horror themes you like to explore in your art?
I tend to go to the malformed, the Frankenstein monster and other man-made creatures as well as humanoid monsters. I like the creatures that are considered evil and horrible but actually have a sympathetic side to them. I also do a lot of damsel in distress type art but where the damsel has a weapon or some other device to actually have a strong chance of fighting back.
Do you have any particular horror films/books/movies you particularly love?
Tons and tons! As far as movies I love Jaws, The Shining, Hammer films and ALL 1980's horror films good or bad. For books, I tend to read a lot of non-fiction cryptozoology books on creatures living among us as well as most of H.P. Lovecraft's many stories. I also go back a lot to Clive Barker's Books of Blood and King's Night Shift collection. Two of my favorites.
Have you ever experienced something supernatural? Anything you would like to experience?
I've had the "shadow figure out of the corner of your eye" and the "strange object in the sky" that a lot of people have experienced but one memory really stands out. Not sure if this is considered supernatural or not but it definitely influenced my path into horror and the strange.
I was probably about 7 or 8 years old and my parents took me to the Ohio State fair. This was right before they got rid of all the freakshows and strange animal exhibits seen at fairs. We were walking through the midway surrounded by banners for two-faced goats and gorilla women when I saw a trailer with a painting on the side showing a bigfoot frozen in ice. I had to see this! I asked my parents for some quarters to go to the arcade while they watched a show. Instead, I snuck to the trailer to see the weirdness inside.
I paid my fifty-cents to get in and walked into the trailer. It was freezing, and I was standing before a block of ice with a bigfoot inside it. I later found out this was the "Minnesota ice-man" that traveled from fair to fair. ( if you are into bigfoot and weird stories you should definitely look this one up.) That day I was instantly hooked on the supernatural and finding out more about bigfoot and other creatures supposedly living amongst us.
I think this is one of the moments that hooked me onto drawing monsters. When I drew the story "Carnival Kill Ride" for the "Devil's Rejects" comic book for Rob Zombie I put myself as a kid in the background seeing that trailer for the first time.
Did you enjoy David's illustration and our interview with him? Please check him out on the web. You can learn all about projects he has worked on on IMDB and you can also follow him on social media such as Twitter and DeviantArt. You can also watch Phantasm: Ravager on Amazon.
If you have an original creation you would like us to spotlight here on Haunted MTL please let us know!