Welcome to the latest installment of the Streamin Demons podcast, where we bring you an exciting lineup of classic mother's day horror movies to discuss and dissect. In this episode, we're covering three iconic films that have left an indelible mark on the horror genre: Friday the 13th Part 1, Mommie Dearest, and the original Psycho. Join us as we delve into the chilling moments, unforgettable performances, and enduring legacies of these films.
Friday the 13th Part 1: The Birth of a Horror Icon
Our first movie on the list is none other than the 1980 slasher classic, Friday the 13th Part 1. Directed by Sean S. Cunningham, the film is set at the fictional Camp Crystal Lake, where a group of young camp counselors is stalked and brutally murdered by an unknown assailant. The movie's unexpected twist ending and iconic killer, Pamela Voorhees, played by Betsy Palmer, have solidified its place in horror history.
In our discussion, we'll delve into the film's innovative storytelling and the ways in which it subverts audience expectations. We'll also touch on its impact on the slasher genre, paving the way for countless sequels and inspiring other horror franchises, such as A Nightmare on Elm Street and Halloween.
Mommie Dearest: A Disturbing Tale of Hollywood's Dark Side
Next up is the 1981 film adaptation of Christina Crawford's memoir Mommie Dearest, directed by Frank Perry. The movie tells the harrowing story of the abusive relationship between Hollywood actress Joan Crawford, portrayed by Faye Dunaway, and her adopted daughter, Christina. While not a traditional horror film, Mommie Dearest delivers a chilling portrayal of a deeply dysfunctional mother-daughter relationship and reveals the dark side of fame.
In our discussion, we'll explore the film's controversial reception and its lasting impact on popular culture. We'll also examine Faye Dunaway's unforgettable performance as Joan Crawford, which has been both praised and criticized for its campy and over-the-top nature.
Psycho: The Masterpiece That Redefined Horror
Lastly, we'll take a look at Alfred Hitchcock's 1960 masterpiece, Psycho. This groundbreaking film, based on Robert Bloch's novel of the same name, follows the story of Marion Crane, played by Janet Leigh, who steals money from her employer and checks into the remote Bates Motel, run by the enigmatic Norman Bates, portrayed by Anthony Perkins. What follows is a tense and suspenseful tale that culminates in one of the most shocking and memorable scenes in cinematic history – the infamous shower scene.
During our discussion, we'll examine the enduring legacy of Psycho and its influence on modern horror films. We'll also discuss the film's revolutionary storytelling techniques and Hitchcock's masterful use of suspense, which continues to inspire filmmakers to this day.
Conclusion
Join us for this thrilling episode of the Streamin Demons podcast as we revisit these horror classics and celebrate their contribution to the genre. From the birth of an iconic slasher in Friday the 13th Part 1 to the disturbing portrayal of a Hollywood nightmare in Mommie Dearest, and finally, the suspenseful masterpiece that is Psycho, this episode promises to be a spine-chilling and insightful journey into the world of horror cinema.
Don't forget to subscribe to the Streamin Demons podcast for more episodes, and stay tuned for our upcoming discussions on other iconic horror films. Happy listening!

Joe Bob Briggs Creepy Christmas spooktacular: The Last Drive-In Special Charity phenomena
Famed horror host, Pulitzer Prize nominated, and Cracker Barrel aficionado Joe Bob Briggs is back in action, ready to bring some macabre merriment to your holiday season with Joe Bob's Creepy Christmas. It also gives us horror fans something to take into the new year, be that something Darcy's panties (sorry, box, I tried) or just the intangible good feels of hanging with friends and supporting a lot of good causes.
The Return of Joe Bob Briggs's Christmas Special
The Joe Bob Briggs's Christmas event is akin to a Jerry Lewis telethon for Gen X, with a twist of 'the last drive-in with Joe Bob Briggs'. This 'Briggs' auction of sorts is a nostalgic nod to the past, especially for those who remember the telethons. The dread, however, has shifted from the … well… whatever Jerry was supposed to do (see Sam Kinison's bit on this for more info) to that of evil goodies.
Without a doubt, this Joe Bob Briggs special is the event we eagerly anticipate each year. It's a tradition, and a worthy one at that. We hope to see everyone on the interwebs, joining the 'creepy links' and engaging in the conversation (We'll be on Threads and Twitter….tag us as you wish!) 'live' the only way anyone should ever watch a tv show (oh, and I guess on demand, but ya weirdos will never know the sting of the Iron Mutant Award!). 'Live' is the only way anyone should ever watch a TV show, especially 'the last drive-in with Joe Bob Briggs' (as it's far too hard to watch tv whilst dead).
Joe Bob's Creepy Christmas The 'Last Drive-In with Joe Bob Briggs and Darcy the Mail Girl' special will hit the airwaves live on Shudder TV and AMC+ TV on Friday, December 15th at 9 p.m. ET. Fans of 'the last drive-in with Joe Bob Briggs' can also catch the special on-demand starting Sunday, December 17th.
A Creepy Christmas with a Cause
In its fourth year, the holiday tradition of The Last Drive-In goes beyond mere entertainment. It aims to use the platform to raise funds for four vital causes. The charity auction will feature unique props and exclusive merchandise from The Last Drive-In and memorabilia from Briggs' illustrious 35-year career…including some of his unspoken work as John Bloom. I say Unspoken, because if anyone remembers the first Christmas Special, the autographed copy of Eccentric Orbits was featured (sincerely, a good book–check it out if you haven't. Jim gives it 4.5/5)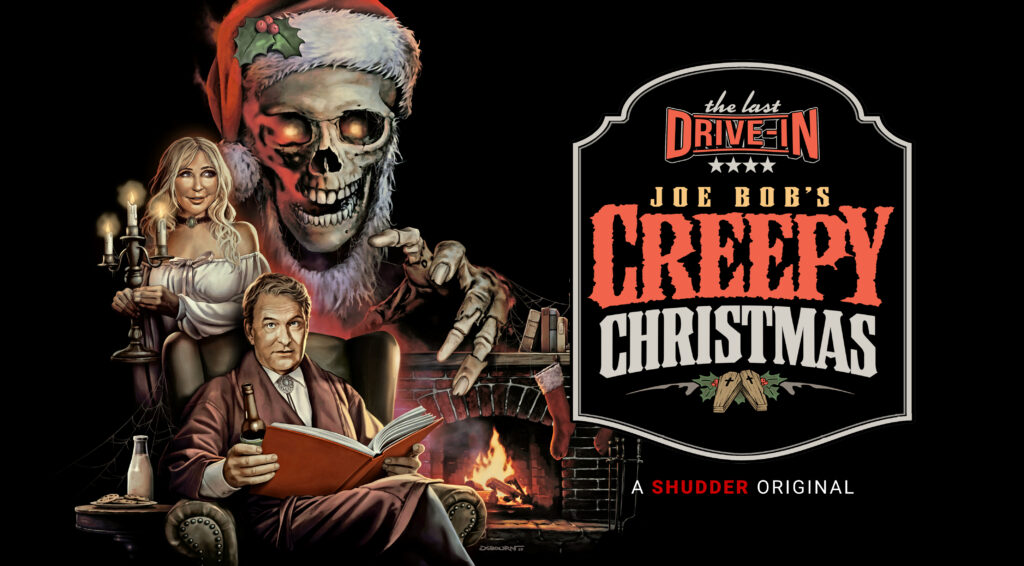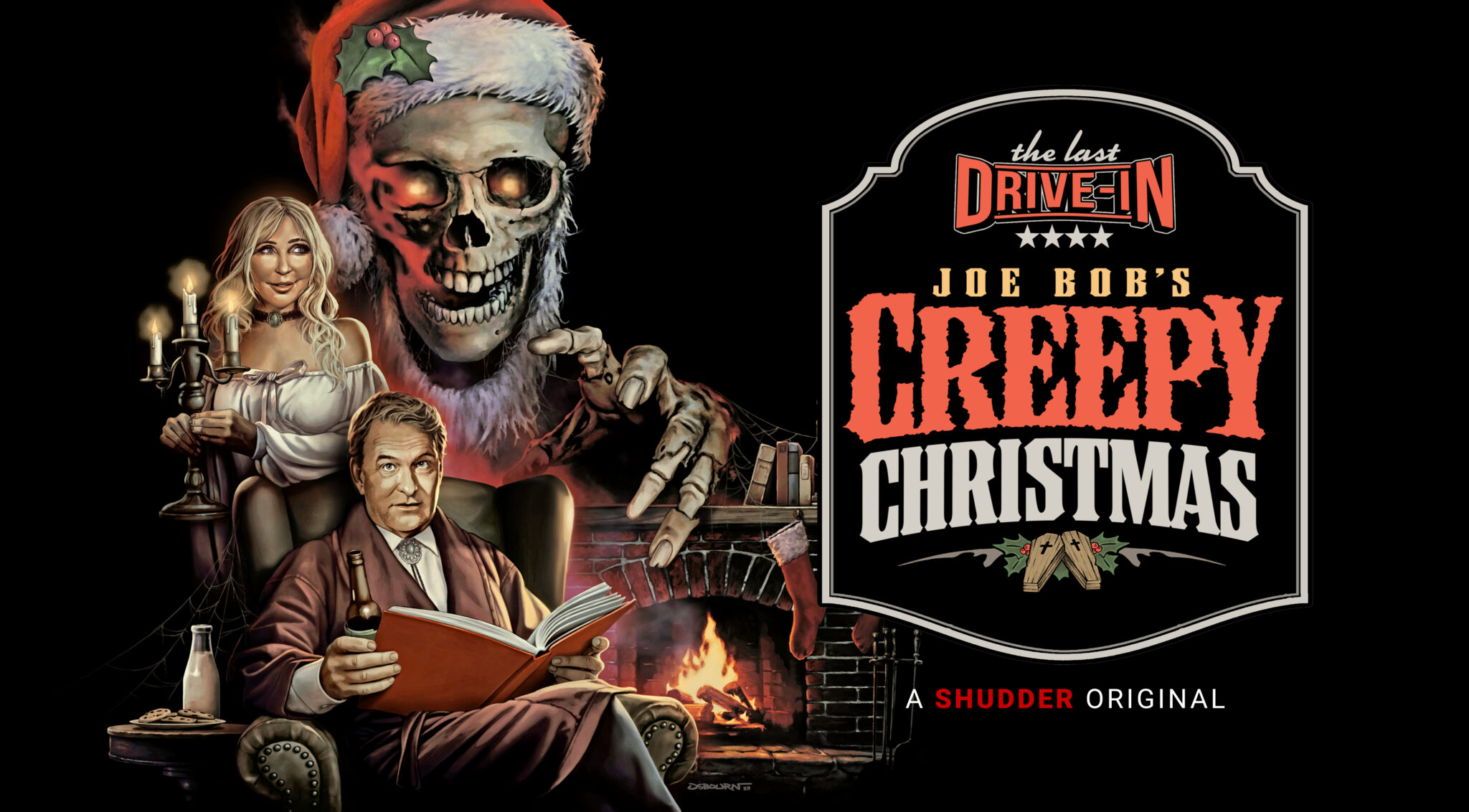 The supported charities for Joe Bob's Creepy Christmas will include:
The Mystery of the Joe Bob Briggs's Creepy Christmas Special
The anticipation for Joe Bob's Creepy Christmas is high, with fans wildly speculating what films will be featured. Personally, nothing can beat the #1 top horror Christmas film of all time, the Easter classic: Passion of the Christ (if a snuff film about a guy who doesn't fit in getting whipped and nailed up doesn't scream horror story, I don't know what does. Also: See Sam Kinison's concept on crosses and resurrection). However, a Christmas movie I really want to see up on this is Hogzilla and Kiss Save Santa Clause! BOOMMM!! Christmas Won!
As we eagerly wait for December 15th, we wonder what surprises our favorite horror host, Joe Bob Briggs, has in store this time. Will there be exclusive 'merch' that Jim will buy and then accidentally put in a Toys for Tots box in the mall?
Join the Fun, Join the Cause, Join the Joe Bob Briggs Christmas event!
Are you ready to dive into the world of Joe Bob's Creepy Christmas? Do you dare to watch along and help raise money for a good cause? If so, join us at HauntedMTL on Threads (_HauntedMTL_) and maybe Twitter (@HauntedMTL) as we experience the thrill and chills that only Joe Bob Briggs and Darcy can deliver.
Remember, this is not just about indulging in some good old horror fun with 'Joe Bob's' double feature. It's about giving back and making a difference. So, let's gear up to have a creepy Christmas with 'Joe Bob Briggs', filled with 'christmas horror films', 'christmas demons', 'christmas slasher films', 'ho-ho-horror', 'yuletide horror' and insightful 'horror commentary'.Joe Bob's Creepy Christmas and make this holiday season memorable for all the right reasons! I'm sure Fright Rags will have another stellar set this year, too. They are perfect for the horror fan in your life (even if that fan is you!). I can't wait to see what they have in store (no pun).
SPECIAL — IF YOU WANT Freeeeeeeee (as supplies last) Fright Rags Joe Bob Briggs merch for this year, just tweet/thread at us during the event and Jim will pick the one that makes him chuckle the most (you will need to give us your address and size in DMs)
No subscription to watch Joe Bob Briggs's Creepy Christmas yet? No problem! Check the link below:
AMC Networks' Shudder is a premium streaming video service, super-serving members with the best selection in genre entertainment, covering horror, thrillers and the supernatural. Shudder's expanding library of film, TV series, and originals is available on most streaming devices in the US, Canada, the UK, Ireland, Australia and New Zealand. For a 7-day, risk-free trial, visit Joe Bob at www.shudder.com.
X-Files, How The Ghosts Stole Christmas
Airing in December of 1998, How the Ghosts Stole Christmas is a classic monster of the week episode of the X-Files. Except, of course, it's ghosts, not monsters. Because it's Christmas, and there's no better time for a little ghost story than that.
The story
Our story begins like any good holiday evening should. Mulder is telling Scully a ghost story. They're sitting together outside a supposedly haunted house on Christmas Eve, waiting for the ghosts of two lovers to appear. The story is that they killed each other eighty-one years ago, that very night. Mulder is very excited to see some ghosts. Scully would rather be at home celebrating the holiday.
One of these people has a family life and a dog. The other only has his partner.
Eventually, the two of them do make it inside, where they find an elderly couple named Maurice and Lydia. They seem like a nice enough couple until things start getting weird. Doors lock and unlock as they please. Lydia and Maurice seem to appear and vanish. And, of course, some dead bodies are found.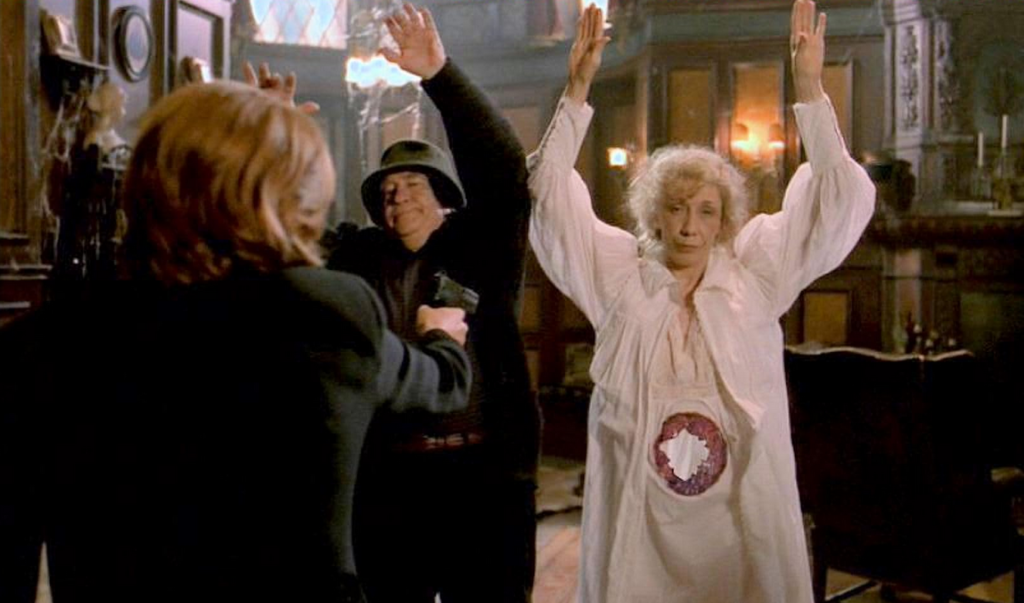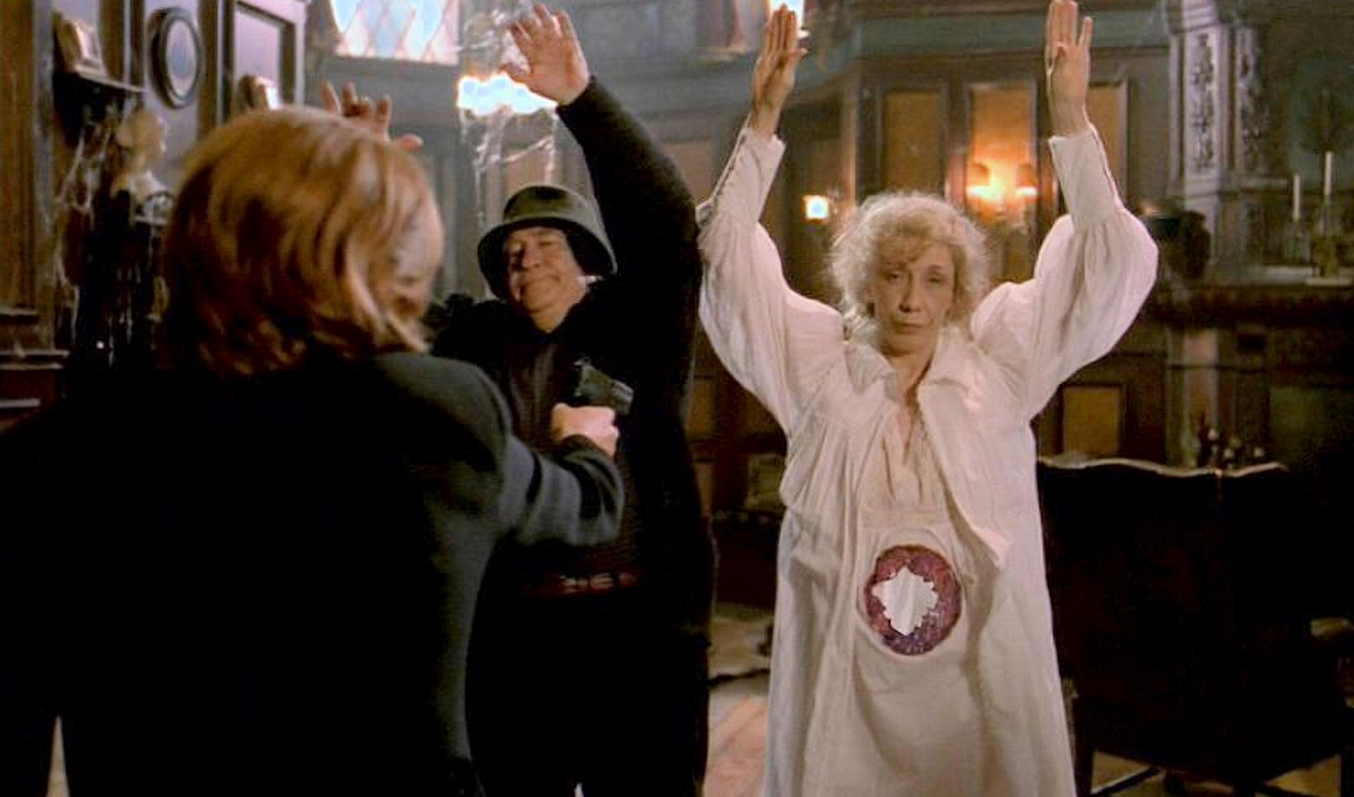 As Scully and Mulder try to find each other in this sprawling maze of a house, the ghosts are after them. They tell them terrible, insightful things about themselves and each other. The scary thing is that some of this is good advice.
The scary thing is how much of this Mulder and Scully needed to hear.
Eventually, our heroes escape, though they sure don't exorcise the ghosts in the house or themselves. Lydia and Maurice are left to enjoy their quiet Christmas Eve in the comfort of their love, no longer a raging fire of passion, but a warm bed of glowing embers.
What worked
First off, let me say that I'm a sucker for a bottle episode. Especially in a show like X-Files. (And it is a true bottle episode, being the cheapest episode of the season.) For the most part, our story takes place in one location, with just four actors. It is tense, it is tight, and it is intimate.
Honestly, this episode has everything going for it. Of course, David Duchovny and Gillian Anderson bring their A Game. And they're joined by two of the funniest comedic actors of all time, Ed Asner and Lily Tomlin. These people could read you the phone book and have you in stitches.
But the writing is also exemplary. Mulder and Scully are forced to take a good look at how they treat each other, for better or worse. They have to consider their relationship, the way they live their lives, and the darker voices in their heads.
In the end, I think they come together beautifully.
Finally, I want to praise the location. The haunted house looks so much like Hill House, it can't be an accident. It's in turn freezing and warm, falling apart and beautifully maintained. The cobwebs and hanging sheets on the unused furniture are just classic. And with the massive fireplaces, bookshelves to the ceiling, and the well-stocked bar, the whole place has an air of old-fashioned comfort, left to rot.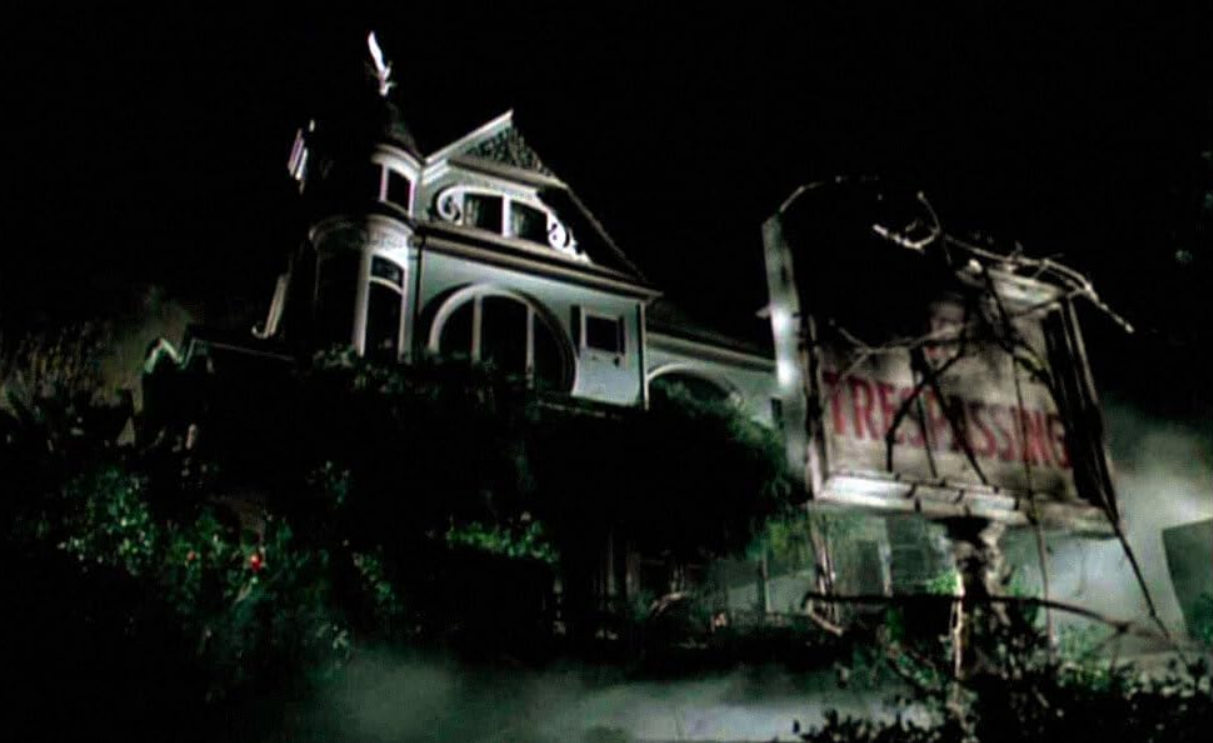 What didn't work
I honestly cannot think of one thing that didn't work in this episode. It's funny, it's touching, it's dark. It's the perfect Christmas episode of television.
In the end, How The Ghosts Stole Christmas is a dark, spooky little tale. It's filled with scares and chills but still manages to warm your heart. And if you want to fit a little more blood and gore into your holiday watch list, this is a great way to do it.

(5 / 5)
Beyond the Witching Hour: a review of J. Pagaduan's Tales from 3 AM
J. Pagaduan's Tales from 3 AM is a collection of wonderfully witchy wisdom and wit that touches on eerie energies, fairy fickleness, and supernatural spirits. Building on very human concerns about life, love, and death, the subjects of these twenty-two haunting tales find themselves in a myriad of mayhems, beffudled by unseen and inscrutible magics all around them. Lured by fae, ghosts, mermaids, and other mysterious presences, we journey with the protagonists as they wade through doubt, grief, and uncertainty. Recurring themes of death and drowning take special roles in this collection, speaking to the overwhelm of longing and love, internal, external, and even otherworldly.
The Humanity
For a book prominently featuring supernatural sentimentality, Tales from 3 AM expresses worldly triumphs and tribulations in very human ways. The mystical meanderings serve to provide a more intimate glimpse into our own nature. The focus is actually on us, not the unknown, which comes and goes to offer glimpses of our true being. The supernatural makes manifest our yearning, to be with our loved ones who have passed, to find peace, to belong… It casts both light and darkness on our utmost desires, good and bad.
The Flip Side
Many of these Tales from 3 AM drift into and out of being, without clear beginning or ending points, as if you've only stepped into the scene long enough for a brief glimpse into a larger situation. The spirit realm can only provide so much insight before releasing you to the world once again. I personally like the fluidity of this writing style, because it doesn't feel so contrived as when a story just falls out in a neat bundled package, but if you are a reader who wants more clearly defined circumstances then you may feel unfulfilled, as many of these musings end rather abruptly.
I give this book 3.75 Cthulhus.

(3.8 / 5)
My biggest takeaway from Tales from 3 AM is that it reflects on life in all of its misshapen muddled messes. Though at times awkward and forthright, the concepts and explorations are genuine and heartfelt. More surreal and magically mysterious than terrifying, the mirror to our human vulnerability is nonetheless haunting, laying bare our fears, hopes, and hurts.
Similar Sentiments
Tales from 3 AM has similar appeal to the Obsolete Oddity, with its nostalgic sentimentalty for days of yore and haunting tales of woe and wonderment. I find this book to be more inclusive as it features less melancholic misanthropy (which can seem misogynous, with so much attention paid to the wanton murders of women). And I think it is a bit more accessible than the YouTube channel which comes across as overly melodramatic at times. Regardless both would be right at home in death-obsessed Victorian life. So if you're into that sort of reminiscent rumination, it's well worth a read.
The book can be found here through books 2 read on various platforms. You can read more about the author on their web page here. jpagaduan.com