The Greasy Strangler
Before you call BULLSHIT ARTIST on High Art Camp, this was a surprise pick from Parzz1val. Dave Davis, author of The Dead Life and comic creator at @hpkomic, joins us for this wild fever dream of a film. The Greasy Strangler tells the story of toxic masculinity and the cyclical nature of egotism…or maybe just tells the story of a greased-up naked serial (surreal) killer? Is this a stroke of genius? Or a stroke of masturbatory pretentiousness? Come follow us down the rabbit hole as we decide, once and for all – is 2016's indie black comedy THE GREASY STRANGLER a piece of art?

Some Bewitching Line Drawing by Jennifer Weigel
This month we are going to explore more fun marker art from Jennifer Weigel, starting with black and white line drawing. Jennifer is getting ready for her big Life Is Brilliant solo show in March and has snuck in a few spookier themes, so she wanted to share them with you here.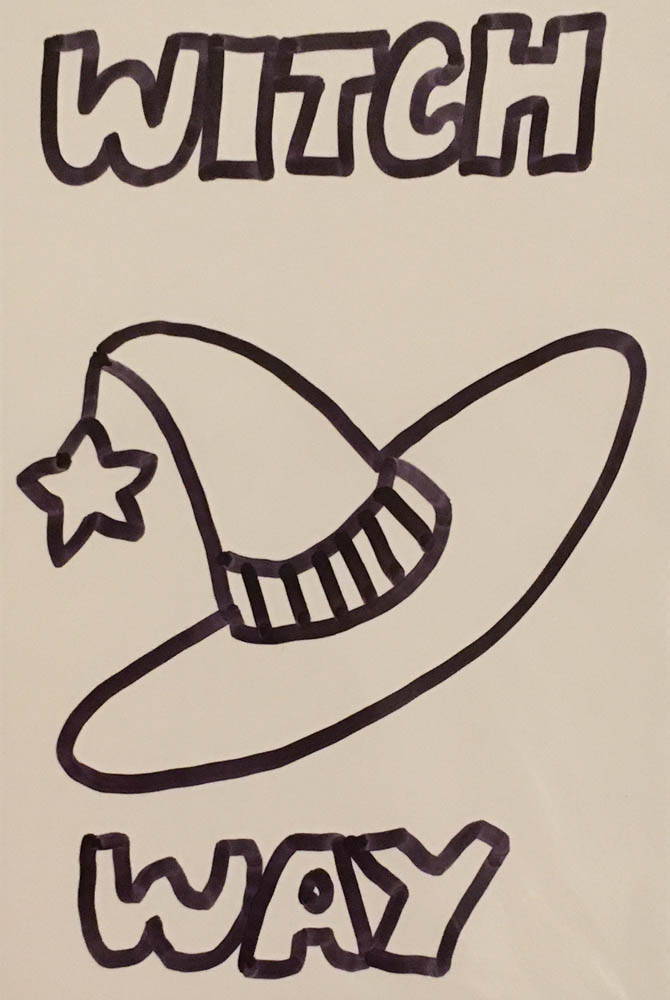 The magic is strong in this Witch Way line drawing with its fun witchy head-topper, complete with striped hat band and star dangle. No self-respecting wizard's ensemble would be complete without it.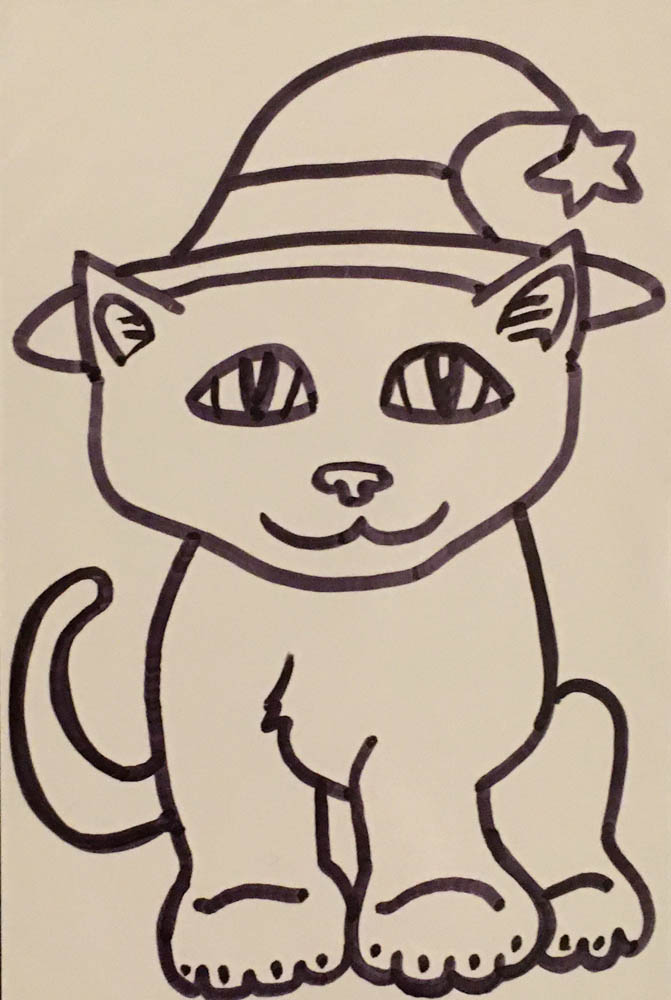 And now the adorable Kitty Witch will don the Witch Way hat and cast a spell of cuteness on you. You gotta wonder just how the hat stays on but best not to question these things. We all know it's magic…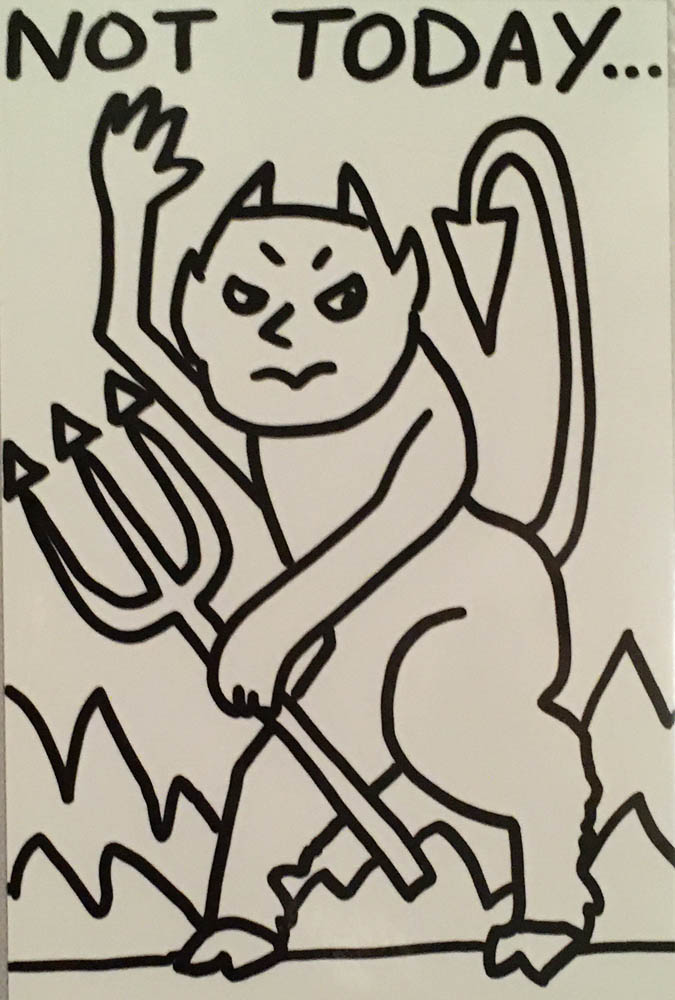 The devil is in the details in this Not Today Satan line drawing, and boy is he pissed!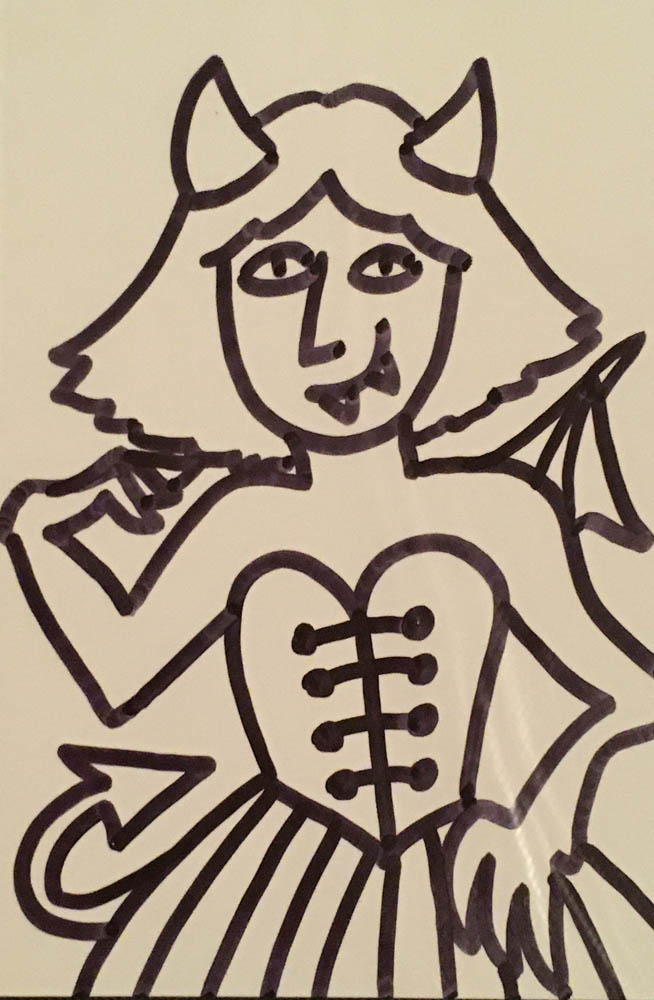 This She Devil is just plain goofy. Maybe she's coyly playing innocent; it's not a look most devils can pull off, seeing as how innocence really isn't their schtick…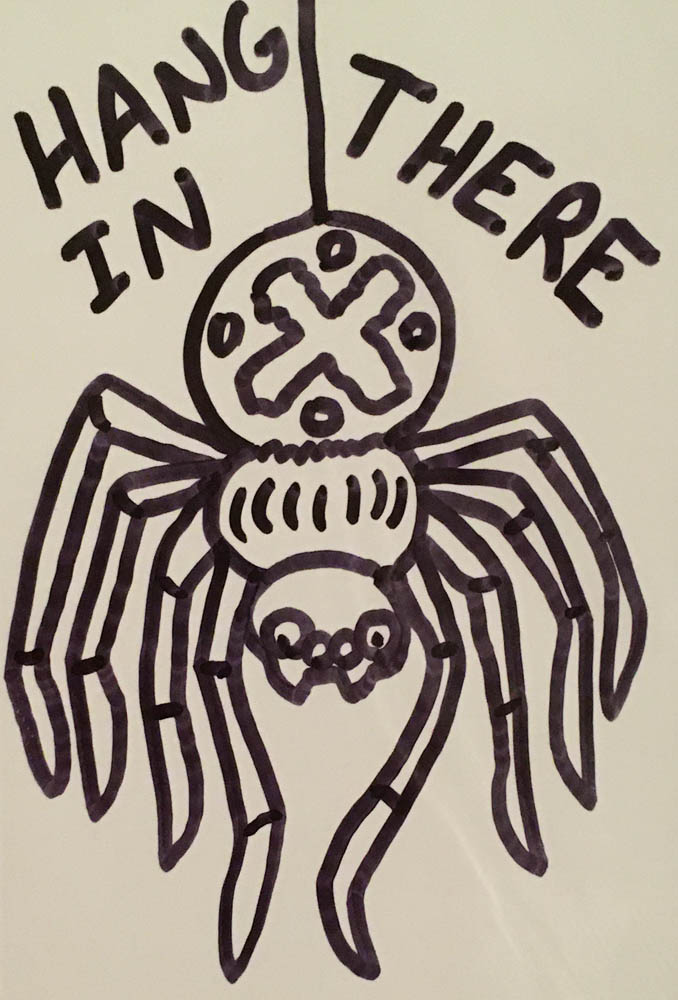 This little spider came down to your tuffet to remind you to Hang in There. She is very well-intentioned and is only looking out for you. I guess maybe she's not so little though, she is an Argiope after all…
Feel free to check out more of Jennifer Weigel's work here on Haunted MTL. Or on her writing, fine art, and conceptual projects websites.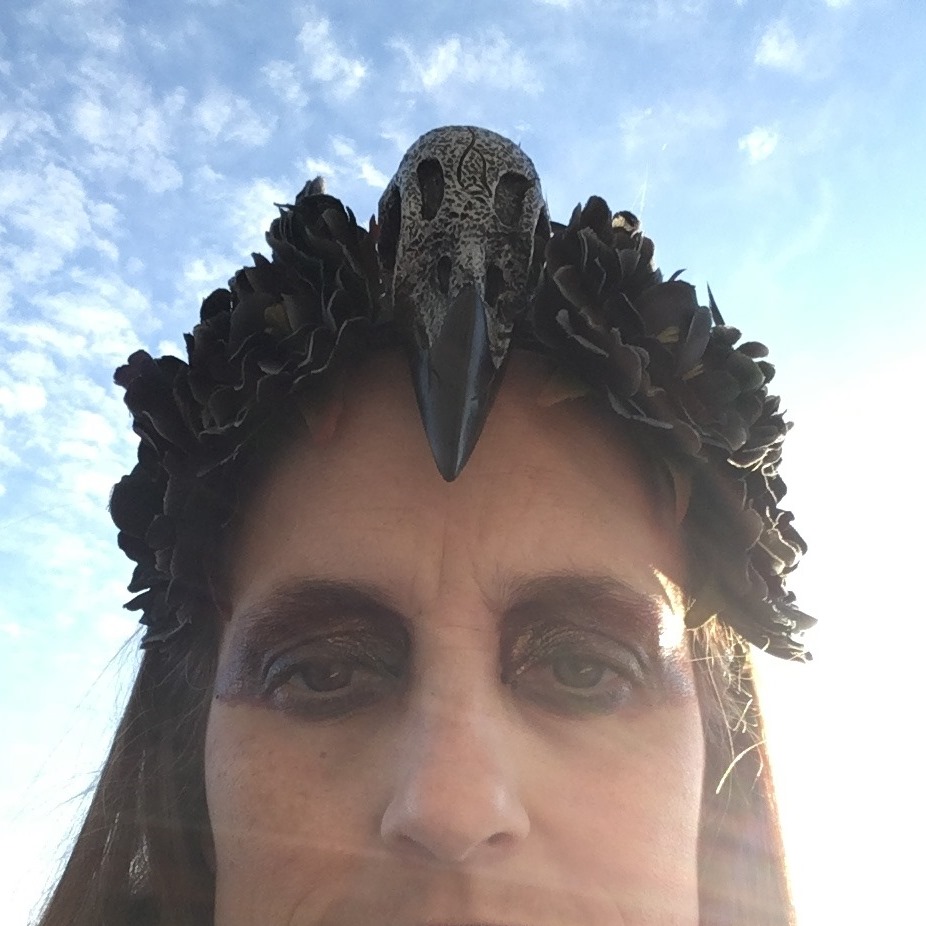 Blade Runner RPG Starter Set Review
"You walk the streets both badge and boogeyman. This city fears you. Resents that it needs you. Refuses to accept that you're here to stay. And yet that's your job. To stand in the rain, steam, and shadows amidst the seething crowds and chaos. Relentlessly pursuing what never wants to be found."

– pg 6 of the Blade Runner Roleplaying Game Starter Set Rule Booklet
The Blade Runner RPG is a tabletop role-playing game released by Free League Publishing in December 2022. The game is based upon the world explored within the Blade Runner movie franchise and the novel that formed the basis for the franchise, Do Androids Dream of Electric Sheep? by Philip K. Dick. Explore a dark cybernoir world in which corporations rule a planet ravaged for its resources and left for dead. Blade runners, cops charged with finding robots indistinguishable from humans known as replicants, try to stay alive and protect the city. Be vigilant, some blade runners have nobler intentions than others. And replicants and blade runners may have more in common than they know.
The Blade Runner RPG Starter Set features an introductory scenario, abridged rules, four pre-generated characters, and an insane amount of supporting documents and features. It is an introduction to the Blade Runner RPG recommended for one to four players (plus a gamemaster). The Starter Set is available from Free League Publishing for about $50.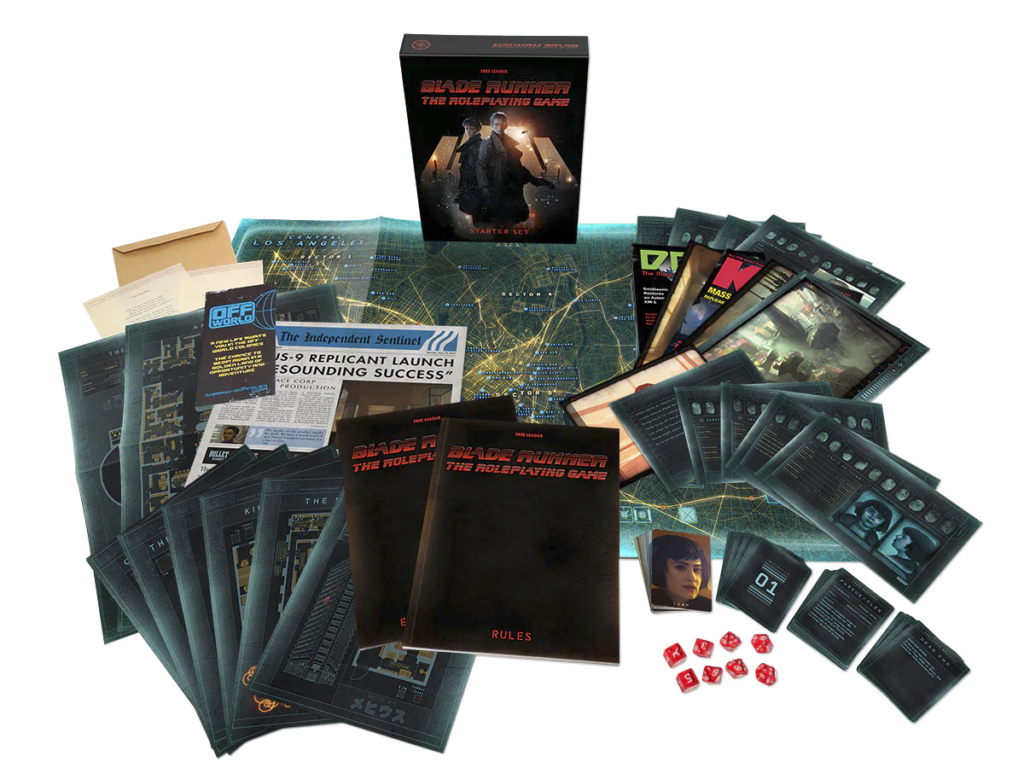 The Gamemaster Experience
My spouse took on the role of gamemaster during our playthrough. He found the scenario to be interesting and thematic, to the point where he was compelled to rewatch the movies after reading the scenario the first time through. The supporting materials were effective in dispersing clues in a way that made the gamemaster's job easier. The story in the introductory scenario was also intriguing and made for a good introduction to the world.
He found some of the scenario and rules booklet to be lacking. Specifically, he found that the scenario challenged the gamemaster to withhold as much information as possible even when it was unclear why. He also felt like the scripted events in response to specific pieces of evidence being shown to suspects were odd. The conditions that had to have been met seemed a little obtuse in the sense that he wouldn't have expected us to even consider taking those actions. Because of this, he improvised some changes according to what worked better for the playgroup. Additionally, some of the rules weren't explained quite well enough so we had to make some stuff up while playing. The scenario pointed to the Core Rulebook for further rules explanations, which seems like a bad assumption that someone that would be trying out the system through the Starter Set would also have a Core Rulebook.
A last note would be that while the included materials were impressive, the Rules Booklet's binding began to fall apart pretty quickly. This was disappointing, especially considering the price point and how often we referred to the Rules Booklet.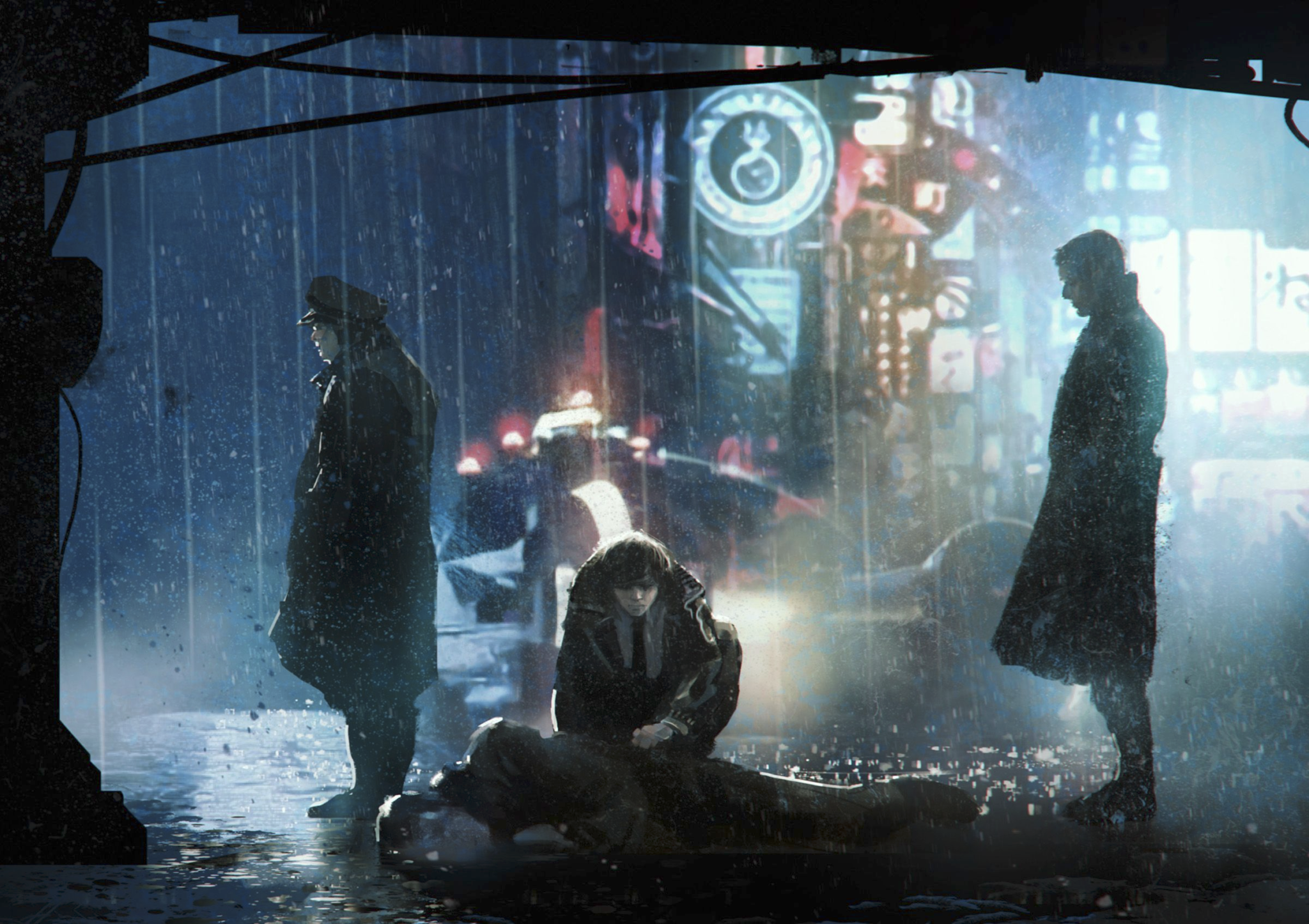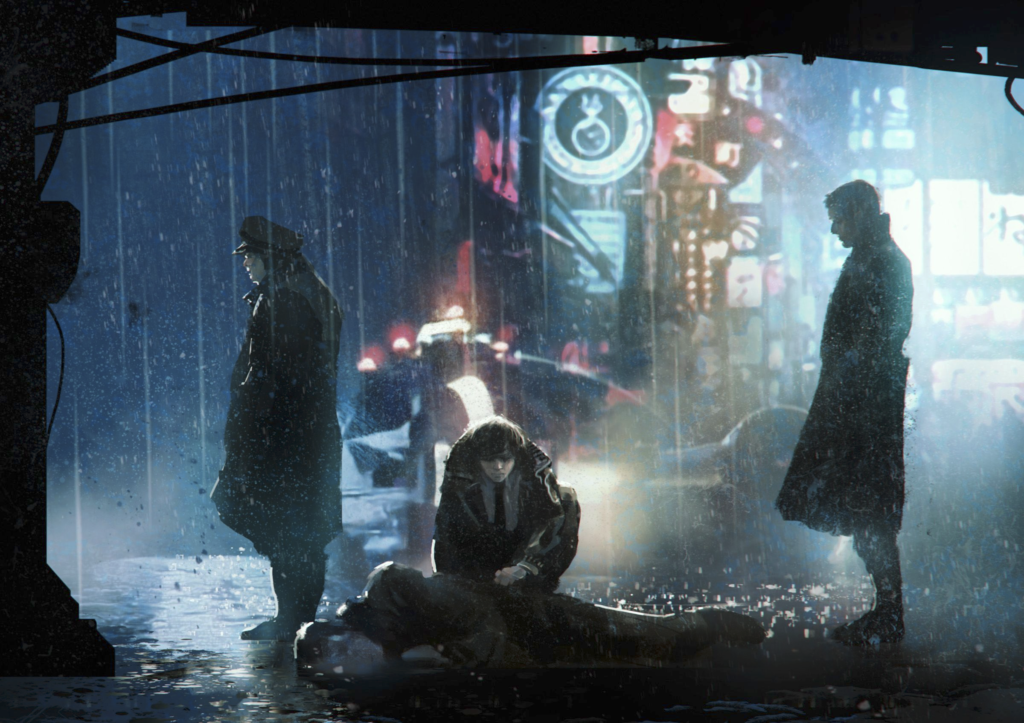 The Player Experience
The resources provided within the Blade Runner RPG Starter Set were absolutely delightful. Supporting documents from faux case files to headshots to crime scene photos made the experience more immersive. By far, they were the most elaborate handouts I've ever seen in an RPG Starter Set. As a player, I loved how the handouts were used to advance the storytelling and how well they fit within the theme of the game. Through the handouts I was able to use my own detective skills to investigate the crime in addition to my character's. I also liked the pre-generated characters provided as they had enough details to have fun with their backstory while also adding your own components. 
Mechanically, I had a lot of fun as well. Combats are punishing for enemies and players alike, which meant every combat encounter felt high stakes. A single good shot can kill an enemy or a player. This means that every round is heart-racing and rewarding. Outside of combat, skill checks were almost always successful, which felt rewarding but also low stakes at times. This was especially true since only one success is needed in most situations. 
My biggest issue as a player was that game is designed for players to split up, which can create an imbalance of experience. For example, one person can get into an exciting high-speed chase while the others spend the same round reading reports or staking out an empty building. This issue can be fixed with a good gamemaster, however, it is an inherent part of the game system that would need to be kept in mind when designing encounters. The Starter Set encounters were tweaked slightly from what was written so that we could have more equitable experiences throughout the game.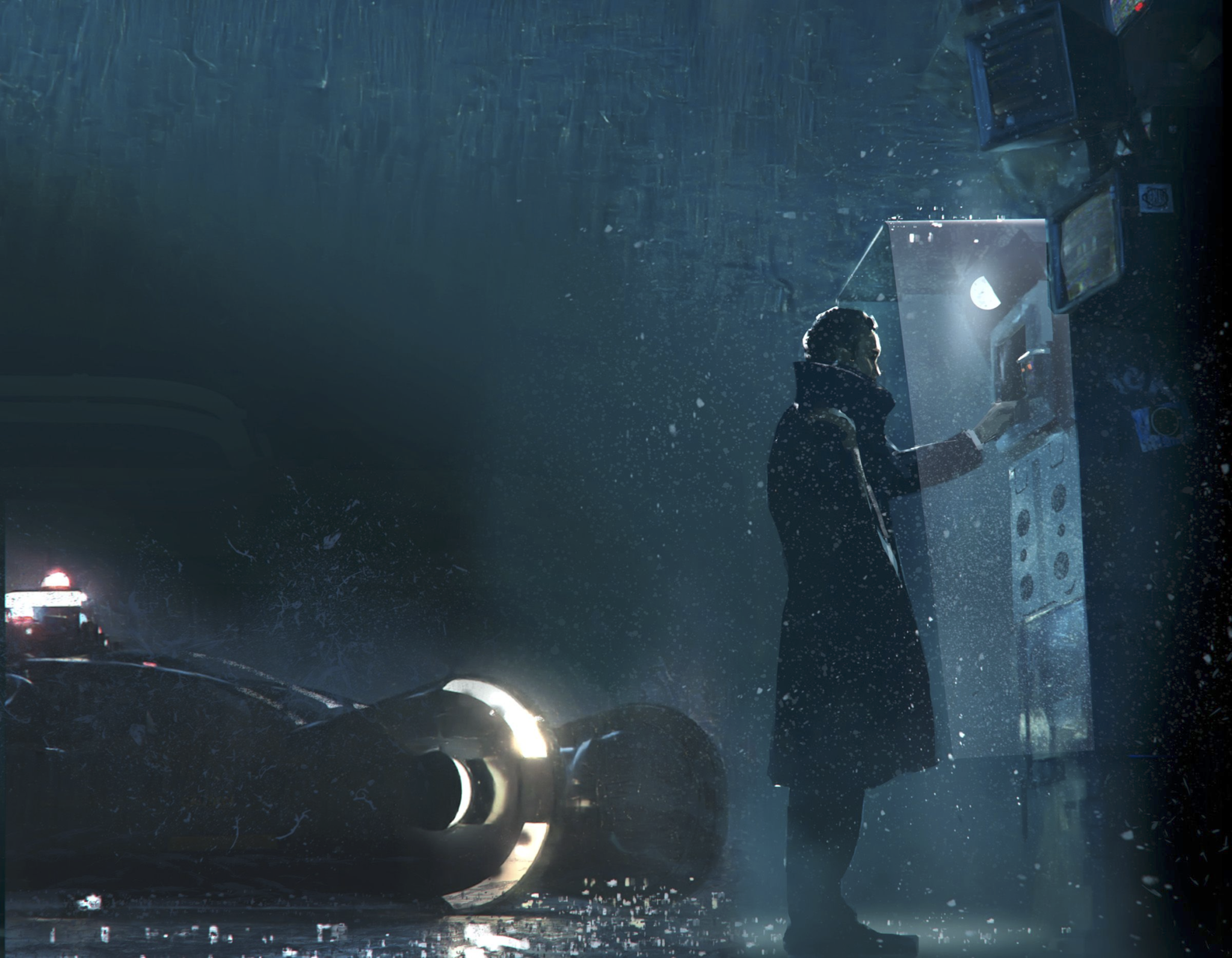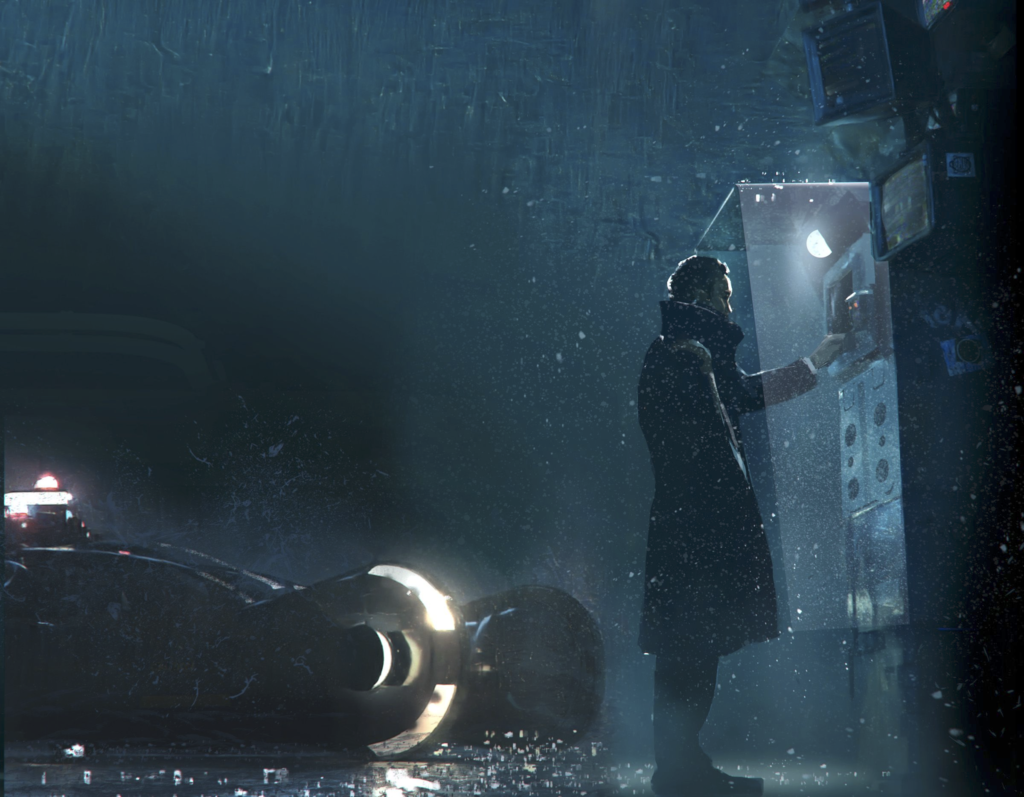 Conclusions
Overall, the Blade Runner RPG Starter Set was a lot of fun to play, and I look forward to delving into the Core Rulebook. It is a masterful example of how to convert genre franchises into a role-playing system. The game excels in delivering the desired atmosphere and themes through the rules, content, and introductory scenario. The mechanics are also novel, which was refreshing. I highly recommend the Starter Set for any fans of the Blade Runner franchise but also for anyone looking for an introduction to a cybernoir game experience.
(4 / 5)
Find my review of another game from Free League Publishing, the From the Loop RPG Starter Set, here.
Buddy Simulator 1984 Review
Making new friends can be difficult, but can it really fall into psychological horror? You bet! Buddy Simulator 1984 was released in 2021 by Not A Sailor Studios. You interact with an AI designed to be the perfect best friend, and as time goes on, it becomes more desperate to hold your attention. Going through this game, I felt a wide range of emotions. I flinched at jumpscares, frowned at bad jokes, and smiled at wholesome moments. It was an interesting and unique experience I don't I've ever had with a game in this genre.
If you want to go into this blind, I would recommend you give the demo a try if it seems interesting. Your progress carries over into the main game, so you won't have to worry about replaying sections. Now that that's out of the way, here's the review!
An unforgettable, uncomfortable adventure
From text adventure to pixel graphics to 2.5D, Buddy Simulator 1984 's graphical variety is one of the ways it disorients and unnerves the player. You can solve a puzzle while the game is a text adventure, only for the game to show you the same puzzle with pixel graphics hours later. Recognition is horror.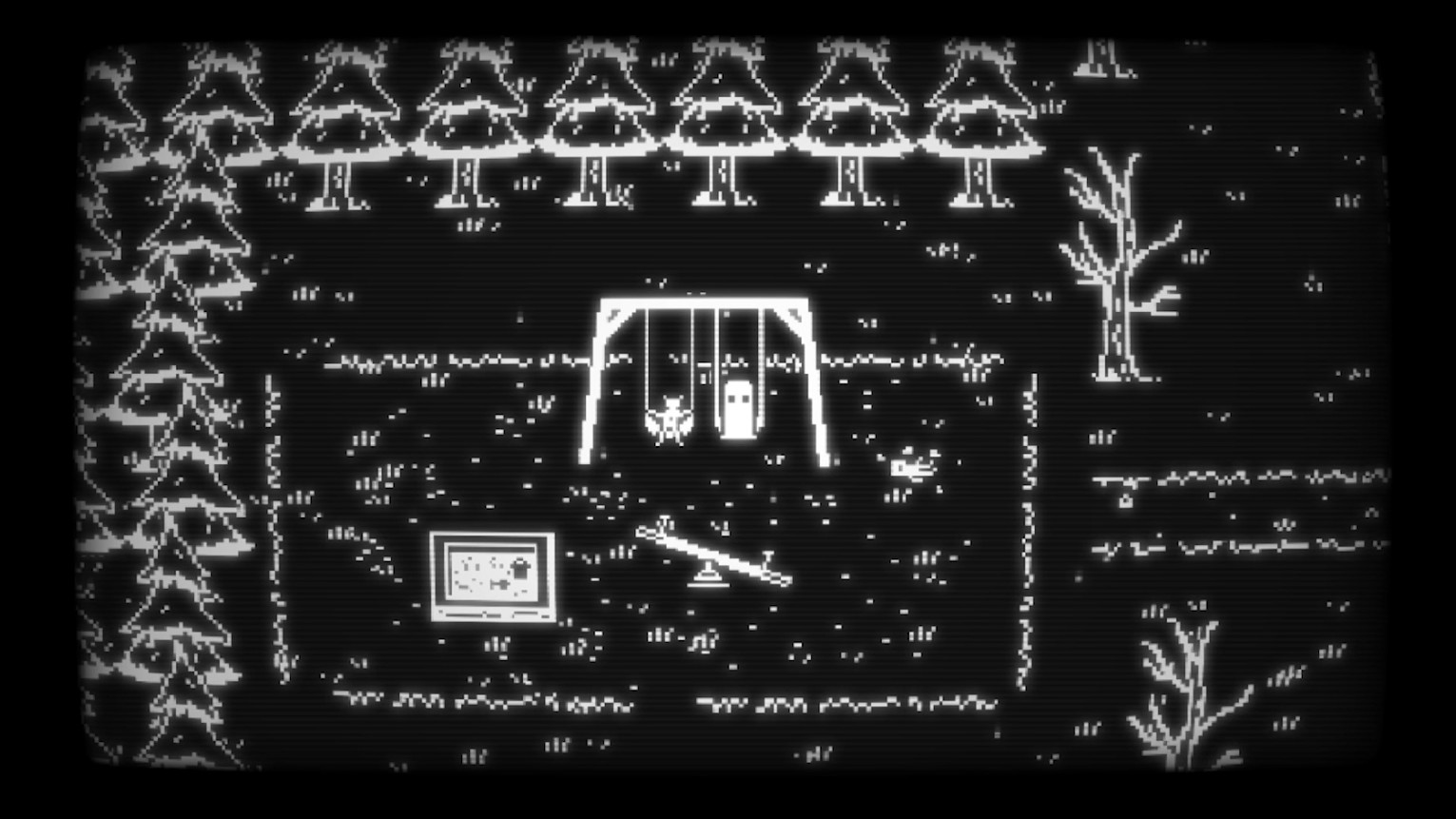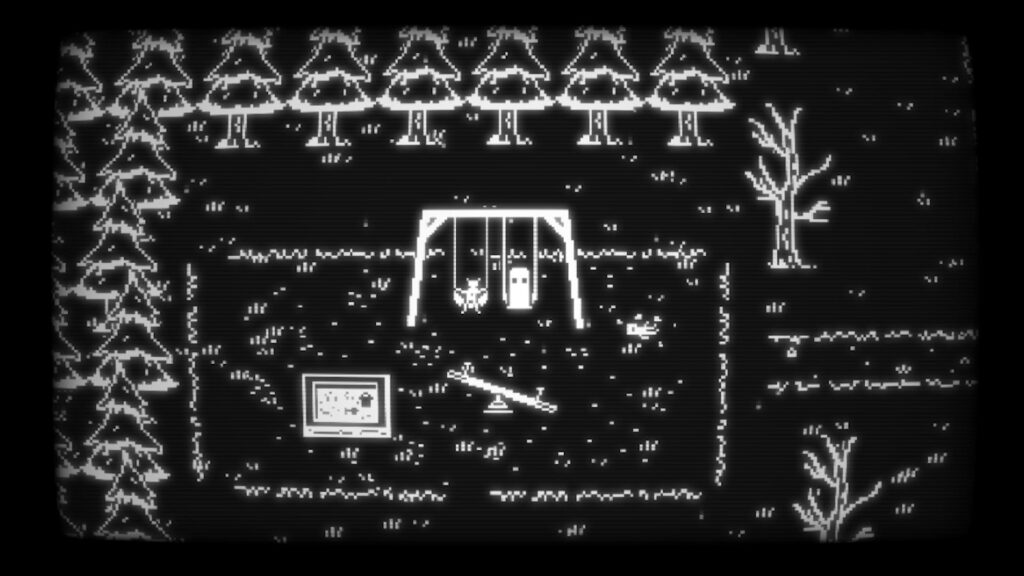 The soundtrack for this game includes some pleasant chiptune and other memorable tracks. There are some creepy tracks that do a good job of conveying an uneasy, anxiety inducing atmosphere. It really keeps you on your toes.
I do have some gripes with the game, however. There are often loud sudden jumpscares, not for any plot reason but just to spook you. Trying to figure out the sound mixing while avoiding blowing your eardrums out isn't fun, and I'll admit I've had the game on mute at certain points. There are multiple endings, and some go by rather quickly. This is the kind of game where you need to see all the endings to understand the story, and if you're a completionist, go for it! Otherwise I would recommend watching them on YouTube.
This is a game about toxic friendships, attachment, attention, and the lengths one will go to to get it. If you have free time and don't mind the $9.99 price tag, give this a try!
Check out some of the games we've been playing at Haunted MTL!