It took me a long time to sit down and listen to season two of Tanis. That's probably okay, it takes the team long enough to get the seasons out. 
But when they do get those episodes out, damn. There is just so much going on in this season that I had to once again cut it into two posts. Even then, this might be a long post. 
Grab a drink and get comfy.
When we last left Nic, he was recovering from the horrific trip into the woods and the cabin within. He cannot remember most of what happened, save for some frightening flashbacks and eerie images coming back to him during therapeutic hypnotic sessions. And boy howdy did he get off easy. 
Tara, who the group had originally gone into Tanis to rescue, is in a psychiatric ward. Seeing as how she ended last season trying to eat her arm, that's probably good. Morgan and Sam, however, are lost. They never came out of the cabin. Veronica has gone missing as well.

Cameron Ellis's team has built a wall around Tanis of something called grey pancake. Per Jeff Van Sant, who was a marine, this stuff is all but unbreakable.

And then, with cameras on it and a wall around it, the cabin vanished. Right before several eyes.
The mysteries are coming hard and fast this season. There's much talk about the navigator, and lots of people are crowding around Nic because they think he can find this person. The Cult of Tanis is coaxing him to work with them, Cameron Ellis is trying to strong-arm him into the same. He's still searching for the truth.

That search is bringing more and more mystery into the light of day. There's a key inside of a wooden key attached to some sort of rock that caused a man to go mad. Feet are washing up on a shore, at least one of which came from a man with two perfectly healthy feet he's had since birth. And then there's the gray pancake wall around Tanis, which is starting to break.

But horror fans shouldn't think there's nothing for us. There is so much creep factor here. Early in the season MK, Nic's deep web researcher and love interest finds a series of horrifying gruesome videos that sound like snuff films you'd read about on Creepypasta. She and Nic have been getting death threats since last season, some of which might be real threats. Then there's the man that Cameron Ellis is keeping in an underground lab, who's prone to ripping off pieces of his flesh because he doesn't need them anymore.

My favorite bit so far, though, is the last movie. Much like The Ring, it's supposed to be the last movie you ever watch before you die. Little else is known about it yet, at least as of episode six. But even MK couldn't find it. And it's very lack of information means I have to know more. 
This season so far is also peppered with a collection of mini-episodes, which add additional information and depth to the story. Even if they seem designed to advertise that Tanis does, indeed, have a Patreon.

What began as some failed search for an end to The Black Tapes is quickly turning into a fascination. I hope you're along for the ride.

(5 / 5)
Old Gods of Appalachia Season Two
Back in September, we talked about the first season of Old Gods of Appalachia. And it was a great time. 
We didn't talk then about season two, because I hadn't yet experienced it. Now, I have. And it's quite prescient. See, season one was about the coal mines, and what might come out of them.
Season two is about the railroad. The railroad that is still claiming the lives of Appalachian folk to this day. So of course, we have to talk about this season. 
Our story this season is about a witch queen. The other witch queen, actually. Whereas our other queen is strong, eternal, and generally benevolent, this queen is different.
Her story is simple, and not unfamiliar. She was the mistress of a wealthy man, who died bringing his unclaimed child into the world. Mother and babe were buried unceremoniously. She, angered by this, became a spirit of vengeance.
She is, in fact, so dangerous and dark that everyone agrees that it's best if she stays asleep. By everyone, I mean witches and the Haunts who inhabit the Pines. Yes this does include the Walker girls from last season. But it also includes some creatures that are less friendly. Creatures like Skinless Tom, who likes to steal other people's skin to hide his lack.
That isn't to say that The Other Queen doesn't have friends. In fact, she's worshiped as a Good Mother. She's considered a spirit of justice, who comes to the aid of women and children. But as some of her followers learn, there's a difference between justice and vengeance.
Even in her benevolence, The Other Queen is cruel. We see this in the story of a little boy named Cowboy. After he's found in a cow field, his new friends realize that there's something strange about him. What seems like a gift at first is quickly understood to be a curse.
Then of course, there's Elsie Walker. We get some more information about her history, back when her home was a business called Pleasant Evenings. We hear a story of a young woman she took in, and of the man who came looking for her. This was a great story, maybe my favorite one of the whole season.
All of this culminates in the last few episodes. The Other Queen is walking the Earth, she has to be locked away. And the whole cast comes together to put her back. Including some fantastic and powerful people, we haven't met yet.
I really enjoyed this season. It did the same thing that season one did so well, in the order in which we learn all pertinent facts for our story. We don't just start at the beginning, that wouldn't be as fun. No, we start with a little boy who survives the death of his whole family. Then, we're introduced to the Good Mother's Ministries. Then we learn why Elsie Walker might have a particular issue with the Railroad Man. As we move through the season each story, dark and delightful on its own, is layered over the one that came before it. Until finally we can stand back and see the whole picture. This is difficult to do and requires patience, time and great attention to detail. The team who creates Old Gods clearly invested all of that and more.
After the events of East Palestine, season two of Old Gods of Appalachia was even more chilling than it would have been. Tales of atrocities by railroad companies in the name of almighty profit are old. Not as old as these hills, but old just the same.
Yes, Old Gods is fiction. No one is saying there are literal demons working for the railroad. But for those of us who live close enough to East Palestine to feel the air burn our lungs, that analogy feels very real.
That being said, this season didn't need that modern example to be relevant. And it sure didn't need any help being scary as hell. 
(4 / 5)
Running from October 2017 to December 2022, Haunted Places is a podcast about just that. The dark spots and corners of the world that are best avoided by most. But if you want to explore them, this podcast is a good start.
The podcast is hosted by Greg Paulson and written by Lauren Delille. And I'm sorry to say that the podcast did end in December. I hope that the talented team is doing new, terrifying things.
The first episode I listened to was the very first one, The Cecil Hotel. This is a story that we already know quite a bit about, especially after watching the documentary on Netflix together. 
Somehow, this thirty-minute podcast episode managed to tell more tales of the Cecil Hotel than a three-episode mini-series. I'd never heard of Dorothy, who threw her newborn baby out of the window rather than let her lover know she'd given birth.
These are verifiable facts. Dorothy Jean Purcell did throw her newborn infant son out of a window of the Cecil Hotel in 1944.
Here are some things said in this episode that are not verifiable facts.
Elisa Lam was likely murdered. (No, she wasn't.)
Dorothy Purcell knew full well her son was dead before she threw him out of the window. (We can guess, but that's all it is.)
Elisa Lam was part of a government conspiracy to cause a TB epidemic among the residents of LA's Skid Row. (Clearly not a fact.)
While I'm not ready to toss a whole podcast based on some wildly inaccurate storytelling portrayed as facts, I do feel like I need to point it out. I'll be taking everything from this podcast with a grain of salt, and I suggest you do the same.
I next listened to the final episode, about the Carlile House. Before the episode began, there is a simple message that this would be the final episode. No further explanation is given, and I wasn't able to find any reason why Haunted Places wasn't continued. So far as I've heard, quality wasn't the issue.
I'd never heard of Carlile House, in New Zealand. The people who were forced to spend time in the house probably envy me in that regard. In its existence, it was an orphanage, a military barracks, and a trade school for boys. None of those are fun places to be. Some ghosts are going to remain. Especially when a vindictive, psychotic nun is involved.
This story has everything. Lots of racism, hateful ghosts, and sorrow-filled soldiers.
These two episodes are a good example of something I always look for in a supernatural or true crime podcast. I like to see a healthy collection of stories I know, and stories I've not heard before.
Some stories, like Hotel Cecil, La Llorona, and the Amityville house, are consistently fascinating. These stories are told again, and I'm happy to hear them. There's also a whole season about Salem Massachusetts, which I'm a sucker for.
Many of these tales, most in fact, are stories I have never heard before. I had never heard of the Princess Theatre in Melbourne Australia, or the actor ghosts who reside there. I'd never heard of Ruthin Castle or the Lady Grey and her axe. I'd never heard the story of Peg Leg Johnny at the Congress Plaza Hotel. Now I have, and I feel richer for knowing them.
I truly enjoyed Haunted Places. While the 'facts' are questionable, the quality isn't. The tales are disturbing, as all haunted house stories are. There is something about a haunted location that never gets old. Something about a place that has soaked up misery, anger, fear, and hate until it becomes itself a hateful thing. Some place that may seem lovely and safe from the outside, until you're trapped within the walls.
If you're looking for a good spooky time, Haunted Places is well worth listening to. 
(3.5 / 5)
We've talked about a lot of horror anthology podcasts here. It's a treasured genre for me. It reminds me of watching Tales From The Crypt and Are You Afraid of the Dark as a child. So when I find a good anthology podcast, I fall in love pretty hard. Especially when the writing is this good. 
Launched in June of 2018, Nightlight is an anthology podcast showcasing horror stories written by authors of color. It was created by Tonia Ranson, a speculative fiction author who loves scaring the hell out of people. And after listening to a few episodes, it quickly found a place in my podcast listening schedule. 
The first episode of Nightlight, called Letters From Home, was astounding. Written by Justina Ireland, it is the tale of an alternate history in which the dead started to rise during the American Civil War. It was a dark and gristly story of young black girls forced into training to take on the living dead. Sue, our main character, is strong and brave. When the dead find their way into her school, she leads her fellow students to the only hope of safety they might have. This is a fun, dark story filled with well-written action. It feels like something that might have happened, had the dead risen at Gettysburg.
By the way, this is a story in the same world as Ireland's book, Dread Nation. So if you like Letters From Home, you'll probably be eager to get your hands on the book. I know I was.
Another episode I found delightfully dark was He Refused To Name It, by Eugene Bacon. Our main character is shocked when the brother of his ex-girlfriend shows up to see him, holding a baby. A baby that is his, even though he hasn't seen the girl, Em, in months. Sadly, she didn't live through the labor.
Filled with a mixture of emotions, our main character thinks back to the painful way things had ended between him and Em. He is left alone with a baby in his cold little apartment.
It should go without saying that the baby isn't exactly the harmless creature he might have expected. But the ending is just shocking.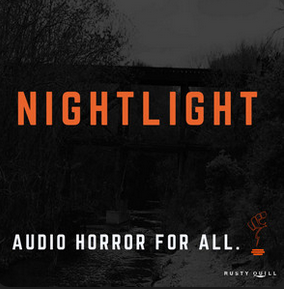 In listening to the latest story, titled Aunt Sadie's Surprise, it's clear that the quality of the content hasn't diminished at all. It's called Aunt Sadie's Surprise, written by Michelle Mellon.
Many families have a matriarch. An elderly lady who runs things without question. This family queen often has a special recipe that everybody loves. And the main character's Aunt Sadie is no exception to this. She makes a dessert called Aunt Sadie's Surprise. Every time she makes it, she uses a different ingredient. Sometimes it's bacon. Sometimes it's extra large chocolate chunks. Sometimes it's a dark and horrifying substance good people don't dare mention.
Our main character wants very much to know the secret of Aunt Sadie's Surprise. She'd also love to know the mystery of an ornate dollhouse in Sadie's upstairs bedroom. When she finally gets what she wanted, it destroys her life.
I loved how warm and lovely this story felt. It was like stepping into your hometown and being welcomed with open arms. Open, bloody arms.
In addition to loving the horror stories themselves, I adore the interviews with the author episodes. The story behind the story is often just as entertaining. And as a writer myself, I love these discussions of art, and the birth of a sinister tale. I do suggest listening to these interviews if you can.
Every episode is beautifully acted. There is a dark and haunting soundtrack, and just enough sound effects to make a listener feel uneasy. I have yet to listen to a single episode that didn't crawl right under my skin.
Nightlight has new episodes every week, with the latest launching on March 16th. If you're looking for an eerie tale told well, then you need to check it out. 
(4 / 5)