Film and TV composer Timothy Stuart Jones has previously worked on projects like American Pie Presents: Girls' Rules (2020), Thor: Ragnarok (2017), and The Lego Movie 2: The Second Part (2019), and recently created music for the horror film Hide and Seek. I wanted to ask him about working on that film, as well as his relationship with fellow composer and DEVO frontman Mark Mothersbaugh, among other things.
Ten Questions for Timothy Stuart Jones:
It seems that everyone has to face their worst fear at some point in their lives. What would that be for Noah, and how was that conveyed in the score for Joel David Moore's Hide and Seek?
Timothy Stuart Jones: Noah has OCD and a big fear of getting dirty. The music I wrote for him, in the beginning, is very ordered and almost classical at times. As he enters his brother Jacob's world, he is thrust into a foul and unsanitary environment. The music devolves into his worst nightmare. It feels slimy and unclean. I wanted the music to seep into the walls and make the scenes feel immersive and shudder-inducing.
Much of the score to Hide and Seek has a seemingly malevolent tone. What techniques were used to enhance those feelings?
Timothy Stuart Jones: Sharp bowed sounds, dark drones, and unidentifiable processed natural sounds. It's gritty and has unexpected jumps in volume and intensity. I wanted to use sounds that mirror the environment by making it mean and making your skin crawl a little with how dirty everything is.
The score is tantalizing, and will surely have audiences on their toes. Are you going to be releasing the score/soundtrack to Hide and Seek?
Timothy Stuart Jones: We've been in talks about that. I'm hopeful that the score will have a release. It's a bit of a departure from the scores I've done recently. It's actually closer to a score I did early in my career for a Sony film called The Forsaken. I'm hoping Hide and Seek will get out there.
This is a remake, so I have to ask: Was the score to this movie influenced at all by the original film, directed by Huh Jung?
Timothy Stuart Jones: I actually wasn't influenced by the original except for the fact that there was a little lullaby theme in the original. Story-wise, I needed to write my own to use in our film as part of the structure. It starts in the beginning and is broken up into pieces that come back together at the end of the film.
Researching your career, it appears that you know composer and DEVO-fonrtman Mark Mothersbaugh. How did you first meet him and what was his role for you?
Timothy Stuart Jones: I met Mark through a mutual friend. I worked with him on Thor Ragnarok and quite a few scores since then. I'm a part of his team, but I work with him on a freelance basis. It's a blast to work with Mark. With all his years of experience in scoring, he's like a ninja when it comes to getting these films done. I've learned a ton from him.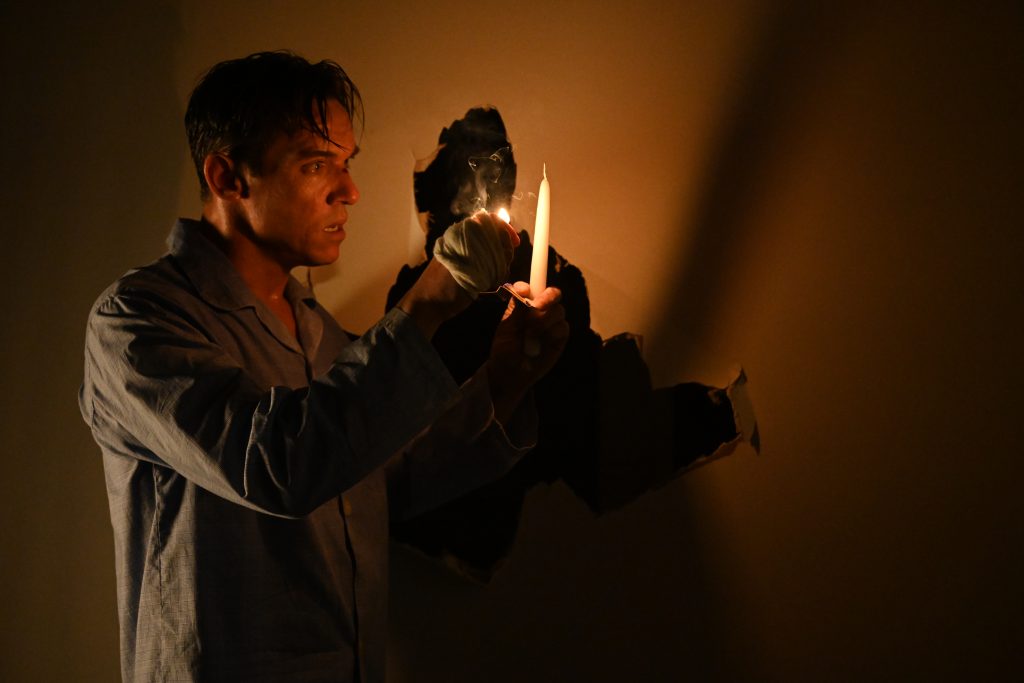 What are your thoughts on modern horror filmmakers such as Ti West? What do you find sets them apart?
Timothy Stuart Jones: I really like Ti West! I remember watching 'The Innkeepers' with my wife at home. Ti set up this hotel and the spooky factor perfectly. To me though, it felt like he was lulling us into this semi-safe place. When the ghosts finally show up in a big way in the basement at the end, we were literally screaming. Haha! Our kids wondered what the hell was going on. It was masterful. I think he pulls the viewer into the film with some genuine realism and then the gloves come off at some point. It's a lot scarier to have these things happening in a place that seems a bit normal. I loved that film.
The trailer for Hide and Seek is certainly a scary one, and a big part of that is the music. What are your thoughts on trailers and how they impact our perceptions of films/TV series?
Timothy Stuart Jones: Trailers seem like a different art form to me. They are very difficult to do well. There are people out there who are amazing at doing that. To be honest, most of the time the score from the film isn't used for the trailer. I'd love to take credit, but that would be wrong. I think a good trailer gives you a sliced and diced version of the film/TV show it's promoting. They are usually made of fast cuts and that often isn't the job the score is doing in the actual show. They use music either composed specifically for the trailer or edited together to do the job. I'm grateful there are people who are so good at trailers. That leaves me to do what I do.
What are some of your favorite scary films and TV shows?
Timothy Stuart Jones: Since I suspect there might be some fellow gamers out there, can I add a video game to that list? 'Alien: Isolation' is absolutely terrifying. I've never played a game that creates real anxiety and fear in me like that. It's genius. You really don't want to get caught by that alien. It's bumping around in the air vents in the surround speakers behind you. freaky. There is a TV show on Netflix called 'Marianne'. Man, that thing is scary. Season 1 had us viewing through our fingers (not kidding). We watched 'The Babadook' the other night. 2014 Australian film that was super well done. It's a bit older, but very scary.
Where will people be able to see Hide and Seek (select theaters, Netflix, Prime, etc.)?
Timothy Stuart Jones: Right now, I believe it's select theaters and VOD. I'm sure it will have a streaming home, I'm just not sure where that is yet.
What projects are you currently working on?
Timothy Stuart Jones: Just finished a film called 'Waterman' about the legendary Duke Kahanamoku. It's narrated by Jason Momoa and will be hitting theaters in Hawaii, California and Utah in April 2022. It will be streaming on a network after that which I can't talk about yet. It will be out there though. I'm also starting a film called 'The Hot Seat' with director, James Cullen Bressack. He's a very talented young filmmaker. It stars Mel Gibson. I was a huge Road Warrior fan as a kid. I'm looking forward to working on that.
I'd like to thank Timothy Stuart Jones for answering these questions!