Welcome back to the Drive-In. It's been a great run of episodes for the show so far, but The Last Drive-In might have delivered an absolute all-time-best episode with the double-feature of Troma's War (1988) and One Cut of the Dead (2017).
This week's tweet commentary is handled by a friend to Haunted MTL, Isaac Thorne. Good stuff, Isaac. Read his story "Dead Rights" here on the site.
So, let's dive in, shall we?
Troma's War (1988)
Opening Rant: BoBo Rodriguez's Cold Rememedy.
When I put together my season two wishlist for The Last Drive-In one of the items was a wish for Troma movies. Troma, that delightful independent studio of bad taste, has enough material to fill entire seasons of The Last Drive-In, and we've been fortunate as fans to have two films this season alone.
Tonight's selection of Troma's War is not one of the most iconic of Troma's films, with it actually being quite divisive among fans of the studio, but it's still bonkers and just right for the Joe Bob Briggs treatment. The film is a hasty, low-budget terrorist movie that reminded me of an unholy child of Lost, Rambo, Die Hard, and Red Dawn. Directed by the legendary Lloyd Kaufman, the film has all those hallmarks of Troma, the blood, the jokes, the boobs, but it also feels simultaneously more subdued and yet more pointed. It is an odd sensation.
The film follows a group of people whose Tromaville Air flight crash lands onto an island being used by a sinister cabal of nations and terrorist. These average Americans must then band together to basically kill all the terrorists in ridiculous ways.
It all sounds good, but the film is curiously tame for a Troma production, mostly due to the continual influence of the MPAA. The satire of the film, while still present, ends up feeling a little toothless. It seems that in working with the MPAA Kaufman and Troma ended up diluting the goal of lampooning the military-industrial complex. Ultimately, Joe Bob would give the film two and a half stars. It's a fair assessment.
While the movie was ultimately not the best movie of the night or the season, the guest appearances of Lloyd Kaufman and Pat Swinney Kaufman offer perhaps the greatest guest appearances on the show, even factoring in Tom Savini. We know Joe Bob Briggs loves to talk and can keep other people on their toes, but Lloyd Kaufman is such a huckster that he kept Joe Bob on his toes. Lloyd's film insights, when not completely hilarious, we absolutely fascinating. Lloyd's discussion of the build of Troma across several of the breaks would establish a theme for the night that ran through the second feature of just… making films.
Lloyd wasn't alone, however. Pat Swinney Kaufman is another guest that seems just right for The Last Drive-In. So many great movies are shot, in-part, in New York and Pat's role as the executive director of the New York State Governor's Office for Motion Picture and Television Development and deputy commissioner of Empire State Development has helped to ensure smooth productions in New York. Even completely ignoring the fact she's married to Lloyd Kaufman, Pat is a Hell of guest with some pretty significant contributions to the types of films we mutants love. That being said, her being there with Lloyd was amazing.
This is a situation where what surrounds the feature outshines the feature itself. Troma's War is not one of Troma's best, but contextualized by the commentary of Joe Bob Briggs, and Lloyd and Pat Kaufman it becomes something else entirely. Unfortunately though, as a feature, I cannot give Troma's War more than three Cthulhus.

(3 / 5)
Best Line: "You try chopping Siamese twins apart with a machete and not change." – Nancy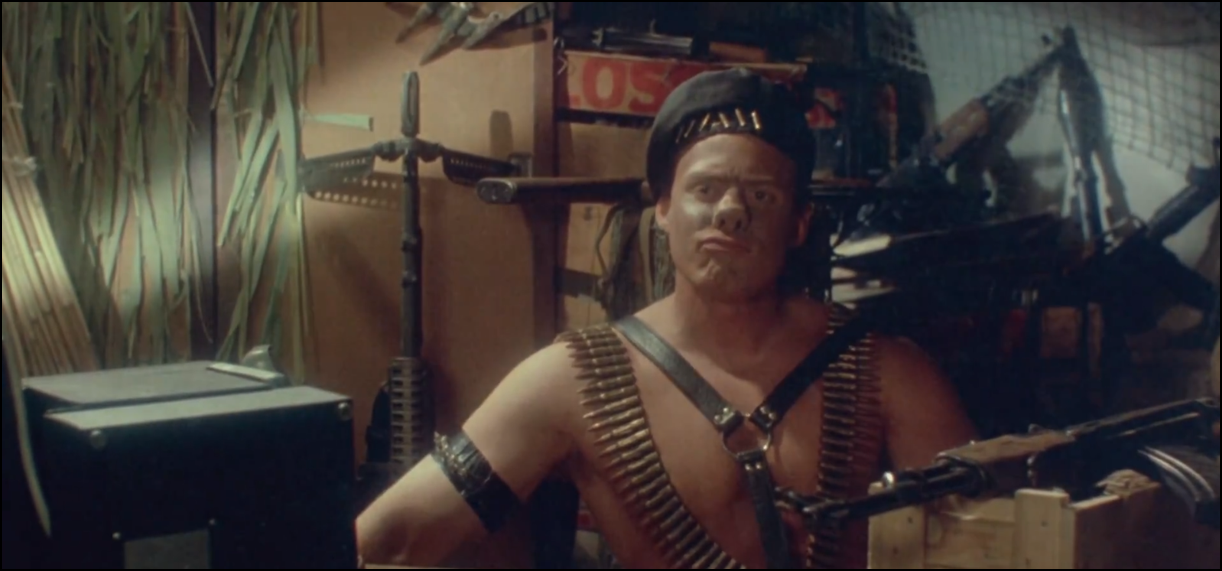 One Cut of the Dead (2017)
Opening Rant: Joe Bob drops some knowledge about the lengthy history of the deep fake.
I am honestly surprised that I have not reviewed One Cut of the Dead for Haunted MTL, which is odd because it is still one of the best films offered on Shudder and was available just shortly after I started writing on the site. Perhaps it is fitting that I am reviewing it now, attached to my passion project of reviewing The Last Drive-In.
A quirky Japanese horror-comedy is, at first blush, a strange film to pair with a Troma film, but it makes a lot of sense given the themes of One Cut of the Dead. The film is quite inventive and revolves less around zombies and rather the challenges and joys of filmmaking. The film is one that catches a lot of people off guard when they see it, as evidenced by the #MutantFam reaction to the film's twist, which I will not spoil. Going in blind, you're confronted with what seems to be a technically impressive, but narratively unimpressive one-take zombie film. But that is only the first part of the movie.
One Cut of the Dead is probably one of the oddest films we've seen on The Last Drive-In due to how heartwarming it is. The film is extremely cute and has a great many feel-good moments. It's just a damn pleasure to watch. Joe Bob Briggs gave it the four-star treatment and that is pretty great considering the movie is just so far outside of the normal Drive-In experience. Maybe Joe Bob is getting soft. Who knows?
One Cut of the Dead continued a through-line established in the discussion surrounding Troma's War regarding filmmaking at its most fundamental level with independent filmmakers. It all culminates with this wonderful closer, "Keep Rolling."
It is probably one of the best sequences since Joe Bob started up on Shudder and is just damn inspiring.
Getting back to One Cut of the Dead, however, the film earns every single one of the 5 Cthulhus I am giving it. I'll probably need to write a longer, more in-depth review of the movie because it is just that good. It needs to be discussed further than a couple of paragraphs I set aside in a Last Drive-In recap.

(5 / 5)
Best Line: "Furrrk!" – Nao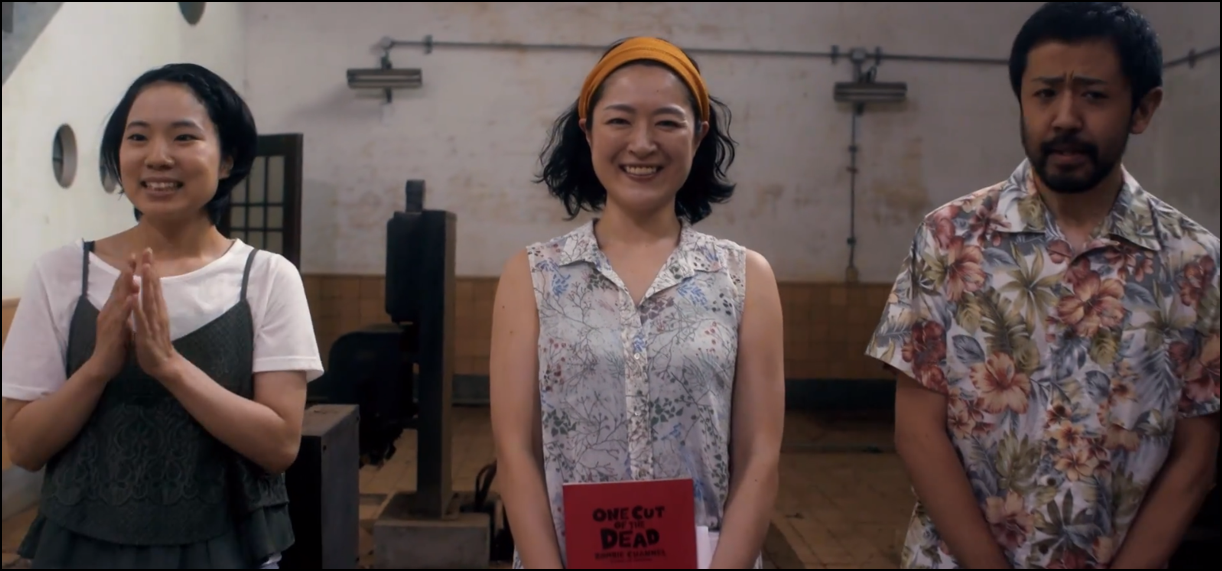 HMTL Drive-In Totals
So, what were the official Drive-In totals this week?
How about our count?
368 Acting Credits for Lloyd Kaufman
1 Instance of Darcy Jail
1 Yuki Sighting
13 instances of POM!
2 badass Ax flips
Troma Diploma Bestowing
Critic Quoting
Commando Darcy with Kung-Fu Grip (Cosplay)
Day/Night Switching in the Same Scene
Human Flotsam
Tank Top Brigade
Gratuitous German
Battling Sexes
Guerilla Garroting
Yale Referencing
Engineer Joking
Stormtrooper Marksmanship
Tactical Farting
Extended Countdown Fu
Infomercial Fu
Airboat Fu
Clipboard Fu
Pom Fu
Method Fu, Improv Fu
Non-linear Narrative Fu
Jib Fu
Silver Bolo Award: Monster Kid Radio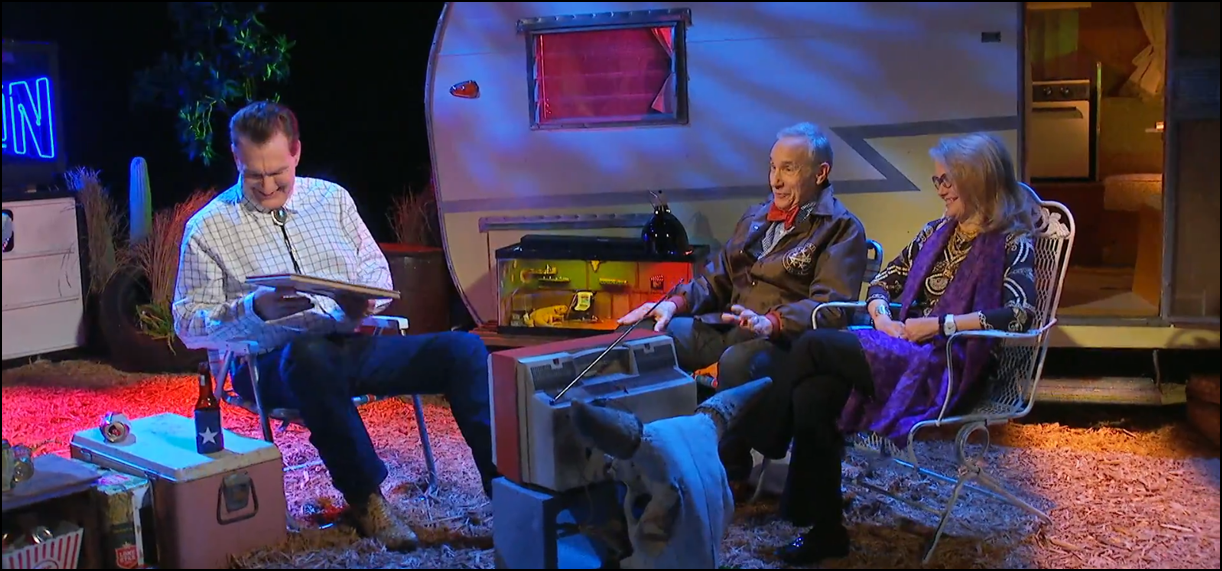 Episode Score
This is probably the best episode of The Last Drive-In we've had. It is an odd pairing and for me, personally, it's like Shudder took a core sample of my brain to figure out what my favorite sort of episode would be like. The whole night was pretty much near perfect. A five Cthulhu sort of experience.

(5 / 5)
See you next Friday, and remember, folks… POM!
Horror Noire, a Film Review
Horror Noire is a horror collection that includes "Daddy," "The Lake," "Brand of Evil," "Bride Before You," "Fugue State," and "Sundown."
Horror Noire is a horror collection brought by the combined efforts of AMC+ and Shudder. The collection includes "Daddy," "The Lake," "Brand of Evil," "Bride Before You," "Fugue State," and "Sundown." Horror Noire boasts Black directors and screenwriters, providing six unique stories.
As this collection explores six stories, I will skip the usual synopsis to assess the genres and ideas explored, albeit limited as needed. Expect to find supernatural horror, creature features, and psychological thrillers. Many short films deal with these genres while exploring Black issues, but this isn't universal for the collection.
The directors and writers include Zandashé Brown, Robin Givens, Rob Greenlea, Kimani Ray Smith, Steven Barnes, Ezra Clayton Daniels, Tananarive Due, Shernold Edwards, Victor LaValle, and Al Letson.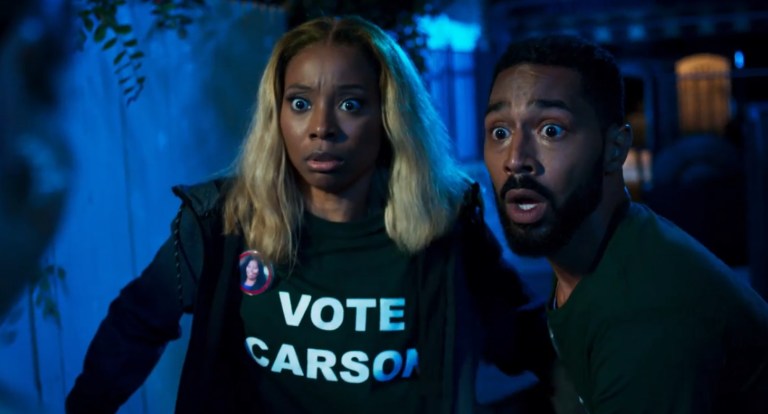 What I Like
Each story remains unique, holding different strengths and weaknesses that highlight drastically different perspectives. Collections like VHS hold a similar premise to create their collection, but Horror Noire gives more creative freedom to its talent to be independent.
My personal favorite short film is Zandashé Brown's "Bride Before You." This period piece unravels a fable set in the Reconstruction Era. The entry feels Fabulistic in approach, which happens to be my preferred niche.
However, the best example of horror goes to Robin Givens' "Daddy," providing an existential horror tied directly to the characters involved.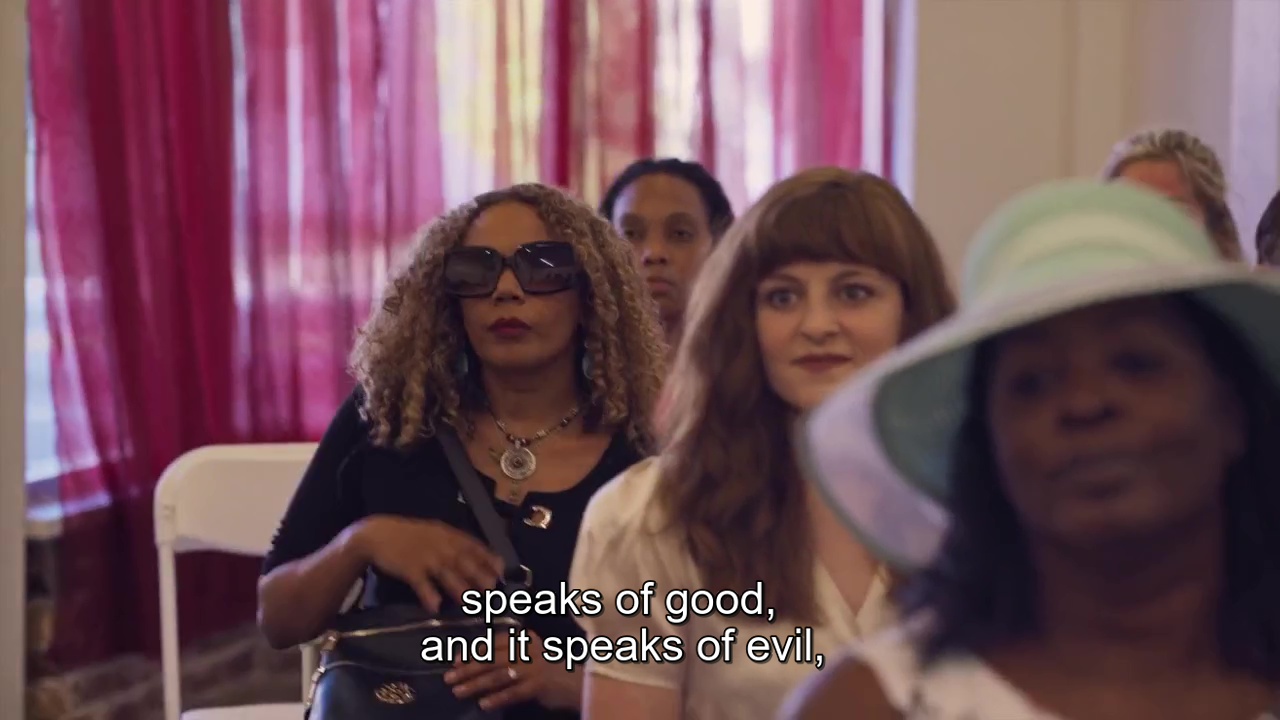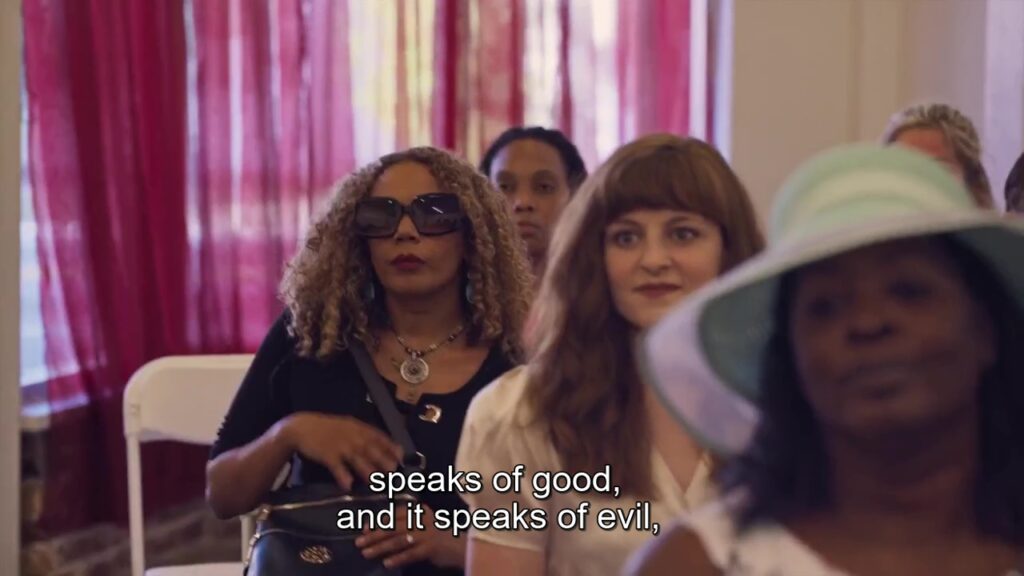 What I Dislike
As mentioned, all have a particular style and idea. The downside of this approach always remains to keep the viewer interested long enough to find their favorite. If you find several underwhelming choices, this becomes a chore. But I imagine that is rare as the variety makes the options refreshing.
Personally, "Brand of Evil" had an interesting premise, but the execution fell short. On paper, it might have sounded like my favorite, which makes the lackluster execution a bigger letdown.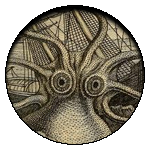 Final Thoughts
Horror Noire gives power and control to Black creators, providing a formula for a unique collection against others in the space. While the various subjects and approaches mean you aren't likely to love them all, there should be a short film for everyone.

(3.5 / 5)
Episode six of Netflix's Dahmer was not, honestly about our title character. Instead, it was about one of his victims, a man named Tony. We've actually seen Tony a few times during this series. We just didn't know it was him.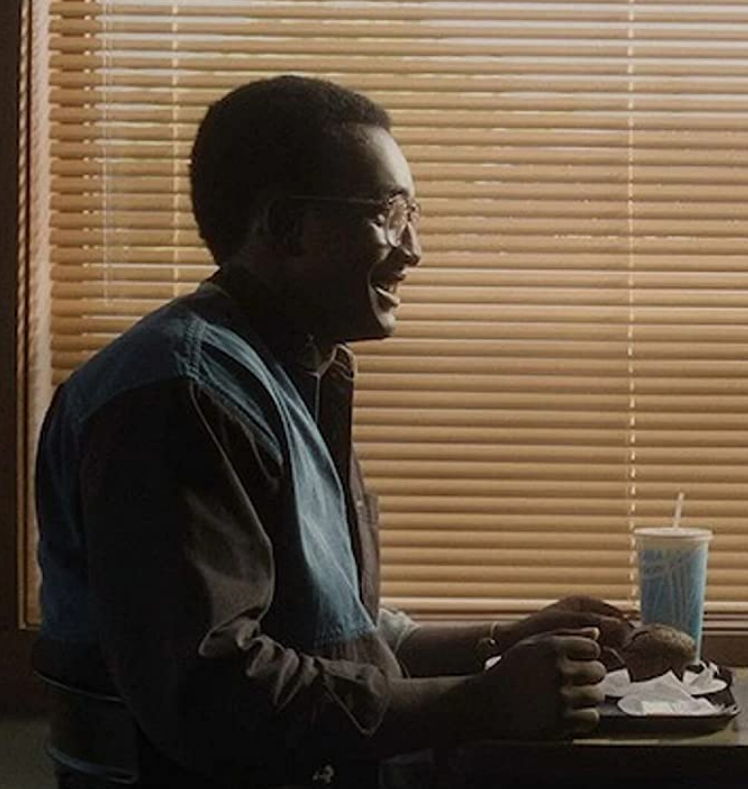 And, well, he wasn't exactly alive the first time we saw him.
Tony was born into a supportive, loving family. This is good because soon after he was born a viral infection took his hearing. He is black, deaf, and gay in the early 90's.
Tony has a dream of becoming a model. And he certainly has the looks for it. He is beautiful, body and soul. He has lots of opportunities for romance, but it's not what he's looking for. He wants a real relationship.
Eventually Tony moves to Madison, trying to pursue his dream. He gets a job and starts getting modeling work.
Then, he meets Jeff Dahmer at a bar.
At first, we can almost believe that it's going to be alright. Jeff seems happy. He's taking care of himself. He's not drinking as much. He even has his dad and stepmom over for dinner. It seems like his life is getting on track. Even better, he's treating Tony right.
Then, of course, things go bad.
One thing that has always bothered me as a true crime fan is that we know so much about the killers, but not as much about the victims. Not so much if we don't know who the killer is, of course. But the names that are part of our pop culture are those of the killers. Dahmer, Manson, Jones, Bundy, Holms. The names we don't know are Roberta Parks, Beth LaBiancas, Leno LaBiancas, and Tony Hughes. And clearly, we should know them.
If Tony Hughes was half the shining, positive person that the show Dahmer made him out to be, I'm so sad that he isn't with us anymore. We need so many more people like him. And many of Dahmer's victims were likely just like him. After all, he was attracted to them for a reason.
This was a significant episode, and I understand why it's the highest-rated episode of the series. I finished it with a heavy heart, saddened by the loss of a man who should still be with us today. 

(5 / 5)
Mandrake, a Film Review
Mandrake is a 2022 supernatural horror directed by Lynne Davison and written by Matt Harvey, starring Deirdre Mullins and Derbhle Crotty.
Mandrake is a 2022 supernatural horror directed by Lynne Davison and written by Matt Harvey. This film boasts a cast that includes Deirdre Mullins, Derbhle Crotty, and Paul Kennedy. It is currently available for subscribers in DirectTV, Shudder, Amazon Prime, or AMC+.
Cathy Madden (Deirdre Mullins) is a probation officer tasked with the most vilified case in her town, Mary Laidlaw (Derbhle Crotty). When a child goes missing, all eyes turn to the infamous Bloody Mary. Cathy, always believing in the best of people, tries to protect Mary. But evidence begins to mount, and Cathy finds herself in increasing danger.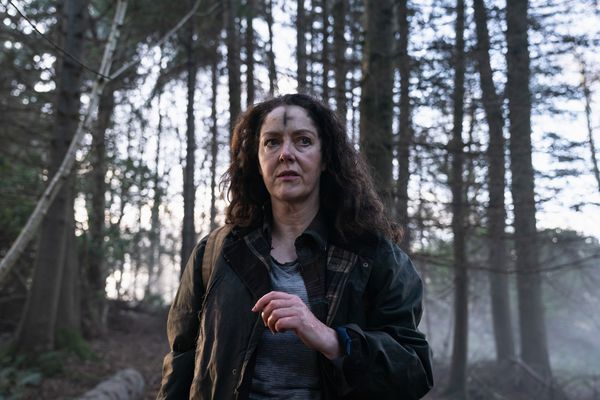 What I Like
Deirdre Mullins and Derbhle Crotty add weight to the film in their performances. Cathy proves resilient against the challenges she faces, while Mary can make any actions intimidating.
To not spoil anything, the ending is bittersweet in the best of ways, showing Cathy grow and mend relationships.
The atmosphere around Mary Laidlaw brings about the intimidation that earns the nickname Bloody Mary. It becomes easier to see why a town would fear this woman as we find her motives sinister.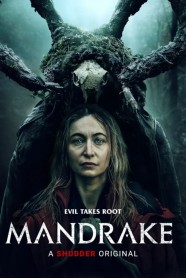 What I Dislike
While there may be external magical elements, I found people obeyed Mary Laidlaw a little too easily for a vilified woman. There wasn't enough for me to be convinced she intimidated them to action or magically charmed them. Or perhaps the performances felt underwhelmingly passive?
There was an irritating moment where a stalker helped save the day. The assistance is minor, but it still irritates me.
The daytime scenes of the film are bland. Perhaps it's intentional, but the night scenes are stunning, making the contrast greater. While this film focuses on its night scenes, I couldn't understand why it looked so bland, and sometimes poor quality, in the day.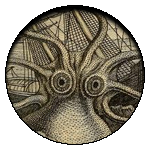 Final Thoughts
Mandrake can be a frightful enjoyment, especially when set at night where the details work. However, many elements left me wanting more or better. If you're looking for a witchy tale, I'd say there are better options, but Mandrake can keep you entertained.

(2.5 / 5)