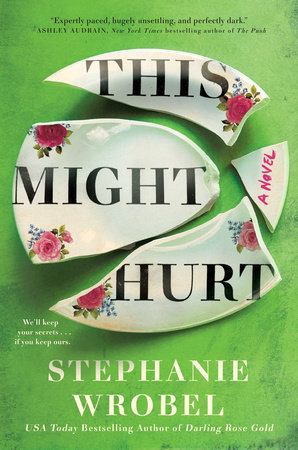 All Hit, No Miss: Stephanie Wrobel's Sophomore Novel "This Might Hurt" Takes On A Cult Atmosphere That Will Blow You Away
Does the title of this review not intrigue you enough? Get this.
The Plot
Wisewood is a no nonsense resort that culls applicants from far and wide. It brands itself as an exclusive retreat, only accepting 10% of applicants. Those who endure the six month detox, even free from electronics, at Wisewood leave as new people, invigorated with life and healing. Is it all it's cracked up to be?
Natalie Collins last heard from her sister Kit when she told her she was going away to Wisewood. It's now been more than six months and Kit hasn't returned. Nat goes after her and discovers a lot about Wisewood and her sister along the way.
The novel focuses on three perspectives: Nat, Kit, and a female voice who is unknown until later in the text. The only complaint I have about the novel is that towards the beginning, the shifting perspectives could be difficult to navigate until you got a grasp on how the author was using section breaks and chapter titles to indicate the speaker. The unknown third perspective was probably the most intriguing and riveting of all. We listen as the narrator tells us about her drive to become a magician, performing death defying stunts. We also travel along with Nat as she searches out Kit and Kit as she lives her daily life at Wisewood.
The Verdict
This novel gripped me by the face and never let me look away until I turned the last page. You can read what others have to say on Goodreads, but take my word for it and pre-order this baby right now!! This novel releases on February 22, 2022 and is worth every penny. This novel takes you for a ride through manipulation, unbreakable bonds, and the search for the truth.
I was a bit skeptical of reading Wrobel again, as I read her debut novel Darling Rose Gold and wasn't too impressed. I gave that novel a 3/5. I am now a converted Wrobel fan after This Might Hurt and will ALWAYS auto-buy her new books now. Put this one on your reading list for February!

(5 / 5)
A Murder in Reverse: "Wrong Place Wrong Time"
The Plot
"A brilliantly genre-bending, mind-twisting answer to the question How far would you go to save your child?"  — Ruth Ware, #1 New York Times bestselling author
Jen watches her son murder a stranger. Stab him to death. She and her husband, Kelly, watch as their son Todd is taken into custody.
The next morning, Jen wakes up and it's yesterday. Jen knows that at the end of the night, her son kills someone. She is determined to stop it.
Jen goes further and further back in time trying to discover why Todd murdered a stranger and how to stop it.
The Verdict
This book is twisty. Right when you think you know the ending, something else is there to prove that the story is more multifaceted than that. While the premise of the novel is simple, Gillian McAllister elevates a simple concept with deep, dark twists.
It is best that you don't know too much going into this one. For fans of Blake Crouch, this is such a good thriller with time travelling vibes.
(4 / 5)
Woom: An Extreme Horror Novel
"That doesn't invalidate it," Angel said. "There's no statute of limitations on pain."
The Plot
Angel is a man who knows pain: physical, mental, sexual. The story begins with Angel visiting Room 6 at the Lonely Motel and ordering a plus-size sex worker to his room. What comes next is Angel's retellings of painful stories while performing sexual acts on the sex worker, Shyla.
The novel reads as a book of short stories, as Angel relays stories to Shyla and she tells him stories back. This is a novel of pain and disgust. Angel's stories are so dark and traumatic that Shyla can't believe they are true. As Angel bares his soul, we see a side of him that is melancholy and unable to process hurt in a natural way.
The Verdict
This novel is full of disgusting visuals and isn't afraid to get dirty. This truly is an extreme horror novel. As a warning, there is discussion of feces, blood, rape, sex, and body horror. This novel is not for the faint of heart. You'll close this short novel feeling dirty. Angel is a character that begs for sympathy while his stories narrate that he may not be as innocent as he perceives.
When the subtitle says this novel is extreme horror, believe it. Only the strong will survive Duncan Ralston's Woom. It is more splatterpunk than anything, but true literary quality lies beneath the filth.
(4 / 5)
Read it yourself by clicking below!
Did She Do It? Stacy Willingham's "All the Dangerous Things" Asks Us Just This
One year ago, Isabelle's life crumbled when her baby was abducted from her home. Her marriage to her husband, Ben, is destroyed as they try to navigate the fallout.
The Plot
Even one year after the abduction, Isabelle seeks answers. She is still doing appearances at true crime expos to get information on the attendees, thinking the abductor will be there one day. Abductors usually revisit their crime and Isabelle swaps her appearances for the event guest list, never taking any money for her talks.
Some think that Isabelle killed her own baby as evidence from the case says the perpetrator came from inside the house. Isabelle hasn't slept – not fully – since Mason was abducted. Her therapist is worried that she may be having hallucinations. Is Isabelle the killer or is she on a quest for true justice?
The Verdict
I absolutely loved the complication of not knowing whether Isabelle was a reliable or unreliable narrator. This was my favorite aspect of the novel. It made me question everything that Isabelle had to say and the actions she executed.
Isabelle is a character that, as a mother, I really felt for. I wanted to believe that Isabelle was innocent, but I was hanging on the edge of my seat waiting to find out. Stacy Willingham is the master of a story that winds all around, waiting for you to find the truth.
If you are interested in reading Willingham's first novel, A Flicker in the Dark, check out my review here.

(4.5 / 5)