"Song Of The Guillotine" by Lamont Turner
It was several years after that season of madness when the shadow of the guillotine had loomed over us all, and the blood of nobles and commoners alike ran in the gutters of Paris, that I found myself standing alone before a chateau in the heart of the Gourge d' Asque. Relieved to find the incongruous domicile, for I had foolishly forsaken a guide and had become hopelessly lost, I resolved to intrude upon the solitude of the building's occupants. That there were occupants I was certain due to the wisps of white smoke emanating from the chimney, but had the day been warmer, I would have passed on, for, other than the smoke, there was no other sign of habitation, and the aspect of the chateau was foreboding enough to discourage any curiosity I might have entertained. Perhaps due to some flaw in the foundation the entire building leaned away from the setting sun and, as best as I could discern from my position on the glen, was entirely devoid of windows. Only a large door broke up the monotony of the moss encrusted walls, which was composed of stones of a singular uniformity.
Anxious to get directions, or perhaps a night's lodgings before the darkness over took me; I tapped on the door, conscious that I might not receive the warmest welcome from someone who had gone to such great lengths to ensure their isolation. I assumed they would be as astonished to receive a caller in such a remote place as I had been upon discovering their abode.
I would, of course, have to invent a tale to explain my presence in so remote a locale. I would not tell them that I was on a quest to kill a man, though to refer to such a monster as a man would be exceedingly charitable. M. Fourniret had none of the finer qualities that make men superior to the beasts. While many of the atrocities committed during those dark days were born of a genuine conviction that liberty was to be gained and held by any means, Fourniret was a man of no such convictions. He was a crass opportunist, using the Revolution to further only his own goals. Seeing an avenue for personal enrichment in the role of public executioner, he sought out and obtained the position, henceforth wielding a considerable degree of influence over his department.
For no other reason than his success as a merchant, my father came under the scrutiny of the Committee of Public Safety, and was led to the M. Fourniret's guillotine. It had previously been arranged that all of my father's estate would go to his executioner as payment for his services, leaving our family with nothing, save for my father's headless corpse. Risking my own head, I confronted the authorities, demanding my father be made whole, but my demands were rebuffed, and my father's head was never restored. I later learned it was always so with the victims of M. Fourniret, though no one could say what he did with the heads he took.
As the Republic gave way to the Empire, my fortunes changed, as did those of my nemesis. I again found myself in a position of wealth, while he was forced to flee the city amid accusations of acts so blasphemous even a secular society would not tolerate them. Vowing to deprive him of his life, I had tracked the villain across the Pyrenees before losing my prey, as well as myself, in the wilderness.
Receiving no response to my initial summons, I knocked slightly harder with my fist, producing the desired effect. The door creaked open a crack, allowing the occupant to peer out at me.
"What do you want," growled the voice from within.
'" I apologize for the intrusion," I responded, taken aback by the ferocity of the greeting. "I am lost, and merely seek guidance, and perhaps, if you can spare it, some bread."
For several moments there was silence as the man studied me, then the pale blue eye widened, and the door was flung open to reveal a grizzled old man. His face was obscured by the matted hair that extended down over his shoulders to merge with the thick chest length beard. His garments were little more than rags, hanging on his bent frame in tattered strips. He ushered me in with unbridled enthusiasm, going so far as to tug at the sleeve of my coat. Taken off guard by the marked contrast in his behavior, and by the deplorable state of the man, I hesitated.
"Forgive my rudeness," he exclaimed, grabbing my arm with a boney claw and almost dragging me in. "Rest here, my friend while I prepare you a meal."
I was led into a large chamber, lit only by the fire blazing in the hearth, and offered a seat at the head of the table where I sat, surveying my surroundings while my host occupied himself with the large pot simmering over the flames. The walls were draped from ceiling to floor in tapestries of the most ornate design, scarlet, with arcane symbols embroidered in white across the entirety of their surface. The sparse furnishings were opulent, though neglected, dust and mold marring the expensive fabrics.
The old man said nothing, but chuckled to himself occasionally while stirring the stew, which, I admit, I was eager to sample, my hunger being almost equal to my apprehensions. At last setting a bowl before me, he situated himself in the chair next to mine, watching with satisfaction as I wolfed down the stew without waiting for it to cool.
As he refilled my bowl I was startled by the sound of an uncanny moan. It seemed to come from all corners of the chamber, echoing off the walls for several seconds before fading to a whisper. Seeing my distress, the man put his hand upon my shoulder to calm me.
"Don't allow that to trouble you, Monsieur," he said, grinning. "There are no ghosts here. It is just the wind, whistling through the cracks in the walls. I hardly notice it anymore."
There was something familiar about his voice that chilled me more than the spectral wailing. I studied the face of my host, the pale blue eyes, the beak-like nose, and the thin lips, contorted into a malevolent grin beneath the thick moustache. Could it be? Was it possible I was sitting across from the very man I had been seeking? Yes! I was sitting across from the devil himself! He was saying something, but I wasn't hearing him. I just stared in wonder at the wreck of the man I had so relentlessly pursued. The man I had known had been young, and full of vigor. The buckles of his shoes had always been polished, and the slightest stain was not to be tolerated on his person. Now it was as if his outer appearance had somehow come to reflect his true soul.
"I see you recognize me at last, Monsieur Bellegarde," said my host, patting my hand as though I were a child he wished to comfort. "I do not blame you for not knowing me in my current condition, though I recognized you at once."
"Then you must know why I am here," I responded, jumping up from my seat and pointing my pistol at his chest.
Again I heard the moaning. I spun around, prepared to fire my weapon, but saw no one. As before, we were alone.
"What is that," I shouted, pressing my pistol against the villain's temple.
"It is merely the song of the guillotine and the cause of my current condition." he responded, his gaze locked on the wall behind me. "No matter how I try to stifle them, they still sometimes manage to sing."
I resolved to blow the wretch's brains out right then, and be done with it, but the moaning resumed, even louder than before, accompanied now by the rustling of the tapestries. I watched as they billowed out as though stirred by a strong breeze. Indeed, for a moment I assumed that was what had happened, before recalling I had seen no windows to admit such a wind. The moaning, and the rustling, continued as I advanced upon the fluttering fabric, determined to solve the mystery. Behind me, the executioner was shrieking. While my gun had done nothing to alter his composure, whatever was behind those drapes filled him with terror.
"It is only the rats," he shouted, rushing to impose himself between me and the wall. "Come no farther. There is nothing to see!"
Unable to contain my disgust, or my rage, I struck him, knocking him back into the tapestry. He screamed as it enveloped him, and, in his struggles to extricate himself from it, tore it from the wall. I gasped. There before me, death grinned down at me a thousand times over. The wall, perhaps the entire chateau, was composed of human skulls! I hardly had time to reflect upon this horror before I realized it was from these dead relics that the mournful wail was emanating. Fourniret groveled before them, covering his ears as the mournful chorus rose to a crescendo.
"The talismans! They must be replaced! Without the shield they will sing until…"
Fourniret's words faded into a sigh, followed by a sickening gurgling as his body began to shrivel. His gray hair turned white, and then fell from his head in clumps, and his eyes shrank back into their sockets. Fighting the urge to flee, I watched as he was reduced to bone. The transformation complete, the thing that had once served as the angel of death succumbed itself to the ravages of Azrael and slumped forward, dislodging its skull. I watched with mingled satisfaction and horror as it rolled across the floor to take its place among the others at the base of the wall.
There are those who will insist I found M. Fourniret and killed him as I had pledged to do, and I can offer no evidence, other than this testimony, to refute their assertions. After the skulls fell silent, sated by the vengeance they had at last achieved, I stumbled back out into the wilderness, where I was lost for many days. Starving, and nearly dead, I was finally rescued by some hunters who happened to come upon me several miles from the scene of the executioner's demise. No one I have encountered has ever admitted to seeing or hearing of such a place as I described, and, despite my best efforts, I was never able to retrace my steps back to it.
Perhaps Fourniret isn't dead at all. Perhaps it was all a delusion experienced as I shuddered with fever in the huntsman's cabin. If so, I leave Monsieur Fourniret's fate to other hands. Surely there are others who seek vengeance against such a man. For me, real or imagined, the end of my quest was good enough. I am satisfied. However, should anyone happen upon a lonely chateau, far from the places where civilized men hold discourse, I would caution them not to linger lest they too hear the song of the guillotine.
                                                                  The End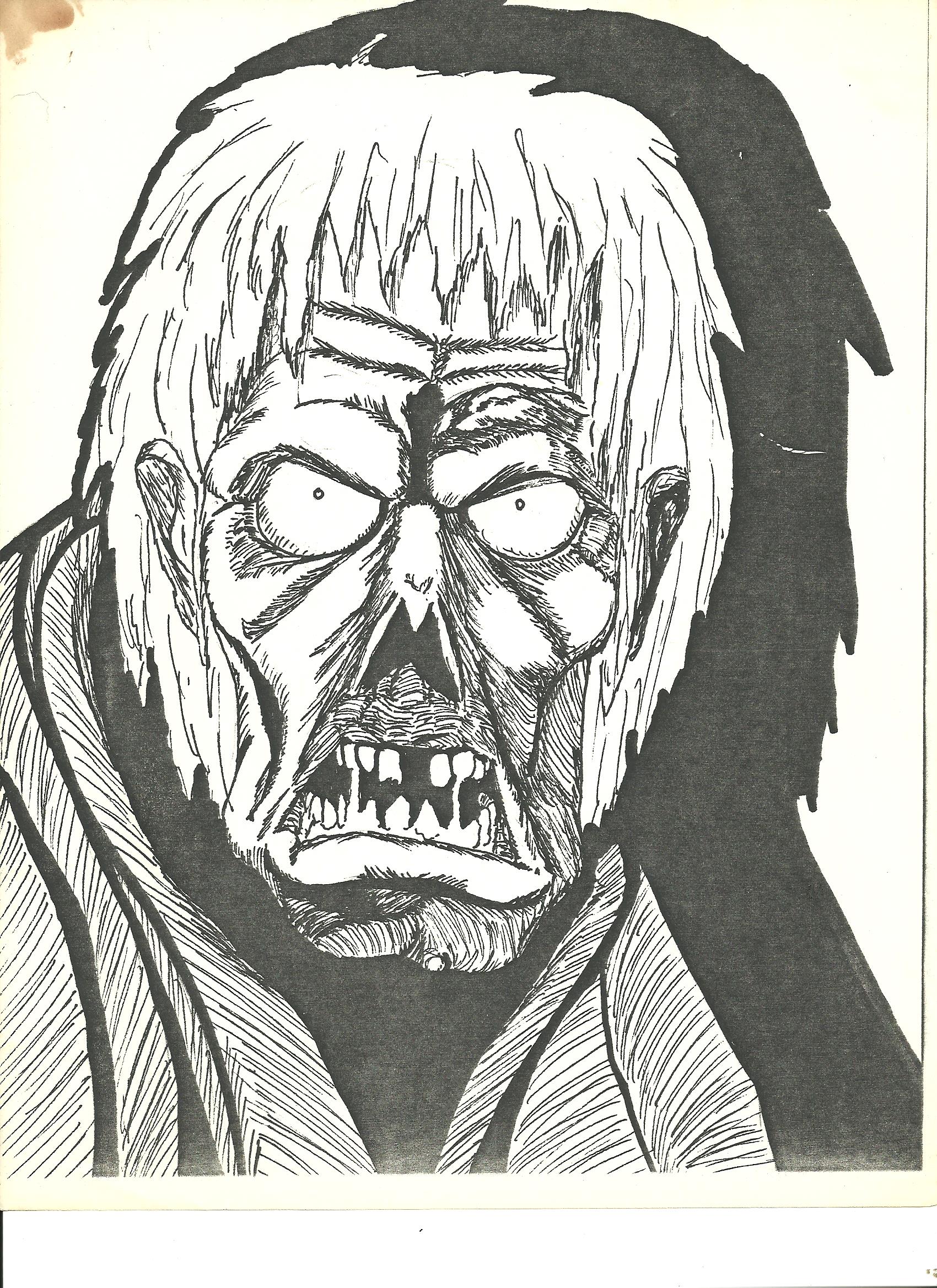 Lamont Turner is a New Orleans area author and father of four.
Reanimating Dead Art with Monsters by Jennifer Weigel
Dead art… It's a thing that happens, sadly. Typically found at thrift and antique stores or dumpster diving or by the side of the road. But art is never really dead, just resting… Here are some reanimated paintings I made by incorporating nail polish monsters into existing art.
Let's face it – reworking old abandoned artworks with monsters kind of rocks. For awhile they were all over the internet. I admit, it took me a long time to muster up the courage to paint into someone else's grandmother's art, but once I started I just couldn't stop. From top to bottom, left to right we have: Zombies, Unicorn, Siren, Krakken, Harpies, Sasquatch, Alien Invasion, Witch, and Serpent.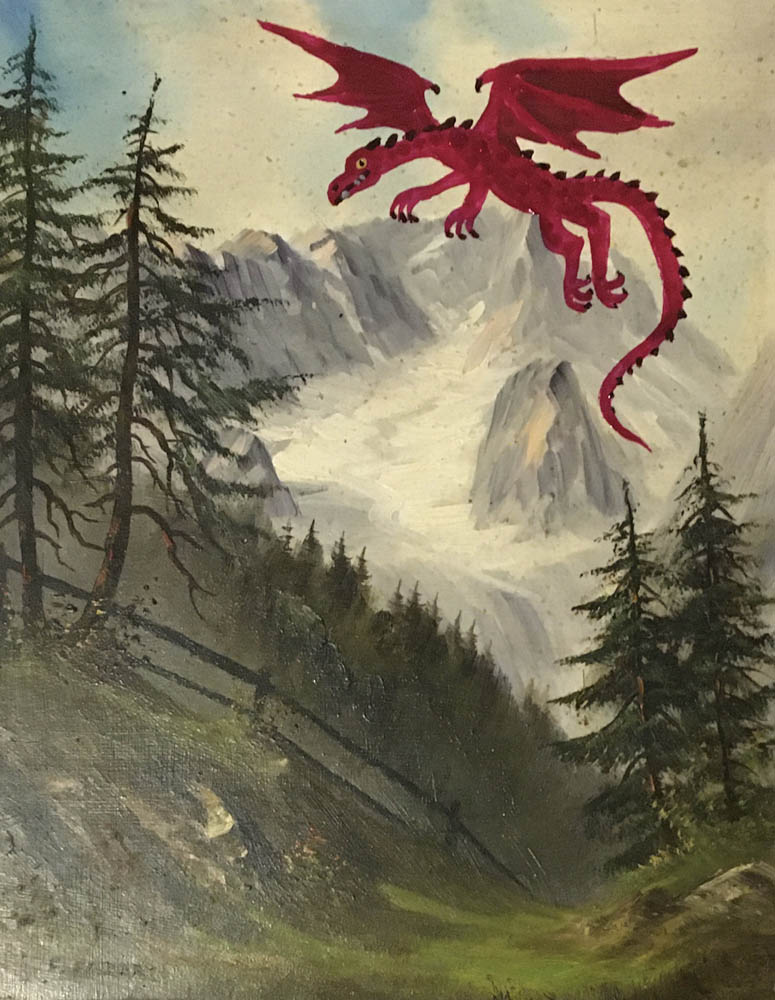 The dragon is probably my favorite. All of the shades of red are really vibrant and striking against the green. And dragons are always so classic and grandiose and terrifying, perfect for pairing with a mountain landscape. I love painting with nail polish for the sparkle, even if the fumes do get kind of noxious en masse. (The best subject to paint in this media is Rocky Horror style lips by the way, in case you were wondering.)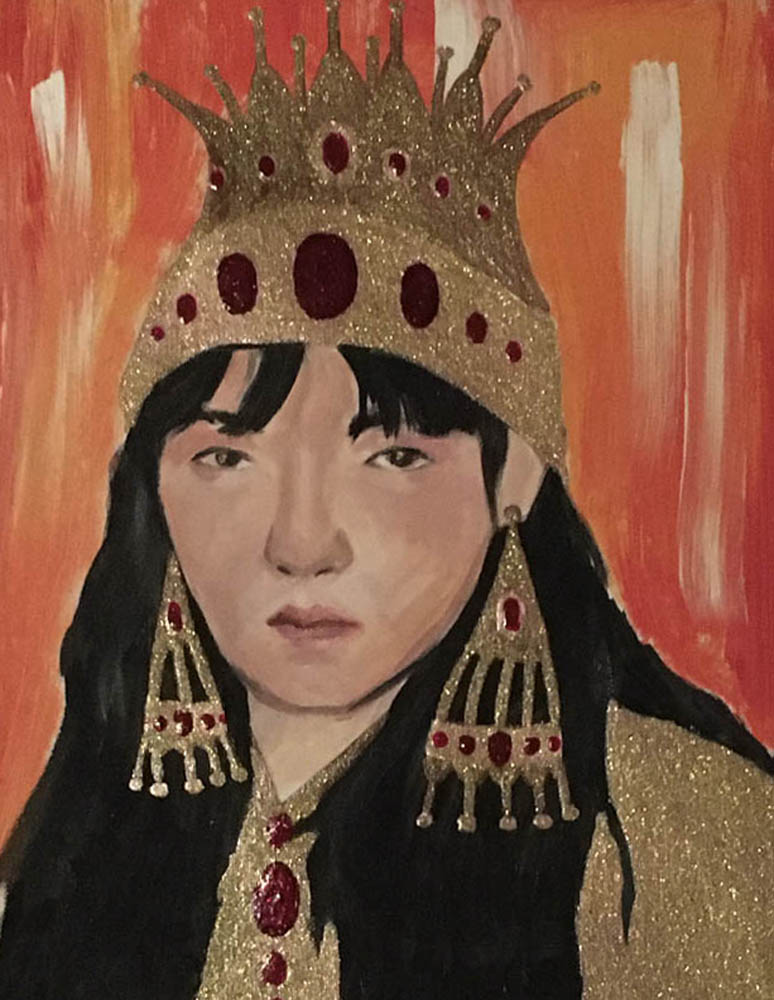 And what better way to complete the collection than with a portrait of a Fairy Queen, her icy stare drilling into your soul. She's up to some sort of magical mischief, that's for sure.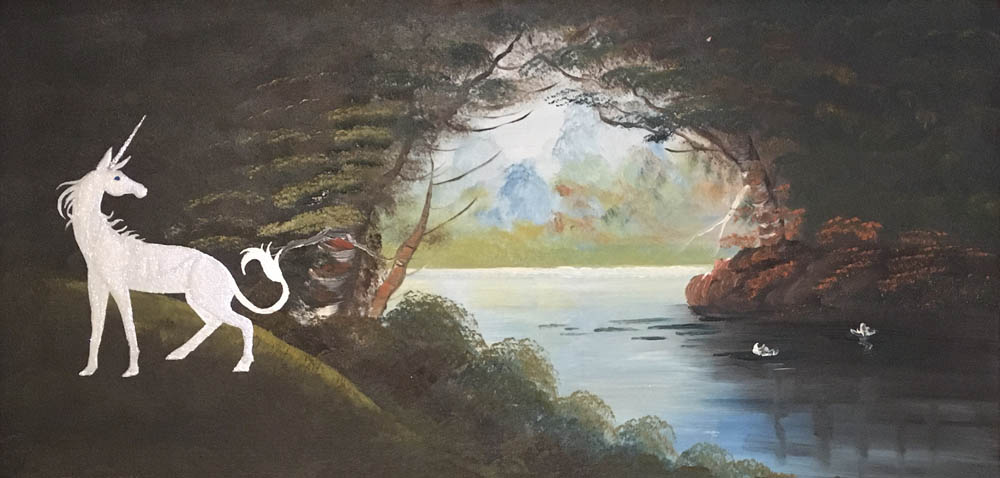 And speaking of magical mischief, this is the monster painting I made just for me. The original artwork is about 4 feet long and I knew as soon as I saw it that I wanted to reanimate it in this exact way for all that this is the last in the series that I did. I even added extra shimmer factor. I'd initially considered adding a sea serpent or a dragon but no, she told me to stop.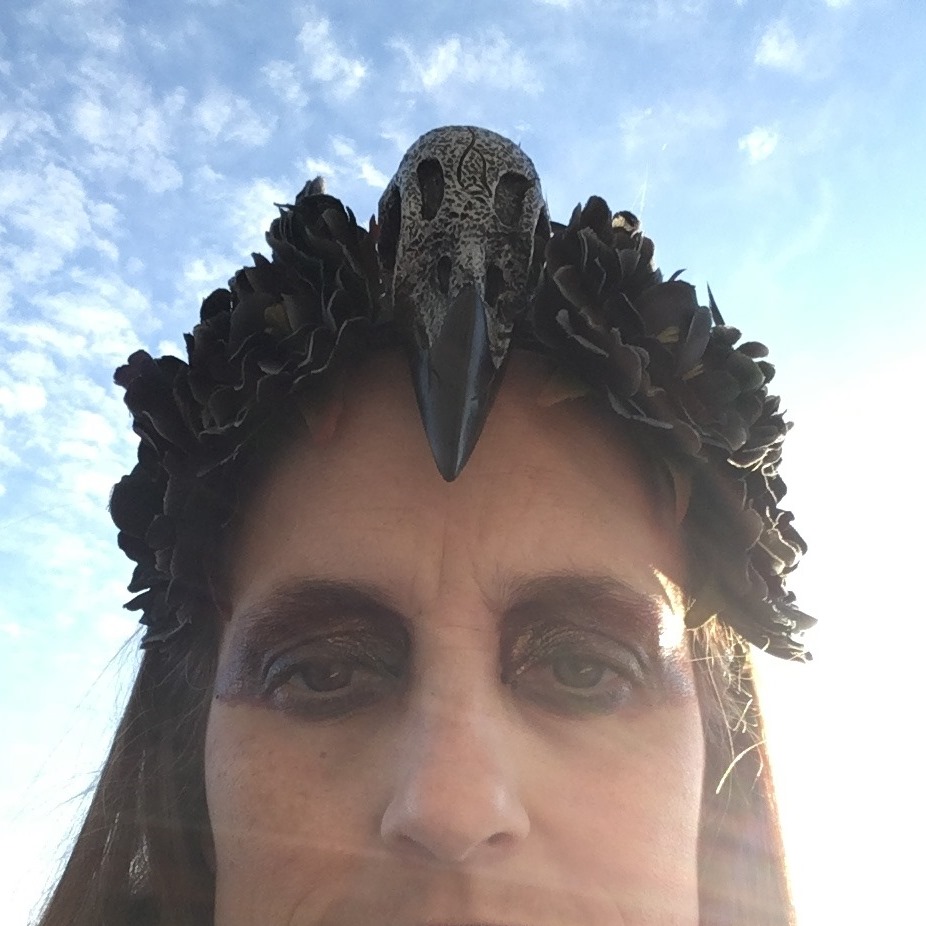 Feel free to check out more of Jennifer Weigel's work here on Haunted MTL or on her writing, fine art, and conceptual projects websites.
LTD: Revisiting Broken Doll Head, Interview 2
Our last interview with Broken Doll Head here on Haunted MTL never set well with me. I just feared that I wasn't able to get the whole scoop on the V-Day Uprising for you, our dear readership. So I arranged another exclusive interview to reconnect and see how it's going.
Without further ado, I bring you our second exclusive interview with Broken Doll Head…
---
Thank you so much for having me again. Wow you have changed since the last time we spoke. You seem… calmer. Please don't hate me or burn down my house for saying anything about it.
The movement is still underway; it is still time. But I needed to take care of me, you know. The rage has subsided somewhat. My anger was not serving me well. After the last uprising, the rest of me was sent to the far corners of the earth in biohazard bags. I had to find another approach, for the cause as well as my own sanity. I am much calmer, thank you for noticing.
In our last interview, you kept repeating that it is time. Time for what exactly? Would you care to elaborate here now?
It is still time. It is always time. Until the violence is addressed we must continue to rise up and make a scene. We will not be silenced or stigmatized. We can't be complacent. This is how we got to where we are with the Supreme Court in 2022. Horrific injustices are still happening globally and even within our own borders; it's too easy to forget that.
What do you suggest we do?
Take action. Share your stories. Give others space to voice their own. Raise awareness and fight the system of oppression. Rally. We must take back our own power. It will not be just given freely.
So what are you up to nowadays?
I've been getting in touch with my inner Earth Goddess. Are you aware of how our environmental impacts affect dolls everywhere? Climate change is creating greater vulnerabilities for those already at risk. We have to look at the intersections of climate, gender and race globally. We have to return to our Mother Earth.
Thank you again Broken Doll Head for joining us and our dear readership here on Haunted MTL's Lighter than Dark. It's good to reconnect with you after the V-Day Uprising and we wish you all the best in your bold eco-enlightenment vision.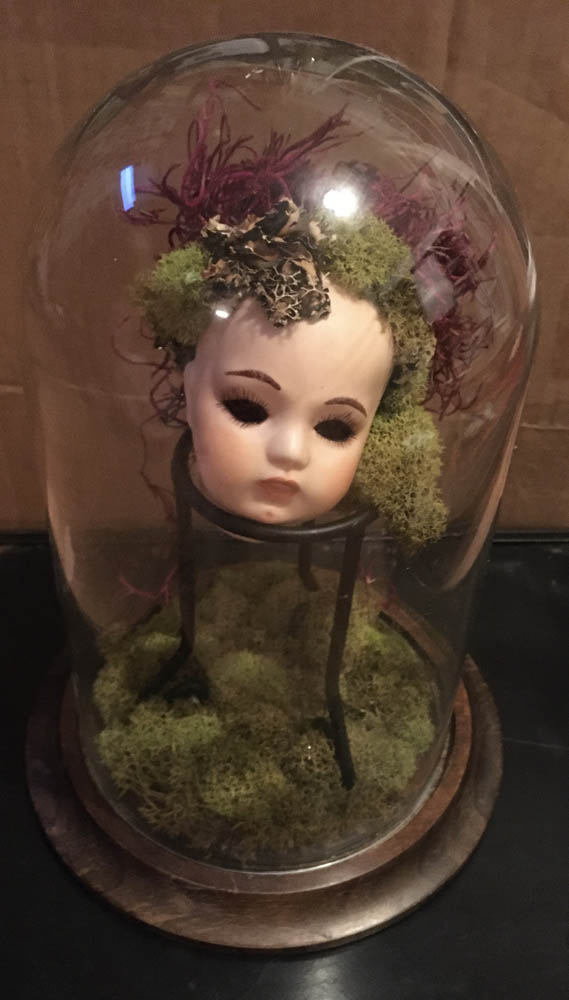 Again, if you want to learn more about the V-Day movement, please check out their website here.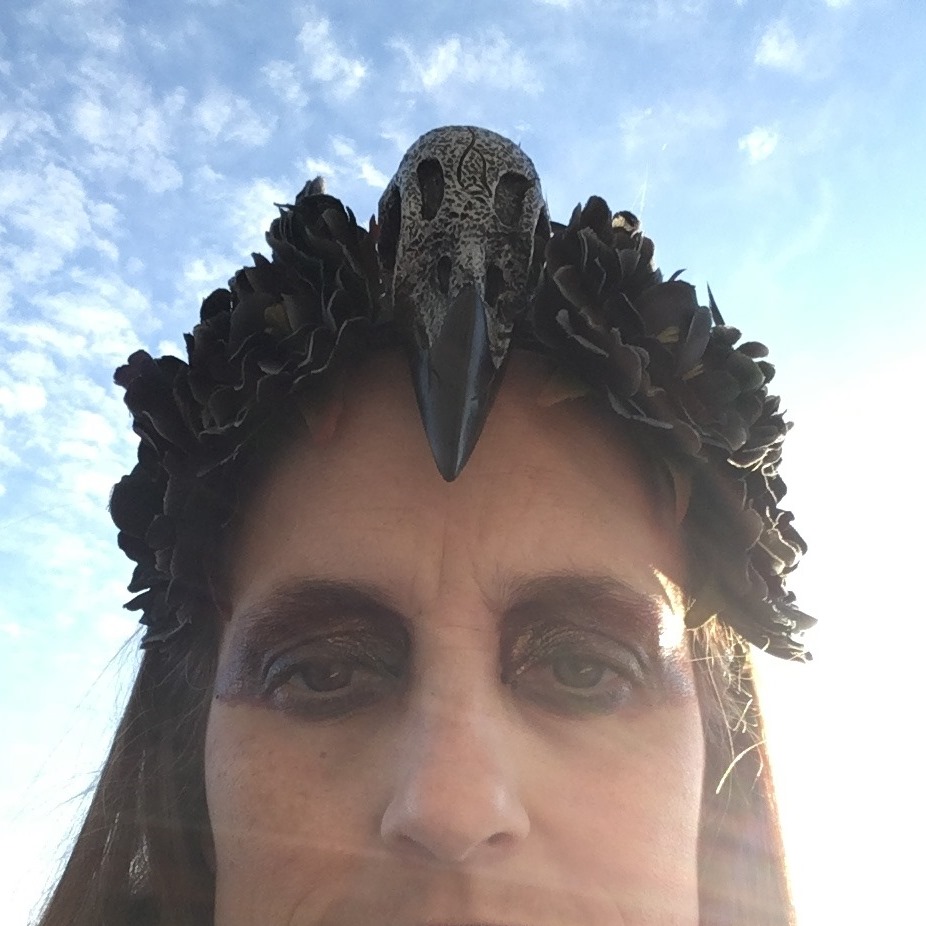 The Way Things Were, story by Jennifer Weigel
Revisiting my last St. Patrick's Day post, what's a wolf to were?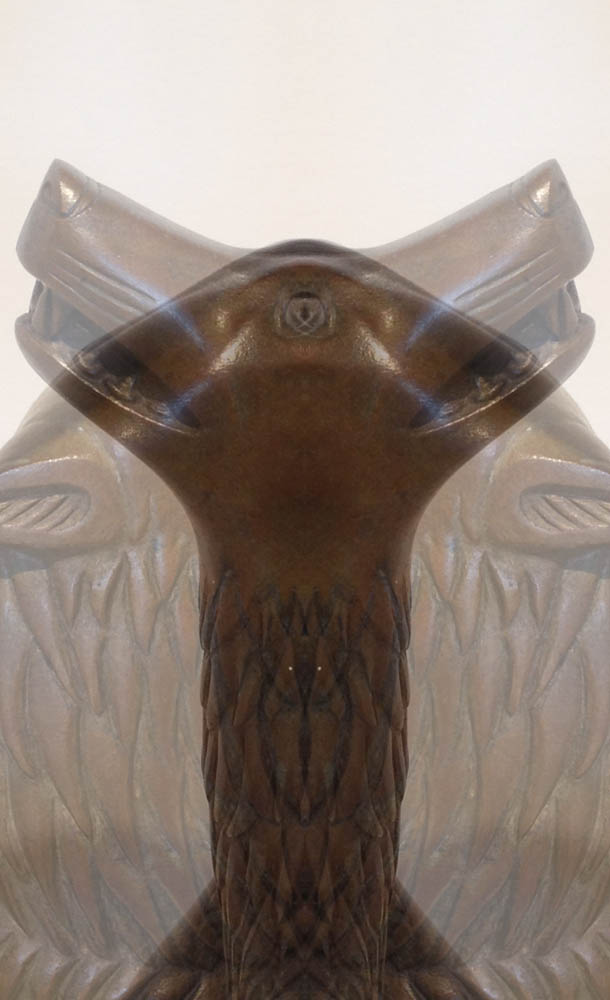 I grimaced as I remembered the previous St. Patrick's Day. I had been shot while I was eating a sugar cookie waiting in line to buy a Scratchers ticket, my golden ride to my dream cabin in the woods. Wow, to think that was just a year ago and so much has changed since then. But where should I begin?
Well, the junkyard's under new management. Or something. It seems they decided I wasn't ferocious enough so I've been replaced by a couple of working stiffs. Or Mastiffs as it were, same difference to me. Apparently after they found the bloodied shirt I'd draped inconspicuously over a chair, they thought something had happened on my watch and decided to retire me.
Or at any rate ol' Sal took me home. I guess it's like retirement, but not the good kind where you tour the world Route 66 style, head lolled out of the side of a vintage Cadillac, breeze flowing through your beard as you drink in the open road. More the kind where you just stop showing up to work and no one really asks about you.
Now Sal's a pretty cool dude, and he tends to mind his own business. But he's a bit stingy with the treats and he's a no-paws-on-the-furniture kind of guy. I don't get it, his pad isn't that sweet, just a bunch of hand-me-down Ikea that he didn't even put together himself. Not that I could have helped with that, I can't read those instructions to save my life even if they are all pictures. It's all visual gibberish to me unless there's a rabbit or a squirrel in there someplace that I can relate to.
And it's been a real roll in the mud trying to cover up the stench of my monthly secret. I miss third shift at the junkyard when Monty would fall asleep on the job and I was free to do whatever I wanted. It sure made the change easier. Monty never noticed, or he never let on that he did. We were a good team and had it pretty good, he and I – I don't know how I wound up shacking up with Sal instead when all was said and done. There was some kind of talk at the time, over landlords and pet deposits and whatnot, and in the end Sal was the only one who said yes.
So there I was, this St. Patrick's Day, trying to figure out how to sneak out into the great suburban landscape with the neighbors' headstrong Chihuahua who barks his fool head off at everything. He doesn't ever say anything interesting through the fence about the local gossip, just a string of profanities about staying off his precious grass. Just like his owners… Suburbia, it doesn't suit the two of us junkyard junkies. I'm pretty sure Sal inherited this joint with everything else here. He just never had the kind of ambition that would land him in a place like this on his own, if you know what I mean.
Fortunately, this St. Patrick's Day, Sal was passed out on the sofa after binge watching some show on Netflix about werewolves of all things. Who believes in that nonsense? They get it all wrong anyway. The history channel with its alien conspiracies is so much better.
I managed to borrow a change of clothes and creep out the front door. At least there's something to say about all the greenery, it is a fresh change of pace even if the yards are too neatly manicured and the fences are too high. And I do love how I always feel like McGruff crossed paths with one of those neighborhood watch trenchcoat spies this time of the month. I'd sure love to take a bite out of crime, especially if it involves that pesky Pomeranian that always pees on Mrs. Patterson's petunias and gets everyone else blamed for it.
So sure enough, I slunk off towards the local convenience mart, which is a bit more of a trek here past the water park and the elementary school. Nice neighborhood though, very quiet, especially at this time of night.
Well, when I got there, wouldn't you know it, but I ran into that same nondescript teen from my last foray into the convenience store near the junkyard. What was he doing here of all places? Seriously don't these kids learn anything nowadays? I let out a stern growl as I snatched a cookie from the nearby end cap, making sure he noticed that I meant business.
Apparently the kid recognized me too, he stopped mid-tracks at the beer cooler and his face blanched like he'd seen a ghost. Some cheeky little girl-thing motioned to him to hurry it along by laying on the horn of their beater car from the parking lot. Whatever they were up to was no good, I was certain. He snapped out of it, grabbed a six-pack and headed towards the cashier, eyes fixed on me the whole time. Not again. Not after what it cost me the last time when I hadn't realized my job was at stake. I stared back, hairs rising on the back of my neck. I bared my teeth. This time, I wouldn't let him off so easy…
The teen edged up to the cashier and presented his trophy. Unsurprisingly, the clerk asked for ID, and the kid reached into his jacket. Let the games begin, I grumbled to myself. But instead of a gun, he pulled out a wallet. He flashed a driver's license at the clerk and pointed in my general direction, "I'll get whatever Santa's having too." He tossed a wad of cash on the counter and gave me a knowing wink before he flew out of there like he was on fire. I stood in dazed confusion as he and his girl sped out of the lot and disappeared down the road.
"Well, Santa?" the clerk said, snapping me out of my reverie. Her dark-circled eyes stared over wide rimmed glasses, her rumpled shirt bearing the name-tag Deb. She smelled like BBQ potato chips and cheap cherry cola.
I quieted and shook my head. "I want a Scratchers. Not one of those crossword bingo puzzle trials but something less… wordy. How 'bout a Fast Cash?" I barked as I tossed the cookie on the counter.
"Sure thing," she said as she handed me a ticket and looked towards the door at the now vacant lot. "And keep the change, I guess."
A couple silver pieces, a peanut butter cookie and a lotto ticket later, maybe this is my lucky day after all…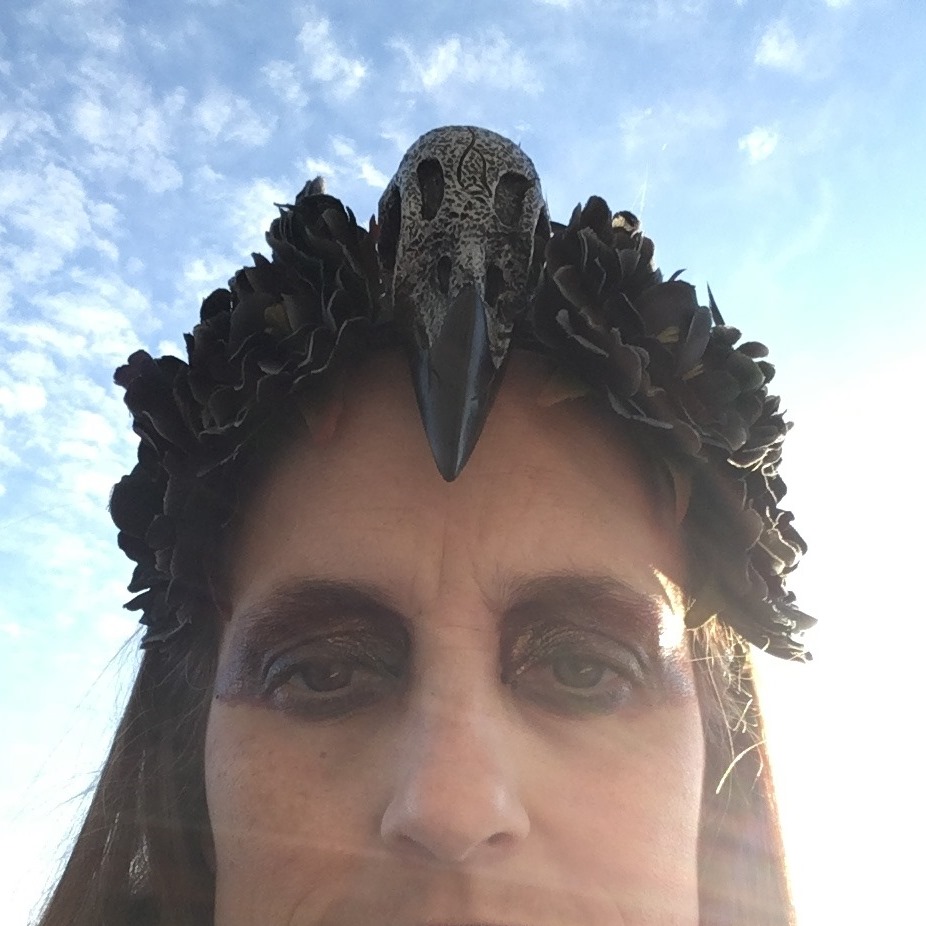 Check out more of Jennifer Weigel's writing here at Jennifer Weigel Words.