"Where All The Deadbeats Go" by Jenni Chavis
I roll over and stretch. A drop of water lands on my forehead. My mind is thick with slumber, but my muscles ache like I ran a marathon the day before. The water droplet rolls into my ear, and then another drop lands in the same spot. I sit up slowly on the hard, wooden rack and squint. Where am I? I try to remember any detail about last night or the day before.
How did I get here? Where's here?
Nothing. Nothing comes to mind. The answers, just beyond my reach, slip away when I get close. They are there, but I can't get a handle on them.
C'mon, Ray! Think.
A warm breeze blows over me. It smells like dead fish and salty water. Behind me is a small opening in the wall with short vertical bars. A full moon is the only light outside, and it gives a little bit of light in here. The ground is rocky. No houses or buildings out there, just mounds of sand and rocks. Sea birds squawk in the distance. This looks nothing like Harrisburg. I've never been here before. My muscles strain as I grab the bars and pull. Nothing happens. The opening is too small. My shoulders are too broad to fit through the opening even if there were no bars.
I step back and rub my temples. I shake my head hoping to shake loose a memory of how I got here. It stinks in here. It smells like a damp balled-up dishrag drying under a sink. The stench fogs my brain. Even thinking hurts. Cheryl. I remember Cheryl. We argued.
When was that? Last night?
* * *
"Fool, what happened?" Cheryl asked. She shrugged her shoulders.
"Here we go." I rolled my head.
"You don't have the luxury of quitting a job. Not again." Cheryl leaned back and crossed her arms. "The last time you lost your job I had to hold down the family for 7 months. I'm not going through that again."
I propped my feet up on the coffee table. "Babe, look, I am a grown man. I was going nowhere at that job. Plus, the boss hated me. She's a chick, and I'm not working for some chick who disrespects me. And, I'm not gonna be with a woman who disrespects me either." I put my hands behind my head. "After all this time together, you still don't get me."
"I don't care what your boss thought about you." Cheryl slapped my feet off the table. Geez, this woman hits hard.
"All I care about is this house and our daughter. I got one child, and it's not you." She brushed the table with her hands where my feet were. Humph, she's trying to wipe me away. "It's bad enough I had to pay child support for your other 5 kids to keep you out of jail. I'm not working double shifts to support you and your kids. And, as for living with a woman who disrespects you, you don't have to live here."
I sucked my teeth as loud as possible. "Girl, please. You need me."
Cheryl's eyes widened. "Go live with your momma. Let her take care of you, again." She stomped out of the room to the kitchen.
"So, what, that's it? You want me to go?" I heard the familiar sound of cabinet doors slamming and Cheryl mumbling under her breath.
"I don't need you," I yelled towards the kitchen. "You need me. You're getting older, woman. Who else is gonna want you? You ain't going to find no one better."
"Pff. If you are the best that's out there, I'd rather be by myself!"
"Yeah, that's what you'll be, all by yourself. I don't need this. I'm out." I grabbed my jacket off the chair. Hmm, same chair where her purse sat. I looked towards the kitchen and listened for a moment, then dug into her purse and found a few $20 dollar bills.
Uh huh, this is for my trouble.
I shoved the bills into my pocket. Before I left, I stopped at the door to give her a chance to beg me to stay. I waited a minute, then another. Man, forget this.
The door slammed behind me on my way out. "Just so you know, it's you, not me, baby!" I hollered. "I'll find somebody better. Somebody who can appreciate me."
* * *
Remembering the argument doesn't help me figure out how I got here because I didn't come in through that opening with the bars. The moon is behind a cloud now, and the room darkens. I can't see past my bare feet. There has to be a door. I feel along the nearest wall. Stone. Slimy, damp stones.
A wooden rack to sleep on and stone walls. What is this, a dungeon?
I need to get a feel for the dimensions of the room. My hand slips across the goo on a stone. It smells like mildew. I slide my bare right foot forward on the cold floor, then my left foot. I count 15 rough horizontal stones until I get to a corner. There are another four stones along the connecting wall, then a door. It has no knob, but it feels heavy and wooden. A coarse metal square with a small hole sits about waist high on the door. Nothing on the floor between where I started and the door. I keep going.
I bump into a soft lump balled up in the corner. I suck in my breath.
"Ah, what the…"
I stumble, wanting to grab onto something to steady me.
The lump moans.
"Who's there," I say. My heart races. "Say something. I know you're there."
The lump groans. "I…it's me…I'm here."
I ball my fists. "Who's me?" My hands are at my chest ready to square off. "I can't see you."
I hear something sliding on the stone. "Zenon. It's me, Zenon…Zee" It's the lump, moving up the wall. I feel the hair on my arm stand up and my skin tingles.
"Don't you remember, Ray? Zee from Double J's." She sounds confident. She sounds upright.
"Stay back." I look over my shoulder for anything I can use to hit her back into a lump
"'Stay back'? That's not what you said in Double J's." Her voice sounds playful and certain. "There, you were all, 'Come 'ere, babe.'"
The clouds move, and the moon shines into the room again.
"Where are we? Why are we here," I said opening my eyes wide to get a glimpse of Zee. She's naked. A scent of coconut oil and flowers cuts through a pungent aroma of stress sweat. Light reflects off her brown skin, which looks slick and wet. Built the way I like 'em. Big breasts, tiny waist, and full hips I can grab onto. Something is familiar about her.
"Oh Ray, so many questions. Why don't you ask me the questions you asked in the bar?" Her voice moves around the room while she speaks. "You gotta man? Can I get you a drink?" Zee makes her voice deep as she imitates my voice. "You wanna go back to your place? Mmm-mmm, can I get that?" Zee chuckles, and it echoes. "Remember those questions, Ray?"
A memory flashes of a woman in a red dress dancing alone on the middle of the floor. Warmth rushes into my belly.
Thick brown hair moving over bare cinnamon colored shoulders. Hazel eyes. Red dress. Brown arms sway above her head. Hips rock to the rhythm of a Bruno Mars song. Her sides arch one way and then the other as she reaches her hands up higher in time with her hips.
I drop my hands to my side and unclench my fists. My mind tells me to be ready to fight, but that woman on the dance floor in my mind's eye takes the fight out of me. Rather than tensing up to fight, I sway like I am dancing with her in the bar.
A slow smile spreads across Zee's face. "That's it, baby. You remember, don't you?"
Sitting with her hands on the bar and tossing her hair back, she's having a good time. Her head tilts back, and she bares her gleaming white teeth as she laughs. She's having a good time with me. She lets me nuzzle her neck and put a hand on her exposed knee. She stops laughing and looks at me as I graze my thumb higher up her thigh and under the hem of her red dress.
"You remember that s-s-s-sensation, right," Zee hisses. The sound coils near the wood cot behind me and then over my head.
Heat moves from my belly down my legs. A sweet scent like cotton candy cuts through the moldy smell. It makes me dizzy. I shake my head to clear the dullness of my senses. The moon ducks behind another cloud, and I stretch my arms out in front of me trying to find Zee.
"Where. . .where are you," I ask and languidly spin around reaching for her. My head no longer aches. I'm floating. The soreness is gone. My voice bounces off the stones and sounds far away like I am in a tunnel. She's close to me. I feel her, but I can't find her. She's everywhere but nowhere at once. Flesh moves across stone behind me, beneath me, and beside me. I wipe my clammy hands onto my bare thighs.
"A-a-answer me. I mean it." My lip quivers, but I know it isn't because of a breeze. "You don't want none of this." I try to make my voice sound big and deep, but it comes mewing out.
"Oh yes, I do. I do want some of that, or should I say, some more of that." Scaly tentacles encircle my head and under my shoulders. They are thick and heavy, but they move quickly around my waist to between my legs. My knees buckle, but the appendages hold me tightly and keep me from falling.
Zee somersaults and lands in front of me. Moonlight shines through the clouds, and she comes into view. She has tentacles in place of her sexy dancing arms. She tightens her grip. My body stands erect. Light glints on her eyes, and they reflect green.
"You are perfect, Ray." She moves in closer. Zee's eyebrows lift when she says 'perfect.' "So eager. Eager to get what you want and then eager to run away. People don't get you, do they?" She tilts her head side-to-side as she talks. "I get you, Ray. I saw you and had to have you."
She smiles. But rather than the white teeth, her mouth is now filled with rows of sharp yellow spikes with green pus around the gums. Her smile pushes the flesh on her face back in an unnatural way. The skin bunches near her ears.
"You're everything I wanted in a male." Zee tilts her neck again, and her vertebrae cracks down her spine. "You're just the type to father my babies. All my babies." The brown, silky skin I rubbed in Double J's turns to large, ashen flakes. A gust of wind blows it away. "I'm not looking to be tied down. . . just like you. I'm not looking for a male to hang around trying to make a family . . . just like you don't stick around. Basically, I am looking for an eager donor . . . just like you."
All the good parts that sat in all the right places plop downward by 2 feet and expand outward. The curvy goddess that excited me in that bar has transformed into a fat reptilian blob. I'm scared, man, I'm freakin out. My heart is in my throat, and pee runs down my leg. She laughs. She throws her head back, bares her spikey teeth, and laughs at me. Red folds of skin ridge the top of her head and down her back like a lizard.
"B-b-babies," I say with a stutter. "We've both been locked in here since last night. It'll take months just to have one. We got no food or clothes. We won't be able to survive."
Though she stands about a foot away from me, I can feel her rough, dry tongue slide into my ear.
I try slapping her away. "Aw naw! Get away from me!"
"See, Ray, that's why I picked you. You're enthusiastic but not too bright. Just what I'm looking for in a donor." Her forked tongue flicks my ear lobe. "I'm not locked in here. You are. And, I have already had your babies. Hundreds of them."
I try wrestling my hands free by twisting my wrists. I slap and punch at the tentacles binding me.
"You have been here as my guest for two months. Oh well, we go through this every time I visit your quarters. But don't worry, tonight I am not here for a donation." Zee moans and bends forward. Her moaning turns to long guttural lowing like a heifer about to expel a calf.
"It's time. Time for us to bring our little lovelies into the world. I don't want you to miss it." The dawning sun reflects onto the walls around me. I can see her…it clearer. Heinous. Knobby and scaly and…
One tentacle grabs the bucket and places it on the floor between us. The moans get stronger and louder.
"Oh, Ray. They're coming. Look."
My body doesn't know what to do.
"No." I shake my head. "No, I can't."
"Watch, Ray," she growls and tightens her grip. "Look at what we made!"
A hole the size of a grapefruit opens in her midsection. Strings of mucus stretch across the hole.
Puke, I definitely need to puke.
A foul stench of rotten eggs puffs out from the gaping crater. Green sludge sputters out. Some of it lands on my cheeks and lips. I try to spit the gooey ropes of slime out my mouth but it's too thick. It runs down my throat, and I swallow it down hard.
Zee grunts. Slow at first but then in rhythm.
"Uh…uh…uuh…uuuhh…UUUHH."
The grunts get louder.
"Uh…uh…uuh…uuuhhh…UUUHHH!"
"Please. Please, no. Let me go. Please," I say between my sobs.
"You want to go now? This is the best part." She moans through her gritted teeth. Gray globs gather at her opening and eject from her bulging stomach. After each ball plops into the bucket, she sighs and shudders. The bucket is almost full. She grinds her teeth and bares down as she pushes. As she grunts out the last ball, Zee . . . she . . . it sighs and blows her rank breath in my face. She releases me, and I fall to the ground.
"Careful now, babe," she says with a breathy sigh as she turns toward the door. "Don't go damaging the goods. I need you to have more little ones. Plus, I want to have some more fun with you before I gobble you up."
As I lay on my side, I draw my knees up toward my chest and cup my hands in front of my mouth.
"No, this can't be. I'm a good guy. I'm dreaming. This can't be real."
My gut hardens, and I can't swallow because of a lump in my throat.
"I wanna go back home." I reach out to Zee. "Please, I want Cheryl. I'm sorry. Please."
Zee leans down and puts her face near mine. "Now you want Cheryl?" Her breath stings as I breathe it in. "Yes, it is your fault. I only picked you because you are such a deadbeat. Six kids and you walked away from all of them. Mmm, my kind of guy."
Zee straightens up and looks down at me. She wipes a tear off my cheek with her tentacle. "Aw, honey," she said. "I should be offended that you keep forgetting me after each of our encounters, but I suppose this is a bit intense. Who would have thought that a man who talked such a big game was so fragile? You talked a big game at the bar about your kids and not staying with the mothers. Stop crying like a baby." She swiped some of the gray goo that dangled from the bucket and slathered it into my mouth. I gag on the sticky slop and the thickness of her tentacle.
"Eat up, babe. You'll need your strength for tomorrow night. I'll be back for another donation." Green light shone from between her scales. The tentacles retracted. Two, long jelly-like ones morphed back into arms. The lizard flesh transformed into the woman I met in the bar, red dress and all. She shrugged her shoulders. One hand held the bucket filled with slimy globules and the other hand pounded on the door. It opened.
I cry harder, louder. "Please, let me go. I just want to go home."
"Home? Ray, you know there's nothing for you there. No one to appreciate you. That's why you are here. You were made for this life. All the sex and babies you want and no responsibilities. This is the life you had out there. You can't handle all this? Hmm, it must be you, not me."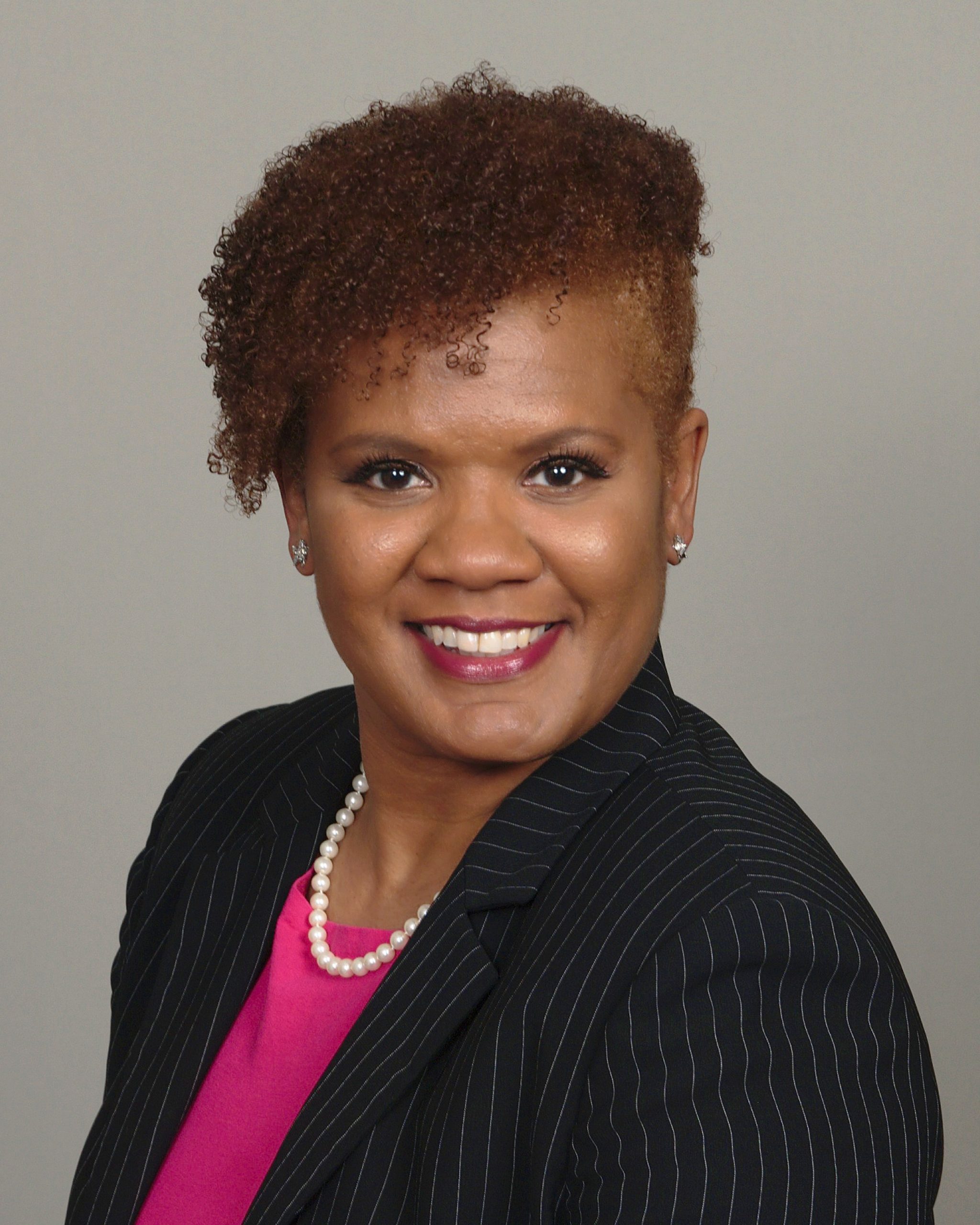 Nightmarish Nature: Vampires Among Us
This is the kickoff to a new series exploring nature that is kind of horrifying, at least in ways. Our first subject is Vampires Among Us. There are lots of animals named for vampires, sometimes due to folklore and sometimes for their appearance (like the Vampire Squid), but most of these animals don't have blood sucking tendencies.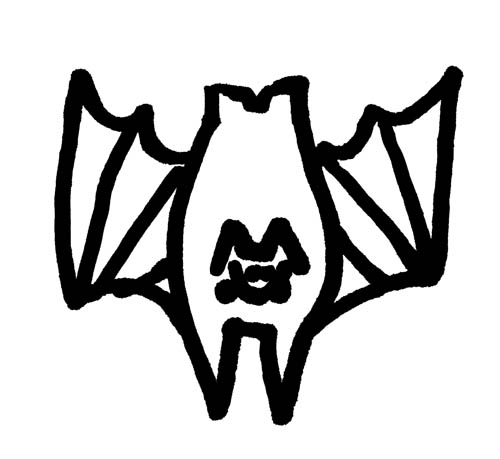 Bats & Birds
There are legit vampire leaf-nosed bats in Central and South America that drink blood. They feed on mammals and are often shown to feed on livestock. They'd be kinda cute if they weren't so creepy. There are also vampiric birds: some finches in the Galapagos have developed the taste for blood of other birds, mainly seabirds that flock to the islands to raise their young.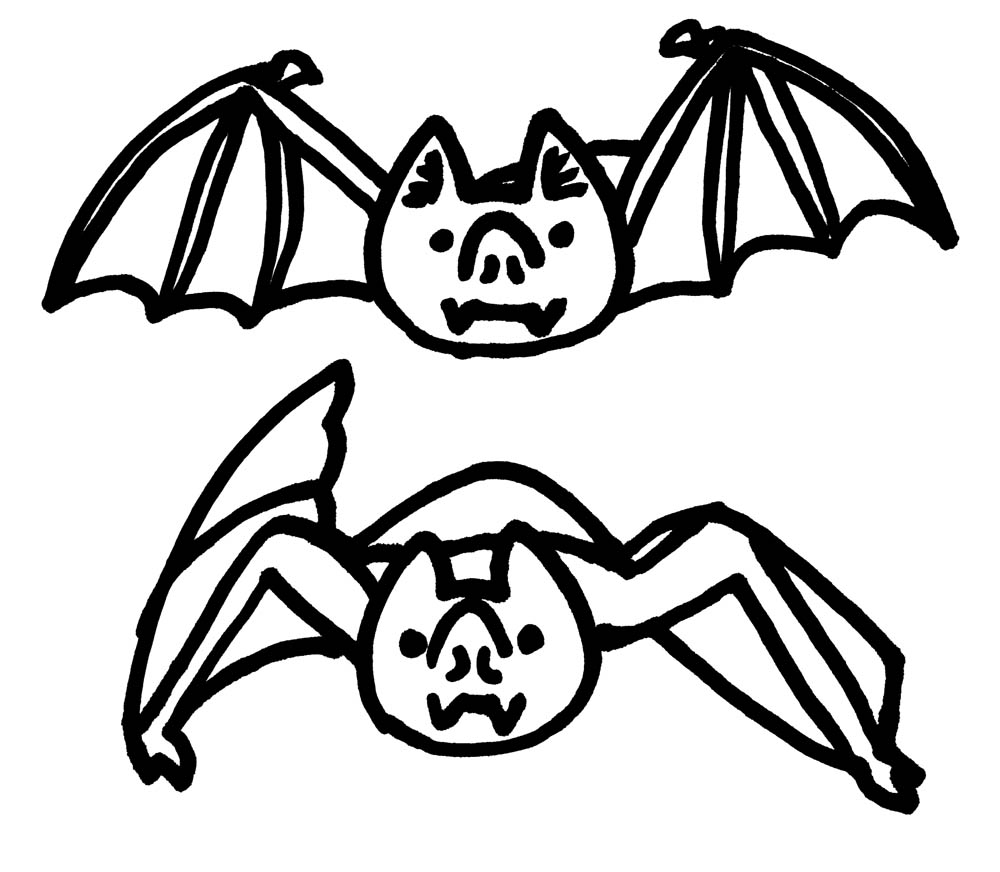 Leeches & Lampreys & More
And then you get into leeches and lampreys and other denizens of the water that are known to attach themselves to larger creatures and drink their blood. Leeches were even believed to have medicinal value (and still are in certain circumstances). And there are also numerous plants that are known to be parasitic and feed on other plants, wrapping their roots or vines around others to steal nutrients.

Spiders
Now I'm going to drift off into the realm where this becomes truly horrific. Spiders. Now, spiders aren't vampires per se, seeing as how they actually kill their prey – they don't just feed off of it while it remains living and wanders about its business. But because of their structure, they cannot eat solid foods, so they have to inject their prey with enzymes to liquefy it so they can slurp it out like a protein shake. That's sort of vampirism on steroids if you ask me, just the kind that no one is coming back from.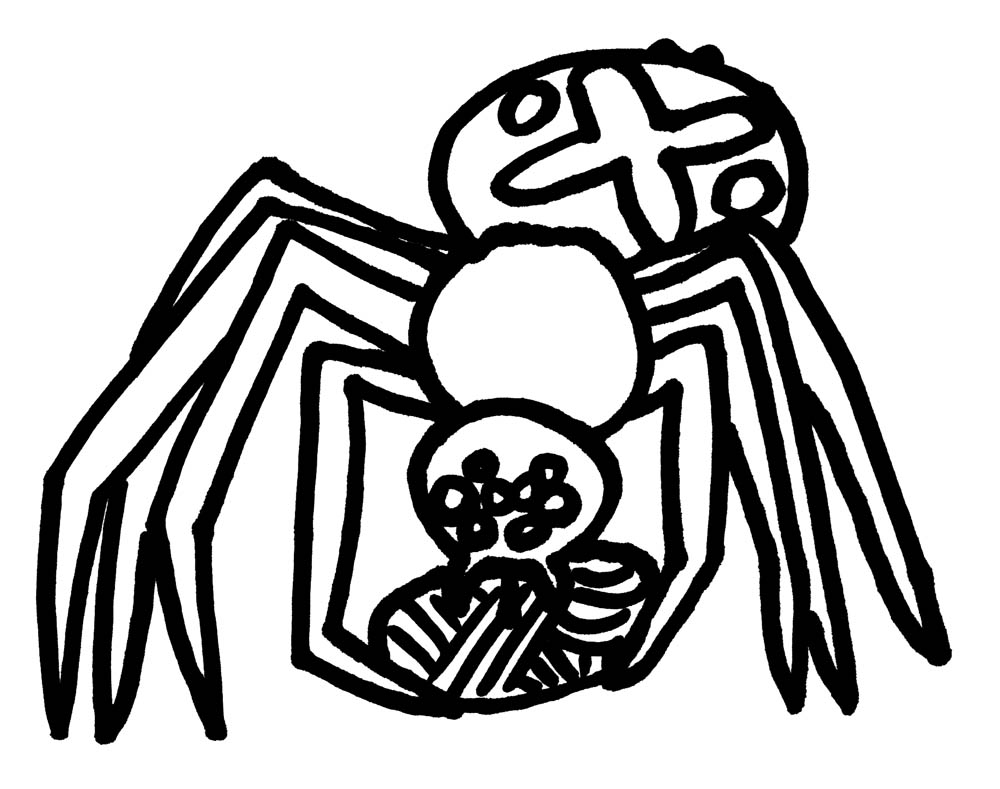 Bloodsucking Bugs
But let's get back on topic. Now let's consider mites and ticks and fleas and mosquitoes and the like. Some drink blood for their survival; others do so as part of their reproductive cycle (like mosquitoes which otherwise eat fruit and nectar but need the extra protein from blood to grow their eggs).
Ticks need to feed on blood once at every stage of their life cycle and can pick up diseases along the way (like Lyme Disease) but don't always do so. Different ticks are more likely to come in contact with different things and often humans are not their preferred meal but they are opportunistic and will feed on whatever is available when necessary. Symptoms of illness from tick bites may take years to develop and can have really weird side effects (like the allergy associated with Lone Star Ticks which makes a person unable to consume mammalian flesh).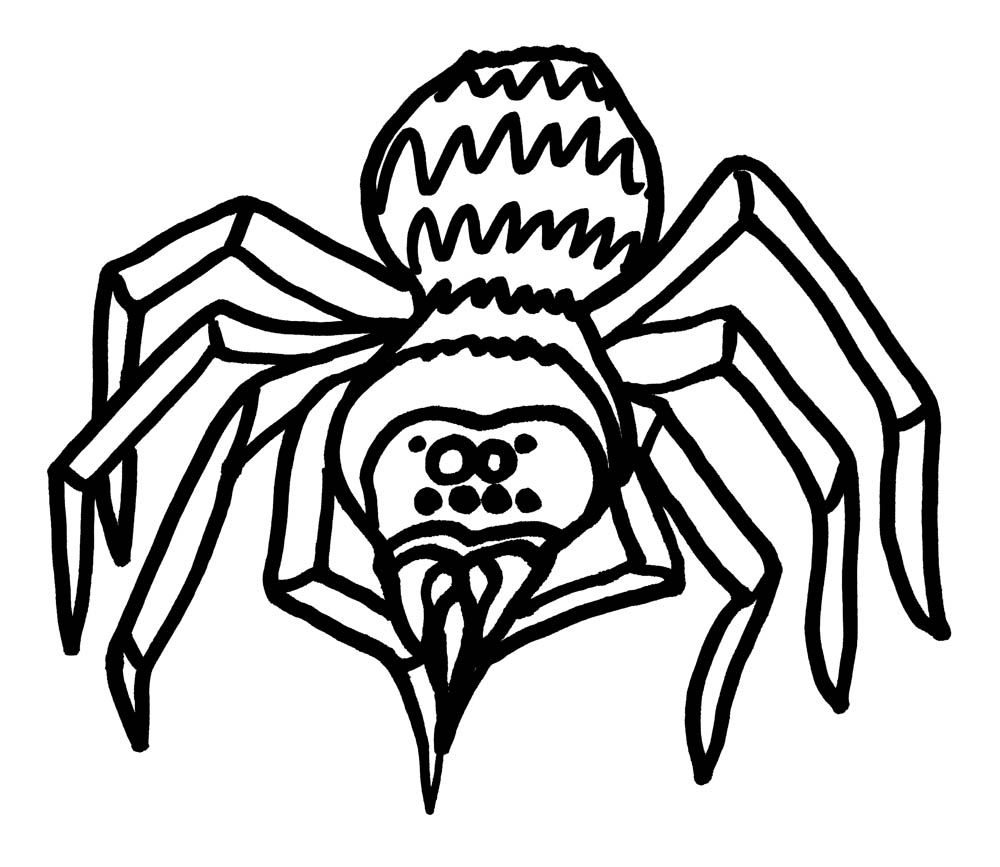 Anyway, here are some brief glimpses of vampirism in nature. Thank you for joining us for Nightmarish Nature and may you avoid getting bitten by any true vampires among us… And I still think spiders take first place in the creepy eating category here, even if they aren't technically vampiric.
Buried Treasure by "Dread Pirate" Jennifer Weigel
This story came to me in a sort of roundabout way from a rather unusual source. So I thought I'd share it with you, dear readership, and see if you can make heads or tails of it. – Jennifer Weigel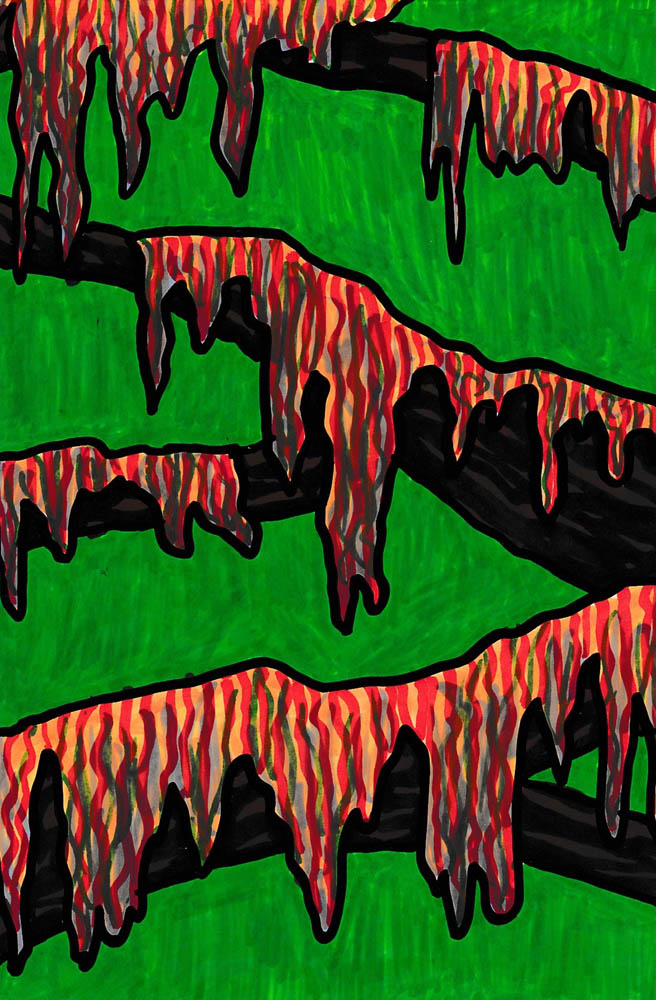 Dread Pirate Rum Tum Tugger could tell this was the right spot.
The site, beneath the sweeping limbs of the Live Oak, Spanish Moss swaying gently in the breeze, was a perfect match to the crude map he had bought off that soothsayer Deuteronomy.
The earth moved easily, as if it had been excavated previously. He dug in with greater fervor with each swipe. The sandy soil gave way to reveal something hard. He scooped and smoothed the remaining detritus from the surface as he uncovered a box.
The carton was simple.
No markings; no ornamentation; no writing. Just a plain cardboard crate, brittle from having been buried for so long but still sturdy. He hoisted it from its burrow.
"Ha HO!" he shouted to the passing breeze, rousing a small cloud of birds that erupted from a nearby thicket. They captured his attention for a moment, but he quickly refocused and returned to his task.
The box was locked but no difference.
Any self-respecting ruffian like himself could pick a lock in seconds. And he did so with panache, as was his way. He pried the lid open and licked his lips.
Inside was the legendary Kernel of Eternal Life, a small sparrow's heart, still beating.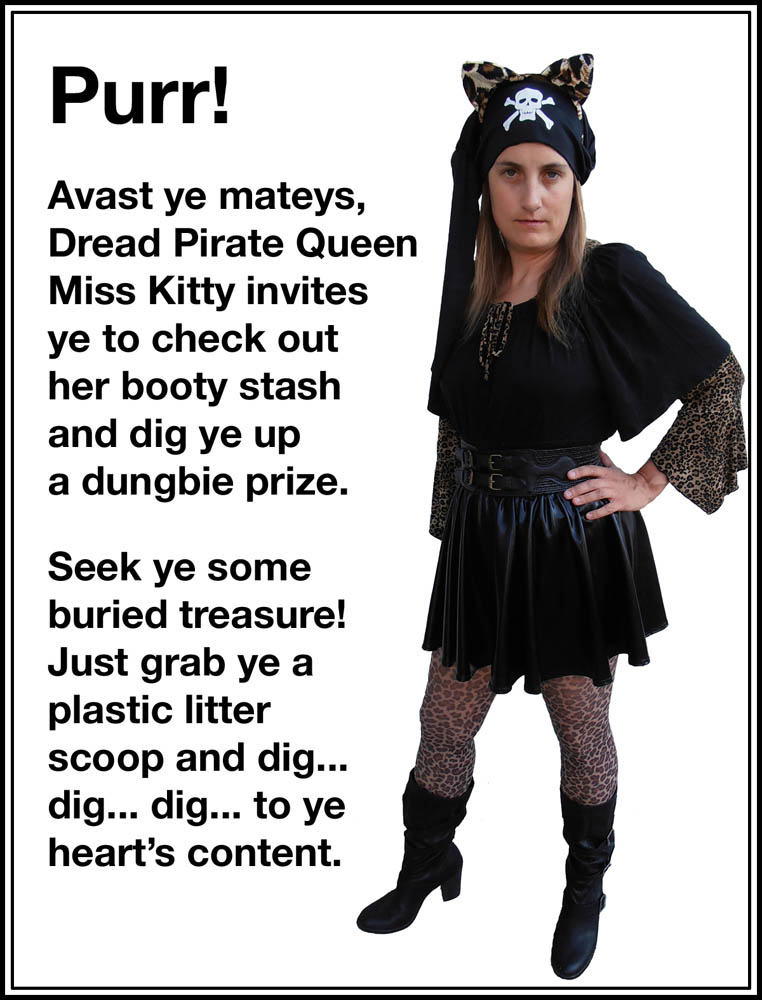 Artwork description: Myself as Dread Pirate Queen Miss Kitty wearing black bell sleeve shirt and black vinyl skirt with strapping leather belt over leopard print shirt and tights, with strapping leather boots, pirate head wrap and leopard cat ears.
Image text reads: Purr! Avast ye mateys, Dread Pirate Queen Miss Kitty invites ye to check out her booty stash and dig ye up a dungbie prize. Seek ye some buried treasure! Just grab ye a plastic litter scoop and dig… dig… dig… to ye heart's content.
---
I created this image for a promotional poster for a performance piece in a charity art show in which I, as Dread Pirate Queen Miss Kitty, hawked a carnival sideshow style sidewalk installation. For a mere $5 donation to the animal shelter the show supported, gallery goers could dig around in a kiddie pool full of litter to find a prize: a cheap plastic trinket from the dollar store. I had some takers, including one kid who seemed to really enjoy the digging and whose parents were all in, saying "You know, you can totally do that at home too."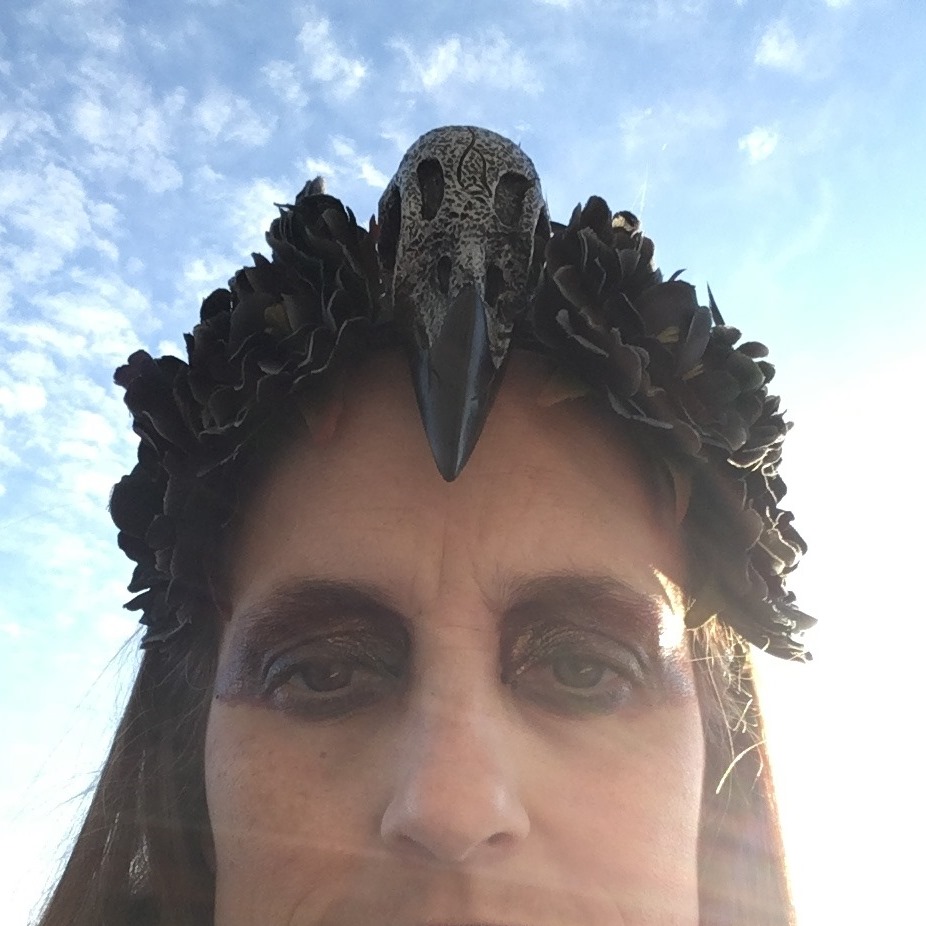 For more cat antics, we invite you to read C-2747's logbook here on Haunted MTL. Feel free to check out more of Jennifer Weigel's work here on Haunted MTL or on her writing, fine art, and conceptual projects websites.
Queen of Everything Mother's Day Wishes
Happy Mother's Day to the Queen of Everything… nothing gets by you.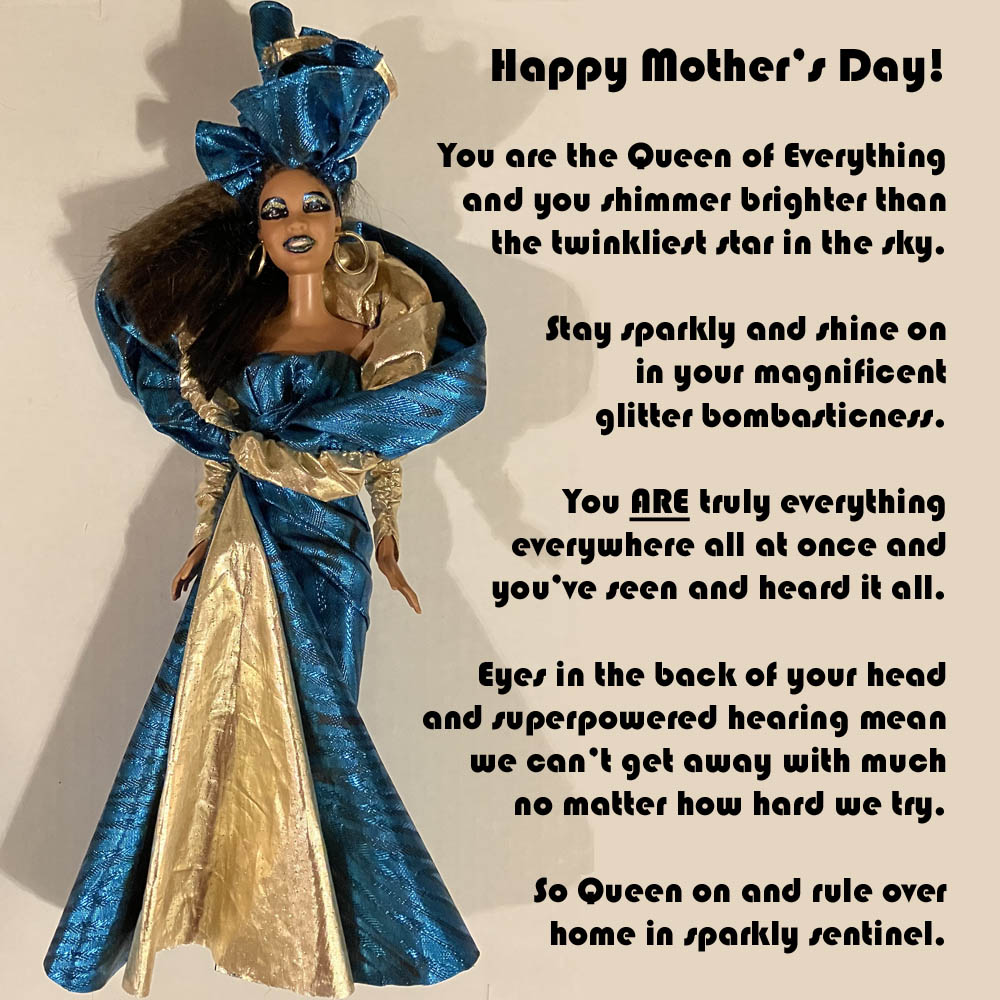 Artwork description: A Happy Mother's Day card featuring a picture of a Nefertiti doll with swooping hair, glitter makeup, and elaborate gold and blue headdress and evening gown.
Image text reads: Happy Mother's Day! You are the Queen of Everything and you shimmer brighter than the twinkliest star in the sky. Stay sparkly and shine on in your magnificent glitter bombasticness. You ARE truly everything everywhere all at once and you've seen and heard it all. Eyes in the back of your head and superpowered hearing mean we can't get away with much no matter how hard we try. So Queen on and rule over home in sparkly sentinel.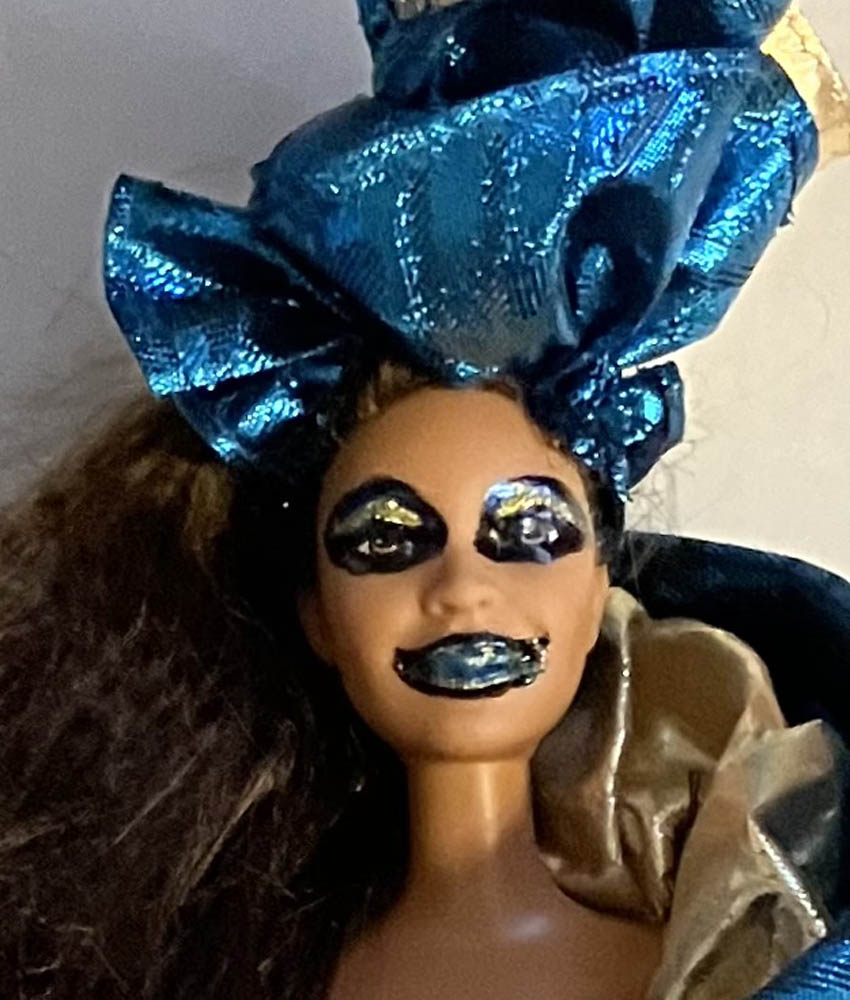 And may this be a testament to why us kids shalt never get you out of bed too early or run amok while you are getting ready to start your day… Because being the Queen of Everything takes planning and preparation…
Feel free to check out this Mummy Dearest Mother's Day card from 2021 here on Haunted MTL.