In 2020, Haunted MTL brought you the 13 Days of Krampus. Now we offer another exclusive series of holiday horror stories: The Twelve Nightmares of the Holidays. Here's our very own Jennifer Weigel kicking it off with Insatiable.
---
He was a jolly old soul with an all-consuming appetite for winter festivities and seasonal accoutrements. Well, at least those focused on one particular holiday at any rate. The other celebrations of the season sort of shrank into baffled silence in the background, whispering murmured concerns amongst one another while shaking their heads. Trying not to draw attention over the spectacle and to hush… Hush…. HUSH!
Every year, the festivities grew. It was innocuous at first. The celebration just crept into the previous occasions, edging its way over a month ahead into traditions under the premise of spreading more joy while the family was together. Everyone seemed so grateful to gather but really needed more to do, so why not start decking the halls and go shopping? It seemed like a good enough bonding activity, and all of the sales and consumerism were supposed to keep the economy going stronger and bigger, so best go ahead and buy… Buy… BUY!
But as time passed, even that just wasn't enough. There were simply too few fruitcakes and carolers and peppermint scented candles, too little mulled apple cider and eggnog and evergreen flourishes… There was just not enough time to watch all the movies and hear all the music and taste ALL the cookies… The white powder shimmer snow needed to glisten for longer in all of its faux finery, like magic dust to call forth the beauty and majesty of the coming season, yet to be unleashed upon the eagerly anticipatory crowds. The houses needed to be brighter; their blinking lights signaling to all that they were a part of the larger outpouring of joy… Joy… JOY!
But there was still so much room for growth; there just had to be more. So as his appetite grew larger, the jolly old soul loosened his belt buckle another notch and began to eye the next holiday over yet again, although that occasion was all about spookiness and the unexpected, considering death and decay and dread. But surely there was plenty of space for more baubles and bling and yard ornamentation… Oh sure, everything started out a little spookier, but then the overlap began to really take hold and slowly the change began. Stores morphed the two occasions together into all sorts of shopping opportunities and pumpkin spice became king. Even the eerie began to consider the solace and beauty of the coming winter season, the calm and solitude it brings. Because we all know that skeletons need peace… Peace… PEACE!
Yet, even that was not enough, and the jolly old soul began to edge his way earlier and earlier into the year. July seemed like a reachable goal, for we all know that those who like to craft things need an early enough start to get all their projects in order. Especially if they are making gifts for their parents and brothers and sisters and aunts and uncles and nephews and nieces and cousins and second cousins and friends and coworkers and mailmen and garbage collectors and kids teachers and bank tellers and acquaintances and so on… And for those who don't make things, shopping was becoming an even larger and more pressing need, starting earlier and earlier to be sure that all could disperse as many presents of trinkets or baked goods or money as possible, to shower upon all of those aforementioned, in order to show their goodwill… Goodwill… GOODWILL!
And now the jolly old soul's minions are everywhere, making sure that everything is running smoothly. Keeping watch over all, whether they are being particularly nice or naughty at any given time, whether they remember to leave out extra milk and cookies, to deck the halls, to trim the trees… Earlier and earlier they come, bells jingling, reindeer hooves click-clacking over the rooftops… With rosy cheeks and sparkling eyes, smiling wider and wider… Bearing mistletoe and poinsettias and gingerbread houses and cinnamon spiced nuts and visions of sugarplums and hot cocoa with marshmallows and Charles Dickens and chestnuts roasting over open fires and brightly colored ribbon tied up in bows and paper-wrapped packages and huge feasts with all the trimmings and music and blinking lights and shiny round baubles and plastic icicles and glitter and sparkle and merriment and more… More… MORE!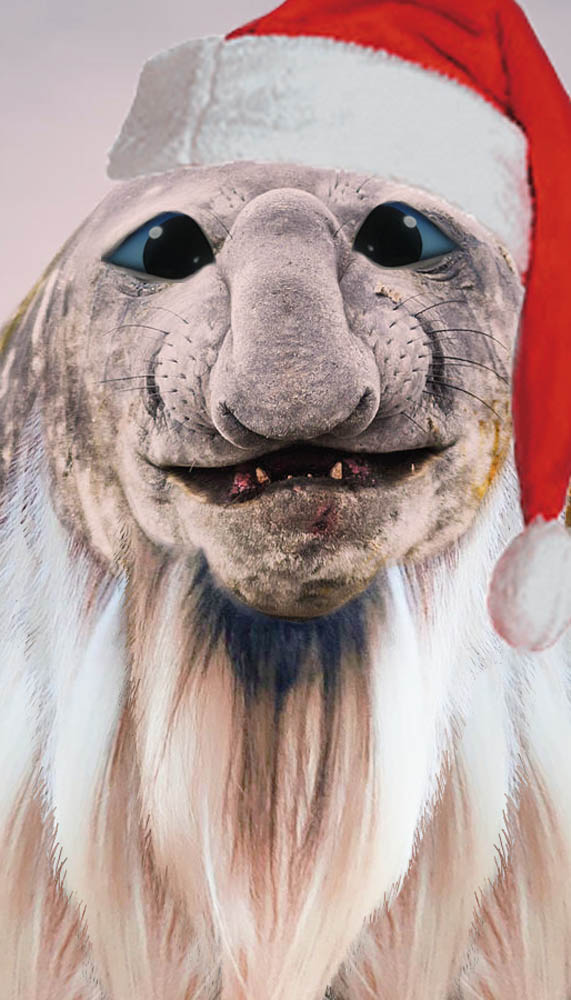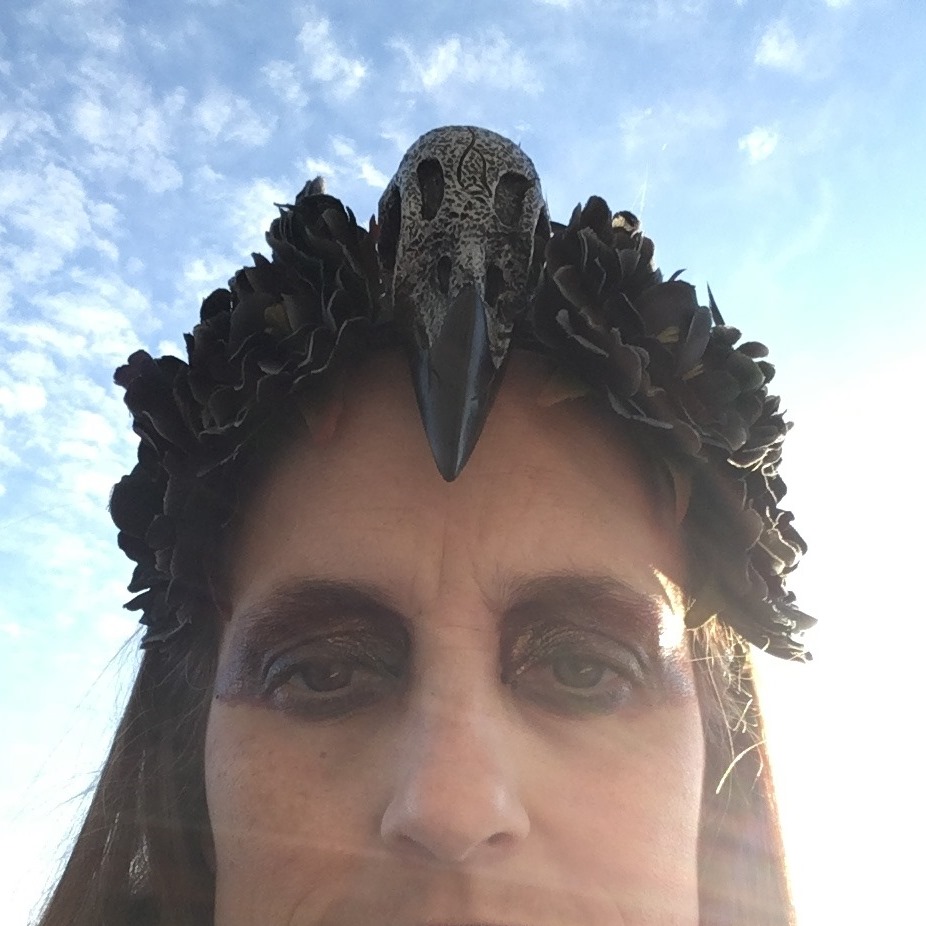 The Twelve Nightmares of the Holidays: Home for Christmas by J.M. Brannyk
In 2020, Haunted MTL brought you the 13 Days of Krampus. Now we offer another exclusive series of holiday horror stories: The Twelve Nightmares of the Holidays. It's day (coughcoughcough) of 12 Nightmares of the Holidays. If you missed it, check out the others so far: here for Jen's, here for Nicole's, here for Phil's, here for T.T.'s, here for Court Court's, here for Eve's, and here for Nicole's.
This is a continuation of Christmas Dinner, which can be found here. It can be stand alone, though. It's a year after the events in the first story.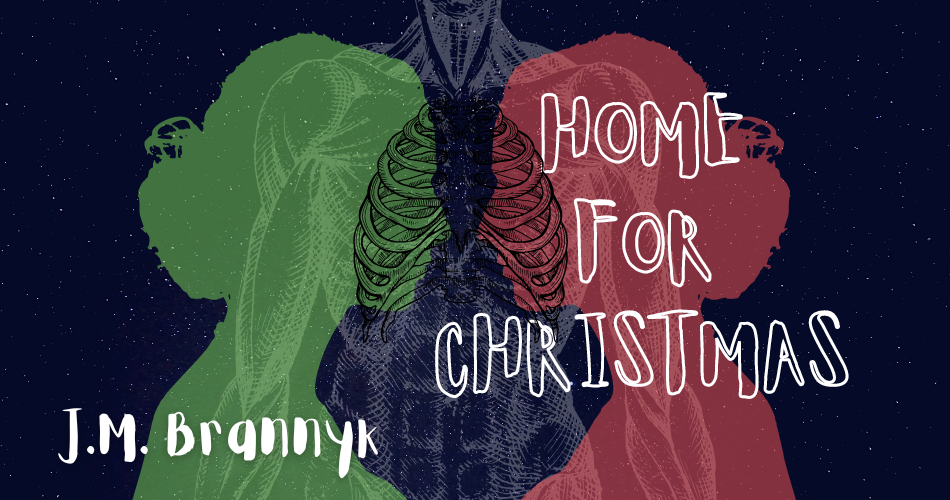 Christmas is about traditions and family. And Dr. Virginia 'Ginny' Kostyshyn is making up her own this year – frozen chicken nuggets for dinner every night, crying while playing Roger Whitaker's 'Home for Christmas' on repeat, glasses of Riesling wine while watching 'It's a Wonderful Life', and dodging Dr. Katherine 'Kate' Wright's texts.
Work is harder to dodge Kate, though, since they work in the same lab, in the same office and on the same experiments. And Kate doesn't like to tiptoe and pussyfoot the way Ginny does. 
But thanks to Ginny's insistent avoidance and quietness, they've reverted back to last names. All while Subject 205 a.k.a. Greg, now an off-hand lab assistant, watches the situation darkly.
And he's not apt to get into other people's business, far be it from him, a year-old reanimated body. However, he has vague memories of last Christmas with Ginny. Fractured recollections of tinsel, eyes glaring at him, skin sliding off, mashed potatoes, Roger Whitaker…and Ginny crying as she stitched him back up.
He also remembers wiping away a tear and apologizing. For being who he is. For being what he is. For ruining everything like he ruined in his first life. And he recalls her hands being so warm, as warm as her smile, as she told him that they had nothing to apologize for.
And tonight is Christmas Eve, with Dr. Wright putting on her coat, coldly silent, and Dr. Kostyshyn slowly shutting down her laptop and hesitating.
"All right, Greg," Dr. Wright says, her clipped accent echoing in the white, clean lab. "Have a good night. Dr. Woodruff is on call. He'll be in tomorrow. Have a holly jolly and all that."
"Yes," he grunts and his eyes peer over to Dr. Kostyshyn, the offset orbs wide and inquiring. He earns a stern look for it, so he concedes, "You, too."
Dr. Kostyshyn peeks up, but Dr. Wright just nods, "Dr. Kostyshyn."
Ginny Kostyshyn's face falls and she nods in return. "Yes, good night. Have a happy-"
But Dr. Wright is already walking out the door. Ginny can feel her chest clench, another new tradition. She gathers her coat and scarf listlessly. "I'll come by tomorrow, Greg, don't worry."
"I don't worry," he says, feeling some of that heartache. He doesn't worry, though, when he has a plan.
"Ah, good. Then…I guess have a good night."
***
Ginny checks her phone but no texts to dodge tonight. Not from Kate and not from her family. One text from Bath and Bodyworks telling her about a special and wishing her a happy holiday season.
At least someone cares.
She sniffles as she flops into her couch and searches around for a half empty bottle she left last night. This isn't like her. She knows that, so why can't Kate know that?
The last argument they had, Kate told her to grow up and stop pining over a love that wasn't reciprocated. Just like that. Ginny's family didn't love her.
Yes, maybe it's true. Maybe they haven't called her since last Christmas. Maybe they hated her. Maybe they've blocked her on social media. Maybe they never would have her come back. Maybe she'd never have her mother's lasagna again.
Stupid things like that seem so much more significant.
Stupid, stupid traditions she could no longer have, but still remember.
And after the bottle is empty, the tradition of crying herself to sleep begins again, as it did the night before, and the night before that.
***
Kate is angry and getting piss drunk, looking at her phone again. It's useless, she knows, but still.
She sighs and puts it back into her pocket. Along with other lonesome losers, she's in a dive bar, watching some American football highlights from a game twenty years ago. Her parents are already asleep in Birmingham, six hours ahead of her.
She tries to watch the television, but it's just flashing images. It's just lights and muted sounds. It's not real, doesn't feel real. Merry Christmas.
She's been away from her family for ten years now and she was half-hoping, now that Ginny's family was bust, that maybe, just maybe, they might have gone to her hometown. It's been five years since she's gone back and even though she calls and Skypes, it's about as real as the television. Just flashing images. It's not the smell of her mother, the warmth of her father, and the sassy gleam in her granny's eye. It's all different.
But when she vaguely brought up the holidays, Ginny shut down.
Ginny shut down, but worst of all, shut her out.
She taps the counter for another and the bartender nods. "'Kay, but then you're cut off."
"Got it." She had a long, quiet few days ahead of her. It wasn't so much she was angry at Ginny, it was just hard to have someone keep grieving and not know what to do. Kate had never been the shoulder to cry on. She had put all of her efforts into school, career, study, science, and technology. She wanted to be one of the best.
But being one of the best made her one of the lonliest and she thought those days were over when Ginny somehow wormed her way into Kate's life and heart.
She thinks about the gift in her desk, sitting there for the next few days. For an eternity, perhaps, unopened.
How disappointing.
How frustrating.
How soft and stupid.
She finishes her drink and cashes out.
***
One empty bottle later in Ginny's home and one cold, drunken walk later to Kate's home, and suddenly they both get a call. A call from the lab. It rings to both of them, at opposite ends of the city. It wakes Ginny up and startles Kate into falling off the sidewalk.
"H-hello?" Ginny stutters into the phone, frizzled hair in her mouth.
Kate is still picking herself back up and then joins. "What?"
"Oh, hello," Greg says, monotone, as usual. "You both may want to come back to the lab."
Sighing, Kate replies, "Dr. Woodruff is-"
"He's dead," Greg states, looking down at the man split in two. Shame, really. Woodruff wasn't too bad. Just opened his mouth when he ate and clipped his toenails in the lab. "Remember the man-pig hybrid Dr. Chuz is working on?"
"Yes," they say in unison but with alternating inflections.
"Oh God," Ginny exclaims.
"What happened?" Kate asks, looking for a cab or something to get her to the lab. It's hard with everything spinning.
"It escaped…somehow," Greg quietly explains. "I think it's a bit sick, though. Reanimated meat probably didn't do it any good."
"Greg?! Are you okay?" Ginny asks and gets up, tangling in her coat and scarf.
He looks down, legs half-eaten and chartreuse blood pooling around him. "Hmm, I'm still alive. The legs need work, though."
"We're on our way," Kate tells him, and still looks around at an empty street, "…somehow. I can't drive. Ginny, can you pick me up?"
"Uh…" She looks at the empty bottle on the ground. "Unfortunately…I probably shouldn't drive."
They both sigh.
"Let's get cabs and meet there. Greg, is it still in the building?"
"Oh yes," he states, as the mig- er pan, whatever it is, is heaving in the corner, vomiting up bits of the doctor and vile parts of himself. Greg eyes the bits and bobs in morbid fascination. "I don't think he's going anywhere for a while. I think I didn't agree with him."
"They keep a shotgun upstairs, so we'll come down with that."
"A shotgun, Kate?! While we're- uh…"
"Pissed?"
"I'm not- Oh, no, I'm just tipsy."
"You're slurring."
"And I'm losing blood," Greg calming brings them back on point.
"Right. Since you're 'just tipsy' and American, you can call, well, shotgun."
"Oh, Kate," Ginny admonishes as she flings her shoes on. "Don't worry, Greg. We're on our way."
And just like that, his plan is in action.
***
When they both make their way to the underground lab, Ginny faring better than Kate's weaving and swaying. However, they find a horrific mess. Just…a mess. Everything is turned upside-down. Blood on the walls, on the floor, on the ceiling and doors.
Calmly, in the mess, Greg is leaning against a desk, playing a word game on his phone. His legs are torn asunder and remain only in strings of cartilage, bone, and muscles. It reminds Ginny of oozing and meaty string cheese. Looking up, he nods. "Merry Christmas."
"Jesus H!" Kate breathes out.
"Where is it?" Ginny says, shotgun shaking in her hands, almost the size of her.
"I think it's dead," he tells them and points to a hidden corner. "I heard gagging and struggling…Serves it right."
Ginny goes to peek while Kate remains. "Aren't you a bit calm?"
They share a glance to size up each other as Kate sways and refuses to acknowledge it as much as Greg refuses to acknowledge his string cheese legs. There's a pause before he says, "Why wouldn't I be? I've done nothing wrong."
After her investigation, Ginny breathes in relief. "It's dead! I think it died by aspiration."
"Hallelujah," Kate sarcastically replies, still glaring at Greg, who is almost at the next level in his game.
"Well," Ginny sighs, pulling off her coat. "I guess we, uh…"
She gestures to the bits of Dr. Woodruff, the larger pieces of him, the vomit, the lab, the everything. "Greg is first, I suppose."
"I guess, the wanker," Kate mumbles, slipping off her own coat, then having to find the coat rack in the calamity. "You don't deserve us, 205."
He shrugs as he contently plays on his phone, continuing to ooze out, without real concern now that the scientists are here.
Ginny puts 205 up into the examination bed and sedates him while Kate goes into her desk to get some supplies. That's when she finds her present to Ginny with a frown. It seems as good a time as any.
Before they need to scrub up and put on surgical gowns, she tosses it to Ginny. "Merry Christmas. It's after midnight."
"Oh, sorry. Your present is at my apart-"
"Just open it."
It's small. Very small. Box-shaped. And Ginny is nervous and afraid. It could be something that she's not ready for. What if it's a tone-deaf, 'let me be your family since you don't have one'? What could she even say if it's a ring? It just feels cruel.
With shaking hands, she opens it slowly, relieved to find a key instead. A key? To where? Kate wouldn't be so cheesy as to say to her heart. It's not a car key, thank goodness.
"It's to a cabinet," Kate explains, seeing the confusion. "Remember when we were here the first year and there was that cabinet and you lost the key?"
Blinking, she half-recalls. Honestly, she just remembers being scolded for it and the panic afterwards.
"And you kept looking for it and I got annoyed and just took a crowbar and sledgehammer to it. Remember?"
Ginny laughs. "Oh, yeah. I thought you were crazy."
"You called me impatient at the time." Swaying, but sobering up, Kate sighs and walks over to Ginny. Sees the little key in her green-bloodied hands, shining like the star on top of a Christmas tree. "You said it'd turn up eventually."
"God, that was years ago, though."
Kate's hands curve around Ginny's carefully. "I know that you're upset with your family. It's not what you wanted or expected. They're being shits about it and it hurts to be on the outside.
"I found the key recently and I just wanted to give it back and remind you that sometimes it takes time. You were right. Sometimes you have to be patient. Maybe with them. Maybe with yourself…Maybe sometimes even with me. But you're going to get back what you lose. Not always in the moment you want it, but you'll find it. You just have to be patient and remember what you have now."
Ginny purses her lips so she doesn't cry like a sop, but leans forward to touch her forehead to the chin there. With a long breath, she replies, "Thank you."
"Of course. And maybe if you're not too busy…you can come back with me and meet the Wrights. My mum collects ugly porcelain swans, my dad has the worst jokes, their dog is full of farts, but gran isn't so bad. And I'm not saying that as-…I want you to meet them. They're much more normal and better people than I'll ever be."
A stray tear falls as Ginny sniffs and chuckles. "You're not so bad."
"I'm about to sew up a reanimated corpse that was half-eaten by a pig-headed abomination…I'm not great. But…I've got you here, so it's not awful." She leans down to punctuate her gift with a kiss.
Ginny smiles and accepts the offered kiss warmly, realizing how much she's missed it. "Mm, and when we're done, we get to clean up the body of the aforementioned abomination and get to break the news to Dr. Chuz."
"That's okay. I'll do it. I don't mind ruining his Christmas; he misspells my name constantly." Kate smirks and kisses Ginny's cheek.
"Merry Christmas, Dr. Wright," Ginny quietly says, hugging tight onto her girlfriend.
"Merry Christmas, Dr. Kostyshyn," Kates replies and holds her back, just as tightly.
The Twelve Nightmares of Christmas Holidays: Midnight
It's midnight, officially Christmas Day, and Aly is sitting outside on the cold pavement outside her house. Thick snowflakes fall on her hair as she stares at the Christmas lights on the roof, a dance of reds and greens and blues and golds. Her robe is damp from the wet snow, her once fuzzy purple slippers are now crispy and hard to the touch after years of use. Her dad's BB-gun, which he let her practice sometimes and did a terrible job hiding in the garage, lay right beside her. 
She has been waiting all night for her friends to come home. Her babysitter, who fell asleep hours ago, has no idea that she's outside right now. Her twin brother's snores rippled throughout the house as she snuck out. His room, on the second floor, has a window that faces the street. It's the window she's staring at right now. Her parents are out, won't be back until late. If Aly's lucky, her friends will come before her parents come home. She's been waiting for hours now, for her friends to crawl across the roof and lift up her brother's window, pop open the screen, sneak inside and slither across his room, through the wooden floors in the hallway, down the stairs and into the stockings hung above the fireplace. The babysitter is so glued to her phone in another room in the house, and sometimes she sleeps when she has to stay late, so she wouldn't notice Aly's friends, who will sneak in quietly and think no one knows they're there. But Aly knows.
For years, things died in her house on Christmas day. It was small at first, just a houseplant or two. But then two Christmases ago, her friends got greedy. The family woke up to a house full of dead plants, to all five fish floating at the top of the fish tank, the latter of which ruined Aly's entire winter break because she felt so terribly sorry for them. Last year, the family got a cat over the summer. Christmas morning, Peanut was nowhere to be found. Aly still doesn't know what happened to him; thinking about it too much scares her.
But her friends made a mistake last year. Before realizing the cat was missing, Aly and her brother were filled with nothing but joy on Christmas morning. She was even feeling especially generous and ran into her brother's room to get a toy for him when she saw her friends escape. They slammed the window shut, the screen lay outside on the roof. She watched them slither, pink goo trailing behind them. When she told her mom about the broken screen and the friends she saw, her mom ignored the bit about her new friends and popped the screen back in, thinking Aly's brother must've been messing around with it again. Aly tried to tell her brother about the friends, but he wasn't interested. She tried to tell her dad the friends stole Peanut, but he insisted the feline must've ran away. Aly was always making up stories, and they were all tired of pretending to believe them.
But this year was different. Aly didn't know what these friends were going to kill next and she refused to find out. She didn't care how much snow was falling, how cold it was outside, how freezing her ears and toes had become. She'll wait and wait as long as she could. She was ready.
***
Check out more of our holiday stories here at HauntedMTL and have a very happy and haunted holiday season!
The Twelve Nightmares of Holidays: Coming to Town by T.T. Hallows
Two years ago, Haunted MTL brought you 13 short stories dedicated to the holiday demon titled the 13 Days of Krampus. We are continuing our tales of Yuletide terror with another exclusive series of holiday horror stories: The Twelve Nightmares of the Holidays. Be sure to check out our previous authors stories here for even more festive frights. Today marks day 6 of holiday nightmares and with it, I gift to you "Coming to Town".
————————
Tonight's the night 6-year-old Andy Mercer has been patiently waiting for, Christmas Eve. For the past few years, Andy has made it a point to fall asleep on the family sofa in their living room in hopes of seeing Christmas' official icon, Santa Claus. Unfortunately, each year he has attempted this tradition, he's failed to catch a glimpse of the magical holiday figure, not this year. You see, Andy has a brilliant plan, one in which he's been plotting with fierce fervor and precision. Tonight's the night he will prove Saint Nicolas is real, the night he will capture video of the big man in red. All he needs are cozy blankets, plenty of hot cocoa, a charger and his trusty iPhone. Rushing to gather all his essentials for the night's holiday stake-out, Andy is ready.
Every year for Christmas Eve, it was tradition for Andy's mom to bake sugar cookies using a secret family recipe, while his father hid in the master bedroom performing last minute gift wrapping. As his family prepared for tomorrow's big day, it was Andy's duty to watch Santa's location through the intricately scientific "Santa Watch" tracking system provided to him by his locally televised news station. His eyes fixed on the screen as he watched Santa's sleigh inch closer to his neighborhood with each passing minute. "Andy, sweetie?" his mother said, walking into the living room. "Andy, can you please stop watching Santa Claus for a minute and help me?" her hands filled with a tray of freshly baked cookies for Santa, the sweet aroma wafting through the air. Finally breaking his gaze from the screen "But Mom! This is important! Look!… look how close he is!" thrusting his finger at the television.
"Yes dear. I see." she replied in an exasperated tone. "But Santa Watch can wait a second while you help your mom with these cookies and milk" motioning the tray up as the half-filled glass of milk slightly jiggles.
"Just 1 second mom." Andy says as he turns back to face the television.
"Andy…" his mother's tone slightly raised.
"Andy! Help your mother with the cookies or I'll eat them myself!" Andy's father instigates from the other room.
"No, you won't!" Yelling back Andy jumps off the couch and rushes towards his mother hurriedly grabbing the tray of cookies from her hand, almost spilling the glass of milk in the process. The pattering of his footsteps on the hardwood floors brings a chuckle to his mother as she lovingly watches her little, short brown-haired helper carry the delectable treats for Santa to the living room table.
"Ok sweetie, it's time to start getting ready for bed, otherwise Santa Claus is going to fly past our house because SOMEONE is still awake." Andy's mother exclaims, her hands on her hips.
"Ugh, do I have to?" Andy asks in frustration.
"Well, if you don't want your Christmas presents from Santa then be my guest." shrugging her shoulders "Stay up as long as you like." Andy's mother says in a deceitful tone. "But don't be upset if you wake up in the morning and see Santa Claus didn't leave you any gifts." As she turns to walk away, a slight smirk paints across her face.
"Ok, ok, ok. I'll get ready for bed" Andy reluctantly claims, his feet shuffling back to the black suede couch. What she doesn't know is he's been secretly waiting for his bedtime announcement for the past hour. Sneakily hiding his phone behind one of the family pictures resting on the fireplace. The cord from his charger perfectly camouflaged with all the other dangling cables from the mantle.
While Andy's mother wrapped him snug in his fleece blanket, the sound of their laughter and his father's battle with the flimsy wrapping paper in the other room drowned out the sudden announcement cutting over the yearly Santa Watch live feed:
"Residents of Cain County, police are on the lookout for an escaped mental patient standing 6'3, weighing 245 lbs., dressed in Santa Claus attire. Local police are advising all residents to lock all doors and windows as the suspect is considered armed and extremely dangerous. He has been seen carrying a large red sack, and wearing what police are describing as a life-like Santa Claus fa-"
Before finishing the breaking news announcement, the voice is suddenly silenced as Andy's mother presses the power button on the remote control lying on the armrest of the couch. Brushing her hand through his hair, she stares at him and softly says "Goodnight Andy. I love you sweetie. We'll see you in the morning" planting a kiss on his tiny forehead.
"Bleh, gross!" Andy says with a smile as he playfully wipes his brow, "I love you too, Mom." Once confirmed she has left the room, Andy quickly springs from the couch tip toeing to the fireplace to enact his perfectly thought-out plan, his finger firm as he hits the record button on his phone.
"I'll get you this year Santa" he says while rubbing his hands together. With Santa's cookies enticingly displayed and Andy's phone set to record, "Now we wait" he thought to himself. Hours passed as Andy attempted to wait up, only to yet again fail in traditional fashion, falling fast asleep dreaming of the newest toys and gifts Santa would be bringing him. As he lay in his deep slumber, the sudden sound of presents shifting under the tree startled him, his eyes bursting open peering towards the glistening Christmas tree. His eyes adjusting to the light he stared in shock, not believing what, no, whose back he was staring at. A sense of elation coursing through his body. There he was, the man himself, Santa Claus as real as can be. The large black boots, the red and white fur coat, his iconic hat. It was Kris Kringle. Andy rubbed his eyes in disbelief as he sat on the couch watching Saint Nicolas scrummaging through his large scarlet sack of toys lying next to his feet. He couldn't help but feel elated
"You're real!" Andy exclaims in a spurt of excitement, startling the holiday figure. As he looks up from his sack of presents, his head quickly turns in the direction of the young boy, making him jump in the process.
"I'm sorry Santa! I didn't mean to scare you!" Andy apologizes.
"Shhh." remarks Santa, his index finger pressed to his lips, rising from his hunched position. His large stature begins to walk towards Andy, the bells wrapped around his thick waist jingle with each *thomp* from his heavy boots. Reaching the end of the living room table, he stands there silently looming over the small boy, his body motionless. Andy stares back, though anxiously as a look of confusion begins to wash over him. This wasn't quite how he pictured Santa Claus. For one, he was much taller and more husky rather than round and stout. His suit appeared weathered with splotches of dirt and some type of crimson substance on the white fur lining the ends of his coat. At his waist was an abnormally long candy cane pointed at the end, with the same red substance dripping from the tips point and starting to pool on the wood floor. Was it frosting? Or red ink maybe? With the room dimly lit only by the multi-colored lights on the tree, Andy was unable to tell. What was even more unsettling was the face that stared back at him. Though it looked like Santa Claus, something was…off. Almost as if he were wearing a mask of his own face. It was fuller than the rest of his frame, but his eyes were hard to see, almost sunken in appearing as black circles. The closer Andy examined, he could make out the outline of Santa's face more, a streak of red running down either side almost as if he had been cut. Almost as if Santa was wearing a mask of sorts. "But…why does Santa need to wear a mask? Especially one so scary?" he nervously thought to himself.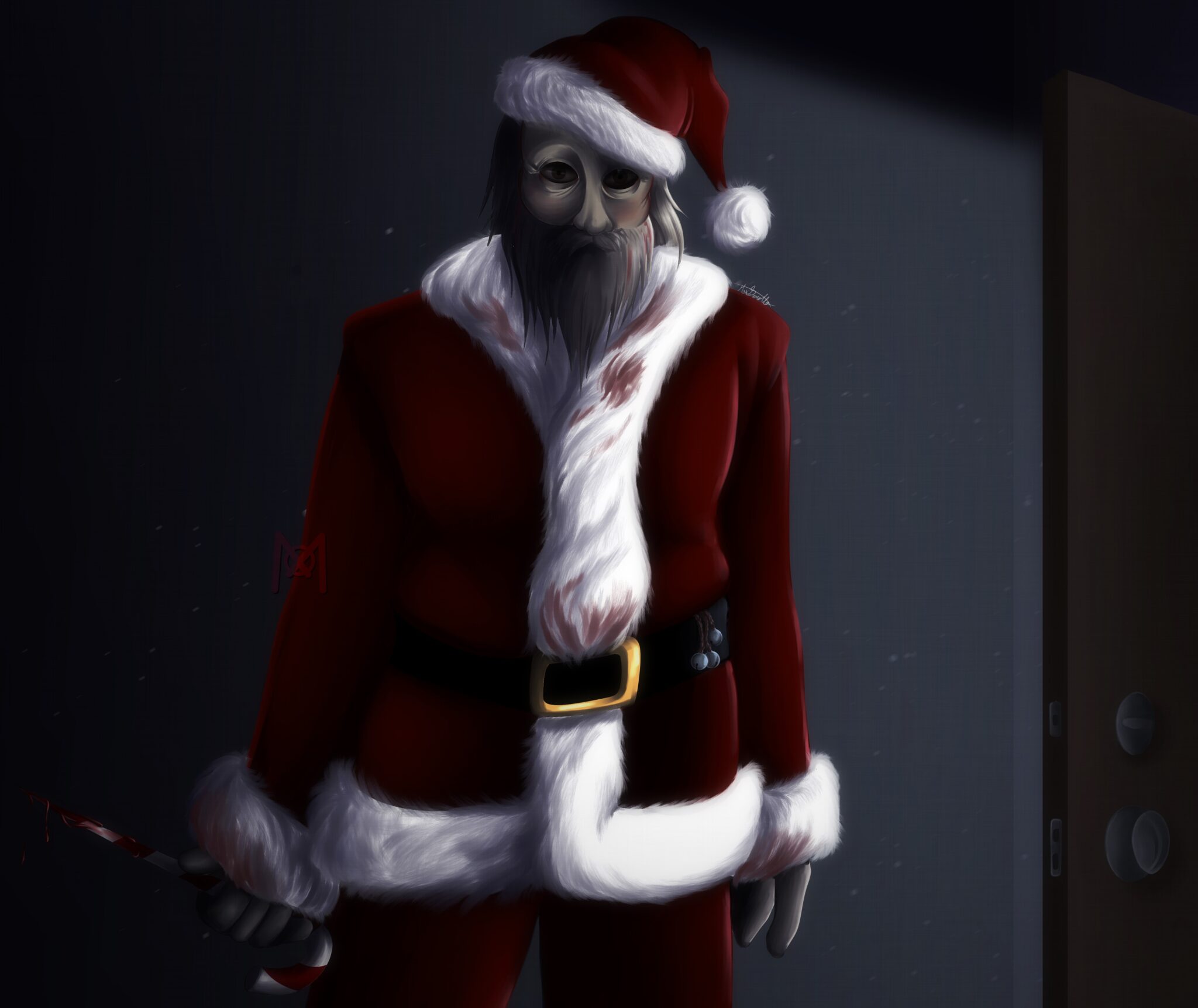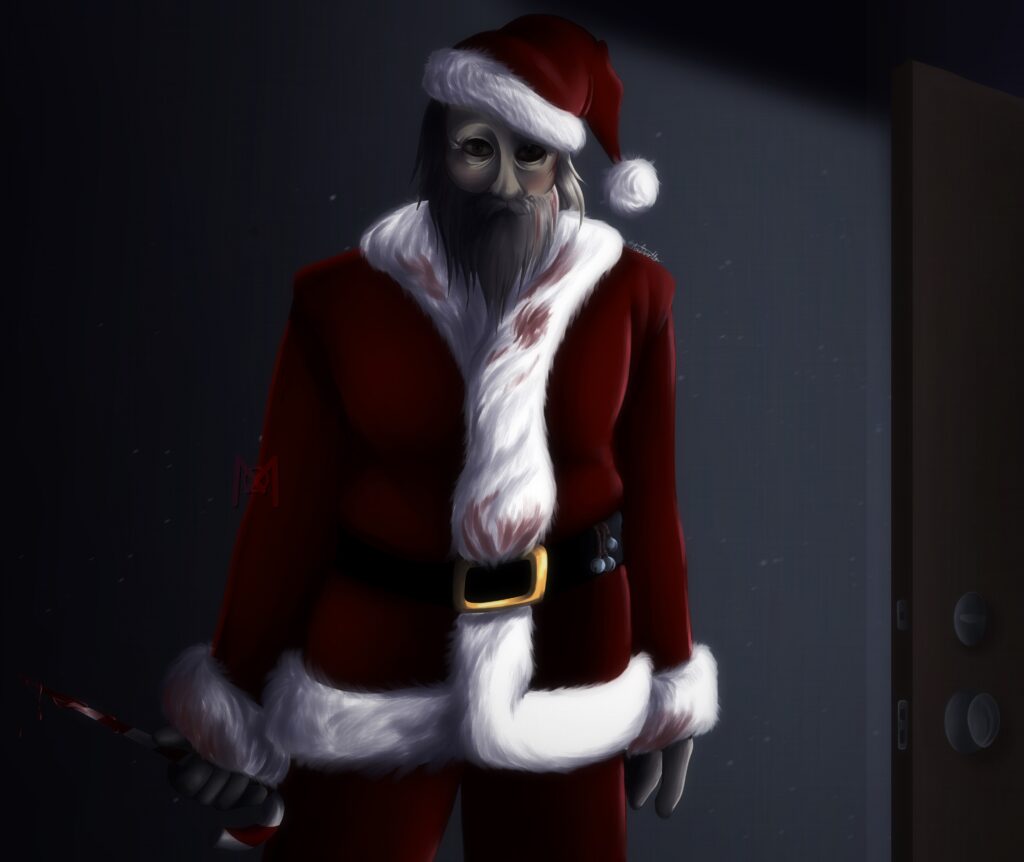 "Santa, are you ok?" Andy asks nervously. Santa stands there looking back, no response.
"Did you hurt yourself going down our chimney?" Andy quickly follows-up, a faint draft wisping past his face. As he looks to see where the chill is coming from, his eyes glance upon Santa's boot prints leading from the tree to their front door. There it was, slightly ajar, flakes of snow fluttering through the entryway. Andy turns back at Santa to see him shaking his head "no" in response.
"Oh um…ok." Andy's voice shakingly replies.
"Did you bring me any presents this year?" he asks, trying to shift his attention from the door as he looks up into Santa's stiff emotionless face. Tilting his head ever so slightly to the right, Santa hesitates in his response, simply staring at Andy only to slowly nod his head "yes", revealing a decadently wrapped Christmas present with a gold bow from behind his back. With eager joy, Andy reaches for the gift only for Santa to quickly pull it back, waving one of his fingers back and forth.
"Guh, do I really have to wait until the morning Santa?" as his body slouches aggressively, crossing his arms in disappointment. Santa simply shakes his head yes in response, walking back towards the tree placing his present neatly with the other his parents brought out while he was sleeping. Grabbing his large sack of gifts and with a fling over his hulking shoulder, Santa begins to walk towards the front door.
"Wait! Aren't you going to have your cookies and milk? My mom baked them just for you." Andy implies sympathetically. Santa's heavy feet stomp once more and stop as he turns to look at the tray of desserts presented before him, first chugging the glass of milk in giant gulps then grabbing only one cookie to take for his travels. Making his way back to the way in which he entered, Santa takes one final look at Andy and with a quick flick of the wrist, waves good-bye, quietly shutting the door behind him.
Andy just sat there a few moments, pondering over the experience he had just had with Santa Claus. He didn't feel the joy or magic that he thought would come with meeting Santa Claus. Instead, the emotions he felt afterwards were that of confusion but also, a hint of fear. Why did Santa Claus have to use the front door? Why didn't he say anything? What happened to his face? Was that blood he was covered in? If so, was it Santa's? If not, whose was it? Many more thoughts plagued Andy's mind as he tossed and turned, struggling to fall back to sleep.
As the sun rose the next morning, Andy awoke to the smell of brewing beans in the kitchen. His mother singing along to The Jackson 5's cover of 'Santa Claus Is Coming to Town' as she pours herself and his father a cup of rich coffee with a splash of French vanilla creamer for taste. Andy's father groggily walks into the living room, wiping the flecks of morning crust from his eyes. His hands already extended, waiting to accept the warm mug prepared for him by his wife. Sitting from the couch rubbing his barely waking eyes, Andy suddenly remembers the interaction he had mere hours ago. In a sudden burst, Andy throws his blankets to the ground springing from the sofa as he runs to the fireplace mantle to grab his phone, still hidden away.
"Well Merry Christmas to you too buddy." Andy's father yawns.
"Huh? Oh yeah, Merry Christmas" Andy replies as he fumbles his phone in excitement.
"What are you doing? Come here and sit down so we can start Christmas" his mother says as she pats on the spot he was just sitting.
"Wait hold on! I have something to show you!" replied Andy, grabbing the golden bow present left from Santa with him. As he plops on the couch, he vigorously starts scrolling through his phone to make sure the video he had recorded throughout the night was saved. It was.
"Oh, that's a fancy looking present you got there. Honey, did you leave that under the tree?" ask Andy's dad, looking over at his wife.
"No, not me. That's not one of your multiple re-wrapped achievements from last night?" she jokingly replies.
Andy's father glares back and says "Comedian. Ha ha. No, those are my prize-winning wrapping jobs." pointing towards the batch of gifts just slightly to the right of his mothers, and "Santa's" gifts. Looking at each other puzzled, Andy's voice breaks the silence saying "it's not from either of you! It's a special gift from Santa! I met him last night while you were both sleeping." As those words leave Andy's mouth, their stomachs suddenly sink in fear.
"Wait…what do you mean you met Santa Claus last night sweetie?" Andy's mom asks, perplexed. "Yeah, what do you mean buddy?" immediately followed by his father.
Looking at his parents, the video of Santa Claus paused on his phone's screen Andy replies "Well, while you and mom were both sleeping, Santa Claus actually came! I talked to him for a second and he gave me this present." holding up his special gift. "Look I even recorded it on my phone! I've planned this all year and I FINALLY have proof he's real!" Showing them the video on his screen in utter joy, an image of a man dressed in a dingy Santa Claus suit kneeling over a bag of God knows what is paused on the screen. Looking back at the mantle from where Andy had secretly placed his phone overnight, back to their excited child, they nervously grabbed the phone from Andy's miniature hands. With a deep exhale, Andy's parents look at each other once more before pressing play. To their horror they witness the intruder dressed as Santa Claus interacting with their curious son. Hovering over their living room table standing, staring.
Taking the opportunity of his parents' frightening distraction, Andy begins ripping open his present, flinging torn bits of wrapping paper in the air with excitement. All that remained now was the bright golden bow holding the lid of his now black box closed. With a few quick tugs, the decadent bow manages to untie, draping itself down Andy's hands. "This is it." he thought, hands clutched in eager anticipation. Smiling with curious wonder, he hurls the lid of his present open only to have said smile quickly fade, the open box crashing to the floor. Alarmed by the sudden bang followed by the blood-curdling scream coming from their child, Andy's parents drop the still playing phone in shock, gazing at the terrifying gift Santa Claus had left for him. Their cups of morning caffeine shattering across the floor accompanied by their own violent screams.
As the festive melodies of The Jackson 5 are drowned out by the terrifying screams of Andy and his parents, the yuletide tunes cut and instead a drearier announcement plays through the speakers…
"This just in, police have located the body of a decapitated man near Fashion Place Mall just off highway 66. Authorities have yet to identify the body of the deceased but believe this to be a local Cain County resident and town's own favorite yearly Santa Claus, Kristopher Kellum. Mr. Kellum's wife reported her husband missing late hours in the evening last night and has yet to be found. The crime scene is currently being investigated for evidence and/or DNA to help identify the body of the deceased. Local police have yet to locate the victim's missing head…"